Topic: AirLink Swazi SA 8009: 18/AUG/07: MTS-JNB: Y Cabin
Username: Abrelosojos
Posted 2007-11-22 12:17:20 and read 18122 times.

Feedback always appreciated.

Trip Report: 028
Flight Category: Y-ISR (See Report End)
Date: 18-Aug-07
SDT/SAT/Delay: 1745/1850/01:05 hrs
Flight: Air Link Swaziland (SAA) SA 8009, 192 miles
Routing: MTS-JNB
Aircraft: J41
Seat: Economy, 2A

I > Background:

Ok, I am back! After taking a sabbatical from trip reports for 5 months, here is the first installation from a series of trip reports. Mid-August to mid-November 2007 saw the craziest of my travel plans. 69 flights totalling 175,028 kms on 35 airlines, visiting 49 airports in 34 countries in all 6 continents. And, here is the best part … all of them were part of a 4month break from life … pure vacation, and pure food for the mind, body, and soul. Together, they mounted to 21/2 round-the-worlds that was truly insane. As usual, all long haul flights were on Business or First Class; short haul was on Economy Class.

As I have tried for A.Net audience in the past, several of the reports will be firsts on A.Net. These include either first time airline coverages, routes, airports, flights, or countries.

This report on Air Link Swaziland, South African Airways (SA) MTS-JNB will be the first for the segment, and the first to feature reporting from the small South African country of Swaziland. At least, that's what A.Net preliminary search tells me … disclaimer … hehe. The reason for the trip was to visit a friend in Swaziland whom I had not seen in several years.

II > Pre-Flight:

a) Before Airport:
Air Link is a fully owned South African airways partner that connects several secondary routes in the region going all the way upto Entebbe. Perhaps my South African colleagues can illuminate us on the need for this separate identity. Even more perplexing is that the Swaziland flights are operated by a special subsidiary called Airlink Swaziland. Perhaps this is to counter the nationalistic Swazi Express Airways which promotes itself as 100% Swazi. Who knows? Flights are SA coded and they use SA logo and stock for everything, except having a different inflight magazine. I was excited as this is my first trip on SA and first on a J41.

Booking was done online using South African Airways online website at www.flysaa.com. It was rather simple process, and I was soon emailed my Amadeus linked PNR. My biggest gripe with the online system was its inability to choose/modify seats. However, you can do the same by calling SAA by phone … but this defeats the purpose of having an online system.

b) At Airport:
Mataspha airport is the only airport in Swaziland. They are building a second airport … but I did not understand the need for the same, as MTS seemed sufficient for the needs of this small country. There was only one flight and I was the first to check-in. A boarding pass was quickly issued with my UAL FF info and I proceeded to immigration and security rather efficiently before hanging out in the lounge area with views of the tarmac.

Boarding was efficient from the only gate to the parked aircraft. Upon boarding, I was greeted by a rather reserved SA flight crew. The J41 looked good and the load was around 70%.

Airport - External:

(Small Mataspha Airport – which is near Mbabane – capital, and Manzini – commercial hub. What is up with these M cities?)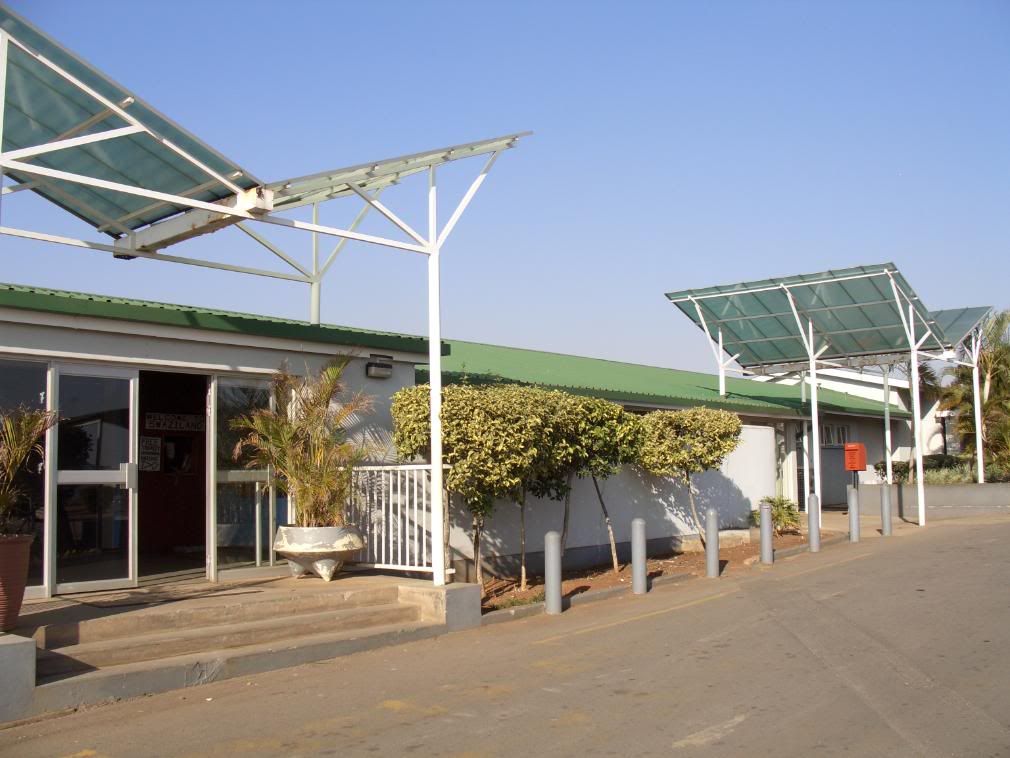 Check-In:

(Major airports take note: they have WIFI throughout the airport)




Airport - Internal:

(Pre-security wait area)



(Entire check-in area)



(Official time at the airport was over 10 days behind)



(Post-security waiting lounge)



Scenes of the tarmac:

There were no other planes on the tarmac.

Lounge

So many choices, I was totally confused …

Boarding:

NONE

III> In-Flight:

a) Service Schedule + Impressions:
Snack and beverage service for this short flight.


b) Aircraft + Seats:
I found the J41 more cramped than comparable B1900s. Perhaps it was the 1x2 seating, but legroom was cramped even by turbo-prop standards. Recline was barely noticeable. The aircraft had leather seats and an interesting bathroom which people had to be proficient in yoga to use.

Aircraft:




Views from Aircraft:




Seat Leg-Room: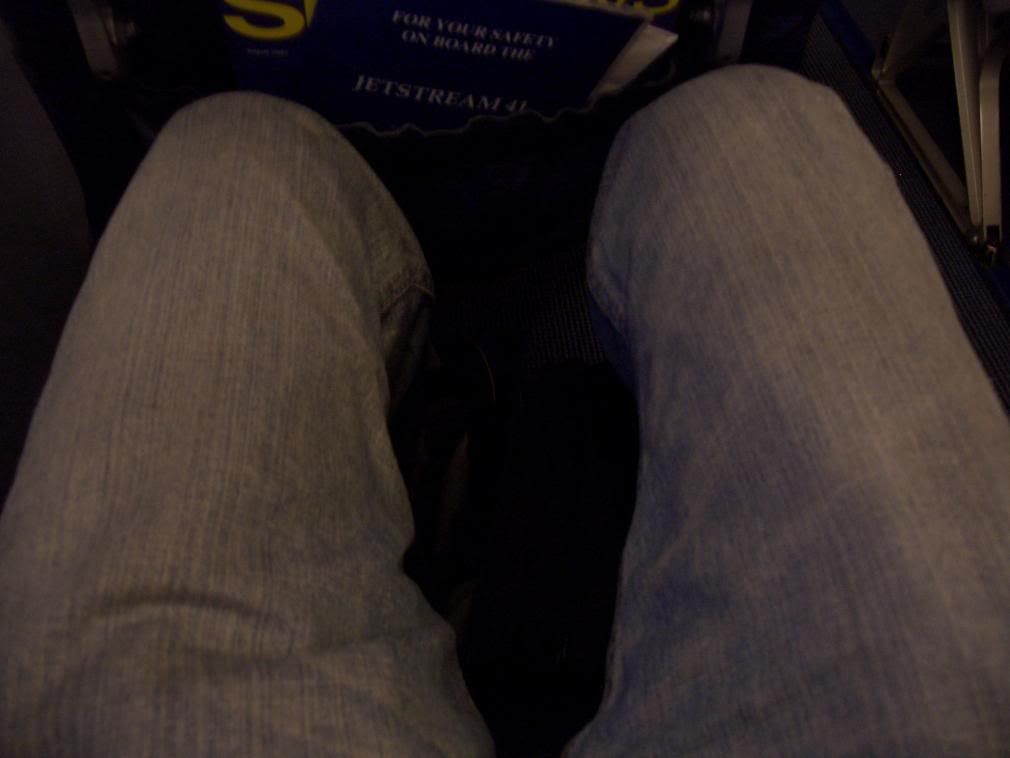 Seat Recline + Angle View:

(Fellow passenger in a pensive mood. I love flying!)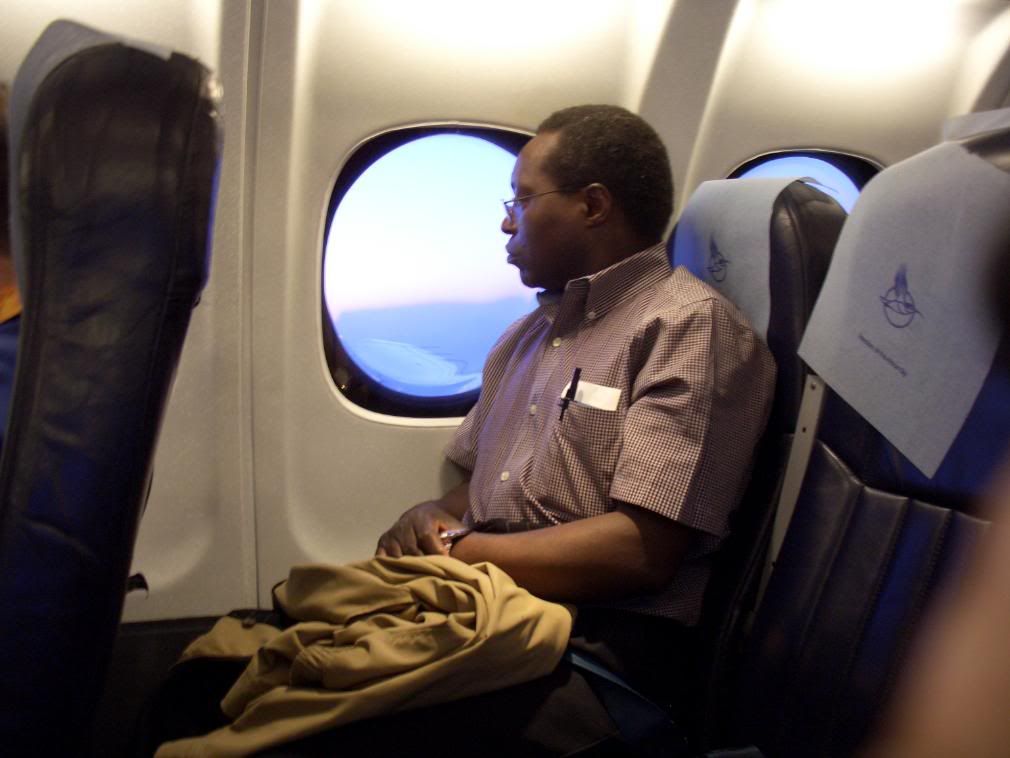 Cabin:




c) Meal + Beverage:

A potato chip snack was served along with complimentary beverages including beer. Perhaps the only airlines in the world where such a short segment generates better meals exist in India through the likes of IT, 9W, and IC.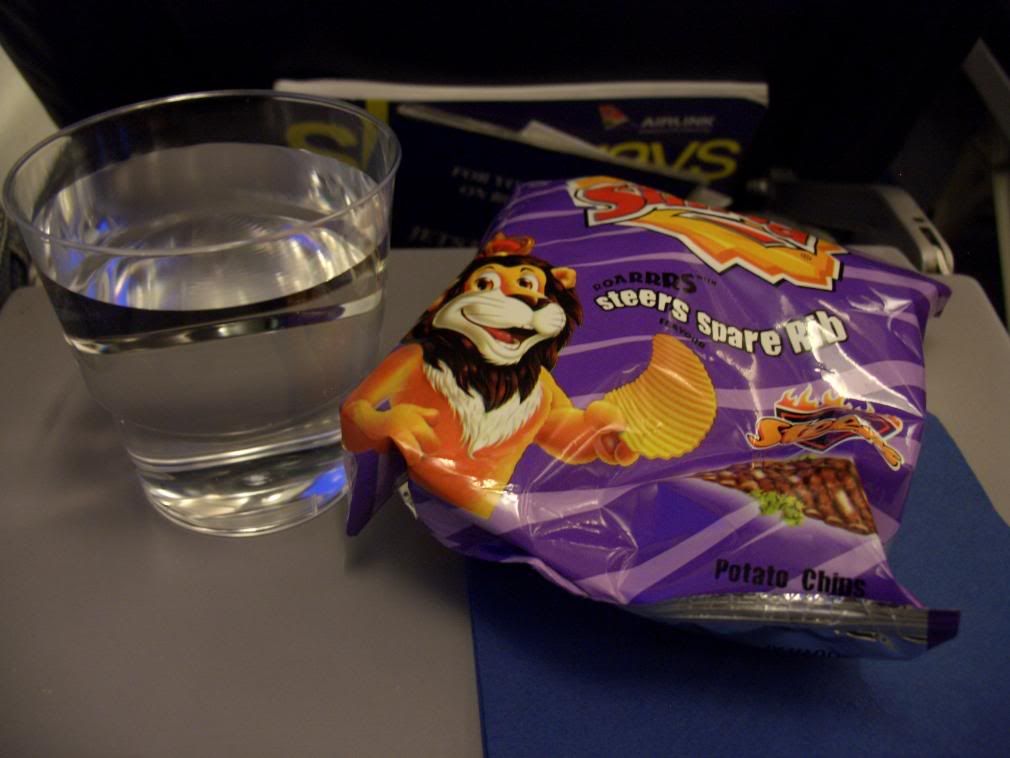 d) Inflight Entertainment:
Only inflight magazine was available during the flight.

(In-flight magazines, Boarding Passes, etc.)



e) Crew:

The one cabin crew was rather BLAH. While she did her job with clinical efficiency, she lacked charm and smile.

IV> Post-Flight:

We were parked right next to Air Link hangers and then bused to O.R. Tambo´s international arrivals gates. Baggage delivery and immigration were both efficient. Lots of construction is seen around JNB, and I am sure the airport will be awesome by 2010!

(Arrival at hangar)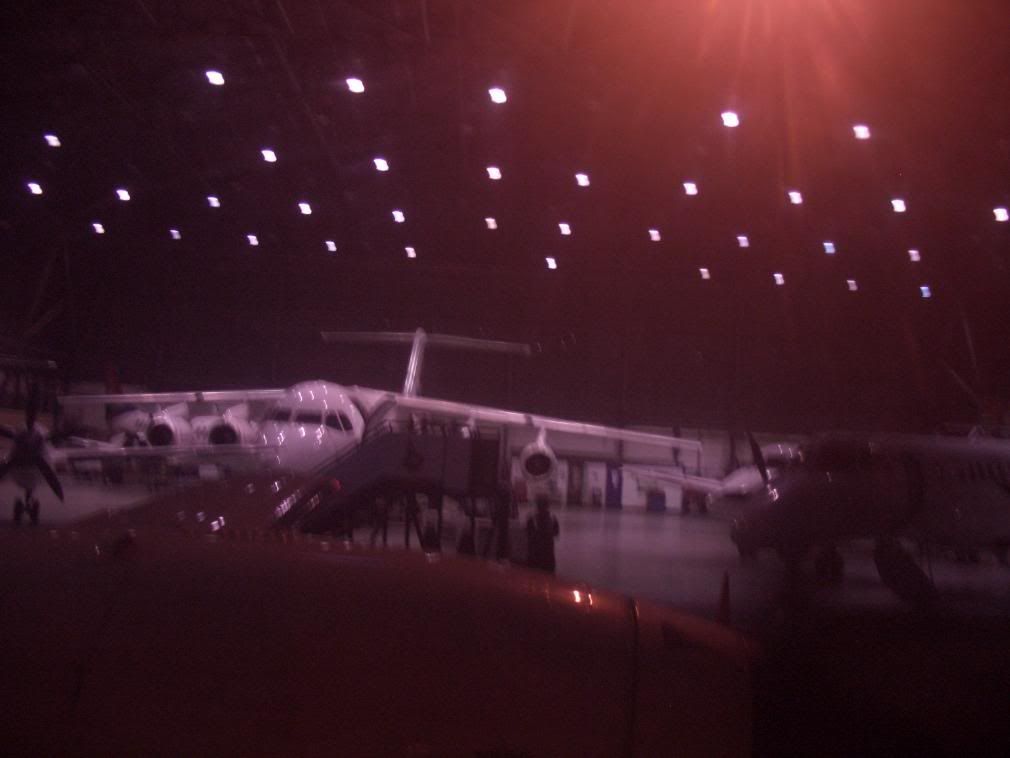 (JNB Arrivals Board)



(JNB Diverse Departure Board)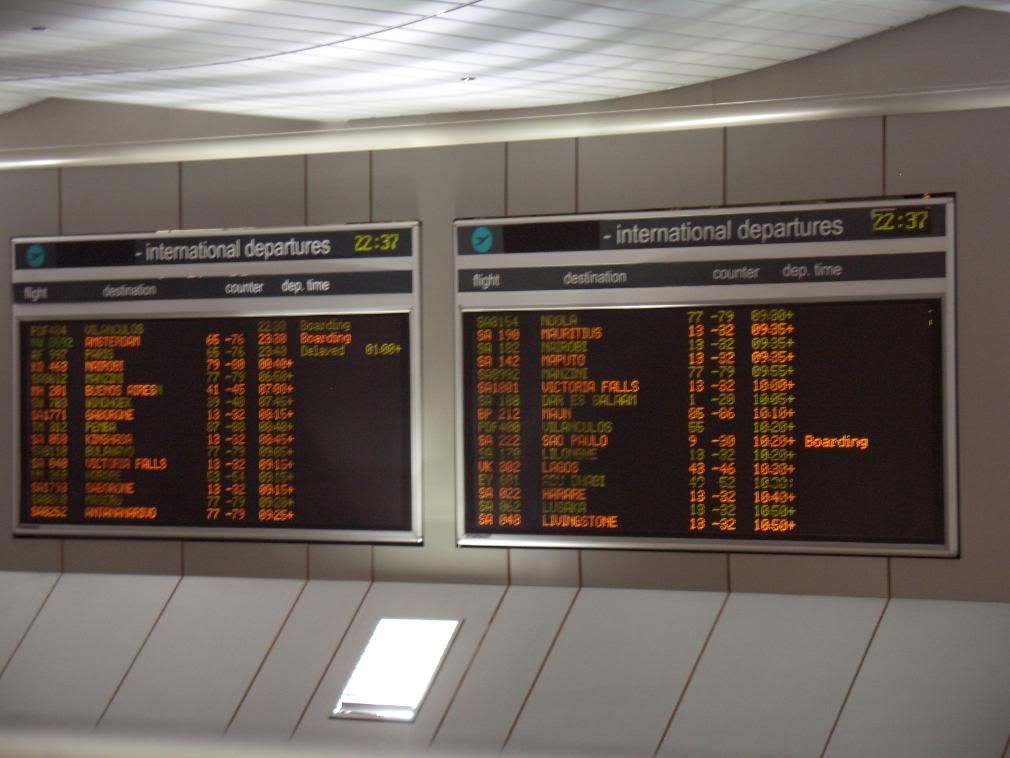 V> Impressions + Scores:

Short flight with low expectations. I wanted to share with A.Netters an Air Link flight out of Swaziland rather than make a commentary. For the routing in question, SAA provided all one can ask for … clean, efficient, on-time service, connecting seamlessly to an international network. A more cheerful cabin crew would have been a plus … but I could live for an hour long flight. Definitely would fly with them again.

Reservation: 7.0
Check-In: 8.0
Lounge: N/A
Boarding: 8.0
Seat: 5.0
Aircraft Overall Ambience: 5.0
IFE: 5.0
Crew Service: 5.0
Food: 6.0
Beverages: 5.0
Amenity Kits + Others Freebies: 5.0
Disembarkation: 5.0
On-Time Record: 10.0
OVERALL IMPRESSION: 6.17
(Pre-flight average of all-reviews: 6.33)

(Scores are based on comparison with other airlines in THAT class of service – No comparison of Y vs. F for example)

VI> Other Trip Reports:

1/ Avianca: BOG-LIM: 07/06/06: 7.09pts: Y-IMR
2/ Air Tran: EWR-MDW: 08/02/06: 6.73pts: Y-DMR
3/ West Jet: YYC-YVR: 09/05/06: 7.14pts: Y-DMR
4/ Air Canada: YYZ-YVR: 09/02/06: 5.92pts: Y-DLR
5/ Air Canada: ALB-YYZ: 09/01/06: 5.88pts: Y-ISR
6/ Singapore Airlines: EWR-SIN: 09/20/06: 7.81pts: J-ILR
7/ Adam Air: SIN-CGK: 09/22/06: 6.04: Y-ISR
8/ Valuair: CGK-SIN: 09/22/06: 5.04: Y-ISR
9/ Spice Jet: CCU-DEL: 09/25/06: 6.67: Y-DMR
10/ Indian: DEL-CCU: 09/26/06: 7.25: Y-DMR
11/ Air Sahara: CCU-BOM: 09/28/06: 4.42: Y-DMR
12/ Air Deccan: IXZ-CCU: 10/07/06: 5.75: Y-DMR
13/ Alliance: CCU-IXA: 10/08/06: 7.54: Y-DSR
14/ Kingfisher: IXA-GAU: 10/08/06: 8.21: Y-DSR
15/ Indigo: GAU-CCU: 10/08/06: 6.54: Y-DSR
16/ Singapore Airlines: CCU-SIN: 10/11/06: 5.88: J-IMR
17/ Air Canada: ICN-YYZ: 10/12/06: 7.13: J-ILR
18/ Delta AirLines: SEA-JFK: 11/24/06: 7.17: F-DLR
19/ USA 3000: PUJ-BDL: 01/06/07: 5.96: Y-IMR
20/ Viva Aerobus: CUN-JFK: 02/20/07: 4.58: Y-DSR
21/ Jet Blue: CUN-JFK: 02/20/07: 5.96: Y-IMR
22/ SAS Norge/Braathens: OSL-AES: 05/26/07: 5.75: Y-DSR
23/ TAP Air Portugal: OSL-LIS: 05/29/07: 5.46: Y-IMR
24/ Delta Airlines: JFK-CDG: 08/09/07: 7.85: J-ILR
25/ Air France: CDG-JNB: 08/10/07: 5.33: J-ILR
26/ LAM Mozambique: JNB-MPM: 08/13/07: 5.33: Y-ISR
26/ Transairways Mozambique: INH-MPM: 08/17/07: 6.08: Y-DSR

(Note on Codes: Y – Economy, J – Business, F – First :: I/D – International/Domestic :: SR/MR/LR – Short/Medium/Long Haul :: I have designed these codes so people don't believe my scores are comparing apples with oranges)

VII> Other Pictures:

It has now become customary to share some images of the place I went to, and some other related aviation pictures. Hope everyone enjoys!

(National drink of Swaziland. Now, I wonder what that looks like. Oh look, I just figured it also comes with instructions … to SHAKE WELL …)