Topic: Emigration To China, Via The Maldives And Tokyo
Username: Gabrielchew
Posted 2008-01-03 02:09:45 and read 15368 times.

Trip Report – Emigration to China, via the Maldives and Tokyo

Following my university course, I decided that it was time to leave the shores of England, and head off to China to try and find a job. I spent quite some time looking for flights to anywhere in Asia, and eventually found a great fare on Sri Lankan Airlines one way from London to Tokyo via the Maldives (twice) and Colombo. From there I decided to fly down to Fukuoka in southern Japan on Skymark, before getting as boat over to Busan in southern South Korea, then flying on to Shanghai on Asiana. This bizarre routing from Tokyo to Shanghai was the cheapest I could do in a reasonably short amount of time. Direct flights between the two cities were more than my flight from London to Tokyo. My routing was: LHR-MLE-CMB-MLE-NRT, HND-FUK, PUS-PVG. Initially I was booked on a flight direct to Colombo, but I changed it to one going via the Maldives (only 2 direct flights a week from LHR to MLE, but there are 2 daily flights straight to CMB), so I could see the Maldives during the day.

23rd July 2007
London Heathrow LHR – Male MLE – Colombo CMB
UL 502
Scheduled: 2135-1205, 1255-1450 Actual: 2217-1212, 1320-1453
Aircraft: A340, 4R-ADE Seat: 14A

After sitting on the Tube for an hour from Russell Square, I arrived at Terminal Four with 3.5 hours to go before my flight. The queues for the SriLankan flight to Colombo and Male were ridiculous. As I am a member of Skywards (not Gold or Silver mind), I went to the Business Class desk to see if I could check in there. Luckily they said yes, and I got my prebooked window seat in the forward mini-economy cabin. Leaving the crowds of the terminal behind, I headed off for a farewell dinner in the Hilton (extortionately expensive) with my little sister. An hour before the flight I headed through security, and down to the gate (via WHSmiths). The queues from check in had finally made it though as well – the flight was full. After not too long a wait, boarding commenced. I was sat next to an English family going on their annual holiday to the Maldives (alright for some!). The three rows of business class were full of very young looking families and their children – not a quiet and restful atmosphere.

Sri Lankan A340 prior to departure to Male and Colombo


Map to the Maldives


Heathrow at dusk



After a brief delay (no reason announced – assuming it was late night departing traffic), we were on our way. I can't remember what I ate, but there was a choice of three meals, and it was pretty good. Drinks were plentiful and free flowing. The staff were all very helpful. I was slightly anxious before the flight in case there would be an enormous IFE box under my seat (2nd row of economy), but there didn't appear to be anything, so the legroom was also good. Once dinner had been cleared away, the lights were dimmed, and most people seemed to drift off.

A couple of hours before landing in the Maldives, the lights came on, and breakfast was served. Not as good as dinner, but still not bad. The approach into the Maldives was almost as good as I could have hoped for. There were some amazing views of the islands including the world's smallest capital, Male, perched on its own island not far from the airport.

Arrival into the Maldives


Male


Runway



After a superb touchdown, we were taxiing to the small terminal. The tarmac was crowded with European visitors – Monarch, euroFly, Livingston and a few others. Once we had lined up, everyone disembarking in Male got off, and the cabin crew came round asking everyone staying on to Colombo to identify their hand luggage. Not long after a few new passengers joined us for the short hop over to Sri Lanka. I thought I'd have a free seat next to me, but unfortunately it was filled by the last passenger to board.

Male Airport


Map to Sri Lanka


On Board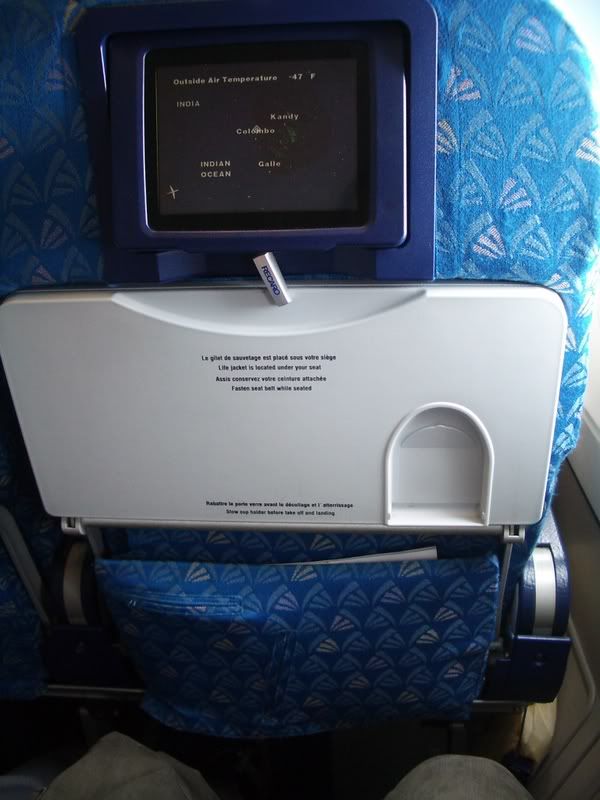 After a turbocharged takeoff, we were once again offered some amazing views of the islands, before heading back above the clouds once more. On this short sector, the cabin crew handed round juice, water and beer. Arrival into Colombo was an unhurried affair. The tarmac was almost devoid of life, and there was just one company A320 at the terminal. I was among the first off, and thanks to my fast walk, the first to get to immigration (no queue). After a bit of a wait for the baggage belt to whirr into life, I was through customs and into a taxi in no time at all. Colombo Airport, even after all the security measures, is actually a very pleasant facility to use.

Sri Lanka



After a night on the beach, it was time to head back to the airport for my second leg of my emigration up to Tokyo, once again via the Maldives. There were at least three check points to go through before I got to the check in desk, which wasn't very busy. I was informed of a one hour delay due to the late arrival of the incoming aircraft, not a big problem. Colombo airport doesn't have a lot of attractions, but there was a good massage parlour which helped me kill a bit of time. Before I knew it, it was time to board…




25th July 2007
Colombo CMB – Male MLE – Tokyo Narita NRT
UL 460
Scheduled: 2030-2135, 2215-1150 Actual: 2127-2207, 2309-1251
Aircraft: A340, 4R-ADA Seat: 10A

I had the first row of economy booked on this leg, and there was no one next to me for the first leg. The rest of the cabin on the other hand was pretty busy, with lots of what sounded like Brits en route to the Maldivian beaches. It was only after take off that I realised that the arm rest didn't raise, so I'd be confined to having just one seat on the next overnight leg should no one take the seat opposite. There was a just a quick water round on this flight, nothing special. Landing at Male this time wasn't quite as spectacular as it was dark, but the onboard cameras were on so I watched the landing on TV, which was cool.

Waiting in Male for passengers to Tokyo



Most of the passengers seemed to disembark in Male, and for the next 30 minutes, the aircraft was quite quiet and empty. After a crew change, a few passengers trickled on, and the doors were shut. Unfortunately one of those passengers was destined for 10C, so I was a bit stuck. After a cursory glance around the cabin, I asked one of the FAs if there were any rows of seats in the back that were empty, and if I could move. He replied in the affirmative, so I moved out of the mini cabin, and into the main economy cabin, which was nice and empty. Only two rows back I found a central block of four seats empty, so colonised them with the blankets and pillows. After take off, the cabin crew were quite quick to set up dinner; I had a spicy prawn curry which was tasty. The crew weren't so accommodating with drinks (i.e. most alcohol wasn't on the cart), but a request got me a vodka coke very promptly and with a smile. As soon as the trays were cleared, the lights were off, and I reclined across my four seats – ah, better than a SIA suite!




After a reasonable nights sleep, I woke up to a hot towel, which was most welcome, followed by breakfast; can't remember what was though, sorry. In the back of the in-flight magazine they mentioned that there were free postcards that the crew would mail for you. I asked one of the stewards, and he said he didn't know, but would ask the purser. A few minutes later a was presented with a bag full of postcards, playing cards, pens and writing sets – result!

Flying over my old home in Nanjing


In Tokyo



Unfortunately we didn't make up any of our delay, and landed at a very empty Narita Airport just over an hour behind schedule. The last time I was in Narita was September 2006, and I waited over an hour at immigration. This time (at the same time of day, but in the other terminal), I was the ONLY person at immigration. I was through in minutes. Luggage was a bit less forthcoming, but rolled out eventually, and then I was on my way into the city.

SriLankan Ratings:

Timings: 8/10
Comfort: 9/10
Meals: 7/10
IFE: 6/10
Staff: 9/10
Arrival: 9/10
Value for money: 8/10

Overall: 80%

After a week in Tokyo, and a day trip to Yokohama on the bullet train, it was time to head down to Fukuoka, on the next step of my emigration to China.
Octopus in Tokyo



After a rather stressful train experience with my very heavy bag, I got to Haneda. The Skymark desks are located next to JAL, right at the end of the terminal. I cheated the weighing scales a bit, and actually held my bag up so it didn't register the full weight; was nearly 10kg over I think. When asked is there was anything fragile in the bag, I said yes, just so I could get a 'fragile tag' (sad, I know). The checkin lady then made me fill in the 'limited release' form on the back of the luggage tag which I've never had to do before. Interesting. As I was a bit early, I went up to the viewing deck, but there wasn't much to see, so I went though security, and down to the gate. On the way I bought a tonkatsu sandwich (fried pork with BBQ-style sauce) – mmmmmmm.

Skymark to Fukuoka


JAL at Haneda Airport



31st July 2007
Tokyo Haneda HND – Fukuoka FUK
SKY 009
Scheduled: 1120-1310 Actual: 1142-1300
Aircraft: B767-300ER, JA767E Seat: 39A

We started boarding a little late, at around 11am. The seating was pretty comfortable given the number of rows that they've squashed in. Once airborne, the cabin crew came round with a pay-drinks trolley. They weren't very keen on selling anything. I asked for a coke, and they said that they didn't have any, nor water, nor fruit juice – not sure what they did have. On the positive side, there were some spectacular views of Mt.Fuji.




I also got some good shots of Nagoya Chubu Airport, Osaka Kansai Airport and Hiroshima. Just before landing, the crew came though the cabin with paper fans with sushi advertising on, which were quite cool.




Fukuoka airport, I think, is the most city-central airport in Japan, lying only a few miles from the city centre. The view on approach was good, flying over the houses and building – very Kai Takesque.

Fukuoka airport is reasonably small and compact. The bags came through reasonably quickly, and thanks to the metro, I was in town 30 minutes after landing.

Skymark Ratings:

Timings: 8/10
Comfort: 8/10
Meals: 1/10
IFE: 1/10
Staff: 7/10
Arrival: 9/10
Value for money: 8/10

Overall: 60%

From Fukuoka, I took the JR Beetle (hydrofoil) over to Busan in South Korea, which took a couple of hours. Busan, I thought, was a reasonably nice place. The beach that I went to was probably the most crowded one I'd ever been to, but other than that, the city was lively, and not too expensive. I was, however, expecting it to be a little more like Japan than China, but found that it was the other way round.

I found an ok fare flying Asiana to Shanghai on their website, which was not terribly user friendly. China Eastern and Korean Air both fly the route too, but they were much more expensive – and I get Lufthansa miles with Asiana – win win situation!

I got a taxi to Gimhae Aitport, which was buzzing. Two Vietnam Airlines flights had just arrived (one from Hanoi, the other from Ho Chi Minh), so there were plenty of passengers from those, and a range of other regional destinations. I got my preassigned seat at checkin, and they didn't question me about my overweight bags. The departure area in the International section was particularly boring, with just one large duty free shops, and a small café serving an unappetising selection of food. I think that there is one gate, but there was a Korean Airline A330 there, so we were bussed out to our newly painted A320.

2nd August 2007
Busan PUS - Shanghai Pu Dong PVG
OZ 311
Scheduled: 1000-1035 Actual: 1015-1035
Aircraft: A320, HL 7753 Seat: 14F

Thankfully, the flight wasn't too busy, and the middle seat was unoccupied, giving me and the guy in the aisle a little more room. We taxied out a little late, but managed to make up time en route. Our flight path took us over Jeju Island, then straight down to Shanghai. We were served a full meal of Korean beef, along with smoked salmon – very tasty.




We landed on time, but it took a while to get a gate, though at least we didn't end up getting bussed in as all too often happens at Pudong with smaller international flights. Immigration was really fast, unlike the luggage which was particularly slow. After travelling for over a week, I had finally completed my trip from London to Shanghai.

Asiana Ratings:

Timings: 10/10
Comfort: 8/10
Meals: 8/10
IFE: 6/10
Staff: 8/10
Arrival: 9/10
Value for money: 7/10

Overall: 80%