Topic: CLE-ORD-IAD-ORD-CLE On UA Y & C W/ Pics
Username: Mnevans
Posted 2008-03-11 15:09:23 and read 8242 times.

Background
In early February, I received an email from United that my 500 mile upgrades were going to expire at the end of May. I had five of them (purchased as a birthday present by my parents) in my account and I thought I might as well use them. I saw this as an opportunity to get on a 772 and possibly a 763, and maybe even a 744 ferry flight. I'd be flying CLE-IAD, but since UA only operates UAX flights from CLE-IAD, I had to manually route myself through ORD. So the final routing would be: CLE-ORD-IAD-ORD-CLE. I specifically chose flights between ORD and IAD on widebodies: 735-772-763-CRJ.

I checked in right at 24 hours in advanced to try secure my upgrade. I ended up getting the following seat assignments


CLE-ORD (B735) – 17F
ORD-IAD (B772) – 13J

According to SeatGuru both of these seats were normal and had no deficiencies. That's always good!

2/7/08
I left my house around 800, stopped and got my traditional pre-flight breakfast at Waffle House and made my way to CLE. Rush hour traffic sucked, as usual, but luckily Hopkins is only 4 exits into where the traffic really gets bad so usually there's not too much time lost.

I pulled into Park n' Fly at 855, got my spot and as usual the bus was right there. I really love PNF. I have always had good experiences with them. Quick bus ride to the terminal and I was getting checked in. I headed to the counter at which there was no wait. I always like to have the airline copy of my boarding pass. Just in case I lose the home printed one, so I printed out a real one. I also like to keep them if possible, just to remember my trips by. Continental had a little bit of a line, but maybe a 20-30 minute wait.


I proceeded to security for B concourse. The only waiting there was by the TSA on me to get my shoes off. I decided to stop by my normal stop and get an Americano from Starbucks.



I had about an hour to kill before boarding began so I walked down C a little bit, looked in Johnston and Murphy. Nope, nothing's changed since 4 days ago! It was about 930 so I decided to head to the gate.

The a/c was still inbound from ORD, so we were waiting a little longer and boarding began about 1010. The gate agents were all very nice. I haven't flown United in about 6 months; my last experience was in Columbus before I left Ohio State. The gate agents down there were very mid-westerny (is that a word?). However sometimes it seemed they could've done a little more for the passengers. Gate agents in CLE were great. I will have to fly UA more often.


UA0539
CLE-ORD
Boeing 737-500
Scheduled departure : 1042
Actual departure : 1052
Seat : 17F


Boarding was called for Global Services, 1K, F, etc. then group's 1 and 2. I got to my seat and got my roll aboard up in the bin and took my seat. We were armed and pushed-back in no time. We weren't set to get deiced since it wasn't snowing, but just as we started taxing it started snowing so we were forced to head to the pad. We were the first a/c on the pad to deice so that went very quick.


We taxied out to 6R and rolled into our takeoff. Even after hundreds of flights, I still get a rush when the gear lifts off the pavement. It gives me great feeling. About 10 minutes up service quickly began. I was pretty full, so I just got some tea and started reading my book and some printed RSS feeds. There is a great website called http://feedjournal.com/ . It automatically takes RSS feeds and creates a printable newspaper out of them. I've found this great for traveling when you don't have Cell phone access (or iPhone in my case) to the Internet. Service throughout the flight was good they came by twice to refill my tea. Before I knew it, we were touching the edge of Lake Michigan over downtown Chicago on our approach. We were on the ground in about 15 minutes. We taxied for what seemed like 15 minutes and arrived at gate B12.

I had about an hour between flights and I decided to kill some time walking around concourse C. I really like C at ORD. It's so busy and lots of things going on. There are lots of shops and it's pretty clean. I stopped by a news stand a got a bottle of vitamin water, checked out a few magazines and then headed to my gate: C17.


UA0950
ORD-IAD-BRU (I departed at IAD)
Boeing 777-200
Scheduled departure : 1310
Actual departure : 1345
Seat : 14F
At 1300 they called boarding for GS,1K,F,J, etc. I waited a few minutes, as to let the more senior looking people go ahead of me. I'm in mostly uncharted territory here. I've never flown F or J on a United widebody so I'll take the back seat as it were. We boarded through I got to my seat. Looks like a standard United International J seat. The crew offered pre-departure drinks I got some water. They also took our lunch order; the choices were a Cobb salad or a Chef salad. I chose the chef salad and a glass of scotch, more on that later. I struck up a conversation with the guy next to me, and talked to him for pretty much the whole flight. He was a 1K and we talked about all kinds of stuff. He was a great seat neighbor.



Here is a view of a United 744 next door at gate C18. I believe it was Headed to Frankfurt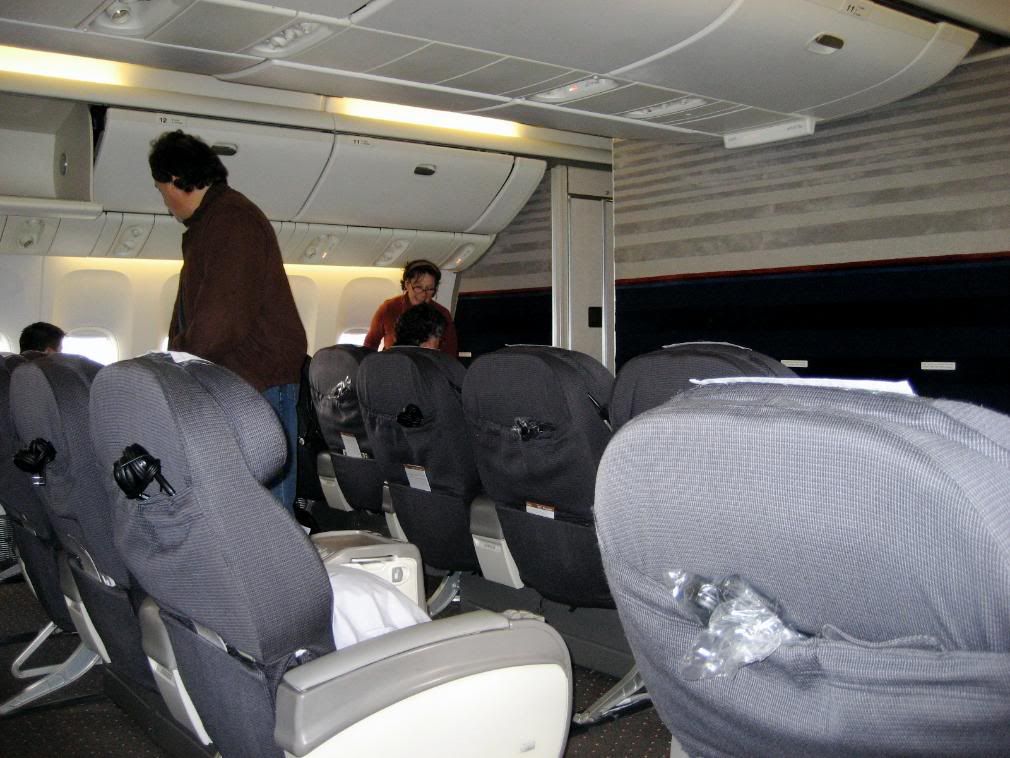 View from my seat towards door 2L where we boarded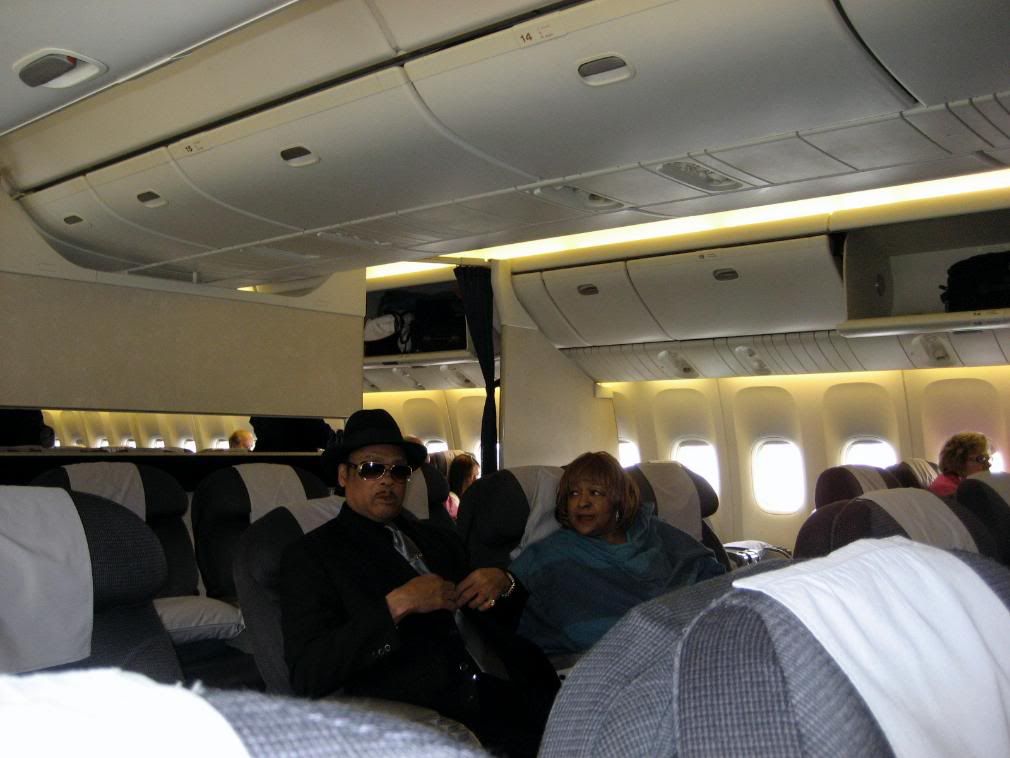 View back from my seat looking towards Y. The guy in the hat didn't look to happy to be in a picture.




Leg room at my seat. 56" seat pitch was more than enough. I'd definitely be comfortable on this aircraft for a long period of time.

We finally pushed back and made our way out to the runway. We were 2nd in line. As many love, the captain just rolled right into the takeoff. MAN what a feeling in the 772! SO AMAZINGLY DIFFERENT than any other aircraft I've ever been on. It's so much more smooth, its puts you in your seat so much, I was very giddy! ☺. As soon as we were done with our steep climb service began.

Tablecloths were set, as well as silverware given out. Soon after our salads and drink orders showed up. The salad was very very good. The lettuce especially was very crisp. It was probably better than any salad I've had from Panera or the like, so great job United! My row-mate and I both said at the same time how good the salad was. The scotch was just a normal Dewer's white label. When the stewardess came back she asked me how everything was and I said great and would like another scotch, she offered the Chivas this time. That was a little better; they still were both nice though. Before I kenw it, we were starting to descend into IAD. My 777 flight was over too fast! We landed and were at the gate in no time.

This was my first time at IAD.! I read about the mobile lounges, those things are very moon-buggy looking, weird system but it works. I met my brother outside of the United baggage claim, and our journey began.

My stay there mostly involved my transporting myself to my college days: drinking very heavily, unsuccessfully talking to girls and getting food at 3am. It was an interesting few days and I had tons of fun. The trip came to an end too quick though, and late Sunday morning we were back on our way to Dulles.

I had checked in on Saturday afternoon, again to find that my upgrades were confirmed, yes! I got seat 5F. Again, SeatGuru aided me in my choosing.


2/9/08

UA0395
IAD-ORD
Boeing 767-300 WW1
Scheduled departure : 1435
Actual departure : 1455
Seat : 5F

I was a little hung-over, so I went and got some Starbucks (Americano of course) and some marble loaf. I intentionally got there only about an hour before takeoff knowing that I was in C and there probably wouldn't be a long check-in or security line. I got on the mobile lounge to my gate and walked right on the plane.

When I got into the cabin, I unintentionally turned left. For some reason I thought we were on a 772 and I was in F! The captain was standing right there and as I turned around he said, no buddy, feel free to go up there. I put my things down at my seat and almost ran back up to the flight deck. The captain (Mike I believe his name was) told me about some of the things in the cockpit, etc. They were getting some weather reports and such. I asked where they came from, you know, just small talk. He was very nice and I really appreciate him letting me up there. Side-note, the cockpit looked really dated. Not sure how old this particular 767 was, but it looked older. Also, had a flight engineer seat, not sure if all of them do or not.

I got my seat and started to get comfortable. The service this time was not the best. It was all guys doing the service in the C cabin, and they weren't very nice. I never even was asked if I wanted my coat hung up, they never were nice or said hi, and the one guy even kind of snarled at me when I asked if I could have some more water. We pushed back and taxied for a few minutes and rolled right into our takeoff. The FA came around and asked what we'd like to drink, I said scotch and he replied, "and you're how old?" in a very snide, rude voice. I've never been asked how old I was when I have ordered a drink on a flight, which kind of pissed me off. I started reading and read most of the time. I tried to use the IFE but it wasn't working. I was able to get the map up however, that was nice as we flew right over Columbus, Ohio and OSU. I could see my old dorm and stomping grounds! W00t w00t! About an hour into the flight, a different FA who'd given me first scotch offered me another, I said yes definitely! It appeared quickly and was filled to the brim of the glass. Minutes later the same FA who'd given me the first scotch said "are you going to drink any of that or just let it melt the ice?" – again in a very rude tone. It wasn't just me either, the guy sitting next to me, an older fellow also made mention that he thought the FA's were rude. Before I knew it, we were coming in over Downtown Chicago and descending fast. I got my seat up, from FULL recline and we were on the ground soon. We taxied for awhile and ended up at a gate on B concourse.


I took the shuttle to F and when I arrived decided to get some food. I had a polish sausage which was really, really good. I then headed down to gate F1 to meet my sworn enemy…. The CRJ.



UA6825 operated by United ExpressSkyWest
ORD-CLE
Canadair 200 – [change reg#]
Scheduled departure : 1730
Actual departure : ??
Seat : 2D


Boarding was to say the least, a cluster-f*^k. They had 3 a/c parked and departing within 15 minutes, all boarding at the same time. There were several people who got on our a/c and didn't realize they were on the wrong one until someone was in their seat. Lucky for them all the planes were delayed so they were able to get on the correct one. We were at the gate for a long, long time; probably about 45 minutes. I never did really find what was going on. The gentleman next to me had a Kindle. That was very interesting. I had never seen one in person, and it's a really great device. After we finally took off, I read and listened to podcast's on the short flight. We got into Cleveland at about 2100. I made my way down to the baggage claim, and it was a MESS! There were bags everywhere, presumably from the delays and misscon's the days before during the storms. It took awhile for our bags to make it out. Finally they did and I caught the PNF shuttle.

The gentleman driving the bus informed us that most of the cars were snowed in and that we would most likely have to get a tow out of our spot. I wasn't looking forward to this…. I was the last one dropped off of 7 people and I was the first one to get out. My car wasn't buried at all, which was welcomed. I got out of the Park n Fly lot and headed home.

Overall the experience in C on United was pretty good. I have been in F/C on CO and US and UA (non widebody) and it's definitely different when you are on a little bigger a/c. The service is about the same, but it's just a very different atmosphere. You don't' hear all that riff-raff back in Y ☺. I can't wait to get a trip overseas in J and experience that, and then maybe move on to a Luxury carrier like SQ. I hope you all enjoyed, please leave comments.

P.S. I'm sorry for the misspellings and grammer. I'm a very stream of thought writer so I don't' usually like to go back and check my stuff, but I hope it's interesting, or at least entertaining! ☺