Topic: Air China First Class. Beijing-Guilin Via Xi'an
Username: Gabrielchew
Posted 2008-03-05 22:05:10 and read 29165 times.

Trip Report CA
Air China First Class. Beijing-Guilin via Xi'an

I haven't written a specialised domestic Chinese trip report before even though I've been on nearly forty domestic flights, and six Chinese airlines before. This trip was, however, different from the others, mainly because if was my first experience in Domestic First Class. There are five flights a day from Beijing to Guilin, but only the three morning ones are direct, with the afternoon ones routing though Xi'an (Air China) and Tongren (China Southern).

Beijing Airport



Beijing (PEK) – Xi'an (XIY)
February 2008
CA 1225 (Air China)
1540-1730 (Scheduled), 1h50m
1546-1720 (Actual), 1h34m
First Class
Boeing 737-800, B-5325

My employer had bought me an economy ticket, but since I had a lot of luggage, and the flight was reasonably long thanks to the stop in Xi'an, I decided to try and upgrade to First Class. This was done without much fuss, and as the original ticket was quite expensive, the change was only about 1300RMB (90 GBP). Another benefit was that now I would earn triple miles with Lufthansa as Air China is now a full member of Star Alliance

Air China has a separate First Class check in area where you sit down while the agent checks you in. You then go with a porter and your luggage, and it gets x-rayed. As normal, there was very little queue for security, and in no time I was in the First Class lounge. I've only been in International lounges in China before, and they aren't very good. As you can imagine, the domestic lounge wasn't good. The lounge was small, and very busy. There food selection was limited to some pre-packaged crackers, and the drinks selection to soft drinks and tea and coffee. There were a couple of computers available, but they were being used.

First Class Lounge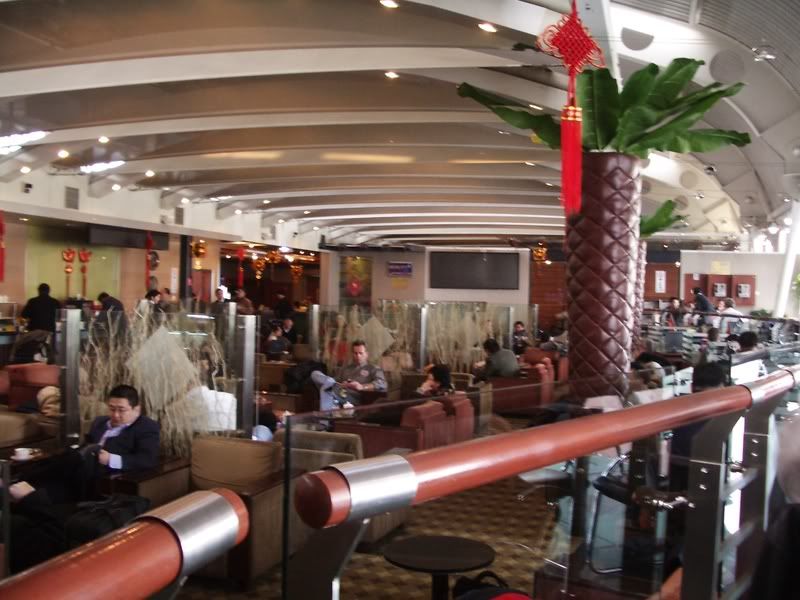 The toilets in the lounge were not nice (worse than in the main terminal), so all in all, the lounge was far from luxurious, but ok. The flight was called at 1510, and once I had walked down, boarding had started (onto the bus at any rate). The route across the tarmac gave good views of the international terminal (CO B777, NH B767, two SK A340 (one to Copenhagen, the other to Stockholm), two UA B744, JL B767). The two United Boeings (one in the old colour scheme) passed each other right in front of our bus, one outbound for San Francisco (UA 888) an hour and a half behind schedule, and one taxiing to the gate from a remote area prior to UA 850 to Chicago.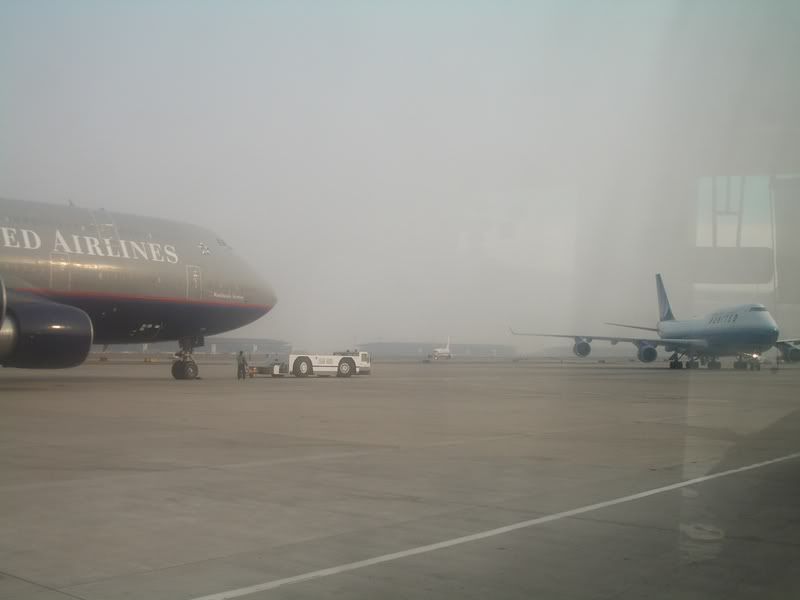 Boarding was a bit of a rush as normal with everyone pushing on. A Canadian guy (also in First Class) was prevented from going up the aircraft steps by the jobs worth guard checking boarding passes as it as an 'Air Canada' one. He had to wait till everyone else had boarded, then showed the guard his ticket before he was let on.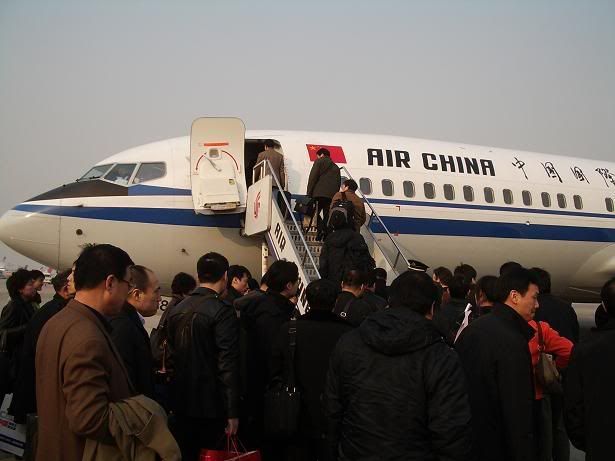 On this sector, seven out of the eight seats were taken in First Class. There were two FAs, one who stayed in the galley, and one serving. She spoke good English, and came around offering water or orange juice as a pre-takeoff drink. Once boarding was completed, she came around with hot towels, and collected the glasses. We took off a few minutes behind schedule into the perpetual Beijing haze which obscured the land minutes after takeoff.

First Class cabin



Once the cabin-divider curtain has been pulled across, the FA came around asking people if they wanted anything to eat or drink. There was no meal choice on this sector. She came out of the galley with everyone's drink order on the meal tray. We were served three mini open topped sandwiches (very tasty) and fresh fruit (melon and kiwi). Once the trays had been cleared away, everyone else in the cabin seemed to go to sleep. I, on the other hand, decided to recline and enjoy a few beers. I was served Budweiser as apposed to Yanjing Beer that they serve in Economy.

Snack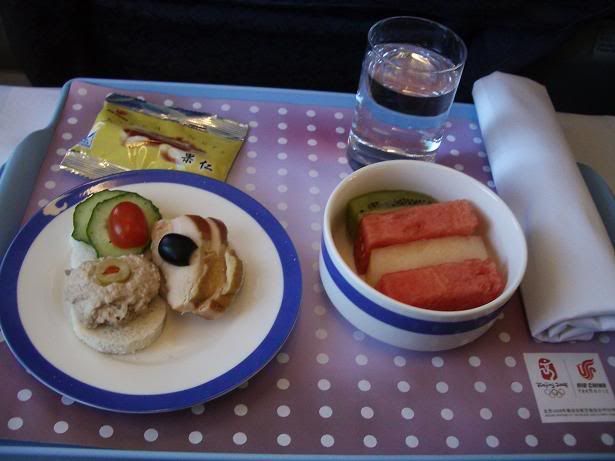 The seats don't have a lot of pitch, but they are completely adequate for short haul – it helped that no one in the front row reclined. Three beers later, and another hot towel later, we were on finals for Xi'an.

Xi'an Airport



It had been nearly five years since I was last in Xi'an, and the overriding memory of the place (other than the Terracotta Warriors) was the smog. Unfortunately, the smog was just as thick as I remembered it – rather grim. We touched down ten minutes ahead of schedule, and we docked a few minutes later. Xi'an proffered the usual mix of B737 and A320 domestic airlines (Hainan Airlines, Chinese Eastern, China Southern etc), as well as a Sichuan Airlines ERJ and a few Dornier 328Jets from Hainan.

Xi'an Airport is as characterless and functional as pretty much every other airport in China. Clean, but pretty boring. I headed to the Air China lounge which had three members of staff watching a soap opera, but no other customers. There were two computers, so I settled down with an ice-tea and surfed for a bit.

Xi'an (XIY) – Guilin (KWL)
February 2008
CA 1225 (Air China)
1825-2010 (Scheduled), 1h45m
1817-1954 (Actual), 1h37m
First Class
Boeing 737-800, B-5325

At 6pm, I was told that the flight was boarding. I walked off to the gate thinking I had plenty of time (Xi'an is fairly small, and we were on a stand). When I got there I realised that I was one of the last to board. The same friendly FA was on board, though thankfully, only one other passenger, a guy in 1A.

This time I took an orange juice with my hot towel.



At the gate next



We did a very fast taxi to the runway, and before the safety video was even half way though, the TVs were turned off, and we turned around, and off we went, nearly ten minutes early. A nice change I suppose to departing late.

More cabin shots



I suppose that this flight was classified as an 'evening meal' flight as we were served a proper meal on this sector, even though the scheduled flight time was a bit shorter than from Beijing to Xi'an.

I was offered a choice of rice and chicken, or rice and fish. I decided on the chicken, along with some jasmine tea and sparkling water (there were four tea choices in First class, as apposed to only one type served in economy).

The appetisers were served on a tray first (a choice of six types of bread), a mixed salad, and some cold cuts of fish.



The main meal was perfect except for the chicken skin which I had to try and scrape off.



Sunset



After that, more drinks were served, along with copious amounts of mixed nuts. We started our approach to Guilin just after dusk. Another hot towel was given out before the lights were dimmed for landing. We touched down at the nearly empty airport a full sixteen minutes.

Once the seatbelt sign was turned off, the FA (as normal) stood at the back of First Class to stop Economy pushing past and getting off first. However, one guy pushed past her (and me) and opened the overhead locker for the guy in 1A, and took out his carry on (which was pretty small). The guy in 1A didn't acknowledge him at all, and the FA just let him. I thought it was pretty weird.

Anyway, once the doors were open, I disembarked, and went down to the luggage carousel. My bags were first off which is always nice. My prearranged taxi was waiting for me, and we went out to the curb. She left me to drive the car around. While I was waiting, I saw the guy that was in 1A surrounded by a crowd of people. He was helped into a blackened out car that sped off, and everyone else piled into a van waiting behind. I guess he was a provincial governor or something.

So, all in all, the flights were excellent. Seat comfort is excellent for short haul, and the catering is great. The only disappointing areas are the lounges (especially in Beijing). The new Beijing Terminal 3 will no doubt resolve this problem. It's just a shame that there are never any discounted First Class seats.

Yangshuo, my final destination