Topic: Qatar Airways: DAC-DOH-LHR (46 Pics) Pt2
Username: Arsenal@LHR
Posted 2008-12-24 13:18:43 and read 32767 times.

Inbound to LHR

Thurs 11th Dec 08

Qatar Airways
Dhaka Zia Int'l (DAC)-Doha Int'l (DOH)
Flight: QR 345
Depart: 10:50am local time
Arrive: 13:55pm local time
Aircraft: Airbus A330-300
Reg: A7-AEG red "Asian games Doha 2006" livery
Flight time: 5 hrs 40 mins
Load factor: <30%

Time to head back home, arrived at DAC well after 9am for the 10:50 departure, the check-in agent tells me i'm early! ROFL!. Boarding passes were issued all the way to LHR. Just as i was going through security i see our plane pulling into the gate, looking good in the Asian
games livery. At this point i didn't know this plane would take me all the way to the UK. Interestingly enough, the pilot's and cabin crew for our flight also checked in and went through security at the same time as i did. Typically, there was a mad scramble as soon as the gates were opened for boarding. Took my seat, a window one on the starboard side directly above the wing. A BG A310 was parked to our right as seen in the picture, to our left was a SV 747, next to that a Biman 747 in a hybrid colour scheme, what looked like a ex-NW 742. I had my camcorder with me so i filmed the entire pushback, taxi and take-off, one for the collection eh? Take-off was bang on time at 10:49 am.

Our mean-looking A333




Emirates 773 (A6-EBP) parked at the next gate




EK 773 pushed back for departure to you-know-where


Tired-looking Biman A310 pulling into the gate left vacated by the EK 773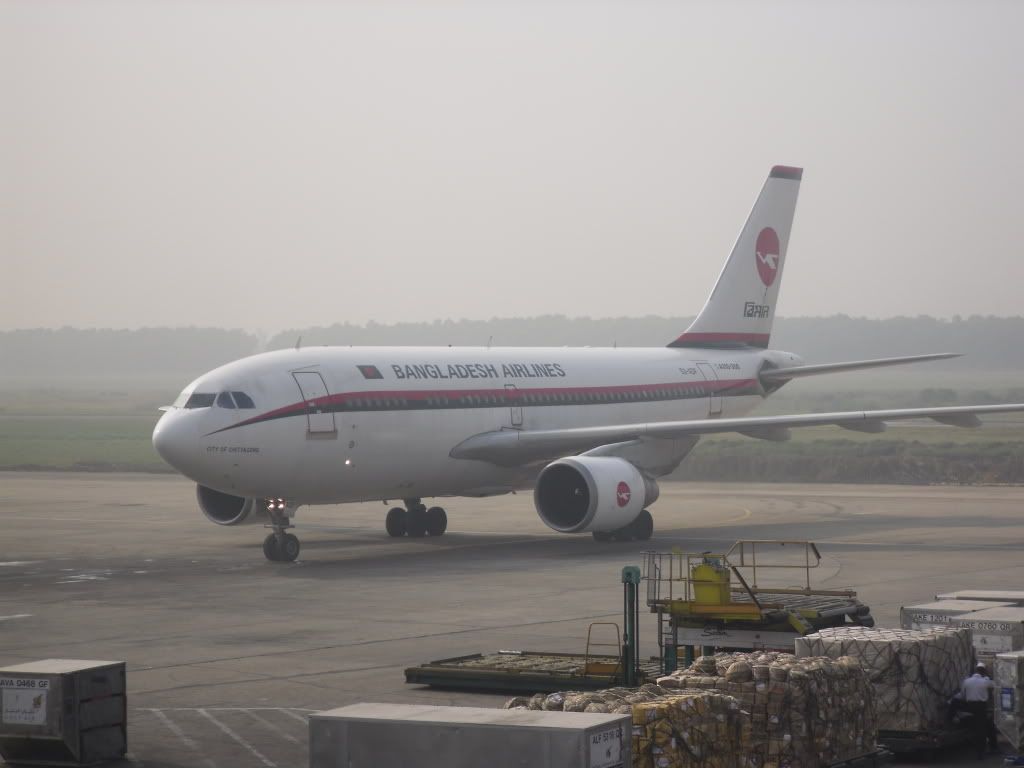 Our plane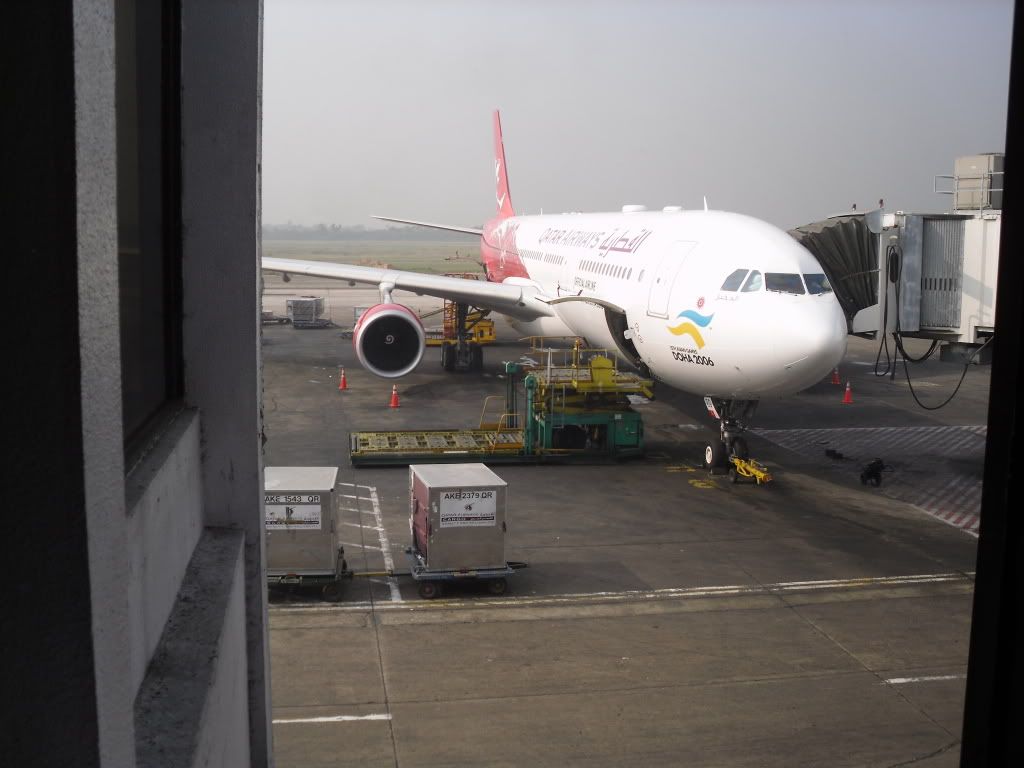 Boarding - Forward economy class section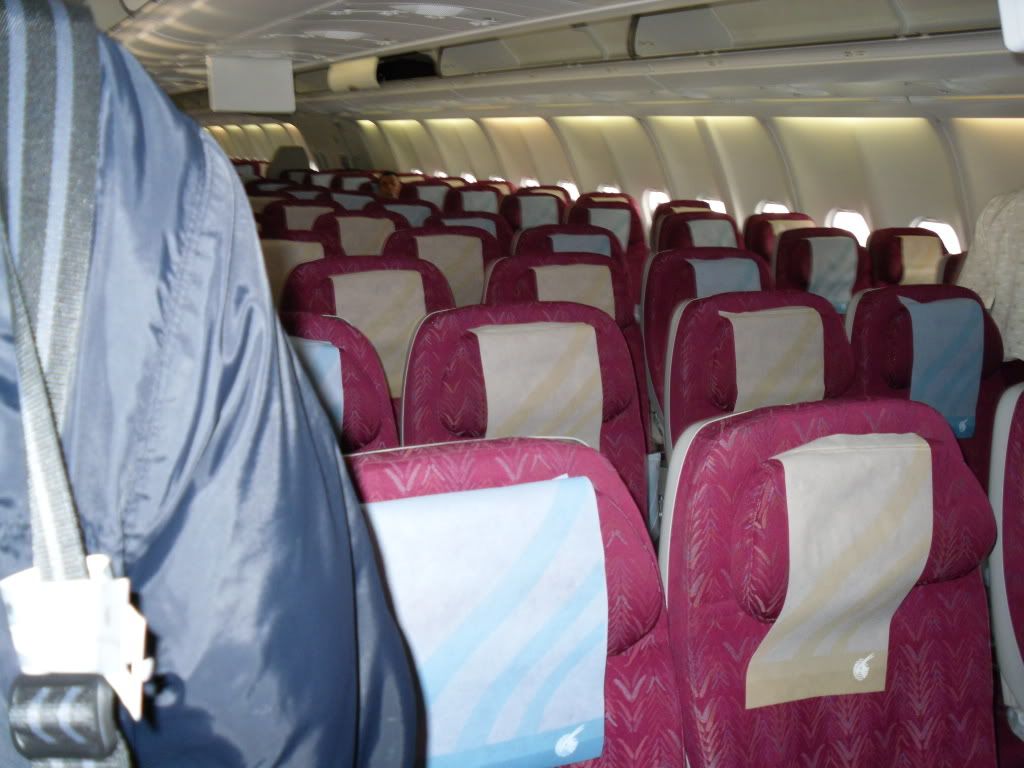 Climbing to cruise altitude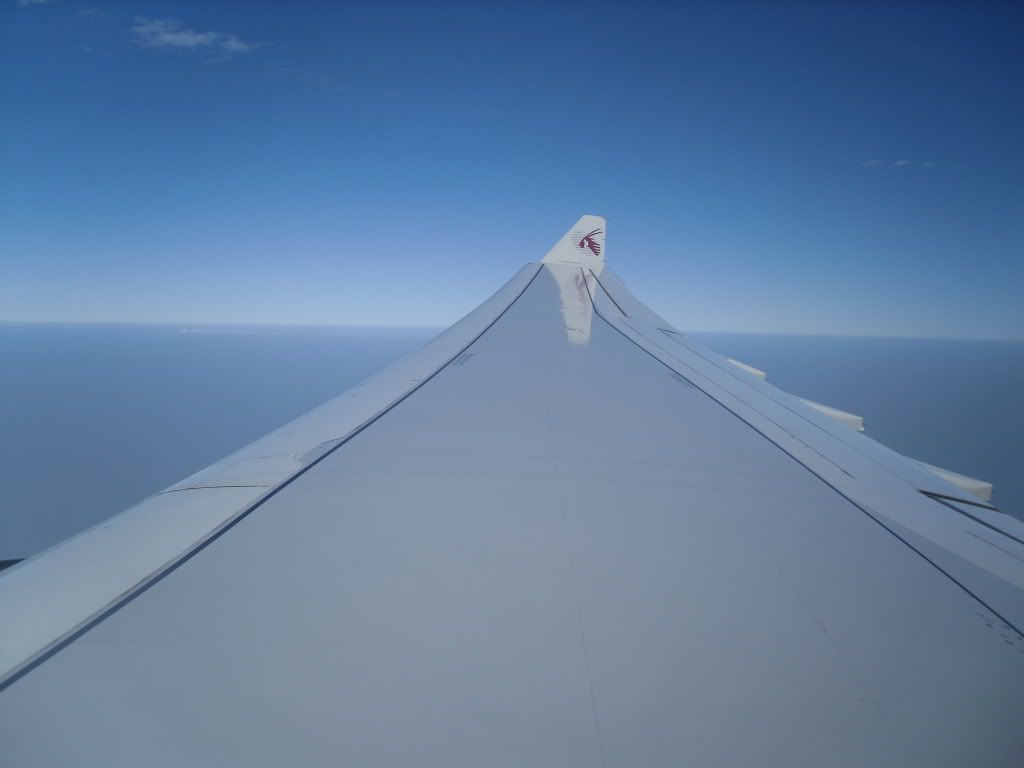 Lunch was served shortly after take-off, a mutton curry with rice and curried vegetables, a bread roll, potato salad and a dessert. Not keen on potato salads but the main course was very tasty, i don't expect gourmet food at 40,000ft in Y class, but QR Y class meals were tasty enough for my taste buds.




Economy class - mid flight




Mood lighting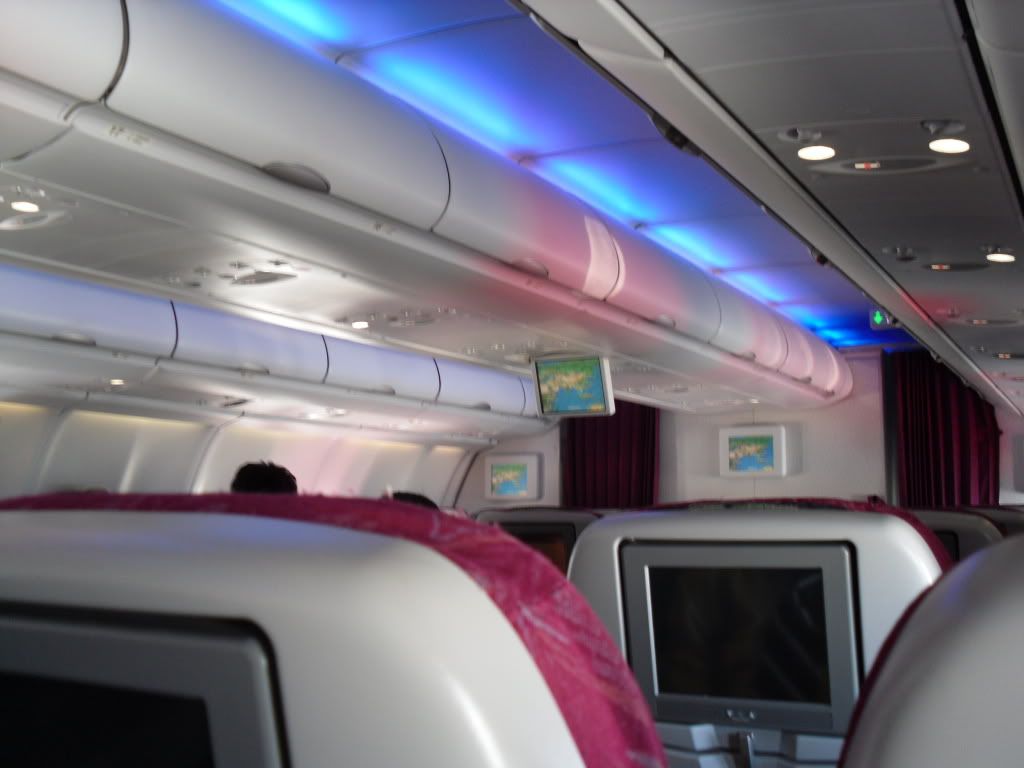 Flight info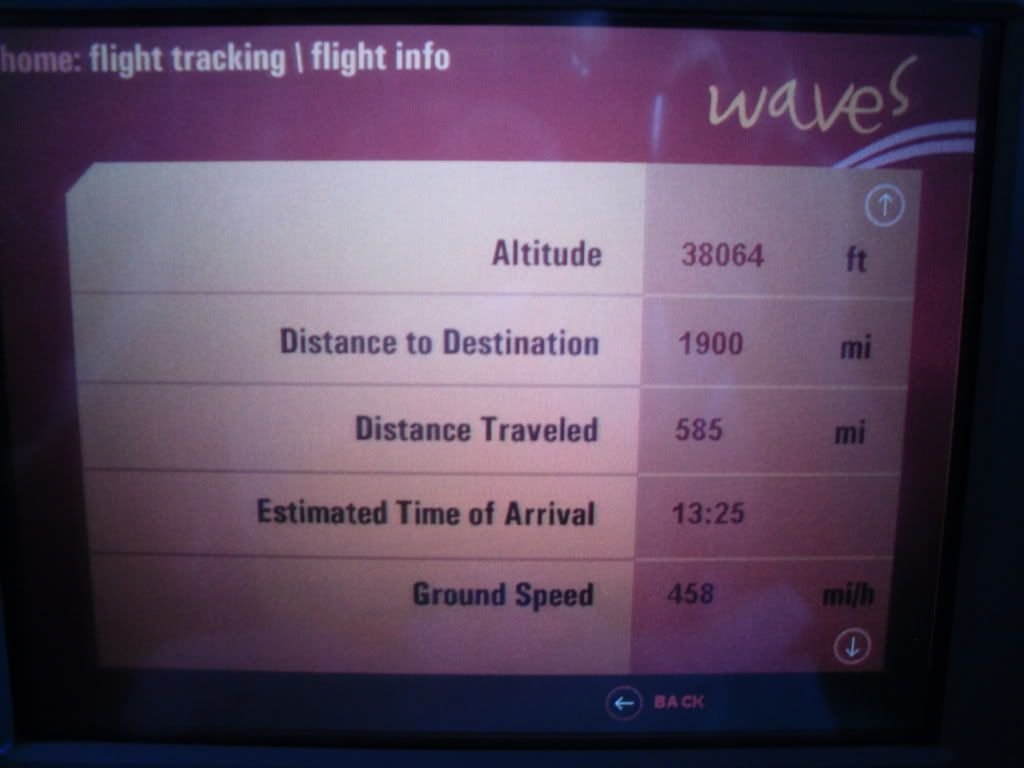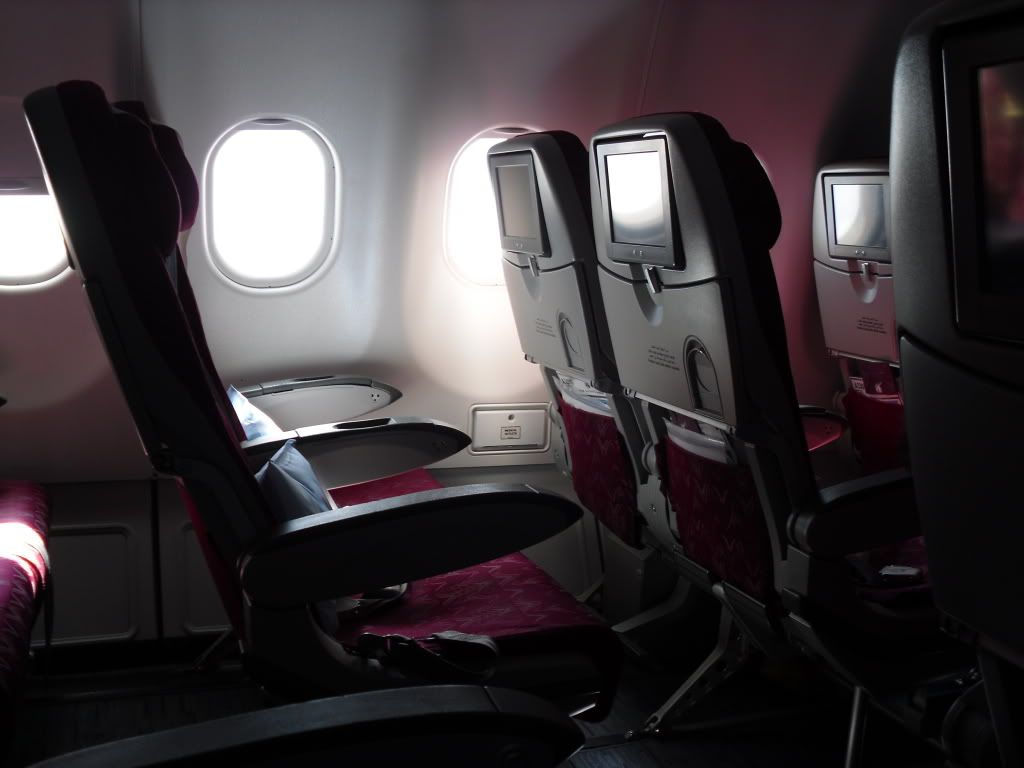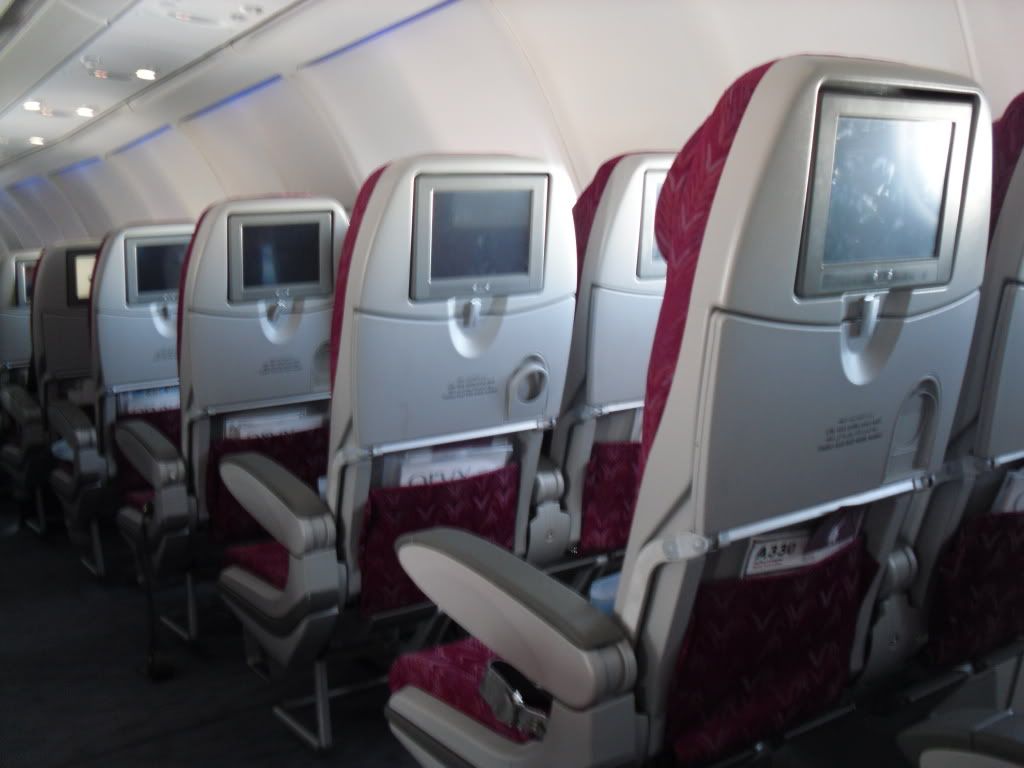 Lot's of empty seats making this another relaxing and pleasant flight. Out of the 250 seats on the plane, i'd say no more than 50 seats were occupied.




Flying over India - looking south




Entire economy section




Turqoise waters of the Arabian sea - hugging the southern Pakistan coastline




Exit row seats with masses of leg room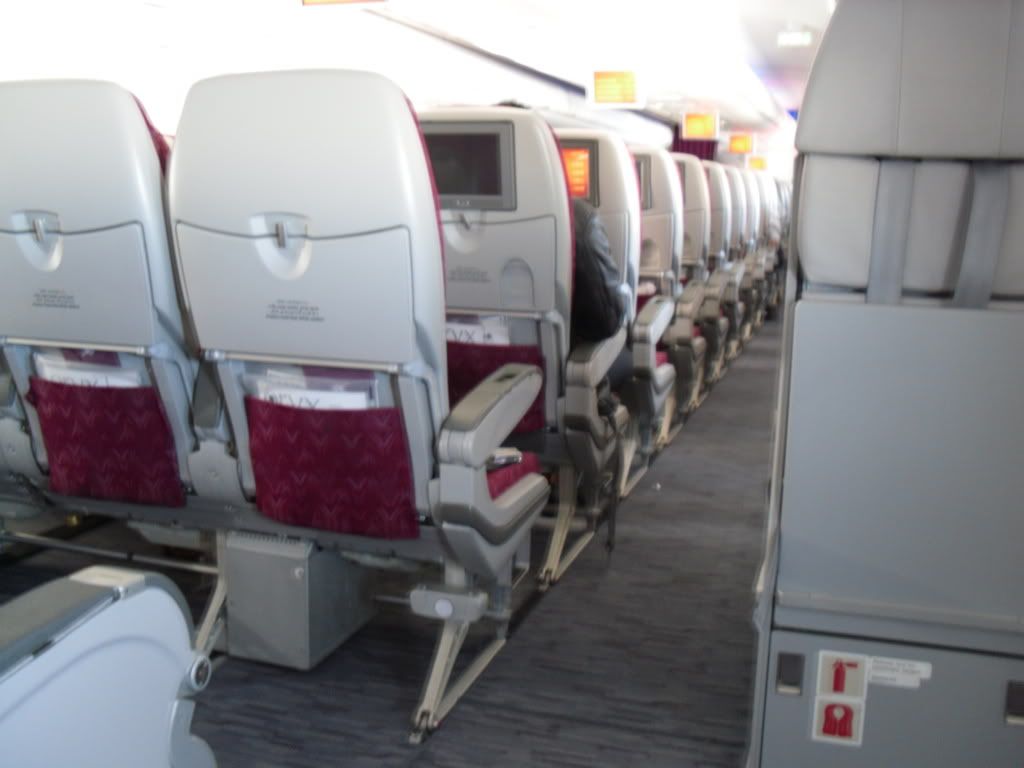 Thanks to QR's excellent punctuality we landed 20 minutes early at Doha. early at Doha.
Taxiing to the stand.




Pulling in next to a fellow QR A330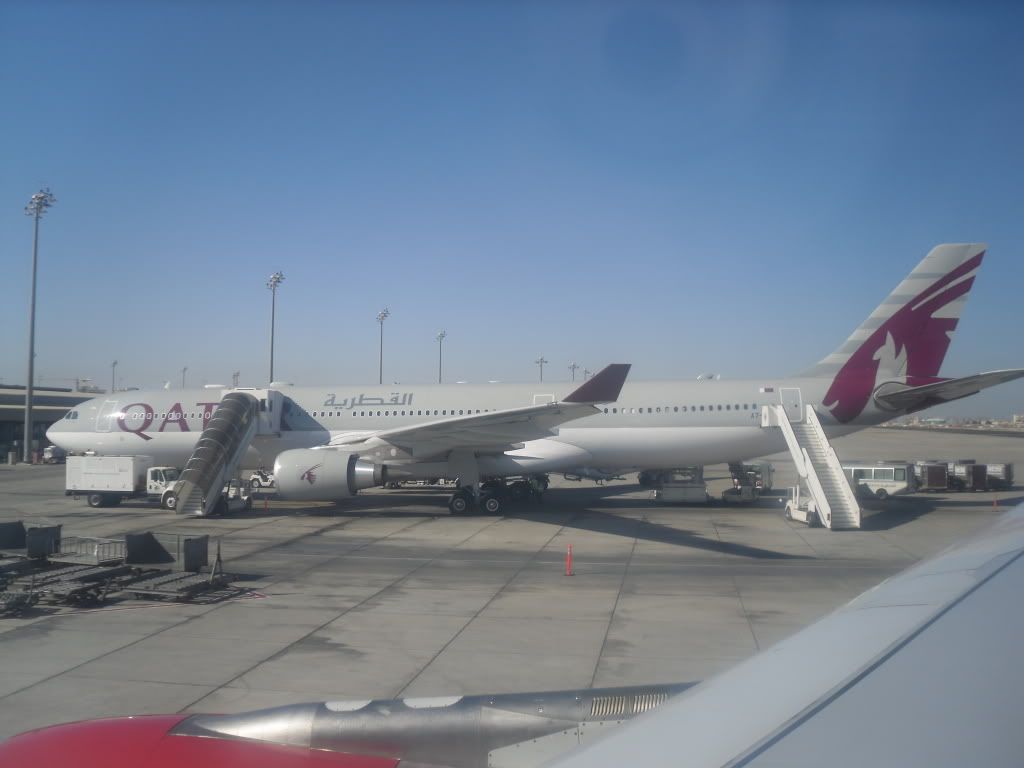 Deboarding via stairs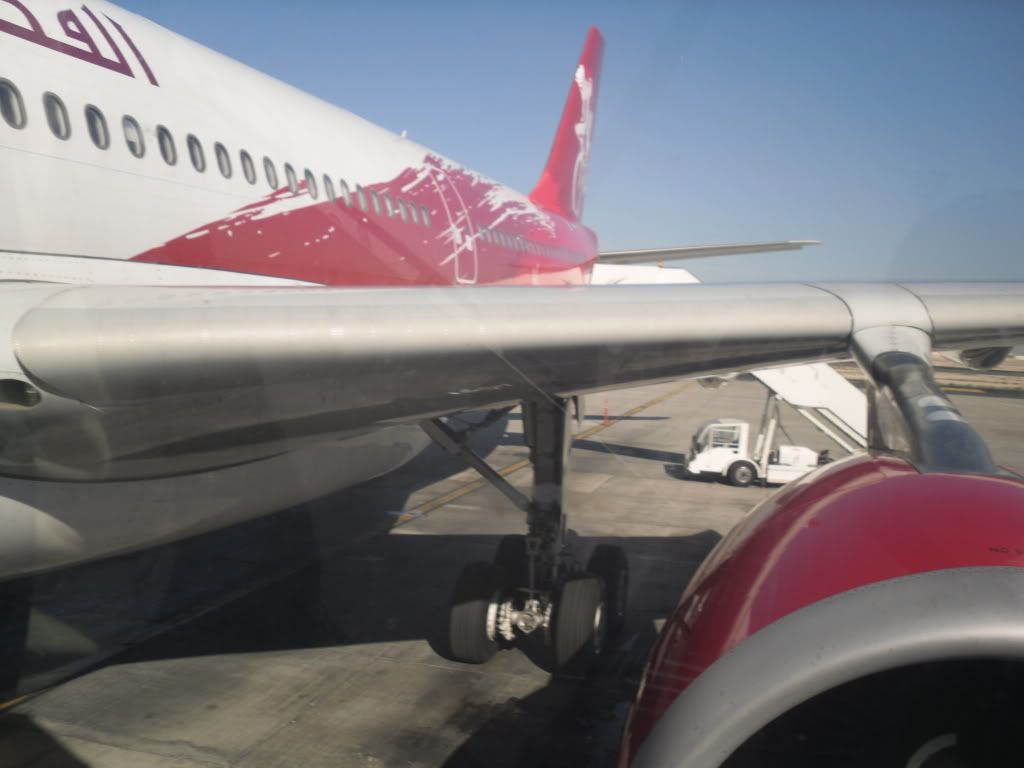 Taken from the bus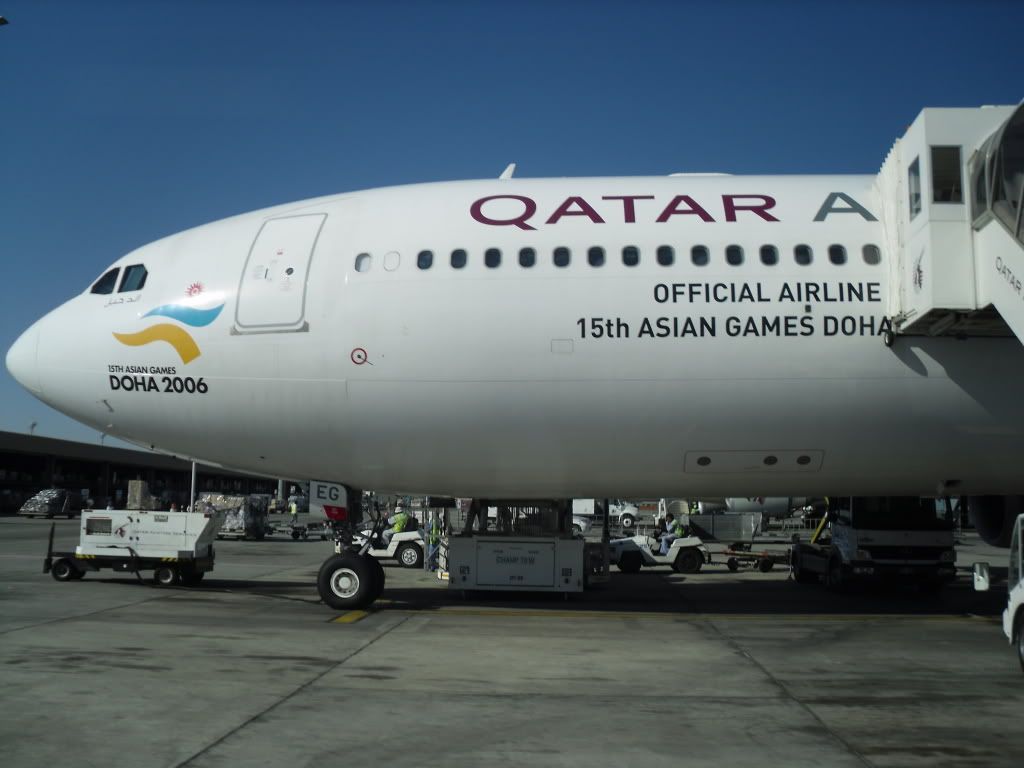 QR A300 cargo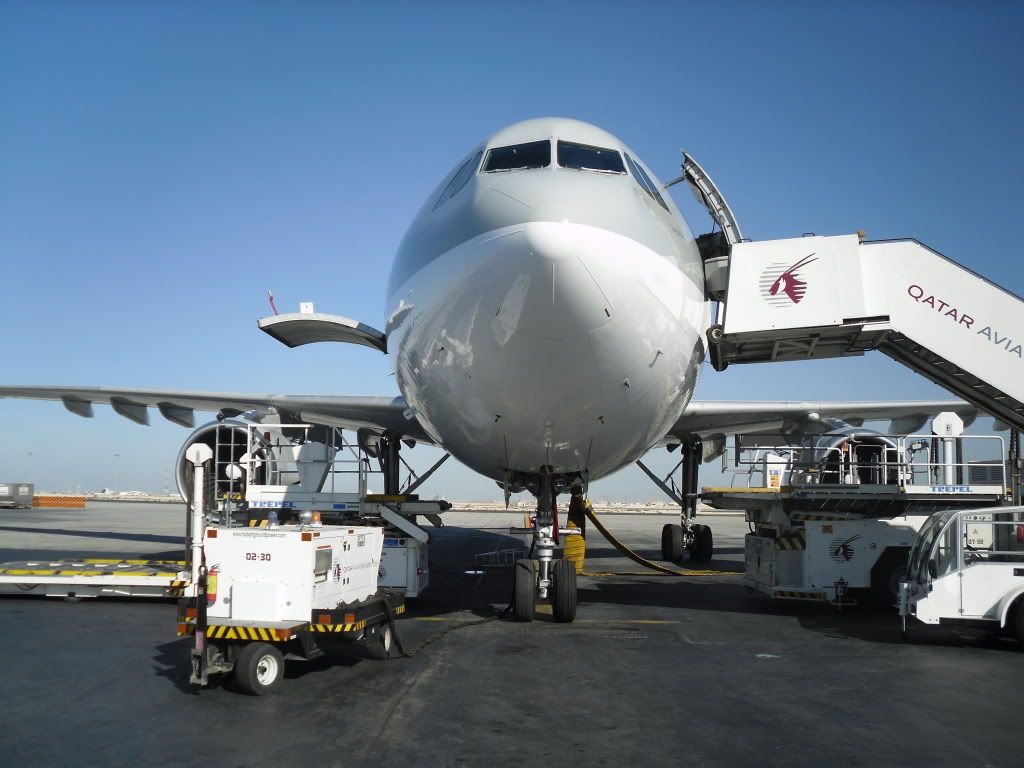 Transit at Doha was a simple and stress free process, helped by the fact that the airport was quiet at this time of the day, almost pin-drop silent.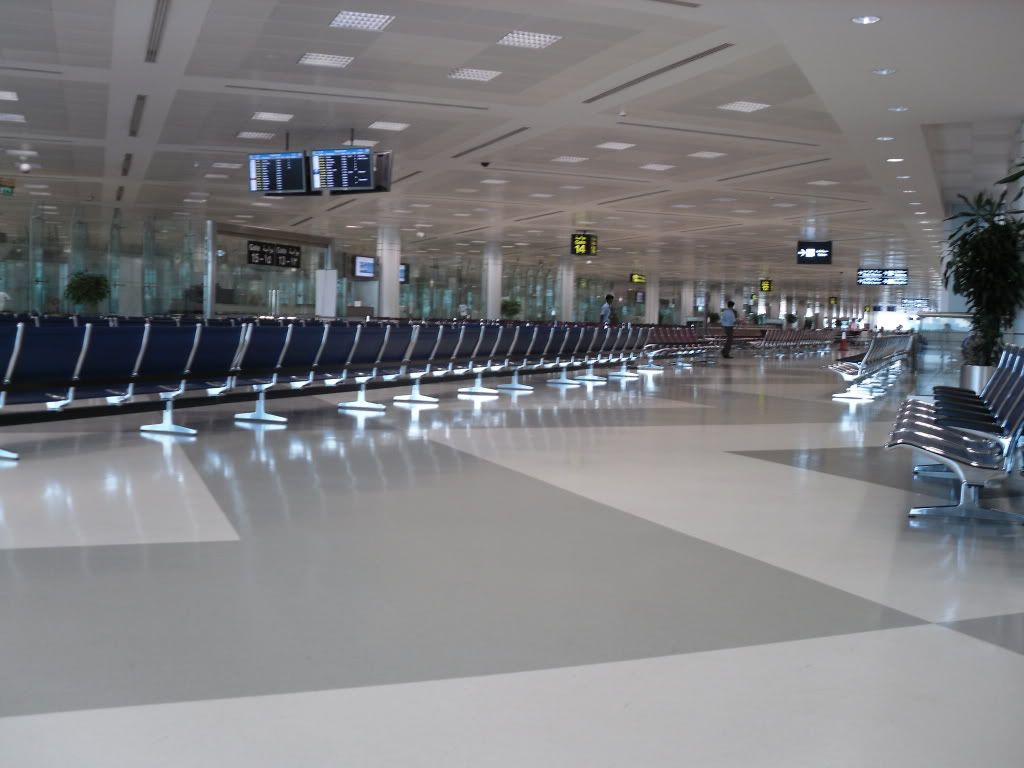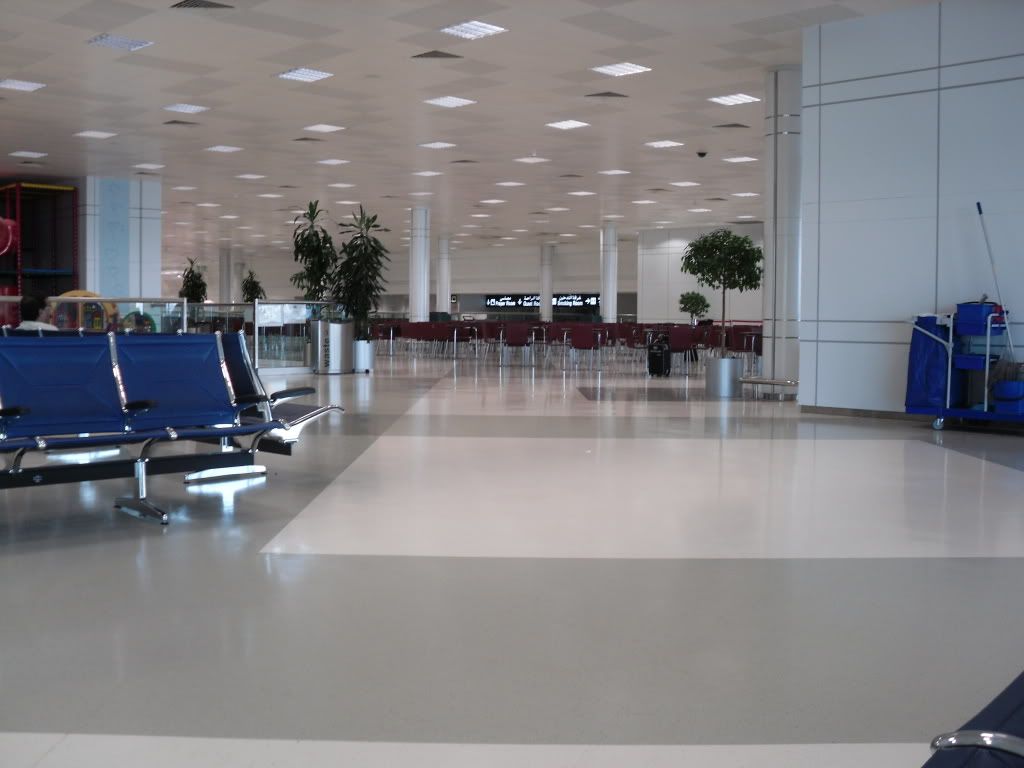 SV A300 for Jeddah, a QR A332 and our A333 in the far background which brought us to DOH and would take us back to LHR.




Thurs 11th Dec 08

Qatar Airways
Doha Int'l (DOH)-London Heathrow (LHR)
Flight: QR 17
Depart: 17:05 local time
Arrive: 22:00 GMT
Aircraft: A330-300
Reg: A7-AEG
Flight time: 7 hrs 8 mins
Load factor: 25%

At this stage low load factors weren't a suprise anymore, even so, i'd never been on a flight to LHR this empty, i wasn't complaining though. Boarding was via the rear doors, was welcomed by a friendly male FA, "Welcome aboard sir, enjoy your flight". Nice start to the flight. With rows of empty seats i couldn't decide where to sit!. Captain Abdul Aziz would be in command.

Being bussed to our plane during sunset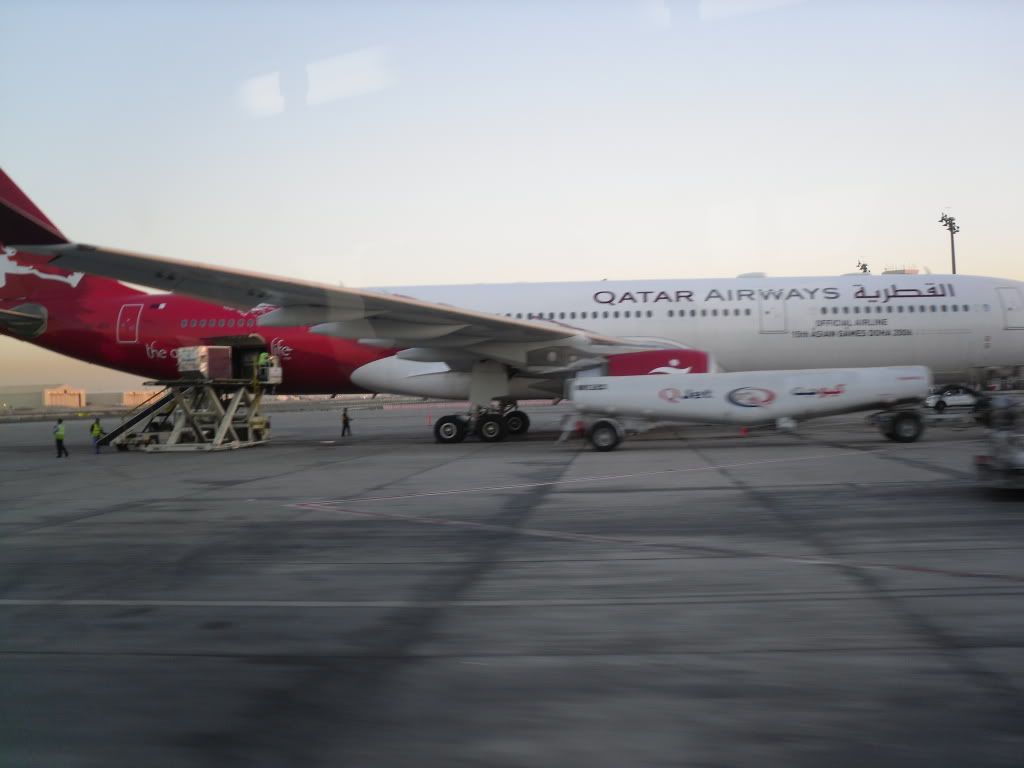 Menu's, headsets, hot towels, and sweets were distributed, i did notice that menu's were only given out only on flights to and from LHR. By the time we took-off it was dark, giving us a sparkling view of Doha city lit up. A drinks service commenced immediately after take off, followed by dinner.

Flight info - long way to go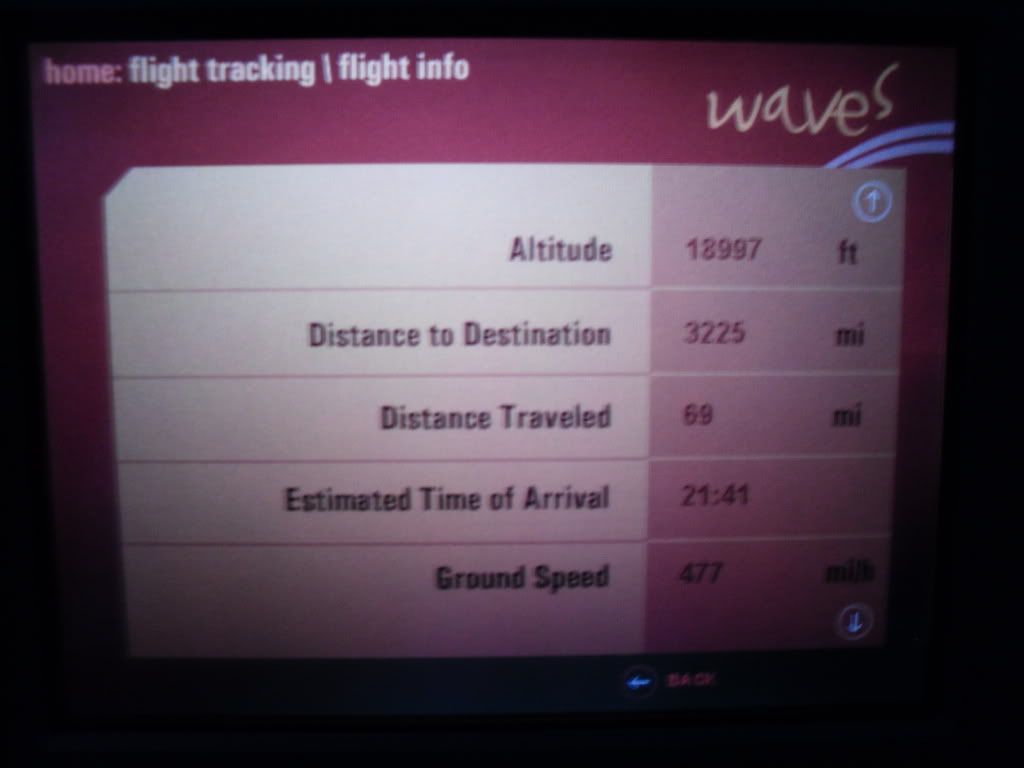 Menu




Drinks trolley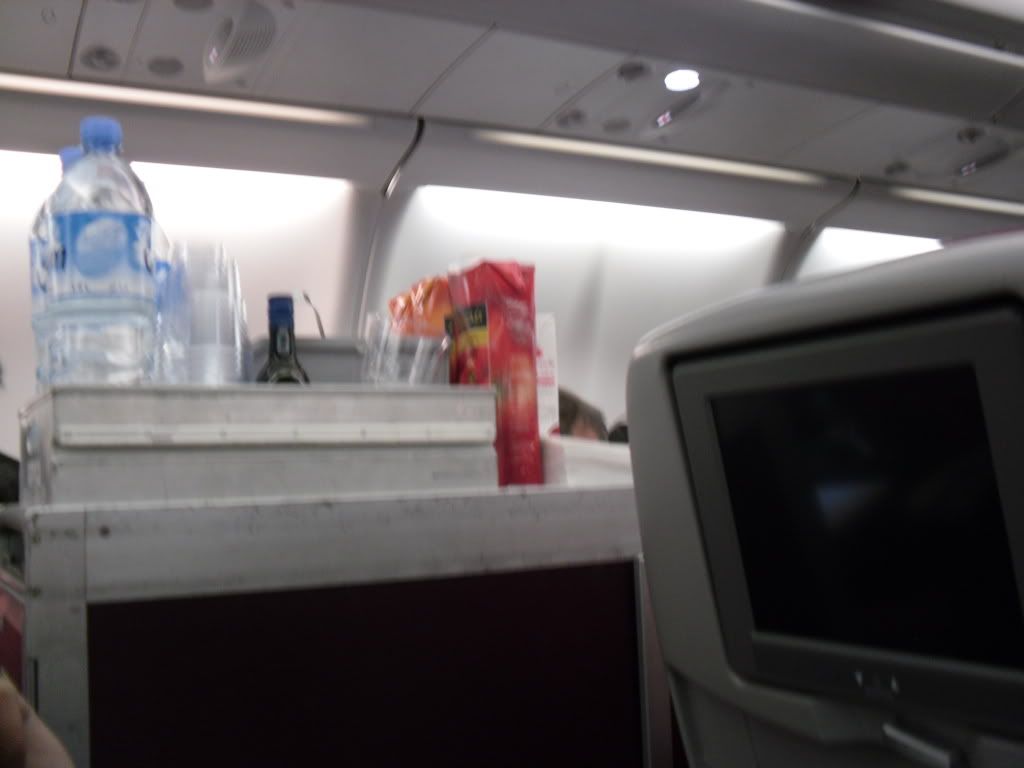 The main meal - i chose the chicken this time for a change, it came in a basil and tomato sauce, peas and pumpkins, a bread roll, a chick pea salad and a chocolate cake for dessert. The main course was as tasty as coach class meals go.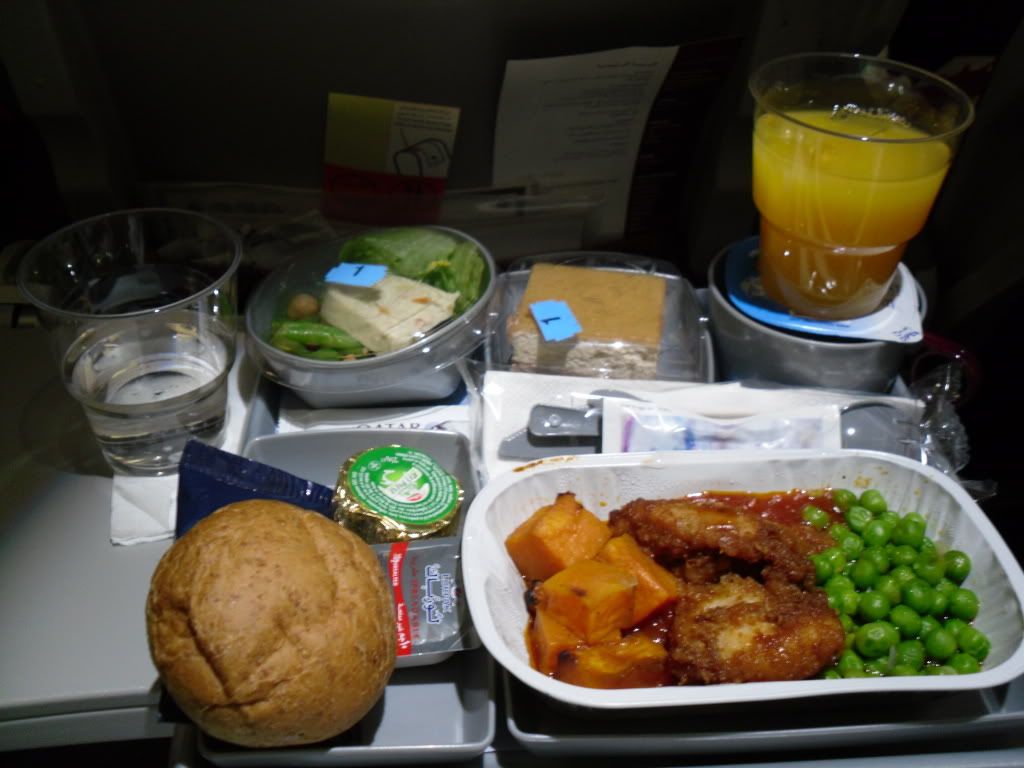 My attention then turned to the IFE.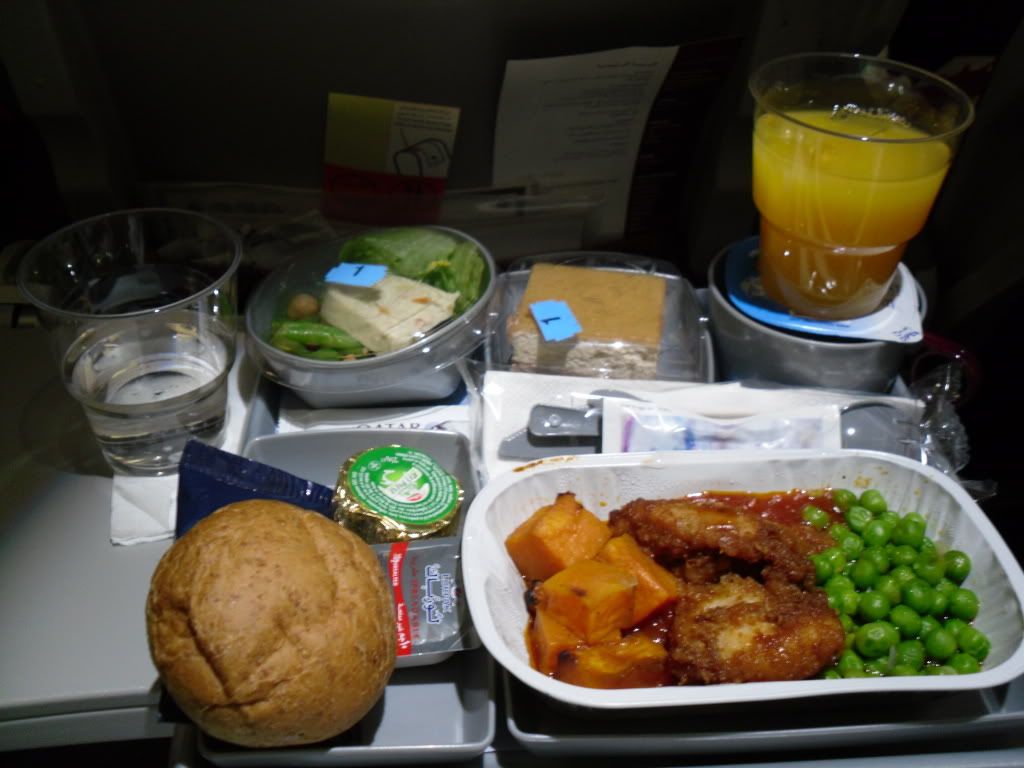 Legend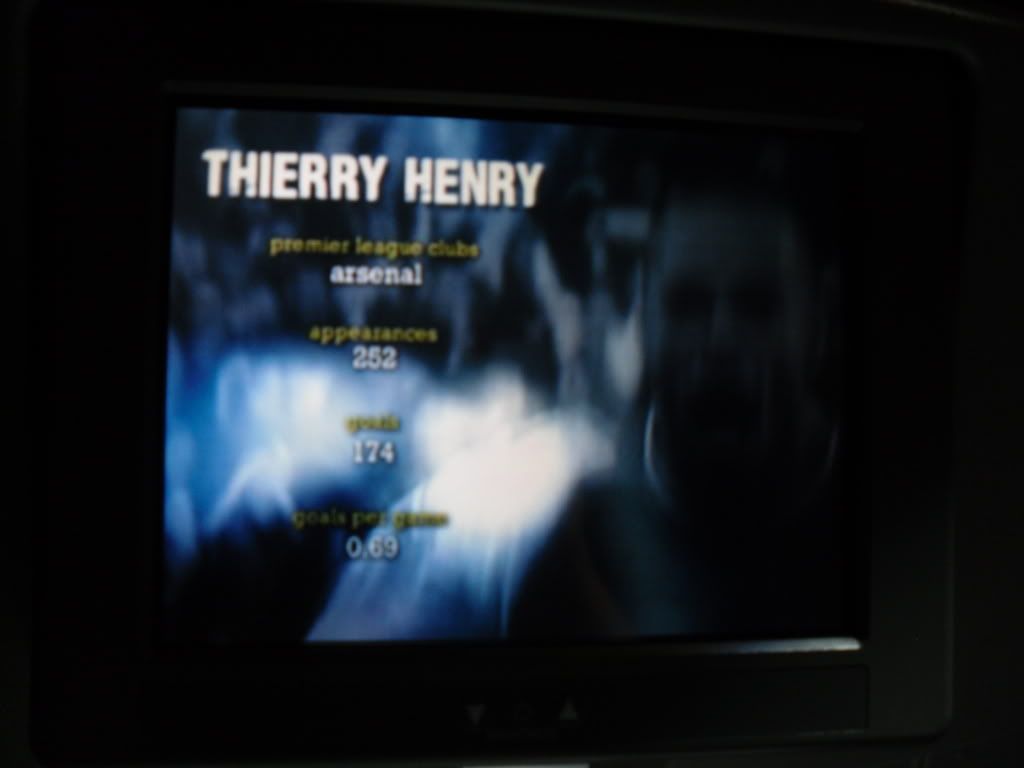 Fawlty Towers - LMAO


Three hours into the flight, mood lighting turned on and everyone asleep except me. At this point a female FA dropped something on the floor in front of me as she walked past me. Being the gentleman that i am, i turned on the reading light and helped her look for the object. We didn't find what we were looking, but the tapped me on the shoulders and whispered "thank you" twice in my ear, then offered me a drink! Customer service at it's finest!!
D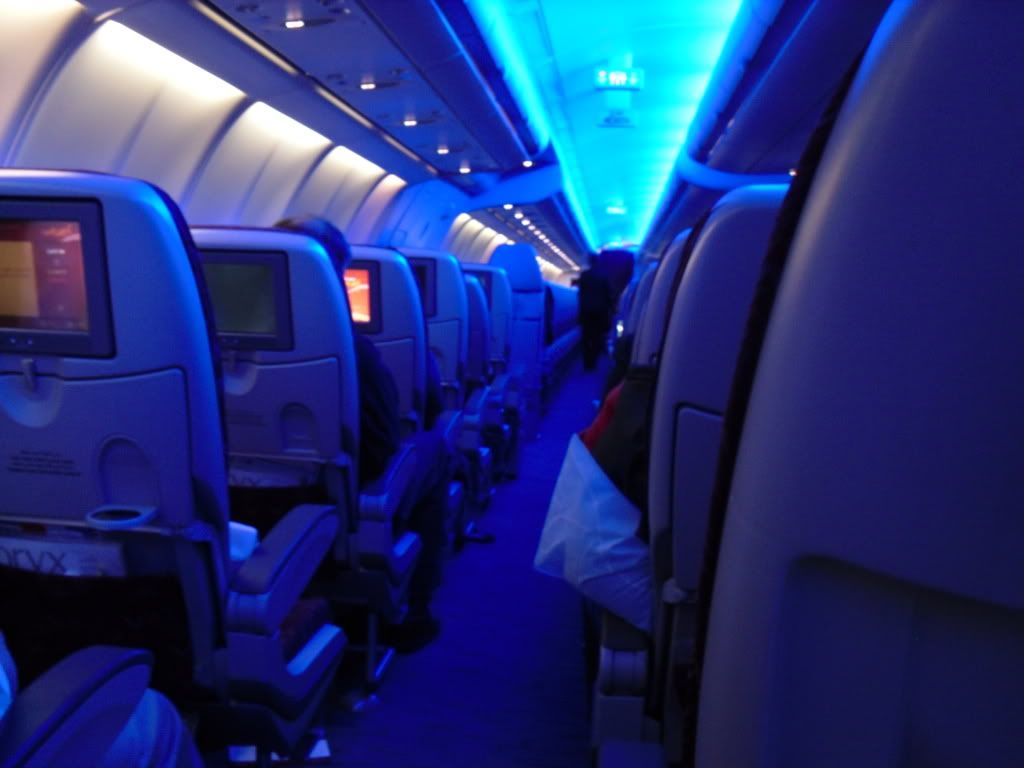 Inflight map




A hot snack was served before arrival into LHR, a tasty melted cheese and tomato sandwich roll, two chocolte biscuits and a choice of drinks.




Flight info - almost home




FA's doing pre-landing cabin checks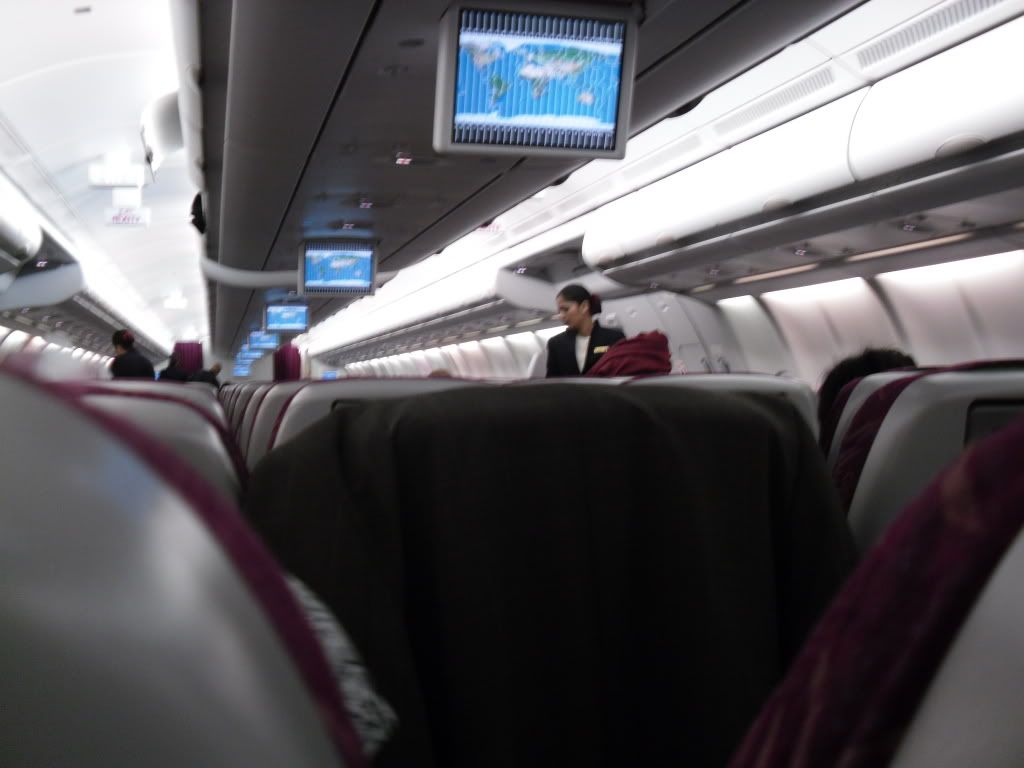 We eventually entered UK airspace on the Essex coast, there was no need to go into a holding pattern as there was little traffic at this time of the day. We came in from the east flying right over central London giving us a beautiful view of all the famous landmarks. Landed on 27L.

Everyone reaching into the overhead lockers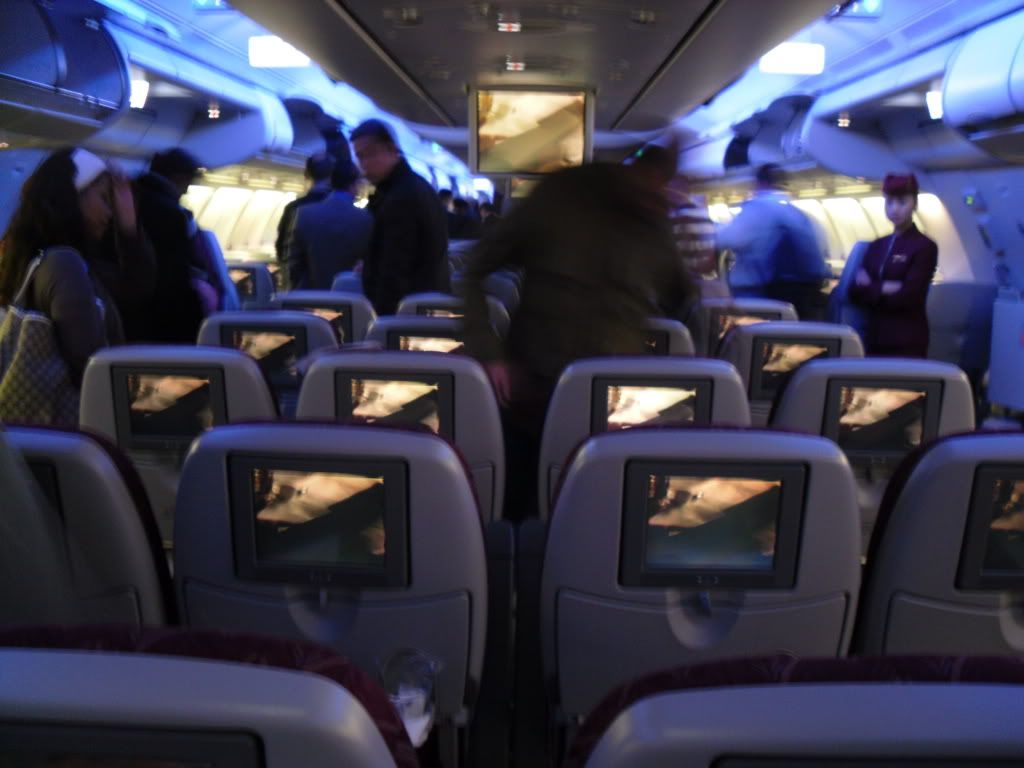 Leaving the plane - apologies for the blurred picture




Dull and dreary looking walk-way at LHR leading to passport control and baggage reclaim. LHR was like a ghost town at this time of the day, we were the second last flight to arrive at T3, i was out of the plane and into the drop off point in 25 minutes, a record for me.

Appreciate any feedback, thanks for reading even if you don't leave any comments.



Topic: RE: Qatar Airways: DAC-DOH-LHR (46 Pics) Pt2
Username: PlaneHunter
Posted 2008-12-25 01:16:06 and read 32767 times.

Hi Atiqul,

another nice report, was a pleasure to read.


That's 5N-MAD of Kabo Air, a former NWA plane, currently leased out to Biman.




View Large View Medium


Photo © JKSC






Quoting Arsenal@LHR (Thread starter):
I had my camcorder with me so i filmed the entire pushback, taxi and take-off, one for the collection eh?


Sounds good. What about taking pictures in general at DAC? Did anyone mind about it?


PH
Topic: RE: Qatar Airways: DAC-DOH-LHR (46 Pics) Pt2
Username: Arsenal@LHR
Posted 2008-12-25 09:19:30 and read 32767 times.





Quoting MHTripple7 (Reply 1):
QR looks excellent, but those load factors are atrocious.


QR is excellent, four flawless flights with good inflight service, but yes, the load factors were shocking. I did expect a quieter flight than usual as i was flying in the off-peak season, but i just didn't expect 250-300 seater planes to have only a bus load of passengers. I can't
complain though, the flights were some of the most stress-free journeys i've made in recent years.



Quoting PlaneHunter (Reply 2):
Sounds good. What about taking pictures in general at DAC? Did anyone mind about it?


Security at DAC is strict, only pax are allowed into the terminal building and luggage is
screened as soon as you enter the departures area. Taking pictures is not allowed, you just have to be a bit sneaky and clever like at any aiport. I took all my pics at the gate where
there wasn't anybody around.

rgds
Topic: RE: Qatar Airways: DAC-DOH-LHR (46 Pics) Pt2
Username: Arsenal@LHR
Posted 2008-12-25 17:11:33 and read 32767 times.





Quoting Netdhaka (Reply 8):
I am surprised to see such a light load factor. I mean, every time I fly EK in and out of DAC load factor seems to be 100% always. GF, SV have pretty good load factor as well.


Maybe it's a seasonal factor for QR, i'm sure they don't have such low load factors in the
spring/summer, they even increased their DAC frequency recently. I do hope they do well
on the Dhaka route as they are a quality airline. As for EK, a travel agent told me they have no shortage of passengers to the Indian subcontinent, thus the slightly higher fares.



Quoting Bakersdozen (Reply 6):
On the in-flight map what's the two orange lines and the green ones... I assume one is proposed flight path and the other the actual... but what is the third?


Good question, i can only think of it being a third alternate route.