Topic: AUS-BNA (the Looonng Way). AA F/J/Y (100 + Pics)
Username: Longhornmaniac
Posted 2009-04-05 13:12:04 and read 13876 times.

Hello all,

Again, welcome back to my next TR, a ridiculous trip to BNA, in my usual round about type way.

Old TR's
http://www.airliners.net/aviation-fo...ums/trip_reports/read.main/146439/ AA/WN PHL 2009
http://www.airliners.net/aviation-fo...ums/trip_reports/read.main/135507/ AA Tennessee
http://www.airliners.net/aviation-fo...ums/trip_reports/read.main/130404/ AA Transcon
http://www.airliners.net/aviation-fo...ums/trip_reports/read.main/126805/ VivaAerobus AUS-CUN
http://www.airliners.net/aviation-fo...ums/trip_reports/read.main/106448/ Flagship Detroit DC-3
http://www.airliners.net/aviation-fo...ums/trip_reports/read.main/102590/ SXM
http://www.airliners.net/aviation-forums/trip_reports/read.main/99470/ CUN
http://www.airliners.net/aviation-fo...ums/trip_reports/read.main/132792/ MSP





Background

I will say, though, I think this one takes the cake as the most ridiculous thing I've ever done. It's a close contest with my New York trip last year, and very similar. My cousin was getting married in BNA (well, Cool Springs for those of you familiar with the area), and I figured, no time better to go on another "mileage run" as I called it, but you guys are some of the only people who will actually get why I really did it.


Anyway, fare for this trip was like $470, booked on aa.com. Upgrades were a combination of 15,000 one way AAdvantage mileage upgrade and electronic upgrades. I'll keep the suspense for what I actually did, but sit back, relax, and enjoy!

Thursday, March 26th, 2009

I left for the airport about 30 minutes after my roommate did (about 4:15) and I caught up with him (this will be a continuing story throughout the TR) at the airport. I was in the terminal by 4:50. Check-in was pretty painless, 1 person in front of me in line. I saw Jordan (roommate) standing in line at the CO counters...apparently the self-serve check-in kiosks were not working. Only the first sign of a long night for him. We made our way over to security together, and were through after a short wait. He walked down to his gate, and me to mine, just to see what was going on (this was the day IAH had really bad weather, and his flight was already delayed like an hour and a half, from a scheduled departure time of 6). My flight was scheduled to leave at 5 til' seven, so we had plenty of time. I noticed a 757 sitting on the ramp with the engine cowling removed, so I inquired. Apparently it diverted here the day before due to weather in Dallas, and its #2 thrust reverser failed. It was supposed to fly out that morning, but it didn't. They were bringing in m/x people from TUL.



Broken 757

We reconvened at Maudie's Tex Mex, where I got some enchiladas (sorry, no pictures, but they were YUMMY!). Jordan's flight was now delayed until 8:30, due to weather not only at IAH, but low visibilities at EWR. In addition to Maudie's I got some ice cream from Amy's, which is the best on the planet. A lot like Cold Stone, but so much better (it's another local restaurant). Eventually, we had to go our separate ways, as my flight was on time, so I made my way over to gate 13 for my flight to LAX. Boarding began about 15 minutes later.



My plane to LAX, N460AA

AA 325
AUS-LAX
MD-82
N460AA

Scheduled Departure: 1855
Out: 1853
Departure Gate: 13
Seat: 5F
Departure Runway: 17R
Off: 1909
Cruising Altitude: FL 320
Cruising Airspeed: .76 Mach
Route: AUS2.SJT CME J15 ABQ J6 ZUN J6 DRK J231 TNP SEAVU2 LAX
Arrival Runway: 24R
On: 2021 L
Arrival Gate: 46A
Scheduled Arrival: 2035
In: 2033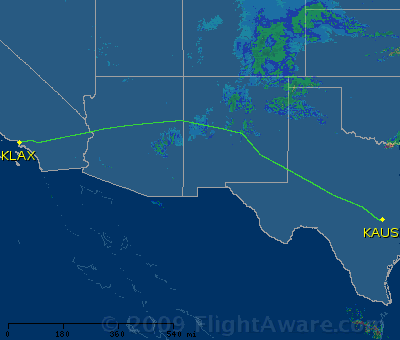 AA 325, according to FlightAware

I boarded first, and found my way to 5F. I considered carrying on both my bags, as well as my camera bag, but I'm glad I didn't. I was greeted with a nice view of HOU, some 170 miles away.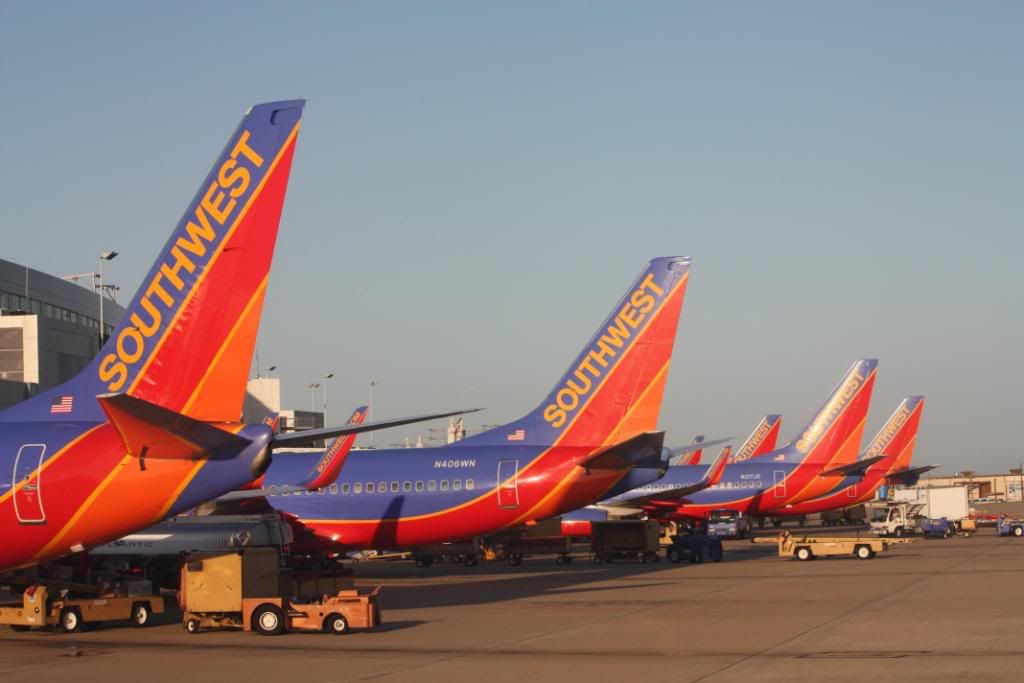 Count 'em 6 WN tails. Unusual, even for AUS!

We pushed back a couple minutes early, and made our way to the under construction 17R. We backtaxied to take full advantage of the 10,248 feet available.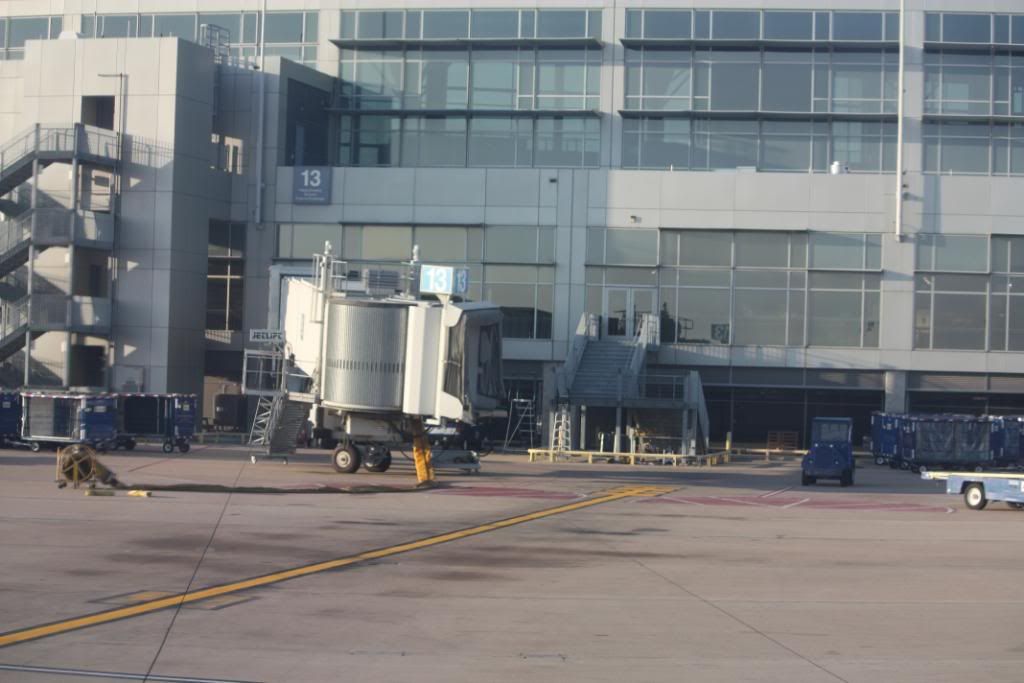 Gate 13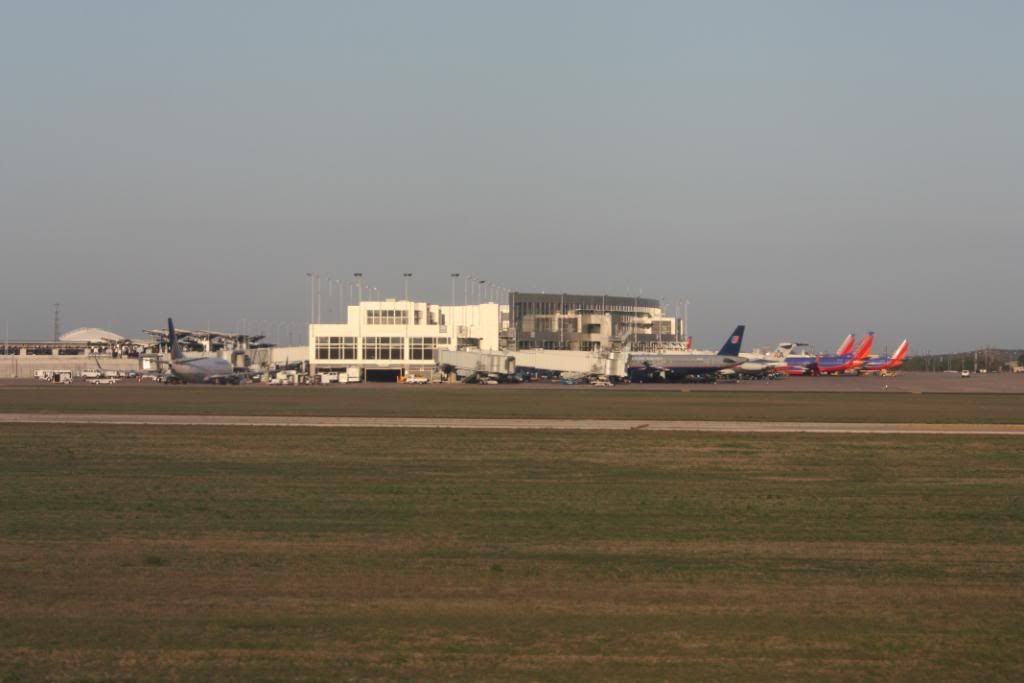 Barbara Jordan terminal, seen while backtaxiing on 17R.



a shortened 17R

After we completed our U-turn, our Pratt and Whitney's roared to life, and away we went into the Texas evening.



Airborne!

After takeoff we turned to the west to join the AUS2 departure.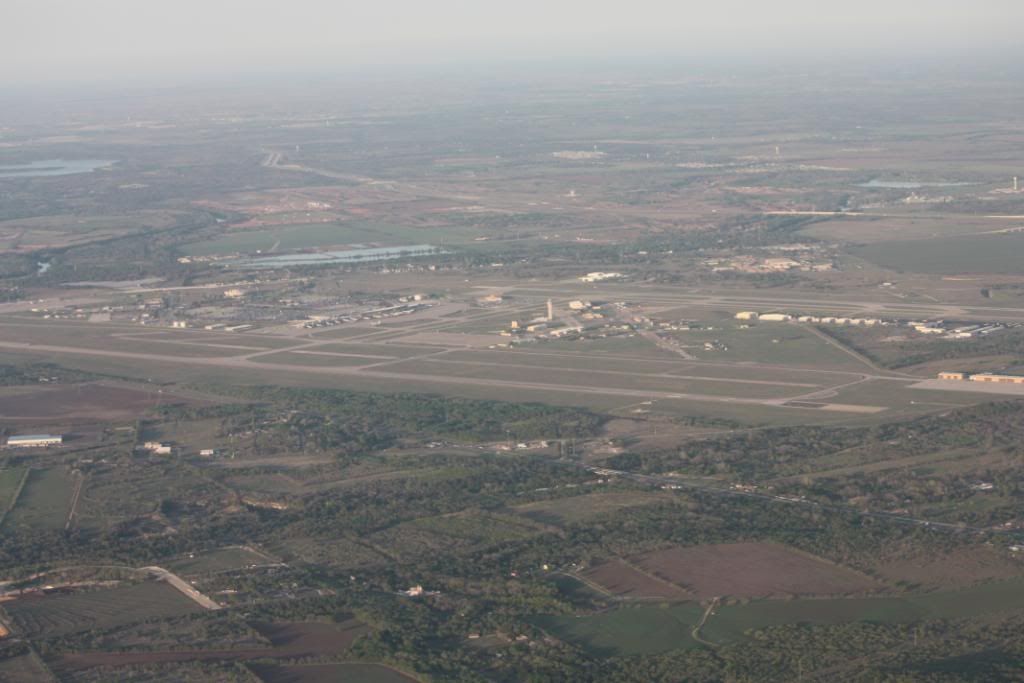 KAUS (our runway is in the foreground)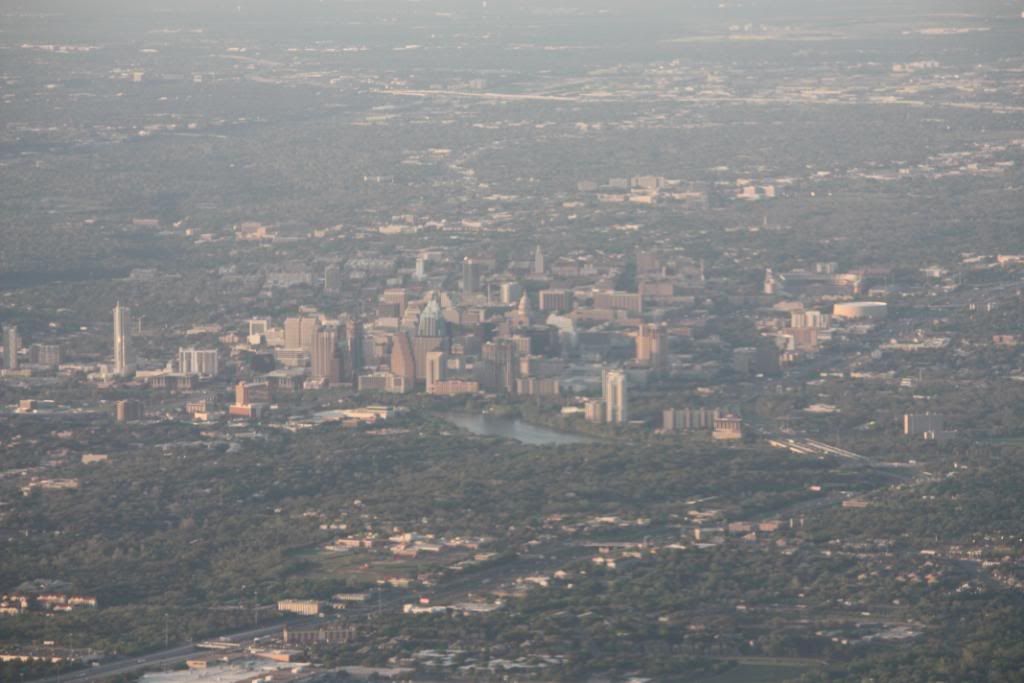 Beautiful Austin



Looking right up Congress Avenue (you can see the Capitol).

We continued to climb out over the Hill Country. It's pretty scary how low the lakes are.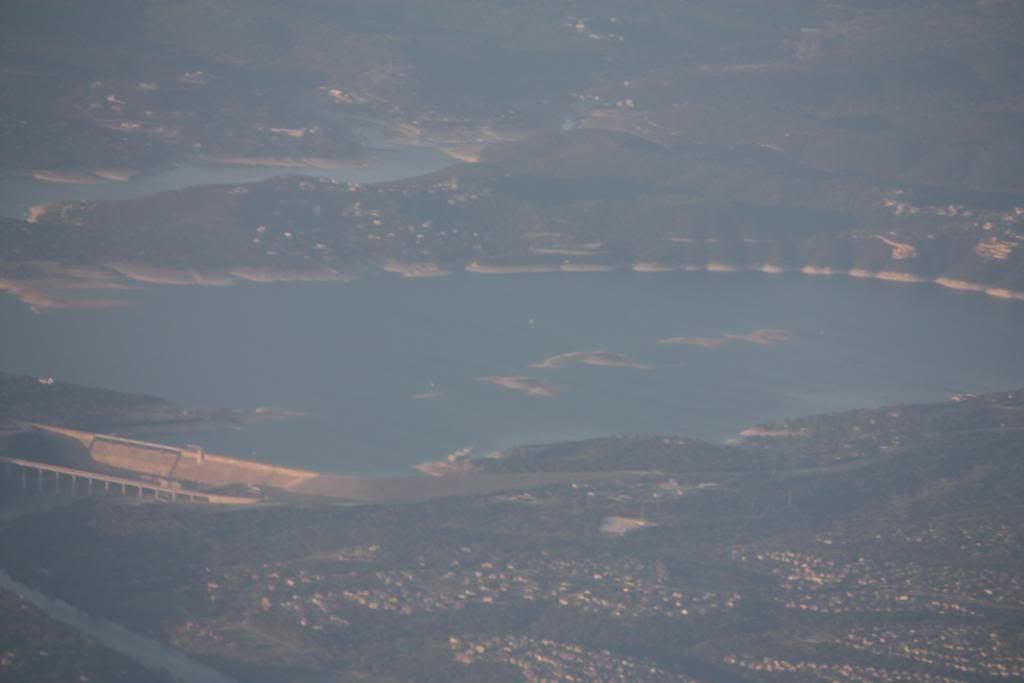 Lake Travis dammed by Mansfield Dam. Sometimes Islands are clearly visible.

Our purser, Eileen, came by and took our drink orders, as well as a dinner order. It'd been quite a while since I'd had a proper meal in F, so this was nice, even though I just ate. I'm a sucker for airplane food!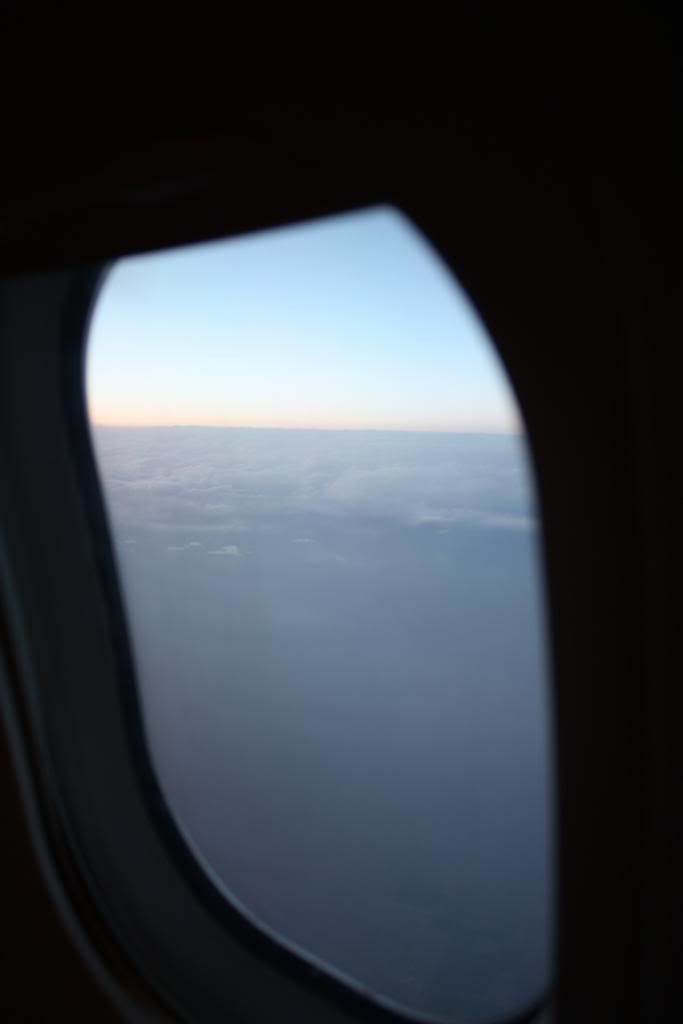 Chasing the sun.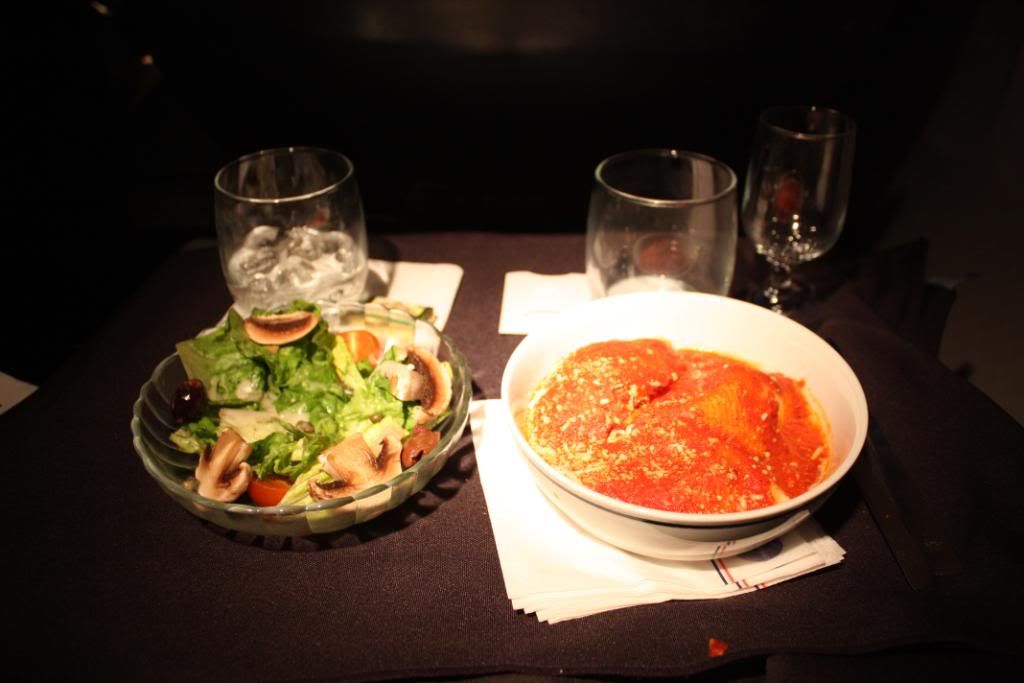 Yummy stuffed pasta shells. This was my second one, I forgot to take a picture of the first!

A bit later, she came back around with some very frozen ice cream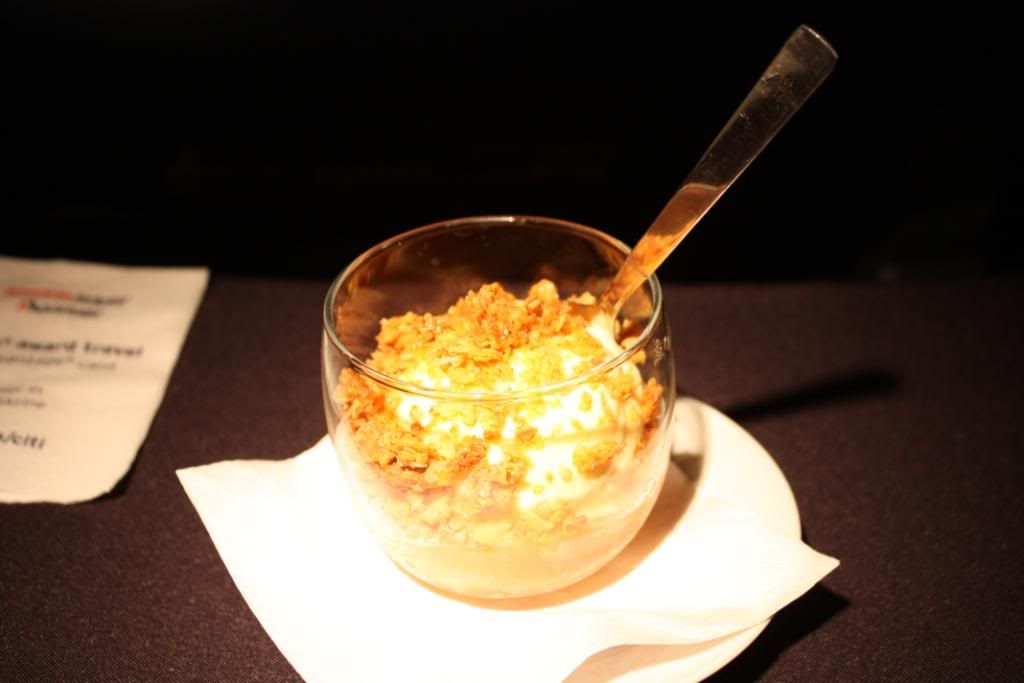 Ice cream!

The orange sauce was frozen on the bottom, which was perfectly fine with me since I don't like orange anyway!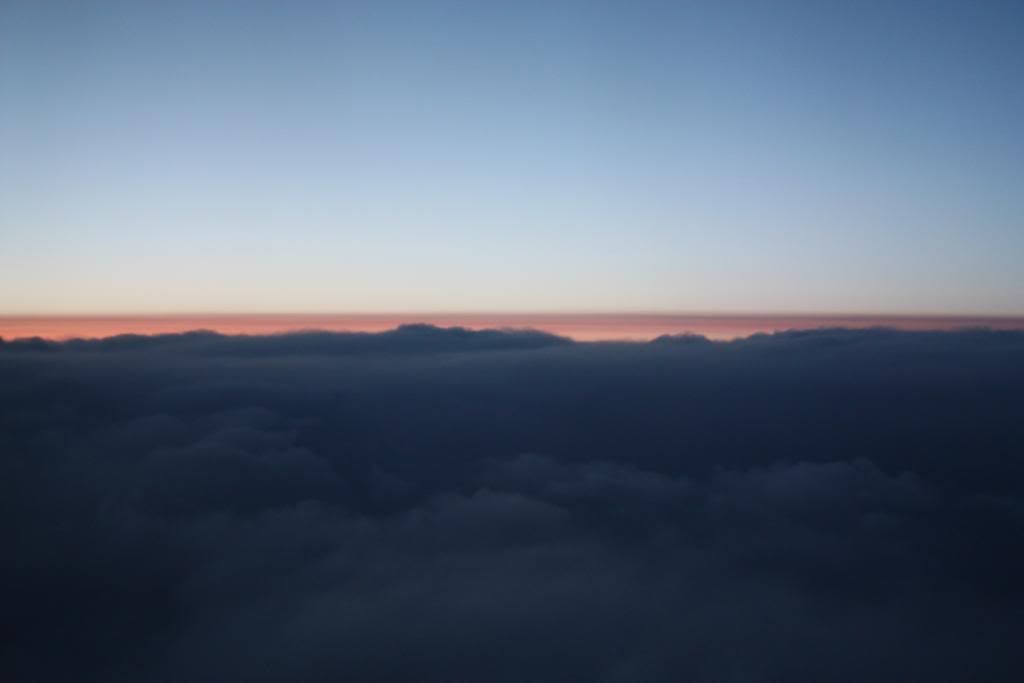 Sunset over Arizona, IIRC

I settled in to watch a movie on my computer, only to find out my brand new laptop's DVD drive doesn't work! Ugh! That was part of the reason I got a new computer in the first place!

Alas, I chatted with Eileen a bit about my love of aviation, and my goal of becoming a pilot.I showed her some pictures that I had taken in the past of planes, she was very interested! As much as I love the airline, people like her are what make it MY airline.

After a short time, we began our descent into LAX.

Note: sorry for the picture quality, they are actually much better pictures, but I guess when Photobucket compresses them, they lose quite a bit of quality. If there are any that you would like to have, let me know, and I can send you the original.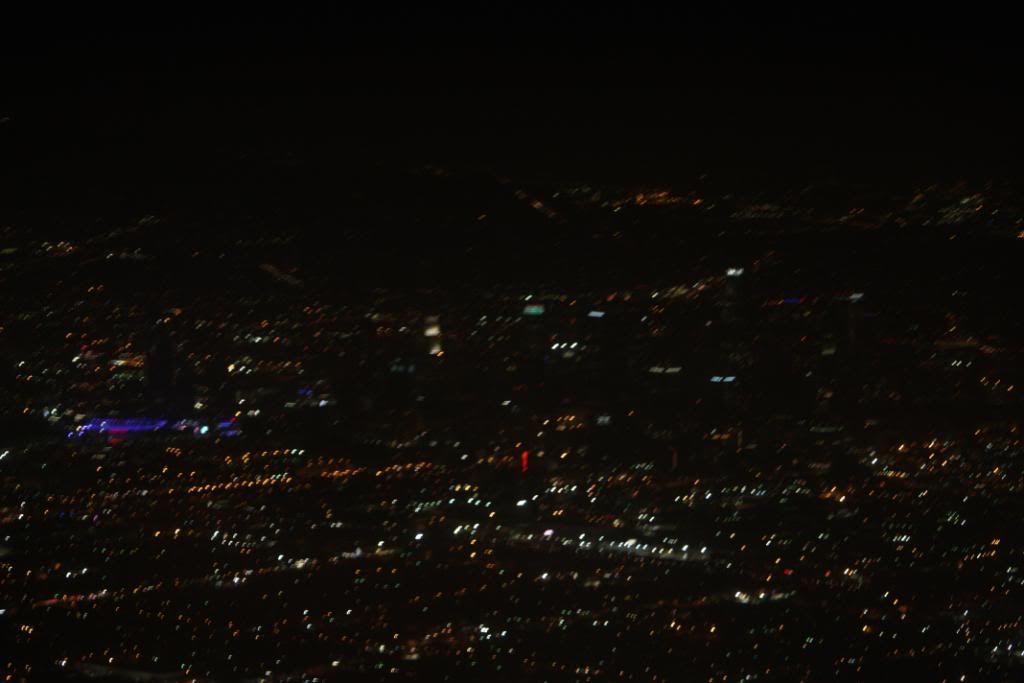 Downtown Los Angeles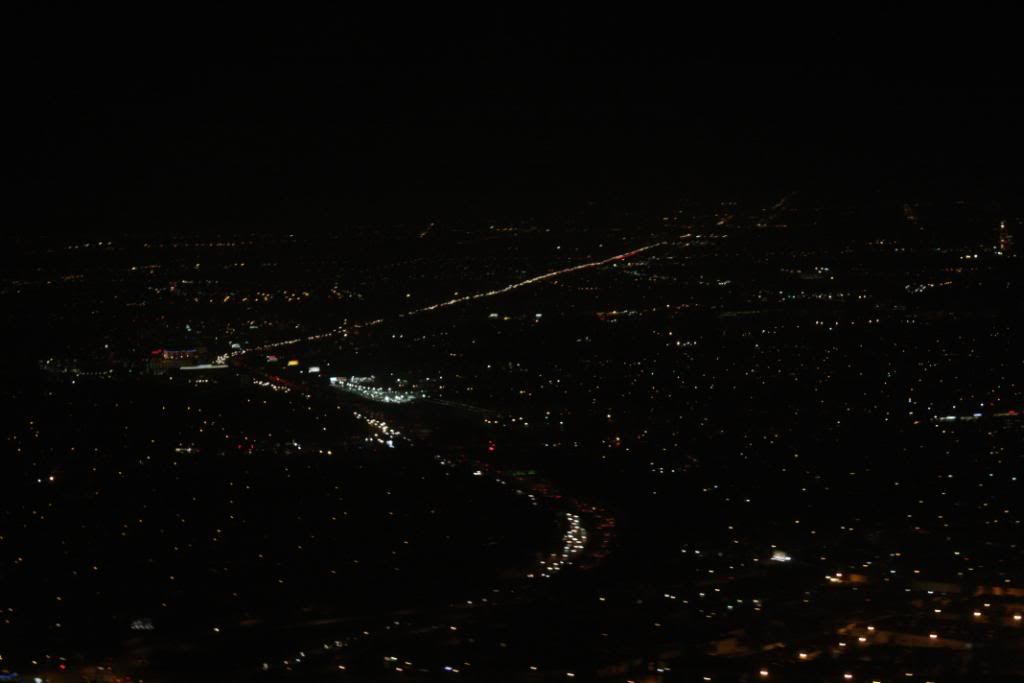 The 405.



Touchdown on 24R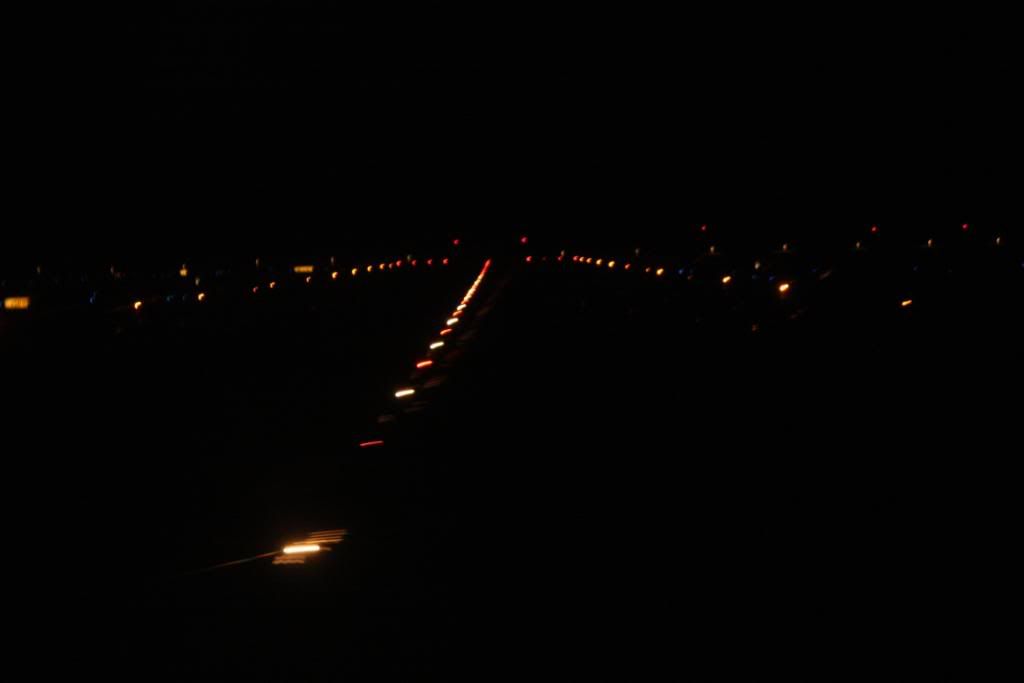 Crossing 24L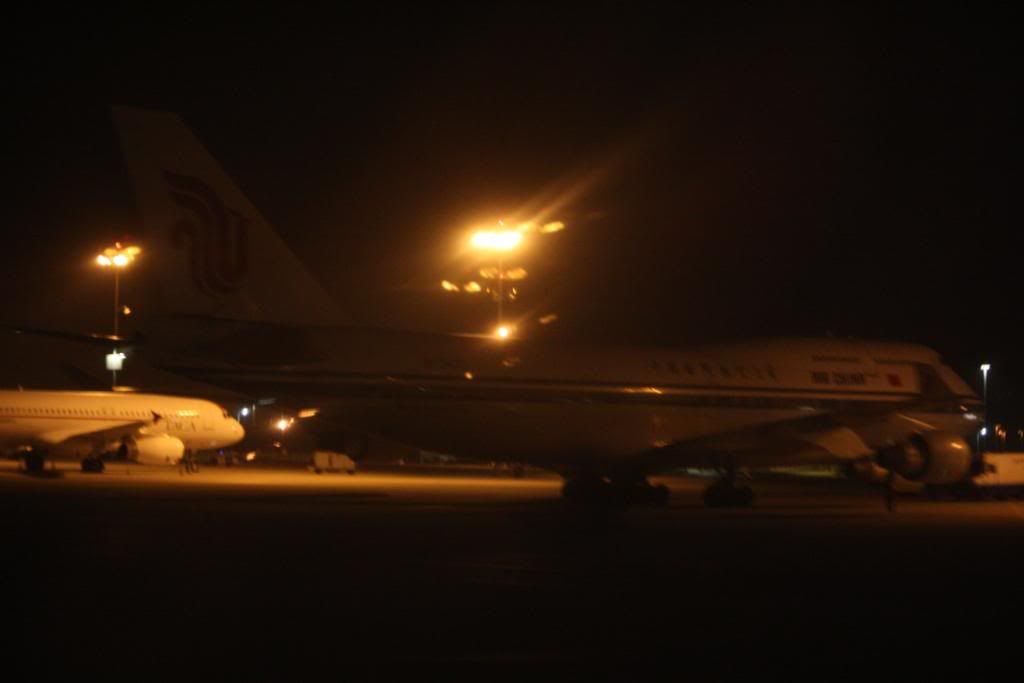 Air China 744

We taxied around the TBIT, to Terminal 4, where we parked at gate 46A, 2 minutes ahead of schedule.

I had about an hour in LAX before my flight, so I used the bathroom, and perused a gift shop. A delayed flight to HNL was boarding next to our gate, and I thought about just going there, instead.


Meanwhile, back in Austin, Jordan is still hanging out at gate 18 waiting for his CO flight to leave. The plane is on the ground, but the crew has timed out, so they're having to bring in a new crew. New estimated departure time, midnight.


Eventually, though a little late, we began boarding AA10, to JFK.

AA 10
LAX-JFK
767-223
N329AA

Scheduled Departure: 2135
Out: 2148
Departure Gate: 49A
Seat: 8A
Departure Runway: 25R
Off: 2207
Cruising Altitude: FL 350
Cruising Airspeed: .81 Mach, 470 TAS
Route: HOLTZ9 TRM J134 LBL J134 IC J19 STL VHP ROD J29 DORET J29 JHW J80 LVZ LENDY5 JFK
Arrival Runway: 31R
On: 0541 L
Arrival Gate: T8 33
Scheduled Arrival: 0547
In: 0546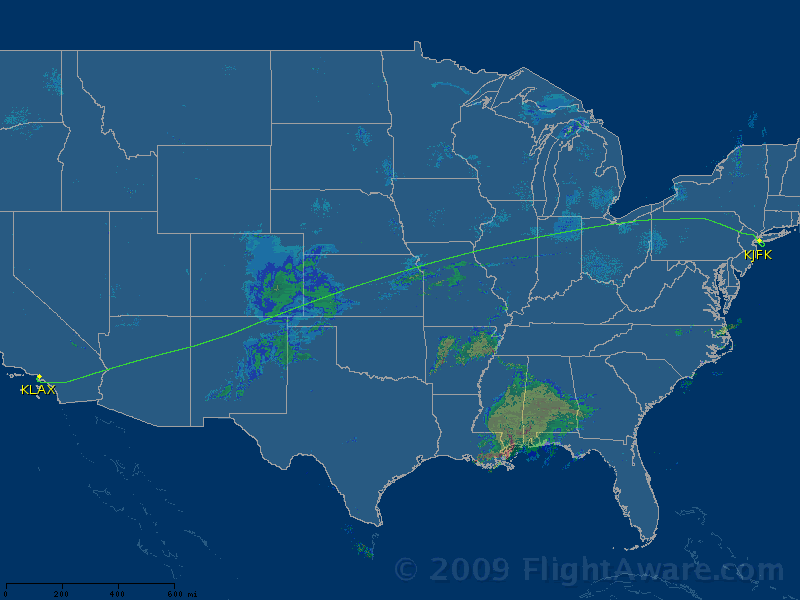 AA 10 according to FlightAware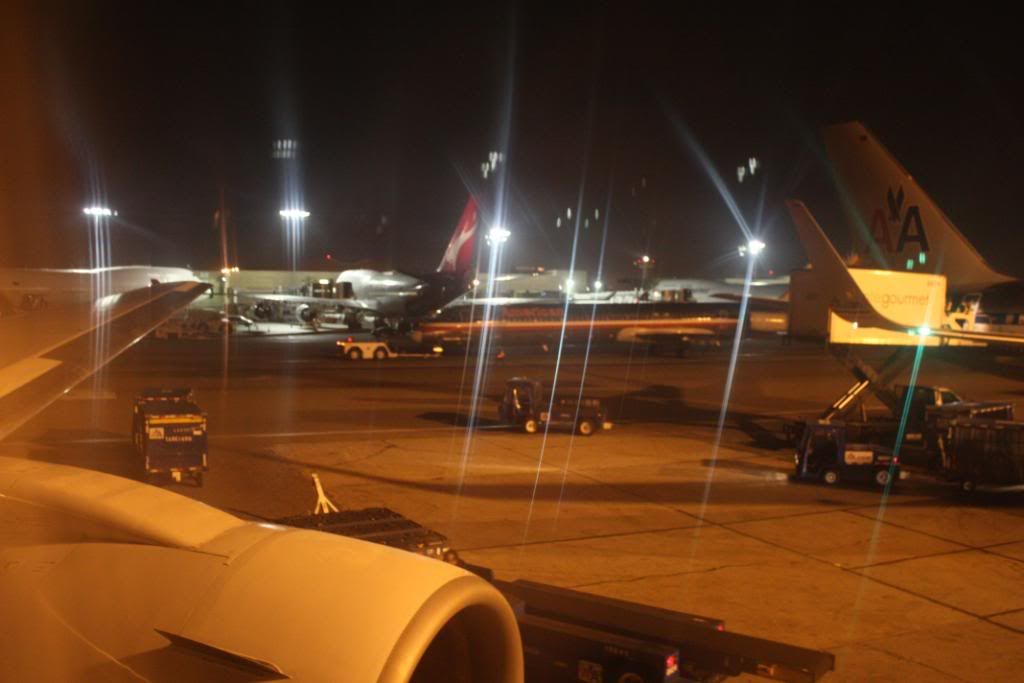 View from 8A



BA 744, to LHR undoubtedly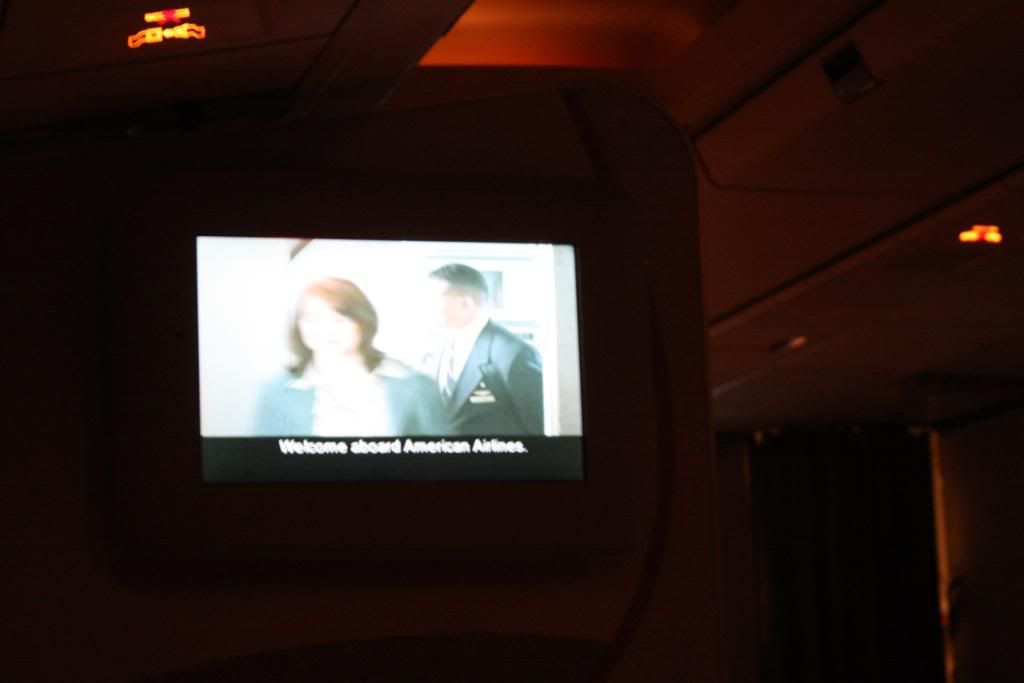 Welcome aboard!

We pushed back about 10 minutes late and taxied to 25R.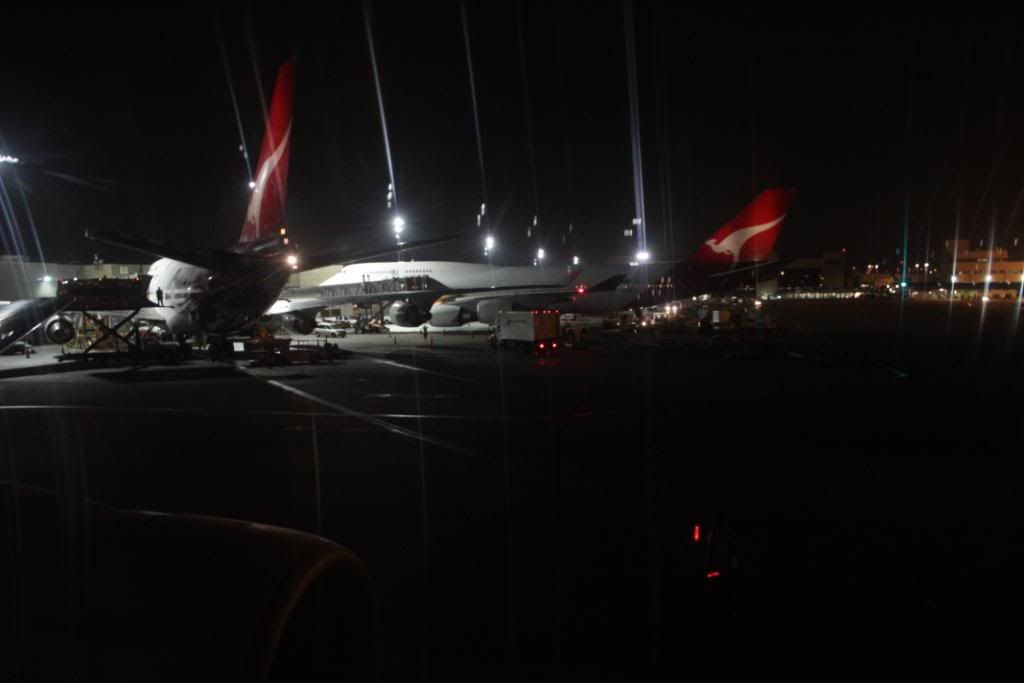 Welcome to SYD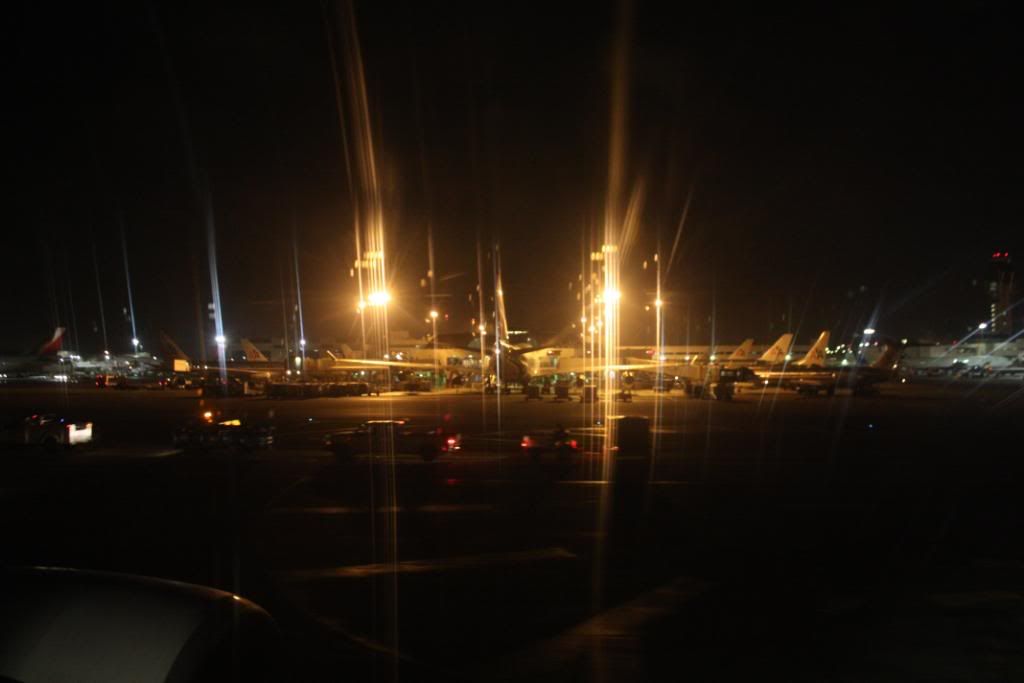 T4

We were #1 for departure, ahead of the BA 744.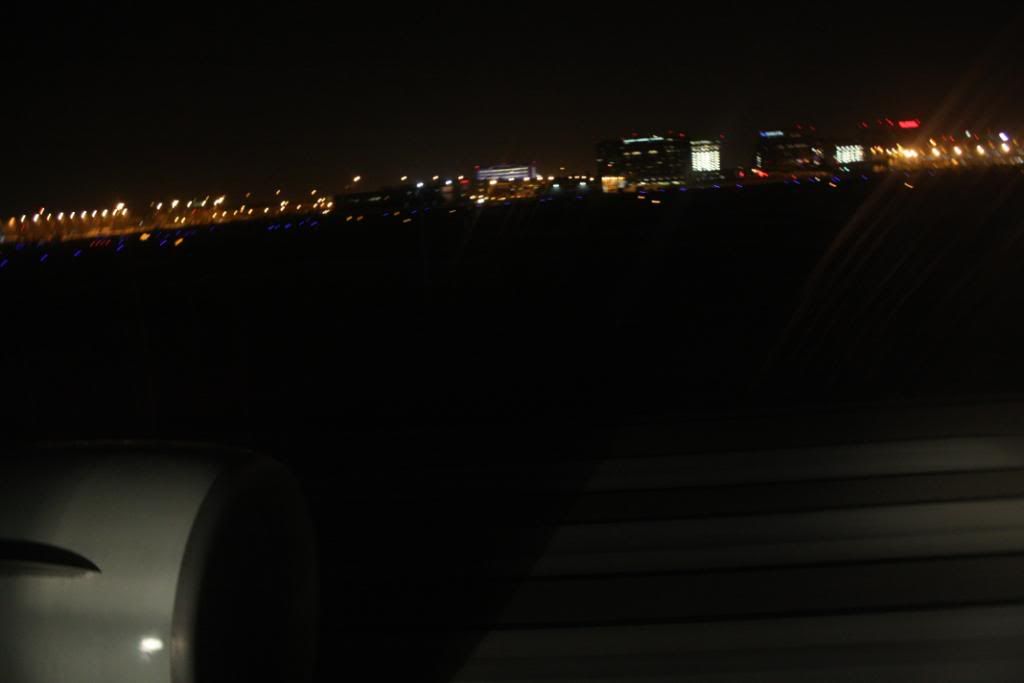 Rolling on 25R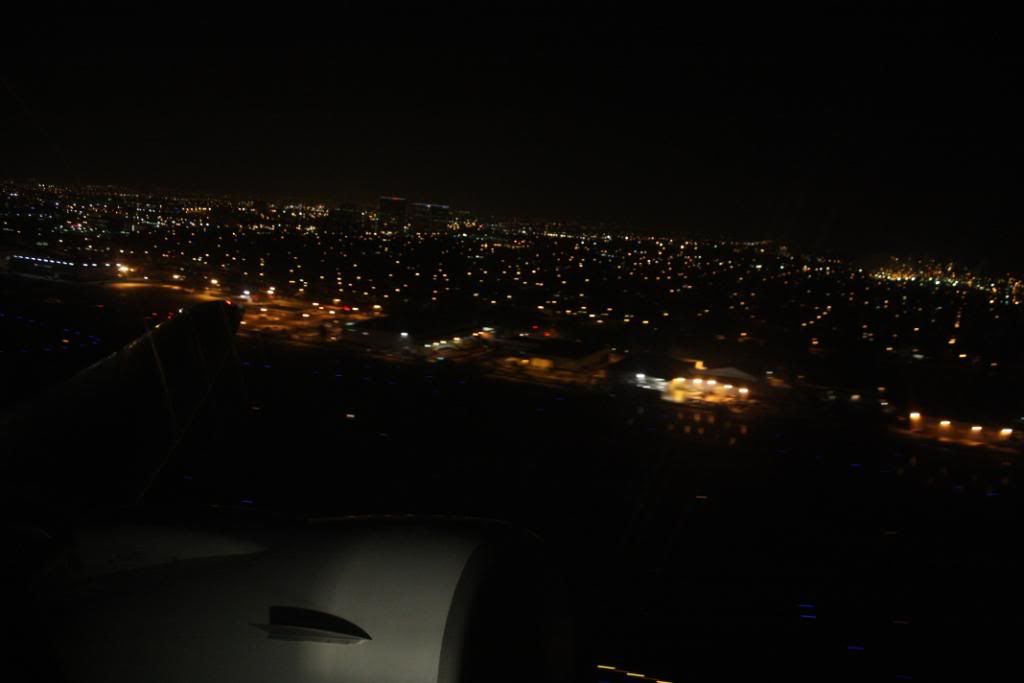 Climbout

We turned south (it really seemed like we were struggling for altitude, more so than I've ever felt before) and then back east south of Rancho Palos Verdes.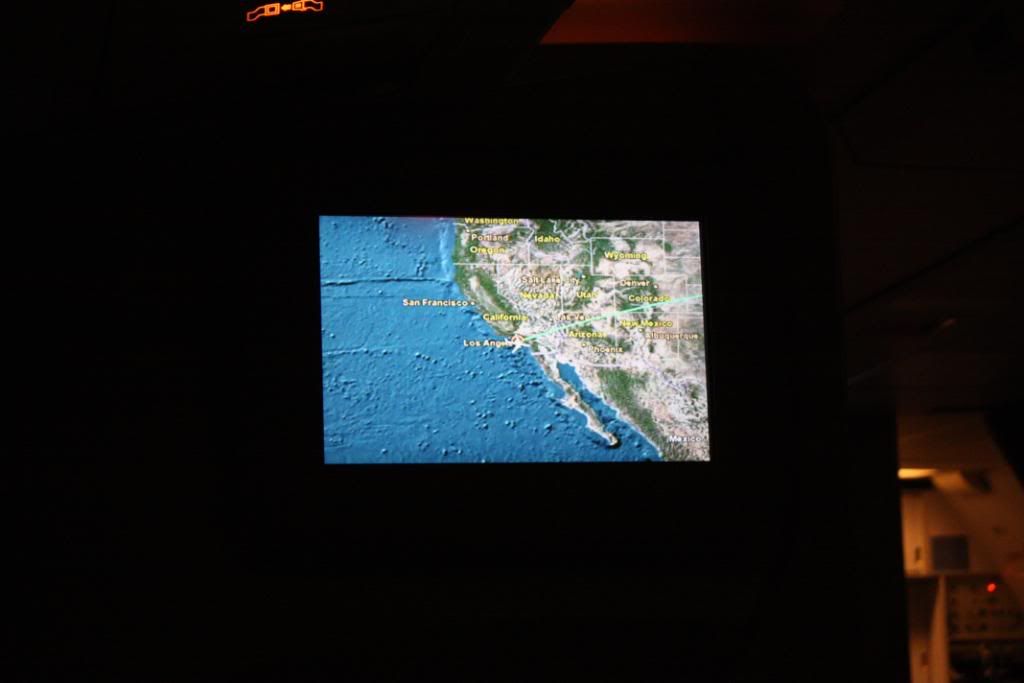 Moving Map. I really like these new ones, they're much nicer looking.

Service commenced very shortly after takeoff since it was a redeye. I took the cheese plate with my usual glass of milk.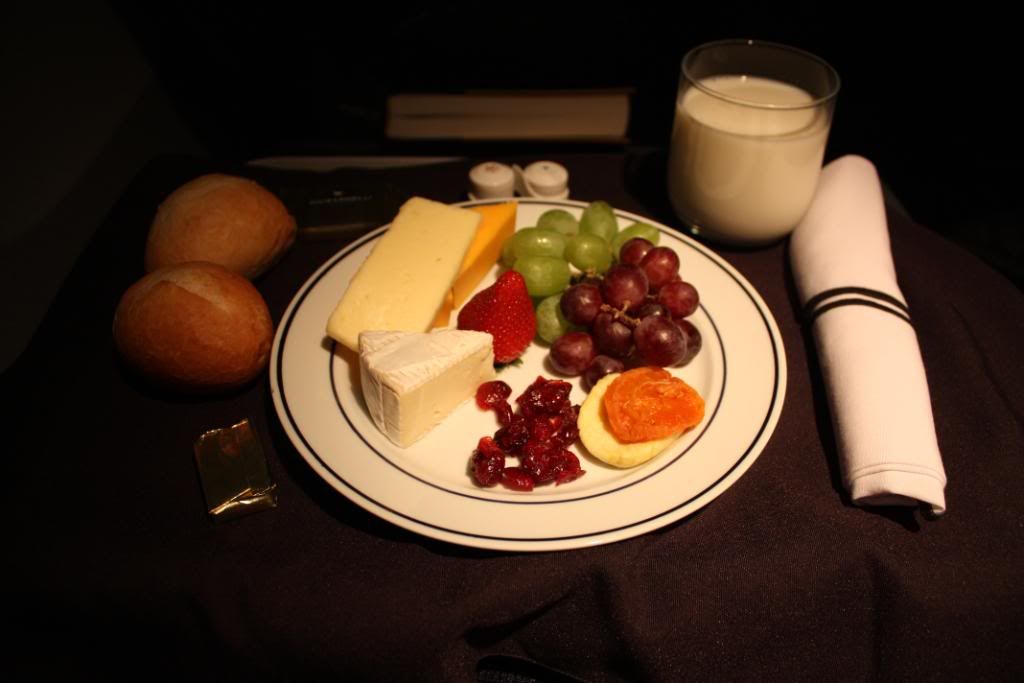 Cheese Plate

I declined the video player because I was planning on giving the wifi a shot. I was really excited to try it out. I'm here to tell you, it's better than the internet I've got in my apartment on campus. And for a 5 hour flight (well, 4 hr 20 min today), I think $13 is worth it, too. I got on Facebook and, of course, a.net!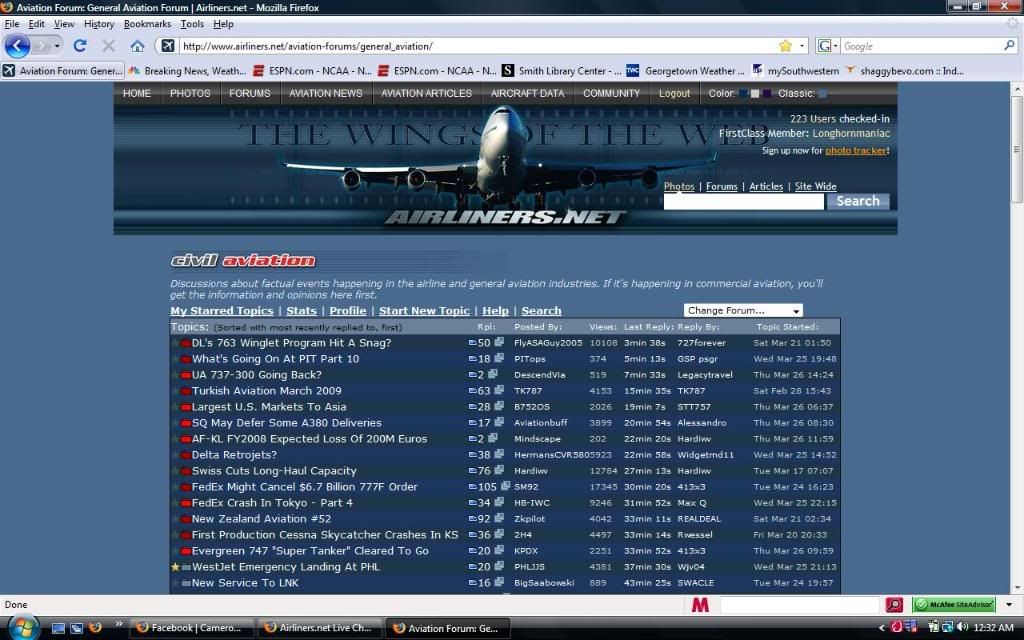 A.net over CA

Then it dawned on me to check on Jordan's flight status. His flight was delayed until 1, and then 1:30. It finally took off at 1:43 central time. It dawned on me that I might very well beat him to NYC, him going to EWR, me to JFK.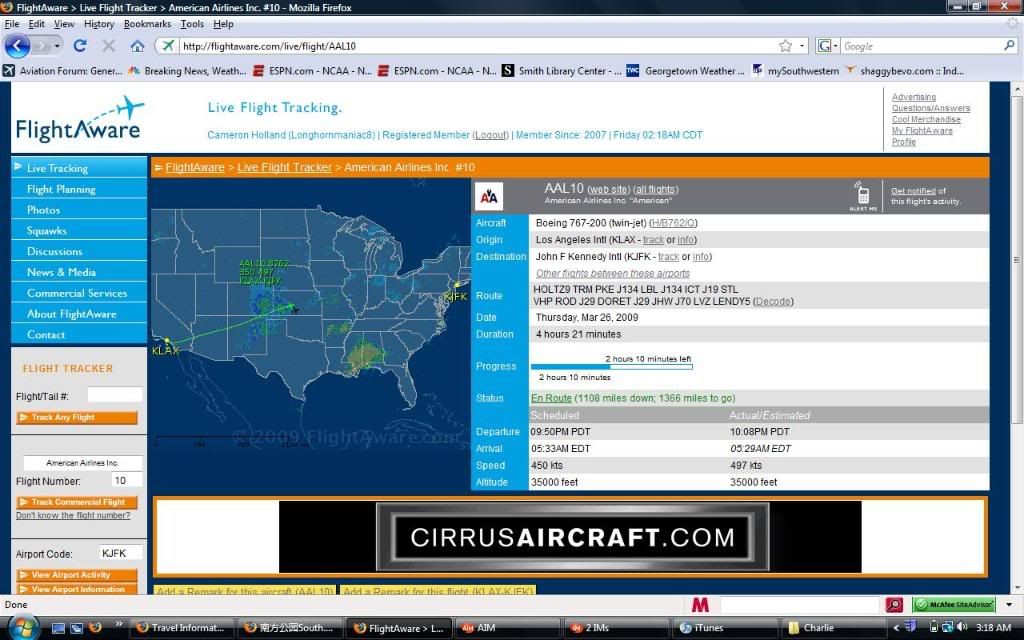 Halfway there!

The rest of the flight continued uneventfully. I watched an episode of South Park on my computer. We passed just south of Chicago and Detroit, and eventually began our descent. I picked 8A because I figured it would have a good view of NYC on approach, and it did not disappoint.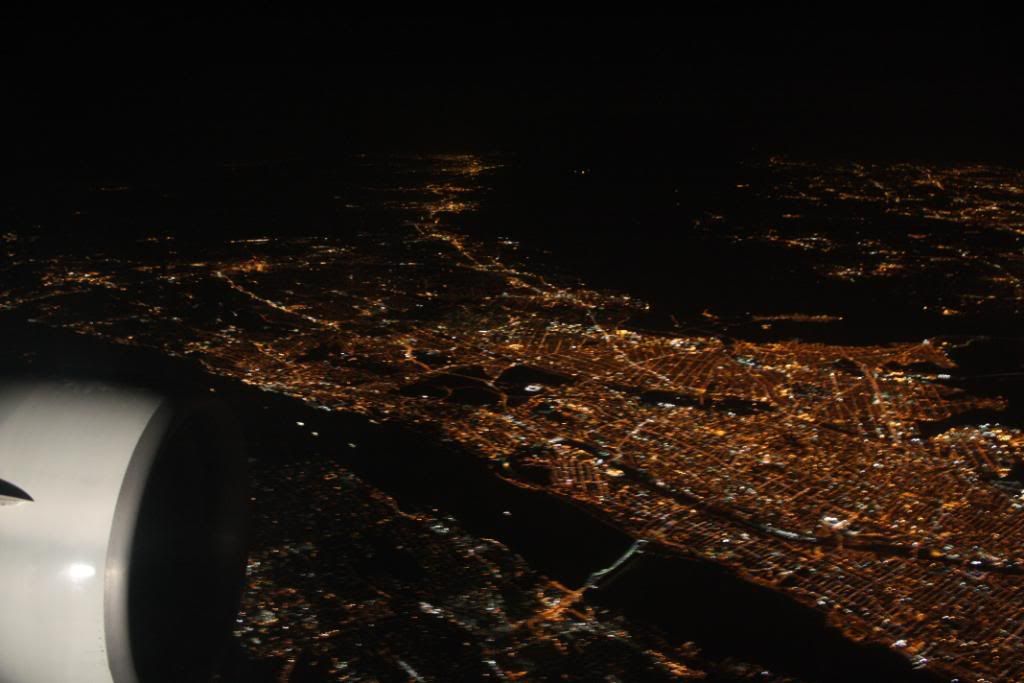 Uptown Manhattan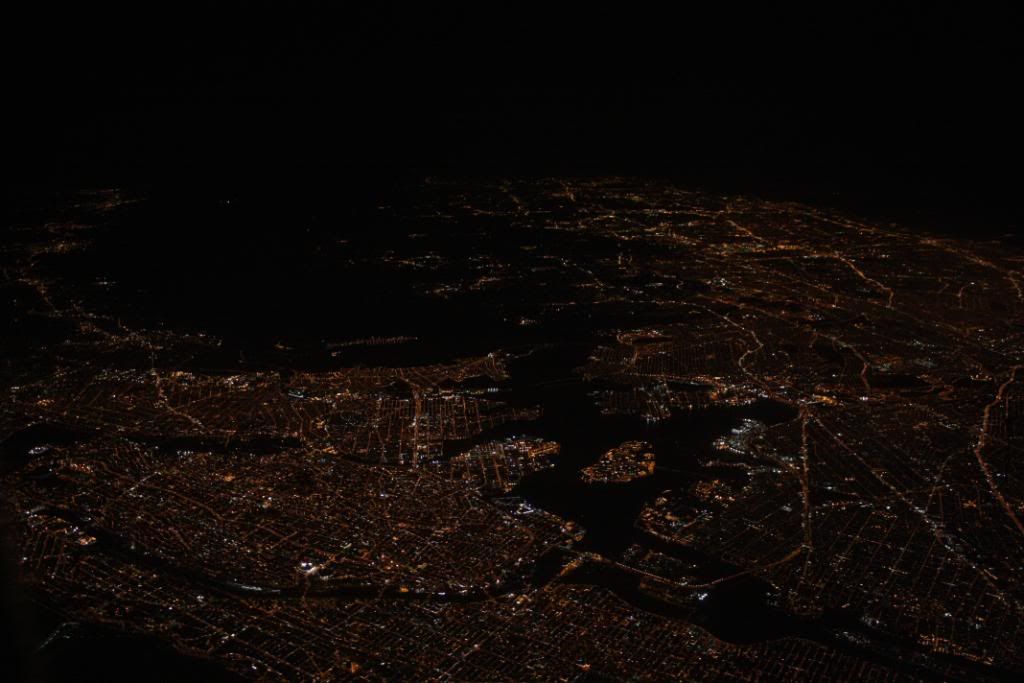 Manhattan and Long Island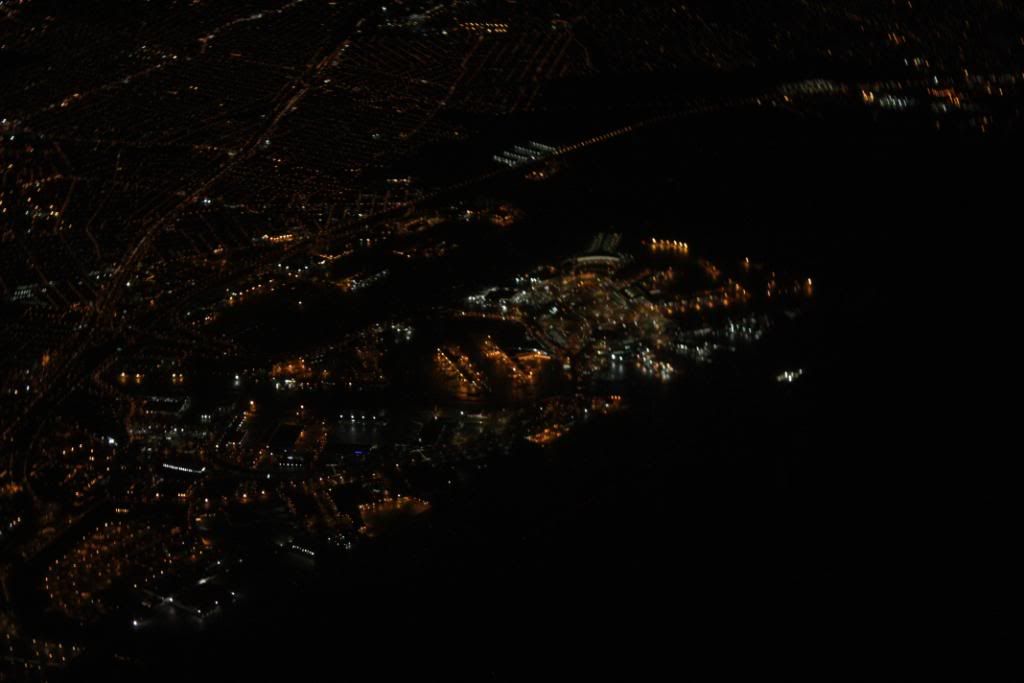 Can you pick out JFK? On the downwind for 31R.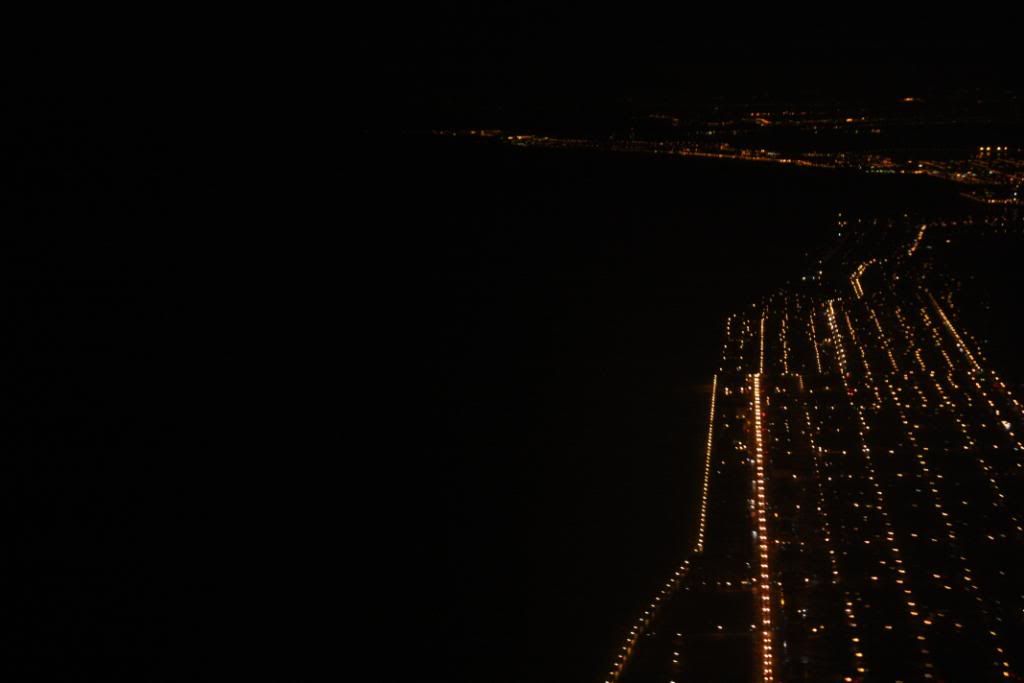 Feet dry over Long Beach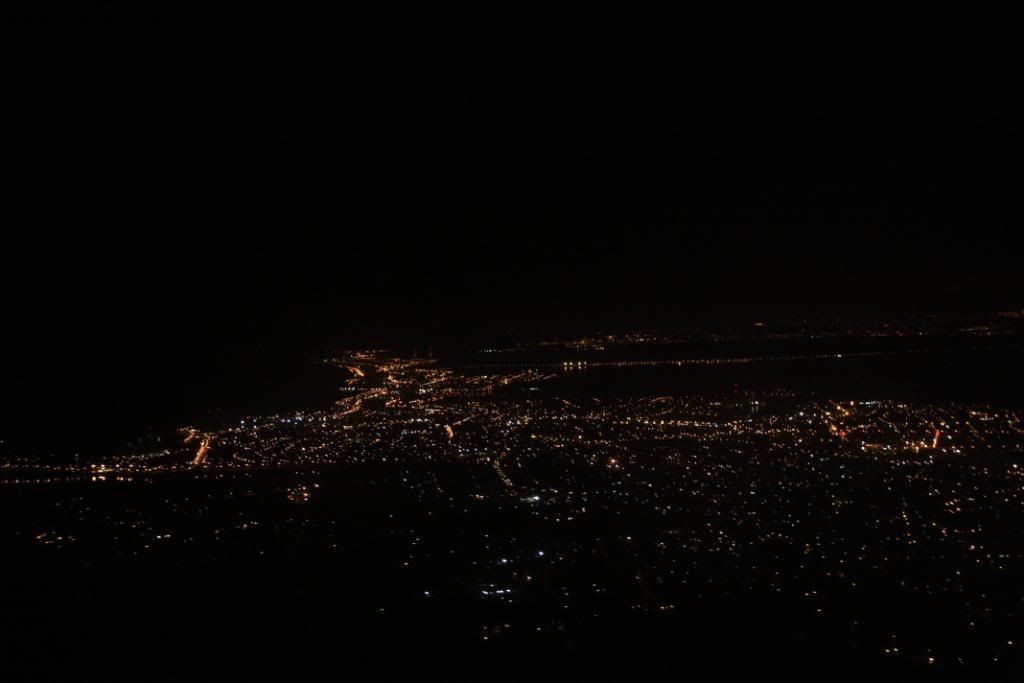 Final for 31R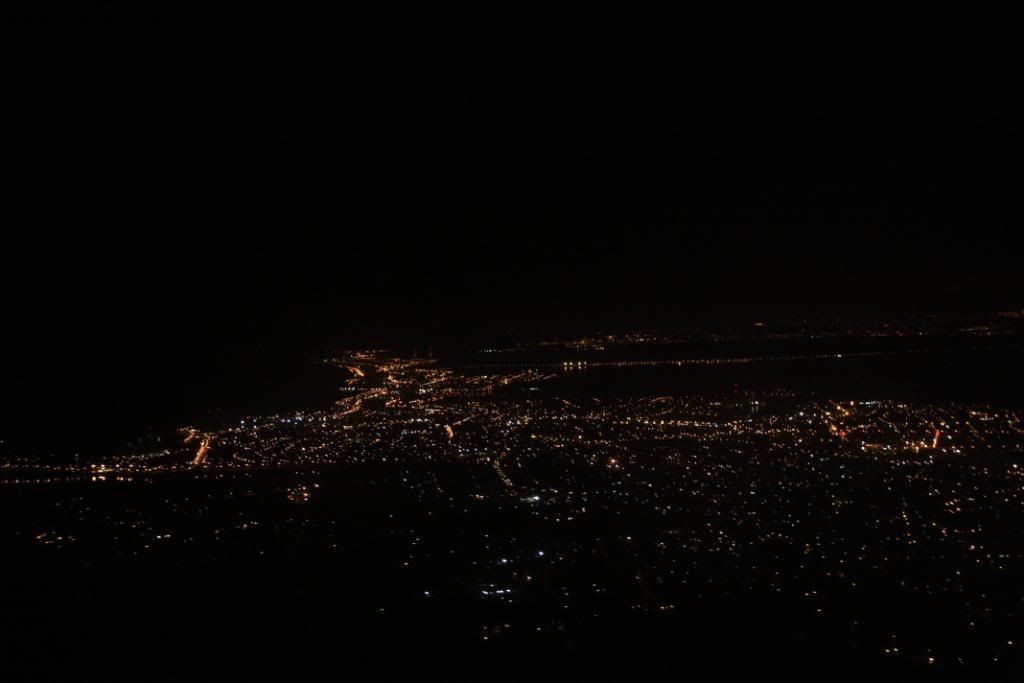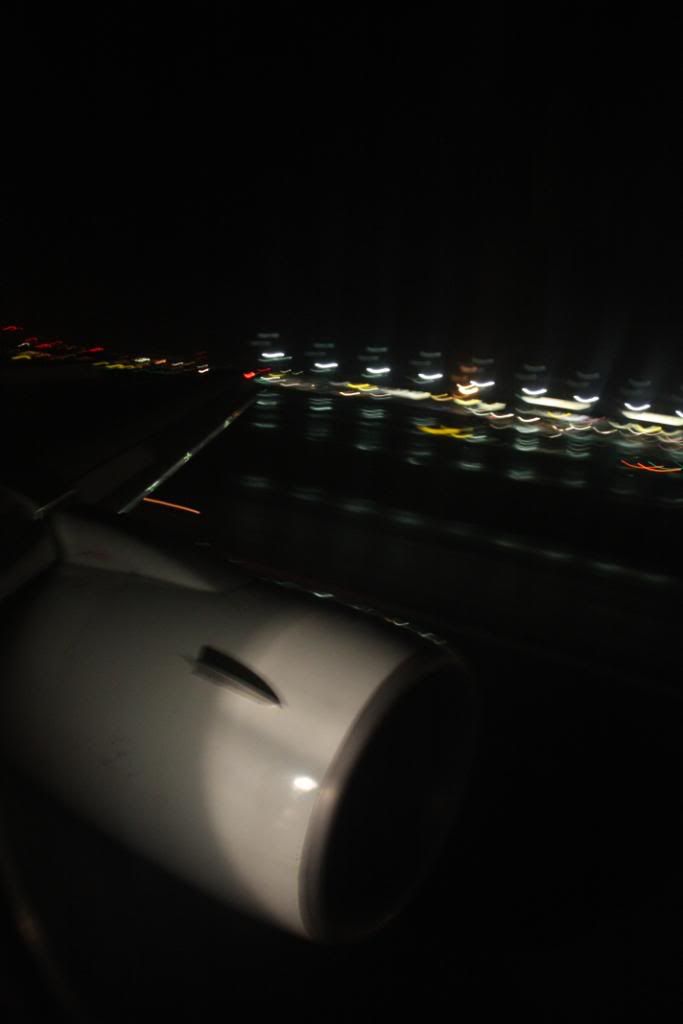 Touchdown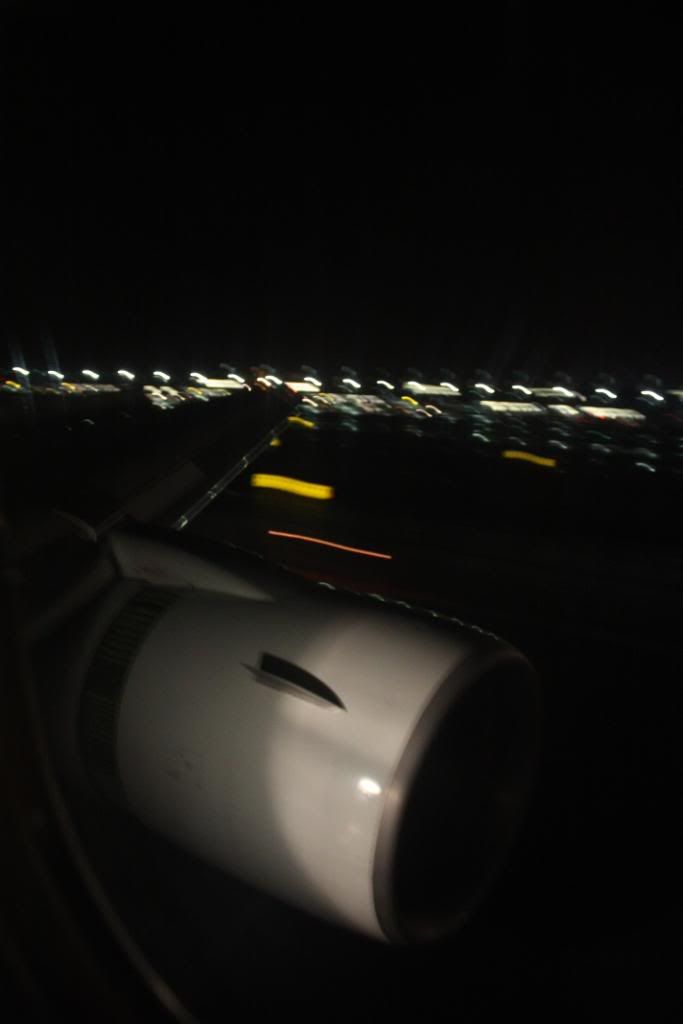 Thrust reversers deployed.

We quickly taxied to gate 33, where I deplaned, still really tired because I haven't slept at all (I dozed for a bit).

The first thing I did was call Jordan. He was still taxiing in to the gate. I beat him to NYC, through LAX!!!! Sadly,that would only be a total of 18 hours worth of delays for him in that past week, and there would be more to come on Sunday.

Then, I went down to baggage claim where AA tried to lose my bag, but more came out while about 35 of us were in line at the baggage office, and thankfully, mine was among them.

Some of the more astute readers might have already figured out that AA does not fly JFK-BNA, so I had to transfer airports to LGA. Although we hit a little traffic on the Van Wyck, it wasn't too bad, and I was at LGA by 7:00, for my 8:29 flight.

Friday, March 27th, 2009

I arrived at LGA, having already bought electronic upgrades, and getting a confirmation email. However, once I got to the check-in counter, the AAgent told me that I needed two more. I explained to her that I already bought them two days prior, but it wasn't much good. Alas, I just took the exit row, and made my way through security. As soon as I was through, I called AA, to try and figure out what was going on. They didn't have any record of it, but as long as I wasn't charged, that was ok. I bought two, and when the gate AAgent appeared, I got on the upgrade list. My upgrades came through, and I was given a boarding pass for 4F. I was a little upset because I wanted to be on the left side since LGA was using 4 for takeoffs. I was the first on the plane, and fortunately was able to trade with someone and got 5A.

AA 1151
LGA-BNA
MD-8?
N????? (i'll update it when I get it).

Scheduled Departure: 0829
Out: 0827
Departure Gate: D7
Seat: 5A
Departure Runway: 4
Off: ?
Cruising Altitude: FL 280/300
Cruising Airspeed: 438 KIAS
Route: PARKE J6 YOLKY GUITR4 BNA
Arrival Runway: 2R
On: 0955 L
Arrival Gate: C5
Scheduled Arrival: 1009
In: 1002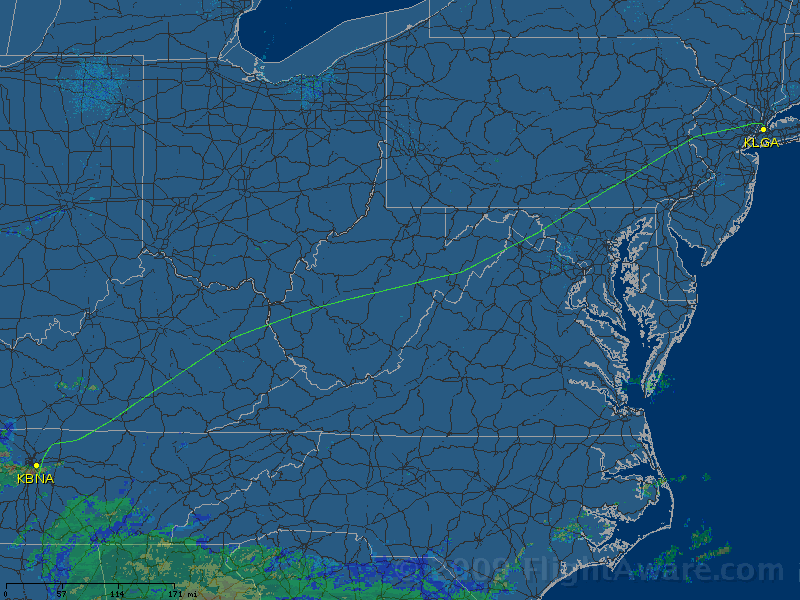 AA 1151 according to FlightAware

We pushed back on time, and made our way to runway 4.



DL E170s, with ESB behind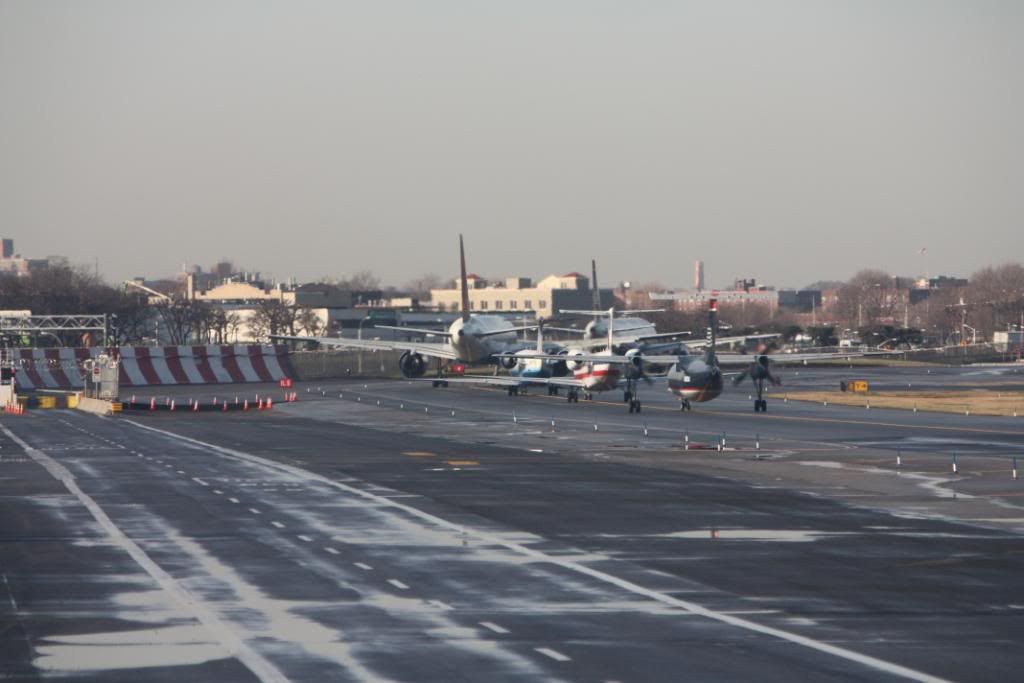 The line we joined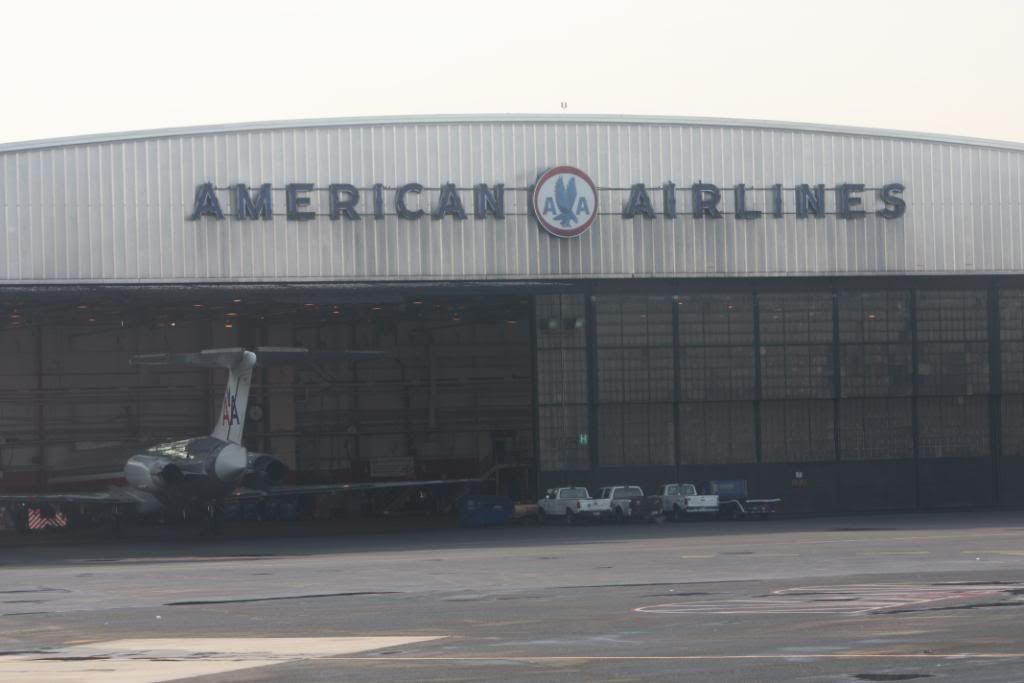 Retro AA signage



The obligatory LGA tower shot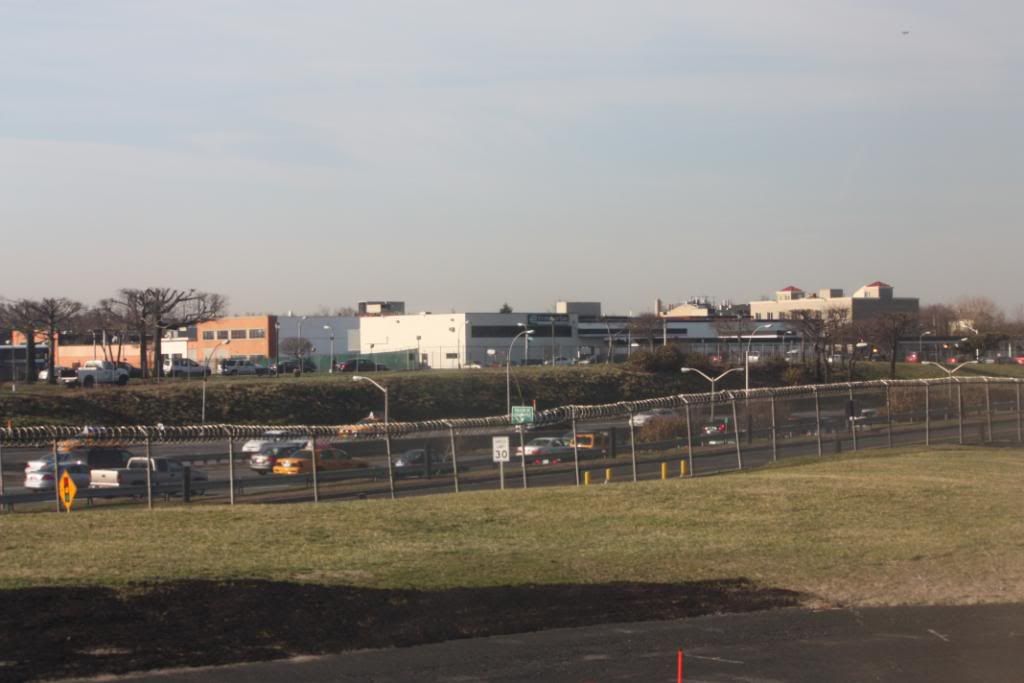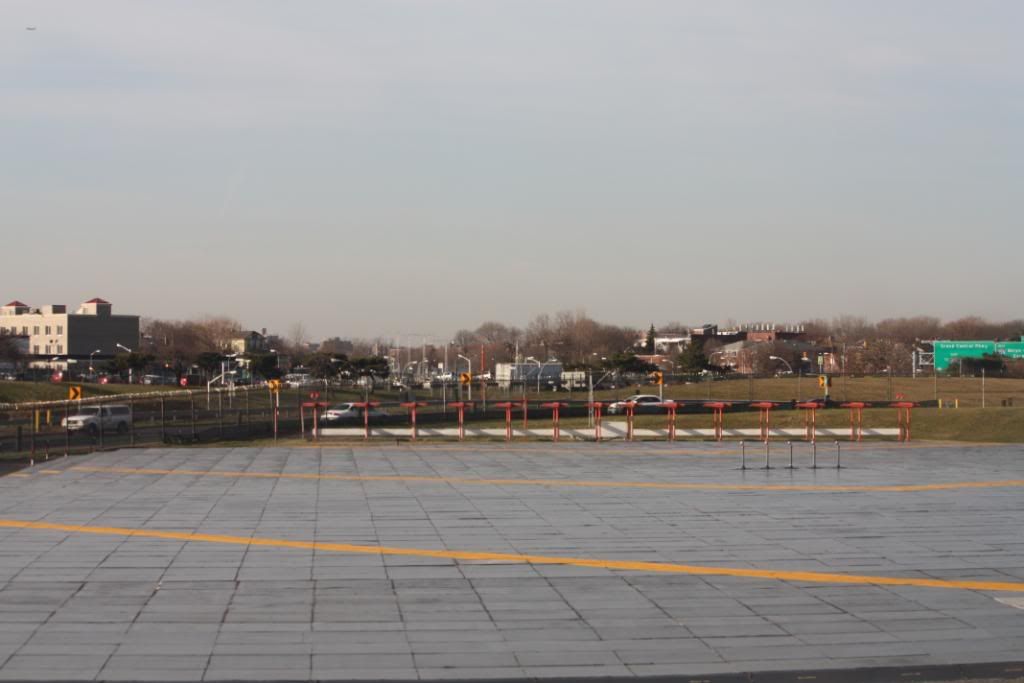 "American 1151, Runway 4, Position and hold"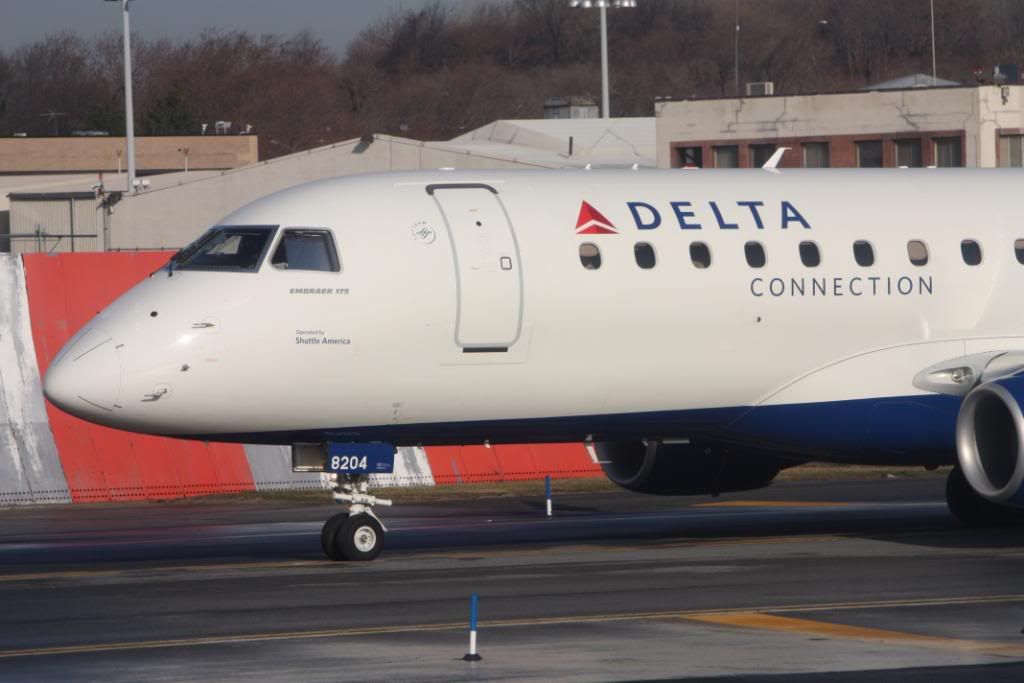 DL E170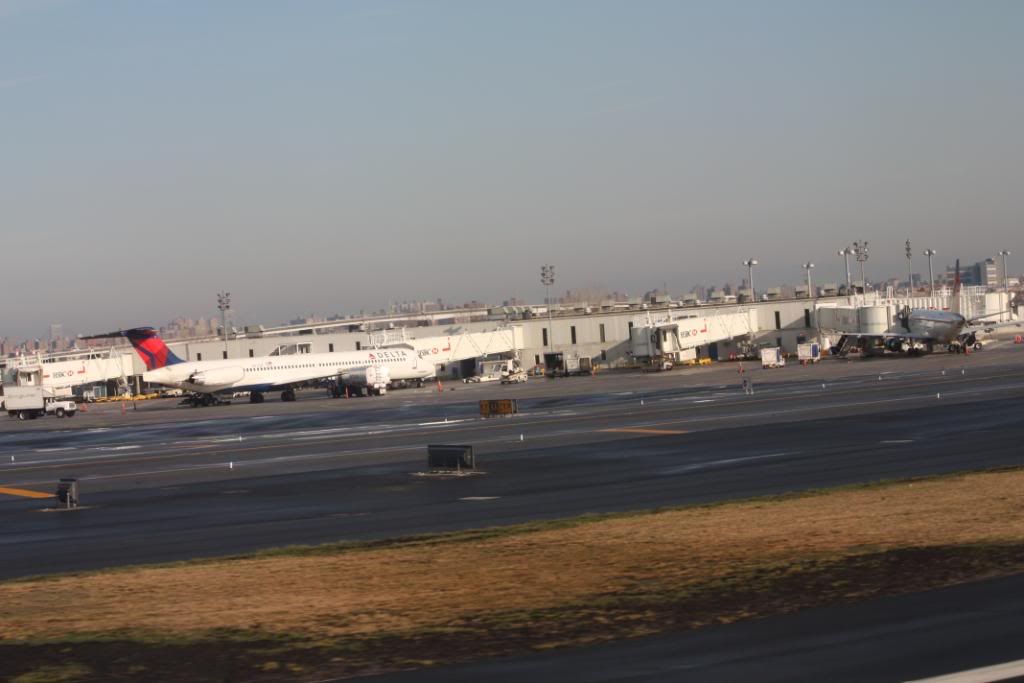 DL terminal, rolling on 4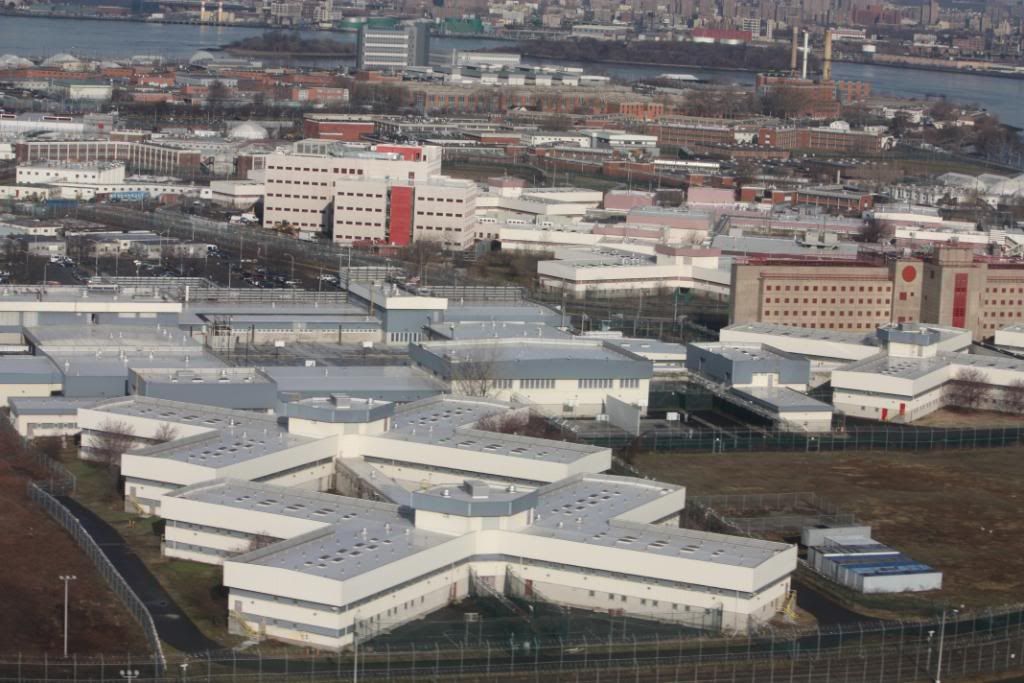 Climbing over Riker's Island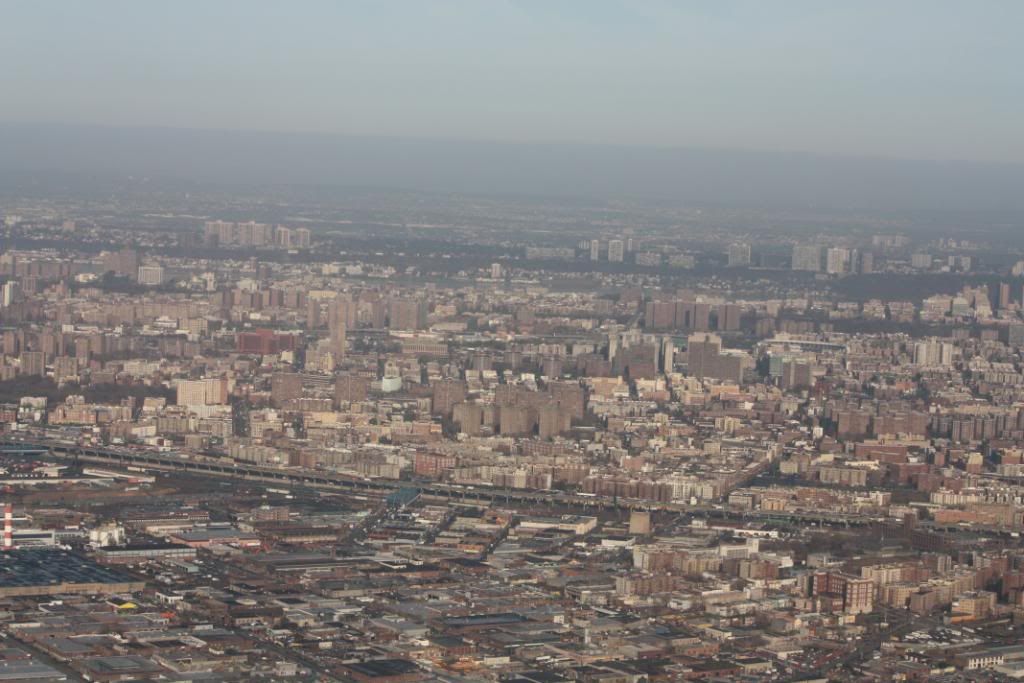 Manhattan with Central Park visible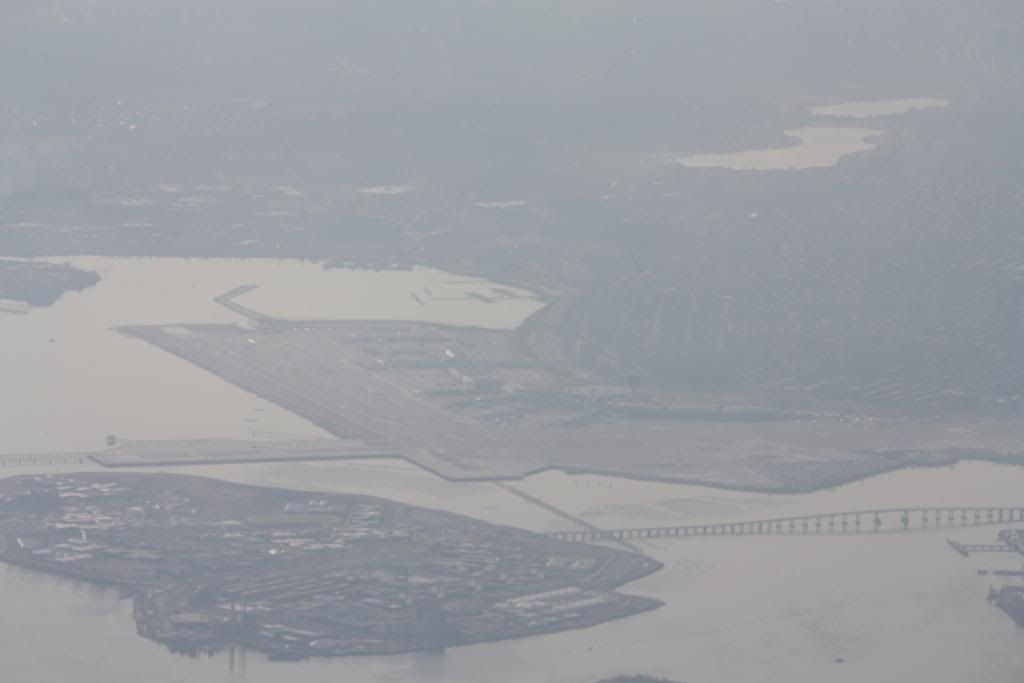 LGA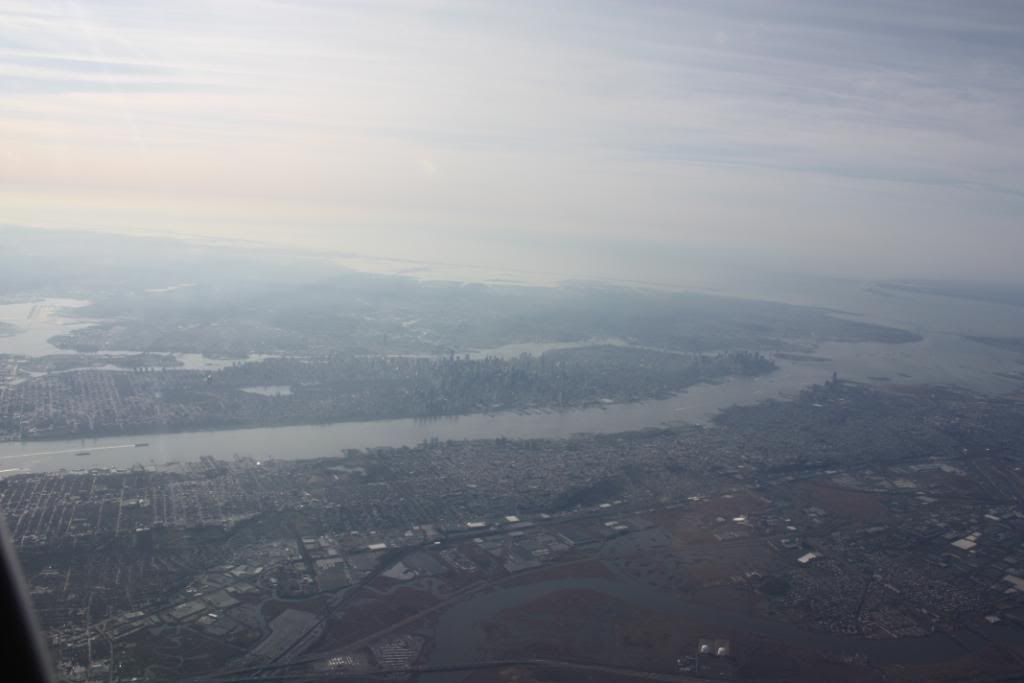 NYC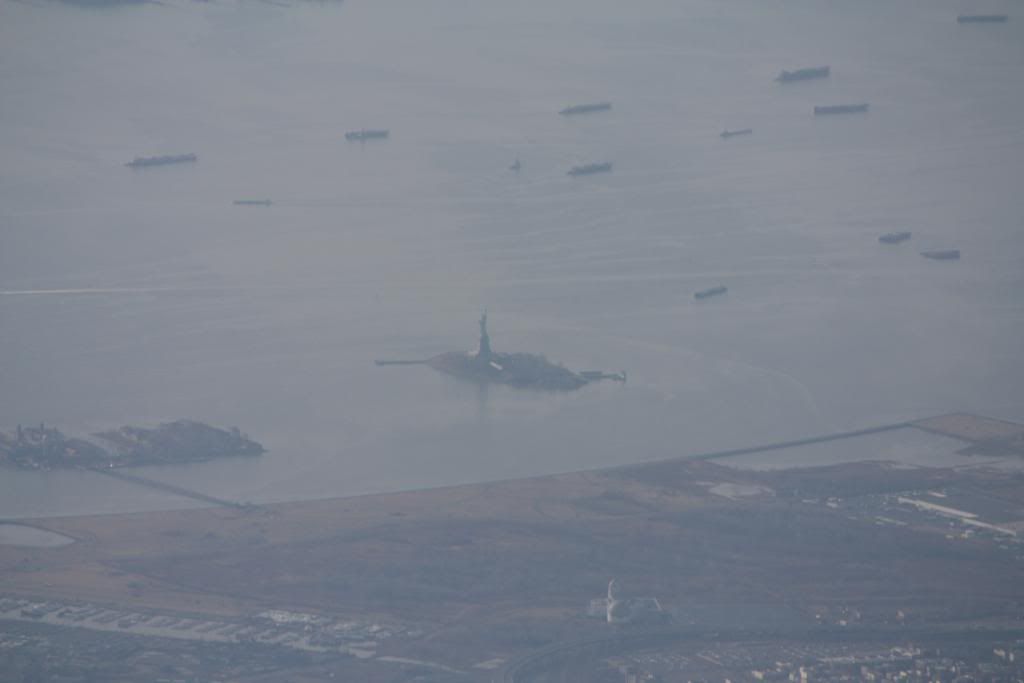 Lady Liberty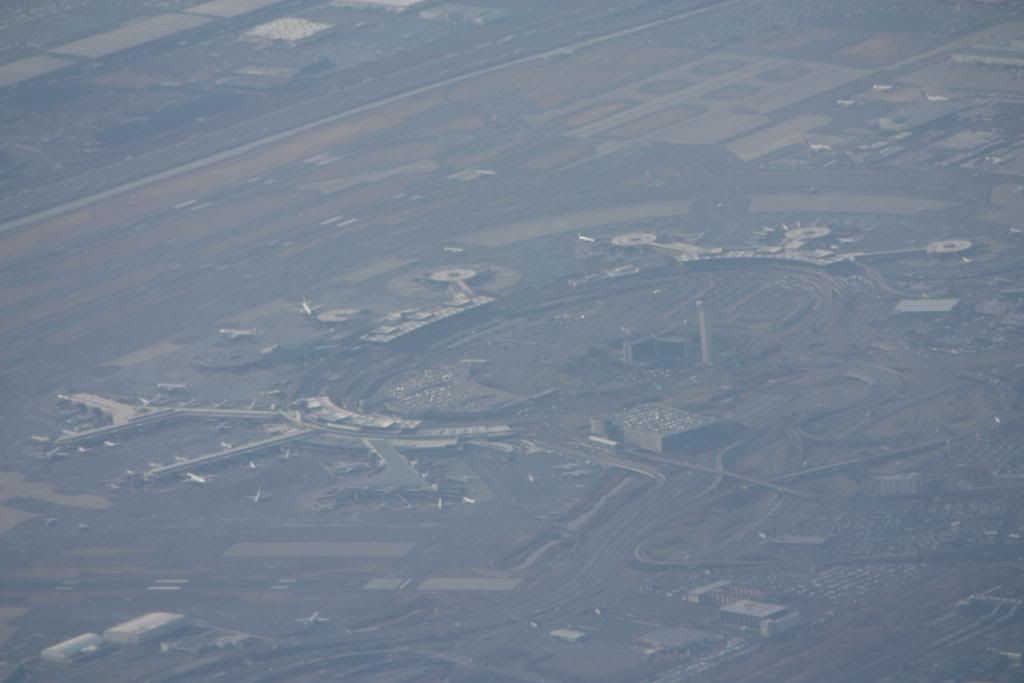 EWR

The flight was uneventful, the flight attendant gave me a bagel and a biscuit, which was nice. The flight went by pretty fast, and soon, we were descending into BNA. We came in from the NNE, turned south, then back north to align ourselves for 2R.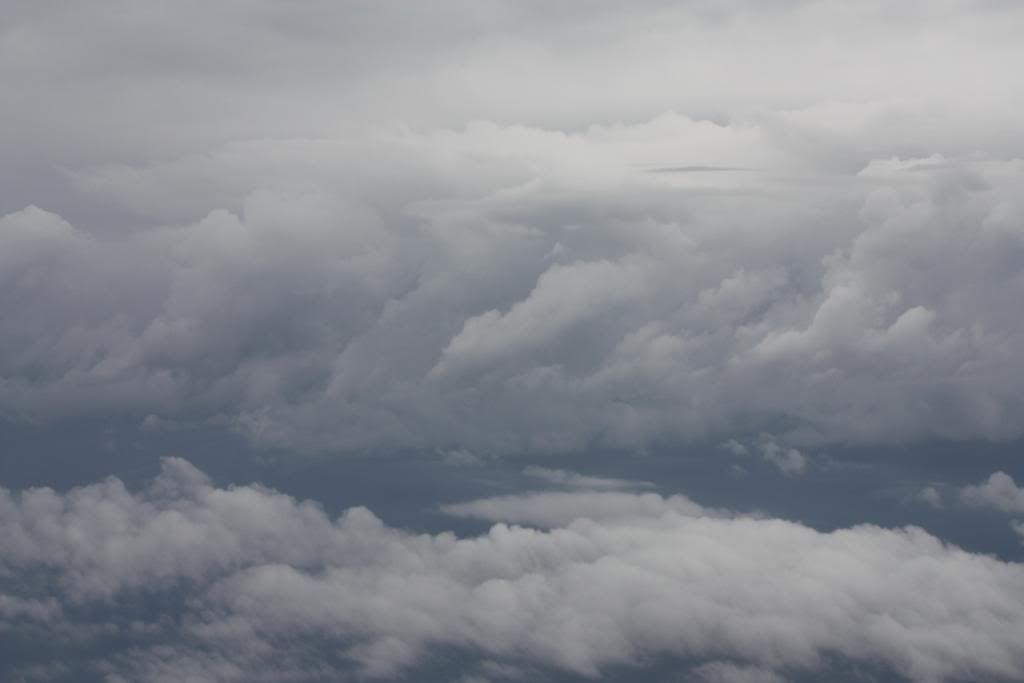 Fun weather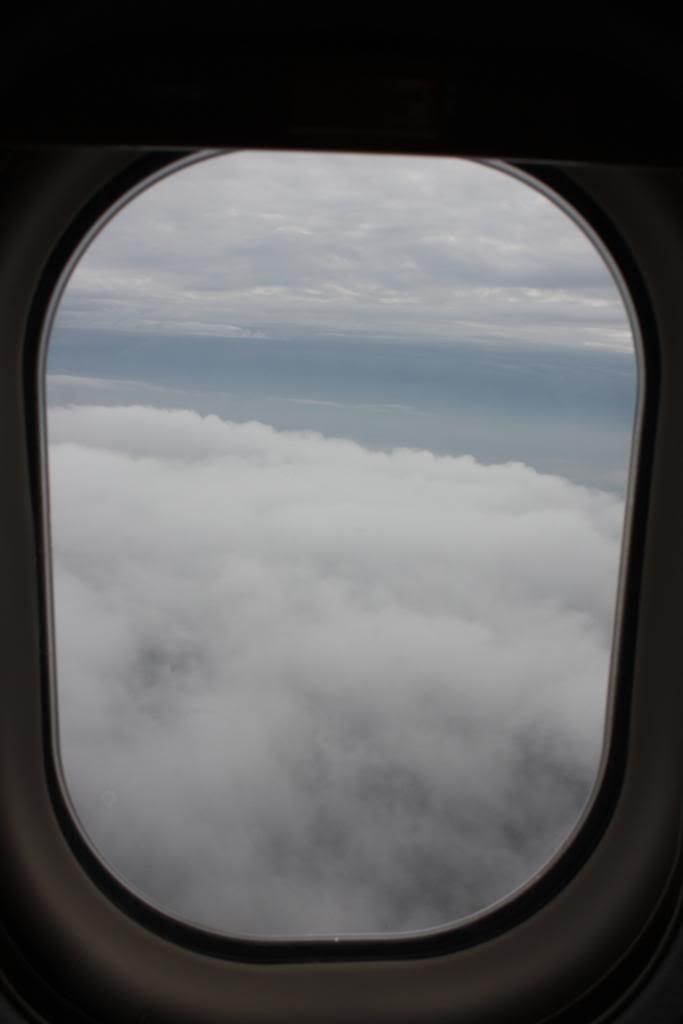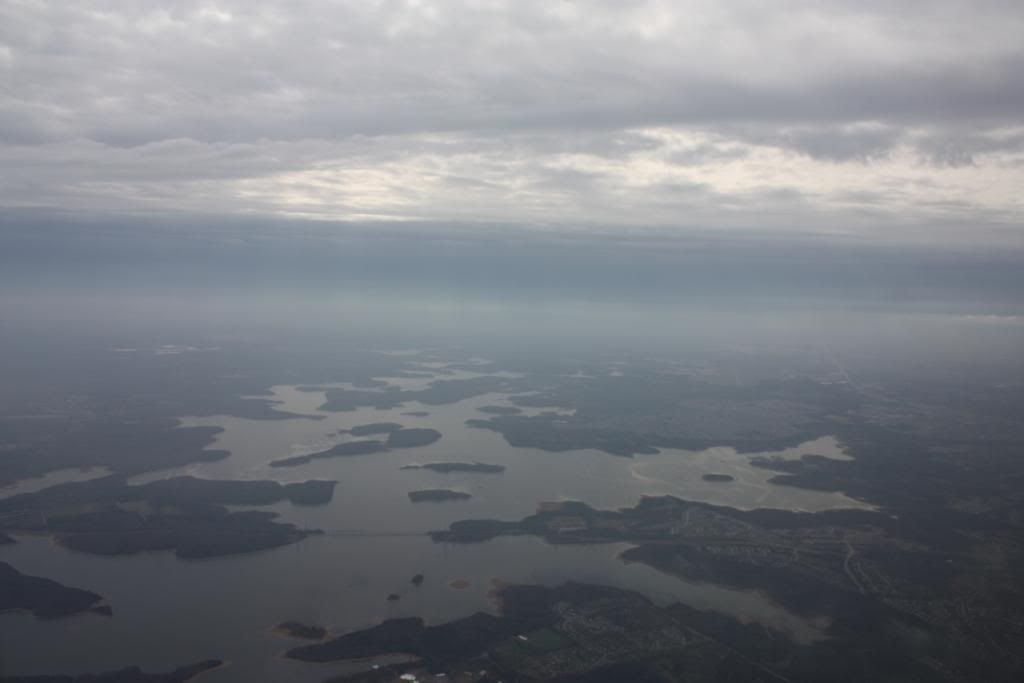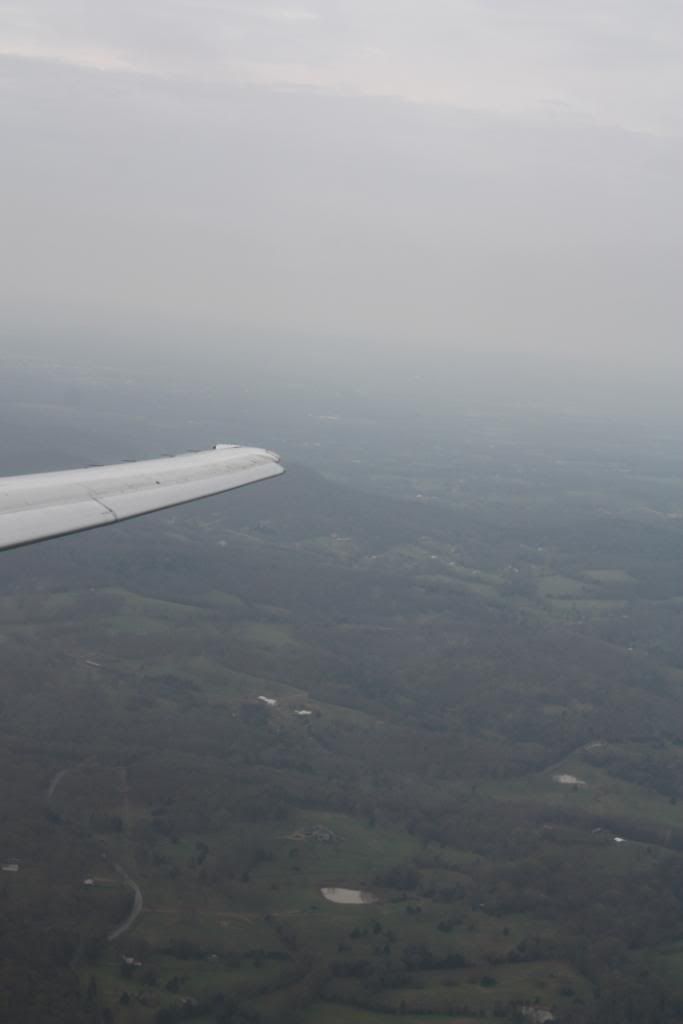 On final for 2R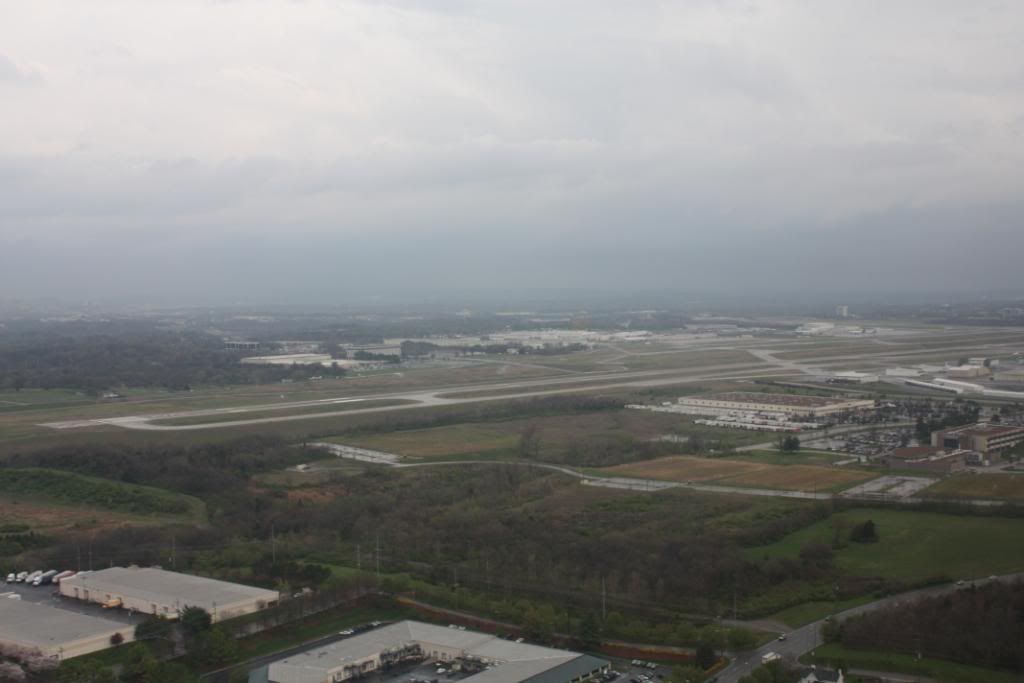 Looking out on 2L and 2C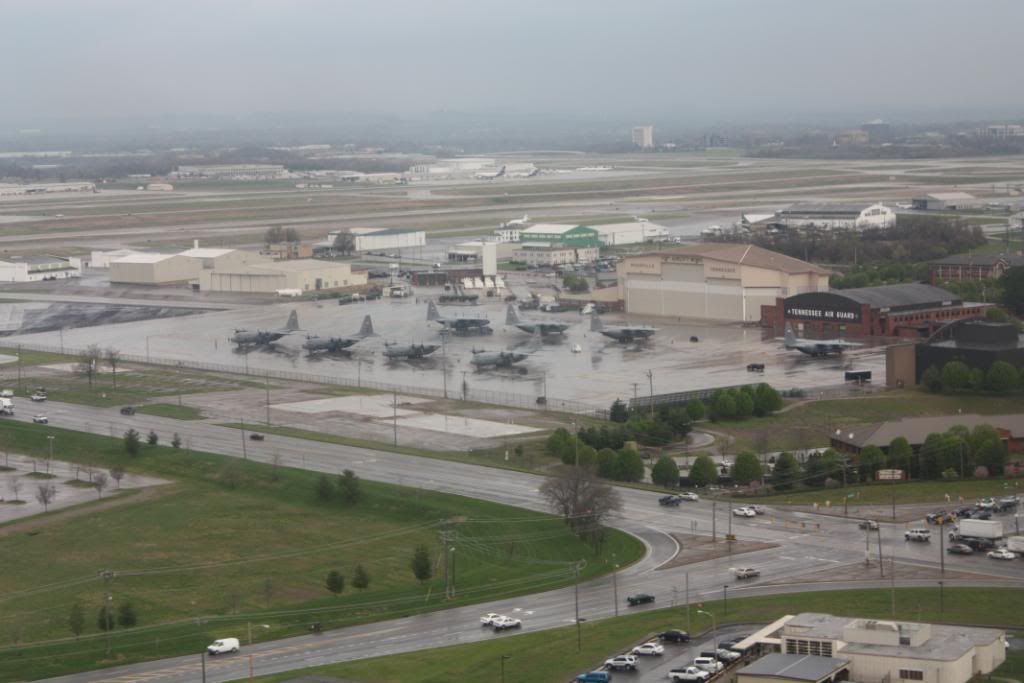 TN ANG C130s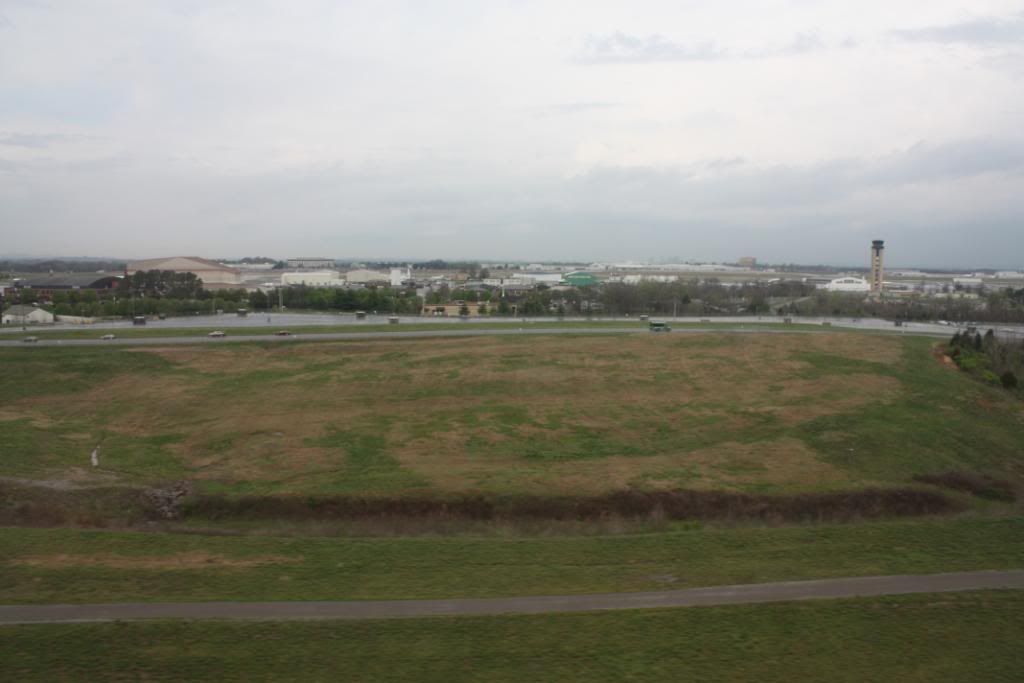 Short final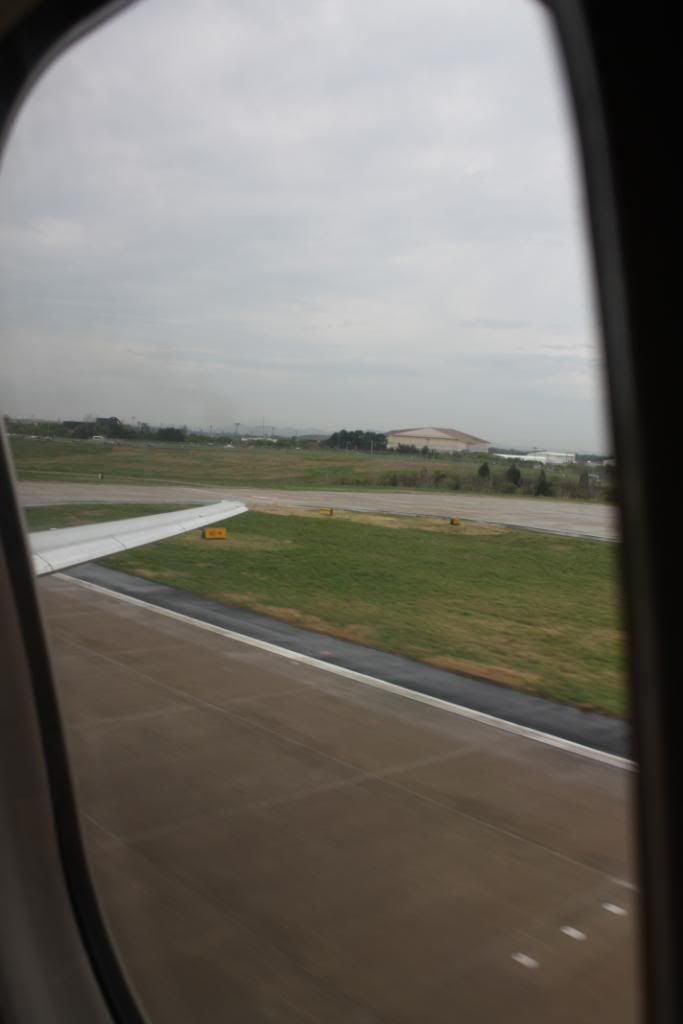 Over the runway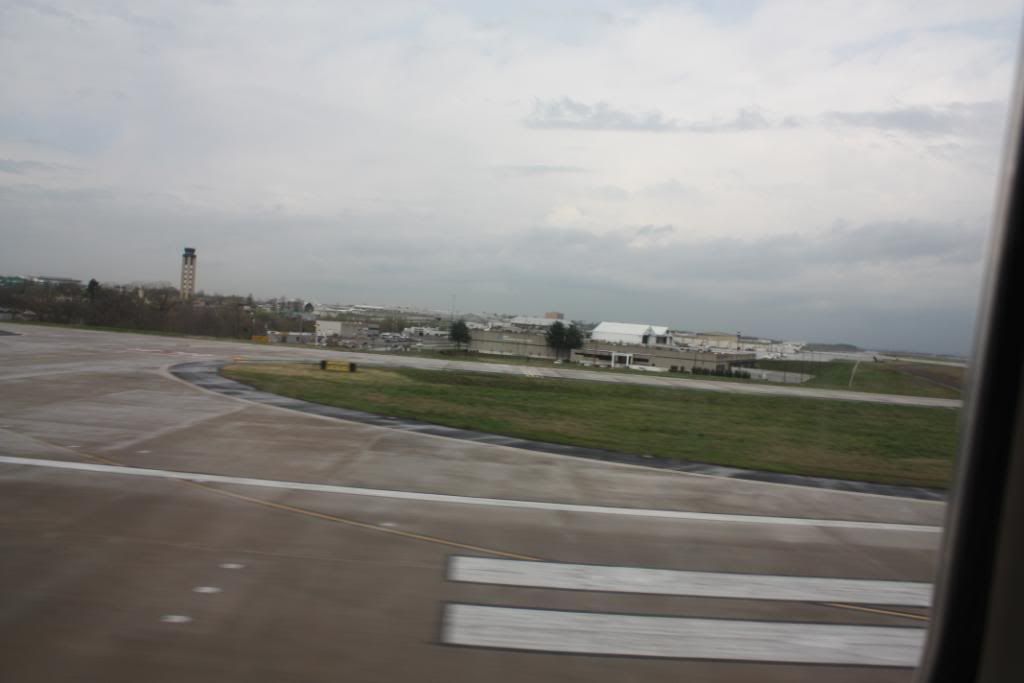 Touchdown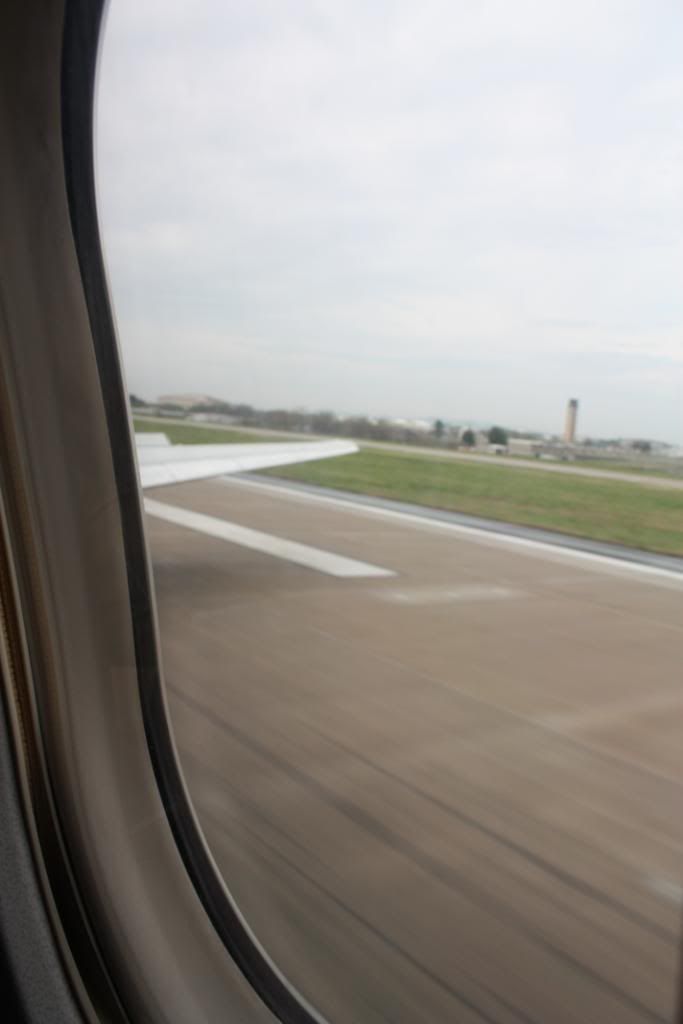 Spoilers barely visible

We taxied without incident to C5. I quickly made my way to baggage claim, claimed my bag, and was on my way for a fun weekend in Nashville.

Part two to follow.

Cheers,
Cameron
Topic: RE: AUS-BNA (the Looonng Way). AA F/J/Y (100 + Pics)
Username: Longhornmaniac
Posted 2009-04-05 13:49:52 and read 13743 times.

Part 2...continued from above

Monday, March 30th, 2009

After a fun wedding, it was time to head back to school, unfortunately. It was cheaper to fly back Monday morning, and because first class isn't until 2, that wasn't a problem. I did have to wake up at 5:10 for my 7:20 flight to DFW. My parents dropped me off at 6 (their flight was at 9:45). I got my boarding pass, and after a long wait at security (I will say, though, the new security area at BNA is nice), made it through. I decided at the last minute to call AA and try to get upgraded. I bought the upgrades, but I had no idea whether they would come through in time (they say to give it two hours, I had about 20 minutes). Luckily, they did, and i was assigned 4A.

We boarded on time about 6:50, and I was on my way home.

AA 811
BNA-DFW
MD-82
N484AA

Scheduled Departure: 0720
Out: 0716
Departure Gate: C5
Seat: 4A
Departure Runway: 31
Off: 0735
Cruising Altitude: FL 340
Cruising Airspeed: 437 KIAS
Route: MEM J66 LIT.BYP5 DFW
Arrival Runway: 17C
On: 0920
Arrival Gate: C37
Scheduled Arrival: 0935
In: 0940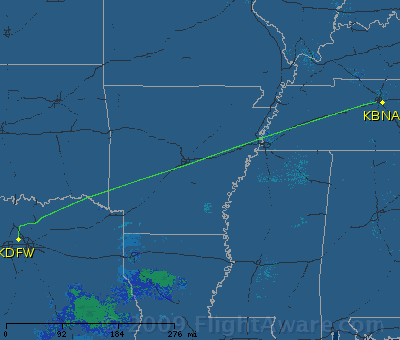 AA 811, according to FlightAware

We pushed back, and because it had been below freezing the night before, we made our way to the deicing pad. This was my first de-ice experience, being from Texas and all.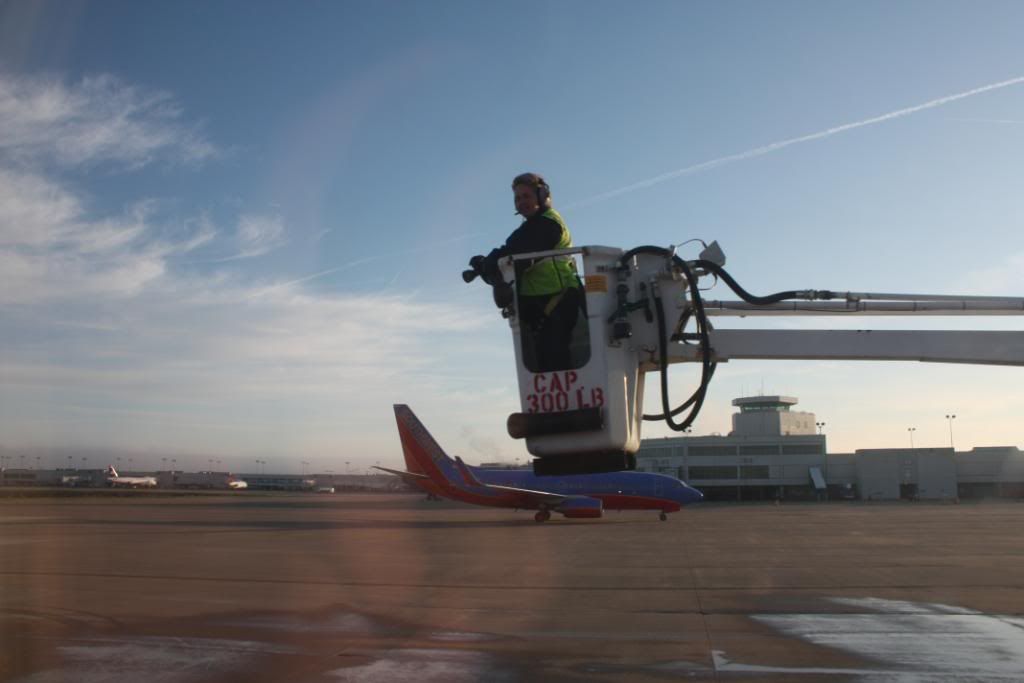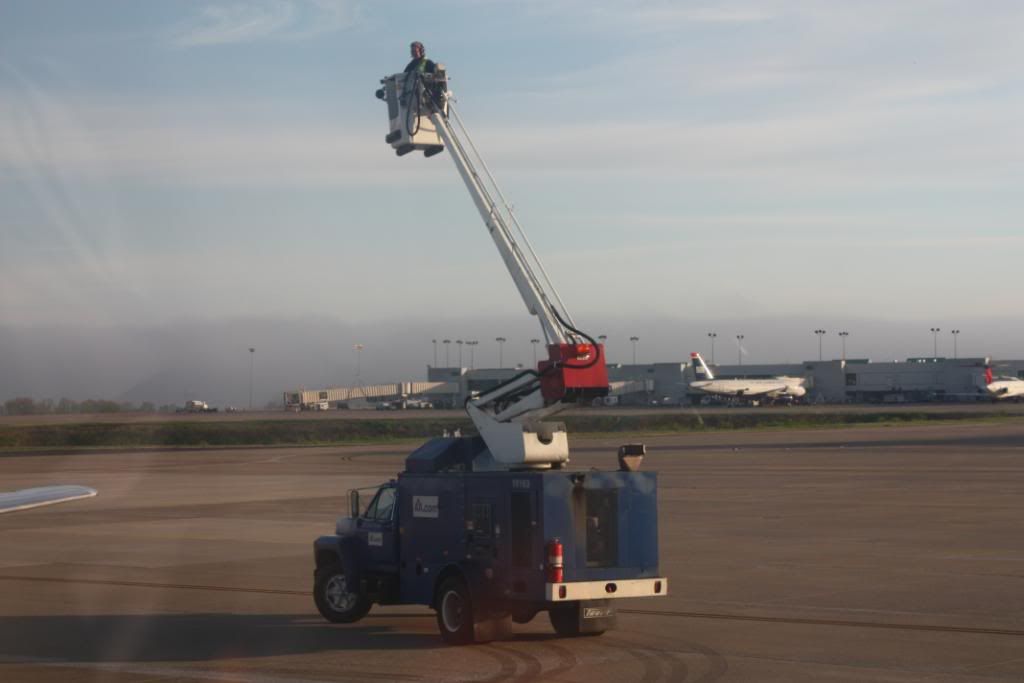 After our deicing, we taxied to 31, where we were #1 for departure.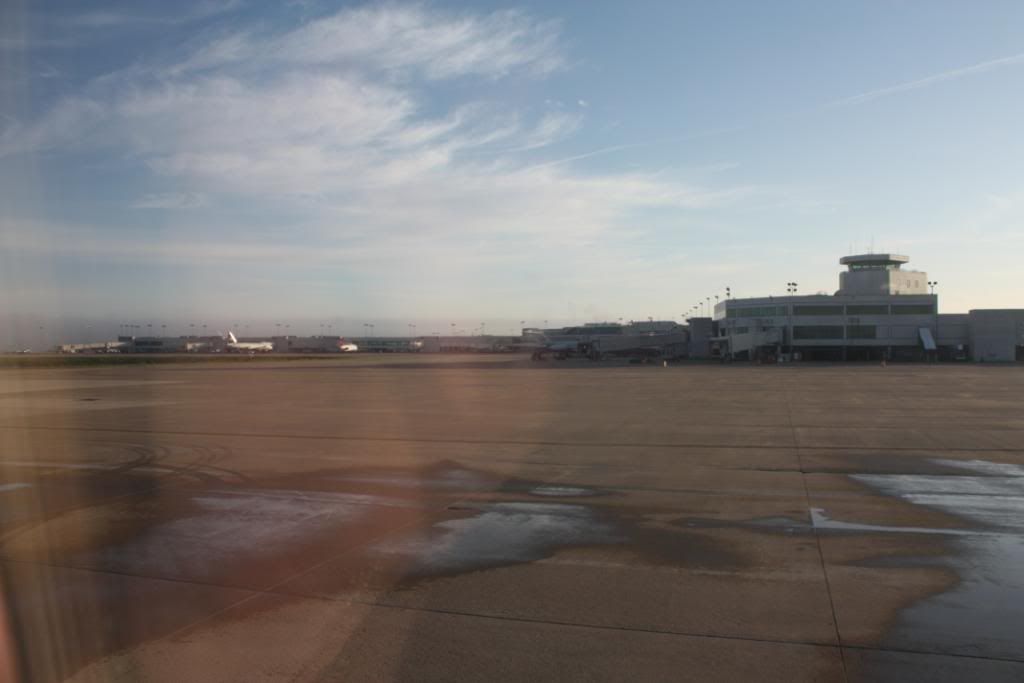 BNA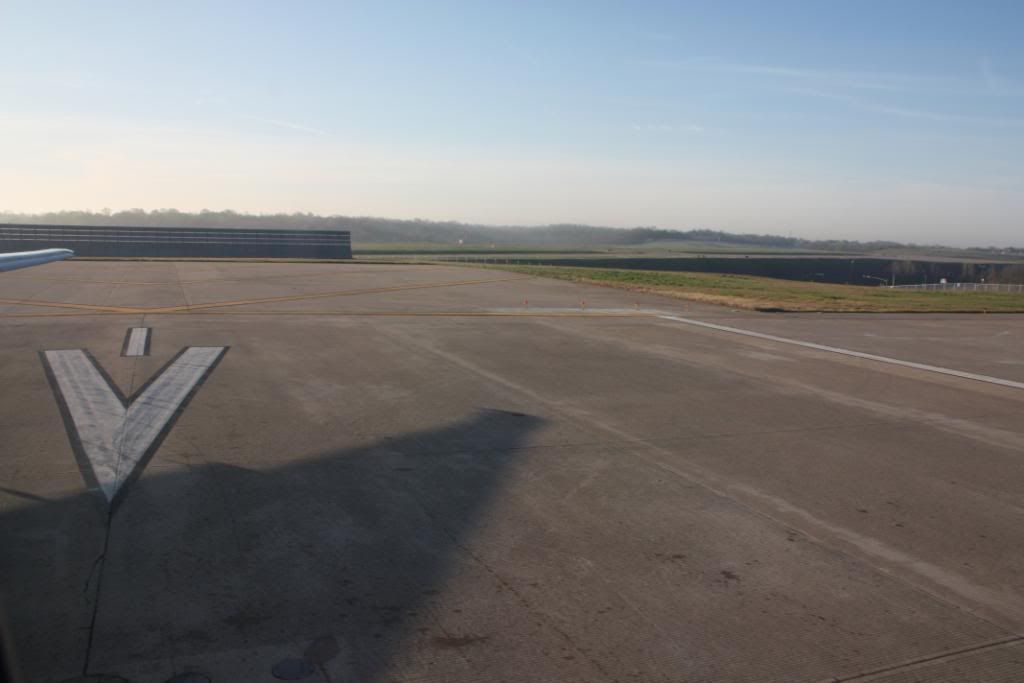 Turning onto 31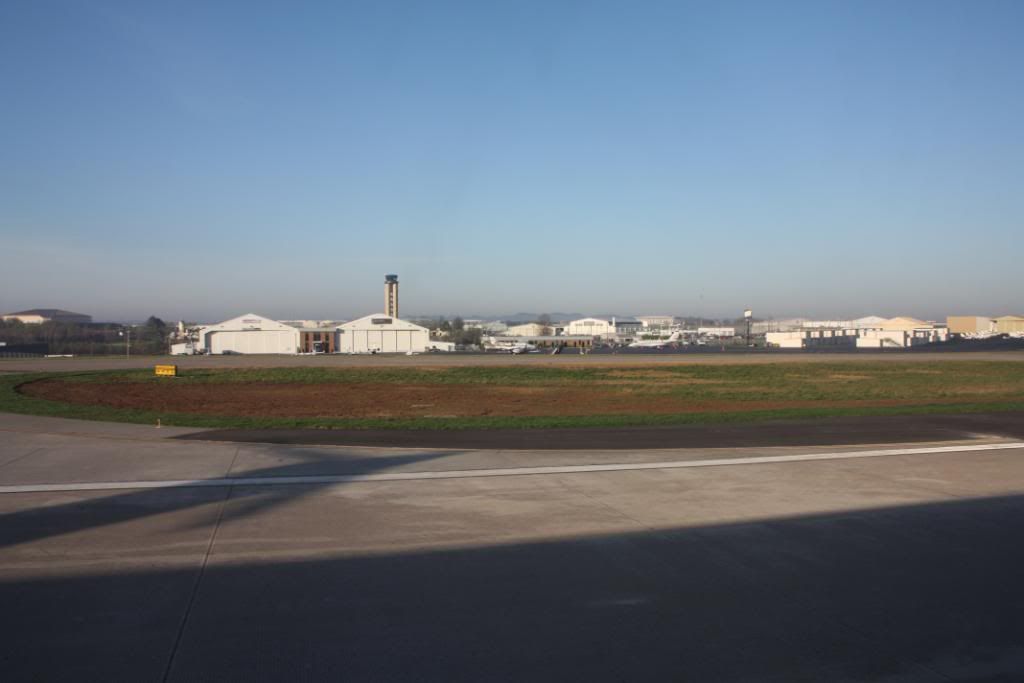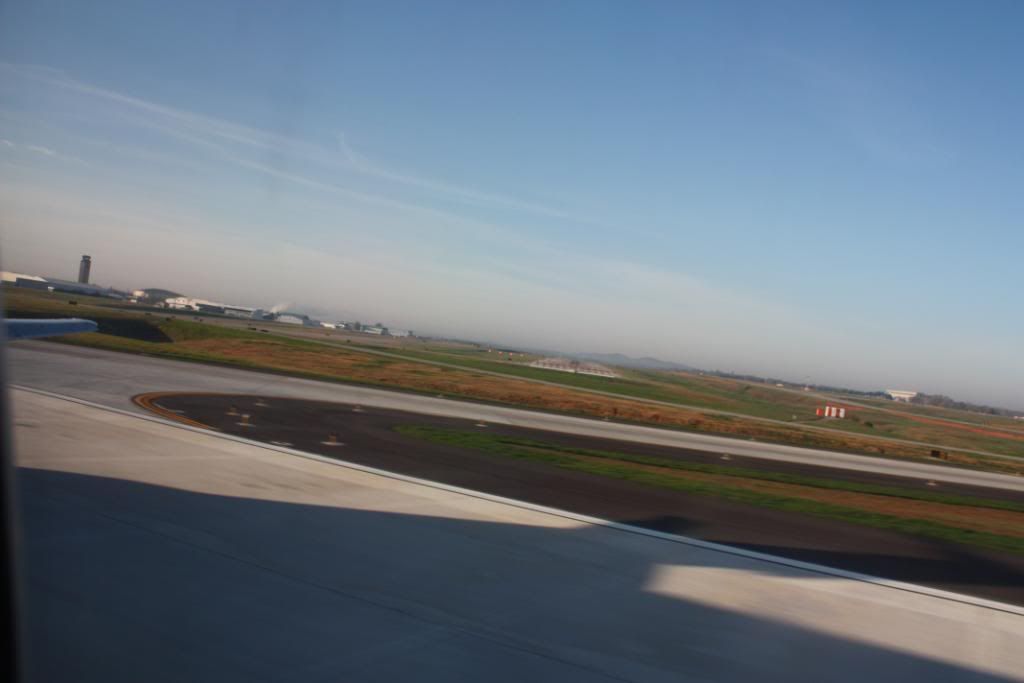 Rotate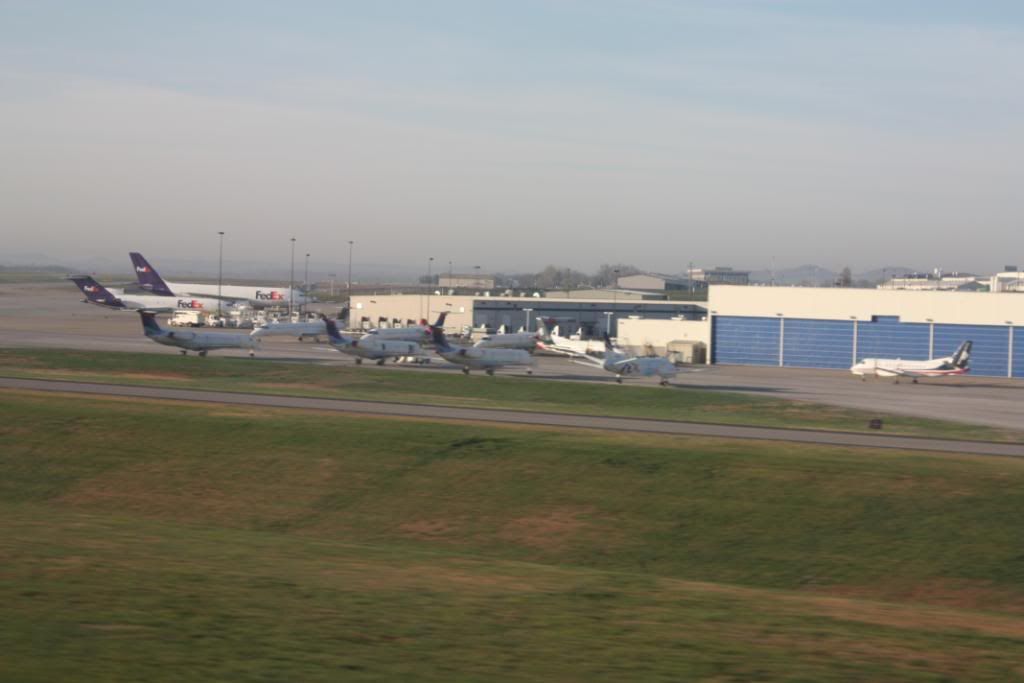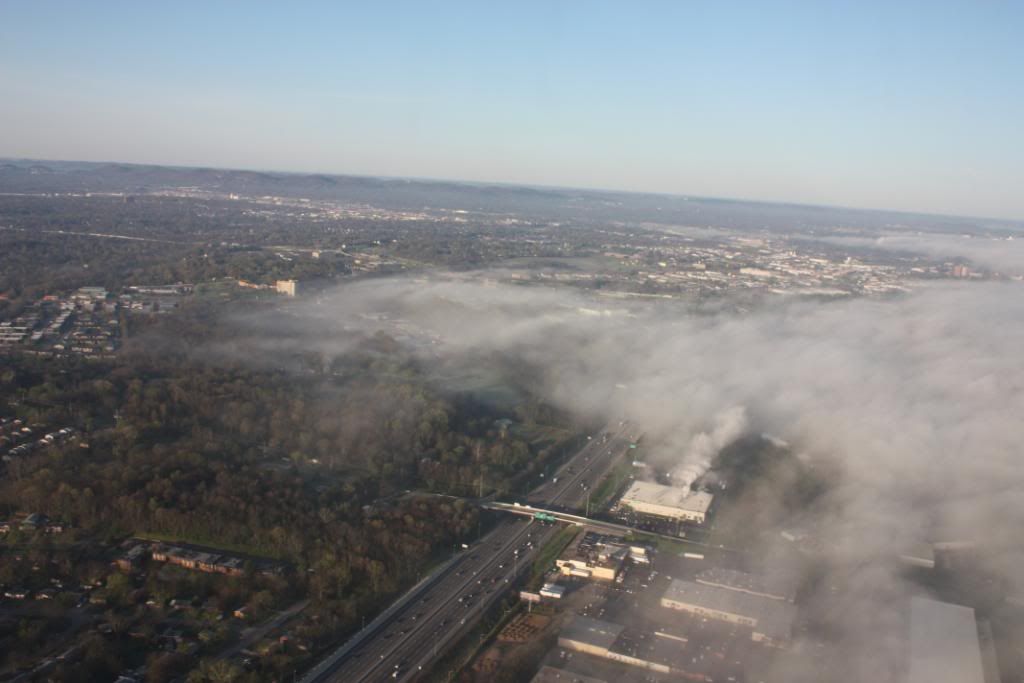 Morning Fog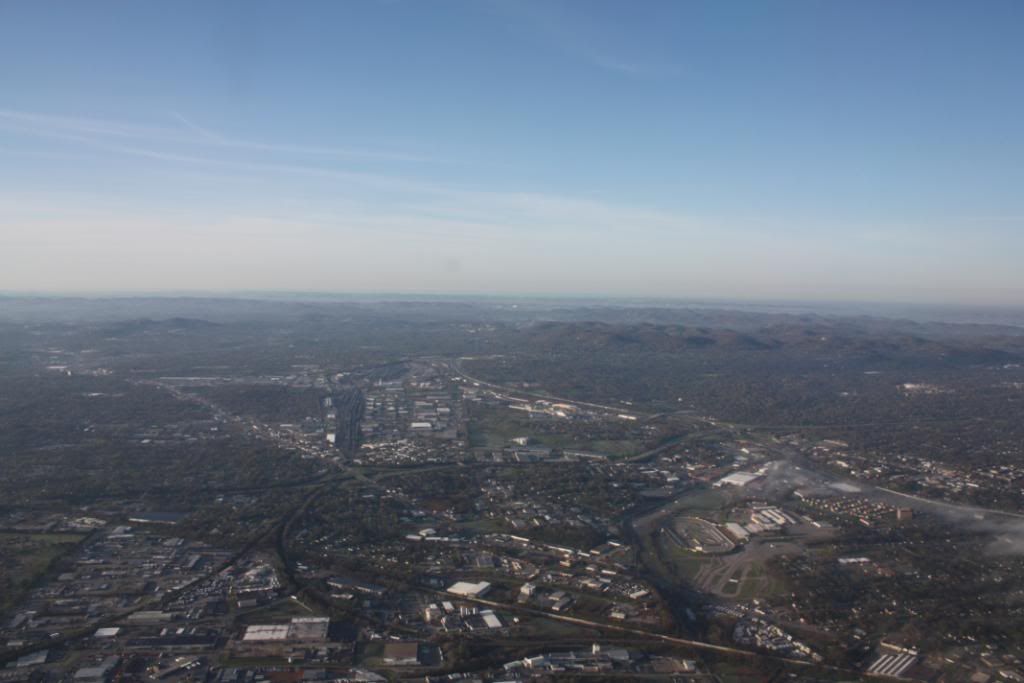 Nashville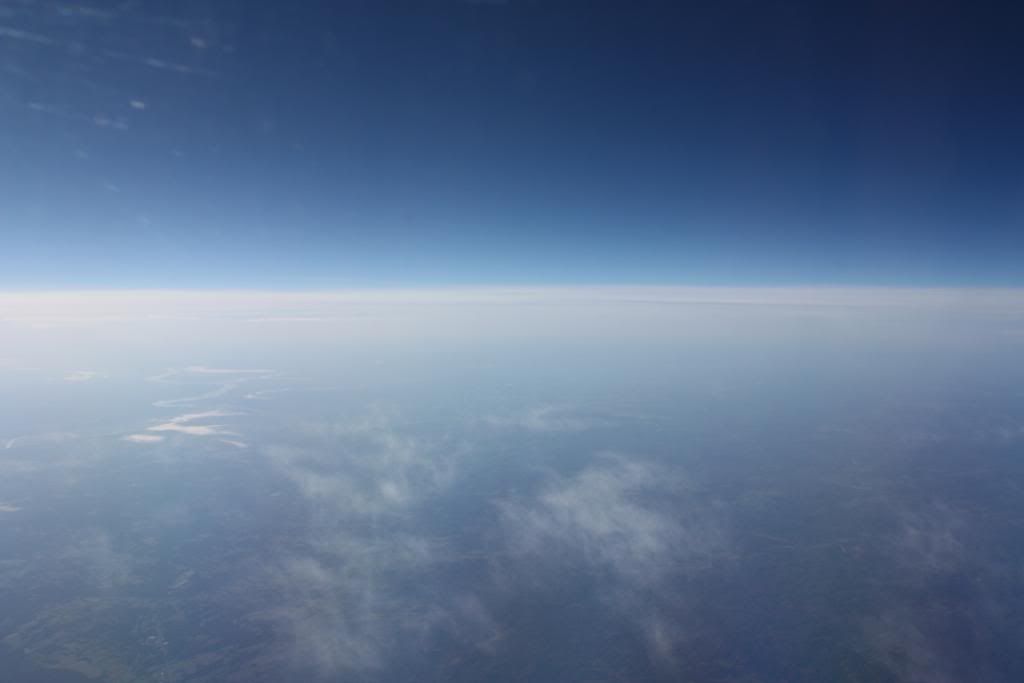 Cruising over TN

We were given a drink and the Biscoff cookies, but nothing more. A pretty piss-poor offering if you ask me.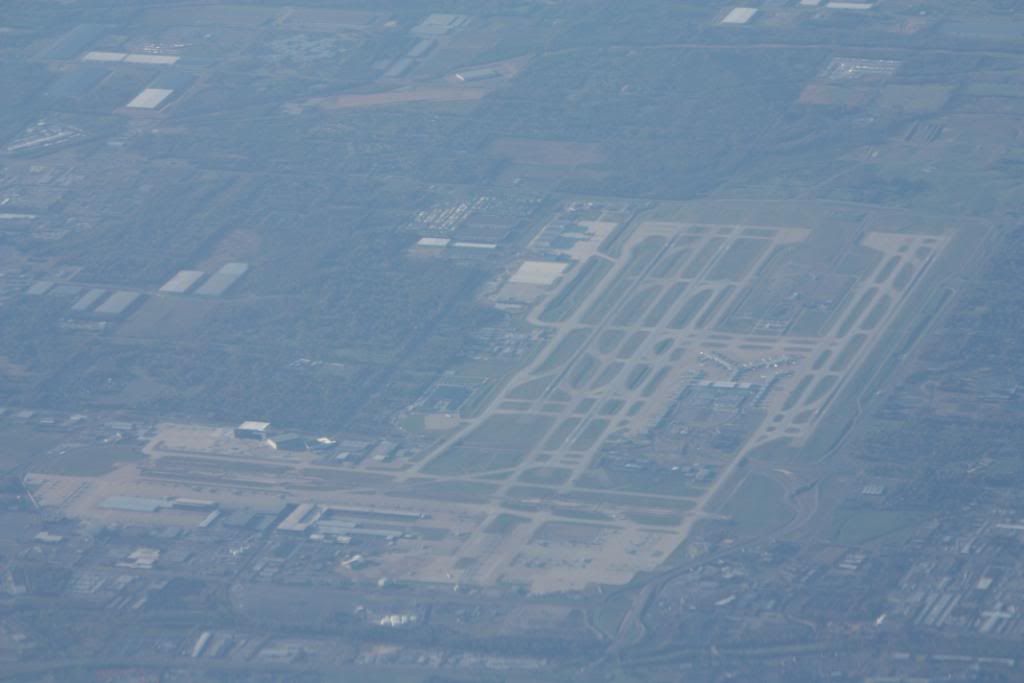 MEM



FX ramp at MEM, Holla Drew!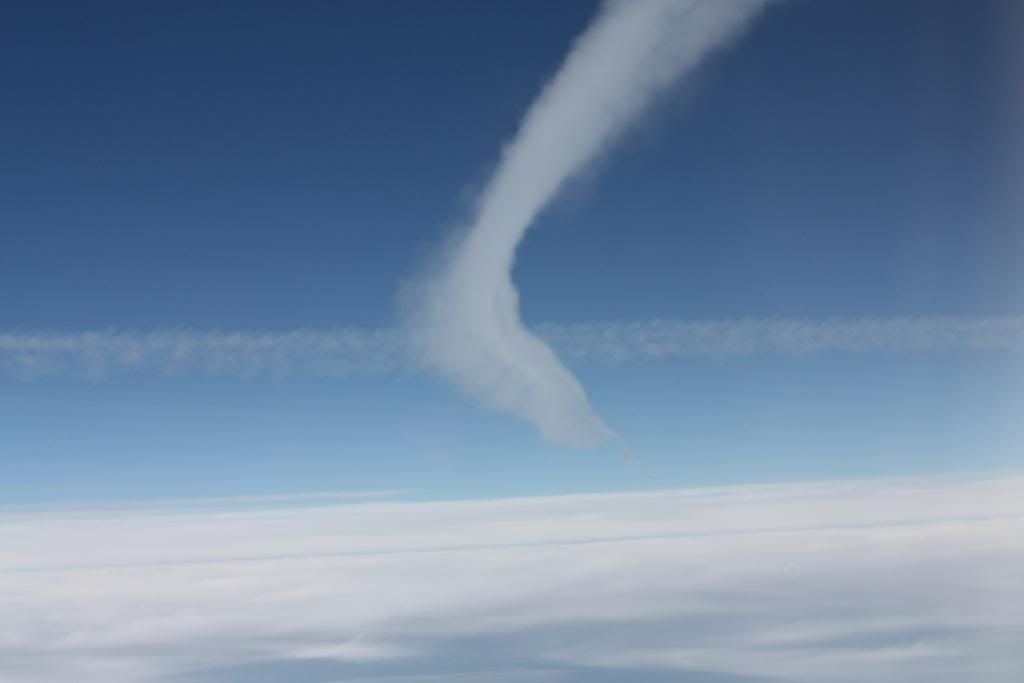 Busy skies over Arkansas.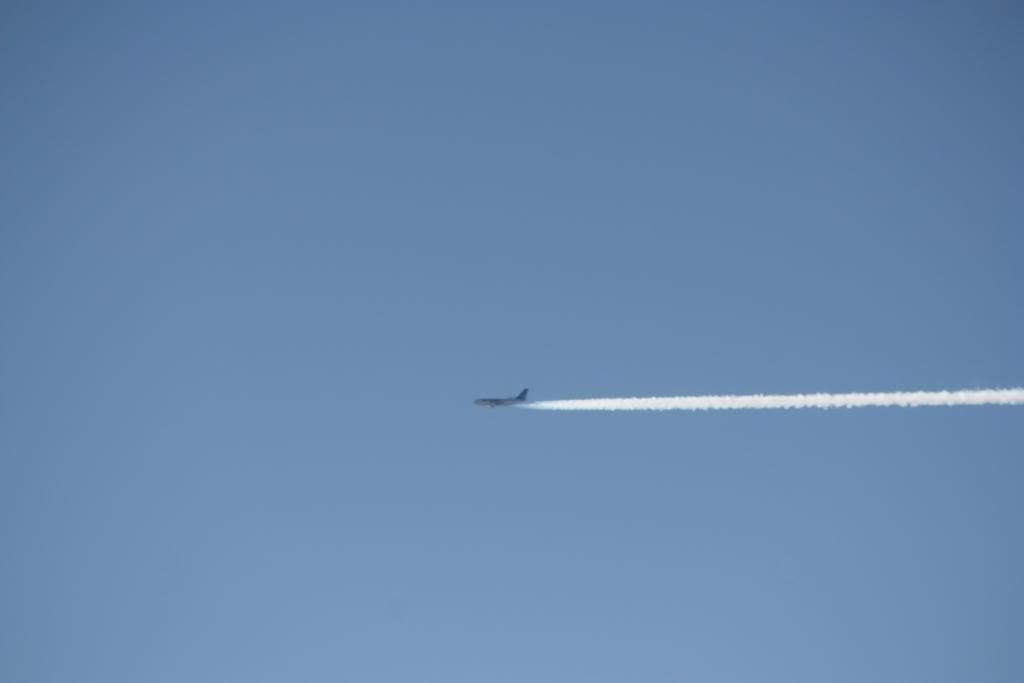 Can you make out what it is? It's an Air Transat A310, flying TSC171 PVR-YYZ. I was surprised to see it!

Shortly thereafter, we began our descent into DFW from the NE.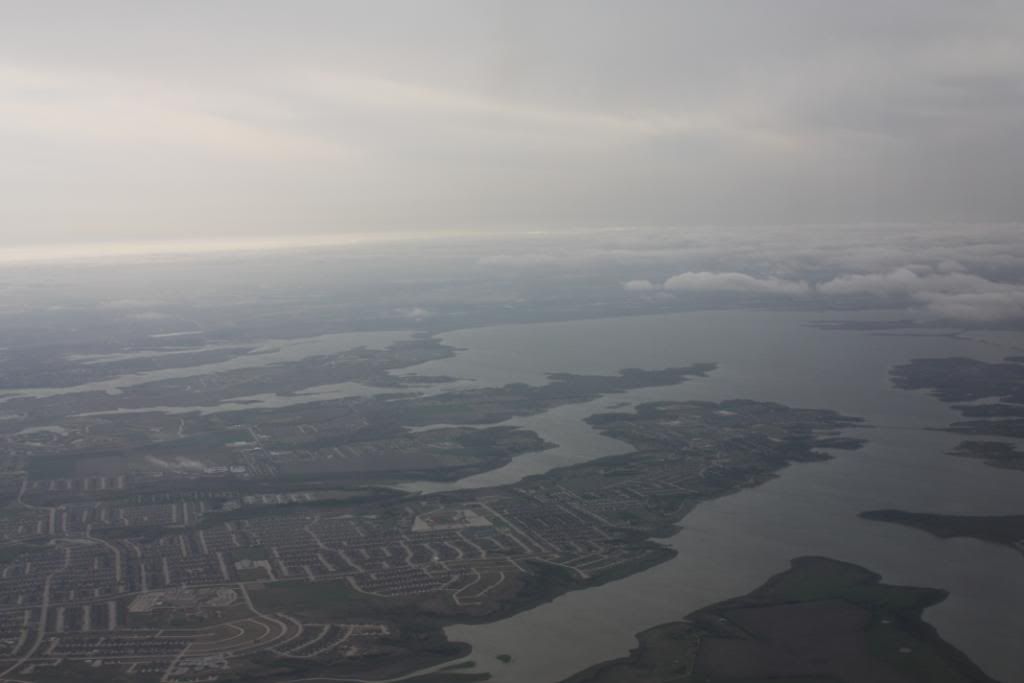 Descending over Lake Lewisville, IINM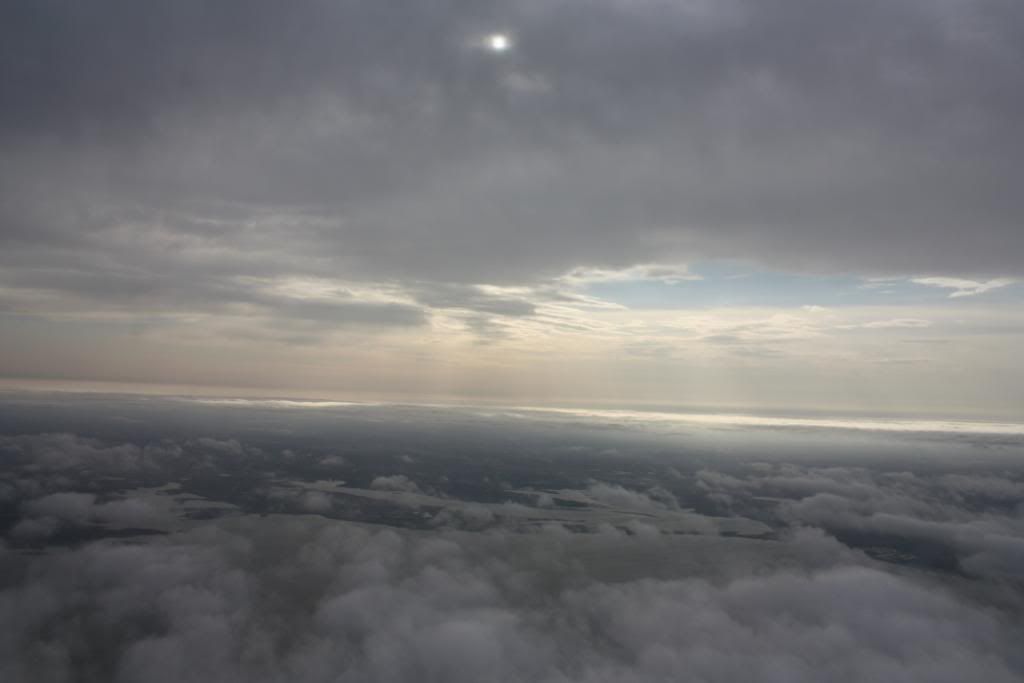 Neat looking clouds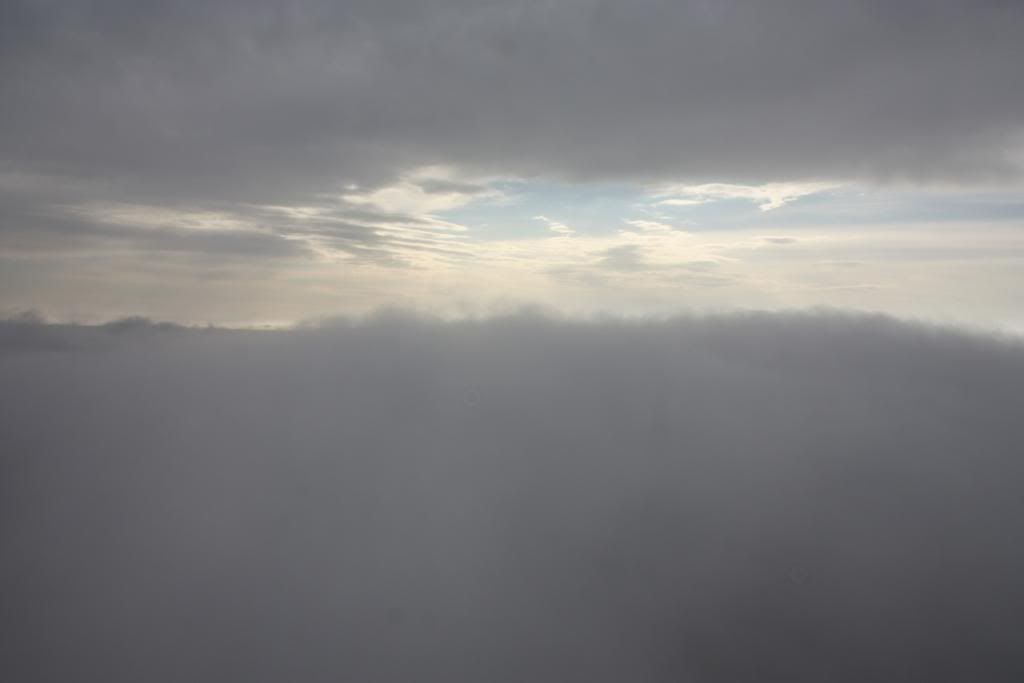 Coming through that last cloud layer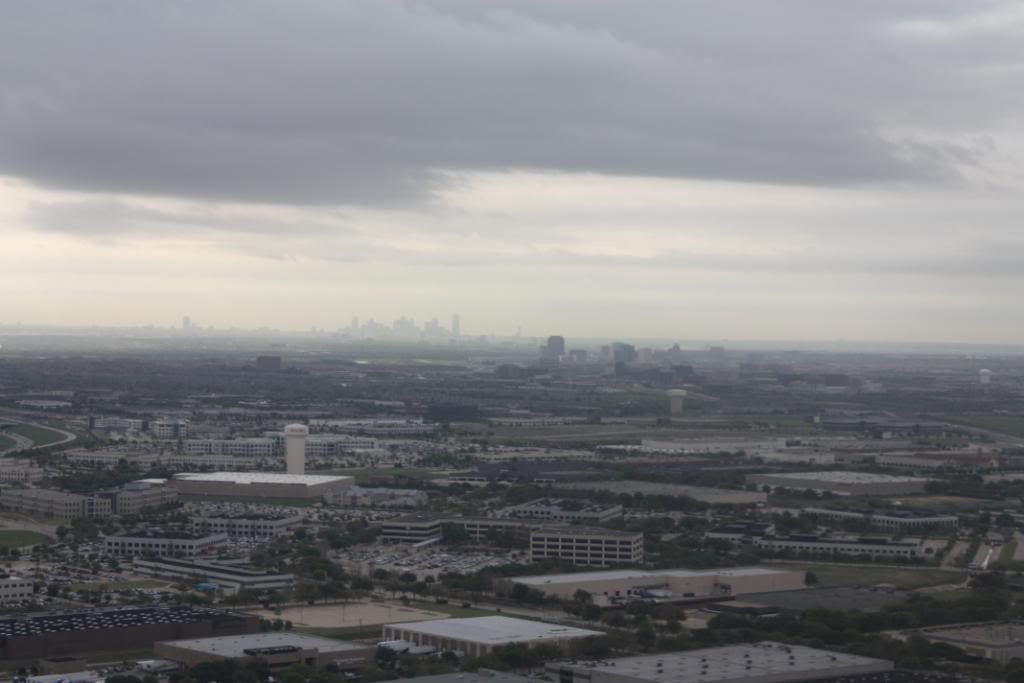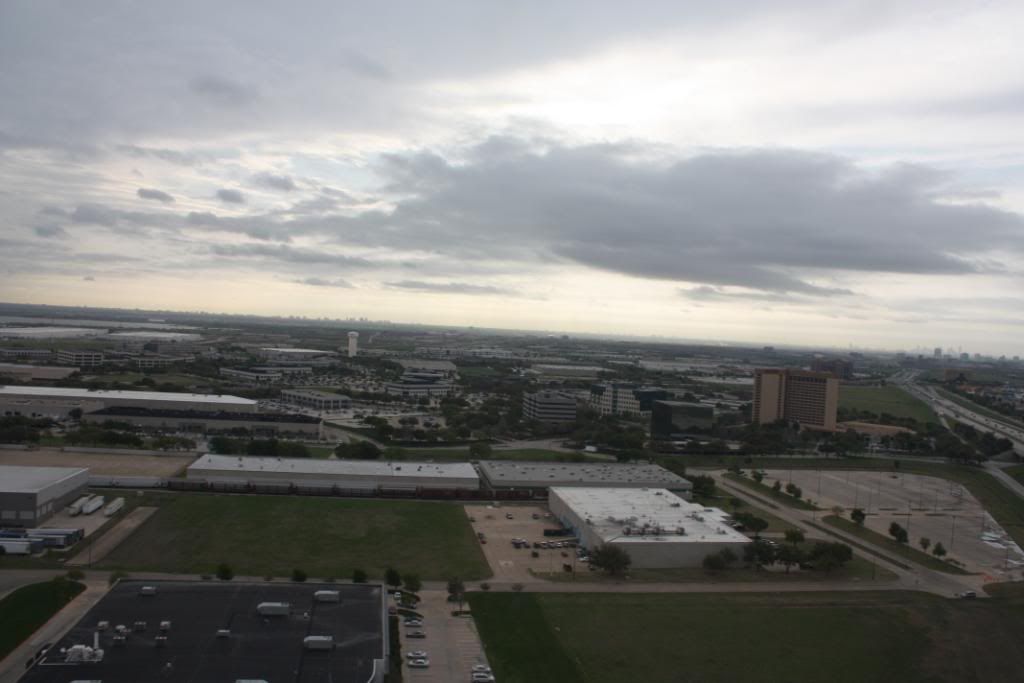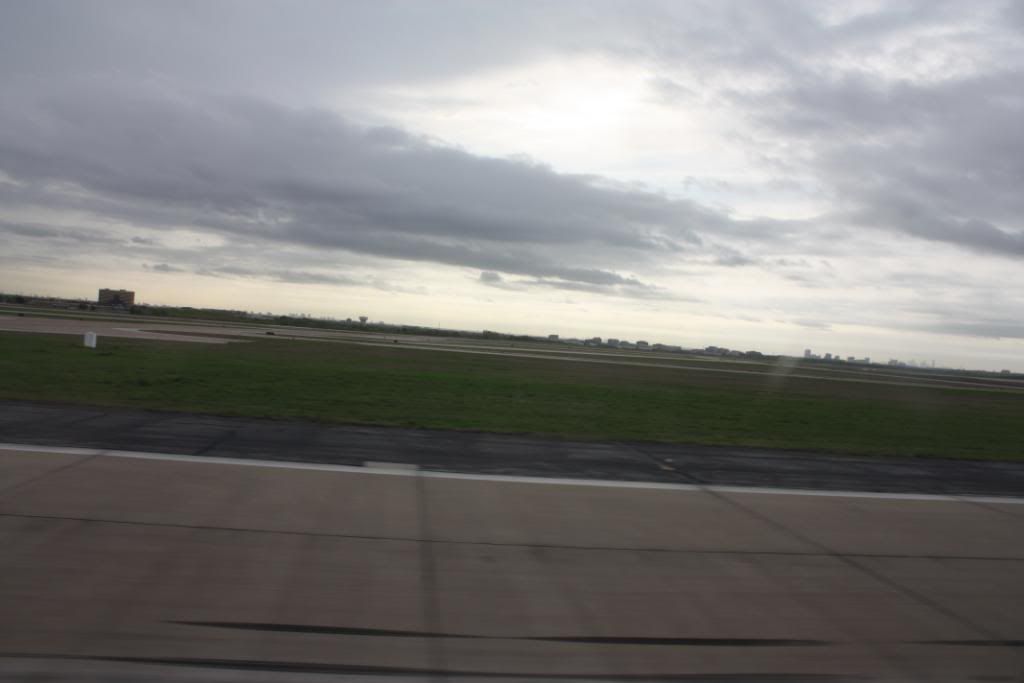 Over 17C



Touchdown

After landing, we had to sit and wait for the gate to clear. I was getting nervous, because I really wanted to make the 10:00 flight to Austin, I was booked on the 11:15, but I was carrying on all my bags this time, so it seemed like a possibility.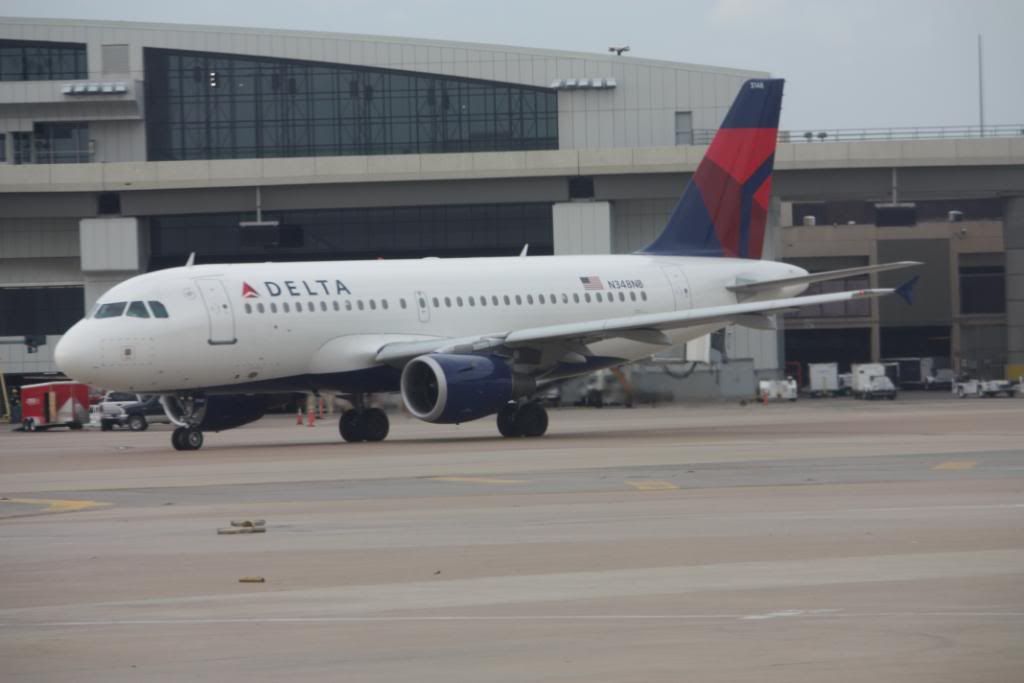 DL A319

We finally pulled up to the gate at 0940.

I checked the FIDS board and saw that the flight to Austin was at C19. I started walking that way, and then I saw out of the corner of my eye the flight below it, which was also an Austin flight, and in the status column, I saw flashing red. Uh oh! I stepped back, and saw the my flight was indeed canceled. At that point, I set off in essentially a speed walk (I refuse to run in airports, though I have before). The gate AAgent was was waiting at the desk with a boarding pass for me. 20A, the first exit row. When I made it to row 20, some lady was sitting in my seat. She thought she was in row 19. I was tempted to ask for my seat, but 19 A & B were empty, and it was only a 30 minute flight, so the legroom didn't really matter.

AA 1477
DFW-AUS
MD-82
N560AA

Scheduled Departure: 1000
Out: 1000
Departure Gate: C19
Seat: 19A
Departure Runway: 17R
Off: 1012
Cruising Altitude: FL 200
Cruising Airspeed: 410 KIAS
Route: JASPA2 WINDU.BLEWE1 AUS
Arrival Runway: 17L
On: 1053
Arrival Gate: 13
Scheduled Arrival: 1100
In: 1101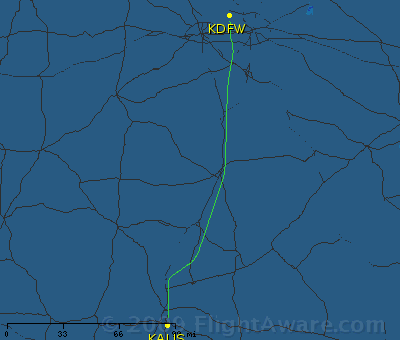 AA 1477, according to FlightAware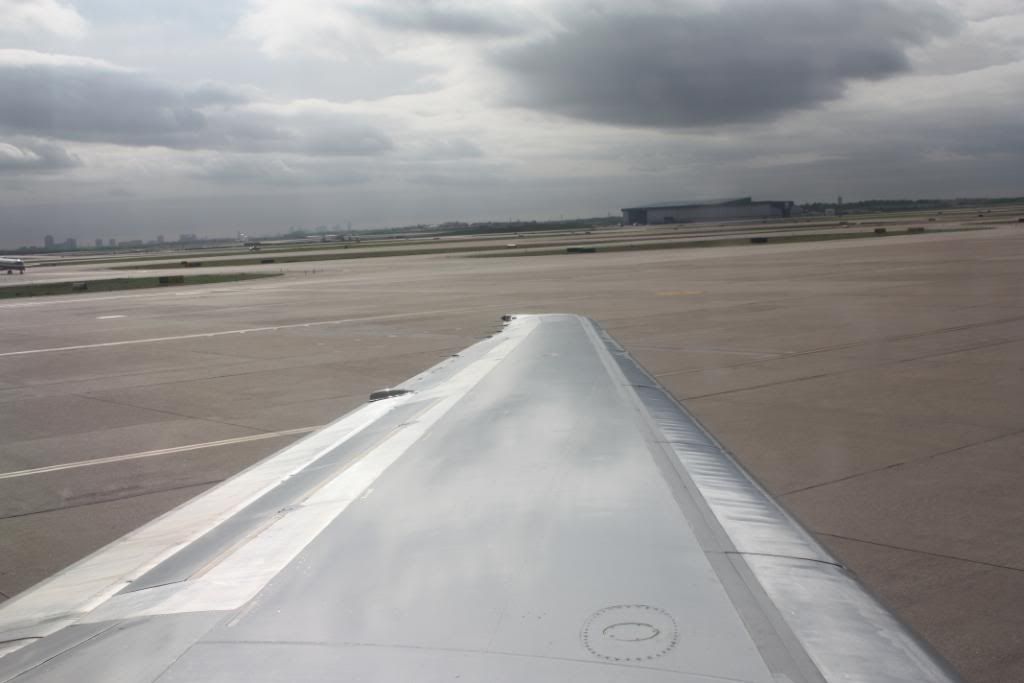 View from 19A

We pushed back right on time, and taxied to 17R.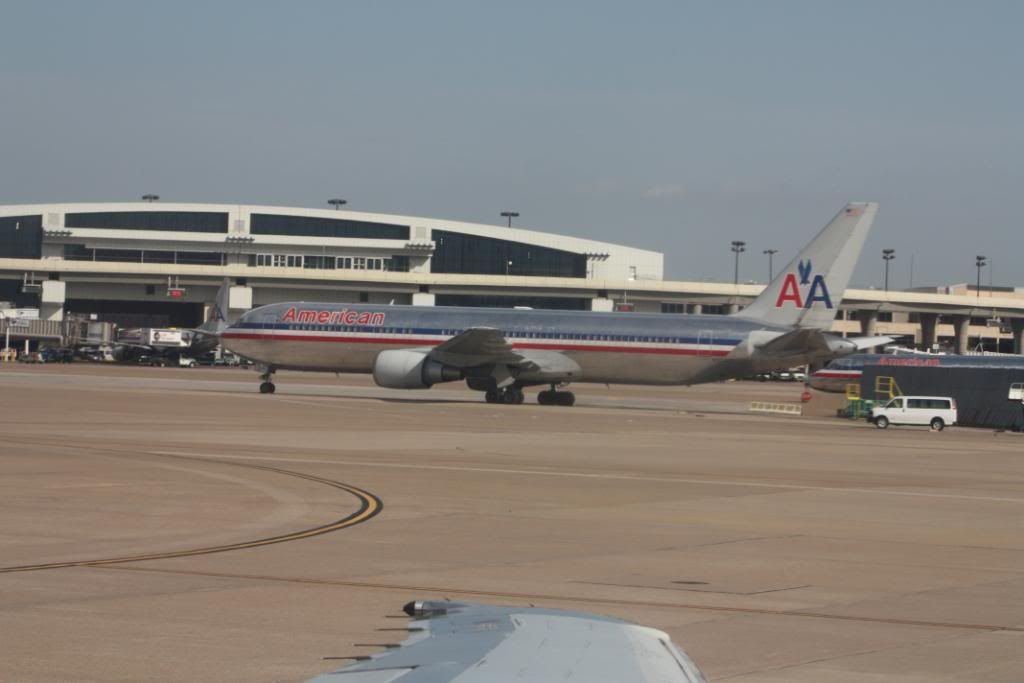 AA 763 on the stand

After a short wait, we were cleared for takeoff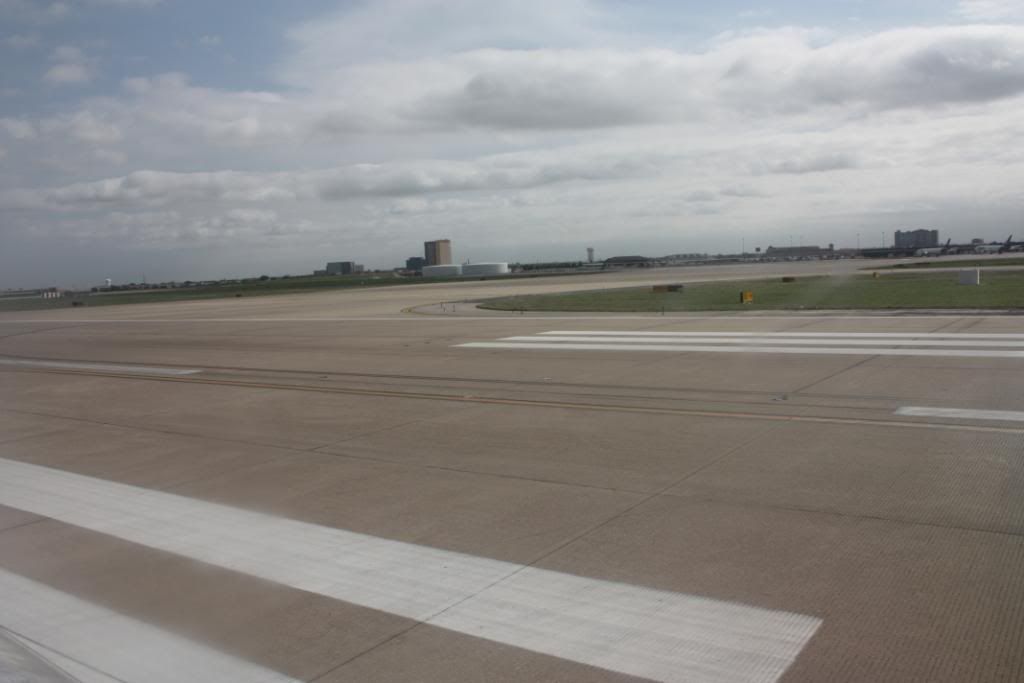 Turning onto 17R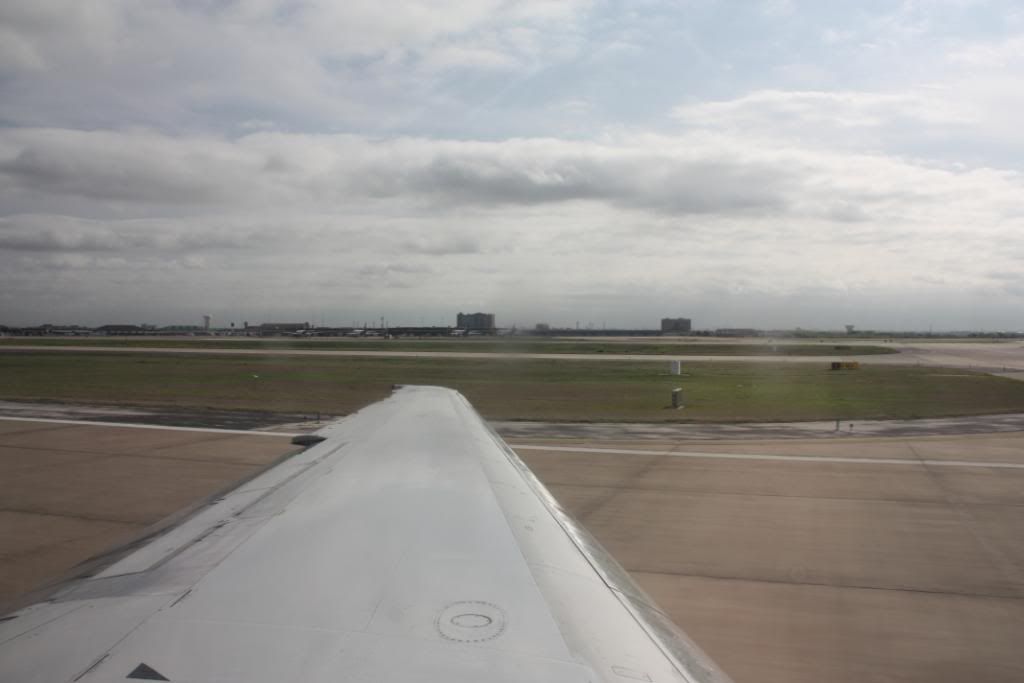 Rolling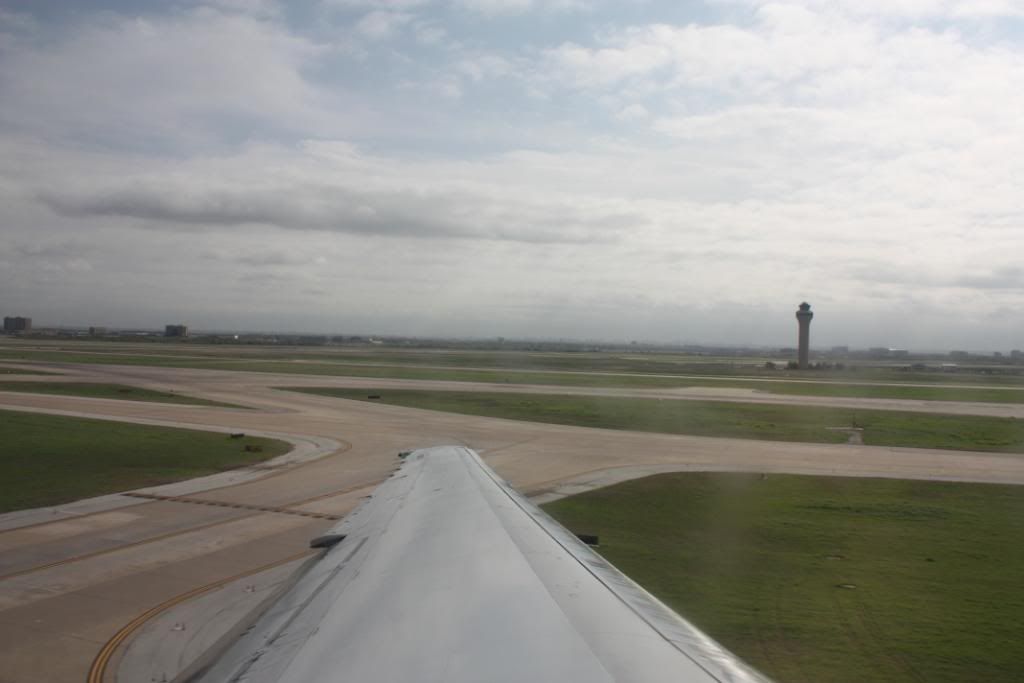 Airborne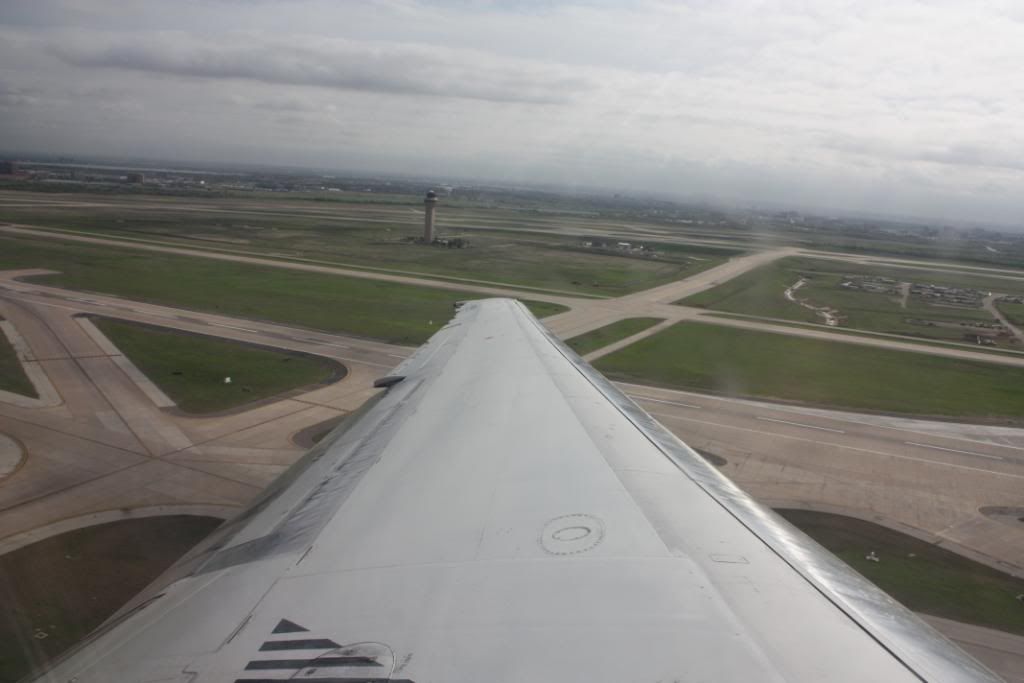 Cruising over Central Texas

After a short cruise, we began our descent. It still amazes me that the F/As can do a beverage service on this flight. Good work!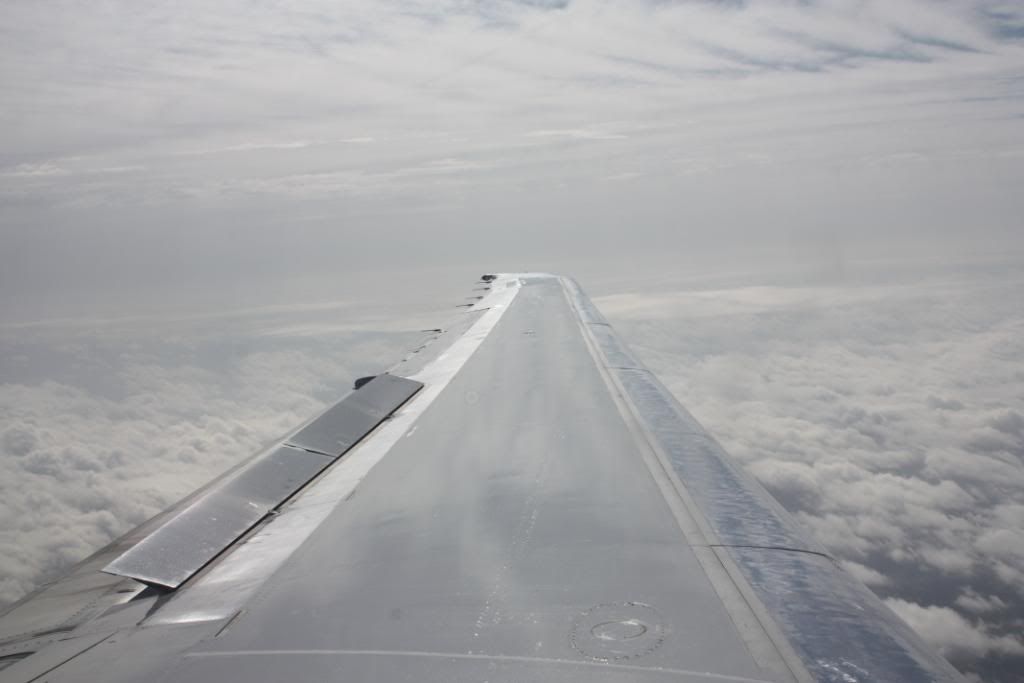 Descending with spoilers deployed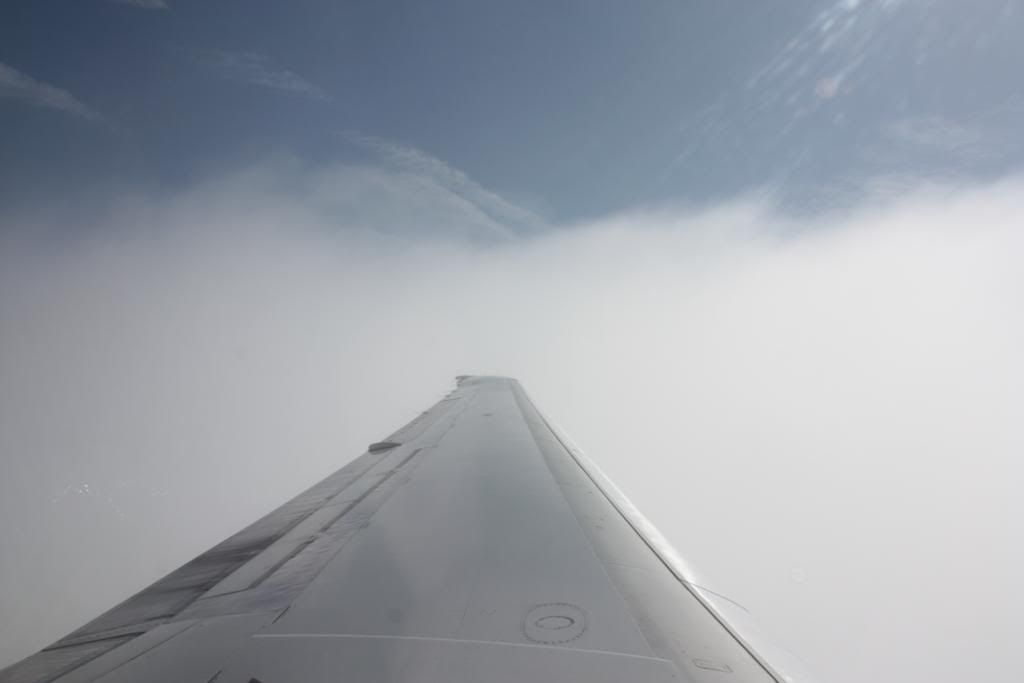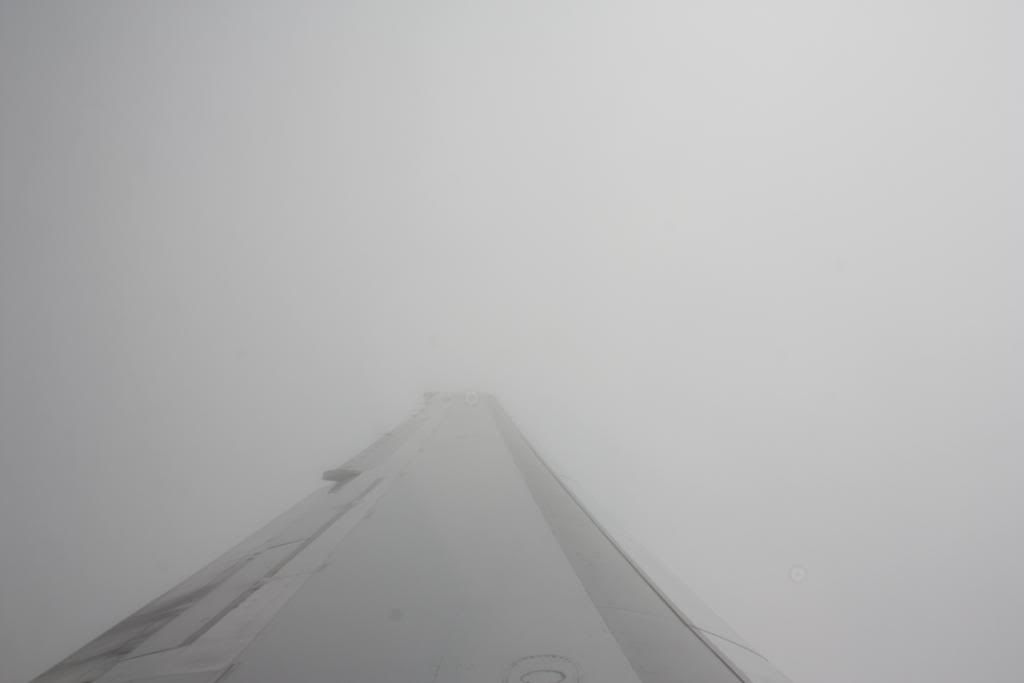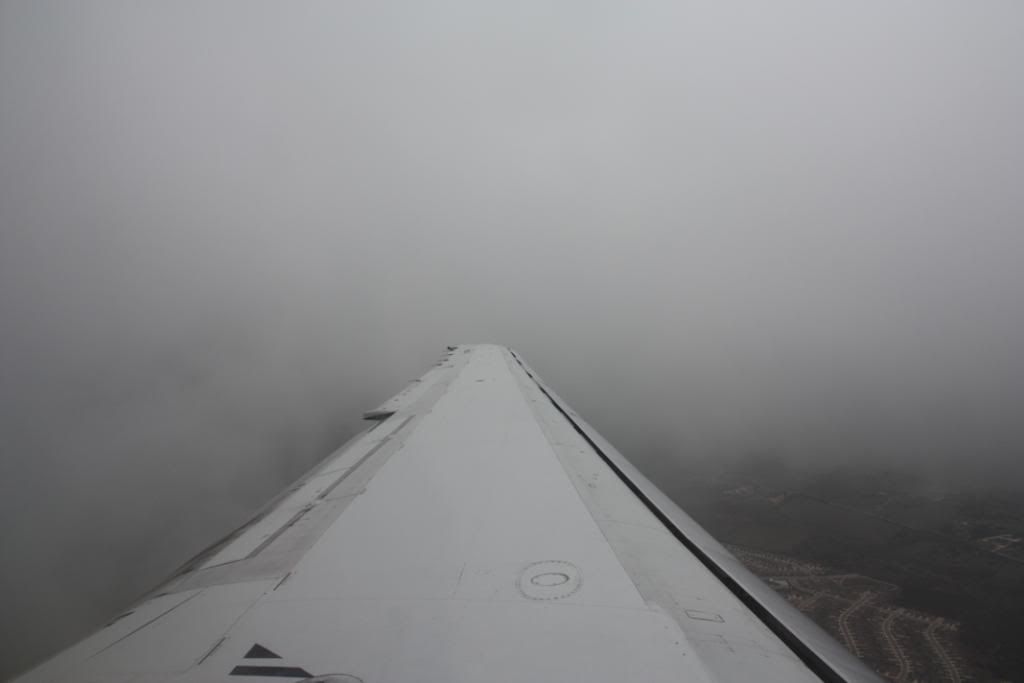 Through the clouds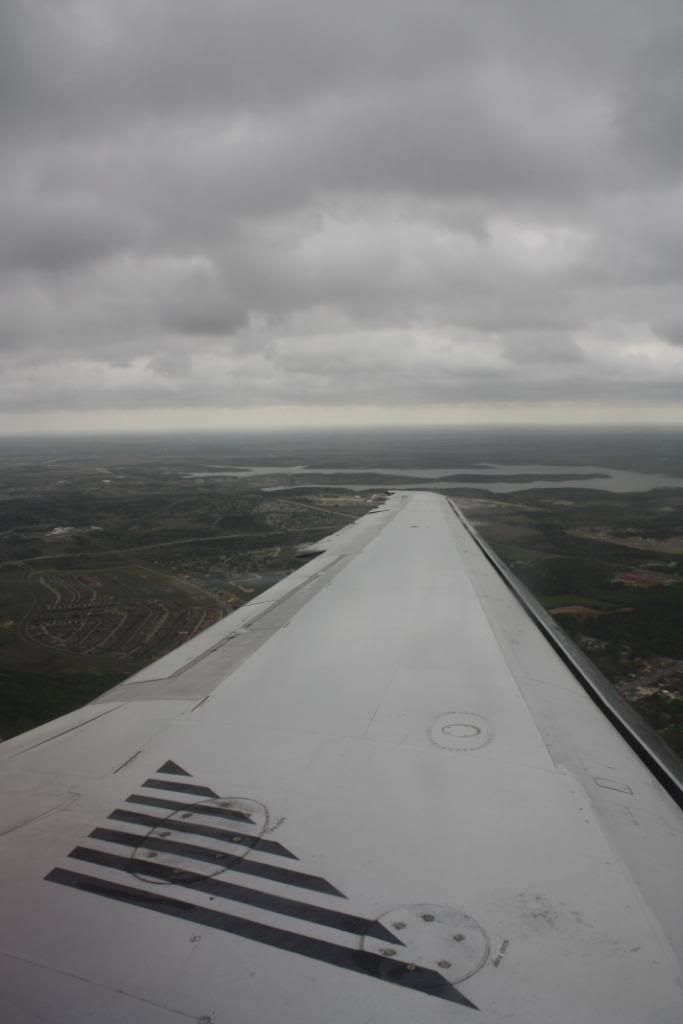 Final for 17L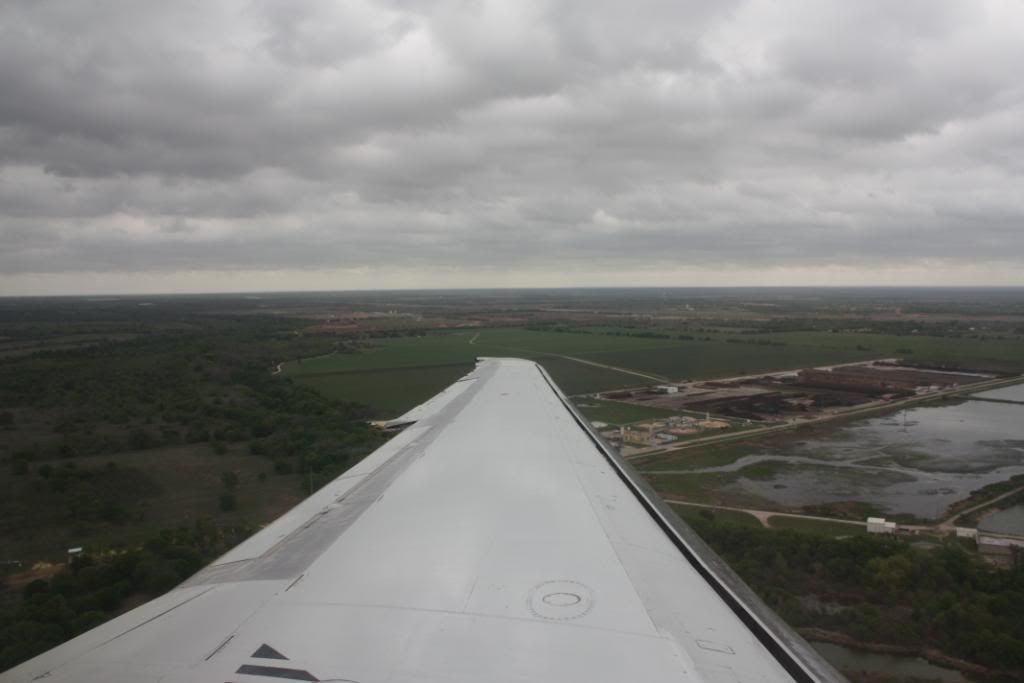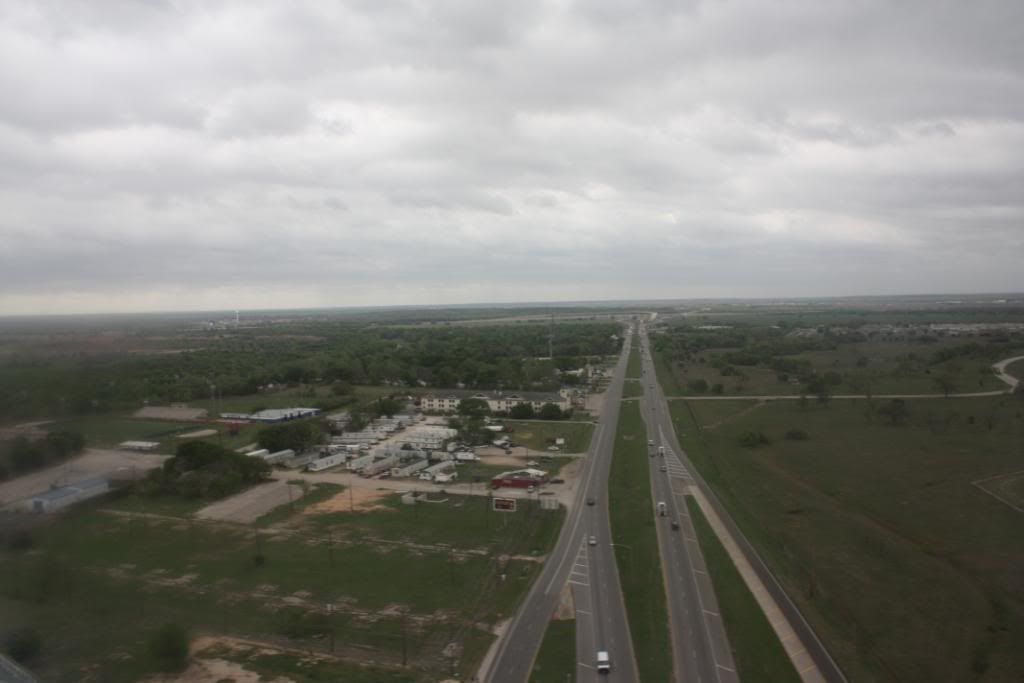 Over Highway 71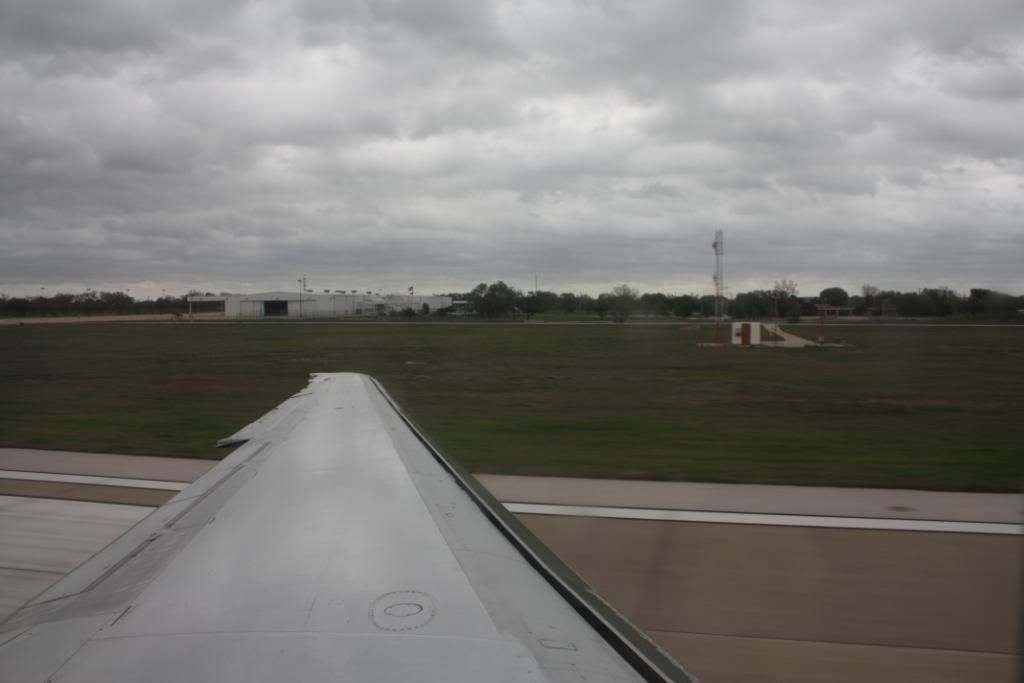 Touchdown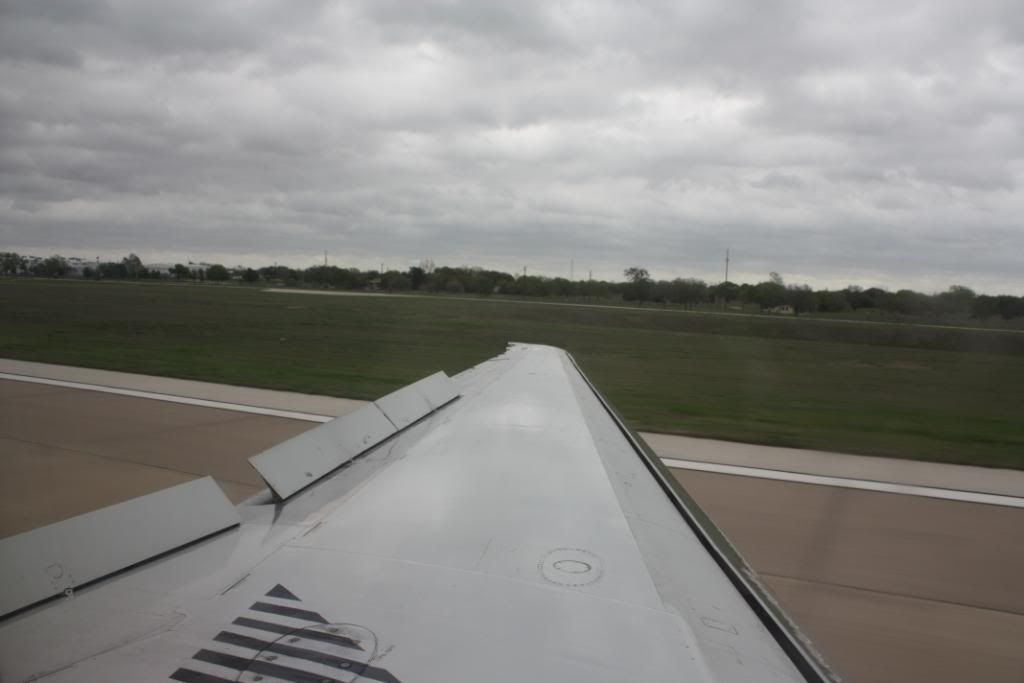 Spoilers deployed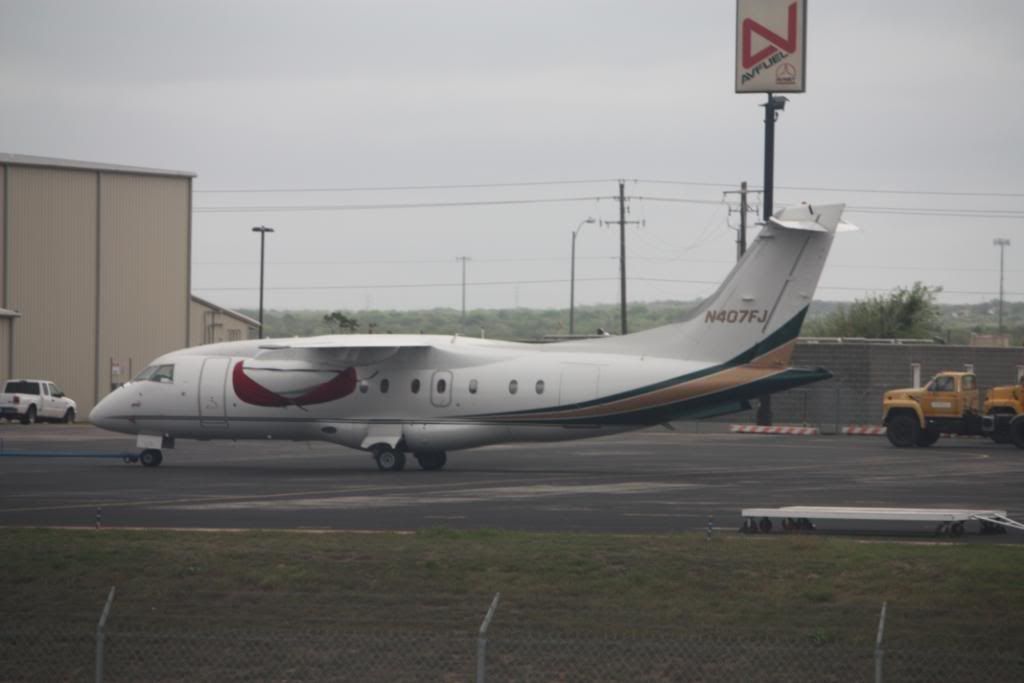 Private D328 Jet, don't see too many of those



AUS tower. No, it's not leaning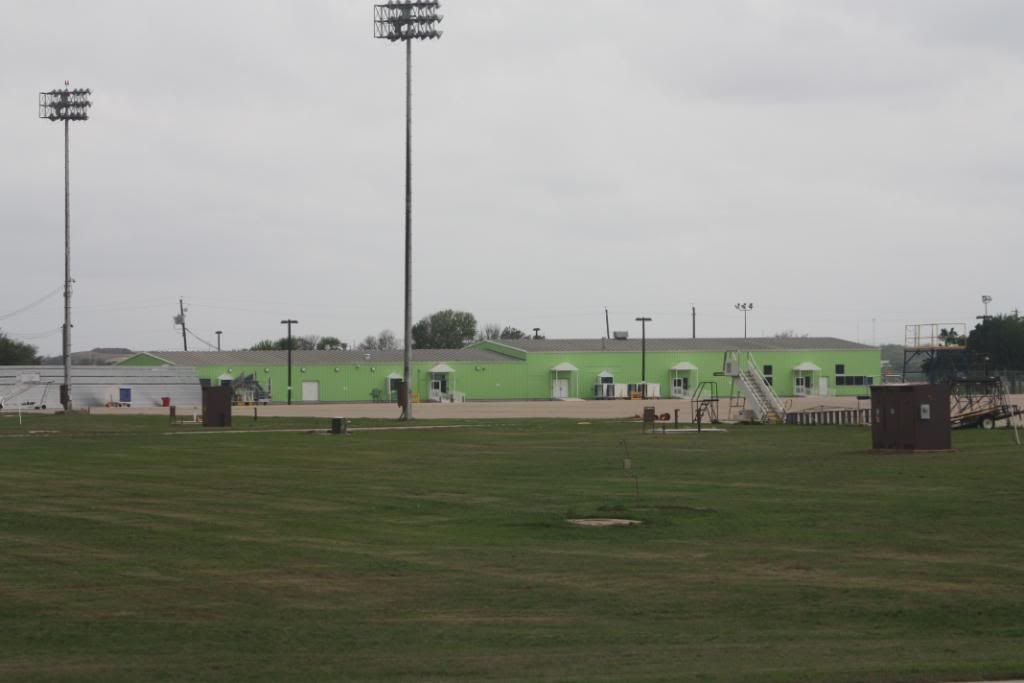 The South "Terminal" See my VivaAerobus TR for more info on that.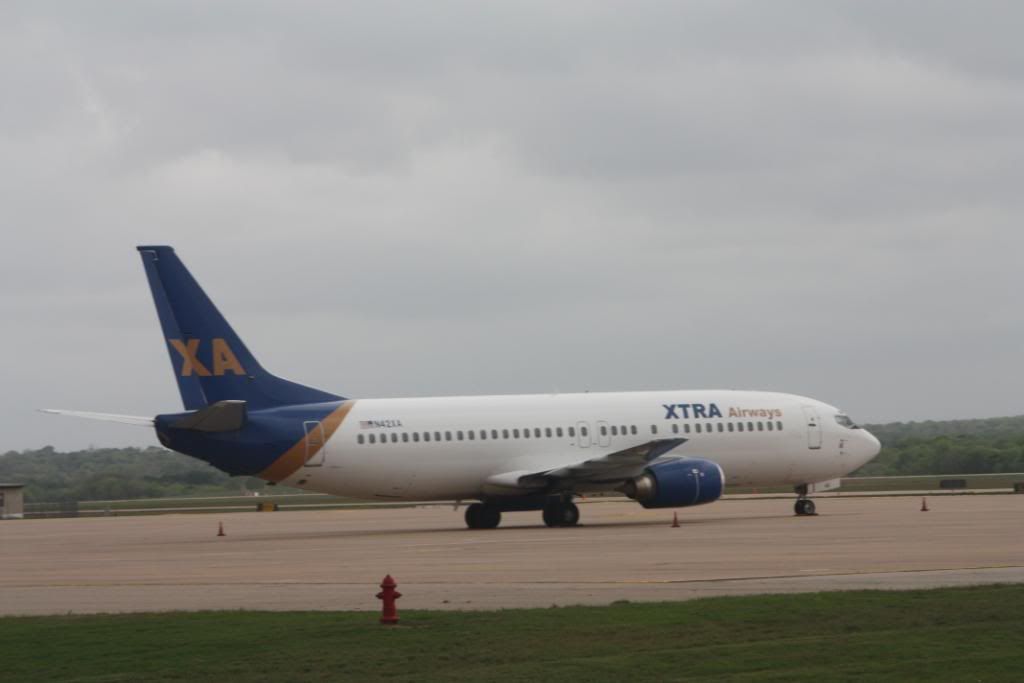 Xtra 734 on the Maintenance Ramp

We pulled into gate 13 1 minute behind schedule, ending my journey right where it began.

Hope you all enjoyed! It was a real fun trip. Comments/Questions always appreciated.

My next report will the best one yet, an AUS-DFW-MIA-EZE-MIA-DFW-AUS in F/J, coming July 2009.

Thanks for reading!


Cheers,
Cameron