Print from Airliners.net discussion forum
http://www.airliners.net/aviation-forums/trip_reports/read.main/153533/
Topic: PWM-MCO, STL-MSP-DTW-PWM +NIFA (LONG!)
Username: KPWMSpotter
Posted 2009-08-10 07:57:08 and read 31139 times.

Early this summer, I spent two weeks traveling around the country simply enjoying aviation. The purpose of this trip was to compete in the 2009 National Intercollegiate Flying Association (NIFA) SAFECON Nationals in St. Louis. While my part in the competition was solely for the Aircraft Recognition event, I spent plenty of time watching planes, pushing planes, riding in planes, and doing lots of things with planes. (With that much aviation content, this must be the right website to post this at...) Also included in my journey were two commercial flights, one with jetBlue flying PWM-MCO, and another returning home on Northwest, flying STL-MSP-DTW-PWM. Hopefully everyone who reads this will find at least something that peaks their interest.

For ease of reading, I've split up this essay into three major parts:

Part One: jetBlue, PWM-MCO.

Part Two: St. Louis, NIFA, and lots of watching airplanes.

Part Three: Northwest/Mesaba, STL-MSP-DTW-PWM.


Part One:
My journey begins where my
last trip report left off, at home in Maine after the end of school. After about a week of relaxation, I headed back to my favorite Jetport to catch a flight south. On my flight back down to Orlando I was able to avoid the risk of connecting through JFK and got a seat on JetBlue's daily flight from PWM direct to Orlando. This route on an E-190 has apparently been doing quite well for both JetBlue and AirTran. AirTran was the first to start the route three years ago, running a 717 every Saturday. Since then, JetBlue has added the route as a daily E-190, and AirTran maintains the route daily in the summer, and as a weekend run on 737s in the winter. I am surprised it took this many years for an airline to figure out that people in Maine don't necessarily want to stop in Atlanta or New York on their way to Disney Land. Anyways, on to my flight:

KPWM - KMCO
Flight # JBU 1149
Equipment:Embraer 190 (N203JB, "Look at Blue Now")
Scheduled Departure: 13:35 Actual Departure: 16:04
Scheduled Arrival: 16:50 Actual Arrival: 19:15

I was dropped off at the airport at about 11:30 in the morning, two hours before my scheduled departure. Even though it rarely takes more than 15 minutes to check in and clear security in Portland, I quite enjoy sitting in the terminal with my camera and scanner, so I usually arrive the full two hours early. I was able to print my boarding pass and check my bag (for free!) with literally no wait, but as my bag was being tagged the customer service agent casually remarked that "we will be having about a two hour delay with 1149." My schedule in Orlando was rather flexible, so my brain processed the news as "more time to watch airplanes!"

Security screening took maybe ten minutes. It always seems like there are too many TSA officers on duty and not enough lanes open at PWM. The line crawls along, while a hand full of TSA officials just mull around and do random gate checks on boarding flights. Regardless of the inefficiency, I was soon through security, welcomed by an A320 blasting off into the cloudy skies in front of me.

For the previous week, rain had besieged the entire Eastern US. Even though the afternoon looked gloomy for any spotting, I settled in to my usual seat at the window in front of gate 8.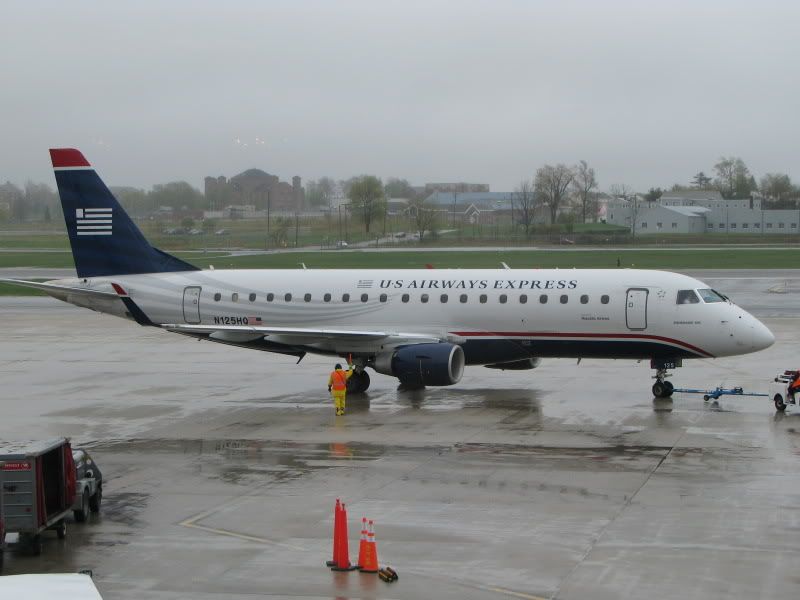 An E-170 pushes back from gate 8, opening up an unobstructed view of runway 11/29.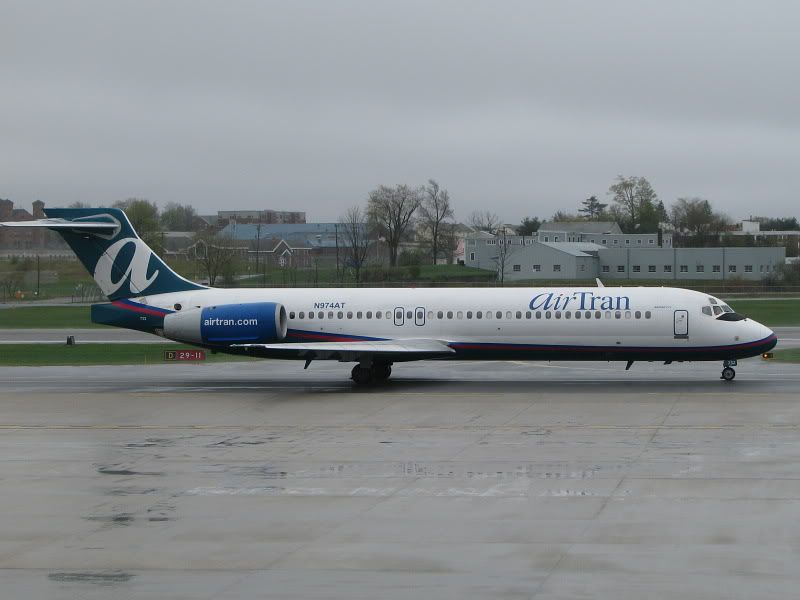 An AirTran 717 splashes its way through the rain, heading out to BWI.



Traffic at PWM was pretty slow, which is typical for a weekday morning (especially when the conditions are IFR). The highlight of the morning was a Mitsubishi MU-2 which taxied past to do a maintenance run up at the end of 11. I've never been up close up to an MU-2 before and although I've heard that they are wonderfully loud aircraft, I didn't quite know what to expect. Even through the terminal window the high pitched whine of the engines at idle was rather impressive.





Mitsubishi MU-2 Marquise taxiing past, rattling every window in the general vicinity of the airport.



After an admittedly over-priced meal at the Shipyard Brewing Company in the terminal, I headed down to JetBlue's waiting area at gate 10, only to find that due to an arriving flight from JFK, we would be using gate 3 instead. Gate 3 used to be shared between Northwest and AirTran, but since Northwest consolidated their space with Delta, gate 3 has been the general use gate for charters (and apparently late JetBlue flights.) As the flight crew walked down the jetway, I watched the First Officer look at the "AirTran" decal on the door and mime the motion of ripping it down.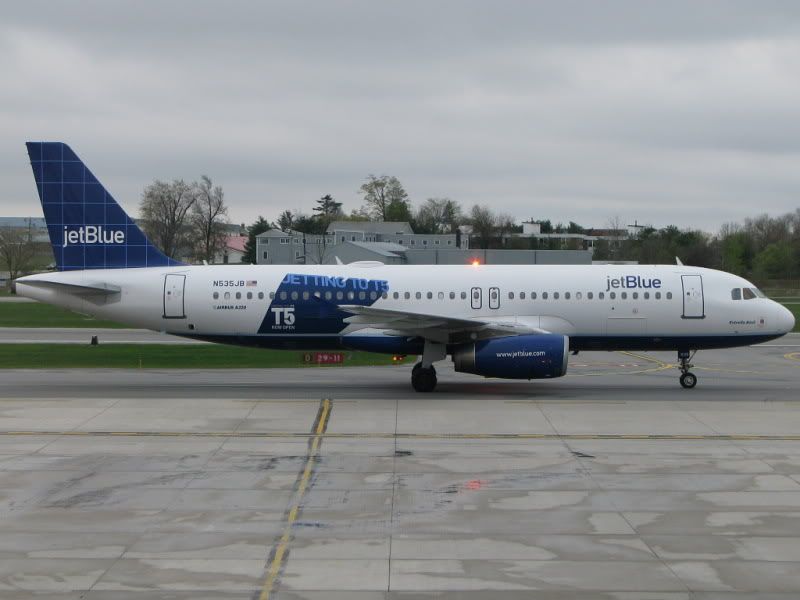 I wonder where this plane is going? Oh, right, it's "Jetting to T5!"



Our E-190 apparently had a technical delay earlier in the morning in Rochester, and was making up time from that delay throughout the day. The aircraft arrived as expected about two hours behind schedule. Boarding took a little longer than I expected, as JetBlue had to call 13 skycaps with wheel chairs to deplane elderly passengers on board.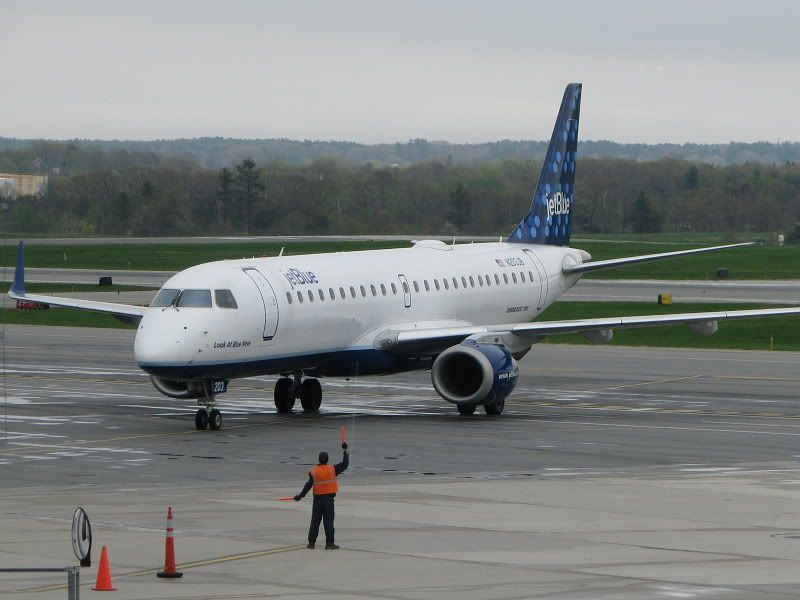 "Look at Blue Now" pulling into gate 3.



After the delay no one seemed happy to wait to board the aircraft (what a surprise.) Almost half of the passengers rushed the jetbridge with the pre-boarding announcement. Despite the mob at the boarding gate, everyone managed to get on board in a timely manner. I took my seat in 10D, noting a 100% load factor for the flight. As I was sitting down, a family of 6 (which included 4 young boys) took seats in the rows around me. I was expecting a very loud and distracting flight, but the seat-back TV seemed to settle them down quickly. (yet another reason to like JetBlue: children tend to scream less when they're watching Sponge Bob)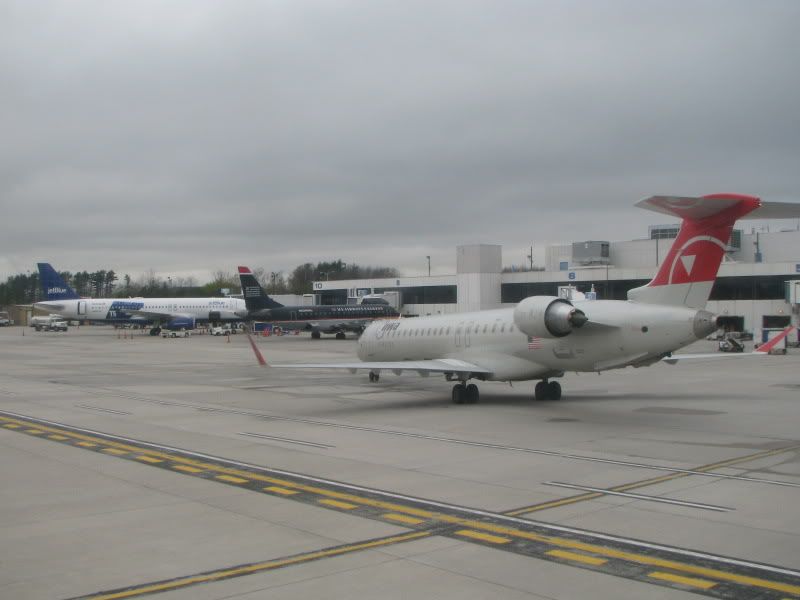 PWM's airline ramp area as we pulled onto taxiway Alpha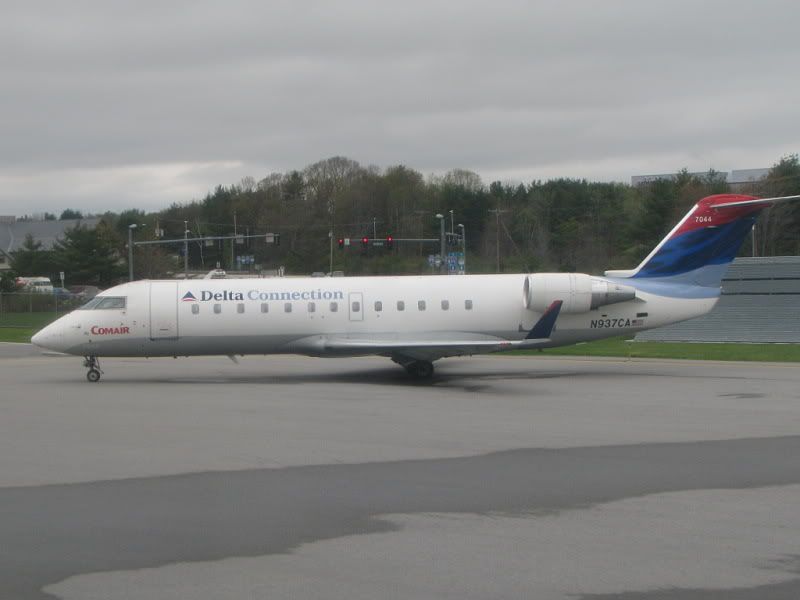 CRJ waiting at the stoplight. (This aircraft had pushed back from the gate heading to JFK almost an hour earlier)



We departed from runway 11, which would normally take us over Casco Bay and the Portland Head Light lighthouse, but we were in the clouds very soon after departure. (One of my older trip reports includes some pictures of the same departure, but on a clearer day.)

Takeoff Video: http://www.youtube.com/watch?v=RK0yxym8i7o

The remainder of the flight was pretty standard for JetBlue. Drink orders taken, full cans of soda delivered, choice of snacks from a basket. The man in the seat next to me asked for one of everything, and I was surprised when the Flight Attendant obliged and handed him a pile of snacks. Apparently the "all the snacks you want" isn't just an advertising catch.

There wasn't much for scenery since we were dodging weather the whole way down. A large front was moving over Georgia and the Northeast was layered with clouds. Knowing that, I sat back and turned on the History Channel. Today's in-flight viewing was a documentary about the Titanic.

Our flight path took us out over the Atlantic, swinging back West just South of Orlando. Florida was covered in some scattered clouds so there wasn't much of a view (not that Florida is all that scenic from the air to begin with). We landed on 35L at MCO and taxied to a very full airside. After a 10 minute wait for our gate to open up (understandable for being two hours late) we pulled up and deplaned. The baggage claim wasn't as slow as Orlando's usual standards, as it only took me maybe 20 minutes after deplaning to get my bag. That put the time at about 7:50, just enough time to catch my 8:00 shuttle up to Daytona.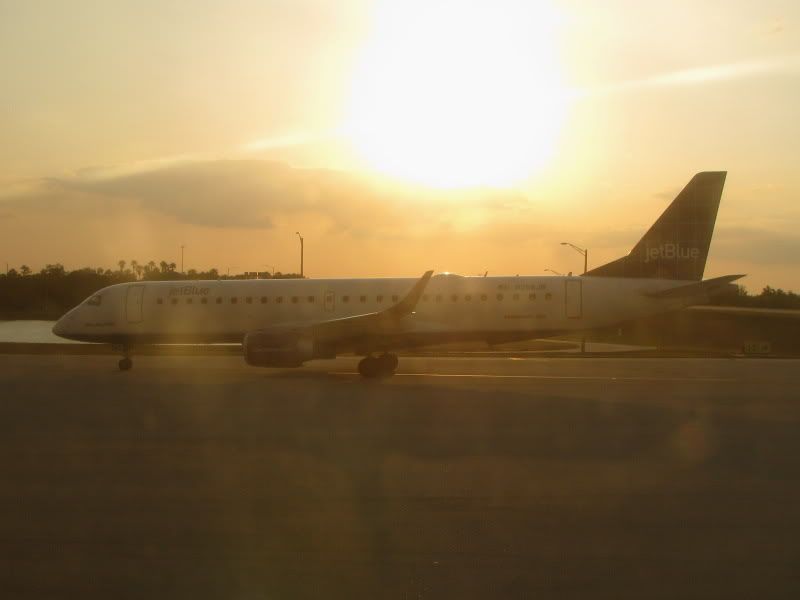 The sun sets over an E-190 (also illuminating all the crap on the window...)
(Continued Below...)
Topic: RE: PWM-MCO, STL-MSP-DTW-PWM +NIFA (LONG!)
Username: KPWMSpotter
Posted 2009-08-10 07:59:34 and read 31137 times.

Part Two (the really long part):
Now I'm going to jump ahead to Saturday morning at 5:30 AM, when we loaded up a pair of Embry Riddle econoline vans and hit the road to St. Louis.

KDAB - KCPS
Equipment:Ford Econoline (ERAU #154)
Scheduled Departure: 06:00 (05.09.2009) Actual Departure: 06:45 (05.09.2009)
Scheduled Arrival: Sometime the next day Actual Arrival: 15:30 (05.10.2009)

For those of you who don't know what NIFA or the Eagles Flight Team is, I'll give you some brief background information. NIFA, or the National Intercollegiate Flying Association, is an organization made up of teams from most Aeronautical colleges across the United States. Each university has a flight team, which practices for a number of flying events and ground events. The flying events include precision landings, precision navigation, and a message drop contest. The ground events are both practical and written, including preflight, computational accuracy, and aircraft recognition. In my not-at-all-biased opinion, aircraft recognition is by far the best event.

Anyways, this year's national competition is at Parks College in St. Louis, with the flight events being held at St. Louis Downtown Airport (KCPS). We brought a team of 20 competitors this year, the majority packing into the six aircraft we flew up (3 C172s, our two C150s, and our brand new Tecnam P92 Echo), and the rest packing in with the luggage in a pair of vans. I was one of the six unlucky (or lucky, depending on how you look at it) ones who got to ride the vans up through Florida, Georgia, Tennessee, Kentucky, Illinois, and finally Missouri.

The first day of driving took us up to Murfreesboro, TN. While the majority of the drive was through rural Florida and Georgia, there were a few highlights. Driving across the causeway on 295 in Jacksonville, I spotted a large mass moving in the distance. As that large mass took to the air and turned towards the highway, I noticed it was an Antonov AN-124. Totally surprised to see it, I scrambled to get my camera out...and didn't get any pictures. The best my camera could accomplish from the back seat of a moving van was an airplane-shaped white and blue blob. So it goes. I'll have to drive up to Bangor sometime this summer to catch one on a fuel stop.

A few hours later, the drive took us through downtown Atlanta, and right past Hartsfield Jackson International, where a number of MD-88s and 737s skimmed overhead. Out of Atlanta we entered the mountains in Northwestern Georgia. The roadway winds around the mountains, through a number of steep dips and turns. Apparently last year when the team was heading to Nationals, a truck carrying beer overturned on this stretch of highway stopping the vans for an hour in traffic. This year wasn't a beer truck, but a furniture truck. Luckily this truck left one lane of the road open, so we didn't need to to pull out the lawn chairs and party on top of the van.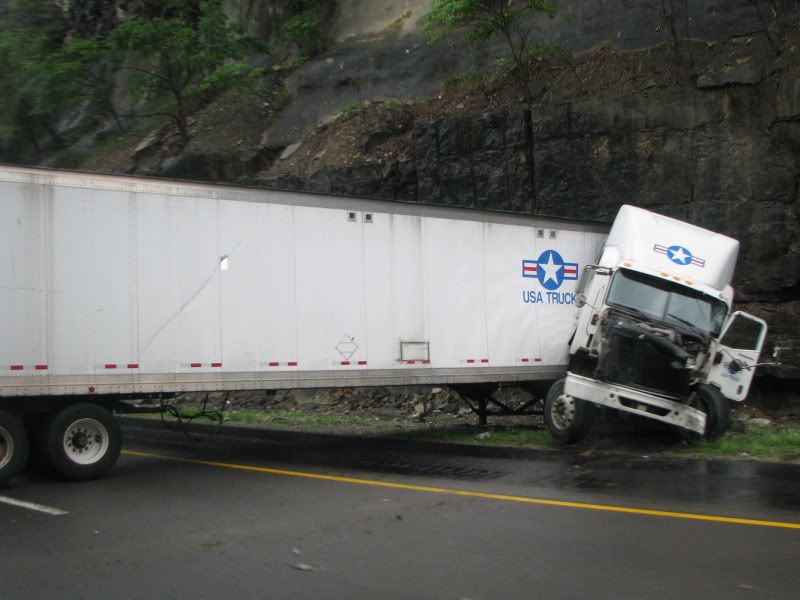 Ouch. The driver was okay, he just seemed rather frustrated, standing by the side of the road glaring at cars.



The interstate finally deposited us in Murfreesboro, TN, which apparently was the victim of an F4 Tornado just two days before.
After tying down the planes extra tight (with the help of the Middle Tennessee State University's flight team) we settled in for the night, slept, and then awoke to get back on the road and drive the final leg north.

After another drive through another weather-ravaged chunk of the Midwest, we finally arrived in St. Louis, at approximately 3:00 in the afternoon. This gave us almost exactly a week of time solely for practice before the competition. For me, that meant a week buried in Janes books, Wikipedia, and almost every other aircraft recognition resource known to man.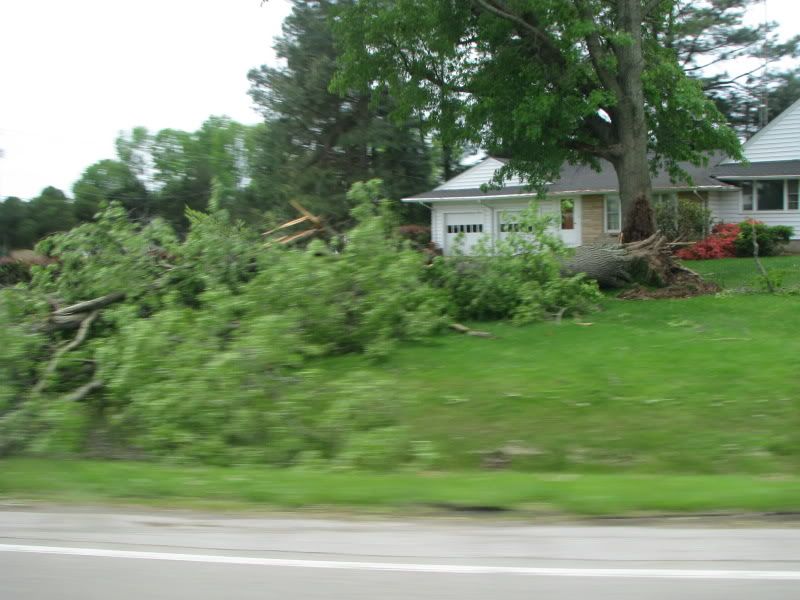 Williamson County, IL, victim of an "inland hurricane" just a few days before.



The first week in St. Louis was solely for practicing landings and navigation and NIFA hadn't set up their hangar or tent yet. Since we had no base on the airport, both the Daytona and Prescott teams settled into the Jet Aviation FBO. Hanging out in an FBO for 10 hours a day has its benefits. Business jets and helicopters constantly pull up to the front door...and occasionally their pilots offer tours of expensive planes.

Over the course of the week, I was able to tour a Cessna Citation Excel, a Dassault Falcon 900, and finally a Gulstream G-IV. While I don't quite have the experience to critique each jet type, I did get three distinctly different impressions from the three jets. While a great deal of my thoughts were influenced by each plane's interior condition, I'll do my best to give an unbiased opinion of each jet.

Cessna 560XL Citation Excel
Operated by: NetJets
Registration: N629QS

On my first day in CPS, I realized the benefits that come with being part of a group wearing "FLIGHT TEAM" T-shirts in an FBO. A NetJets crew who were babysitting a Citation for the evening offered our entire team a quick tour of their jet, pointing out the perks (and not-so-perks) of their job and their aircraft.

The Citation Excel was the first jet of its class that I'd been inside, and I was quite impressed by its features. The cabin ceiling was tall enough to allow me to stand fully with a little room to spare (I'm 5' 10"), and the seats were extremely comfortable compared to the airline standard that I'm used to. The gold fittings for air conditioning, the cup-holder mounted TV, and sound system were just an added bonus. The Citation Excel certainly disproved my impression of the Citation line being the very-low end of business jets.


The not-too-bad looking Citation Excel.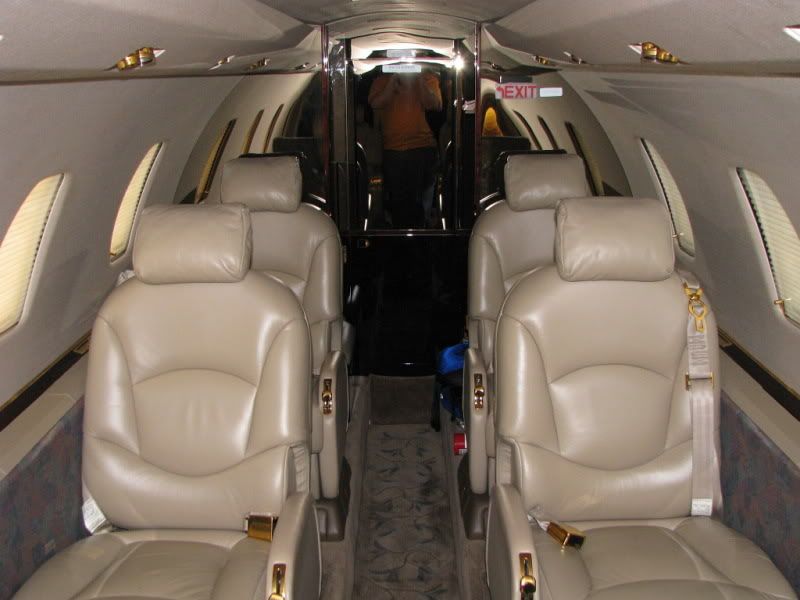 The oh-so-comfortable seats, and nicely finished interior.



Even though the cabin on the Excel was impressive, I came away with the impression that it's operational characteristics were more suitably described as "meh." The range on the Excel was described as "about enough to take 4 people from New York to Florida," and when the aircraft is loaded to its full capacity the range significantly decreases. The flight deck is the same spartan semi-glass Honeywell cockpit that Cessna has in most of its business jet range, and the 560XL was not designed for single-pilot operations. It seems like the 560XL is in an awkward spot, half way between the limited performance of the earlier Citations and the high performance of airframes like the 680 Citation Sovereign. Regardless...I wouldn't mind flying in it...





Traditional Cessna-style flight deck.




Dassault Falcon 900EX
Operated by: AT&T
Registration: N901SB

The next day, I found myself in a lengthy conversation with the captain of a Falcon 900 that flies for AT&T. He seemed very surprised by all of the cameras pointed at his plane, and he seemed almost shocked when I showed him Airliners.net and all the pictures of his planes online. Towards the end of the conversation, he offered to show us (the aircraft recognition team) around his aircraft. Unfortunately his clients arrived at the airport just after we stepped on board, but the two minutes that we were inside the jet were rather impressive.

While the Falcon series of jets do not have the cleanest of exterior lines, the interior that was installed in this particular aircraft was amazing. Especially with the "Easy" flight deck that was installed, everything was superbly clean, sleek, and high tech in appearance.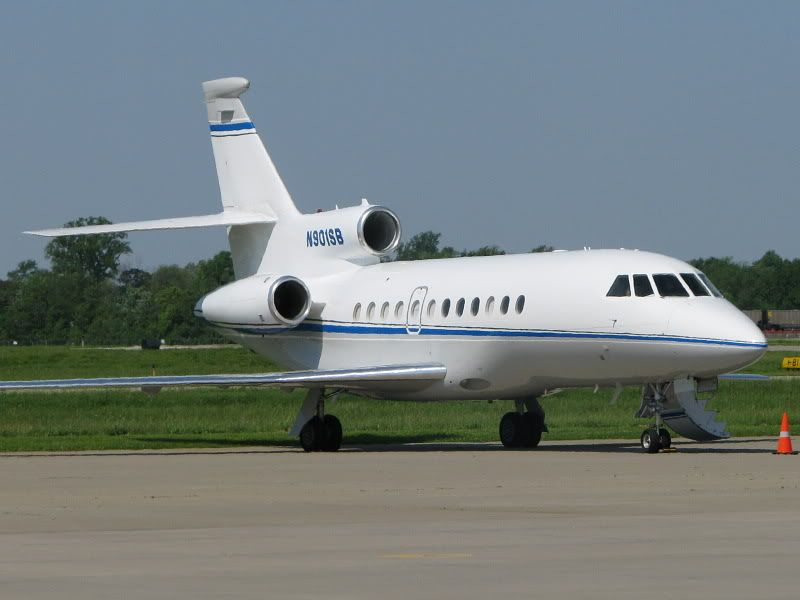 N901SB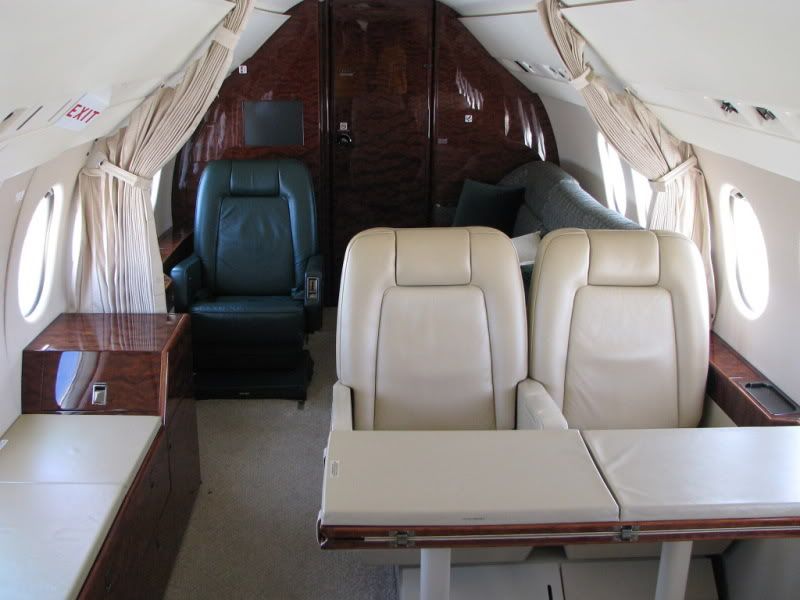 The rear half of the cabin. The front was equally nice.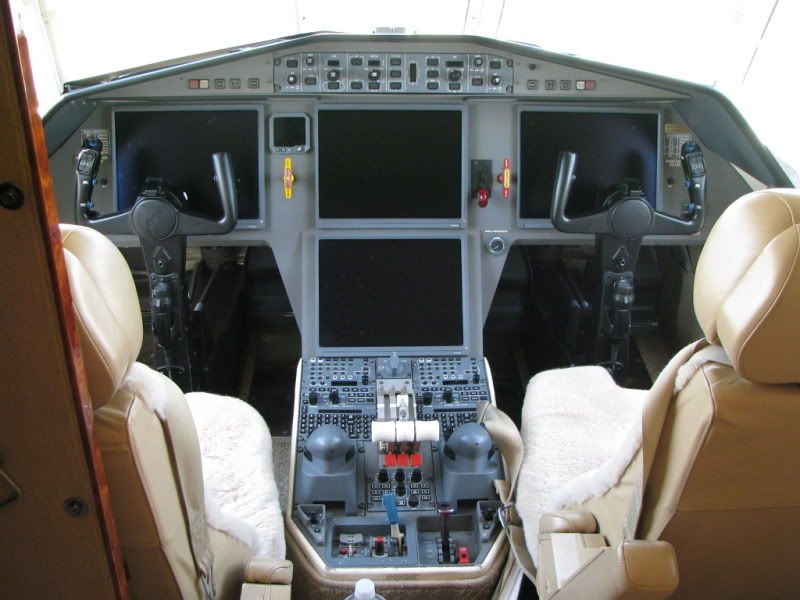 The "Easy" flight deck, which altogether eliminates the need for paper in the cockpit.



Personally, I had never thought of the Falcon 900 in the same class as Gulfstreams and the Global Express, but from what I saw, the Falcon 900 (and even moreso the 7X) easily matches those jets in capability and luxury.


Gulfstream G-IV
Operated by: "IC Group LLC"
Registration: N728LB

Continuing moving up in class, another member of the team managed to talk her way onto a Gulfstream IV, and procure tours for everyone who was interested. Personally, I preferred the Falcon. While Gulfstream currently has the reputation of being as luxurious as one can get, this example wasn't so impressive. Owned by a charter company out of Teterboro, this airframe featured the same luxurious polished wood and gold plated interior as the Falcon and Citation, but had quite a worn out feel to it. While I'm certainly not complaining about getting the opportunity to step foot in a Gulfstream, this airframe isn't what I'd purchase if I had a few extra million dollars lying around.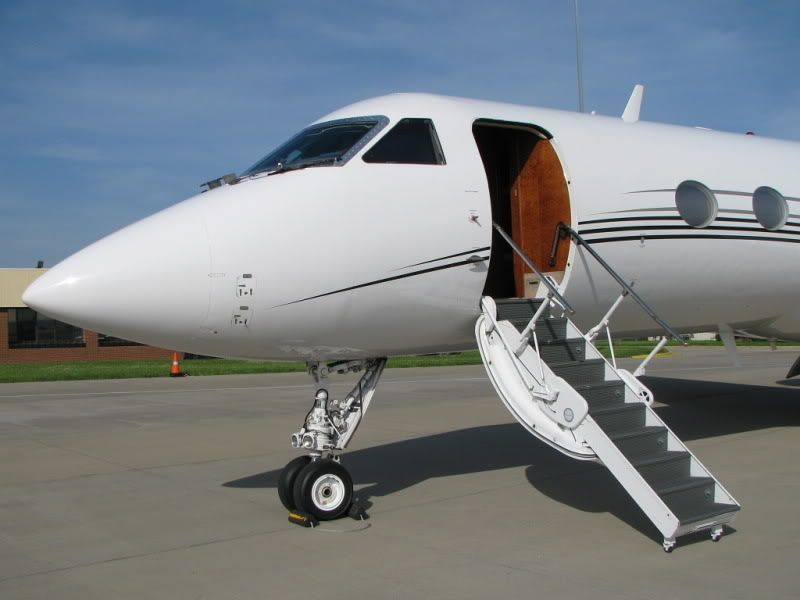 Welcome Aboard!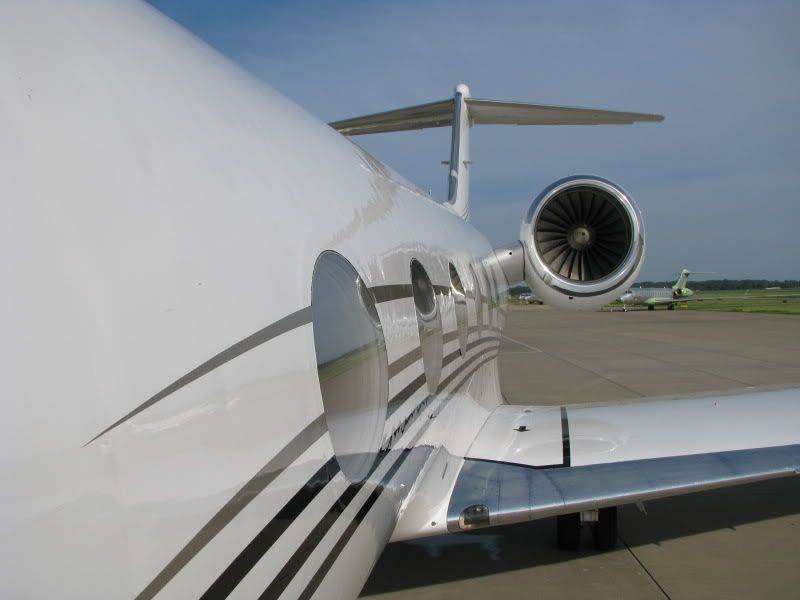 The view from the top... (of the stairs, that is)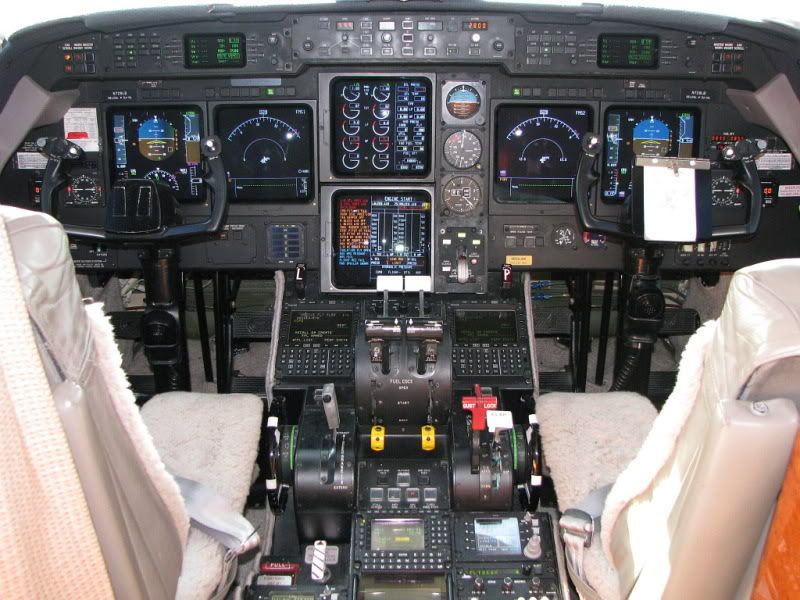 Gulfstream is now offering an "easy" cockpit similar to that on the Falcon, but this G-IV featured an old-school dark and dreary looking panel.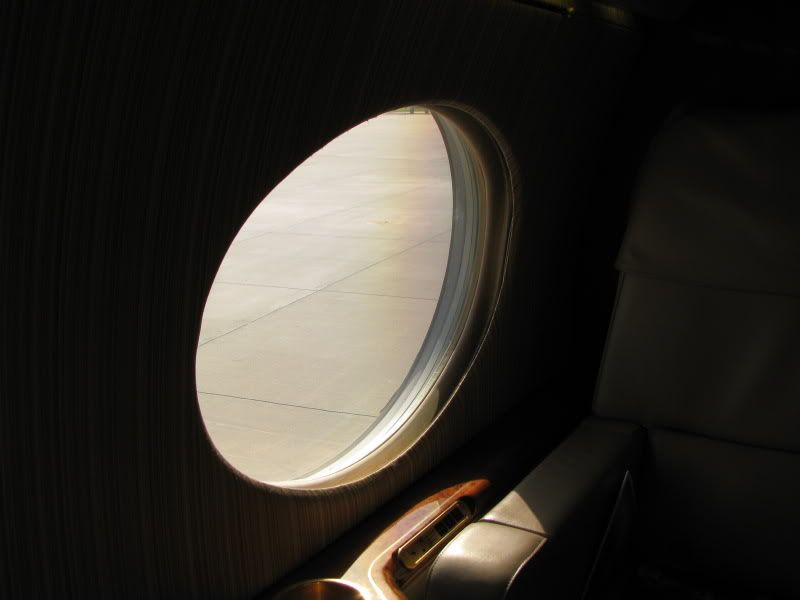 Never thought I'd be looking out a window like this one...




Lockheed L-1329 JetStar
Operated by: "St. Louis Air Museum"
Registration: N511TD

Okay, so this aircraft doesn't exactly fit with the rest. No, I didn't get to see one of the very few flying JetStars in existence. This airframe was on display at the St. Louis air museum just across the field from the FBO. I didn't get a peak inside of the aircraft until the very last day of competition when the museum opened it up to see, but I'll stick it here with the rest of my business jet adventures.

The interior of this JetStar looked as if it hadn't been touched since the 70's or 80's. All of the interior fittings were wood and leather, and the only glass to be found in the flight deck was that in the windows. On the outside the plane looked decrepit and falling apart, but the inside looked like it was almost ready to fly again. Yes, there were plenty of broken gauges and missing fixtures, but for such an antique aircraft, I was pleasantly surprised.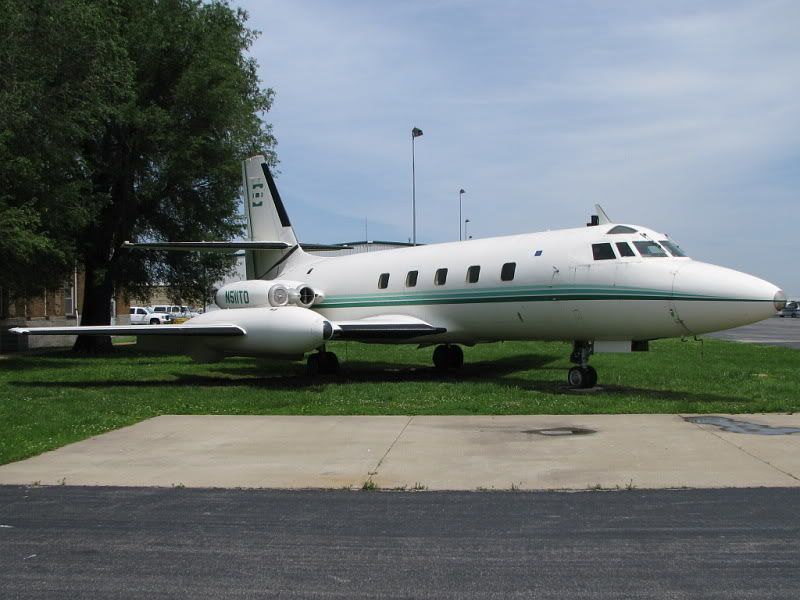 Not a bad looking aircraft.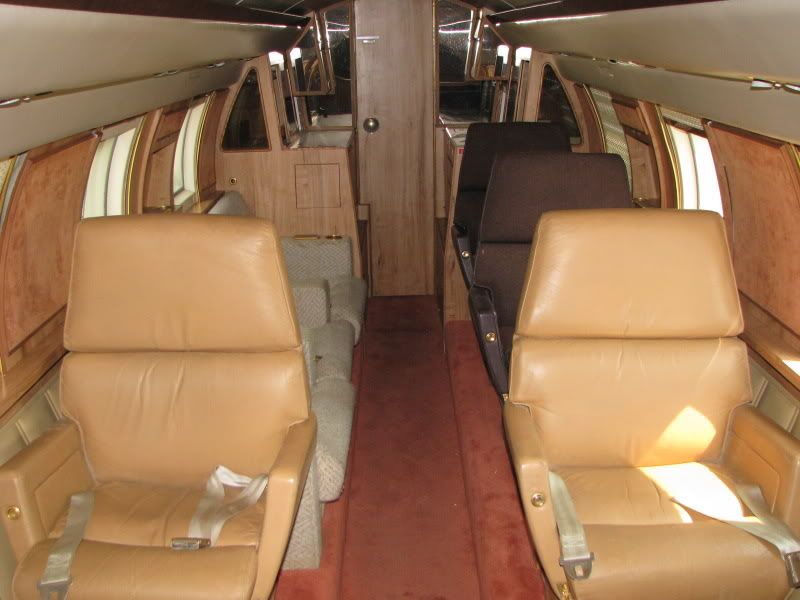 Straight out of the 80's.
Retro LCD flight-status display.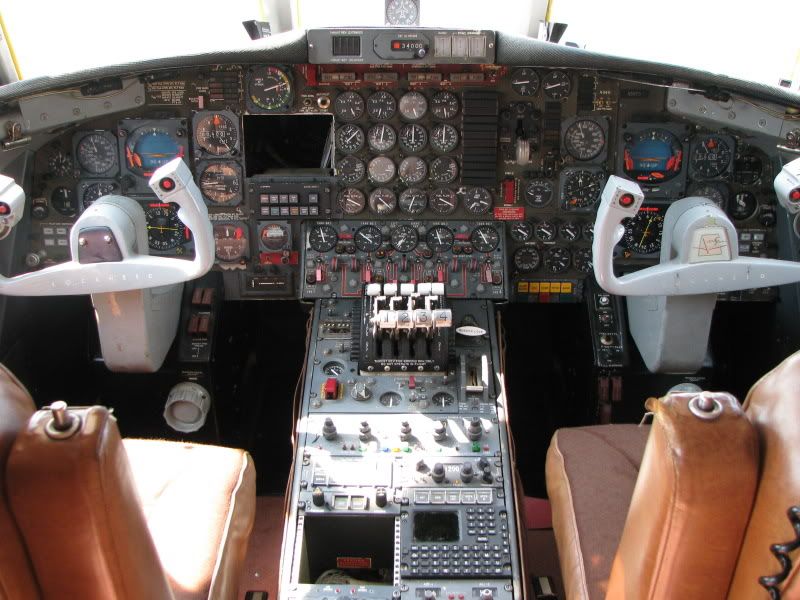 Hope you don't mind flying steam gauges.



Now I'm just looking for an excuse to show some of my better pictures from the week at the airport, so, here's some photos: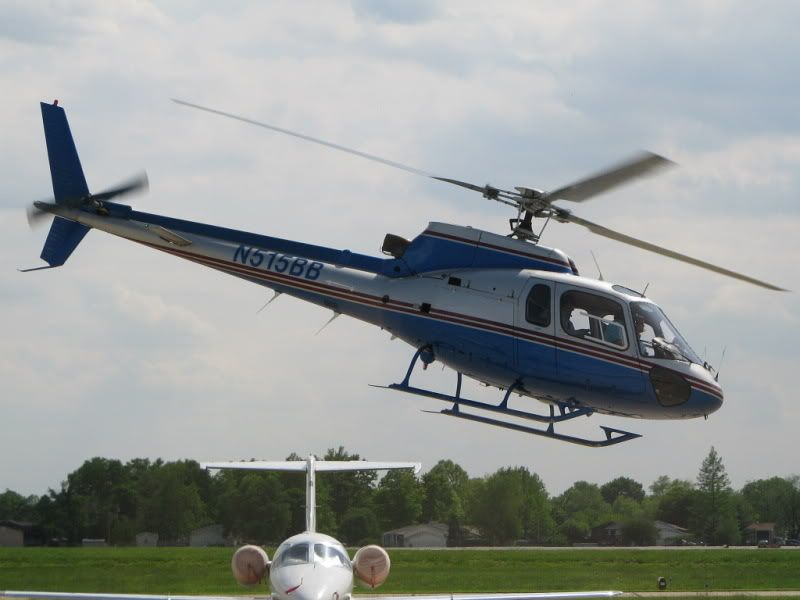 An Eurocopter AS350, one of the many, many, many helicopters which frequented CPS.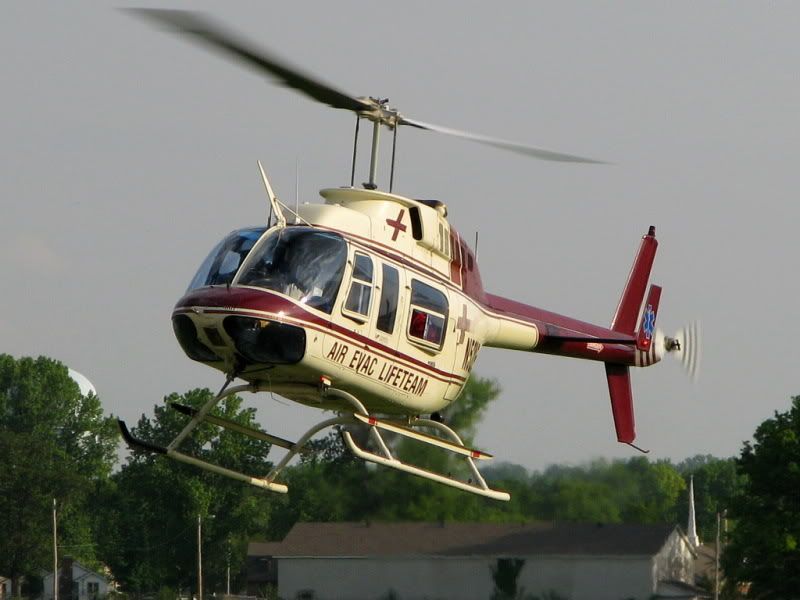 Med-evac choppers were very fequent visitors to Jet Aviation, stopping by for fuel almost hourly.
Anyone want some Kiowas?
This pilot was nice to us. As he taxied by he paused for a moment and gave a thumbs up for the cameras.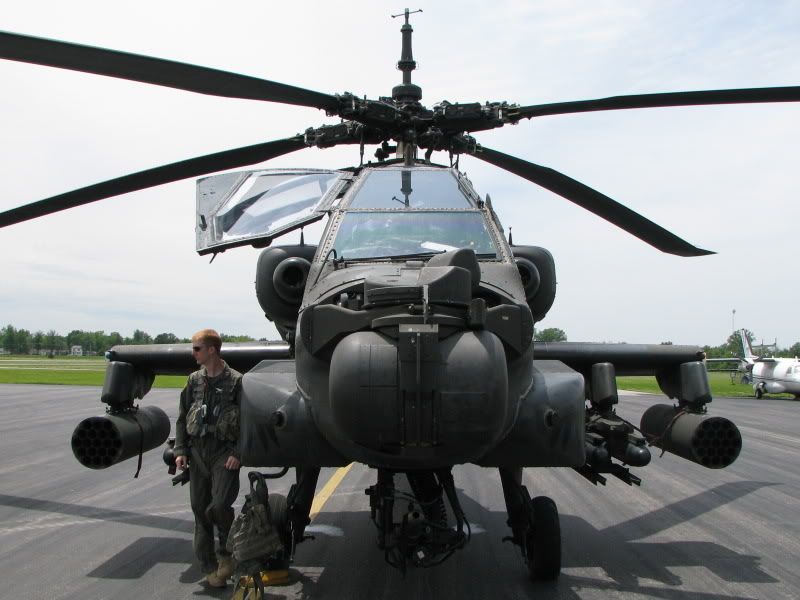 Random Apache that stopped by for an hour. (did I mention there were lots of helicopters here?)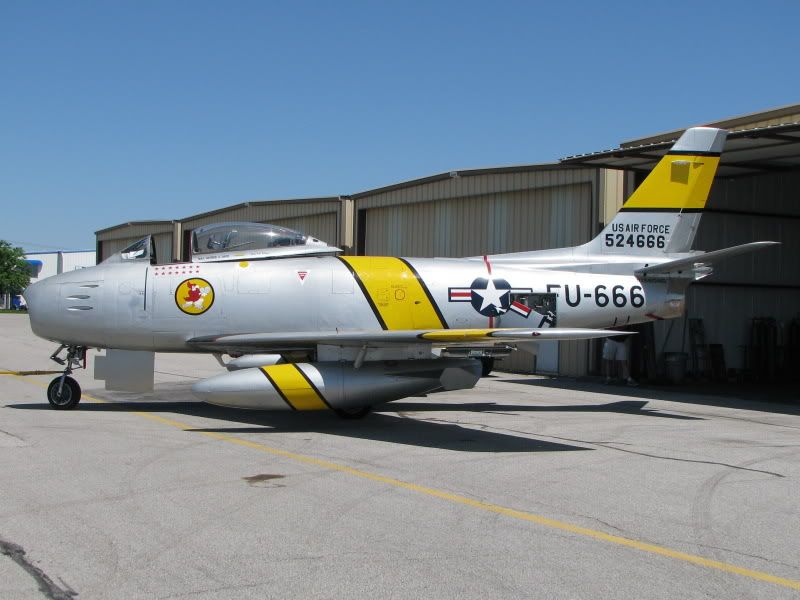 A random hangar opened up one morning revealing an immaculate Korean War duo, an F-86 and a MiG-15. The F-86 flew, the MiG ran up its engine. Unfortunately, that was my morning to sleep in so I only caught them being pushed back into the hangar.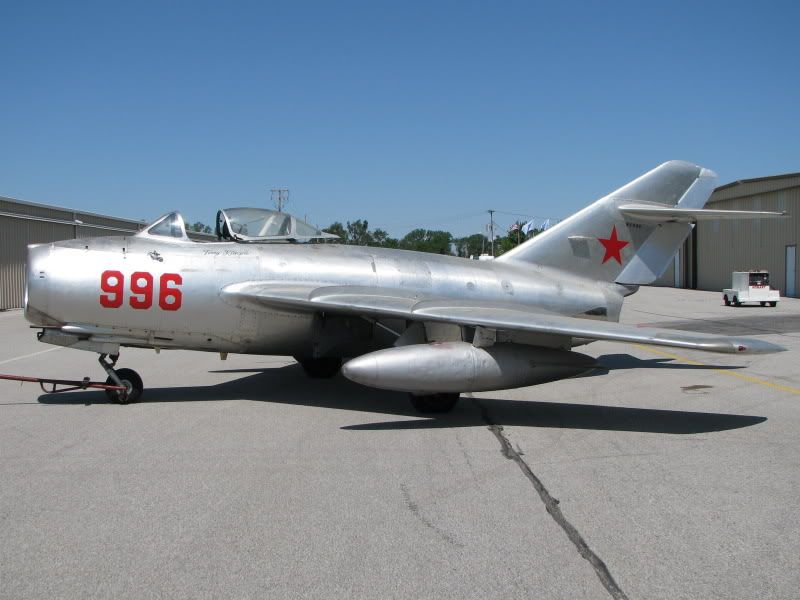 Makes me wonder what else is hidden away in these rows of hangars...



St. Louis is still a relatively major transportation hub for the rail industry. I'm not sure how many of you here at A.Net are also rail fans, but it seems to be a common theme that those who like planes also like either cars or trains. Either way, if you don't like trains, ignore the below and move on.
A four-track line runs directly behind the St. Louis downtown airport, so the jet and prop noise was frequently punctuated by the rumble of diesel locomotives and the wail of horns.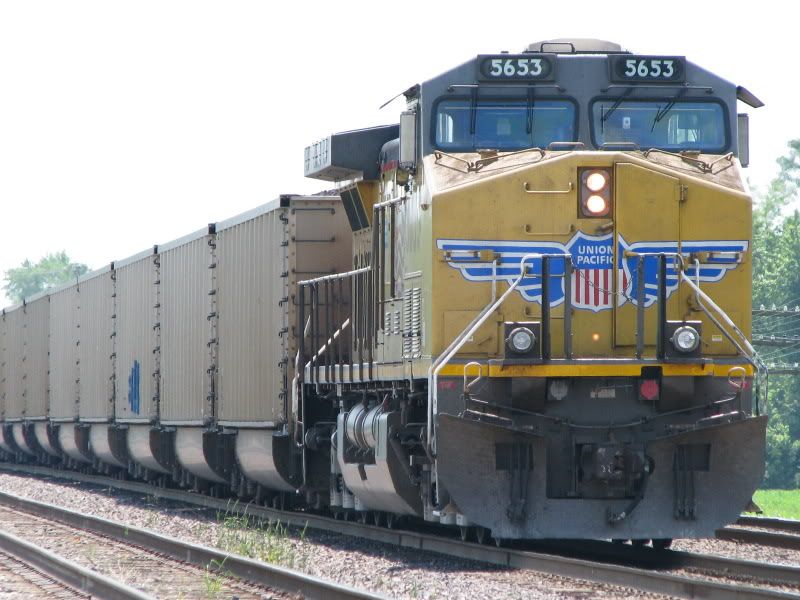 A GE Dash-8 helps a unit train full of coal get moving.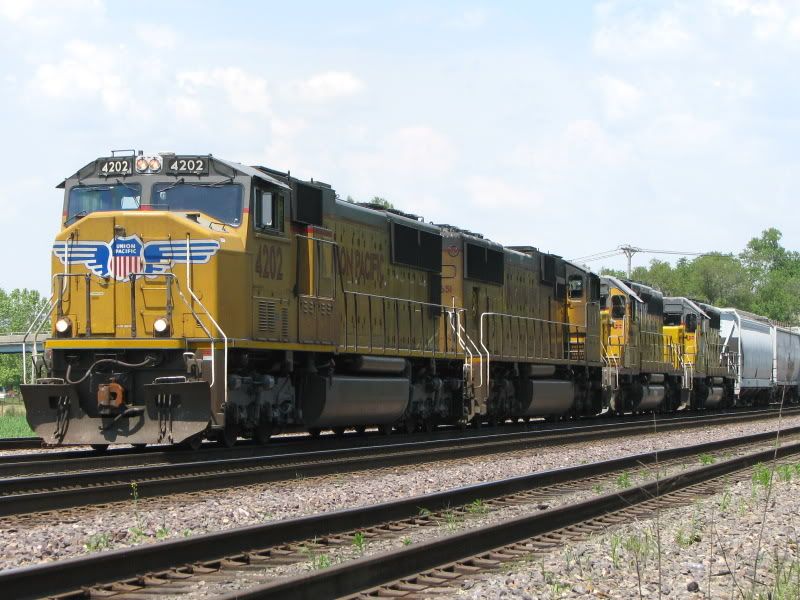 Only two of these locomotives were running, the two SD's taking up the rear were placarded inop.




Getting back to the competition, this year's NIFA SAFECON was arranged so that all of the ground events (SCAN, COMPACC, Aircraft Recognition) would be held on Monday in a downtown hotel, with all of the flying events following throughout the week at the airport. My cram studying for Rec continued up through the opening ceremony, and by the mid-afternoon test I was more than ready to get it over with.

As mundane as aircraft recognition may sound, I find taking the test rather exhilerating. Each test is composed of ~60 aircraft slides. For the first 50 slides a multiple choice is provided, with 4 choices each for the aircraft manufacturer, type, and name (each worth a point), while the last ten are fill in the blank, with the same three categories being required. If you're thinking that it's easy...well, we're not talking about A320s and 747s. NIFA finds some obscure crap to put on the tests. Here's a couple examples from this year's test. (answers provided below)


( ) Lockheed ( ) P4M-1 ( ) Aurora
( ) Kawasaki ( ) P-2E ( ) Atlantic
( ) Dassault-Br. ( ) P-2J ( ) Neptune
( ) Martin ( ) Br.1150 ( ) Mercator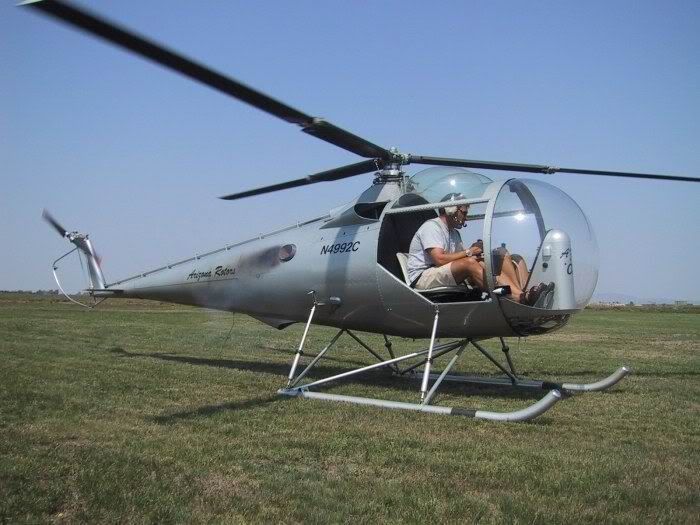 (Fill in the blank)
________________________ ________________________ ________________________

With my part in SAFECON over with for the year, the next week of competition was spent pushing aircraft around the ramp. NIFA requires aircraft to be started and shut down at "hot boxes" at either end of the ramp, so every time we dispatched a plane to compete, a team had to be there to push it down the ramp. Even a Cessna 172 starts to feel heavy after the first day or two of pushing it back and forth.

I don't have too many photos from the competition itself, but here are some flight team photos from both St. Louis and the previous months practicing in Florida.






Shameless plug of a couple of my photos...




389ER overhead on a message drop run.



The crowded start up box before a heat.



After a week of competition my first NIFA Nationals experience came to an end. At the awards ceremony, the Daytona Beach Eagles Flight Team placed first in Flight Events, third in Ground Events, and Second overall (behind UND.) Amazingly, the entire Daytona Aicraft Recognition team placed in the top twenty, taking 1st, 5th, 8th, 18th, and 19th, with yours truly taking the 19th place spot. Historically it has been rare for even two members of our team to place in the top twenty in REC...apparently we did something right this year! Yes, I placed the lowest on my team...but being my first time at Nationals, I was happy to earn even a single point for the team! On that high note, it was time for my trip home.

Answers: (you should have written...)

( ) Lockheed (x) P4M-1 ( ) Aurora
( ) Kawasaki ( ) P-2E ( ) Atlantic
( ) Dassault-Br. ( ) P-2J ( ) Neptune
(x) Martin ( ) Br.1150 (x) Mercator

Brantly B-2 None

(Final Part Below...)
Topic: RE: PWM-MCO, STL-MSP-DTW-PWM +NIFA (LONG!)
Username: KPWMSpotter
Posted 2009-08-10 08:01:11 and read 31131 times.

Part Three (the journey home):
My flight home began with a check-in mess at St. Louis' Lambert Field. In my search for a cheap DC-9 flight, I had booked a flight departing STL at 06:00, connecting in Minneapolis to a leg on a DC-9-50, and then finally connecting in Detroit for the flight over to PWM. The 06:00 departure time proved to be troublesome, although the rest of the flight went off without a hitch.

KSTL - KMSP
Flight # MES 3600
Equipment:Bombardier CRJ-900 (N902XJ)
Scheduled Departure: 06:00 Actual Departure: 06:20
Scheduled Arrival: 07:46 Actual Arrival: 07:55

At STL the Northwest and Delta check-in counters have not yet been integrated. Despite being in the same room, and literally just feet from each other, flights booked through NWA must use a much smaller counter that looks as if it hasn't been cleaned since construction in the '80s. To add to the confusion, the NWA check-in counter opens at 05:00, a full hour after Delta begins checking in passengers. At STL at least, the integration of the two carriers cannot happen fast enough.

I arrived at the airport at a little past 4:00am, as a few other flight team members had earlier flights out. When I found out (from other disgruntled passengers) that NWA's counter does not open until 5:00, I gave up my spot in line and headed over to Delta's nearly empty counter to see what they could do. While my boarding pass could be printed at the Delta counter, the agent was unable to check my luggage, so I ended up at the back of an even longer line for the NWA counter. When I finally checked in, it was 5:25 and there was still a long line behind me full of passengers for the 5:45 and 6:00 flights to Detroit and Minneapolis. Adding the time spent in security, I arrived at the gate with about ten minutes to spare. I would hope that Northwest is able to check in an entire flight in that little time, but I would not be surprised if morning delays are common in STL due to the line at the check-in counter.

My aircraft for this flight was a CRJ-900, flown by Mesaba. Much to my surprise, when I peered out into the darkness from the terminal windows, I saw not the bright-red tail I was expecting, but the dark hues of Delta's Citgo tail scheme. While this didn't change anything about the flight (there was surprisingly little mention of Delta onboard the plane), I was looking forward to this itinerary being one last ride on Northwest's red-tails.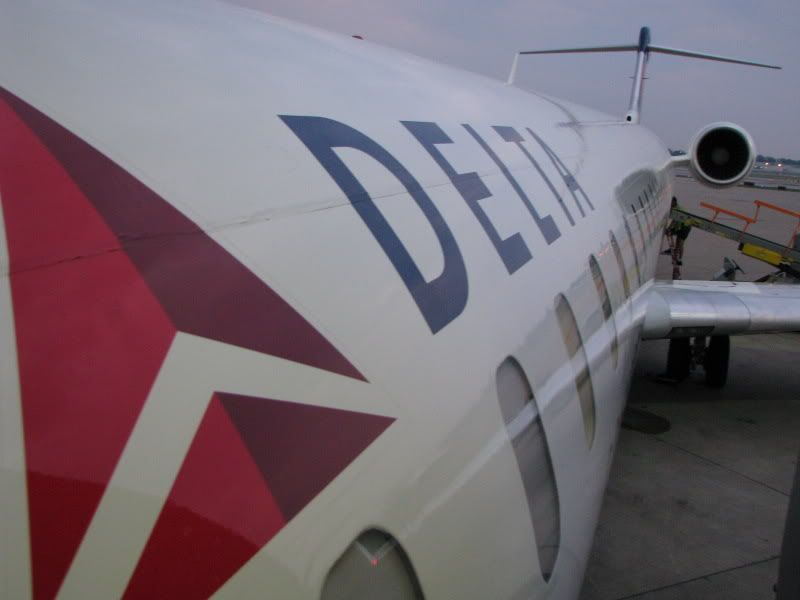 Stepping on board the Northwest/Airlink/Delta/Connection/Mesaba aircraft.



On board, I took my seat in 16D and promptly noticed that the no-smoking sign was not illuminated. Taking note of it as being a little odd, it was not until later that I noticed that the plane didn't have a no-smoking light at all. It seems that all of the new CRJ-900s (perhaps other planes as well?) are being delivered with a no-electronics placard instead of one for no-smoking.





Does that mean that smoking is allowed on board?...



Seated in the back of the plane, I ended up in the center of a track and field team that was returning home from a competition. I must say, these were the most obnoxious seat mates I have ever flown with. The guys seated around me were constantly trying to act masculine for the girls, and the majority of the girls were run of the mill ditzy blonds. So it goes. At least it was a short flight.

On the ground we were delayed a few minutes waiting for a start-cart, due to an inoperative APU. When the captain announced that the APU was inoperative (mostly to explain why it was getting so hot in the cabin), one of the girls seated behind me called for a Flight Attendant, stating her uneasiness with flying on a broken plane. She said that she "didn't want the pilots just playing with things in flight to find out what else is broken."

After a long wait for a really short taxi, we departed from runway 12L, flying to the North of downtown St. Louis and the arch, before turning Northwest on course.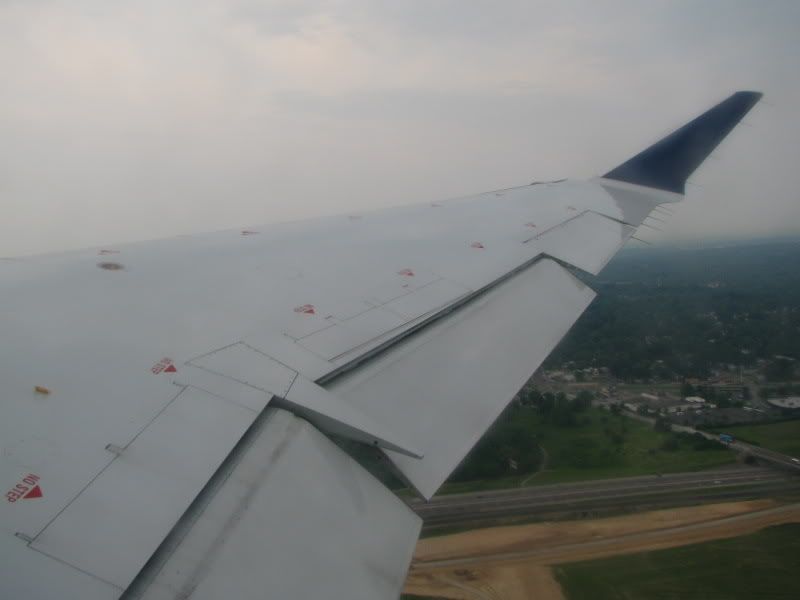 Lift off from STL.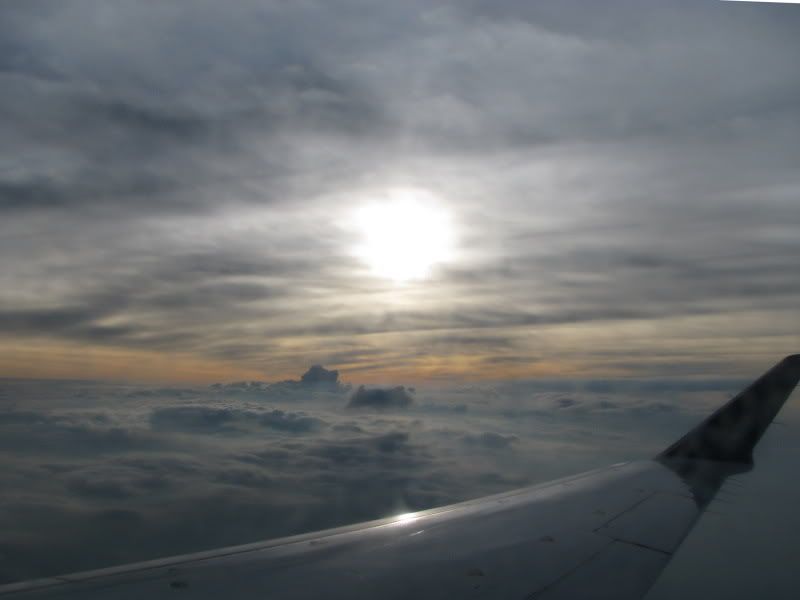 The sun rising through the clouds. This picture could almost be artistic...if the window wasn't so dirty.



The flight itself was, well, standard. Shortly after reaching 10,000 feet, a sole Flight Attendant came through with miniature water bottles, and shortly afterward with the whole drink cart (still only offering a limited selection of water, juices, and hot drinks) as well as the standard Delta Biscoff Cookies.

The rest of the one-hour flight was remarkably uneventful. Before landing at MSP we flew a downwind just West of the airport before making a right base to Runway 12R. Landing on 12R, we rolled out past the Signature FBO, where a plethora of interesting jets were parked. Personally, my favorite is still the Falcon 900...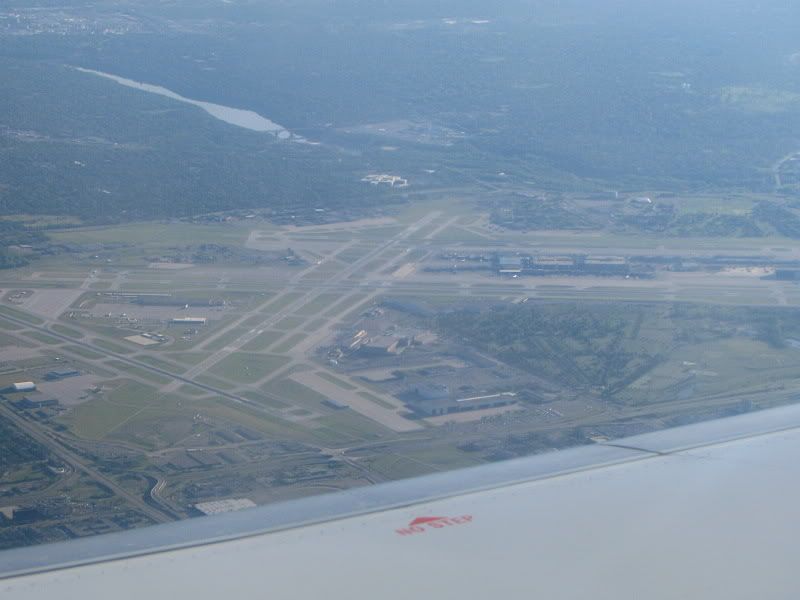 Overflying MSP.
Spoilers deployed, about to turn base.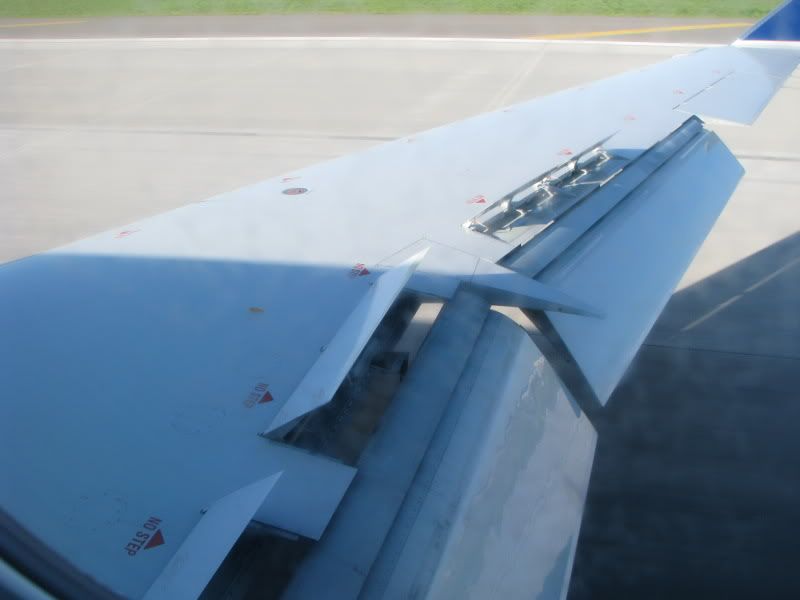 Welcome to Minneapolis St. Paul Airport, where the local time is...too early in the morning. What time zone are we in now?...



Not knowing my way around Minneapolis and only having an hour connection, I quickly deplaned and headed out into the airport. Walking into the main terminal I was pleasantly surprised. For some reason I have always held the impression of Northwest being a sub-par legacy carrier, lacking in customer service and in facilities. I had expected that their two biggest hubs would reflect that impression, being rundown and unkempt. Minneapolis (and even more so Detroit) were quite the opposite.

While parts of the terminal had a mall-ish feel to them (makes sense being next-door neighbors with the Mall of America), the building was nicely kept on the inside. I didn't have the time to ride the tram around, but I was interested to see that MSP has a steel-rail/steel-wheel tram system, more akin to a light rail system than an airport tram. Unfortunately, the tram is no help at all for getting from the A terminal where I arrived to the F terminal where I was departing, so I had to hike almost the entire length of the airport to get to my departure gate (not that I'm complaining, I enjoyed the walk, I just wanted to ride a train...)





I'm not sure where this walkway goes, but the only people up here were me and the TSA. Suffice to say, I took the stairs back down after I took the picture.



I didn't happen across MSP's well regarded observation deck on my way to gate F6, but the gate area provided a nice view of aircraft pulling off of Runway 12R, as well as the cluster of NWA aircraft and equipment parked in the general area.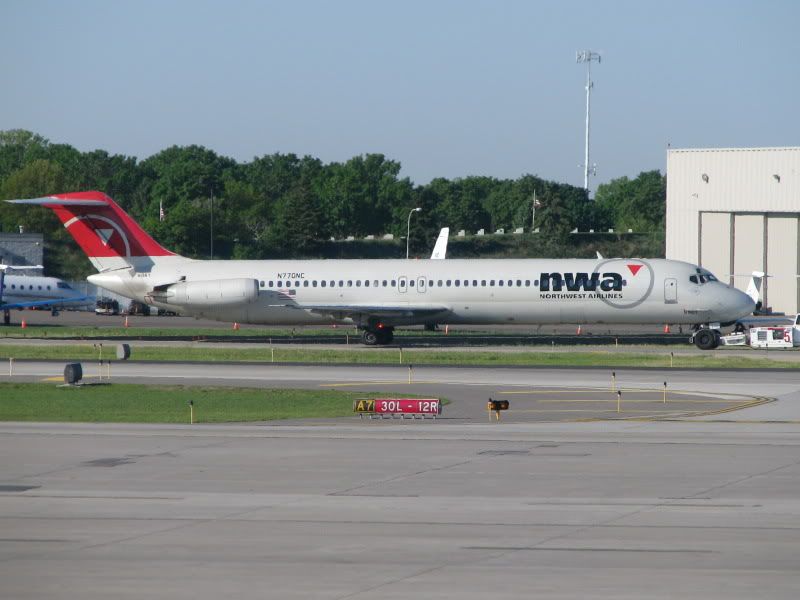 Finally, a red-tail DC-9! I know I'm in Northwest territory now!
A *really* old-school paint job.



How many Northwest logos can you count?



KMSP - KDTW
Flight #NWA 1452
Equipment:Douglas DC-9-50 (N785NC)
Scheduled Departure: 08:50 Actual Departure: 08:48
Scheduled Arrival: 11:31 Actual Arrival: 11:25

My aircraft for the short hop over to DTW was a DC-9-50, N785NC, still in the Northwest new-colors. Since this was my first flight (and probably last) with NWA, I was hoping to see plenty of red tails (and perhaps an old bowling shoe livery.) Instead, I was surprised by a decent number of Delta-painted A319s and A320s. While Airbii in Delta colors are still a novel sight, I have a feeling that they will soon become just another boring white airplane. (Is it just me, or does Delta's livery get worse every time they change it?)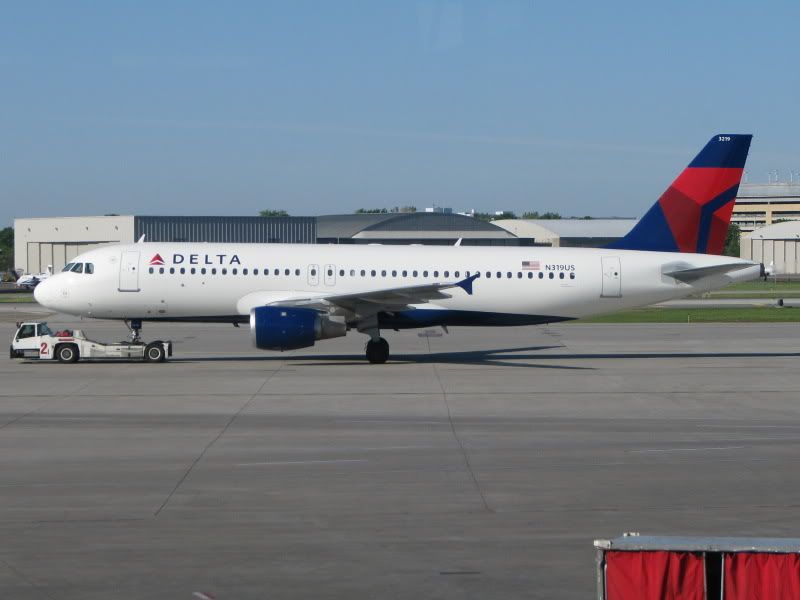 Albino A320.



Adding up the time it took to walk across the terminal and the time I spent sightseeing around the concourse, I arrived at the gate with only 5 or 10 minutes left before boarding.





My aircraft for the flight over to Detroit, N785NC.



I was one of the first to board the aircraft (the plane was boarded by rows, instead of the zones that I'm used to at Delta.) I made my way back to seat 23A, right by the engine. I made up my mind when I booked the seat that I was going to go deaf on this flight, but I was going to love every minute of it. The interior of this DC-9 looked extremely worn out and the seats felt like they were made of rather thick cardboard, but it was a short flight and it could have been worse for a 30 year old plane.





Not my seat, but an example of the worn-out cabin. On most of the seats you could see the outline of metal supports through the fabric.



Sitting just one or two rows in front of the engine's fan disk, I got the full JT8D audio-experience on this flight. Taxiing out was probably the worst on my ears, as the engine noise was a low pitch that was constantly oscillating in volume and tone. You can hear some of this in the video I took of the takeoff, but my camera certainly did not capture all of the interesting sounds that were bouncing around in the cabin at takeoff.

Takeoff from Minneapolis: http://www.youtube.com/watch?v=iXamX_chRgI

After takeoff, either the engines quieted down or my senses became dulled (probably a little of both), but I didn't really find it bothersome to be sitting next to the engine. I understand why SeatGuru places warnings next to the aft seats, cautioning of bothersome noise, but in cruise I don't think this flight was any louder than others.

Shortly after passing over Minneapolis the scenery quickly became sparse, with vast expanses of flat, green areas dominating the landscape. This flat featureless farmland (how's that for alliteration?) continued until reaching Lake Michigan.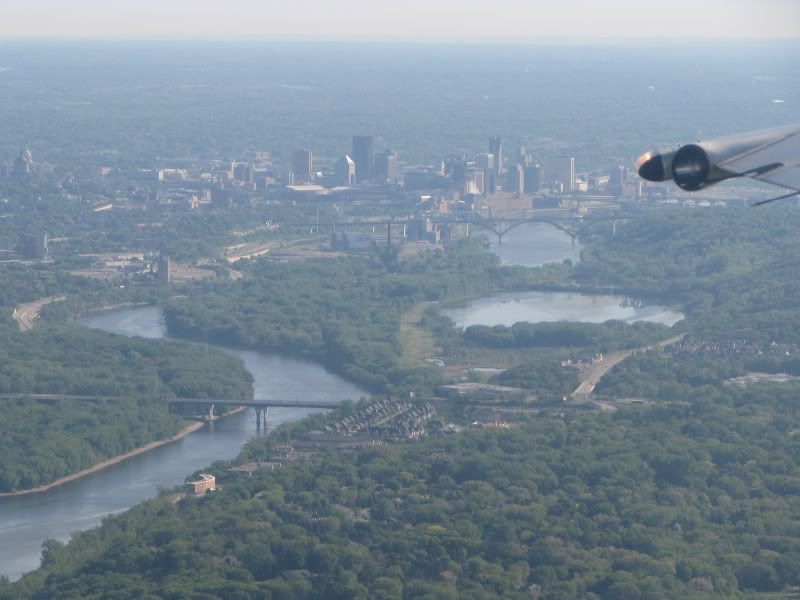 Downtown Minneapolis perhaps. Or St. Paul. I'm not really sure...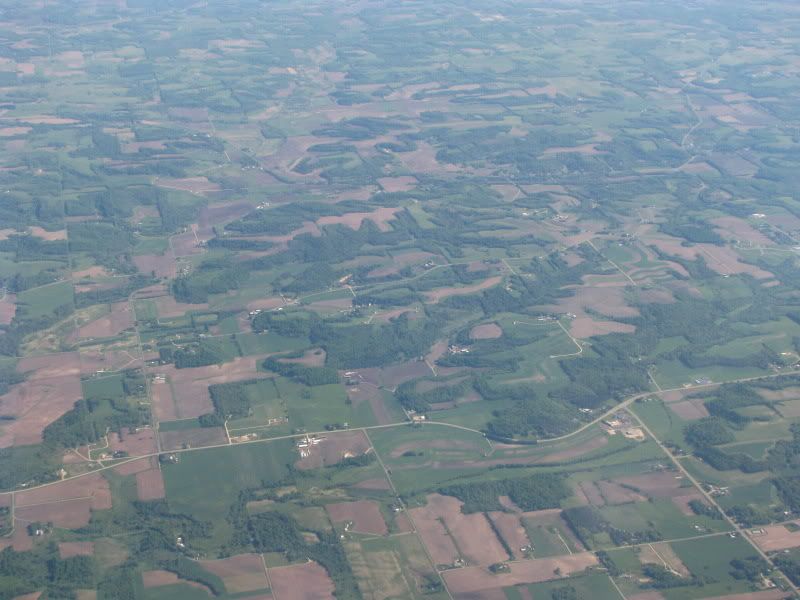 The vast green nothingness that is the Midwest.



I'm not sure how many times I can write about Delta's domestic in-flight service, because as far as I can tell it never changes. While there's always the gamble between getting peanuts or getting Biscoff, Delta/Northwest's in flight service is boringly consistent. First come the snacks and napkins, followed a couple minutes later by the drink cart. I was surprised to be served a Pepsi produced drink, but it all tastes the same at altitude anyways. (I thought that Delta/Northwest had consolidated their catering with Coke products, but I guess it still depends on the station that the aircraft was serviced at, as my STL-MSP flight had been stocked with Coke and Sprite.)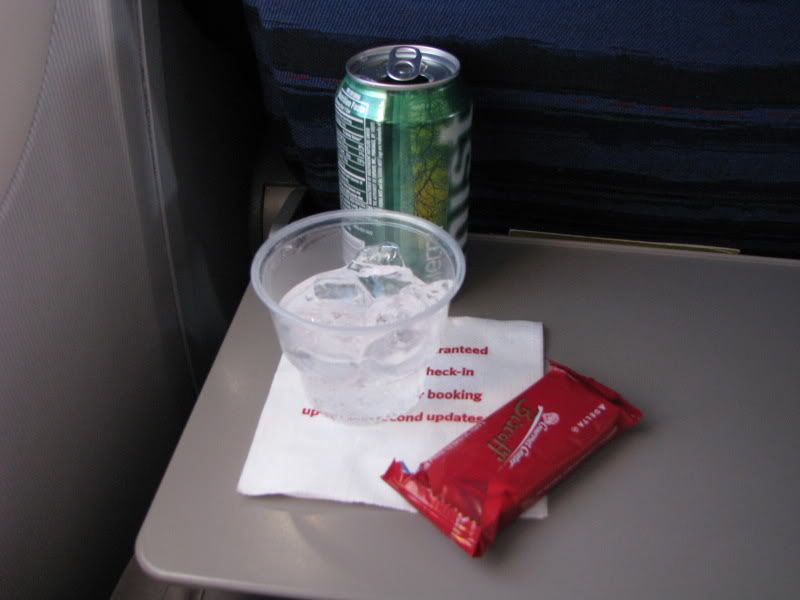 mmm! A can of sugar and a glorified Graham Cracker! (a really really tasty glorified Graham Cracker that is...)



mmm...noisy...



By the time the cans and trash were collected, we were already over Lake Michigan, with little left of the flight. At this point, I reached the conclusion that I need to fly in this manner more often, taking short hops of an hour or so, leisurely making my way to my destination. The glory of flight is often lost in the boredom of a trans-continental or trans-oceanic flight...it is the short hops, seeing new airports, and experiencing new aircraft that I truly enjoy.

We approached DTW from the West, overflying the field before turning back to the airport and making an approach to (what I believe was) Runway 4L. We used the majority of the runway, coming to a gentle stop before beginning a circuitous taxi in to the terminal. After what felt like a field trip into a farmer's field on taxiway Quebec, the aircraft came to a stop at Gate A11. Since I was in the back of the aircraft to start with, I waited for everyone else on the plane to depart and headed up to the Flight Deck to take some pictures. When I asked the captain "what's it like to fly something this old?" his response was "what do you mean old?" Apparently he had started out with Mesaba in Saabs, and stuck with the DC-9 ever since. This 1982 DC-9 was still relatively new to him.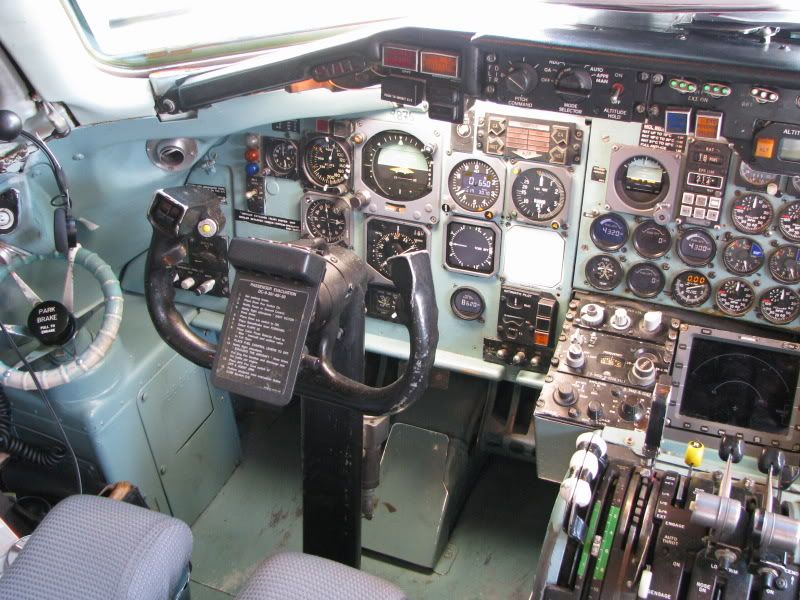 One of these dials is not like the others! (TCAS is digital, everything else is...not.)



The jet bridge deposited me at the South end of the MacNamera Terminal, right next to the tram stop. My connecting flight was out of gate B1, in the smaller sattelite terminal, but I had nearly two hours to kill, so I was in no rush to get to the gate. I had never been through Detroit before, so I spent the first 45 minutes just exploring. I rode the tram back and fourth through the terminal a few times, looking for interesting things that I should check out on the ground floor. While I was impressed by the Minneapolis terminal, Detroit really impressed me.

The entire MacNamera terminal has a very spacious and open feel to it. The high ceilings, abundance of windows, and ample room available for passengers all contributed to making the airport have a very enjoyable aura to it. Atlanta's terminal, for example, has low ceilings, no windows, and half the seating that it should at gates. I loathe spending more than an hour in Atlanta. In Detroit, I wouldn't mind waiting out a delay at all.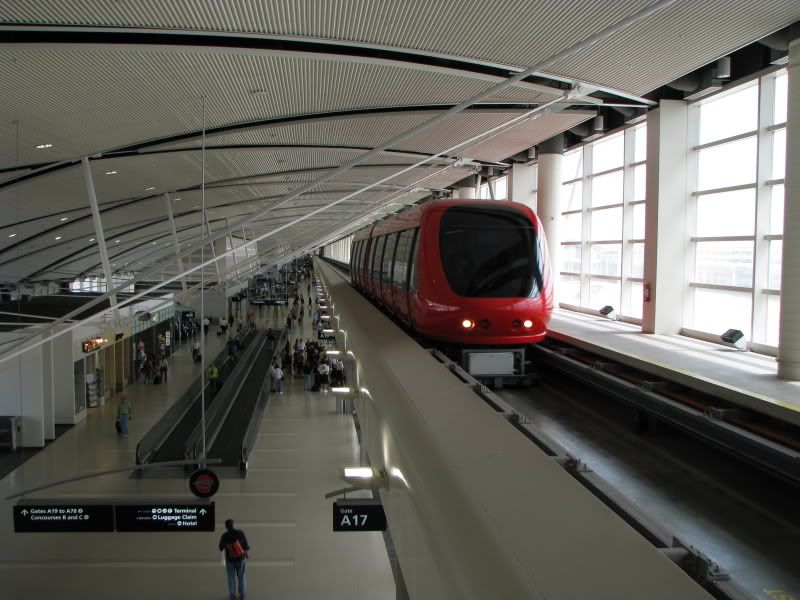 Looking down the mile-long terminal from the tram station.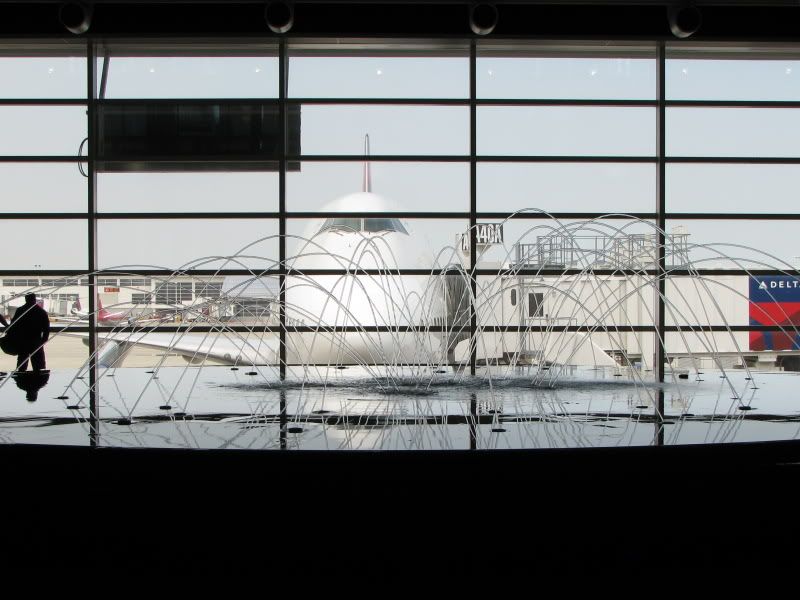 Decorative fountains should feature 747s more often.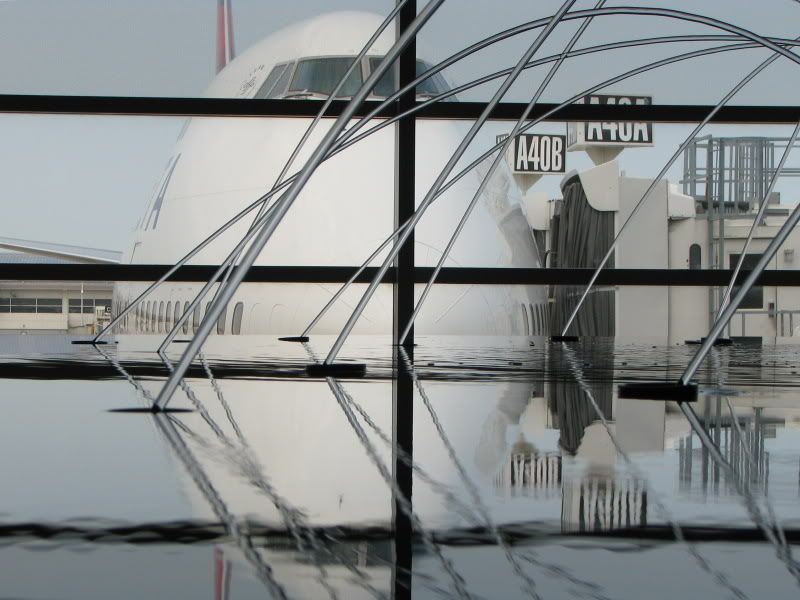 I get the feeling that someone (something?) is watching...




The only complaint I have about Detroit is the terminal windows. Every window in the terminal is completely covered by little black dots. While I understand the reason for the dots, to keep the sun from heating up the glass covered building too badly, it makes it very hard to take pictures of airplanes. The dots don't become visible until you get close to the window, but it's hard to take any decent photographs standing back from the window. So it goes. That just means I get stuck photographing the architecture and indoor mass-transit instead. Not a terrible trade-off.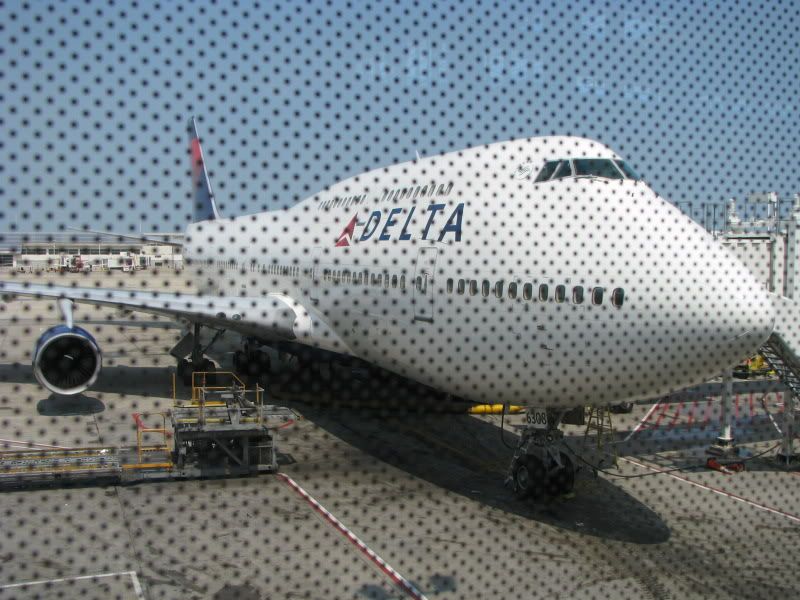 Detroit's infamous dots...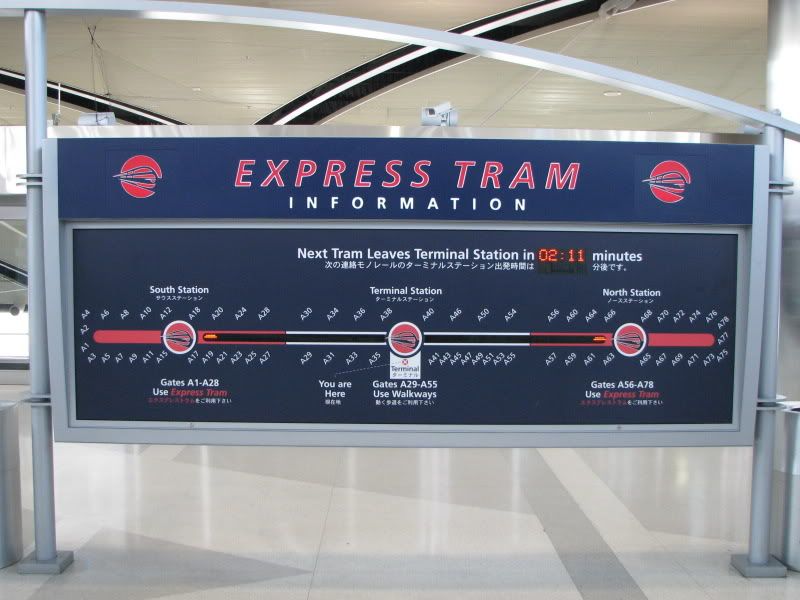 Detroit's multi-lingual tram terminal.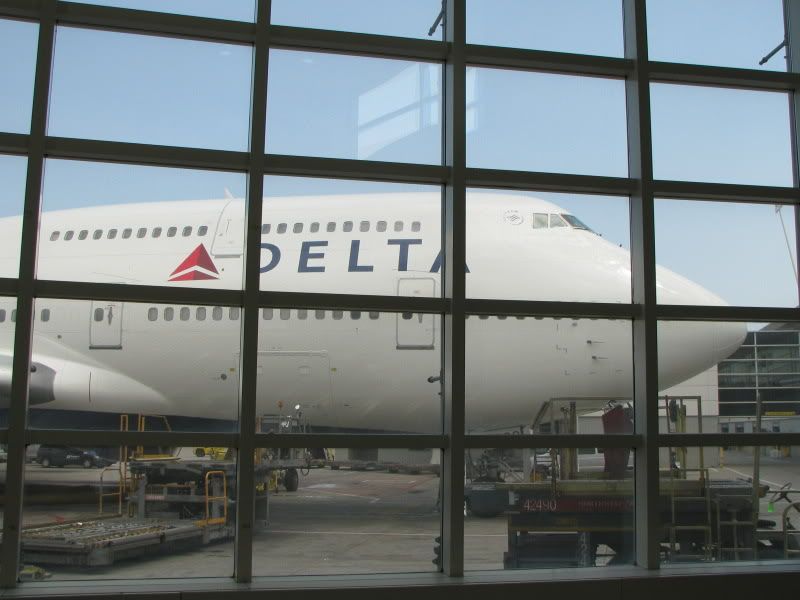 Descending under the ramp next to a 747.



KDTW - KPWM
Flight # MES 3619
Equipment:Bombardier CRJ-900 (N915XJ)
Scheduled Departure: 13:35 Actual Departure: 13:38
Scheduled Arrival: 15:28 Actual Arrival: 15:28

My final leg home to Portland was departing out of the smaller RJ (B/C) concourse which is located parallel to the main terminal building. The architecture in this concourse is much the same as the main terminal, except smaller. The ceilings are lower, the windows are smaller, and the terminal is about half the length. Regardless of size, it was still a nice looking building. The only way to reach this concourse is through an underground tunnel below the ramp. This "tunnel of lights" features a psychedelic mixture of colored lights and nondescript music. On my first escalator ride into the tunnel I found myself totally alone in the echoing and colorful space. I had to double check to see if I was actually in Detroit...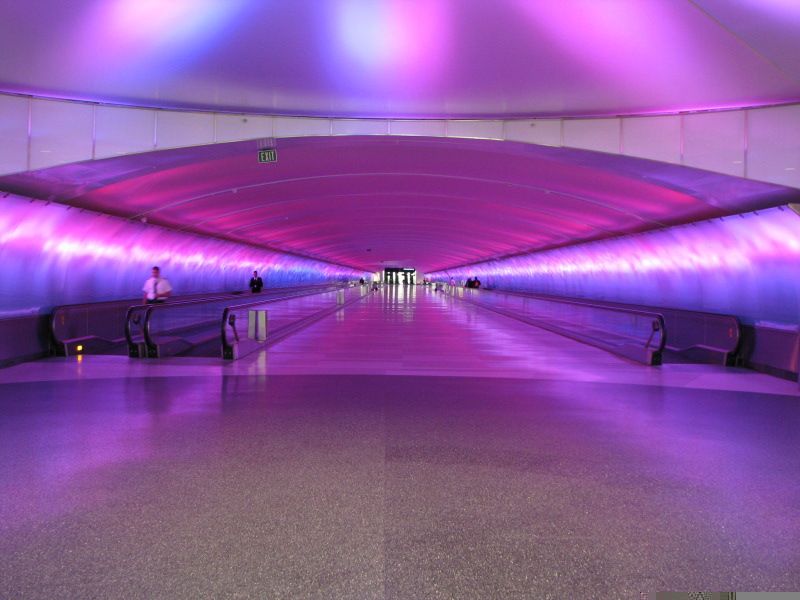 Ooh...trippy...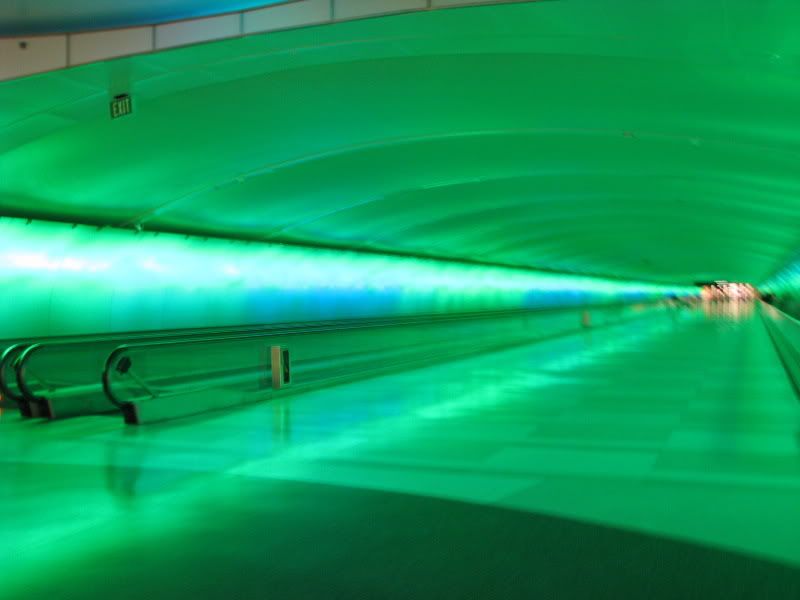 Ooh...trippy as well...



My flight was departing from gate B1. In an epic lack of observation, I assumed that gate B1 would be at the end of the concourse, not the middle where I exited the escelator. It wasn't until I reached gate B-twenty-something at the end of the terminal that I realized I had walked a quarter mile for nothing, and now I needed to walk back.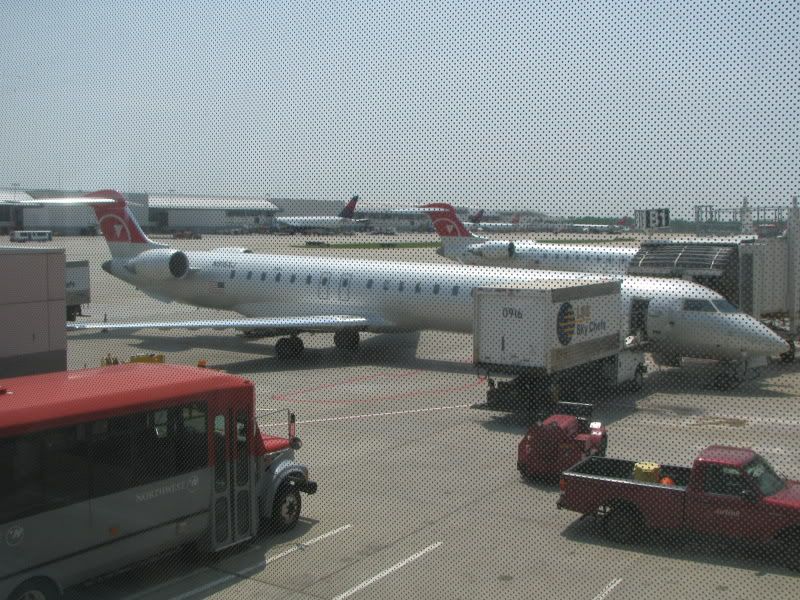 My aircraft resting at the gate (as seen through dots.)



A CRJ-440 was boarding directly across the concourse from my gate heading to Bangor, Maine. There was an oddly high concentration of L.L. Bean merchandise and other outdoor clothing in the gate area that day, especially for being in Detroit.

After a brief wait (I had killed most of my layover riding the tram back and fourth and admiring the architecture in the A concourse) boarding began. The gate agent gave plenty of time for first class/elites to board before calling general boarding for the rest of the aircraft. The electronic scanner was broken this day, so the gate agent was checking and writing down the last names by hand. Despite causing a bit of a line at the gate, everyone managed to get on the plane in a timely manner.

The flight to Portland was full on this day, so I had forked over the $20 when I purchased my ticket for an exit row window seat. The seat pitch was wonderfully generous, and the seat was as comfortable as I've ever experienced in an RJ. (Certainly nothing to write home about, but hey, it's a CRJ so expectations are lower to start with.)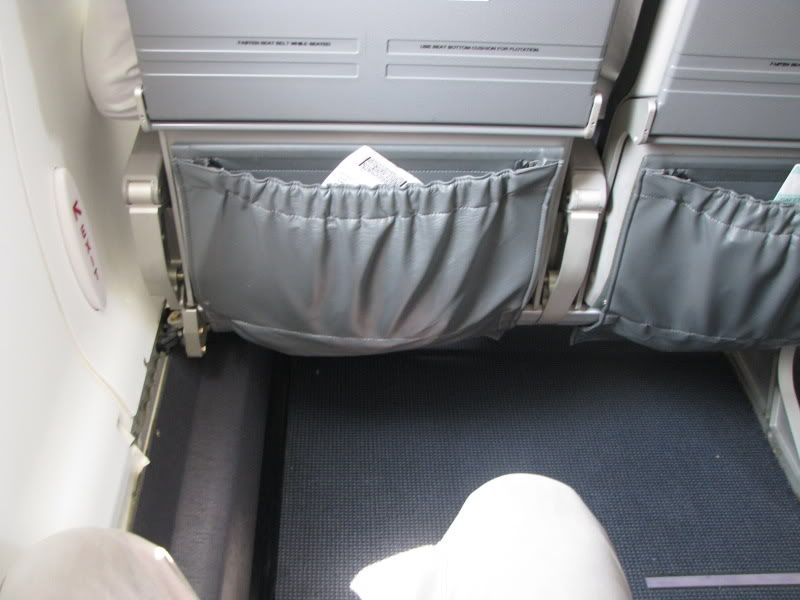 More than enough leg room.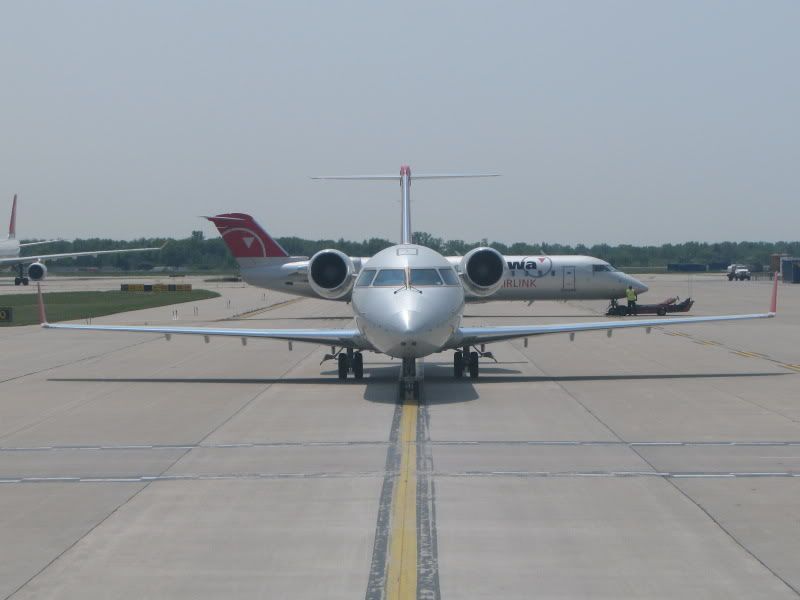 After pushback, staring down another RJ. Note the mini-super-tug on the CRJ in the background.



Before boarding was complete, a man came back from the front of the plane asking if I would like to trade seats so that he could be seated with his wife. While I was contemplating trying to work out a deal with him that didn't involve me giving up my $20 seat, he retracted his request, apparently reading the look of "I don't want to trade seats" off my face. As he walked back forward I was releived I hadn't been persuaded into a trade, as he sat back down in an aisle seat next to a mother with a noisy lap child.

Taxi and takeoff was extremely quick. Climbout and cruise was utterly uneventful. Snack service was exactly the same as all of my previous Delta/NWA flights, featuring soft drinks, juice, water, and/or Biscoff cookies. Before I knew it, we broke through some light clouds and I recognized some landmarks of Southern Maine.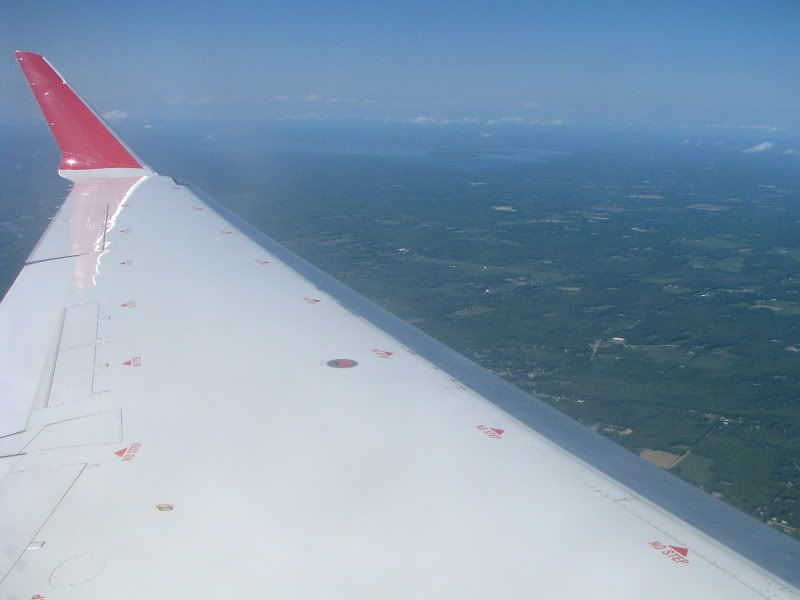 A hazy day over Buxton/Gorham, with Sebago Lake visible in the background.
Cape Elizabeth perhaps, with one of the two lighthouses of "Two Lights Park" in the foreground. Setting up for the Harbor Visual approach to Runway 29.



Established on the Harbor Visual, visible are Little Diamond, Peaks, Cushings, and House Islands.



I will never get tired of flying the Harbor Visual approach. They claim that the approach is for noise abatement around the city, but I almost suspect that it's to give tourists a stunning view of Casco Bay before landing in Portland. Skimming just a few thousand feet over islands and sailboats with the city of Portland just off to the right of the plane, the route is much the same path that scenic charters take when they want to see Casco Bay.





Pulling in to a crowded summer ramp in Portland.



I was surprised by the frequency of control inputs I could feel while we were on approach. Perhaps I'm just used to the straight-in ILS approaches when I'm sitting in the back, but it really felt like the pilots were having some fun and actually flying the plane, instead of sipping coffee and watching the computer. When I deplaned, I inquired to the pilots about how much of the approach they had flown manually. Their first response was "what, could you tell? was it that bad?" but they continued to elaborate, stating that it was easier to fly the non-standard approach without any input from the autopilot. Also, it seems that Portland's Harbor Visual is very non-standard as far as noise abatement goes. Both the captain and first officer commented that Washington National's approach is the only thing like it that they've experienced flying in the US (and that's hardly for noise abatement...)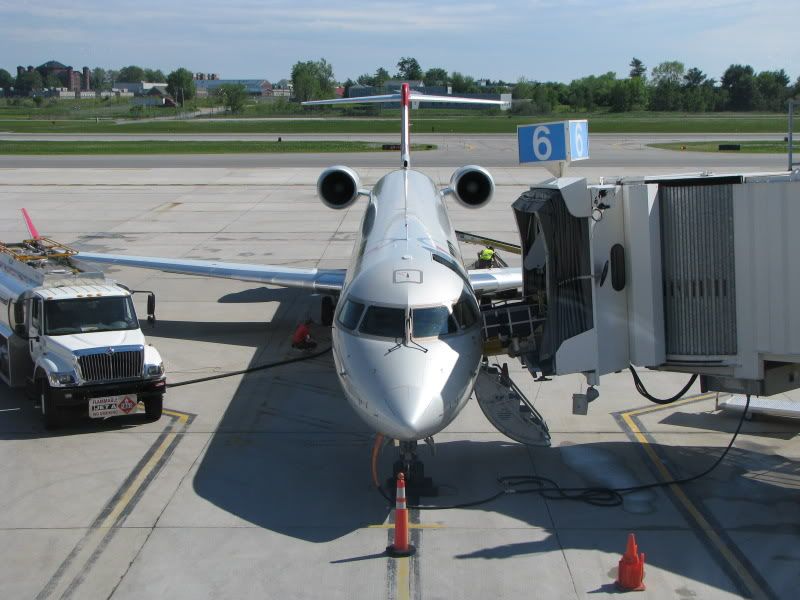 N915XJ parked at the gate at PWM.



And that brings to a close my two weeks of aviation goodness, jetting with jetBlue, flying the red tailed diesel on Northwest, and generally having fun around planes. It's actually taken me longer to write this trip report than I was on the trip, so I hope you've all enjoyed reading it!
Topic: RE: PWM-MCO, STL-MSP-DTW-PWM +NIFA (LONG!)
Username: StarAlliance38
Posted 2009-08-10 13:32:05 and read 30740 times.

very nice trip report and great pics! I'm glad you got a last chance on NW. I am only 400 miles away from a free NW ticket, but I don't fly em anymore, so I'm hoping I can have a quick trip somewhere
.

Great report!
Topic: RE: PWM-MCO, STL-MSP-DTW-PWM +NIFA (LONG!)
Username: Atrude777
Posted 2009-08-10 18:32:57 and read 30513 times.




Thanks for saying Hey! I live right by Williamson County, near MWA Airport.

I am friends with folks from the SIUC Flight Team who competed with you guys I believe.

Great report!

Alex
Topic: RE: PWM-MCO, STL-MSP-DTW-PWM +NIFA (LONG!)
Username: DLHFLYER
Posted 2009-08-10 18:40:08 and read 30513 times.




That would be Saint Paul. It amazes me, you wouldn't think that the city pictured is part of a 3 million person metro, with all the green space. So much urban sprawl in the Twin Cities.
Topic: RE: PWM-MCO, STL-MSP-DTW-PWM +NIFA (LONG!)
Username: PWM2TXLHopper
Posted 2009-08-11 11:13:54 and read 30501 times.

I've seen maybe a half dozen PWM trip reports on here, and I've just got to say, yours had the best quality photo's I've ever seen. Great work!
Topic: RE: PWM-MCO, STL-MSP-DTW-PWM +NIFA (LONG!)
Username: MKP1013
Posted 2009-08-11 19:35:07 and read 30089 times.

Wow - awesome report! Thanks for sharing!
Topic: RE: PWM-MCO, STL-MSP-DTW-PWM +NIFA (LONG!)
Username: KPWMSpotter
Posted 2009-08-12 06:42:16 and read 29972 times.

Thanks for all the comments guys!

I'm surprised that you all took the time to read through this epic... I didn't quite realize how lengthy it was until I read it over after posting... Anyways, glad you all enjoyed it!
Topic: RE: PWM-MCO, STL-MSP-DTW-PWM +NIFA (LONG!)
Username: Res6cue114
Posted 2009-08-25 20:57:44 and read 29385 times.

Nice TR Scooter! Any more pictures of 389 in action? Good luck this year!

-Big Spoon
Topic: RE: PWM-MCO, STL-MSP-DTW-PWM +NIFA (LONG!)
Username: Amritpal
Posted 2009-08-25 22:39:52 and read 29323 times.

Great Report sir. I not only love trains, I am a conductor myself. Working at Canada's biggest railway.
Topic: RE: PWM-MCO, STL-MSP-DTW-PWM +NIFA (LONG!)
Username: WNTex
Posted 2009-08-26 12:37:56 and read 29195 times.

Great TR! I always enjoy them, as they always remind me that I need to get up to Maine sometime to visit and sight-see.



Quoting Amritpal (Reply 10):
The glory of flight is often lost in the boredom of a trans-continental or trans-oceanic flight...it is the short hops, seeing new airports, and experiencing new aircraft that I truly enjoy.


Very well said, I feel the same way.

Thanks for sharing another great trip report with us.

WNTex in AUS
Topic: RE: PWM-MCO, STL-MSP-DTW-PWM +NIFA (LONG!)
Username: CalebWilliams
Posted 2009-08-31 19:14:44 and read 28811 times.





Quoting DLHFLYER (Reply 5):
That would be Saint Paul. It amazes me, you wouldn't think that the city pictured is part of a 3 million person metro, with all the green space.


Very correct: St. Paul with the Mississippi River.

That's the great thing about the MSP area: all the trees. From a hill, looking out at Minneapolis, it's trees all the way to downtown and the rest of the way around.
Topic: RE: PWM-MCO, STL-MSP-DTW-PWM +NIFA (LONG!)
Username: PWMRamper
Posted 2009-09-01 00:13:23 and read 28744 times.

Apparently I hadn't seen this TR.

I love seeing TR's with good old PWM as part of them.

I remember the date you flew out of PWM, as I was working that day down at Gate 2 and was rather confused when the E-190 pulled into Gate 3.
Topic: RE: PWM-MCO, STL-MSP-DTW-PWM +NIFA (LONG!)
Username: Pilotpip
Posted 2009-09-26 18:06:54 and read 27693 times.

I hope my alma mater provided a good event there. I was going to get up there and help but my schedule wouldn't allow it unfortunately.
---
The messages in this discussion express the views of the author of the message, not necessarily the views of Airliners.net or any entity associated with Airliners.net.

Copyright © Lundgren Aerospace. All rights reserved.
http://www.airliners.net/