Print from Airliners.net discussion forum
http://www.airliners.net/aviation-forums/trip_reports/read.main/211262/
Topic: First Trip Report!: AMS-CPH-FRA-AMS (SAS & ICE)
Username: adamspotter
Posted 2012-03-03 09:15:53 and read 9193 times.

Hello everyone and welcome to my very first trip report,

As I've been reading lots of trip reports here, and enjoying every one of them, I thought it is about time to start writing my very own trip reports.. As this is my first report bear with me here, and comments/tips/suggestions are very welcome and much appreciated!

Today's report will cover a day trip that I made on Thursday the 1st of March: AMS-CPH-FRA-AMS. AMS-CPH-FRA with SAS Scandinavian and FRA-AMS with the ICE International train. Today's map: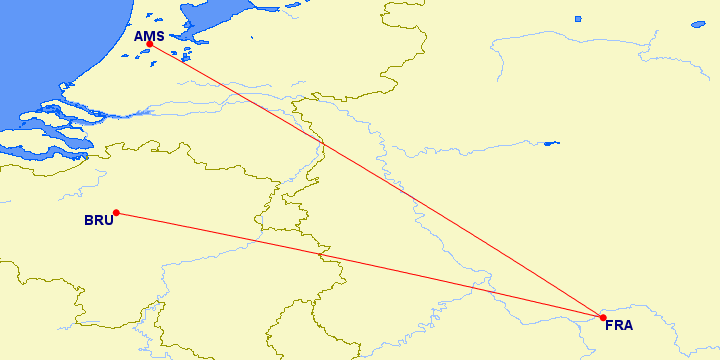 AMS-CPH
SK552 // 23A
MD81 SAS Scandinavian Airlines // SE-DIN
10:25 - 11:30

It all starts in Amsterdam. I live in the west side of Amsterdam. A 10 minute walk will take me right to station Amsterdam Lelylaan:



Upon arriving at a packed Amsterdam Lelylaan station and waiting for the train it occurs to me that I forgot my passport! Stupid me! So a quick walk to the house takes me back at the station just in time to catch the 08:13 train to Hoofddorp via Schiphol airport. It is about a 7 minute ride with the train. With a little delay on the way 12 minutes later I was at the airport exactly 2 hours before my departure time. As I had already did the online check-in the night before all I had to do is go to the self-service kiosk to print my boarding pass:



After printing my boarding pass I headed straight to security. Security was pretty busy with lots of passengers, after the security agent checked my binoculars in my bag I was through security after 10 minutes. I then walked around through the different terminals.

CSA Czech Airlines // OK-LEF to Prague:



Some of the C-gates:



KLM // PH-EZD to Hamburg:



KLM // PH-EZA to Frankfurt:



KLM // PH-EZG to Marseille:



Departure FIDS:



Austrian // OE-LBP nice looking retro jet to Vienna:



Some of the B-gates:



Air France // F-GTAD to Paris CDG:



KLM // PH-BXB to Barcelona:



Gates C21-C26:



Edelweiss // HB-IHY to Zurich:



It was then time to proceed to my gate. Gate for today is C13. Scheduled boarding time was 09:55, I got there at 09:50. After waiting for a while the FIDS showed boarding at 10:05. Boarding finally commenced at 10:15. I was nicely greeted by our Purser. The view from my seat:



This Rossiya antonov taxied by:



Boarding was completed after 10 minutes and we pushed back right on time:



3 BAs at the gates:



It was a very quick taxi to the "Kaagbaan". Starting to roll:



And up we go!:



Straight into the clouds:



Above the clouds, we right away made a right turn:



Leg room was ok considering I am about 2 meters tall!:



Still climbing:



The flight crew consisted of 1 female purser and 2 male stewards. All we heard from the cockpit was a welcome upon boarding and that we we're on our final descent. Nothing about which routing or flight level we we're flying. The flight was pretty full, I would say about 90%. I had a Danish guy sitting next to me. Flight time was announced: 1 hour.

Safety card:



Cloudshop magazine spring 2012:



Scanorama no. 03:



The BOB passed by. I got myself a can of Sprite for 3EUR. Upon opening my table I saw that 1 side was broken. So I had to hold my table up with my knees and couldn't let go of my Sprite as it would then slide off. In front of me there was a dutch guy who asked for a Coca-Cola zero. Upon getting it the steward asked 3EUR. The dutch guy was very surprised about that, saying that it wasn't announced (which was) and asked for the purser. Meanwhile he opened his coke and started drinking out of it. Once the purser arrived she explained that it has been like this for a while now, that she had announced it, but also said that she understood the circumstance as on other airlines you do get something for free. Very professionally done by the purser. In the end the guy gave the coke back.

Cruising:



At this time the Purser started collecting everbodys waste. She stopped half way and walked back, my waste wasn't picked up so I just put it in the seat back pocket in front of me:



Getting closer to the clouds:



Through the clouds:



Under the clouds, over the water into final descent:



Nice rays of sunshine:



Almost there:



Only 1 DHL A300 at the cargo apron:



And touchdown!:



SAS A340 Star Alliance scheme at the gate:



Taxiing to gate B9:



Upon deplaning I decided to go landside for a bit to check that out. First through the baggage claim area. I changed 15 EUR at the exchange desk and got 75DKK back for it instead of 111DKK. Don't know why actually must be tax or something like that:



Check-in information FIDS Terminal 3:



I went to the Burger King but as there was a very long line there I decided not to wait and eat airside. As there wasn't much more to do I decided to head back through security:



SAS MadDog Star Alliance scheme with Thai Airways 747 and SAS A340 in the background:



Icelandair // TF-FIX to Keflavik:



Got these 2 slices of cheese pizza with a bottle of sprite for 75DKK. Pretty expensive as it would be 15 euro. They were a little on the cold side:



This is my plane to Frankfurt: SAS // OY-KBP with SAS // OY-KFH behind it:



SAS // OY-KFF with Finnair // OH-LVC behind it:



Departure FIDS: Gate B2 for me later:



Lufthansa // D-AIDJ to Frankfurt:



Finnair // OH-LVC to Helsinki:



Sterling // OY-MRH with Cimber Air // OY-RJF:



Some A-gates:



My Boarding Pass:



SAS // OY-KFF:



The very inspiring F-gates:



Emirates had just arrived:



Some D-gates:



CPH-FRA
SK675 // 20F
A319 SAS Scandinavian Airlines // OY-KBP
14:45 – 15:55

I then proceeded to my gate, gate B2. Boarding commenced at 14:20. I was one of the last ones to board. No greeting from the Purser as he was busy talking to the pilots. I made my way to seat 20F. It was a very light load, I would say about 40% full. Had the seat next to me empty and 1 guy sitting in the aisle seat. Flight crew consisted of 1 male Purser and 2 female Flight Attendants. Nice greeting from the flight deck, scheduled flying time was 1h15min at a cruise level of 39,000 feet. Safety Demo was played twice on the overhead screens, when it started a third time the Purser finally shut it off.

View from my seat:



Pushback:



Nice looking Blue1 // OH-BLH:



Vueling // EC-JFG taxiing to its gate:



Starting to roll:



City of Copenhagen:



Through the clouds:



Safety card:
Posted 2012-03-03 09:21:13 and read 9188 times.


Cloudshop catalogue:



This plane had the old Scanorama magazine no. 2:
IMG]http://i1068.photobucket.com/albums/u441/bjb020/DSC00144.jpg[/IMG]

Then the BOB passed by, I got myself a can of Sprite for 3EUR, This was the only time we saw the flight crew except when they grabbed all the garbage before arrival:



Had a very scratchy window:



Leg room shot:



From the beginning of our descent the screens showed arrival/transfer information. When looking at it I saw that it showed the old information from the leg before us (FRA-CPH):



Starting our descent:



Following us down:



Through the clouds:



And touchdown!:



Lufthansa cargo terminal export center:



It was a long taxi to the remote stand:



Then this big boy taxied by:



Our plane as we deboarded:



From our remote stand we took a bus to the arrivals hall. On our way we drove past a lot of heavies. Upon arriving I went straight through the baggage claim and was landside. I first decided to go check where the international train terminal was, as I have been here once before but didn't remember. After a long walk I arrived at the train terminal. As I had 2.5 hours to spare I decided to go visit the Besucherterrase . As I didn't really remember where it was I spent quite a lot of time looking for it in terminal 1, it then finally occurred to me that I had to be at terminal 2. So I took the skyline to terminal 2. When arriving I saw that the besucherterrase was closed in the winter, didn't know that. What a bummer. So instead ate at the McDonalds and went back to terminal 1.

Nice and busy outside terminal 1:



Part of check-in area terminal 1:



Departure FIDS:



To the skyline it was:



Had a nice McRib menu:



Besucherterrase closed:



I then decided to just sit/walk around and wait at the international train terminal. It looked very nice:



My train will arrive 5 minutes late:



Down to the platform:



ICE International // 1st class
Seat 31
19:43 – 23:25

There it is:



Sitting in first class was very relaxing. Nice chairs, good legroom. A waiter also stopped by to take any orders. I ordered myself a coke, which he later brought with a nice glass. Before arriving to Koln it was announced that due to a technical problem we had to change trains in Koln.

Bottle of coke with a nice glass:



Nice leg room:



ICE International menu:



ICE magazine:



This kept me busy most of the ride as it was dark outside:



Almost there!:



My seat upon arrival:



It was then off to platform 14 where my train to Amsterdam Lelylaan would depart, a 10 minute train ride and a 10 minute walk and I was back home:



I'm a person who doesn't easily complain. SAS got me everywhere on time so I would definitely fly them again. I can understand that some people wouldn't appreciate certain things that happened on my flights. So this was my first trip report, I hope you guys enjoyed it as much as I enjoyed making it. Comments/tips are very welcome and appreciated!

Cheers,
Adamspotter // Brendan
Topic: RE: First Trip Report!: AMS-CPH-FRA-AMS (SAS & ICE)
Username: win1290
Posted 2012-03-03 10:32:05 and read 9003 times.

Hi Brendan,

Very nice report and great pictures!!! Seems like a very nice day out. Airports look very clean and I like the brightness of the SAS cabin. Thanks for sharing.

Win
Topic: RE: First Trip Report!: AMS-CPH-FRA-AMS (SAS & ICE)
Username: deltamartin
Posted 2012-03-03 10:34:58 and read 8995 times.

Hi Brendan!

Nice report, especially for being your first one!
Good to see that you enjoyed your flights with my home airline, your summary of them in the end pretty much sums up what I think of them as well. With the recent re-introduction of free coffee, tea and water for economy class passengers, I think they have taken another step in distinguish themselves from the low cost carriers.
I'm looking forward to reading more stories from you!

Martin
Topic: RE: First Trip Report!: AMS-CPH-FRA-AMS (SAS & ICE)
Username: ozzietukker
Posted 2012-03-03 10:56:17 and read 8934 times.

Good first report, nice pictures. Although I am not so impressed with the service of SAS, I know they have the BOB principe, but the prices seems to me a bit high.
Copenhagen Airport looks nice, good thing I will be there at least 2 times this year for my upcoming trips.

One advise, when you want to exchange money in the Western European country's you have to pay a commission with a minimum amount on top of a ridiculously exchange rate. You better of using an ATM, even if you have to pay 2,25 transaction costs, of open an account where you don't get charged this transaction cost.
Topic: RE: First Trip Report!: AMS-CPH-FRA-AMS (SAS & ICE)
Username: adamspotter
Posted 2012-03-03 10:56:38 and read 8934 times.

Quoting win1290 (Reply 2):
Very nice report and great pictures!!! Seems like a very nice day out. Airports look very clean and I like the brightness of the SAS cabin. Thanks for sharing.


Hi there, Thank you! Yes it sure was a very nice day out.



Quoting deltamartin (Reply 3):
Nice report, especially for being your first one!
Good to see that you enjoyed your flights with my home airline, your summary of them in the end pretty much sums up what I think of them as well. With the recent re-introduction of free coffee, tea and water for economy class passengers, I think they have taken another step in distinguish themselves from the low cost carriers.
I'm looking forward to reading more stories from you!


Hi Martin, Thank you very much! Sure did enjoy the flights and yes that sure is another nice step made by SAS, very true.

cheers,
adamspotter // Brendan
Topic: RE: First Trip Report!: AMS-CPH-FRA-AMS (SAS & ICE)
Username: adamspotter
Posted 2012-03-03 11:02:32 and read 8916 times.

Quoting ozzietukker (Reply 4):
Good first report, nice pictures. Although I am not so impressed with the service of SAS, I know they have the BOB principe, but the prices seems to me a bit high.
Copenhagen Airport looks nice, good thing I will be there at least 2 times this year for my upcoming trips.


Thanks! Yeah I can see that 3EUR is pretty high for a can of soda. Yeah CPH was very nice to walk around with some nice shops, just wished it was a bit busier air traffic wise..



Quoting adamspotter (Reply 5):
One advise, when you want to exchange money in the Western European country's you have to pay a commission with a minimum amount on top of a ridiculously exchange rate. You better of using an ATM, even if you have to pay 2,25 transaction costs, of open an account where you don't get charged this transaction cost.


Thanks for the advise, didn't know that. Nice to now for the future!

cheers,
adamspotter // Brendan
Topic: RE: First Trip Report!: AMS-CPH-FRA-AMS (SAS & ICE)
Username: airbuseric
Posted 2012-03-03 15:20:17 and read 8594 times.

Hoi Brendan,

welcome to you being a new tripreporter. Good to know one more from AMS
Just make sure to fly more and you won't forget your passport anymore.

Actually we must have just missed eachother, and I don't know you personally so we would've missed anyway, but I was at AMS at the same time as you were, also starting a trip on 01 March with another member from Sweden. We flew out on BA to London and took off from runway 24. Did you get a picture of BA planes taking off at that time?

All SK MD80's are now MD-82 iirc, no -81's anymore in the fleet. But overall they offer a competitive product for usual good fares too, so I like SK and also the equipment they operate. Legroom on the 737's is bad though.

Good to have drink service on the ICE, but it was not free of charge afaik? At least they bring it to your seat. Thalys in 1st is much, much better though. But more expensive too, usually.

Regards
Eric
Topic: RE: First Trip Report!: AMS-CPH-FRA-AMS (SAS & ICE)
Username: adamspotter
Posted 2012-03-03 16:38:54 and read 8487 times.

Quoting airbuseric (Reply 7):
welcome to you being a new tripreporter. Good to know one more from AMS Just make sure to fly more and you won't forget your passport anymore.


Hoi Eric, Thank you! Sure will be doing a lot more flying so hopefully won't forget my passport again
Quoting airbuseric (Reply 7):
We flew out on BA to London and took off from runway 24. Did you get a picture of BA planes taking off at that time?


No didn't get a picture of that, sorry. Only of those 3 BA planes at the gate (not very good quality)



Quoting airbuseric (Reply 7):
All SK MD80's are now MD-82 iirc, no -81's anymore in the fleet. But overall they offer a competitive product for usual good fares too, so I like SK and also the equipment they operate. Legroom on the 737's is bad though.


MD-82 my bad. Yeah, sure gonna fly more SAS, good fares, but gonna avoid the 737s then as I am 2 meters tall!



Quoting airbuseric (Reply 7):
Good to have drink service on the ICE, but it was not free of charge afaik? At least they bring it to your seat. Thalys in 1st is much, much better though. But more expensive too, usually.


This fare was 69EUR not so bad I think. No it wasn't free of charge, it was 2.50/3.00EUR, also pricey. Gonna have to try the Thalys some time soon!

cheers,
adamspotter // Brendan
Topic: RE: First Trip Report!: AMS-CPH-FRA-AMS (SAS & ICE)
Username: PlaneHunter
Posted 2012-03-03 23:24:16 and read 8227 times.

Hi Brendan,

very nice first report, welcome to the forum!



Quoting adamspotter (Thread starter):
As I've been reading lots of trip reports here, and enjoying every one of them, I thought it is about time to start writing my very own trip reports..


Good decision!



Quoting adamspotter (Thread starter):
As this is my first report bear with me here, and comments/tips/suggestions are very welcome and much appreciated!


Just one issue - try to reduce the number of pictures by selecting the best ones. If you have the same motif from similar perspectives several times, take the best one. Not every user has an ultra-fast Internet connection, loading times are still an issue.



Quoting adamspotter (Thread starter):
Got these 2 slices of cheese pizza with a bottle of sprite for 75DKK. Pretty expensive as it would be 15 euro.


What a rip-off!


That's overpriced! 2,50 Euro would be enough.


Nice, I enjoyed reading that one, too.


PH
Topic: RE: First Trip Report!: AMS-CPH-FRA-AMS (SAS & ICE)
Username: CaptainRed
Posted 2012-03-04 04:08:22 and read 8018 times.

Hi Brendan,

nice first trip report, welcome to the forum. Two nice flights with SK. Having just been to AMS yesterday a lot of it looks very familiar for me.



Quoting adamspotter (Thread starter):
Got these 2 slices of cheese pizza with a bottle of sprite for 75DKK. Pretty expensive as it would be 15 euro. They were a little on the cold side:


I have eaten at that place as well last year, I was lucky that they had an offer back then with the second piece for free or something. That made the price quite reasonable, otherwise it is definitely too expensive. But then this is Denmark.


Looks like you have landed on the new runway which gives you quite long taxi times.


Yes, FRA is always good for a lot of heavies.



Quoting adamspotter (Thread starter):
As I didn't really remember where it was I spent quite a lot of time looking for it in terminal 1, it then finally occurred to me that I had to be at terminal 2.


Actually it used to be in terminal 1 quite some time ago. Was very nice then you could have gotten pretty close to the action. the one at terminal 2 isn't that nice but at least something. Too bad it was closed but the views from the food court aren't bad either.

Thanks for sharing your trip, hopefully we will be reading more from you in the future


CaptainRed
Topic: RE: First Trip Report!: AMS-CPH-FRA-AMS (SAS & ICE)
Username: adamspotter
Posted 2012-03-04 11:06:27 and read 7735 times.


Hi there, thank you!



Quoting PlaneHunter (Reply 9):
Just one issue - try to reduce the number of pictures by selecting the best ones. If you have the same motif from similar perspectives several times, take the best one. Not every user has an ultra-fast Internet connection, loading times are still an issue.


Thanks for the advice, will consider that on my next trip report.


Yes it sure was but I was very hungry at that moment.



Quoting CaptainRed (Reply 10):
nice first trip report, welcome to the forum. Two nice flights with SK. Having just been to AMS yesterday a lot of it looks very familiar for me.


Hi CaptainRed, Thank you!



Quoting CaptainRed (Reply 10):
Looks like you have landed on the new runway which gives you quite long taxi times.


Yes, we landed on the new runway indeed



Quoting CaptainRed (Reply 10):
Actually it used to be in terminal 1 quite some time ago. Was very nice then you could have gotten pretty close to the action. the one at terminal 2 isn't that nice but at least something. Too bad it was closed but the views from the food court aren't bad either.


Too bad the one in Terminal 1 isn't there anymore, and yes enjoyed some nice take-offs while eating my McRib

cheers,
adamspotter // Brendan
Topic: RE: First Trip Report!: AMS-CPH-FRA-AMS (SAS & ICE)
Username: MSS658
Posted 2012-03-05 13:11:28 and read 7419 times.

Hi

Great first trip report, enjoyed the read!
Nice to see the added train part on it! Have tooken the FRA-BRU ICE as well, quite a comfortable ride!

Greetings
Marc
Topic: RE: First Trip Report!: AMS-CPH-FRA-AMS (SAS & ICE)
Username: adamspotter
Posted 2012-03-05 13:32:49 and read 7406 times.

Quoting MSS658 (Reply 12):
Hi

Great first trip report, enjoyed the read!
Nice to see the added train part on it! Have tooken the FRA-BRU ICE as well, quite a comfortable ride!

Greetings
Marc


Hi Marc, thanks! Yes, ICE sure are nice comfortable rides.

cheers,
adamspotter // Brendan
---
The messages in this discussion express the views of the author of the message, not necessarily the views of Airliners.net or any entity associated with Airliners.net.

Copyright © Lundgren Aerospace. All rights reserved.
http://www.airliners.net/