Topic: Paying The Piper: A Mini-TR
Username: Tigerguy
Posted 2012-05-12 06:50:47 and read 4519 times.

An ad for the DC-8 in Life magazine (April 1, 1957):

What will it be like to fly in a jet?

Your first jet flight will add a most meaningful dimension to your life—a new measurement of time and space.

You settle in your deep, soft seat in the graceful plane with the swept-back wings.

A short, swift run—and you are airborne. The nose points up eagerly and the earth drops away below you.

You climb steadily, serenely, quietly. The muted sound of the jets falls quickly behind, for in the DC-8 you move almost as fast as the speed of sound itself.

The splendor of the stratosphere

Up you go—up, up beyond the limits of today's planes. Up seven miles from the earth, and now almost eight.

You level off in the stratosphere. And even though the DC-8 puts half a mile behind you with every breath you draw, you feel no sensation of speed or flight.

Just outside your window the temperature in the thin air is 60 degrees below zero. But the air in the cabin has the soft touch of a June day, fresh and sweet and comfortable.

The view of the earth moving lazily and distantly below is exhilarating, with glimpses of fields and towns and mountains in miniature, or silver stretches of the seas.

Up this high, too high for the longest fingers of weather to touch you, you sense a tranquility, a detached peacefulness, a freedom of spirit. You share a feeling of majesty with the sun and moon, often seen hanging in the sky together.

During the day, the sky is an ocean of shining blue. In the evening, the blue deepens into dark velvet. The moon sends forth its milky light. The stars loom larger and brighter, and you are enthralled by the ghostly radiance of the night sky.

Witness to a miracle

Now, almost unnoticeably, you are descending from your secret corner of the sky—down to earth again.

On the ground, you realize how far you've come in how short a time. Realize, too, that you have witnessed—and even played a part in—one of the miracles of our age…the miracle of commercial jet flight through the stratosphere to distant places; so swift, so convenient, so beautiful and rewarding as to leave all other ways of travel in its wake forevermore.

…

If you've read some of my earlier trip reports, then the above should be a familiar sight. But it doesn't totally apply for this one. My plane was neither graceful nor quiet. Somewhere, there was a balding middle-aged man in a Ferrari traveling faster than we were. Instead of evading the longest fingers of weather, we were at the whim of its broad hands, hoping they would allow us to pass. Nevertheless, I still witnessed and played a part in a miracle, beautiful and rewarding…

Greetings, fellow A.netters, and welcome to a mini trip report by yours truly! This is not the kind of report that will feature an exotic destination, a dramatic story, or state-of-the-art engineering and comfort. Instead, it's just me sharing a simple experience that I hope all of you get to have at least once. But first, a few words about how I got the opportunity in the first place.

I take you back to the morning of Sunday, April 8. I was at my church's Easter breakfast, and somehow I got to talking about my aviation interests with the people at the table. It's not something that everybody knew, and I hadn't talked about it a whole lot up to that point. At any rate, that word apparently got around to a man who was the typical "Easter and Christmas" attendee. He said that he heard about my interest and told me a series of very interesting things: he was a pilot, he had a plane, and he offered to take me up in it.


I had no idea that he was a pilot, which briefly left me surprised. I put that aside and quickly accepted the offer. Over the next few weeks, we waited for schedules and weather to align. Sooner than I expected, that date arrived. This is what transpired:

Sunday, April 29, 2012

Incidentally, this would be my second flight for the day. Just over three hours earlier, I completed a DEN-OKC segment on a CRJ-200. Don't worry, you'll read all about that in due time…

We arranged to meet at Guthrie-Edmond Regional Airport (KGOK), where his plane was stored. Once he arrived, we got in his truck and drove to the hangar. He undid the padlock and slid back the doors to reveal his aircraft:




He owns a Piper Cherokee Six manufactured in 1969. Specifically, it's a PA-32-300, construction number 32-40758. He has used the six-seater for leisure flights and family vacations alike. Mostly, though, he enjoys it for the calming experience it provides, something I would see firsthand in a few short minutes.

I helped him push the plane out of the hangar so he could check it over…




Though the bird was dusty and covered with splattered bugs, it was still my gateway to the good life, if only for an afternoon. We went over a few bits of safety information before climbing in. I found myself before the right-side controls:




Note the rudder pedals, which I made sure to not use as footrests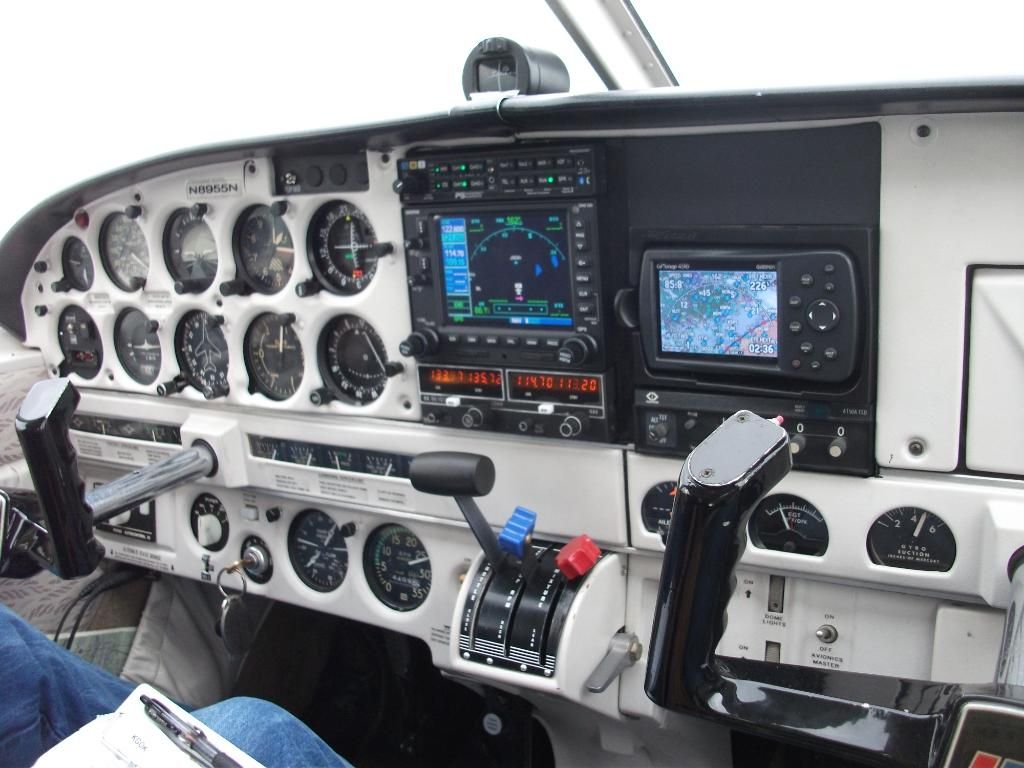 I made a few videos for your viewing pleasure; this is one as we took off for the first time: Takeoff video

Suddenly, I was in the air for the first time in a single-engine plane.

Here's what we saw as we puttered about:



The western edge of Guthrie, OK; the Cimarron River is also visible here and in a few other shots



The rest of the cabin; it looks like it could be reasonably comfortable over longer distances



As you can see, the cloud cover was a little bit of an issue. As such, we hung around below them looking for an opening to climb through. Nothing opened up, so he made a few demonstrations before setting us back down. A few twists and turns and a touch-and-go later, he put the Piper on the ground.

Touch-and-go video
Landing video

Not wanting to throw the afternoon in the toilet, we decided to wait a while to see if the clouds moved on. In the meantime, we talked about his experiences with the plane. The farthest he's gone was to the Grand Canyon for a family vacation. The biggest airport he landed at was Houston-Hobby; he remarked about how challenging it was due to the traffic and the intersecting runways.

After a little bit of chewing the fat, he checked the radar on a nearby computer. It appeared as if the clouds were indeed breaking up a bit, and a peek through the door seemed to confirm it. We went back to the plane and took off once more.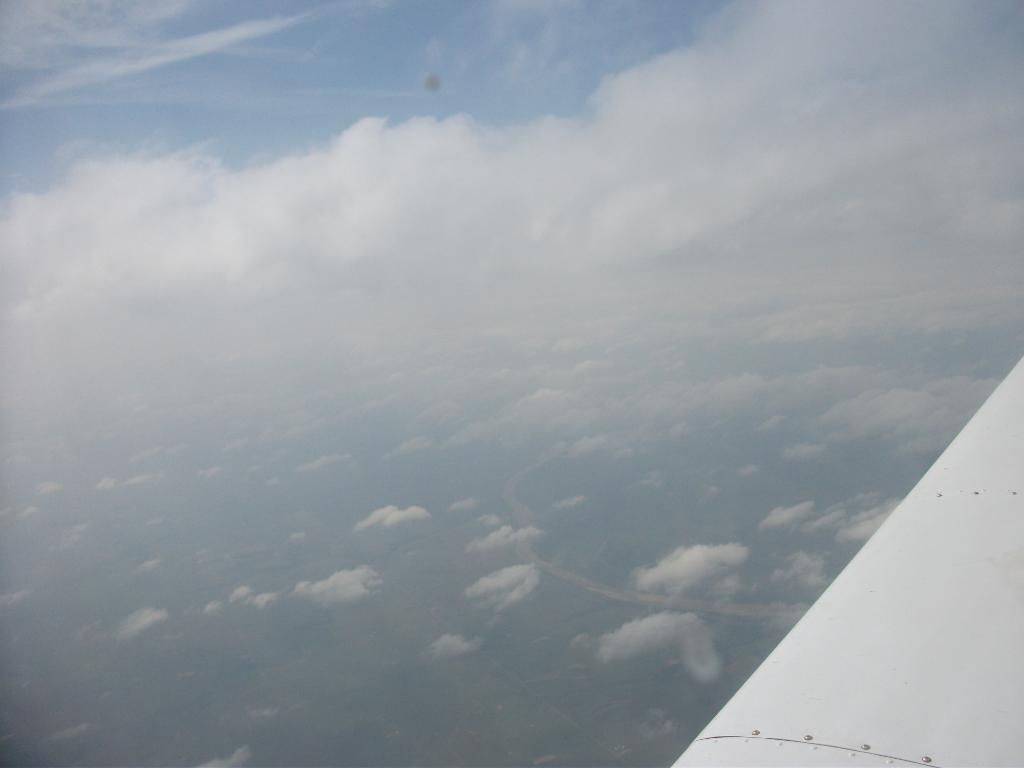 This time, we were able to get above 10,000 feet. The view was simply amazing, as you will see. The land serenely passing below, the puffy clouds here, there, and everywhere, and the occasional hunk of aluminum leaving contrails seemingly within arm's reach.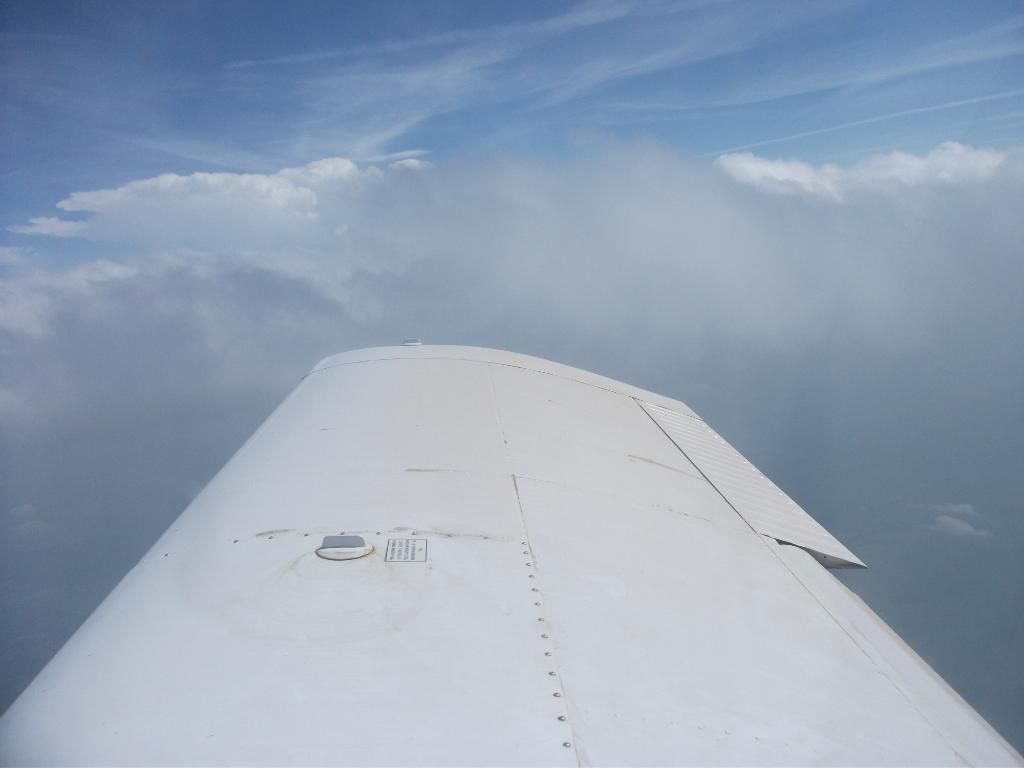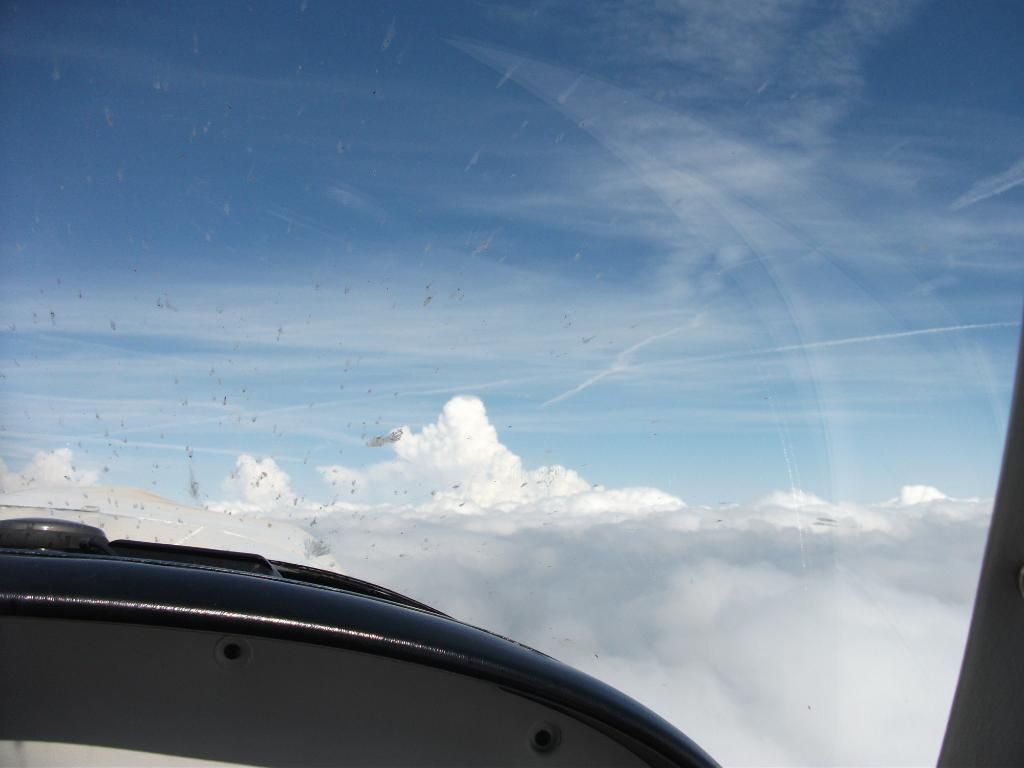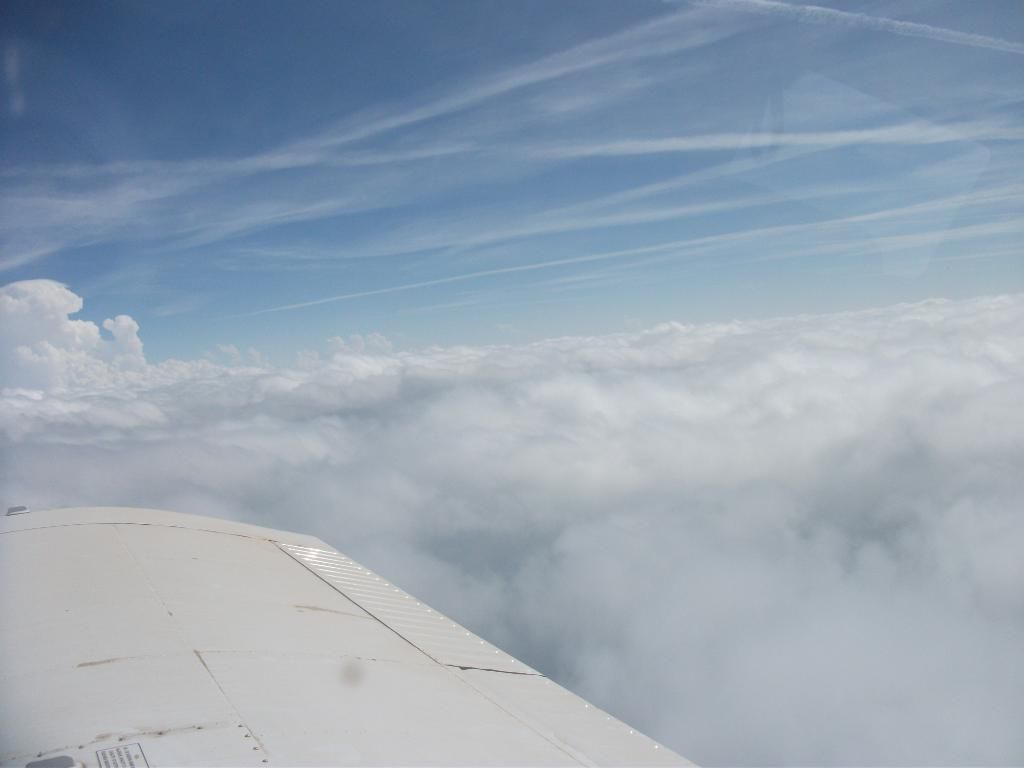 After a few minutes at altitude, he asked if I wanted to take the controls.
Needless to say, I quickly stifled my excitement and put my focus on not killing us. Per his instruction, I made some turns here and there. I was a bit surprised at how responsive the controls were. It was pretty easy to keep steady. After a few minutes of peaceful flying, he retook the controls so we could come in for a safe landing.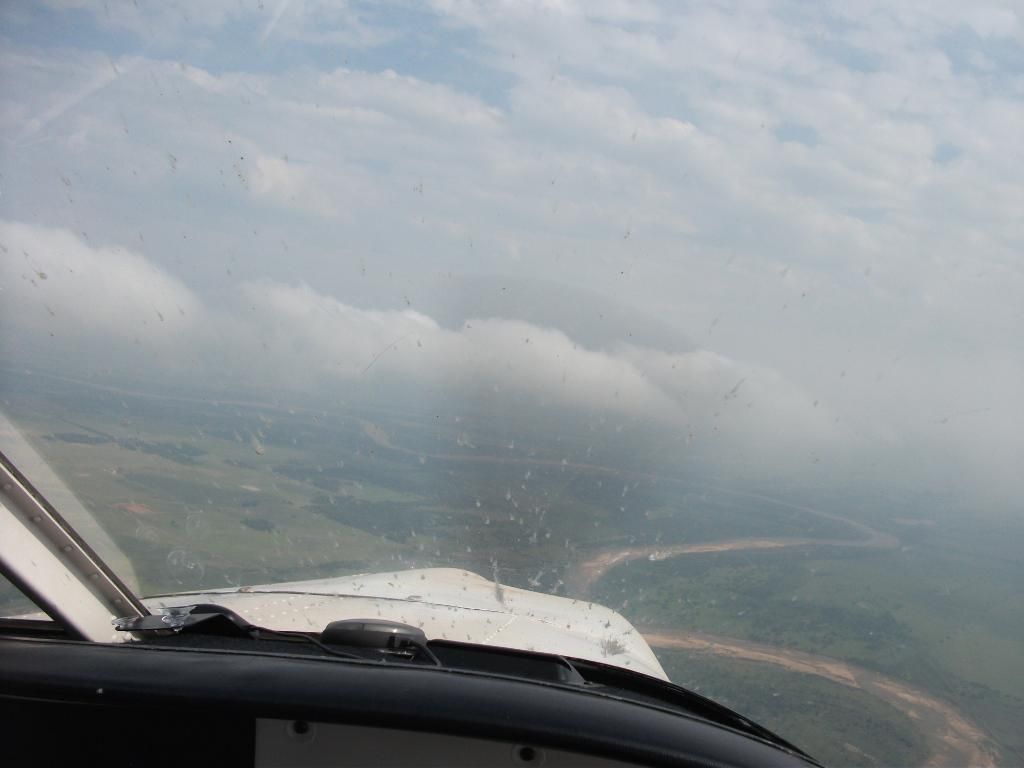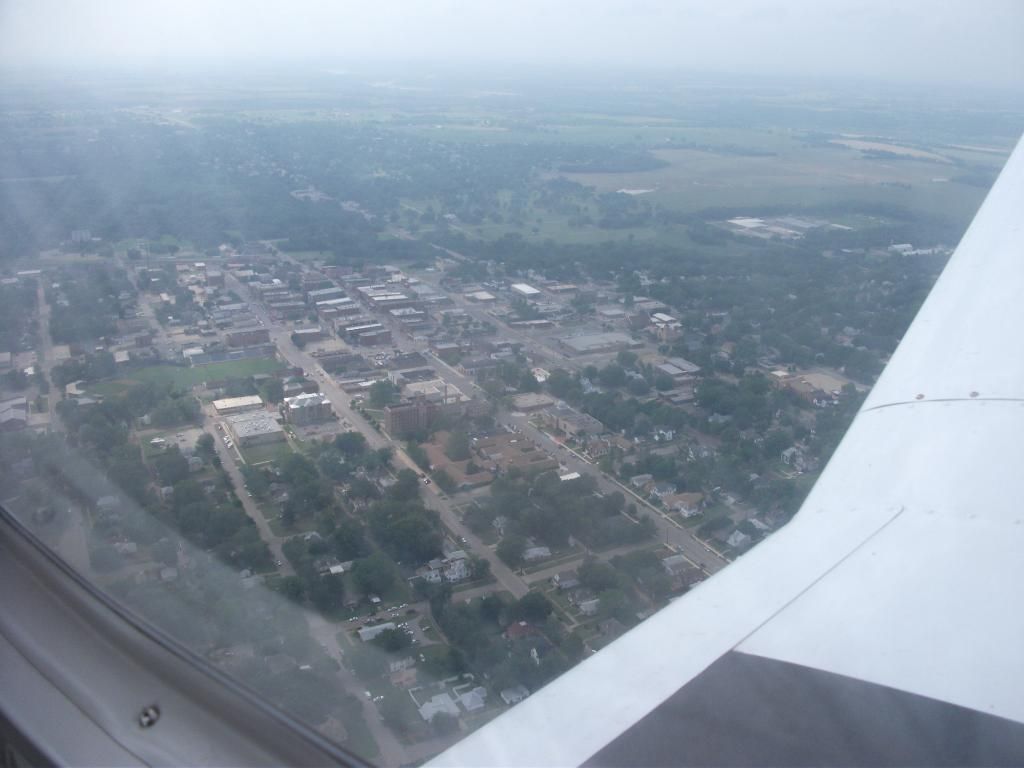 And just like that, it was all over. We taxied back to the hangar and he pushed the plane back in. The doors slid shut and the Cherokee was hidden from the world once again. Before we left, he told me what to expect if I wanted to pursue a license. In short, time and money.
But he got after it at his own pace. He took the plunge when it was affordable and when he was ready to move forward.

The usual parting words were had, and we went our separate ways. So that was my little experience in a little plane. Outwardly, it may not look like much. Heck, I don't even know if we left the confines of Logan County. If we did, it wasn't for long. All I know is that it was one hell of an experience, made all the more special by the fact that it came out of the blue.

So, I say it again: if you have the opportunity to go up in a small plane, take it. It's a sure way to be up close and personal with your secret little corner of the sky.

Thanks for coming along for the short ride. Stay tuned for my next exciting adventure, whenever that is!

Tigerguy's Tales:

The Top Ten (Leg 1/7): Texas Two-Step Featuring: DFW, IAH
The Top Ten (Leg 2/7): How To Book a Guilt-Free Trip Featuring: LAS, with SLC
The Top Ten (Leg 3/7): Masochism for Dummies Featuring: ORD, JFK, ATL, with LGA
The Top Ten (Leg 4/7): Phoenix Rising Featuring: DEN (A/C), PHX
The Top Ten (Leg 5/7): Dash to the Rockies Featuring: DEN (B)
The Top Ten (Leg 6/7): SoCal Featuring: LAX
The Top Ten (Leg 7/7): NorCal Featuring: SFO
Jet Be Nimble, Jet Be Quick! – A DC-9 Story
The Pacific Northwest, D.B. Cooper, and Me