Print from Airliners.net discussion forum
http://www.airliners.net/aviation-forums/trip_reports/read.main/230381/
Topic: Blue Islands JER-MAN November 2012
Username: Carfield
Posted 2012-12-01 18:18:36 and read 7619 times.

Blue Islands Trip Report



So what is Blue Islands? It is basically a relatively new regional airline based in the Channel Islands. It has a small fleet of Jetstream 32s and ATR 42s, and its main operating bases are Guernsey Airport and Jersey Airport. It flies to various UK and European cities. It was founded in 1999 and within the past decade, it has expanded to various major cities in the UK, as well as Geneva and Zurich in Switzerland, as well as Amsterdam. There is an older regional airline based in the Channel Islands, called Aurigny Air Services, but seems to concentrate in Guernsey Airport. Blue Islands sells itself as a premium regional airline with no baggage fee, free seat assignment, lounge at Jersey Airport, and complimentary drinks and refreshments. I read about it in the UK aviation magazine, "Airliner World," and decide to give it a try during this Thanksgiving European trip. After going through various scenarios, I settled on flying its daily flight from Jersey to Manchester. I redeem some Avios points for a BA flight from Manchester to Jersey via Gatwick, which I will not discuss, as we are all familiar with BA's Boeing 737-400s.

Booking:
Blue Islands has a really basic website with all the schedules listed and booking through its website is straightforward and an electronic ticket is sent to me shortly after my purchase. There is no advanced seat assignment – paid or complimentary.

Entrance to Jersey International Airport:



November 25, 2012
SI 503 JER-MAN Lv1140 Arr1310 ATR42-300 G-ZEBS

Check-in:
Jersey airport is no really busy on this Sunday late morning, and British Airways' flight was already at its final boarding stage, and the next bank of flights would not depart till a few hours later. Blue Islands has two dedicated check-in counters, and after a couple checked in, I was helped next. The agent was very friendly and when I asked about seat assignment, she told me that the load was very light this morning, and she would give two seats to me. I was assigned 4F. It was a very pleasant experience. Boarding pass was printed in a cheap supermarket type receipt, which was disappointing, but not unexpected. There is no self-service kiosk.




Jersey airport has a relatively compact terminal, and similar to most UK airports, the World Duty Free shop occupies the most space and you are forced to walk through it on the way to the gates, as well as the viewing gallery. Thanks for free wifi and I discovered from foursquare that Jersey airport has a very nice viewing gallery. It is a nice seating area with views of the runway and the apron.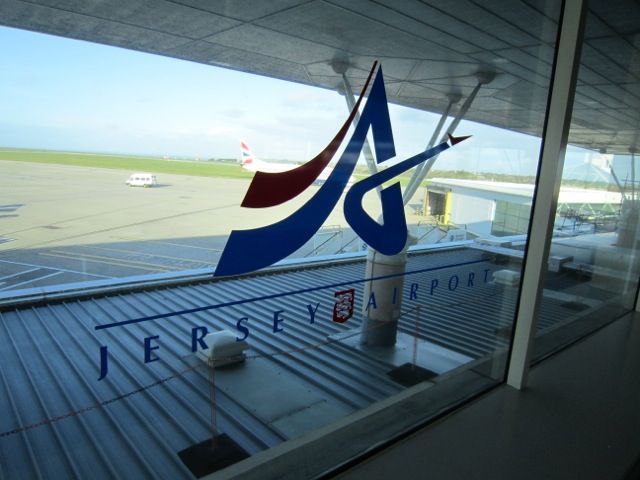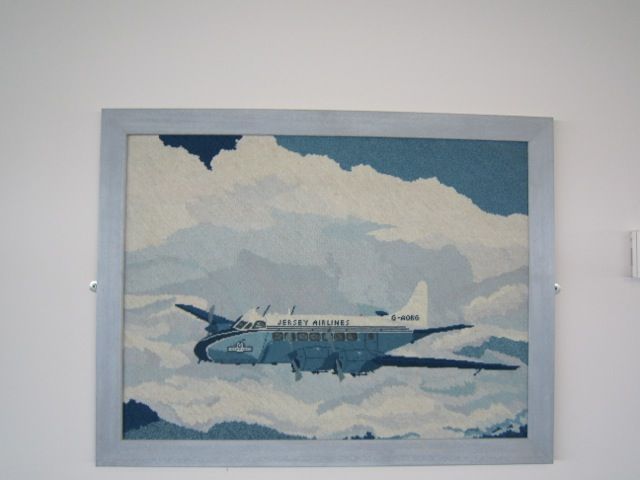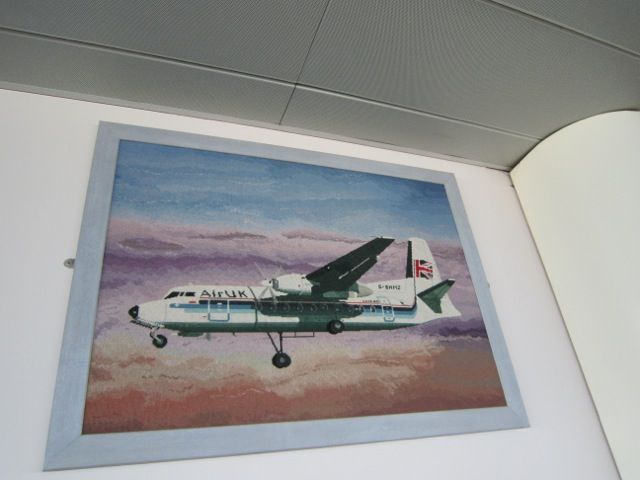 Arrival and departure for Sundays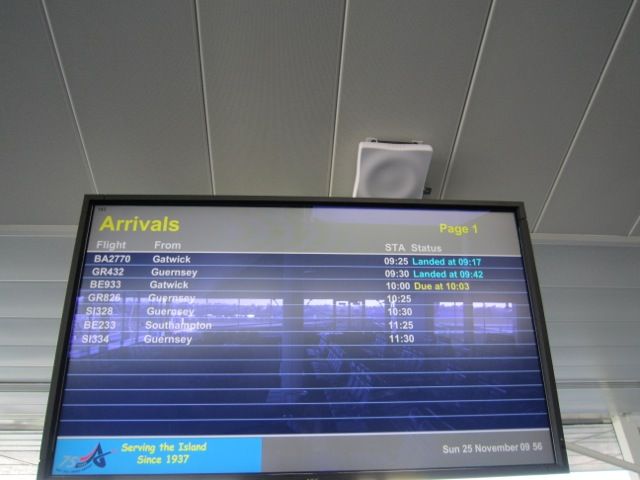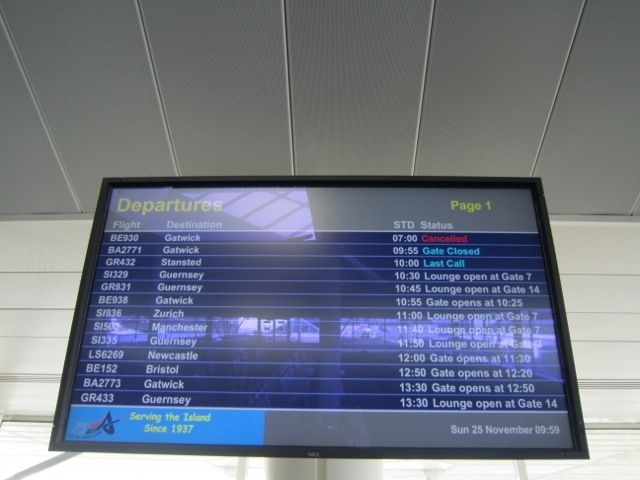 Plane-spotting: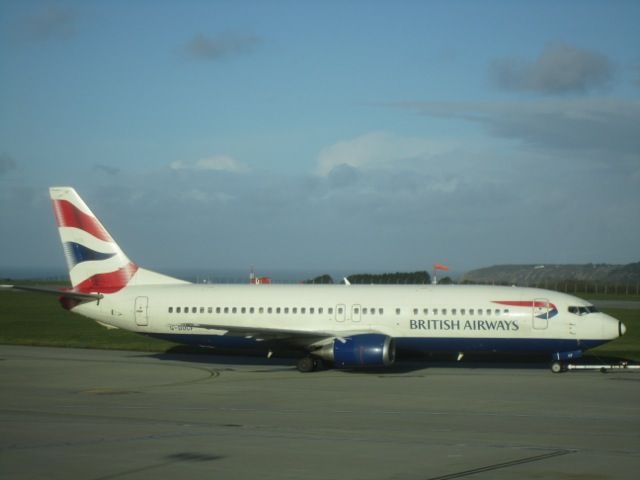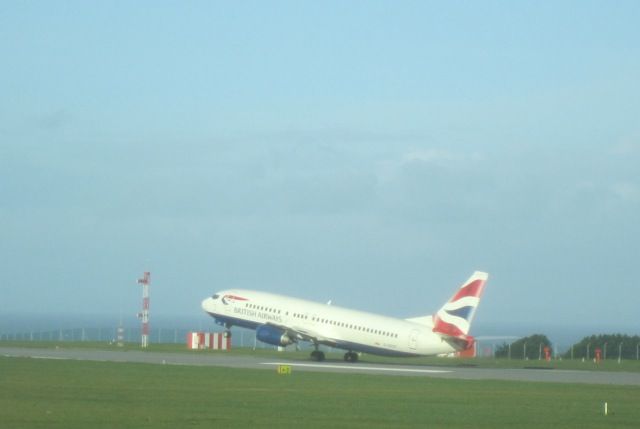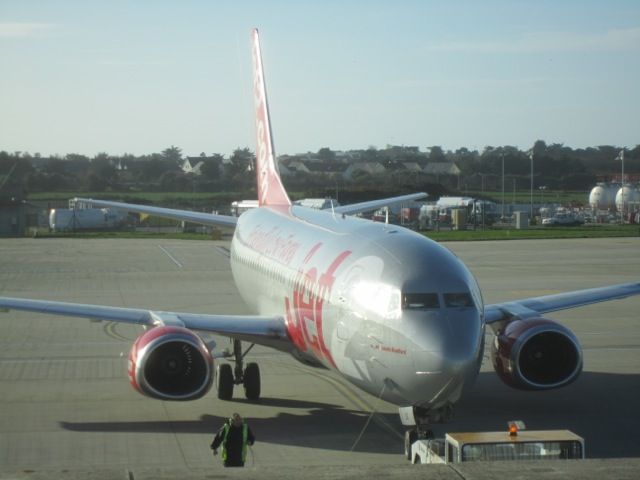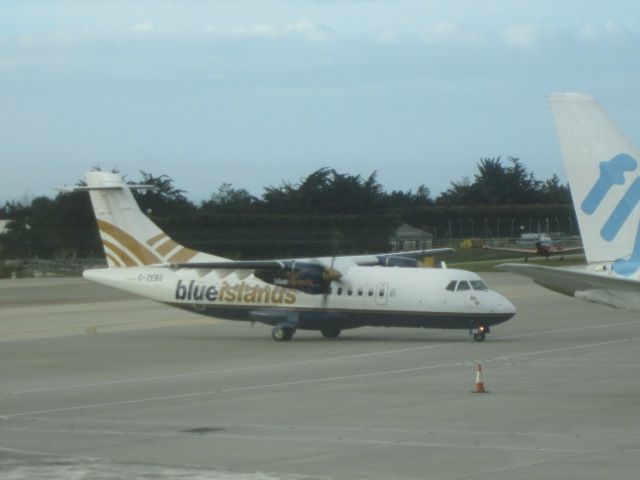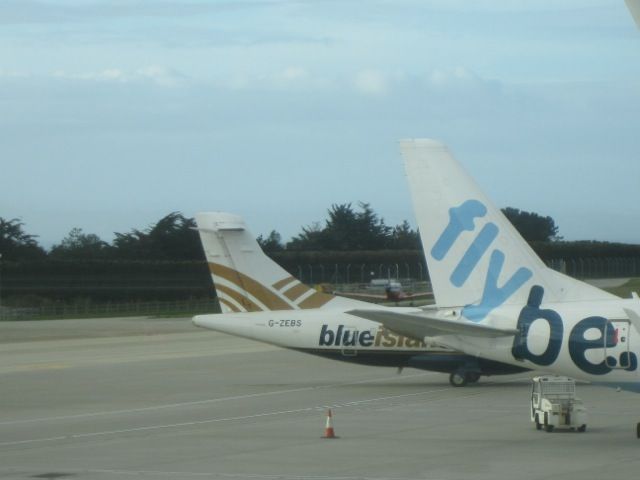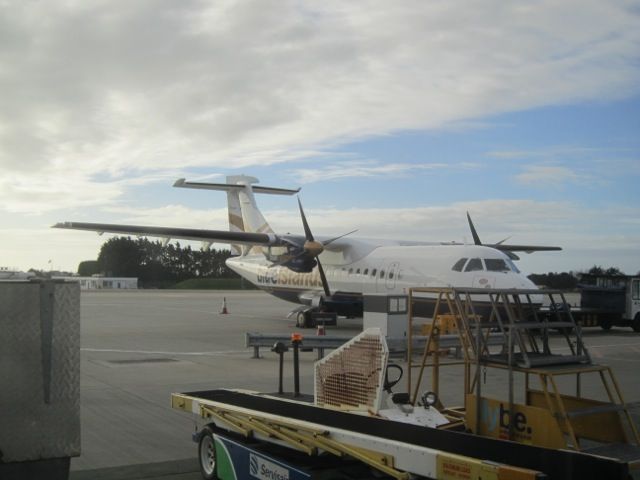 Lounge:
Of course, you can't expect a fancy lounge given the fares that I pay. It basically is a room with comfortable sofa and armchairs with complimentary soft drinks and bottled waters, as well as a hot beverage station with specialty tea and coffee, as well as some packaged snacks like biscuits and mints. There are some local newspapers and Blue Island magazines, as well as a spotty complimentary wifi. It is actually not bad, compared to some of the local USA lounges.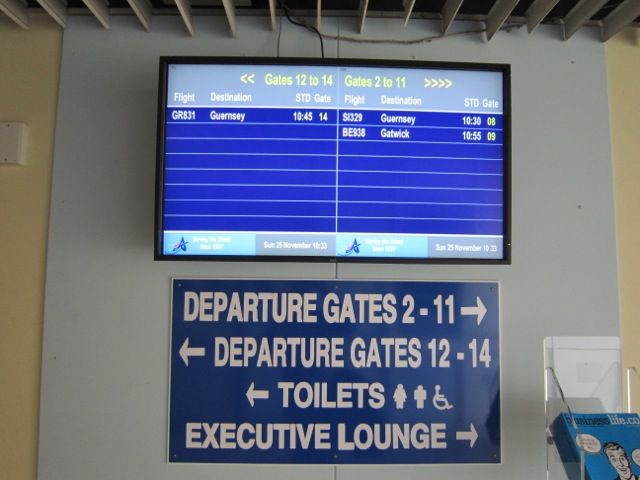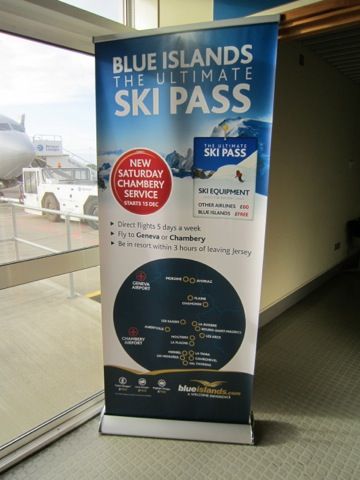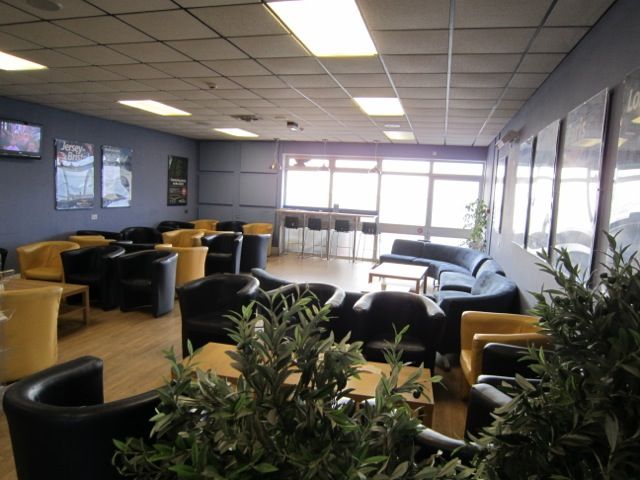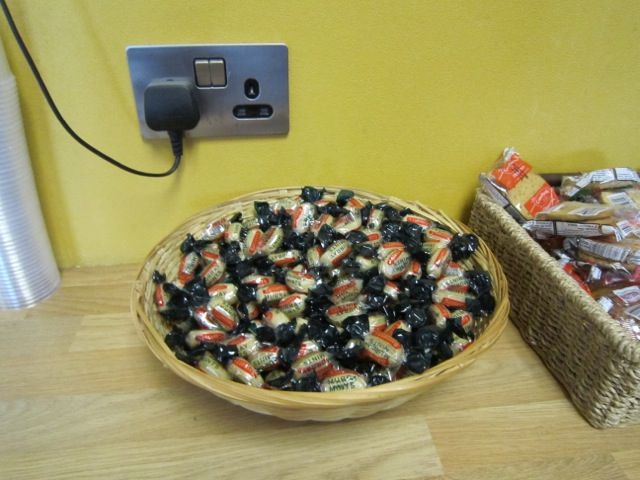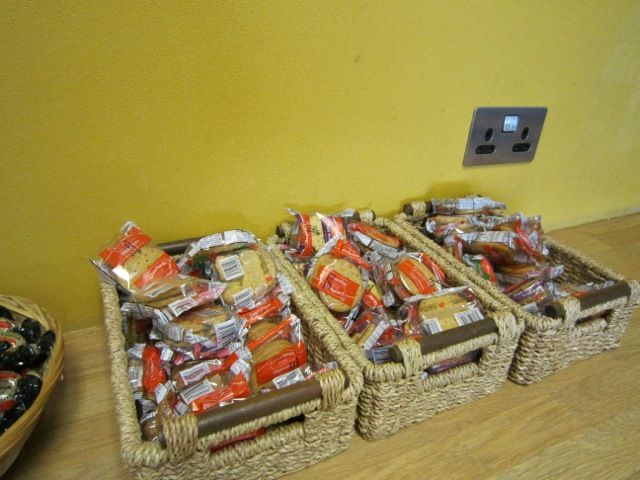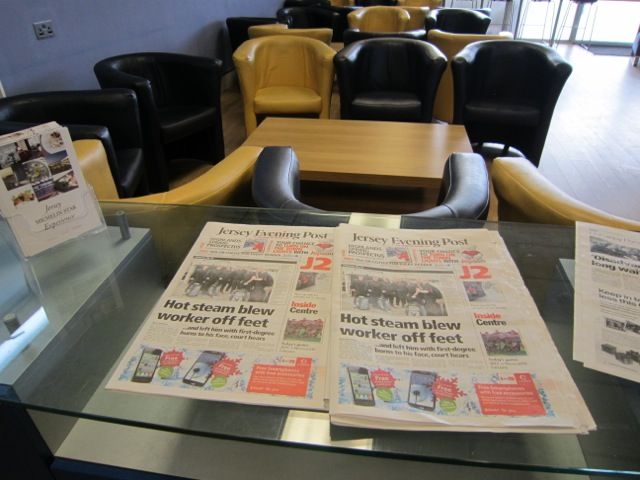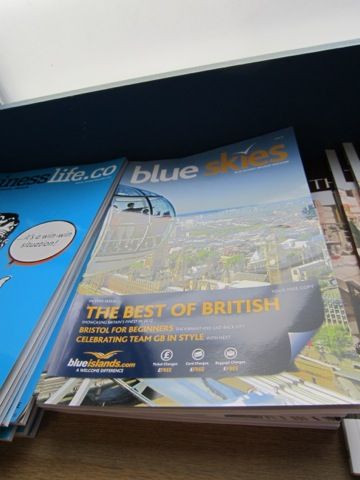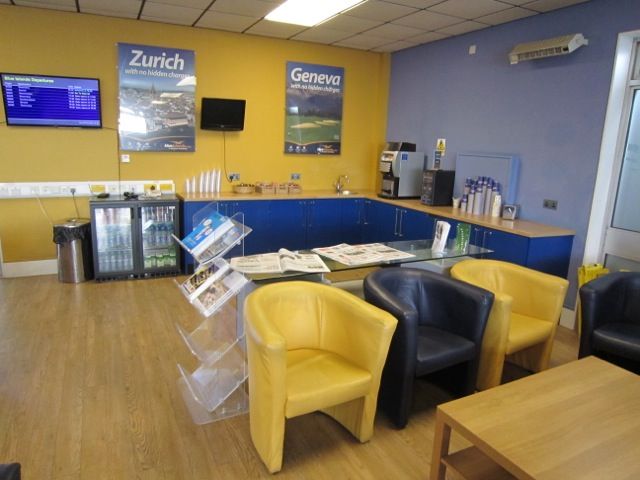 Topic: RE: Blue Islands JER-MAN November 2012
Username: Carfield
Posted 2012-12-01 18:19:19 and read 7619 times.

Gate 8 – today's gate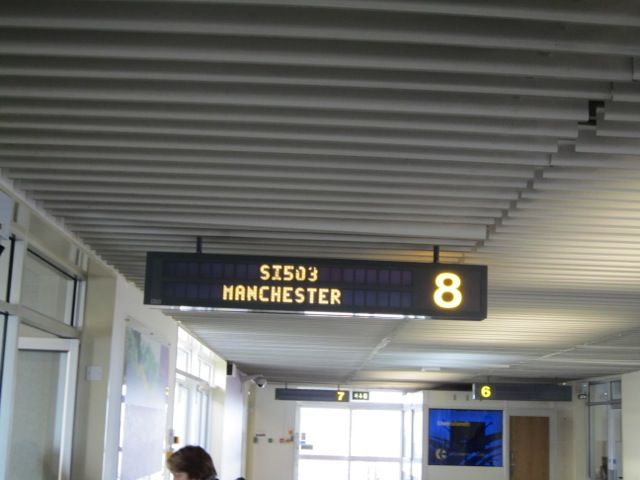 G-ZEBS was ready to receive passengers.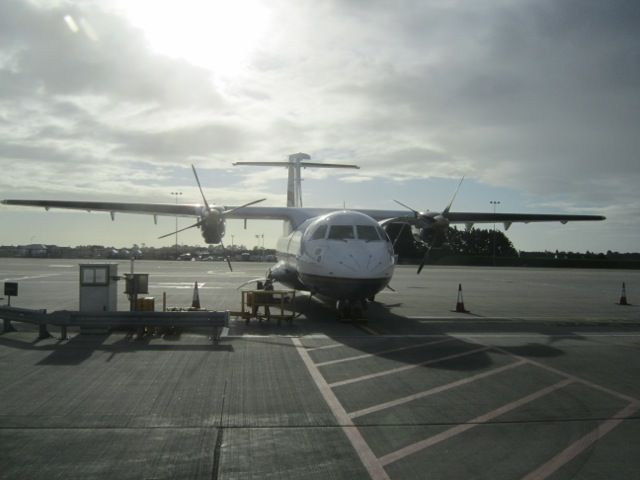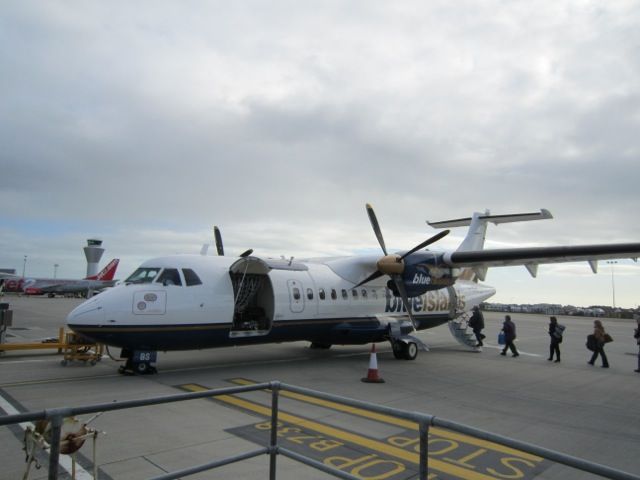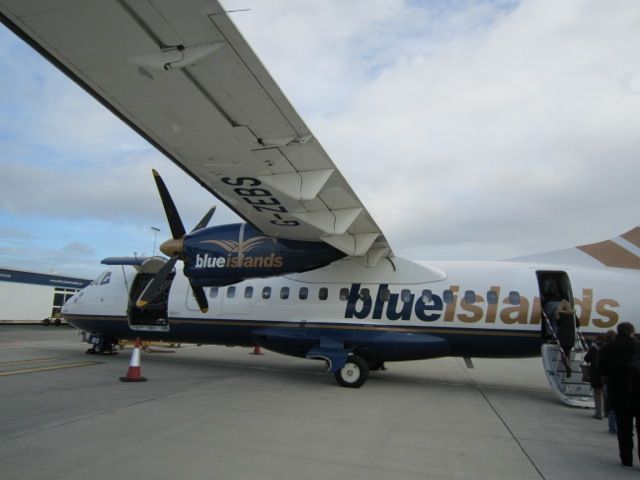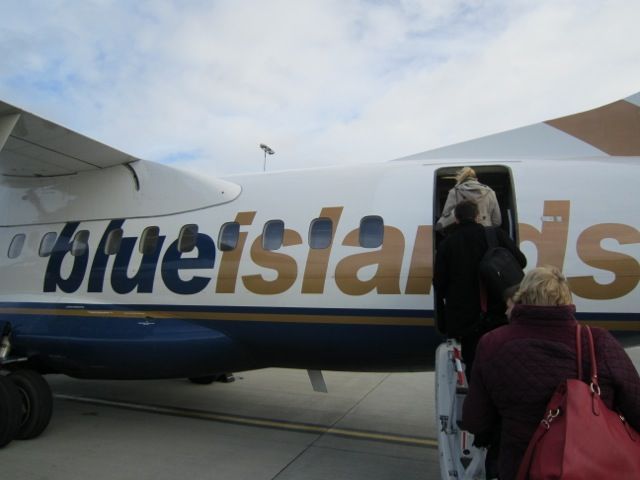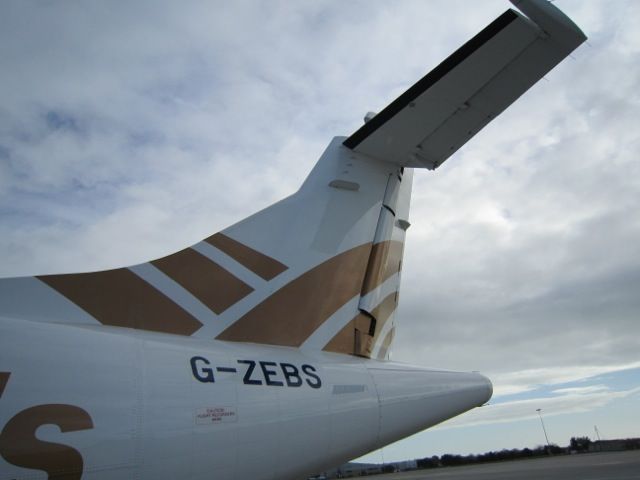 Close up of propeller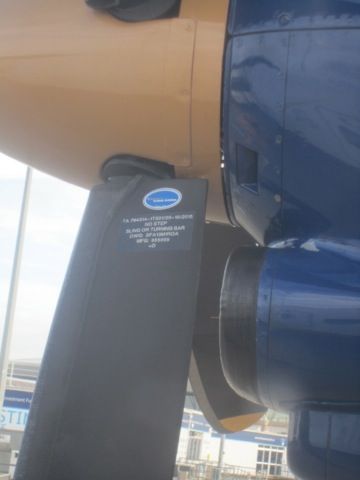 Boarding call was made at 11:15am and we then waited for the all the passengers at the holding room near gate 8. After everyone arrived, they closed the main entrance and we were lead to the aircraft. I had a feeling that it was a very a family oriented airline, and there were a number of commuters. A very friendly F/A welcomed us onboard.

Cabin shot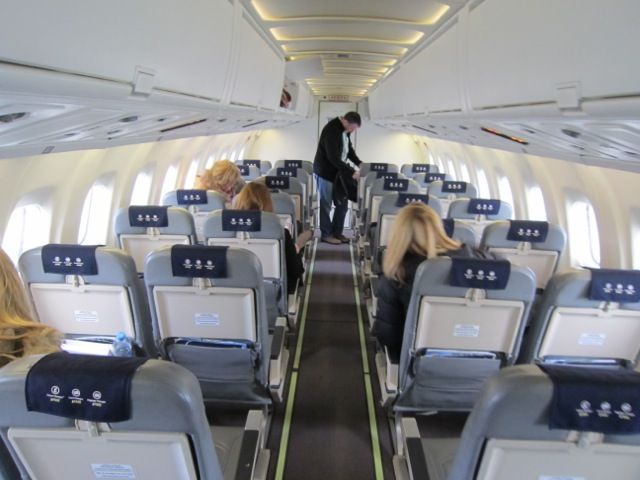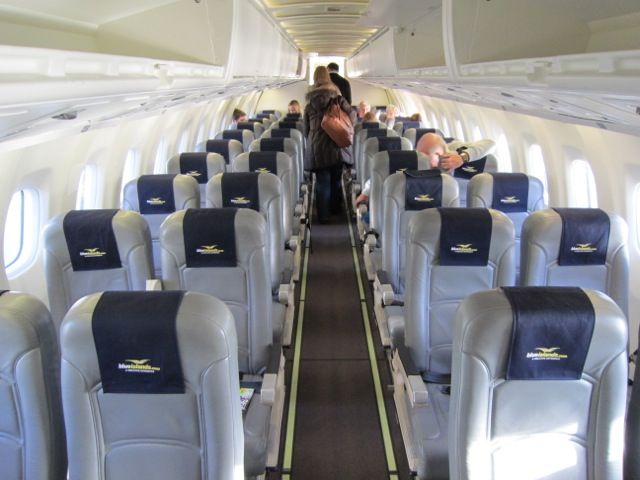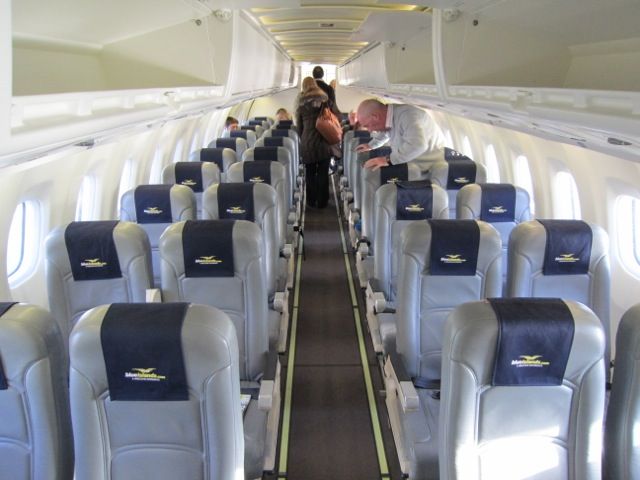 Seat shot: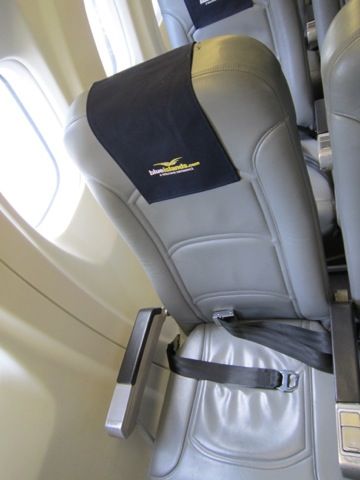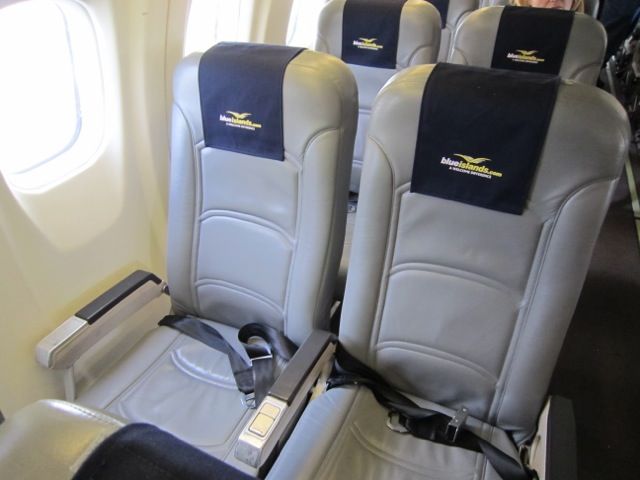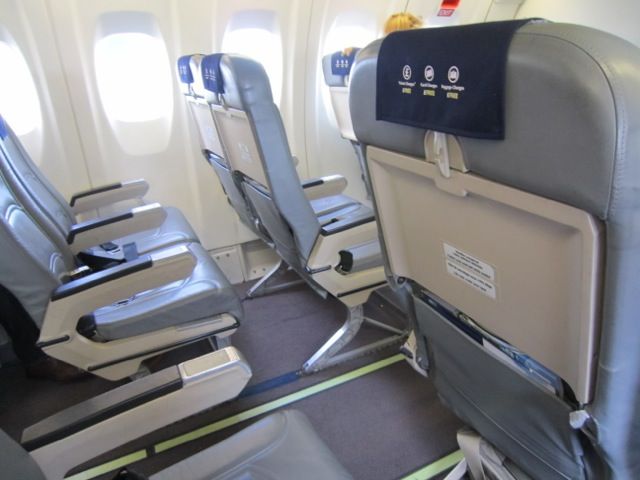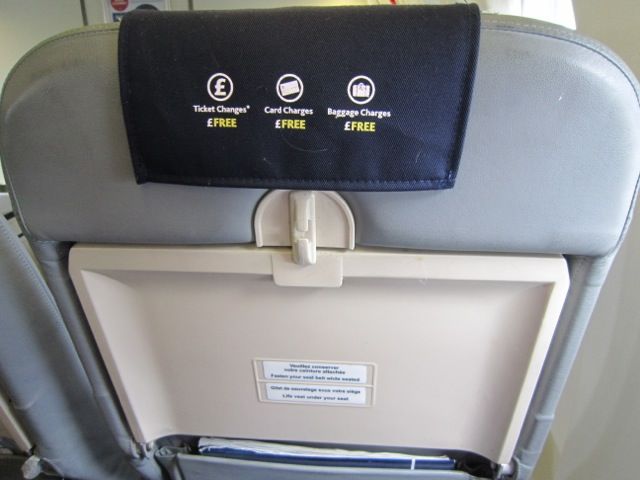 Best seats in the house – Row 1 exit row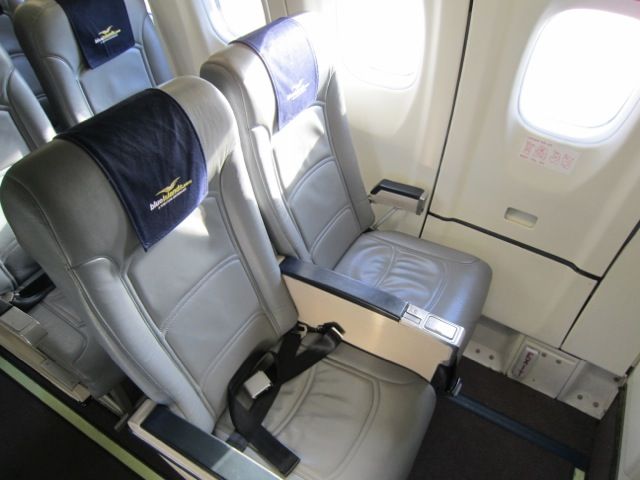 With about twenty to thirty passengers, the door was closed at 11:34am and we pushed back at 11:38am. With no aircraft movement, we took off from R/W27 at 11:46am. Flying time was an hour and seventeen minutes.

Scenery after takeoff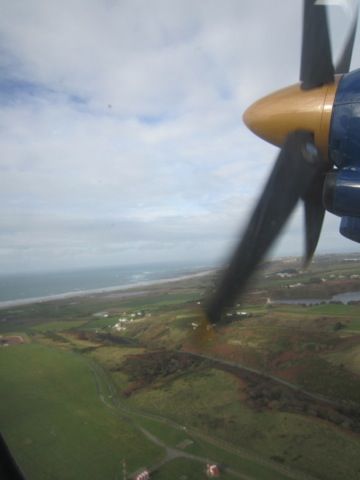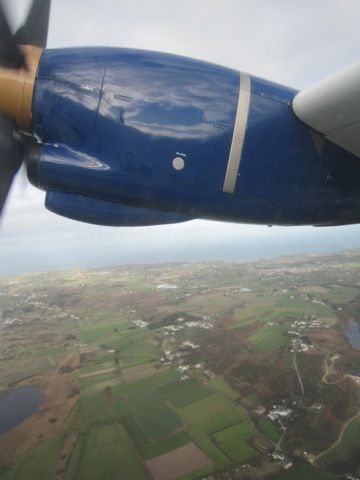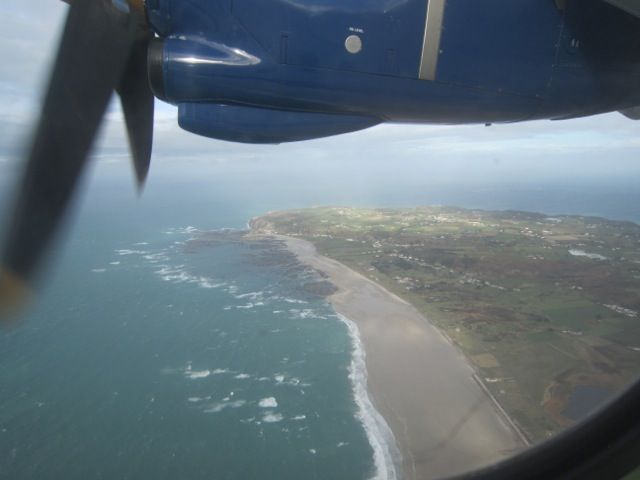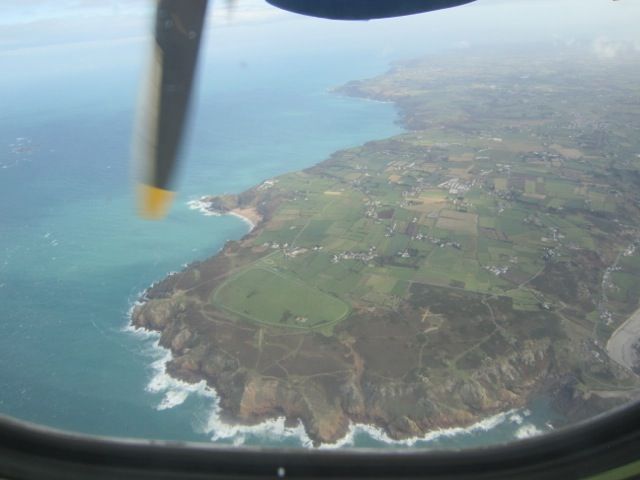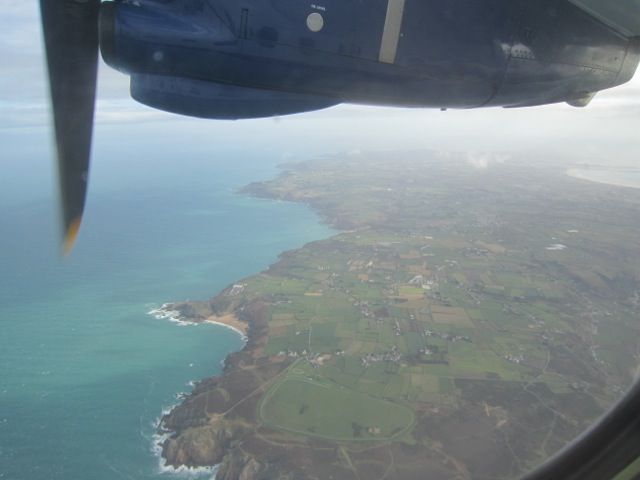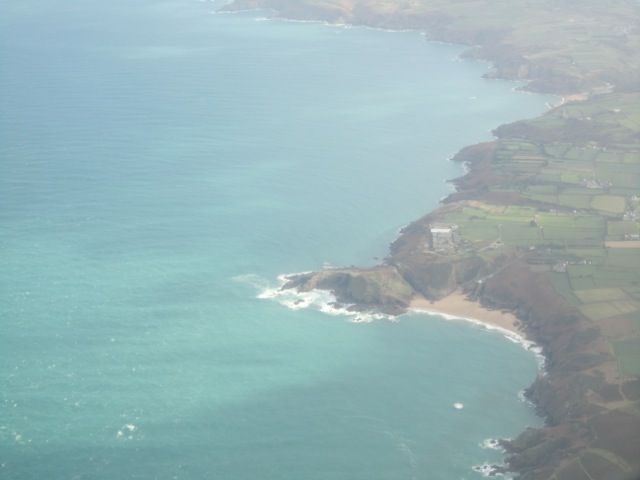 In-flight Entertainment:
No video or audio equipment, but there is an in house magazine, which discusses about the airlines' expansion and events in the local communities.



In-flight Catering:
As expected, there is a complimentary non-alcoholic beverage service including soft drinks, tea and coffee.
There is also a paid bar service, and here is the drink list:



Its friendly competitor, Aurigny offers complimentary non-alcoholic beverages but a buy on board menu for snacks, so I am sort of expecting the same with Blue Islands. To my pleasant surprise, there is a complimentary pastry refreshment service. The F/A passed out a basket of packaged pastries, which included some delicious Pain Au Chocolat, as well as Raisin and Cinnamon rolls.




Descent soon began at 12:41pm, and it was a beautiful day here at Manchester after the heavy rains from the day before. It was raining when I departed early in the morning.




Another surprise of the flight – the F/A came around with a basket of Murray mints.



Seat belt sign came back on at 12:47pm. We landed on R/W23R at 1:03pm and we parked at gate 5 in Terminal One at 1:07pm. A bus came to take us all to the terminal.

G-ZEBS at the gate in Manchester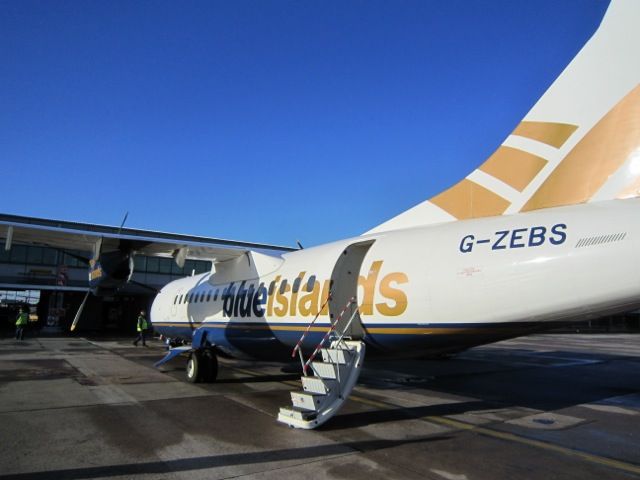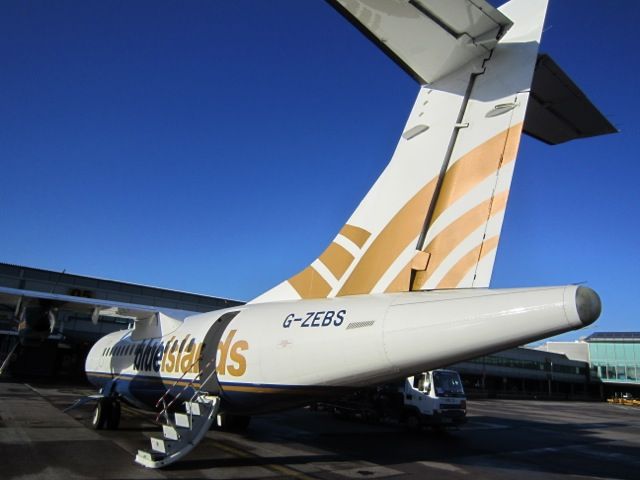 In conclusion, it is a very nice experience and I am impressed with the regional airline, Blue Islands. I don't regret the decision to fly this airline and the Channel Islands looks like an interesting place that I can return in the future. I aim to fly the Aurigny Air Services in the future. I hope you will enjoy this short trip report!

Thanks for reading! This will possibly be my final report of the year and hope everyone has a safe holiday travel season.

Carfield
Topic: RE: Blue Islands JER-MAN November 2012
Username: debonair
Posted 2012-12-02 01:14:57 and read 7352 times.

Nice TR, always great to read from a more "exotic" airline...

Given the age of 25+ years and many previous owners- the ATR42 seems to be in very good condition!
Topic: RE: Blue Islands JER-MAN November 2012
Username: lychemsa
Posted 2012-12-02 02:23:03 and read 7284 times.

I believe they fly to Geneva and their fares are very expensive. Thanks for the report.
Topic: RE: Blue Islands JER-MAN November 2012
Username: 817Dreamliiner
Posted 2012-12-02 03:52:52 and read 7162 times.

Nice report!

I think this is the first report on Blue Islands if im not mistaken. Looks like a really nice airline. Also speaking of your aircraft G-ZEBS I managed to catch the very same aircraft at MAN exactly a week before your flight (18th Nov):




Thanks for sharing your report, really enjoyed reading it!
Topic: RE: Blue Islands JER-MAN November 2012
Username: MSS658
Posted 2012-12-02 11:54:01 and read 6828 times.

Hey

Great report, thanks for sharing! Blue Islands looks to be a decent carrier. BOB looks good, I do like the design of the JER airport.

Greetings
Marc
Topic: RE: Blue Islands JER-MAN November 2012
Username: Carfield
Posted 2012-12-02 16:05:04 and read 6674 times.

Thanks for the nice pictures, 817dreamliner! It is a beautiful plane and well-maintained and who will know that it is a 1987 frame, given the lovely interior and leather seats!

The pastry is complimentary... which makes it extra nice! You only need to pay if you want an alcoholic beverage!

Carfield
Topic: RE: Blue Islands JER-MAN November 2012
Username: gabrielchew
Posted 2012-12-03 12:37:02 and read 6339 times.

Nice report Carfield. I hadn't realised Blue Islands was such an inclusive carrier...I'll have to try them out when I finally make it to the Channel Islands
Topic: RE: Blue Islands JER-MAN November 2012
Username: kaitak
Posted 2012-12-03 13:17:37 and read 6309 times.

Well done, great shots; as a Jersey resident, it's always nice to see reports from here ... which aren't that frequent!

Must try SI sometime soon; I've flown them plenty of times (though not in a while) to GCI and back, but not the ATR yet!
Topic: RE: Blue Islands JER-MAN November 2012
Username: RyanairGuru
Posted 2012-12-03 16:40:35 and read 6195 times.

Thanks for the report.

I flew SI from JER to LCY back in August and had a great flight.

I flew down on BA from LGW, and I know who had the better product!

While the lounge in JER is somewhat basic, the fact that they have one at all with free drinks etc is a really nice touch.

I don't know whether it was to do with the time of day, but complimentary alcoholic beverages were served on my flight. I got a couple of glasses of champagne, FREE!

And arriving into LCY was fun as well, all in all it was a really great trip.



Quoting Carfield (Reply 1):
the Channel Islands looks like an interesting place that I can return in the future


Were you not in Jersey long? If not then I definitely recommend that you get back there some time, I absolutely fell in love with the island. The scenery and coastline are simply stunning. I've heard that Guernsey is really great as well, so I hope to make it there when I'm next in Europe, and of course I'll just have to get a Trislander between the two!!!
Topic: RE: Blue Islands JER-MAN November 2012
Username: jwhite9185
Posted 2012-12-05 04:45:55 and read 5944 times.

Hi Carfield - nice little report there with good pictures. As others have said, good to see one of the less common airlines.
---
The messages in this discussion express the views of the author of the message, not necessarily the views of Airliners.net or any entity associated with Airliners.net.

Copyright © Lundgren Aerospace. All rights reserved.
http://www.airliners.net/