Topic: SIA First Class Singapore-Dubai
Username: docpepz
Posted 2012-12-05 08:47:08 and read 15706 times.

I was due to travel in J on SINDXB but for due to a series of service lapses I experienced on SIA, they upgraded me to First Class.

Trust me, SIA does not usually upgrade people and they're known to have left staff behind or offloaded pax from J even if F is empty just to protect the integrity of their famed cabin. So the experience they put me through was well worth them offering me the upgrade (no I did not ask and if you ask on SQ they would more happily downgrade you)

I also don't suggest any of you strategise in getting an upgrade on SIA. Basically you would have to have a few internet booking failures, unexplained reservations cancellations the night before your flight departs and a few other massive website and reservation failures (and heart failure to go with it) before they would think of upgrading you.

But they offered an upgrade, so let's leave the horrible past behind and focus on this famed First Class product that SIA is renowned for

Pre-Boarding

I arrived at the airport 5 hours before departure to meet a friend, and at about 12.30 I headed to The Private Room Lounge in Terminal 3 (despite SQ494 to Dubai departing from Terminal 2). When would I ever get the chance to use this famed lounge anyway?

Upon reaching the lounge entrance, I was escorted straight through the business class and first class lounge to The Private Room. And yes I was, as expected, the only one there.

A waiter came up and offered me the menu. Here are photos

Photos of Menu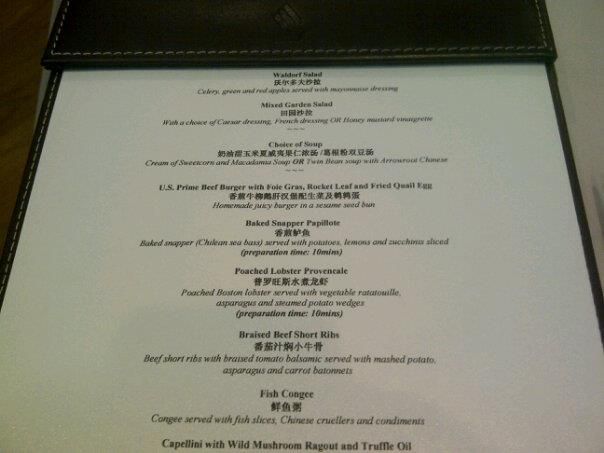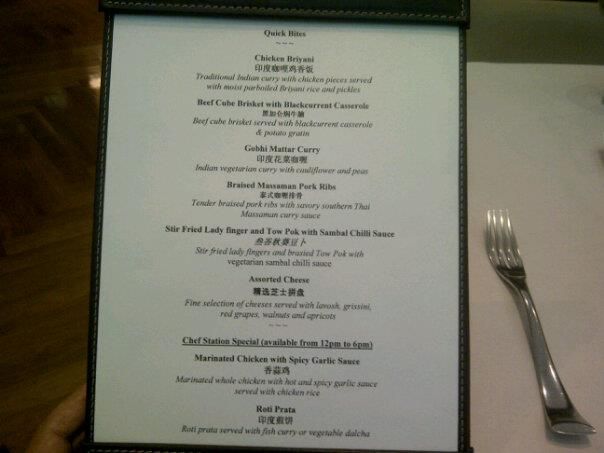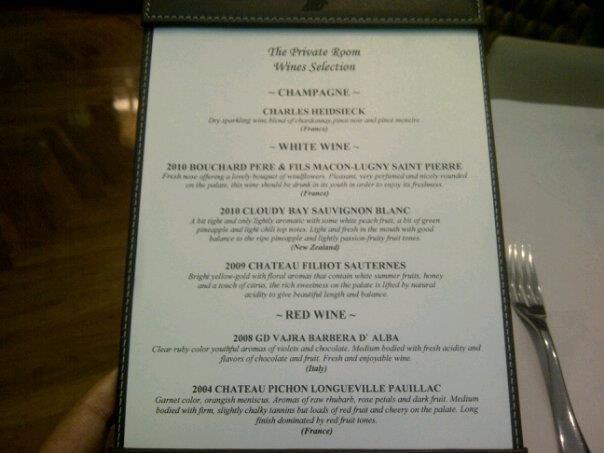 I wasn't terribly hungry so ordered some soup


The lounge continued to be empty – why SQ wants to lease all this lounge space to basically serve no one (remember if I wasn't upgraded the lounge would be empty) – I guess it makes it so exclusive that nobody can even use it!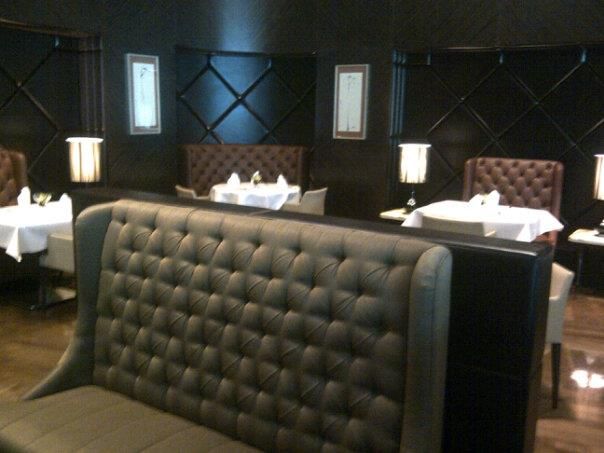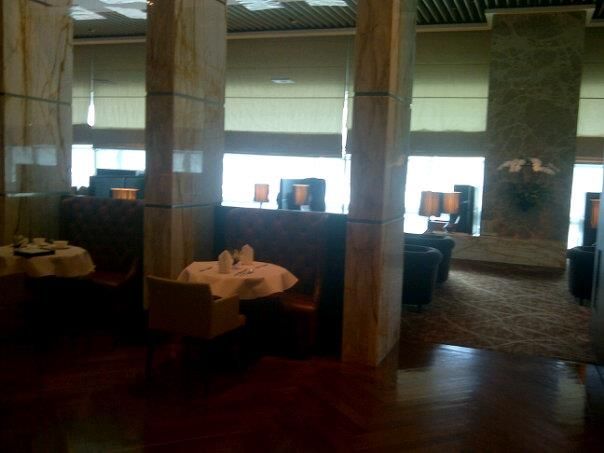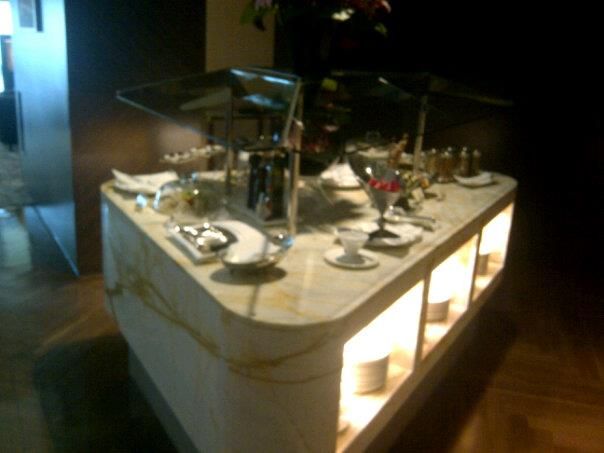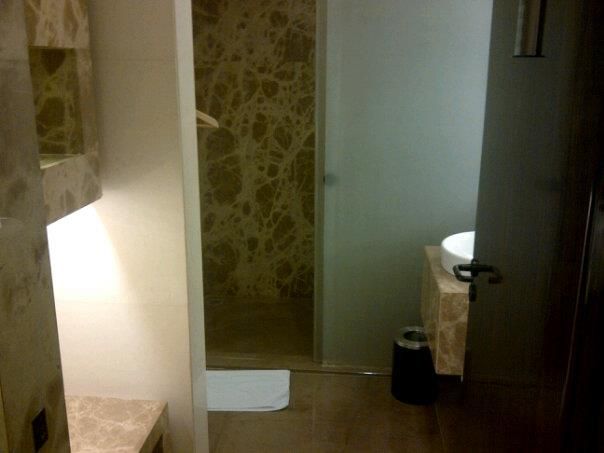 Spacious bathrooms for no one to use




At 2.20pm, I headed towards the skytrain to get to Terminal 2.

After clearing security and all that, I headed down the aerobridge to a very friendly Leading Stewardess waiting at the door to welcome me on board. She escorted me to my seat and as I sat down she came to me and introduced herself, said that today's flight time would be 6h55min and that it is her pleasure to be attending to me on this sector.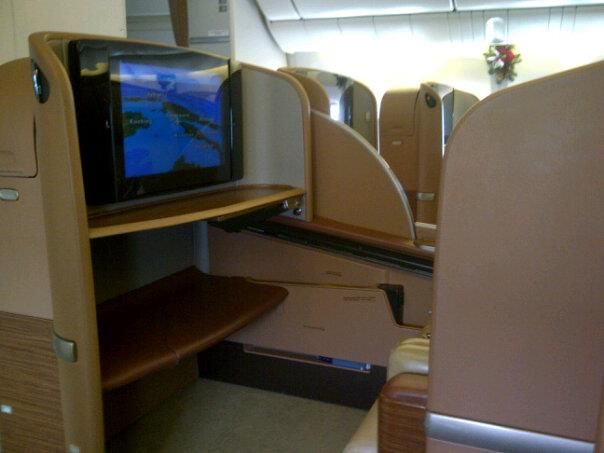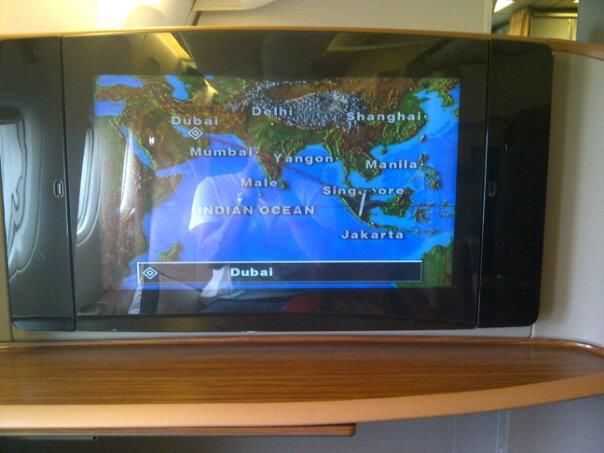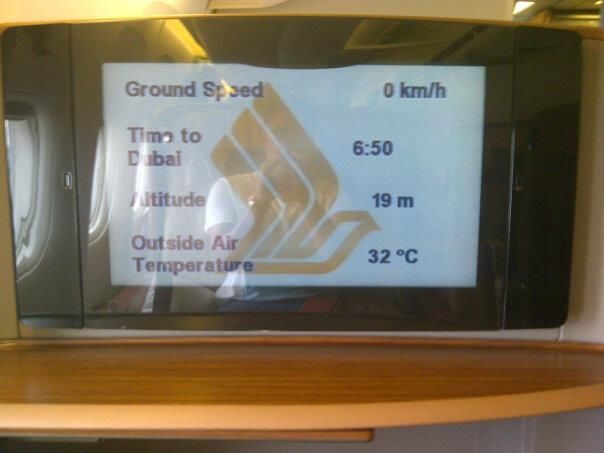 She soon came back with a glass of water which I requested, as well as the menu for today.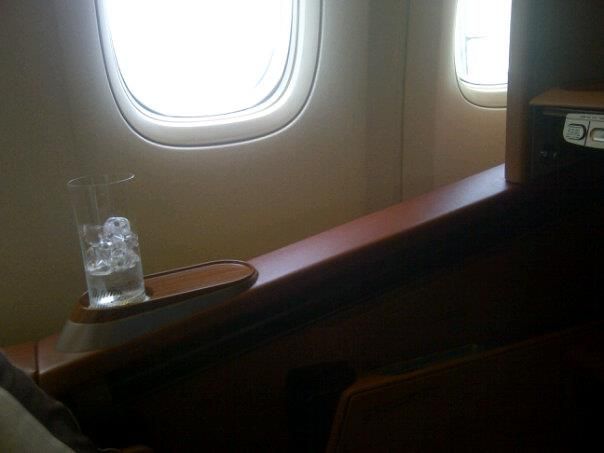 Let's see what's on the menu today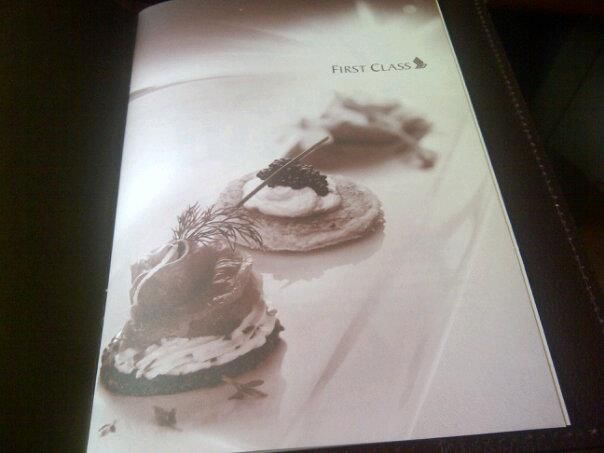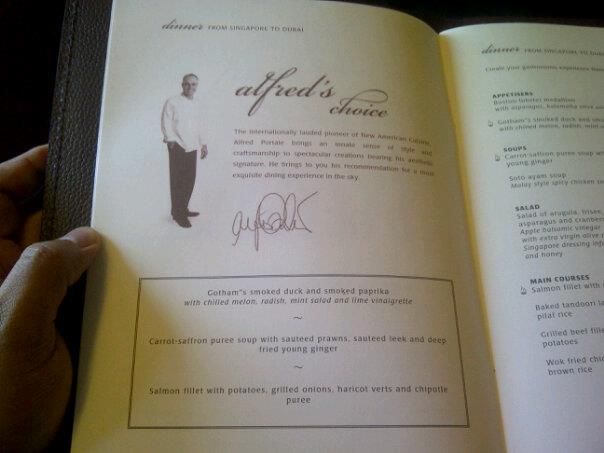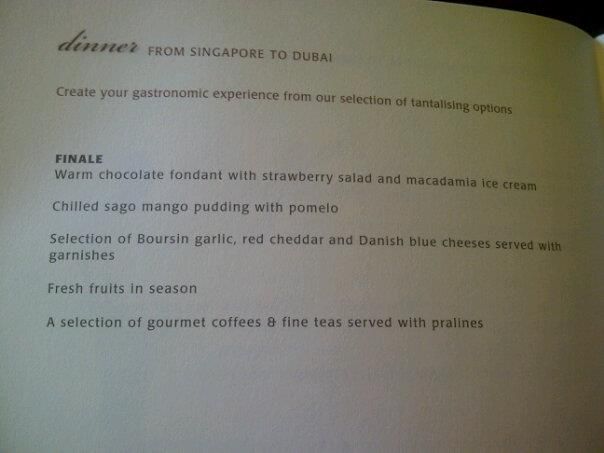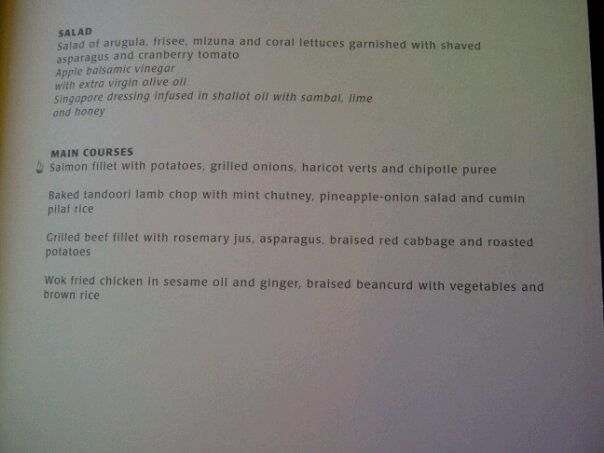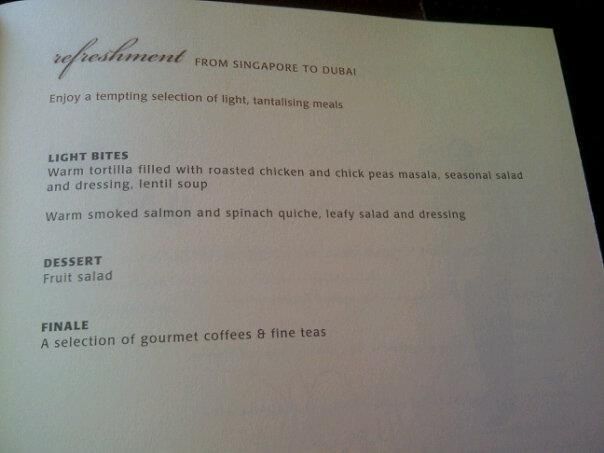 Hmmm….. Quite boring. The choice of Soto Ayam, which is traditional hawker fare I can get in any hawker centre in Singapore for S$2.50, was also well, not really becoming for First Class?

SQ seems to be putting a lot of Singapore hawker fare as part of their on board choices, cleverly marketed as renowned local favourites. Things like chicken rice, Nasi Lemak, Mee Siam, Prata and so on. I mean I am Singaporean through and through and nothing excites me more than hawker food, and rushing to my favourite bak chor mee (minced pork noodle) hawker outlet or rushing to Jalan Kayu Roti Prata after weeks of travelling overseas. But we all know it costs $1.50-$2 . So to see it being served in premium cabins is well….. you know…..

Not sure if the international pax of SQ are perhaps happier to see a choice of Singaporean cuisine. But there is a reason why there aren't Singaporean fine dining restaurants, whether in Singapore or overseas.

Today's load was 4/8 and there were 3 cabin crew serving F today. They were extremely attentive, yet not intrusive. Friendly yet not personal. And seemed to have eyes everywhere. Even if they were not in front of you, they would know you had an empty glass or plate and would come for it.

Gulf Air A320 in SIN?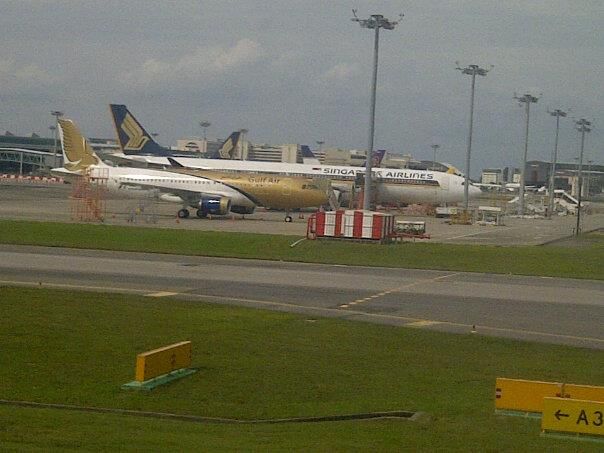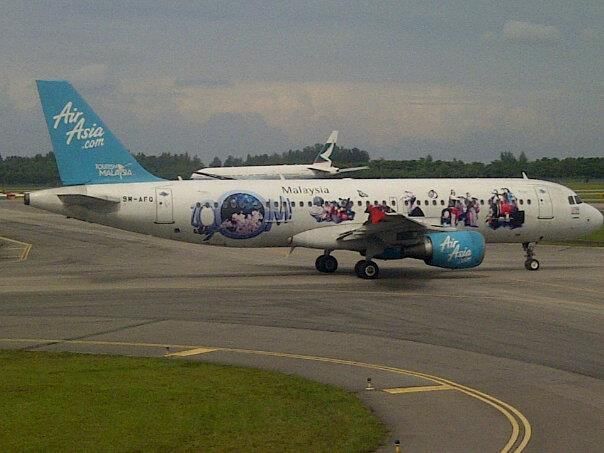 Take off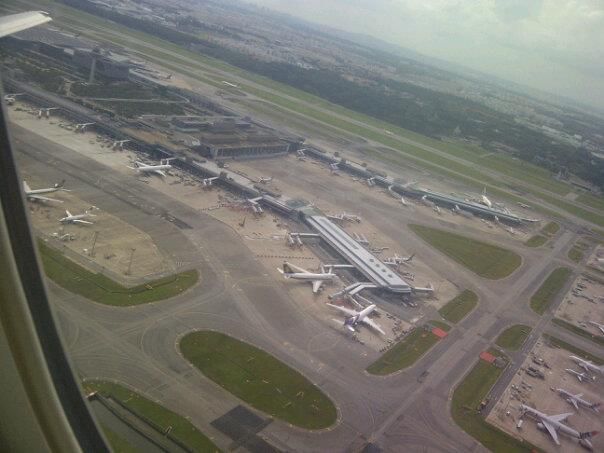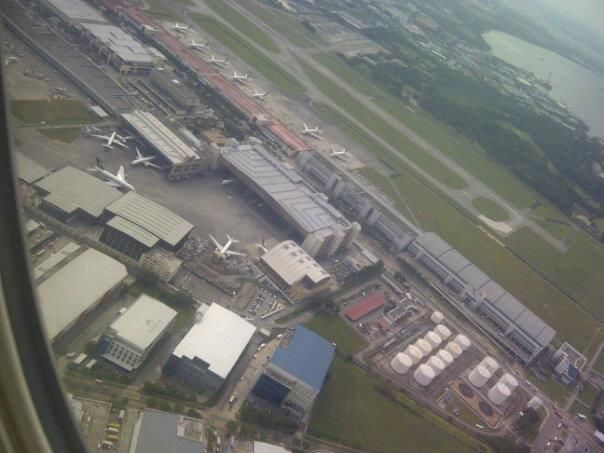 Malaysia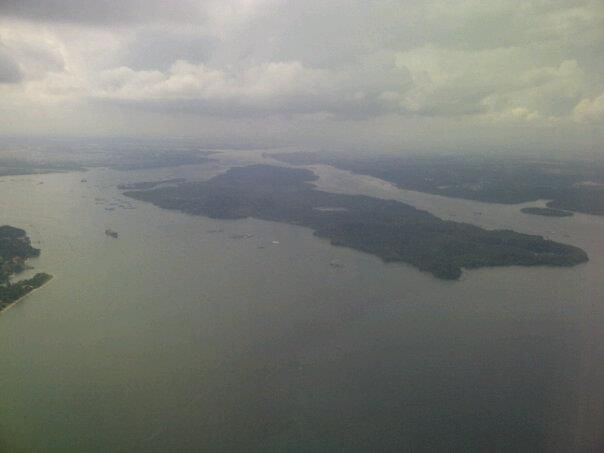 This bridge is near Desaru in Southern Johor



After takeoff, the LSS came round with

1. Eyeshades and slippers



2. Pyjamas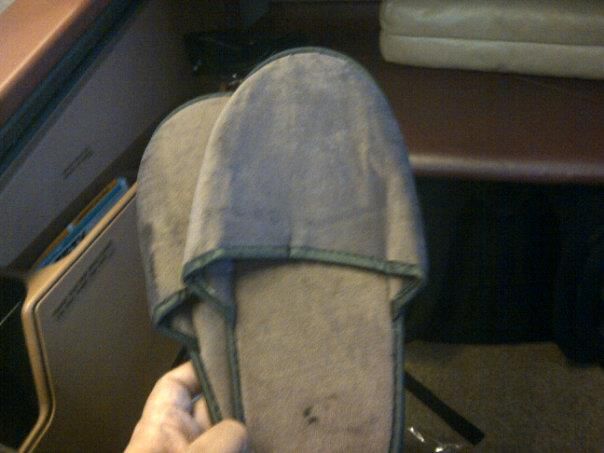 3. Kiehls Amenity Kit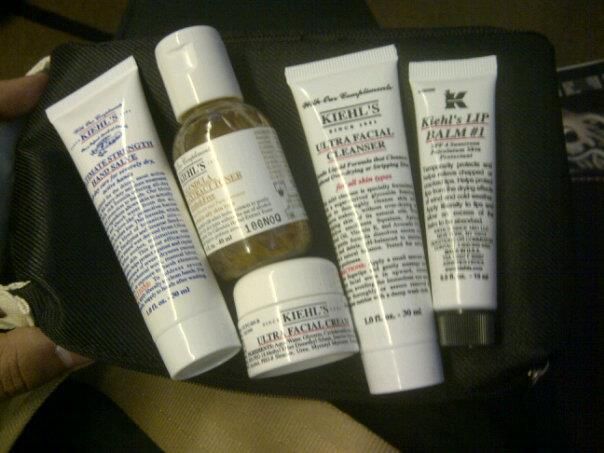 My dinner order was then taken. Though not a big drinker, I *had* to have some Krug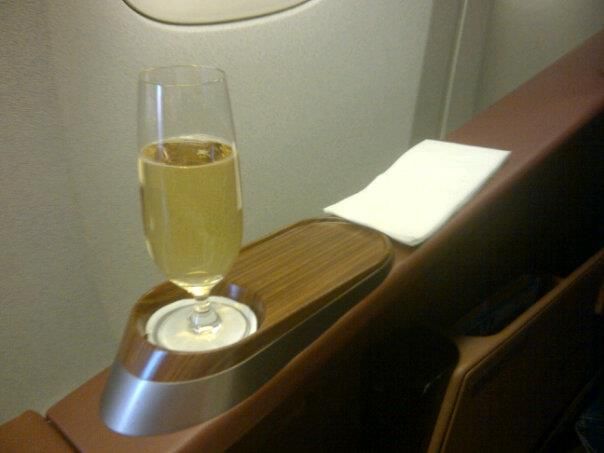 It was poured in front of me
Nuts to Start


Table is set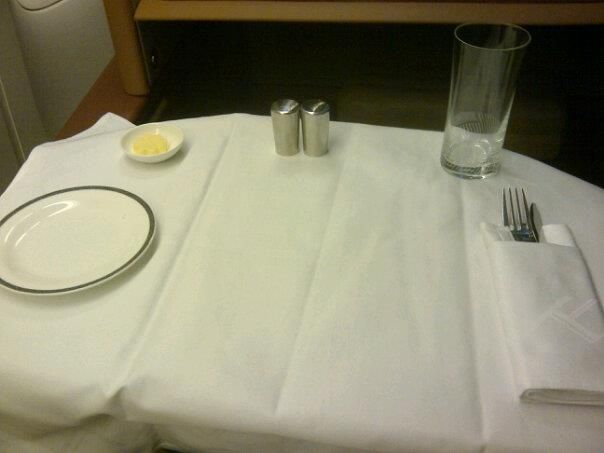 Appetiser
Lobster Medallion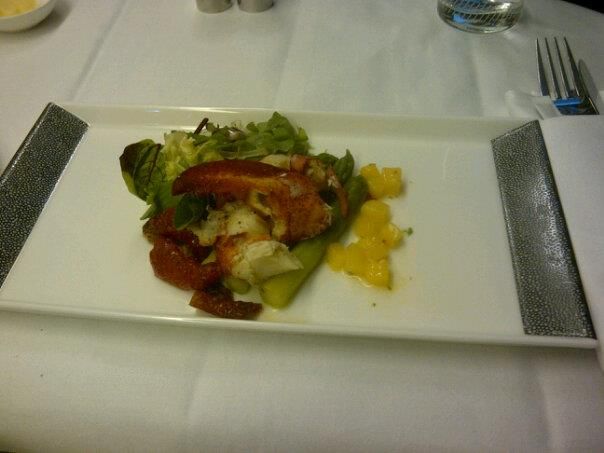 Very Nice

Carrot Soup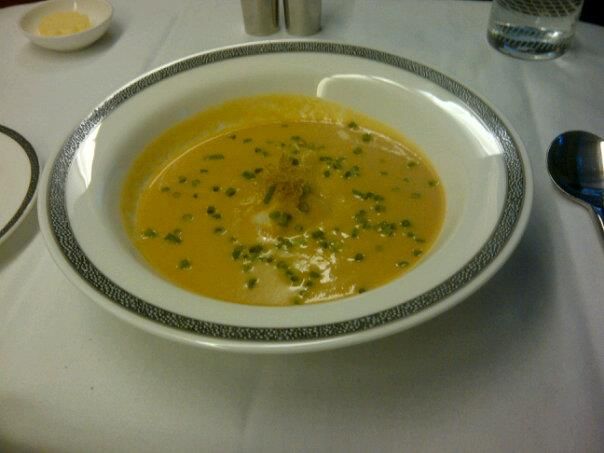 Also very nice
Salad


Main



I'm not a huge salmon fan, but this was the lightest thing on the menu. I didn't want to go for big chunks of meat nor greasy fried rice

Dessert – Chocolate Fondant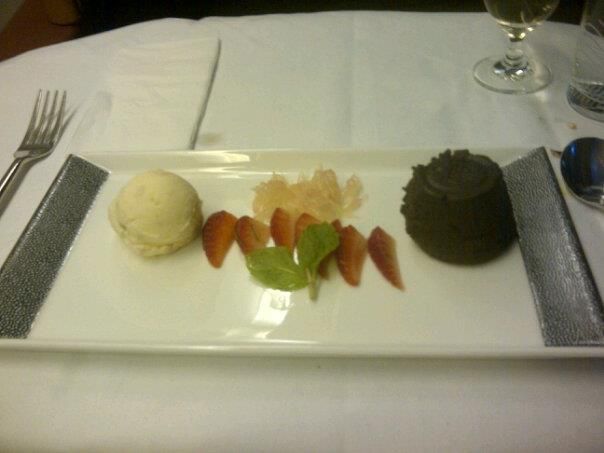 Outstanding

Cheese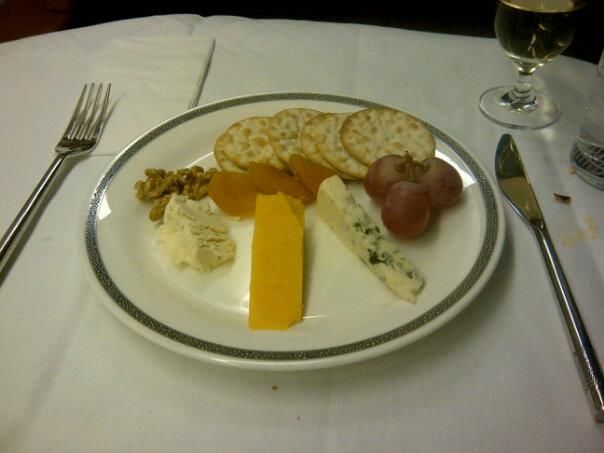 Cappuccinno


All throughout dinner, the service was absolutely outstanding. It was really way better than J (All this while I was wondering what the fuss F was over J). Completely personal, everything could be done on my own time. No glass was every left empty. They really took very very good care of me.


The Seat

The seat is comfortable to sit in, and the table comes out from in front.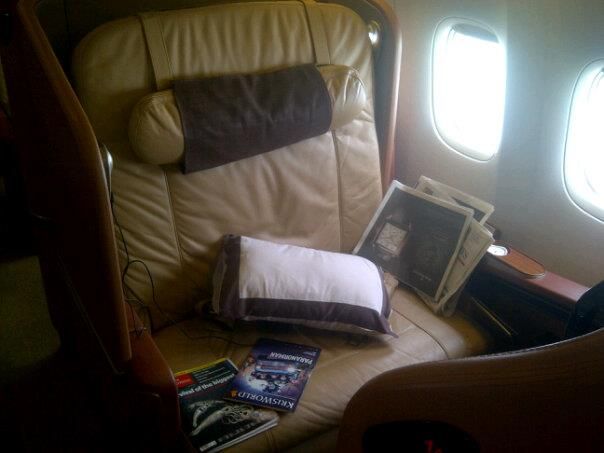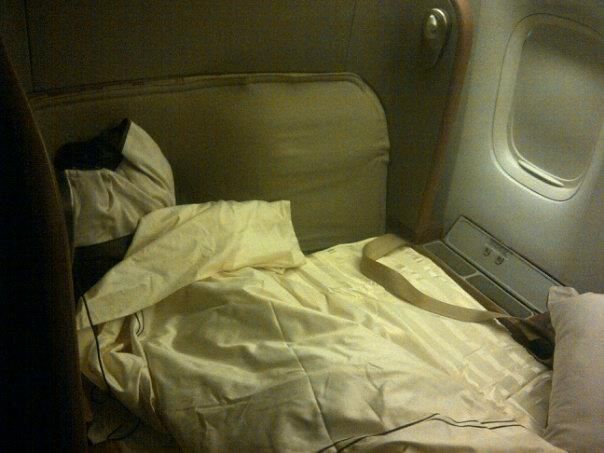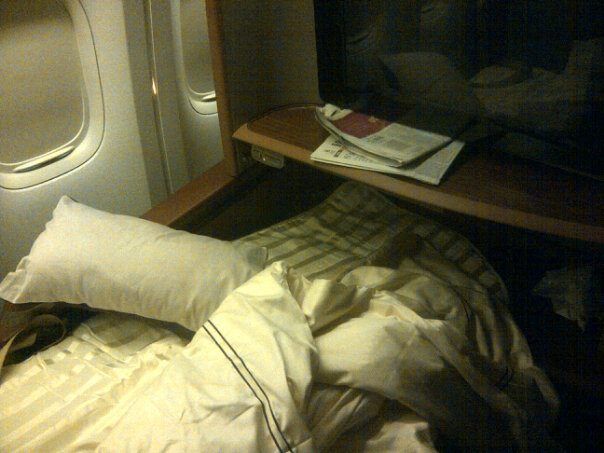 There is however a shocking amount of wasted space at the front and back of the cabin. One example is here (And at the back there is also a similar amount of wasted space)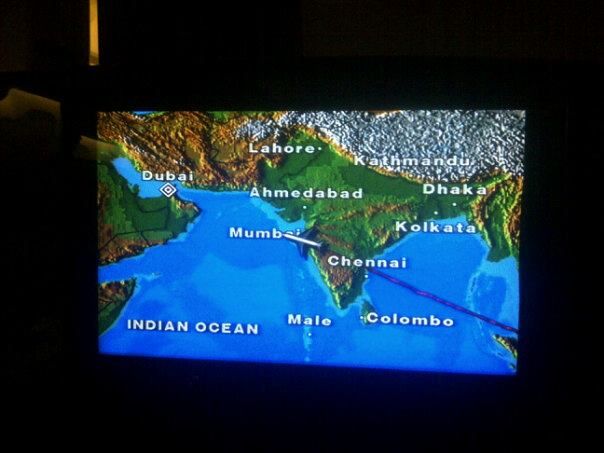 About 75min before landing, a second meal was served. – Salmon Quiche.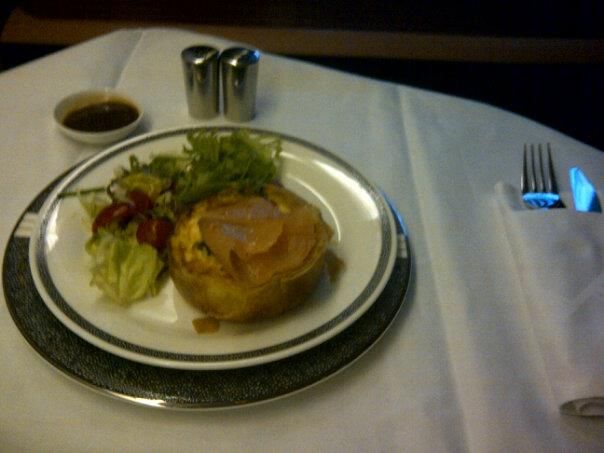 It was tasty enough,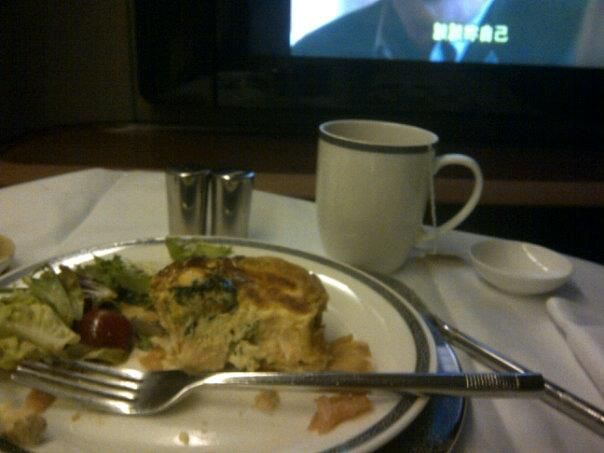 Sun Setting over the Arabian Sea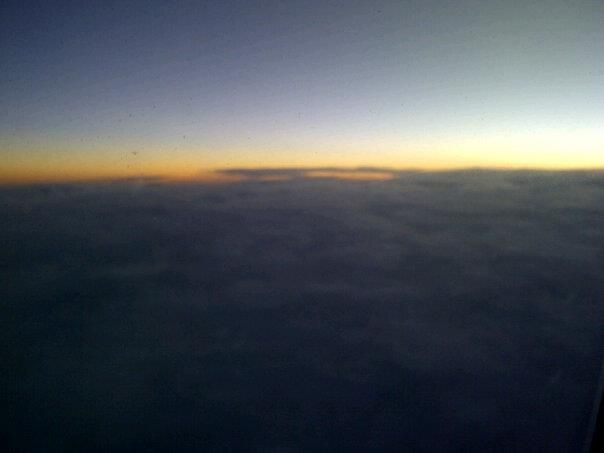 Nearly there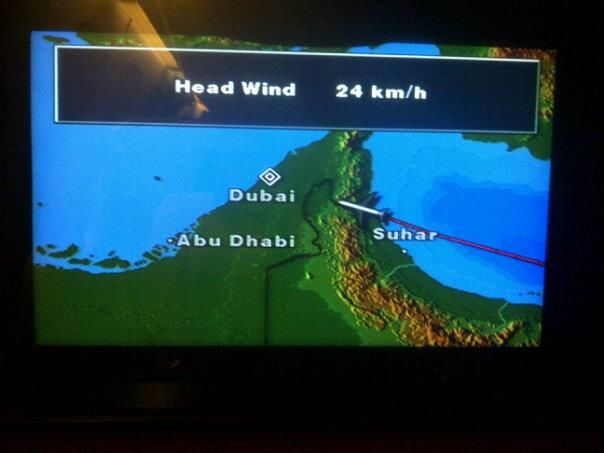 Thoughts

Service was outstanding

Food was slightly disappointing – It isn't really First Class food is it? It's just J Class Food with a proper salad and a proper dessert which isn't ice cream

Seat – It was a day flight, but it was very comfortable to sleep in. I think the Skysuite of SQ's 747s were better (based on a very vague memory though)
Topic: RE: SIA First Class Singapore-Dubai
Username: SIN7
Posted 2012-12-06 00:09:26 and read 13654 times.

Nice TR, thanks!
Oh, I didn't even know about The Private Room. If no one in there, hmmm, is the food ever fresh?
You're so right about upgrade. The policy is: Don't ask (for an upgrade) , don't tell (if you get upgraded).
I've experience wonderful service from SQ at the back of the bus. So just imagine in front.
Hawker food? Well, it's nice sometimes to get something familiar from home, but nothing beats the real thing though from the hawker center itself. Ironically, SIN catering has yet to perfect any good hawker dishes it does for SQ (ok, the breakfast lor mai kai - glutenous rice with chicken and mushroom wrapped in lotus leaf - is good).
Topic: RE: SIA First Class Singapore-Dubai
Username: Ryanair!!!
Posted 2012-12-08 07:32:18 and read 11323 times.

Admittedly, the only time I paid for First Class on SQ was between SIN and KUL. I've never been blown away by my experiences on SQs JCL because if you're unlucky, you get a clumsy trainee sweating in her pits rushing between your seat and the galley. I then realised sometimes the airline uses that cabin as a training ground to prepare the FSS for something more premium than YCL. urgh...So I'll never pay out of my own pocket to fly SQ JCL.
Topic: RE: SIA First Class Singapore-Dubai
Username: readytotaxi
Posted 2012-12-08 08:39:10 and read 11213 times.

Thanks, interesting report there.
Good pictures, do love that tableware in First, very stylish indeed.
Glad you enjoyed a rare upgrade.