Topic: Amsterdam (AMS) To Barcelona (BCN) KLM C
Username: Maikel
Posted 2012-12-22 13:50:12 and read 10767 times.

Why this trip:

Welcome all to my fourth trip report here on airliners.net, this report includes flight KL1665 from Amsterdam (AMS) to Barcelona (BCN). The flight was part of a city trip to Barcelona that I gave to my girlfriend as a birthday gift. Flying to Barcelona on the 30th of November and returning the 2nd of December. The reason why I booked KL1665 was the aircraft type that was used on the route. The planned aircraft was a Boeing 737-900, I've never flown that type before so it would be nice to add that one to my list. Unfortunately aircraft types in the booking phase are never guaranteed and later it was changed to a Boeing 737-800.

We've been to Barcelona before in the past, but that was a long time ago and we really wanted to see the city and historical buildings. We also got ourselves 2 tickets for FC Barcelona vs. Athletic Club Bilbao on the 1st of December (5-1).

Before the flight:

I booked the flights a couple of months in advance via the KLM webpage that is user friendly and the tickets were send to my email in PDF format. At the airport I always print an original boarding pass for my collection. I've read that KLM offers discounted business class fares during online check-in when there are still a couple of seats available. Never gave it a chance before on my flights on KLM but this time I checked the option during check-in and indeed the upgrade was offered. I never flown business and the fare was also good so I upgraded to seat 1D and 1F (E being reserved for personal space).

The airport:

We arrived at the airport around 6am, during this time Schiphol can be quite busy. A lot of flights leave early to destinations in the south and you have a lot of passengers arriving from the States. To drop off our bags we used the business check-in in departure hall 1 after being checked at the entrance. When we walked to the counter we came across an older KLM ground stewardess that stared at us and told us that this area was for business class passengers only. Her face expression was like she was thinking ''what are you doing here''. Me being the age of 21 and my girlfriend being 19 she maybe thought we were lost or too young to fly C, but I still think it's just rude to say that. We eventually dropped of our bags and proceeded through the sky priority security check.

We still had an hour to spend, and Schiphol offers a lot of options to do so. As you all know Schiphol Amsterdam is a very big airport and all the facilities are widely discussed on the forums so I will keep it short. Also nice to know that on the 21st of December Amsterdam Airport Schiphol welcomed the 50 millionth passenger of 2012. This is the first time in the airport's history that more than 50 million passengers travelled via Schiphol in a single year.

We decided to visit KLM's Crown Lounge located near the Delta gates to have some breakfast.

1.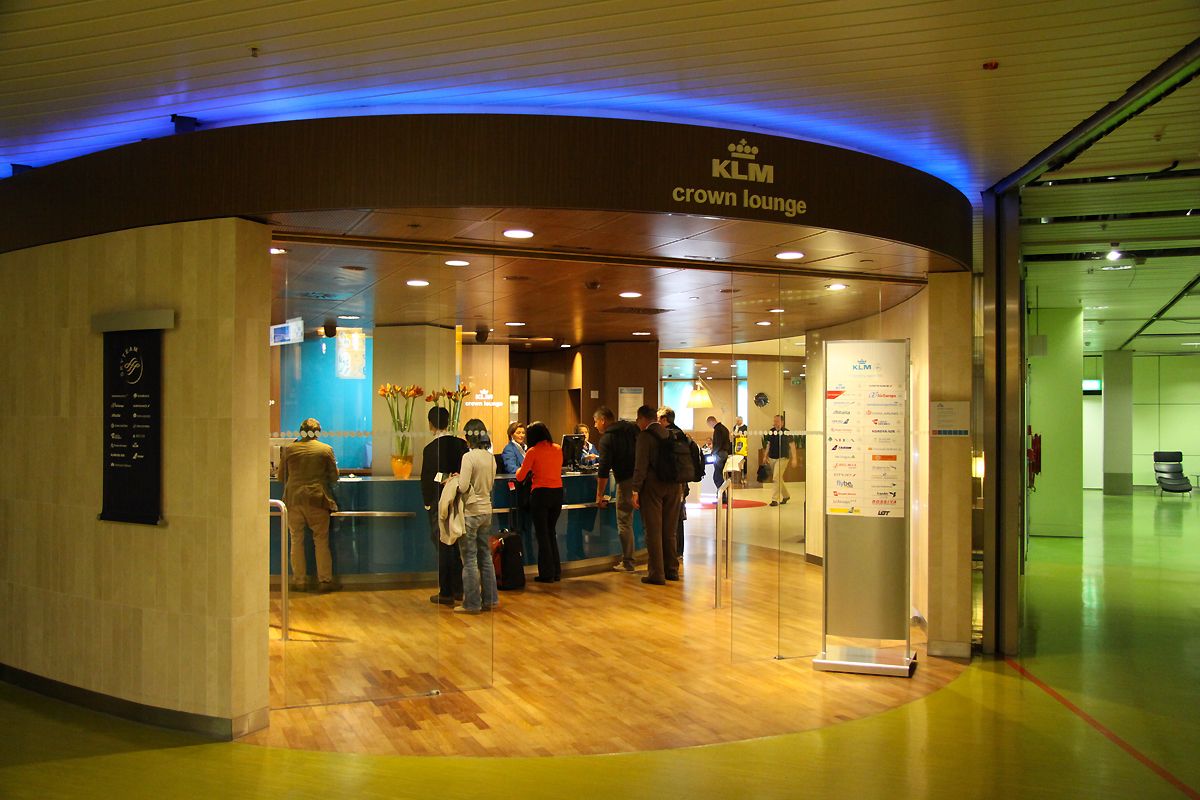 I don't have any experience with other lounges so I can't compare much. It's a big lounge with a self-service bar near the entrance. There is also a ticket service in the lounge and off course the relax area.

The flight, Seat, Entertainment, Cabins and Crew:




The boarding process started on time, first Business Class passengers and Skyteam members and last the Economy Class passengers. There were 5 Business Class passengers so the boarding went fast, the load factor in Economy was 100%. Aircraft for today's flight was the Boeing 737-8K2, PH-BXE a 12.6 year old aircraft that made its first flight in April 2000. This is my 9th flight with KLM and my 12th flight on-board a Boeing 737-800.

Boarding was done quickly and we went off block at departure time, that's a good start! We started our long taxi route towards (in)famous runway 36L (Polderbaan). Starting the flight with a cold orange juice and a selection of newspapers was offered.

2. Taken during our taxi toward runway 36L, sun is coming up and on the left side you can see the beginning of runway 09.




Temperatures during the evening went below freezing so I expected de-icing, against my expectation we continued taxiing past the Juliet platform were most of the de-icing takes place here at Schiphol. After the flight I asked the first officer why we didn't have a shower on the Juliet platform. He said that the aircraft was de-iced before being towed to the gate and the timespan between departure are de-icing was enough for one spray. Actually I was quite happy with runway 36L being the departure runway, because that would result in a 180 degree turn after departure. In this case it was a easterly turn over Amsterdam and Schiphol again, what should offer some great views from above. We lined up and take-off thrust was set, things went smooth and up we went. Just after departure a show of sun rise began.

3. Taken during the climb out of runway 36L, this is the Amsterdam Westhaven with Amsterdam and Flevoland in the background.




4. We continued the departure and began turning east following our departure route. You can see the Polderbaan (36L-18R) on the right side and the Zwanenburgbaan (36C-18C) in the middle.




5. The perfect view, an airport from above. You can see both cargo aprons on the left (Sierra) and in the top of the photo the Romeo apron. The B/C/D/E/F and G gates and the remote stands at the Juliet platform on the right. You can see that the E gates are all occupied, I count at least 9 Delta Airlines aircraft!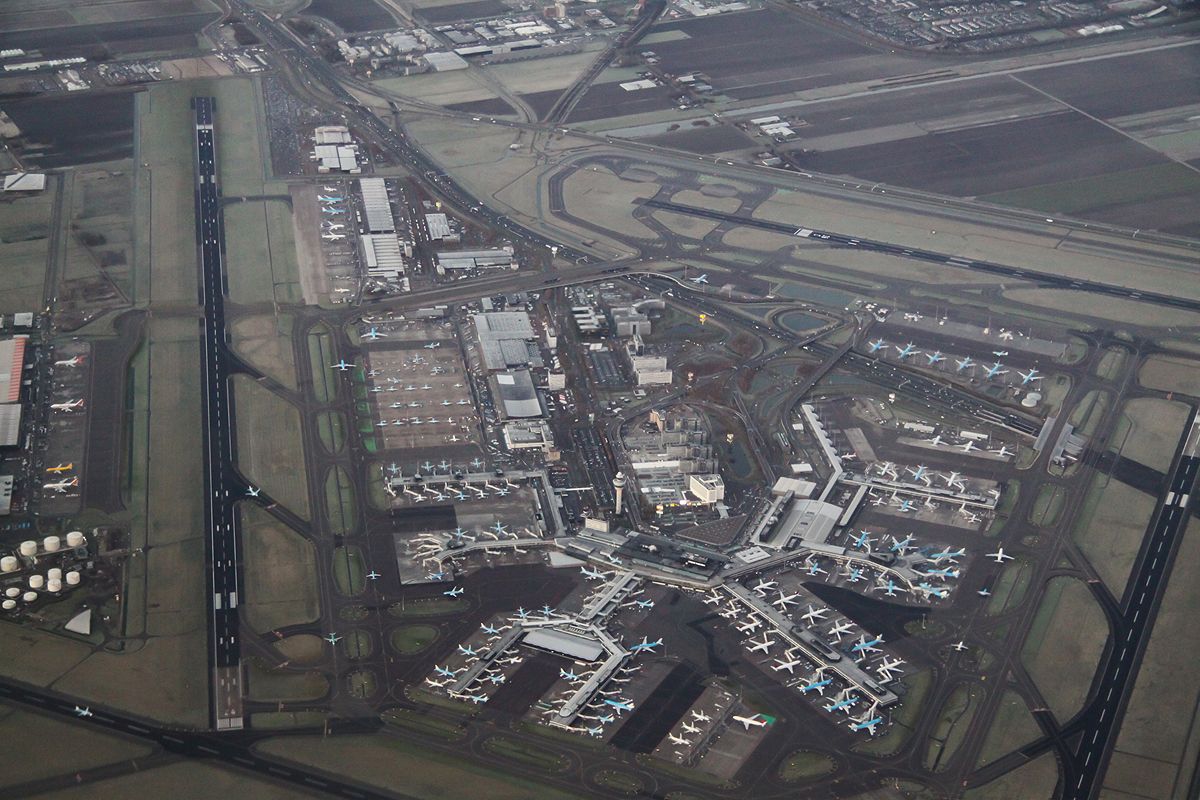 6. Shame the window was dirty, but I still love the overview.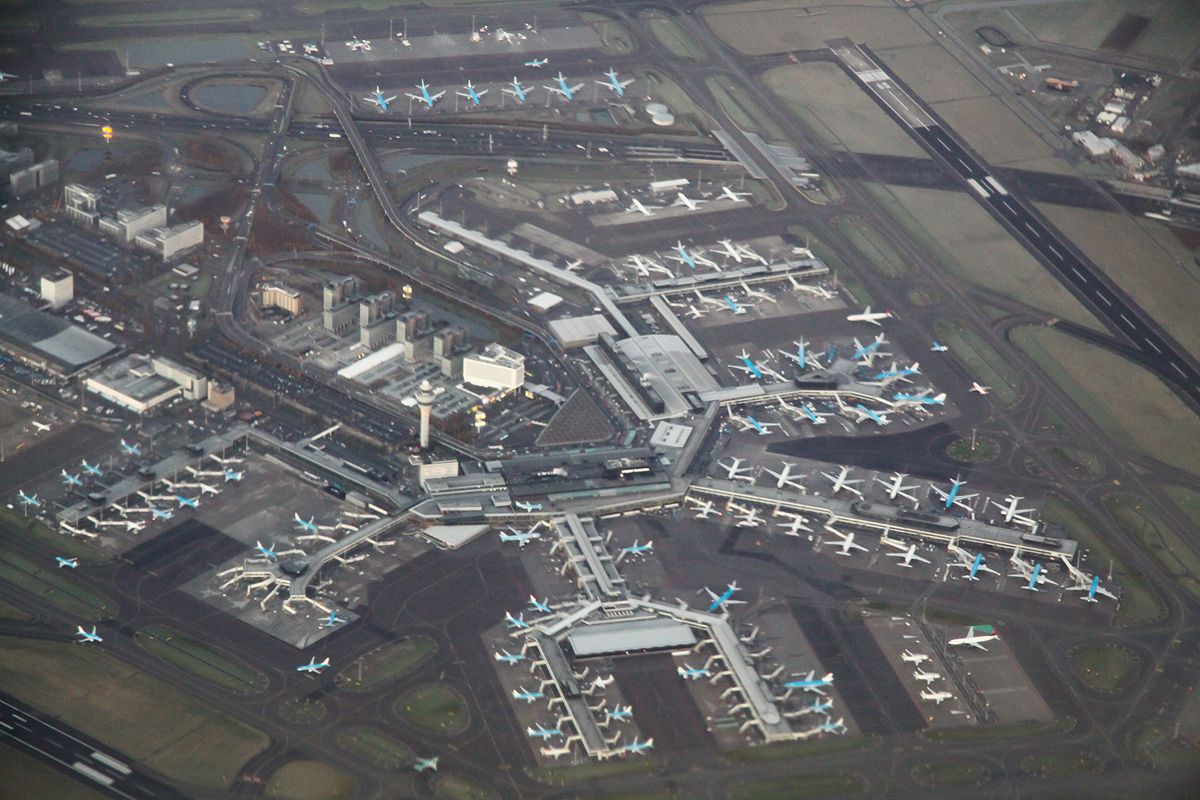 We soon climbed through a layer of clouds and the view of the Dutch landscape was gone. First Officer came on the PA and announced our route: Amsterdam-Antwerp-Lille Paris-Perpignan-Pyrenees following the coast towards Barcelona. Sun was lighting up the cowling nicely, with the moon in the background.

7.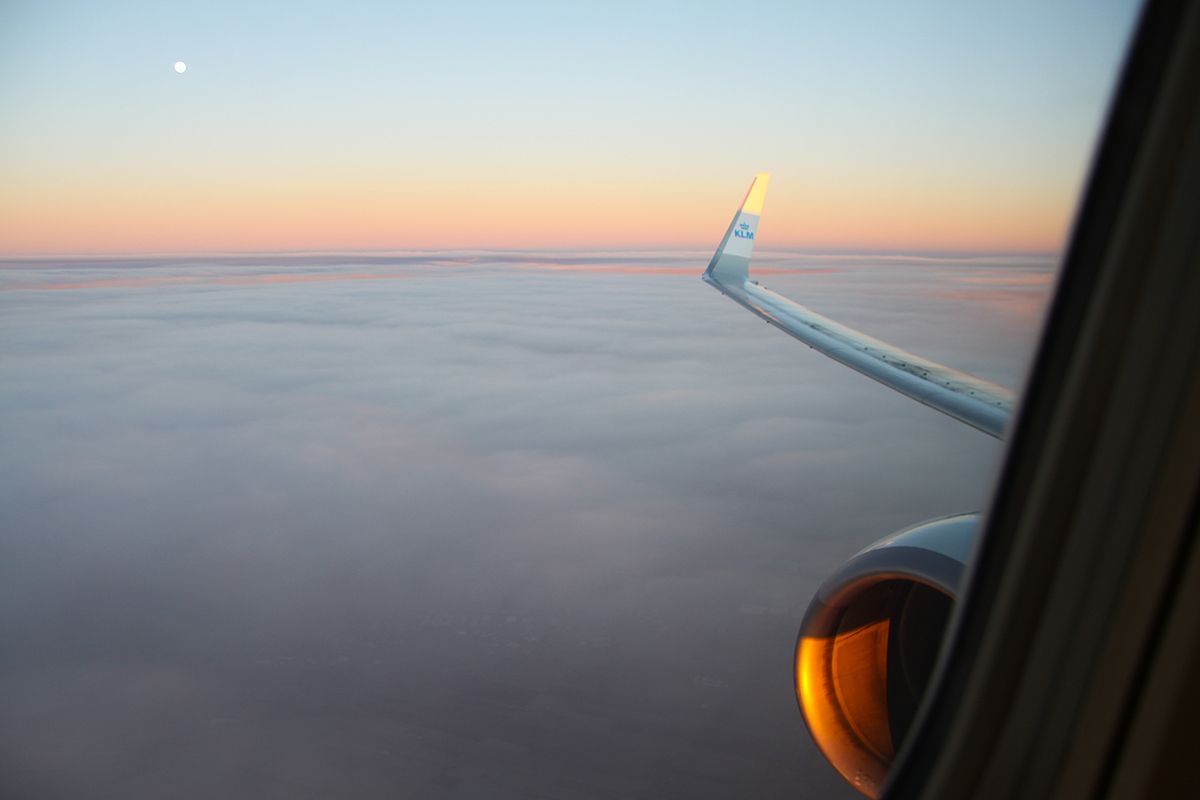 The seat was fine, power supply, good legroom, tray table in armrest, movable backrest of 5 inch instead of standard 3.5 inch in Economy. And the middle seat was reserved for personal space, nice location to place your camera equipment during flight.

8. The legroom on seat 1F, I'm around 1.85m tall. Seat pocket has become the wall pocket in front with KLM's inflight magazine the Holland Herald.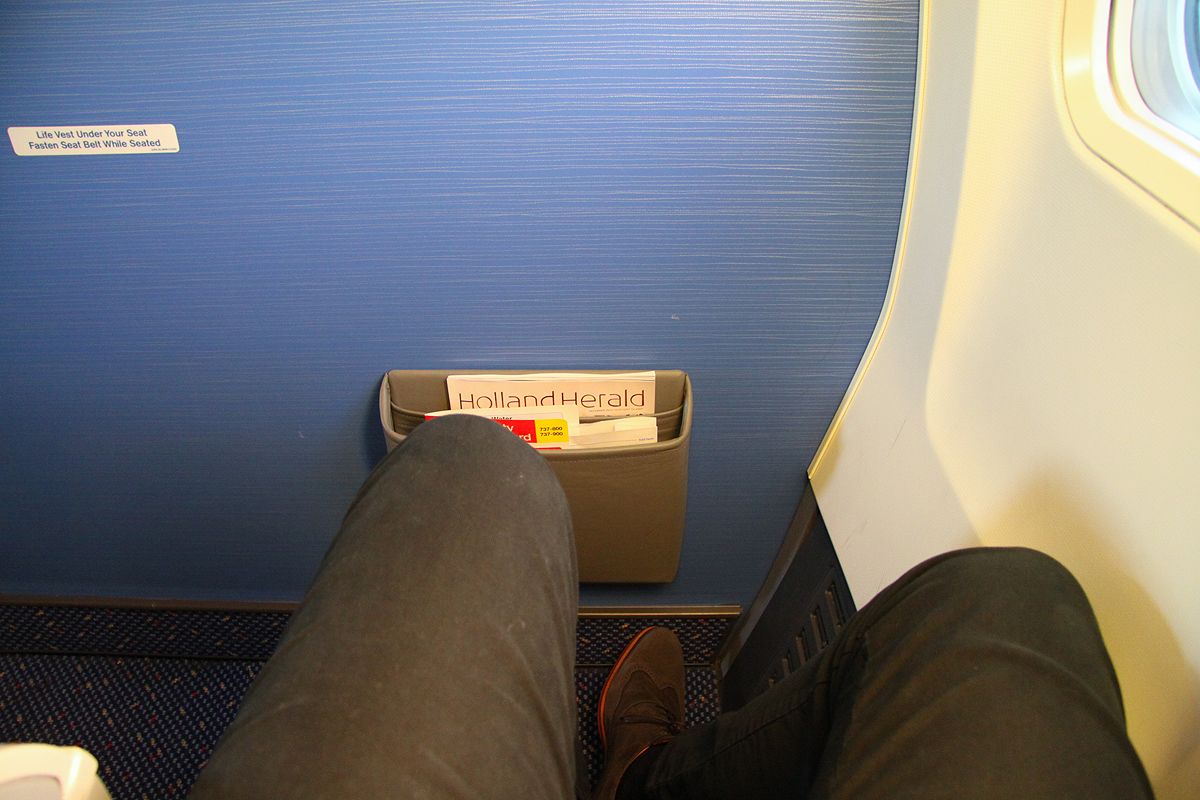 9. Middle seat empty with a small cover showing the reason why. Today's Business Class consisted of only 2 rows and with the curtain closed it felt like a private cabin.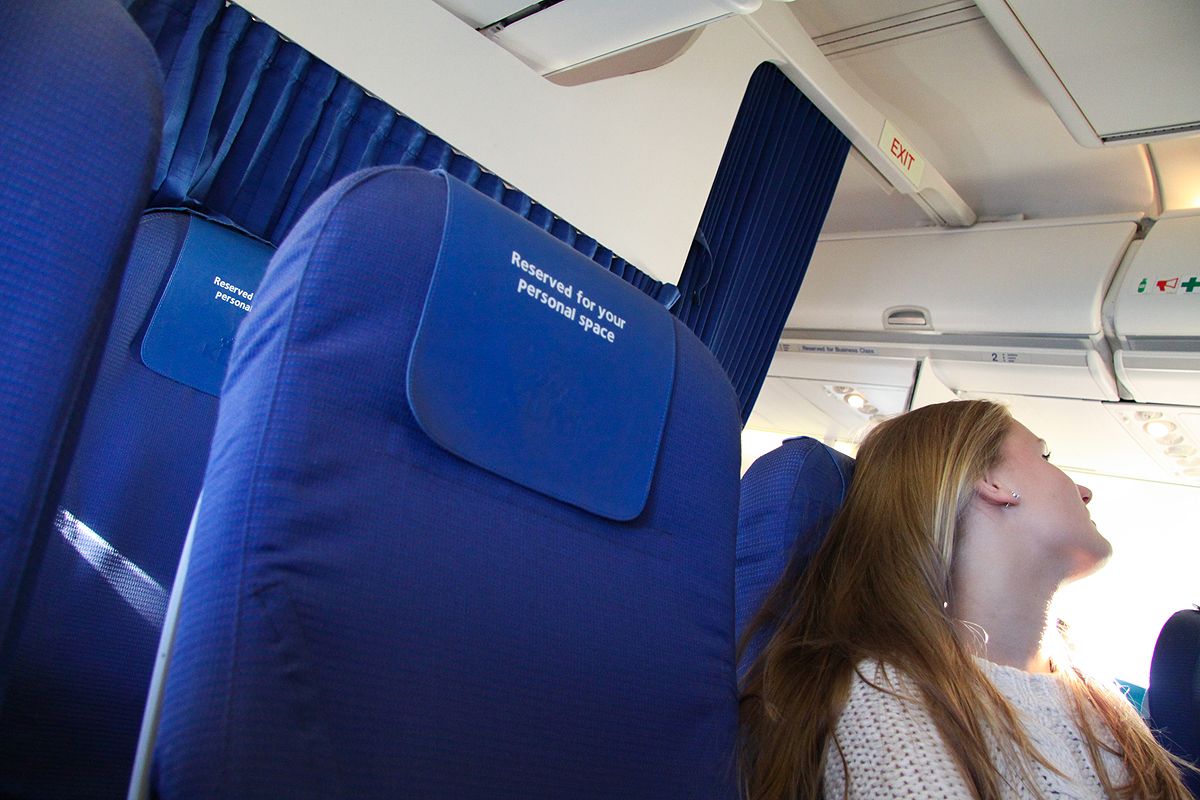 Then breakfast service commenced consisting of: A drink with salmon, scrambled egg, a small zucchini/salad, brown beans and potatoes. Together with strawberry yogurt as dessert and a variety of croissants/bread. My girlfriend took the full breakfast, I skipped that because I'm not such a big eater in the morning and took a croissant with a cup of coffee.

10.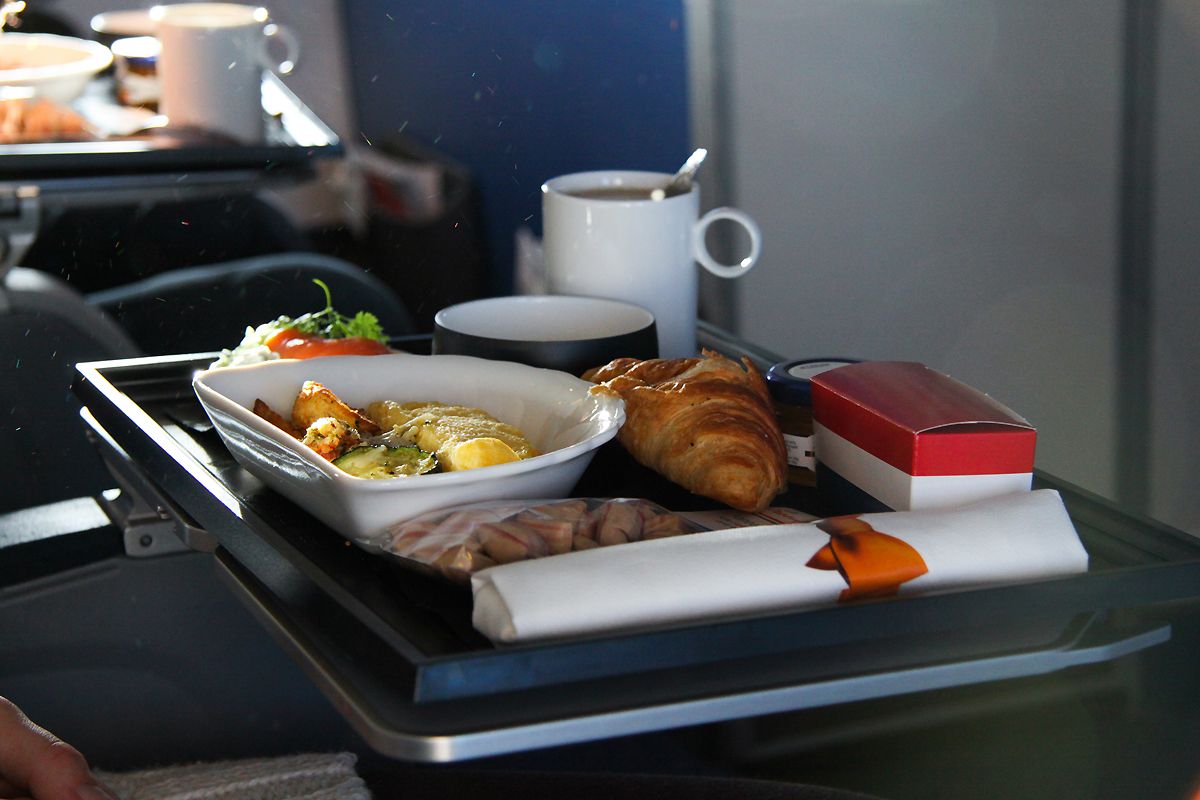 11. My coffee, croissant and a biscuit.




12. A detailed photo of the stirring stick that KLM uses on Business Class designed by Marcel Wanders (I have a set of six at home).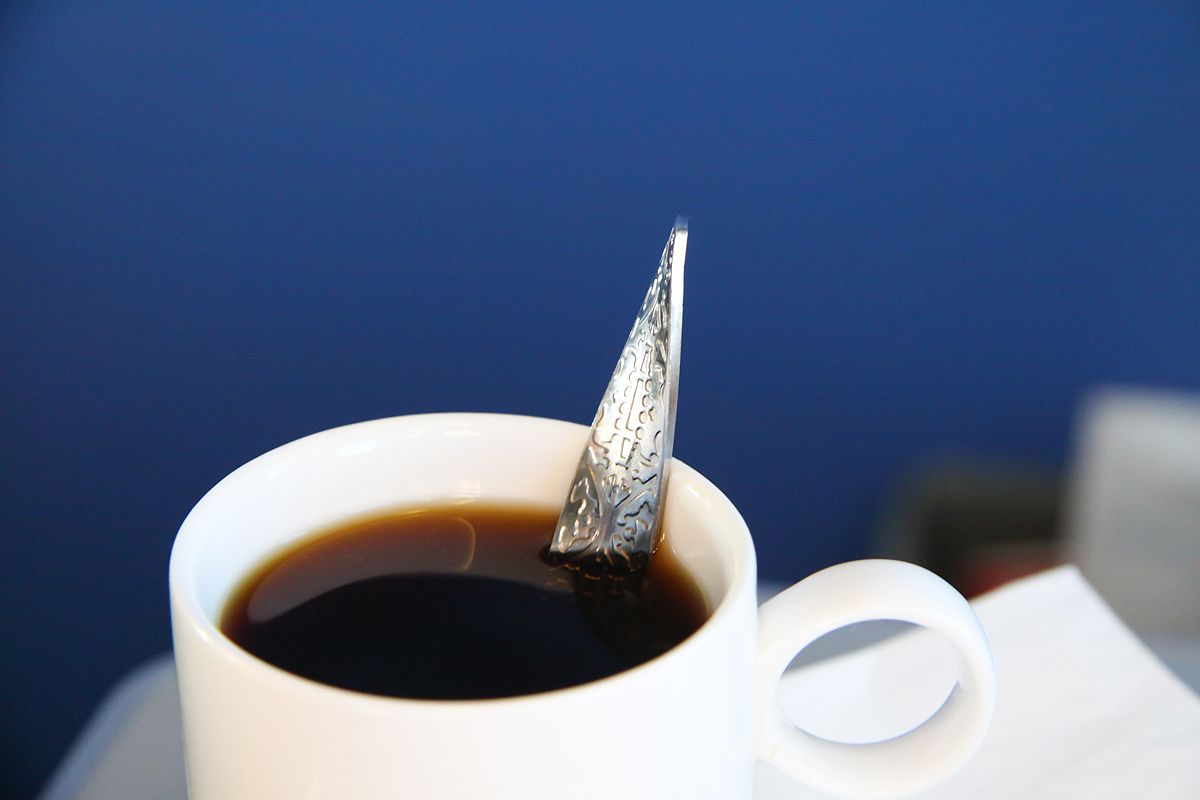 13. Salt and pepper in Dutch clogs, nice detail.




14. Cruising on 39,000ft, KLM blue is blending in nicely.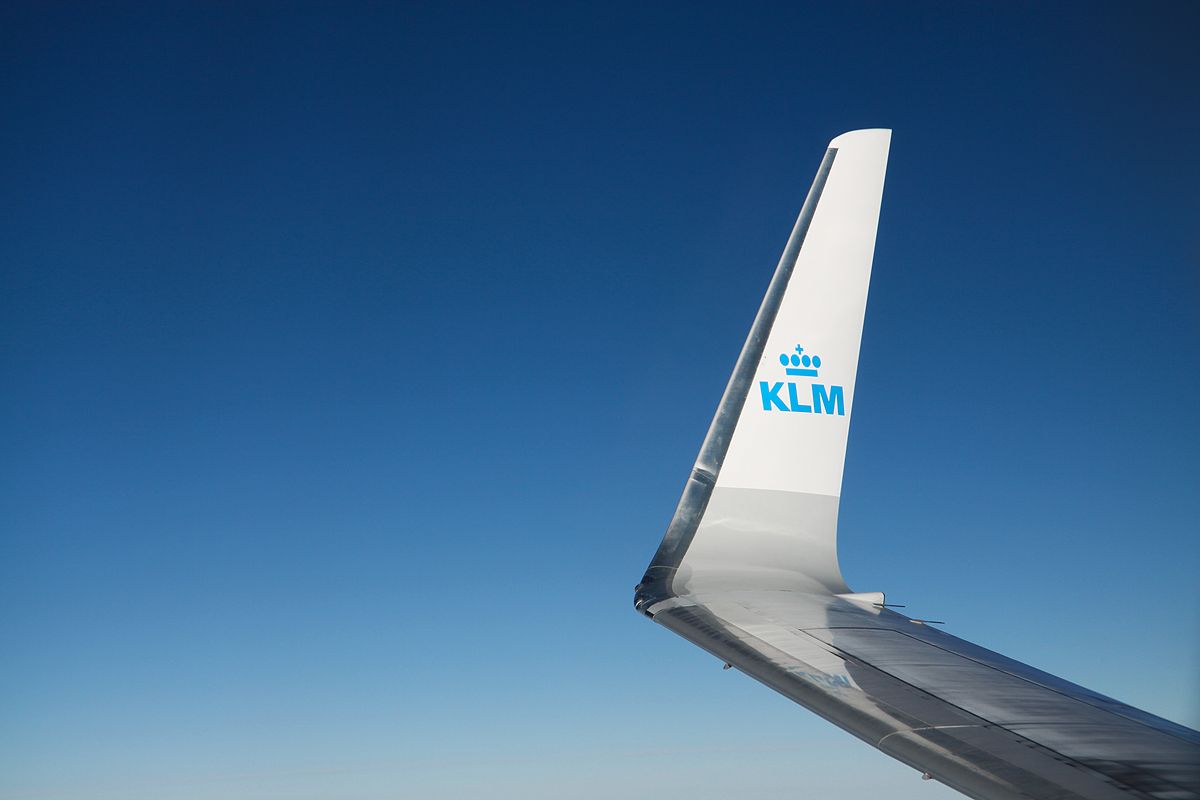 15. Somewhere over France we crossed an El Al Boeing 777-200 that flew towards the east.




One drink service later the Pyrenees were already visible in the background, so we were coming close to our TOD (Top Of Descent).

16.



17. The Pyrenees in the south of France, snow covering the tops.




18. Looks like a couple of air bubbles trapped.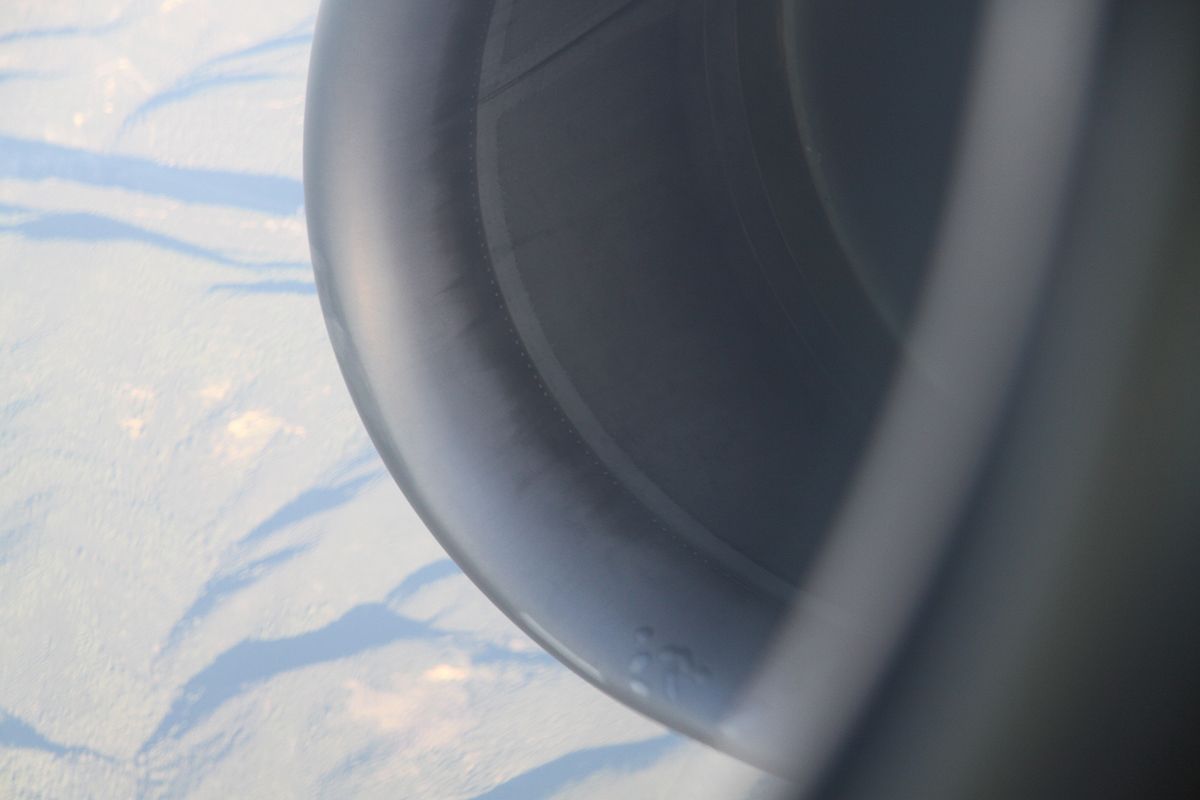 19. Descend was quick and with quite some turbulence because of the mountains. The view that we wanted to see after 2 hours of flight, nice blue sea and blue skies. Temperatures were around 15 degrees Celsius and landing runway was going to be 25R.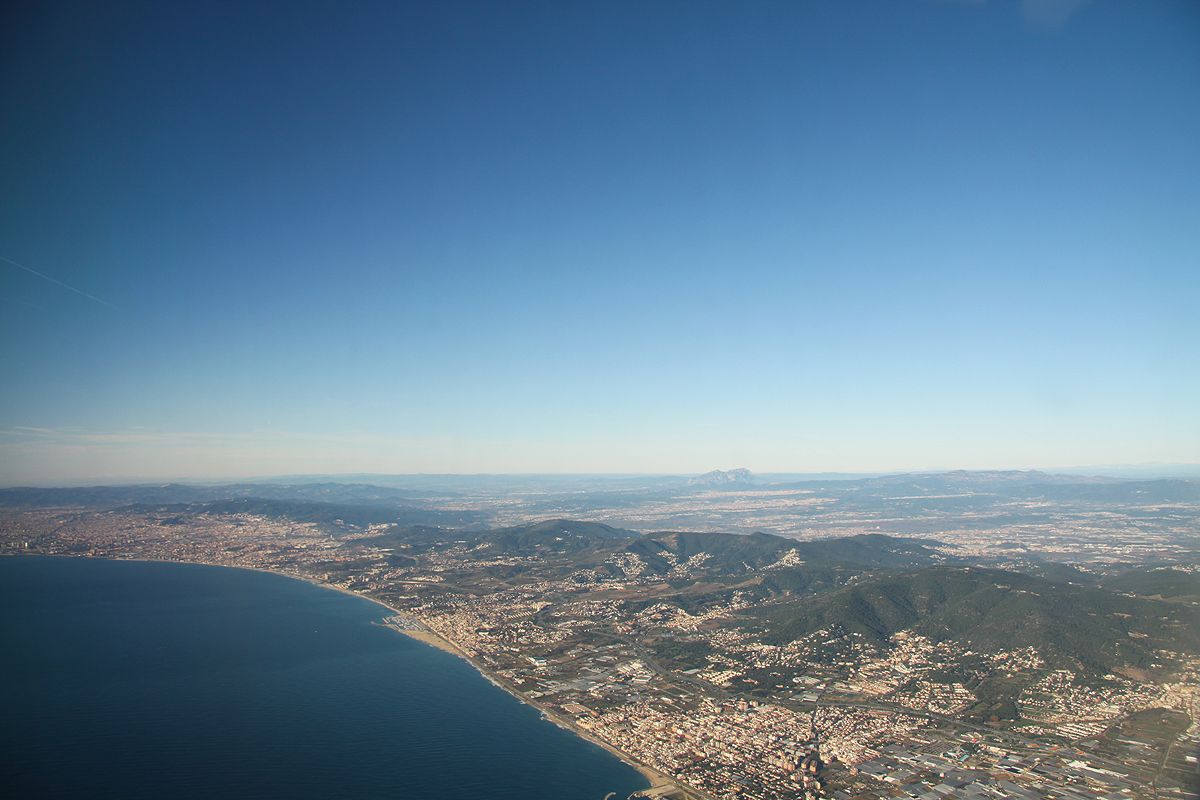 20. The coastline of Barcelona.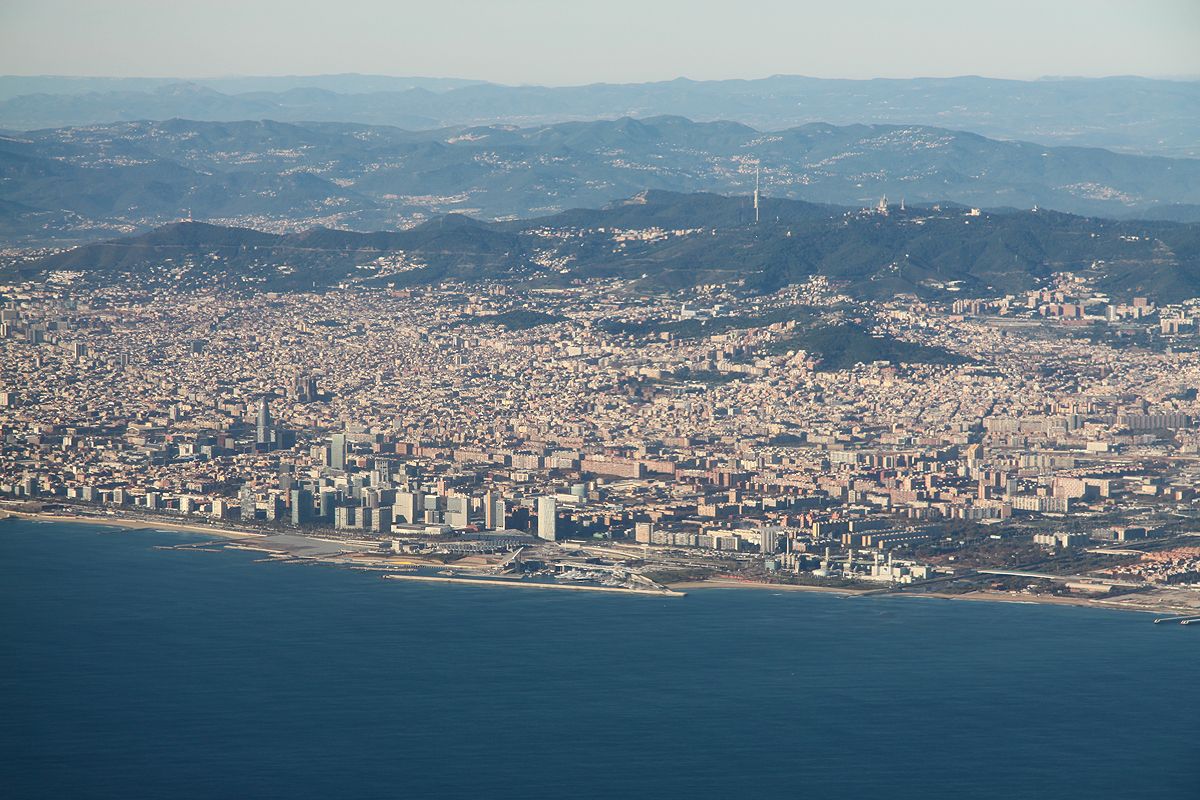 21. The city of Barcelona in the background.




22. On finals runway 25R, nice shadow of our plane.




We made a smooth landing and vacated the runway on the left side to taxi towards the ''sword'' terminal.

23. Yup we're landed on the right location.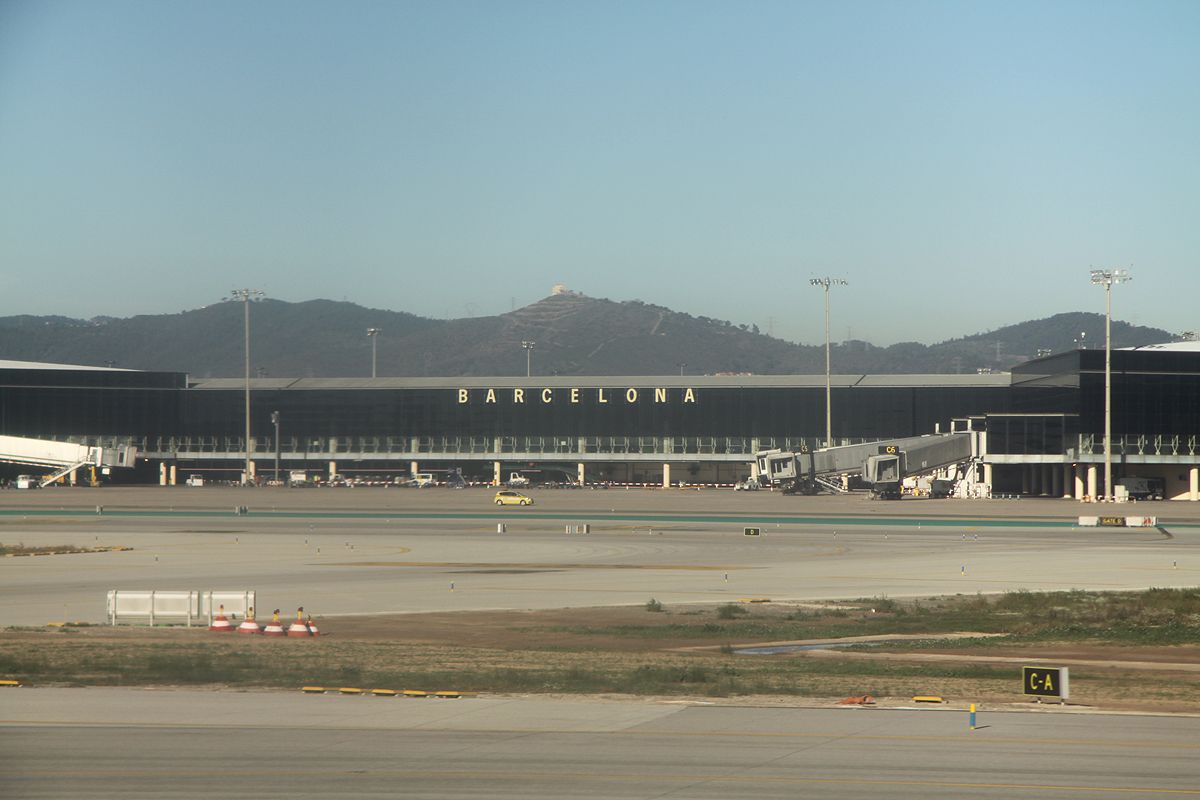 24. A pair of American Airlines 767's, a BA bus and 2 Iberia locals.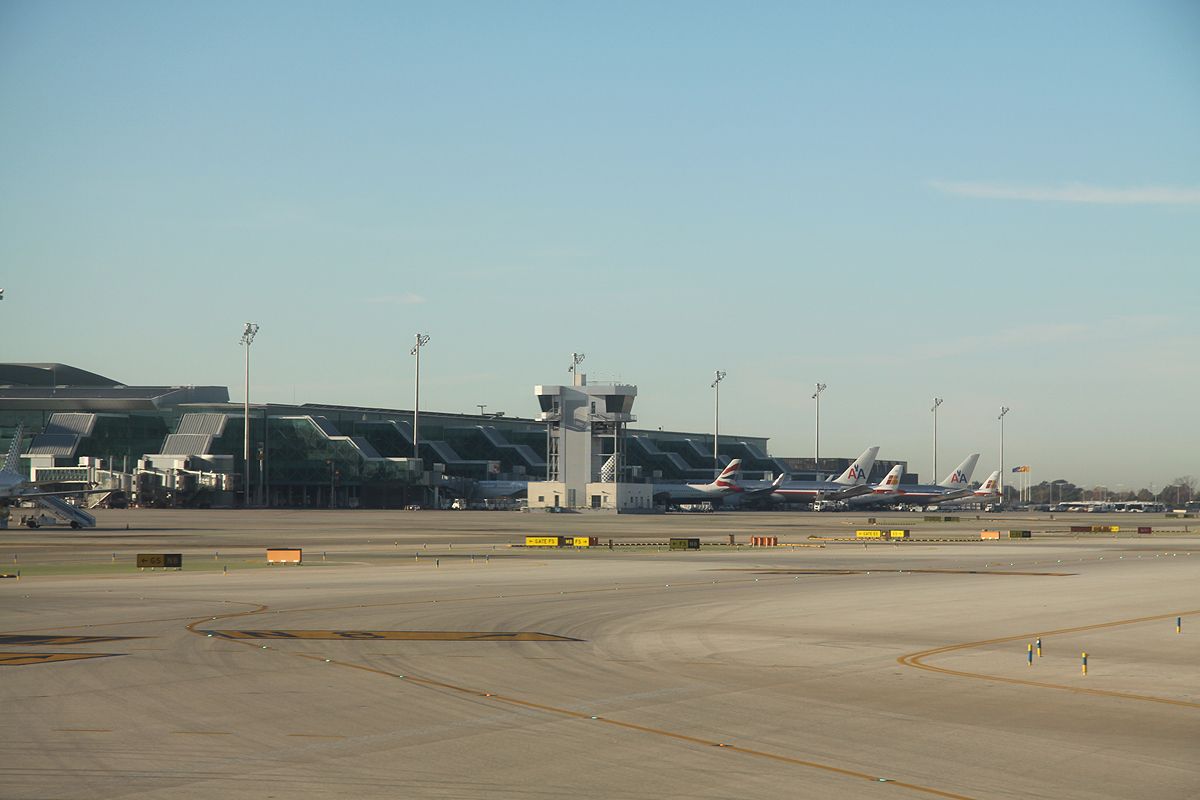 25. Tip of the sword.




26. Taxi was short and the ground handling staff were waiting at stand 262.




As a Business Class passenger you can leave the aircraft as one of the first. I walked up to the cockpit were the captain stood by the door, asked him if I could make a photo from the flight deck and he gave me the permission to do so. First Officer was still busy with paperwork and chatted a little about KLM and some systems in the cockpit and why I made the choice not to begin a career as a pilot. Made a couple of photo as well, above the lower EICAS there is a paper with all the crew names. Note the terrain radar on the Navigation Display's.

27.



28. On the yoke you can see the number 085, that was our alphanumeric callsign (KLM85J).




29. Eventually we were the last passengers to get off the plane and thanked the crew for their hospitality. We moved to the baggage pickup, I noticed the terminal being very bright and open, nice design.




Impression:

The flight went well and the service during the flight was KLM standards, and that's good. Upgrading to Business class was very easy and from now on I will check it during my next flight on-board a KLM aircraft, I hope they offer nice discounted fares on long haul flights to because I'd love to try that. Ground staff acted a little weird that's the only thing that was negative before the flight. I never had any bad experiences during a KLM flight and I will fly them I the future as well.

Thank you all for reading my trip report.

I really like photography in general so here are a couple of city photos.

30. The magic fountain.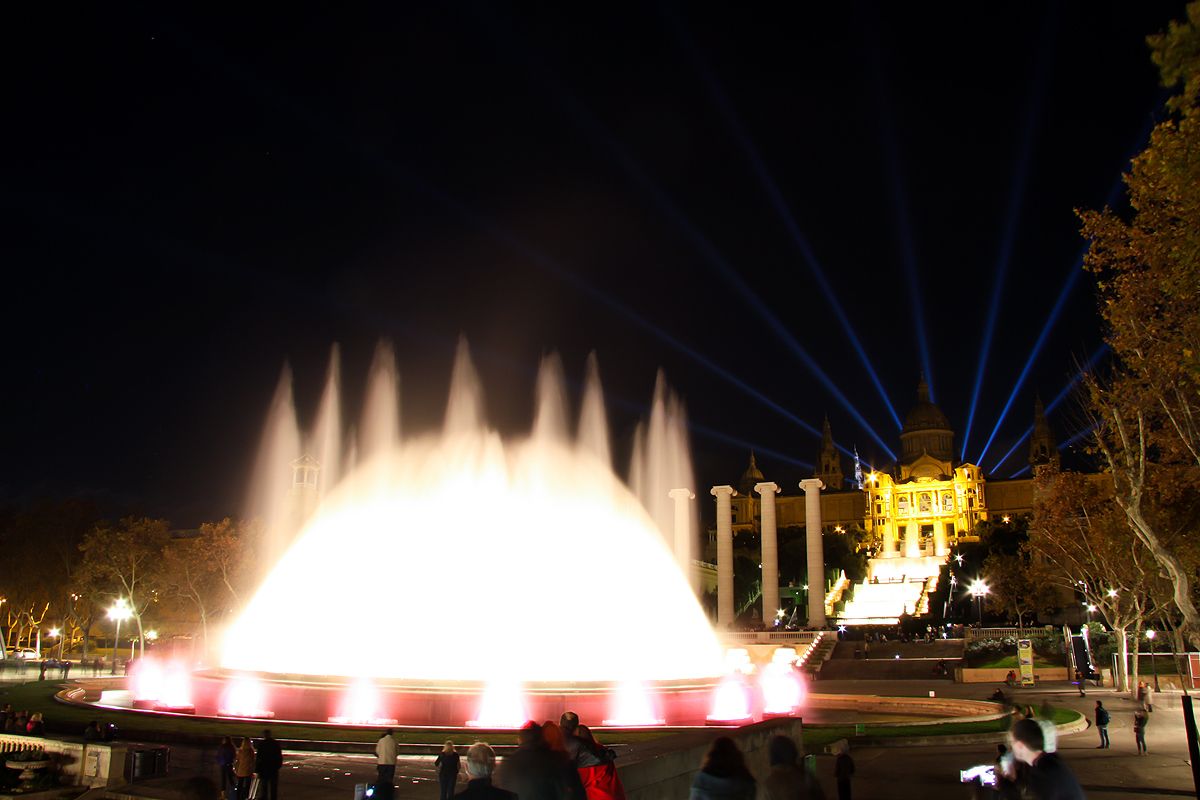 31. National museum of art.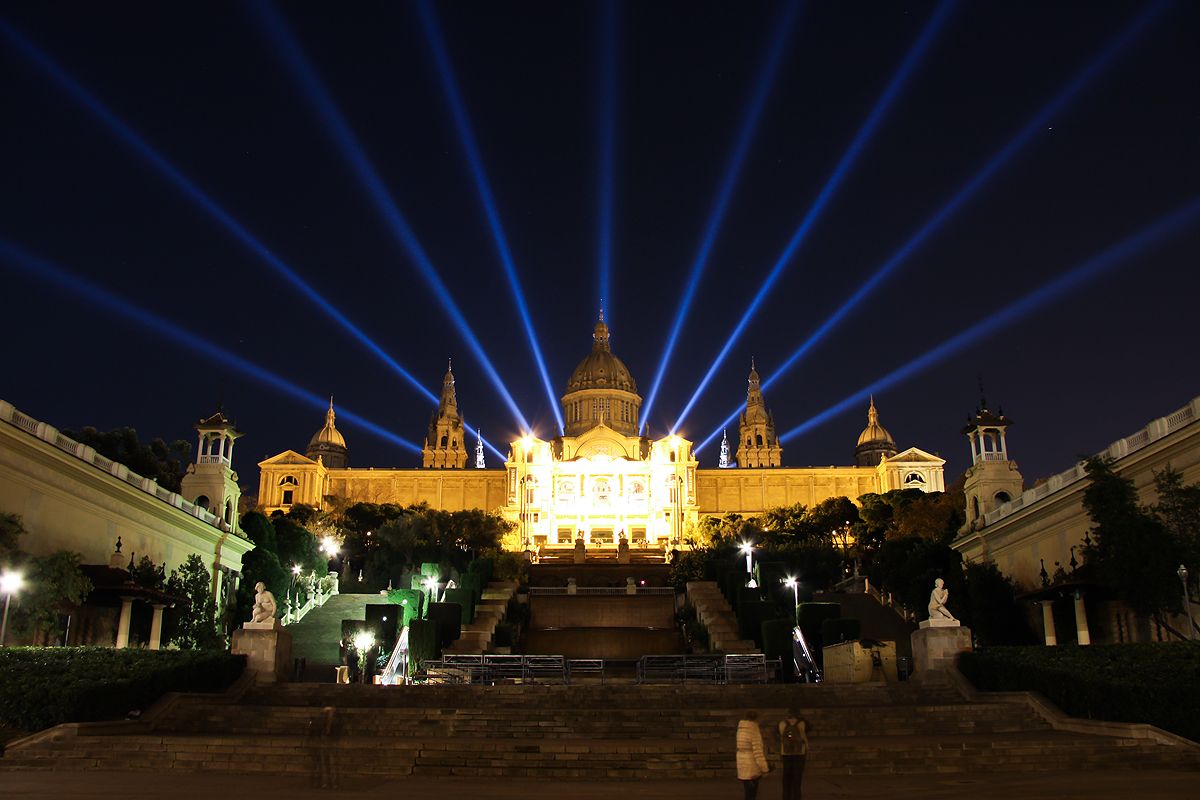 32.




33. Barcelona at night.




34. Sagrada Familia.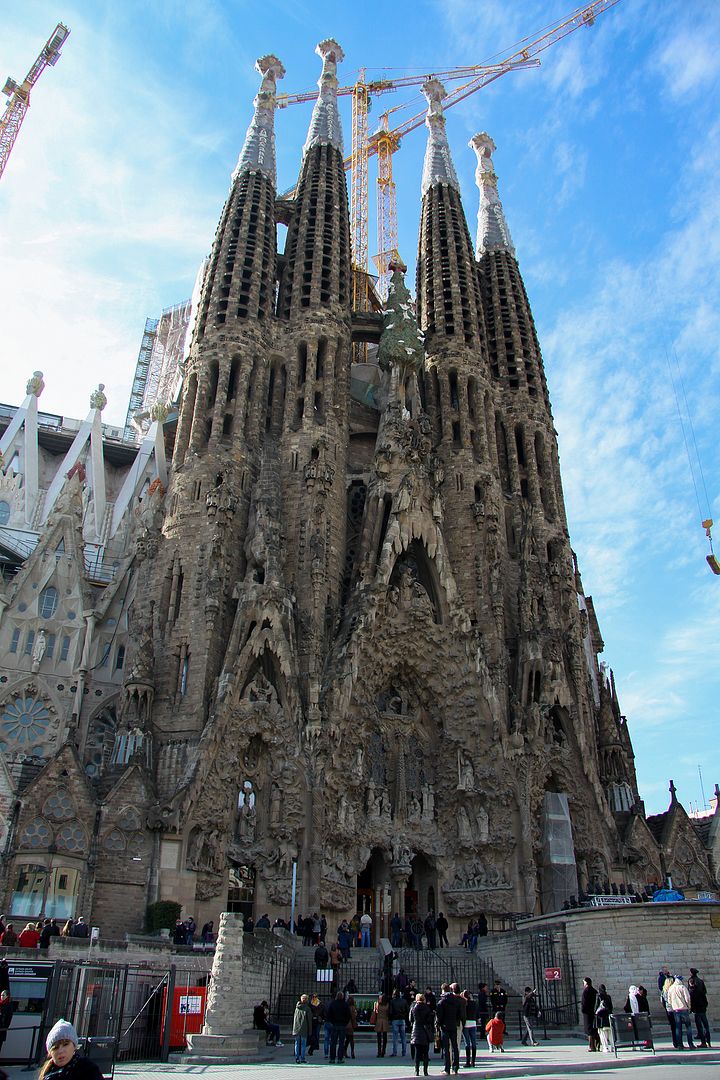 35. Olympic stadium.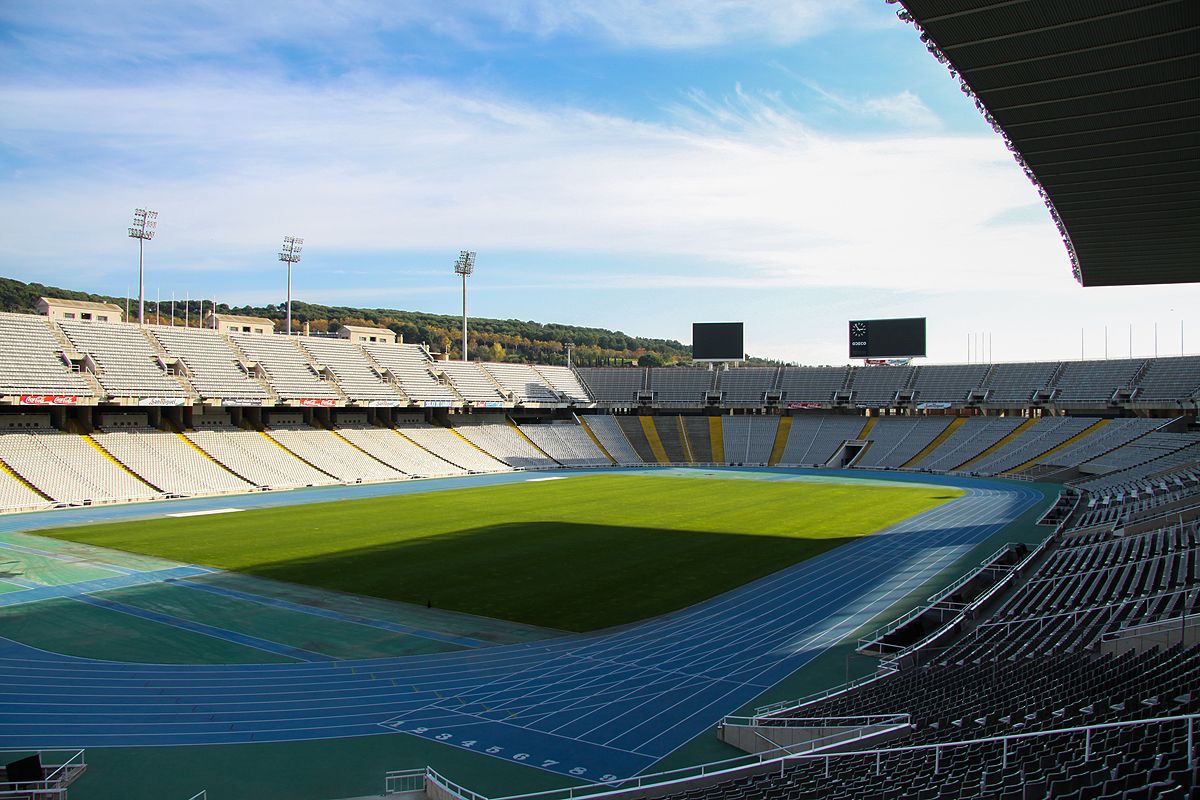 36. Overview with Sagrada Familia from the Olympic hill.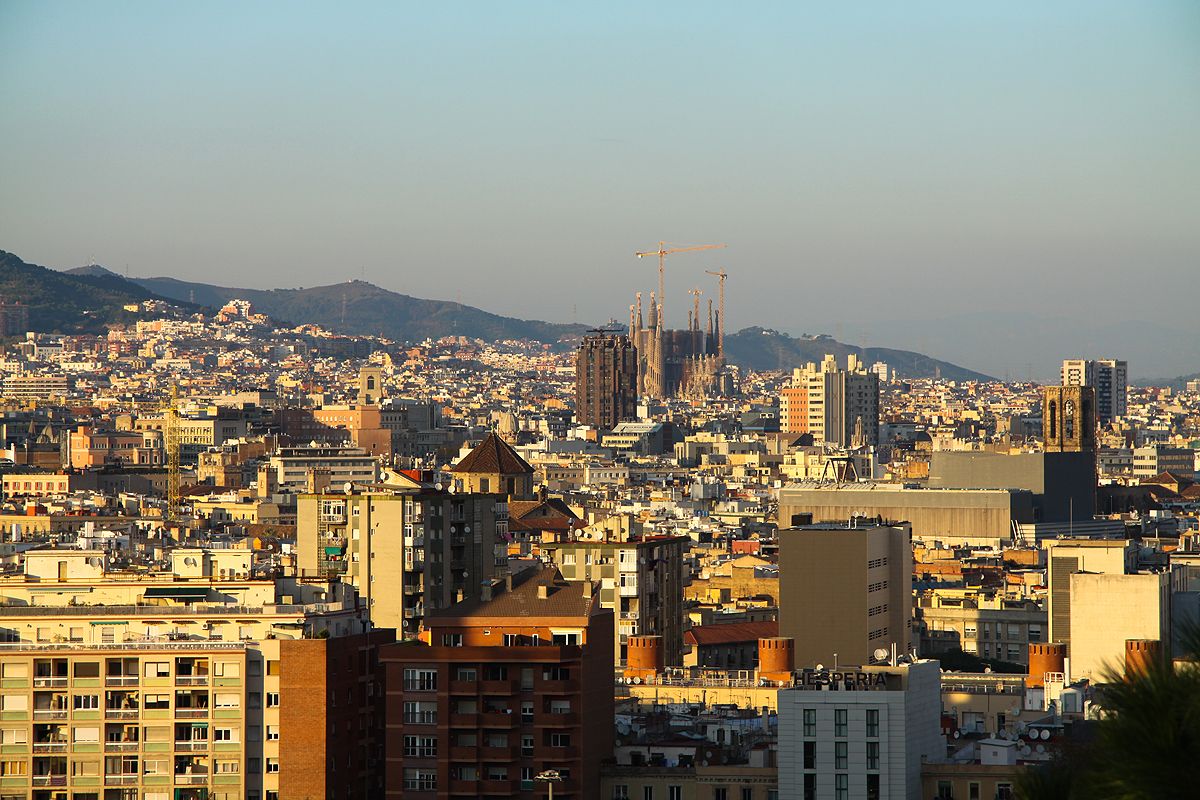 37. Look like they used some gates in the harbour.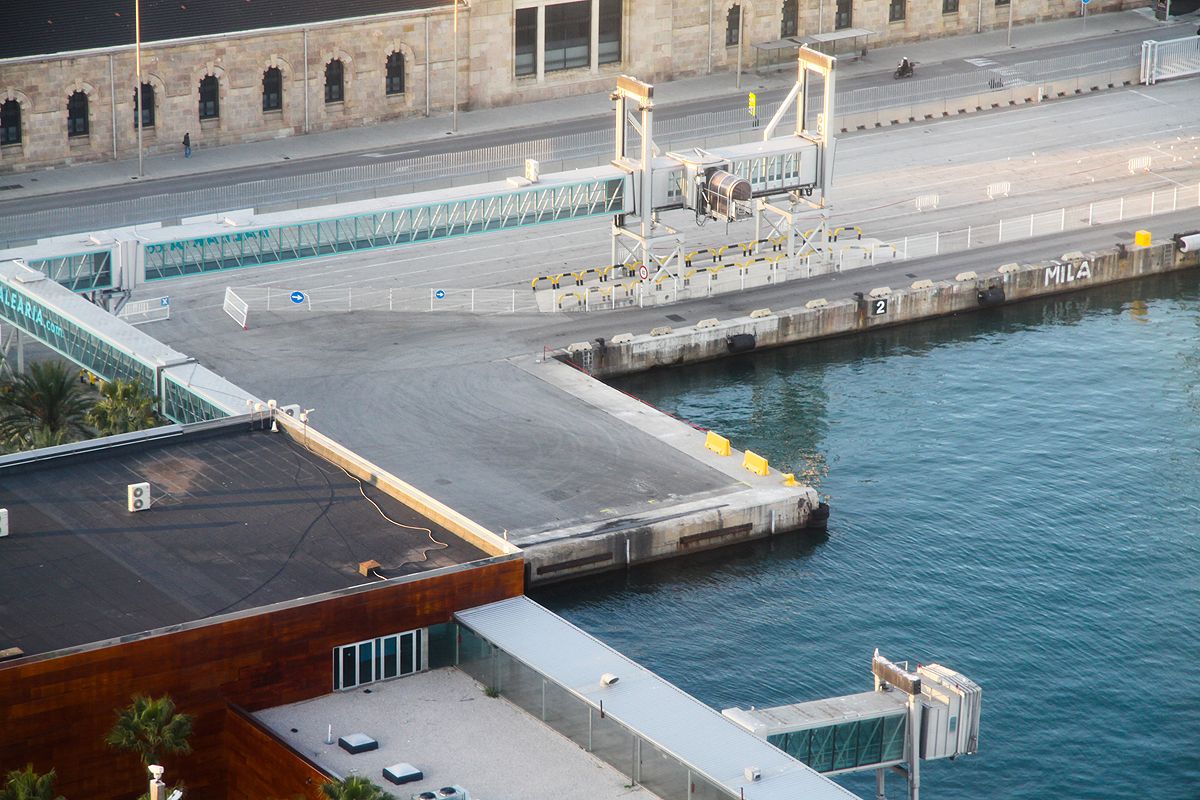 38. Camp Nou during FC Barcelona – Athletic Club Bilbao ending in a 5-1 win!




39. Park Guëll.




Previous reports:

18th Of July AF1980 CDG-LHR AF A380 (by Maikel Jul 20 2010 in Trip Reports)
KL783 AMS-AUA-CUR B744 12th Of August (by Maikel Aug 31 2010 in Trip Reports)
7I531 CUR-SXM MD82 21st Of August (by Maikel Sep 1 2010 in Trip Reports)
Topic: RE: Amsterdam (AMS) To Barcelona (BCN) KLM C
Username: adamspotter
Posted 2012-12-23 14:14:51 and read 9476 times.

Hi there,

Nice report on KLMs C product with some nice and clear pictures, you sure got a perfect overview of AMS fantastic! I make use of their cheap Business Class upgrade offers myself too a lot and surely enjoy it every time. Service on this report looks quite nice too..
Great pictures of Barcelona, a great city IMHO



Quoting Maikel (Thread starter):
When we walked to the counter we came across an older KLM ground stewardess that stared at us and told us that this area was for business class passengers only. Her face expression was like she was thinking ''what are you doing here''. Me being the age of 21 and my girlfriend being 19 she maybe thought we were lost or too young to fly C, but I still think it's just rude to say that


Not very good indeed, that happens to myself sometimes too being 22 years old..

cheers,

Brendan
Topic: RE: Amsterdam (AMS) To Barcelona (BCN) KLM C
Username: MH017
Posted 2012-12-24 04:11:29 and read 9032 times.


Actually, they do: it's like a normal airport Terminal; used this last November for our Transatlantic cruise (from BCN to MIA) on Royal Caribbean and it runs just like an airport - check-in of bags, however, will take place outside and there they'll tag them with your cabin numbers; than you go inside and depending your status (Gold, Emerald, Diamond, etc) you check-in for your sea-pass (eventually select your drink-pass or not) , go thru secury (scanner) and than board the ship via these gates, just like an airplane...

Anyhow, this is a real nice TR !!!
Having flown exactly the same flight on 07nov, prior to above mentioned cruise, all the memories came back

We flew the scheduled 73J, however, and both the C- and Y-classes were 100% (so there was no way to downgrade to a 73H for KLM)...
Really enjoyed your crisp pictures, esp. the ones of Schiphol...

Thanks a lot for sharing !!!

MH017/Pieter...