Print from Airliners.net discussion forum
http://www.airliners.net/aviation-forums/trip_reports/read.main/231037/
Topic: Frontier LAX-DEN-LGA Classic Plus In Dec 2012
Username: Carfield
Posted 2012-12-15 09:45:25 and read 12259 times.

Frontier Trip Report December 2012:



Just decide to write a mini trip report on Frontier Airlines, an admirable regional airline based in Denver! This trip report fits nicely with American Airlines' recent revamp of its way of selling tickets online, and Frontier Airlines is one of the pioneer of this "bundle" fare product, in which Frontier sells exclusively through its website. What I like about Frontier bundles is that the prices are reasonable and its website clearly describes what you will get if you purchase one of these three fare bundles – Basic, Classic, and Classic Plus. After briefing reading American Airlines' new fare bundles, I have a feeling that Frontier inspires American Airlines' new fare bundles.

So why do I decide to fly Frontier? Well I have already achieved all the elite statues of the programs that I am loyal to, and yes Delta allows me to roll over the leftover elite qualifying miles for 2014. However I need a little bit of flexibility, as I may be able to head off to the city a few days later, which will save me a few nights in accommodation and much needed time to be with my family in California. So I decide to check out Frontier again! I have flown Frontier Airlines years ago and was its Ascent member for one or two years. I also come across this nice "Classic Plus" bundle, which is fully refundable (but you have to pay fare differences if the new date of travel has a higher fare), allows two check-in bags (I am the courier for my family), access to stretch seating at booking (a "must"), free Direct TV, and one premium alcoholic/non-alcoholic beverage. I ended up changing and having to pay only extra thirty dollars and avoid a hefty change fee from the old AA and Delta. I most importantly have the flexibility to cancel this trip.

It has been a while since I have flown Frontier, which has gone through some management and strategic changes. It has gone further LCC in terms of cabin products and finally gets rid of the signature chocolate chip cookies inherited from Midwest Airlines. However, Frontier retains a nice BOB program (and having a warm food option is a plus), and still has a huge array of complimentary non-alcoholic beverages. On the positive side, it has expanded the stretch seating beyond only the bulkhead and exit rows, and allowed more access to comfortable seating. It has also retained the priority check-in/boarding/security access at major airports. The only disappointment is the lack of priority tags for Classic Plus passengers' luggage (but F9 might have cancelled this priority bag service anyway).

December 13, 2012
F9 404 LAX-DEN Lv1101 Arr1417 Airbus A319-100 N943FR "Cloe Deer Fawn"

I arrived at LAX two hours prior to arrival and the counters were rather empty, as the earlier Denver flight was in its final boarding stage and the new passengers had yet to arrive. Despite the empty counter, the flight went out almost completely full. The counters looked pretty typical with mainly kiosks and agents tagging bags. There was a priority check-in line. The agent was not overly friendly but she was efficient and the whole check-in process went well.




Terminal Six was the new home for Alaska Airlines, and handled flights from COPA, Delta, and United. The security area was redesigned but the queue issues remain. It was not terribly busy but TSA chose to only open four of the eight lanes, which resulted in lengthy wait for both priority lane and regular passenger lane. Yes my Classic Plus boarding pass was deemed eligible by the TSA line conductor. However, there was a red coat guy, who was incredibly rude and was barking orders to everyone. Despite red coats usually signify customer service representative, this red coat is an employee of the local security company, but he is definitely having a bad day and seems annoyed working with people. I am not impressed with the new Terminal Six experience.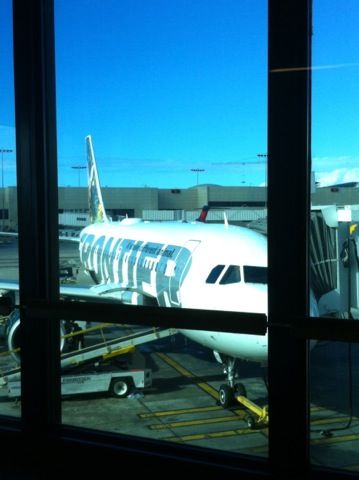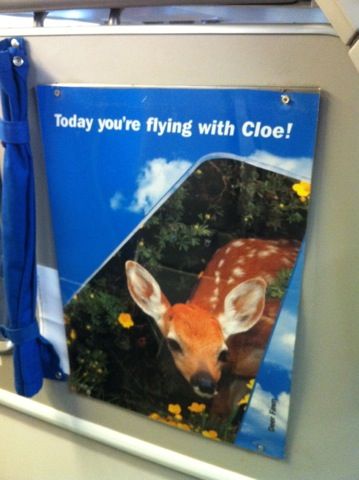 The inbound plane arrived early from Denver, and N943FR featuring Cloe, Deer Frawn, was in charge of this short flight. The turnaround time was quick and boarding began at 10:33am. As a Classic Plus passenger, you are allowed priority boarding/Zone 1. I managed to snap most of the cabin pictures at this time. The cabin looks a bit smarter than before, with green colored leather, instead of cloth seats, but the Personal TV remained the same size as before. The stretch-seating zone definitely features nice legroom, as you can tell from the legroom shot.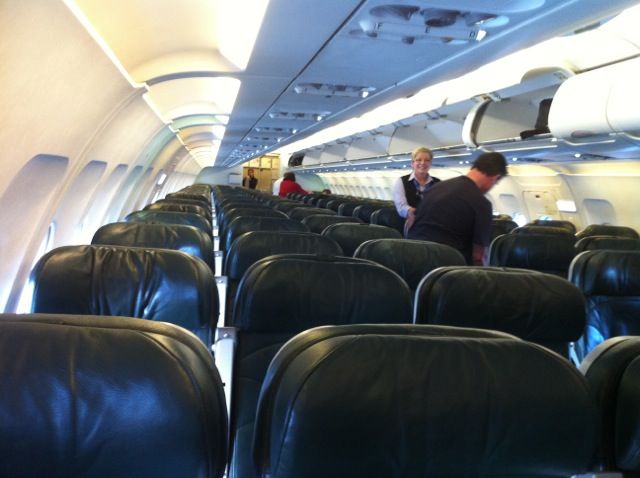 Bulkhead row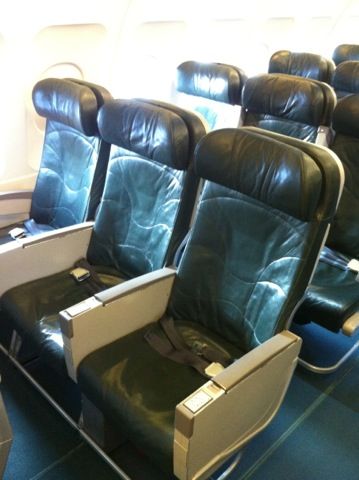 Stretched seating in forward cabin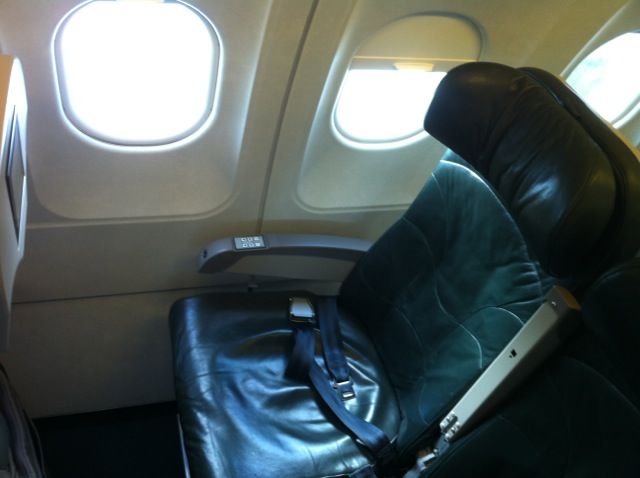 Legroom demonstration for Row 3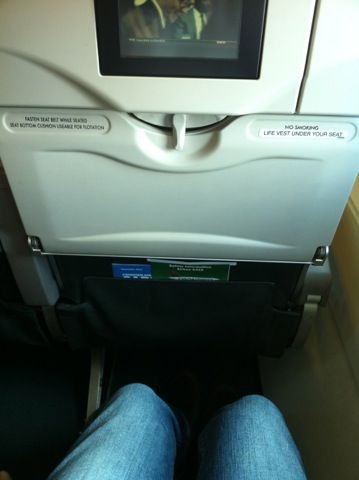 Signature Personal TV – screens a bit smaller than Jetblue's updated planes (They use the same system so I compared them)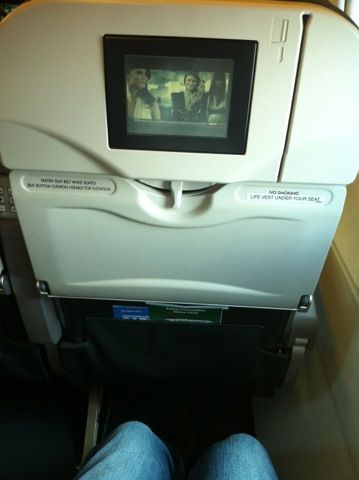 The flight was running a bit late, as there were issues with overhead bins. Door was finally closed at 11:07am and we pushed back seven minutes later, as the alley was quite busy. We taxied towards R/W25R but turned around and waiting at the tarmac for ten minutes before taxing to runway again. I presumed it was either ATC delay or waiting for the load numbers. After the nicely painted Alaska Airlines' Boeing 737-400 "Pulling Together" took off, we taxied towards R/W25R and then lifted off at 11:37am. Flying time was a quick hour and fifty-two minutes with a cruising attitude of 37,000feet.

I have noted that both flights feature many announcements, and many of them were a bit redundant, and I felt that they could simplify them a bit, as they interrupted the live television entertainment programs. The service on the A320s seems to go a bit smoother with four F/As, and the A319s only have three F/As. Most Frontier F/As are very warm and down to earth. They are very friendly but the service is just not as polished as the major airlines, so they tend to be a bit disorganized.
Topic: RE: Frontier LAX-DEN-LGA Classic Plus In Dec 2012
Username: Carfield
Posted 2012-12-15 09:46:15 and read 12256 times.

Safety card and inflight Service Guide – no in house magazine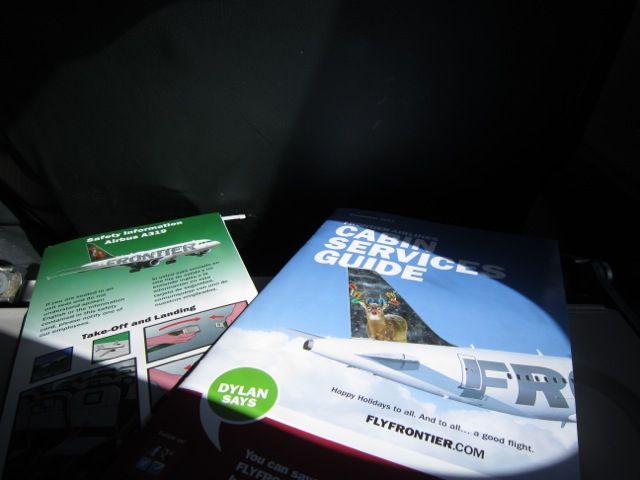 The F/As first went through the cabin and activated the free Live TV for Classic Plus passengers, as well as those elite members without their actual membership cards. Then the service began with the buy on board cart, which features many snack items, such as chips, M&M, and Chex Mix, fresh bites, including a hot option, which are the duo Cheeseburger Sliders, and Fresh Turkey sandwiches with chips, along with cheese tray and various snack boxes. They also sell Rocky Mountain Original fudge with $2 of the $5 donated to a Frontier's selected charity of the month. A good cause!

Fresh Find Menu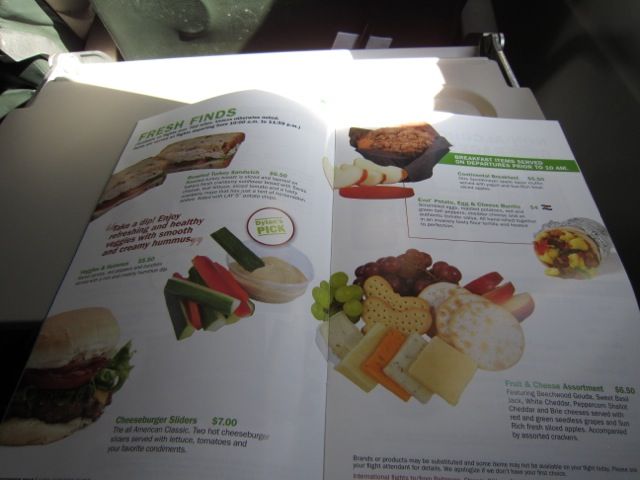 For this sector, I choose the Cheeseburger sliders, which came with lettuce, tomato, and various packaged condiments. I always like warm food, and feel that most US airlines miss the BOB mark by not offering a real hot meal, even if I have to pre-order them. Of course it is not as good as the old Midwest signature BOB hot meals, but at least it has a warmed sandwich/burger item.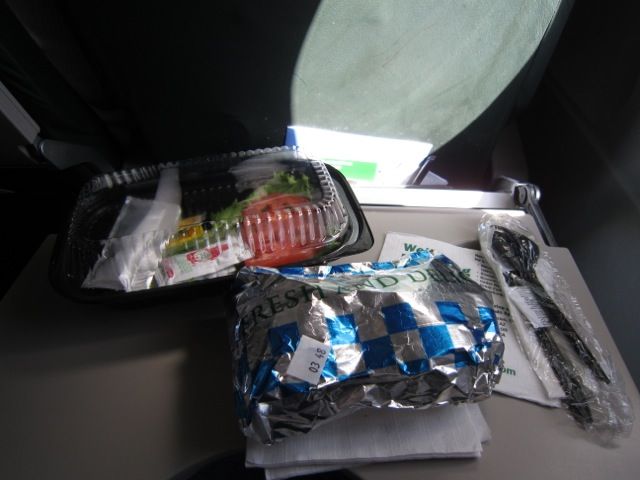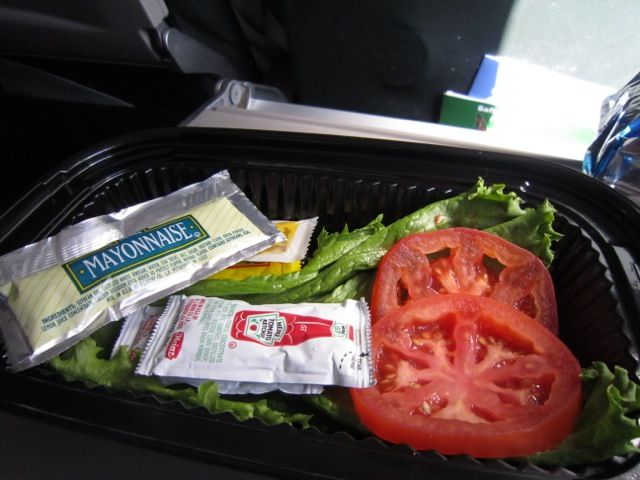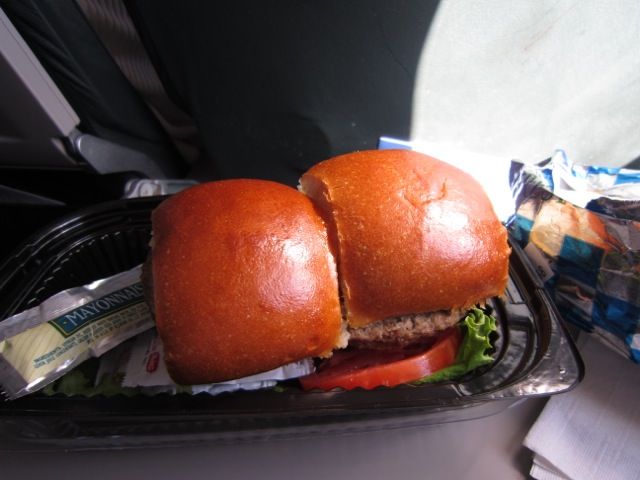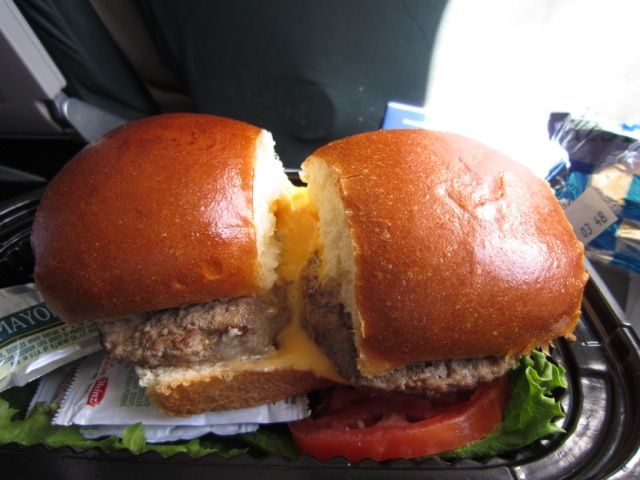 Following the buy on board cart, the normal beverage service commences with the lead F/As hand delivering beverages to passengers from Row 1 to 9, and the aft F/A rolled out a beverage cart. The service was very slow because the F/As did not have a tray to place all the beverages. Only a cup is served on this shorter flight, but there is a water run after the beverage is completed. Very impressive for flights less than two hours long!

Descent soon began at 1:58pm MST (an hour ahead of the West Coast), and we landed on R/W16R at 2:29pm. We parked at Gate A31 at 2:34pm.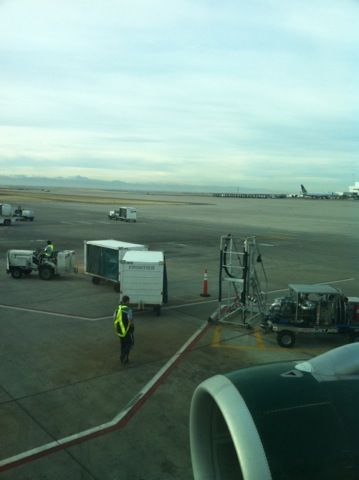 Topic: RE: Frontier LAX-DEN-LGA Classic Plus In Dec 2012
Username: Carfield
Posted 2012-12-15 09:46:53 and read 12256 times.

F9 516 DEN-LGA Lv1510 Arr2047 Airbus A320-200 N208FR "Charlie Cougar"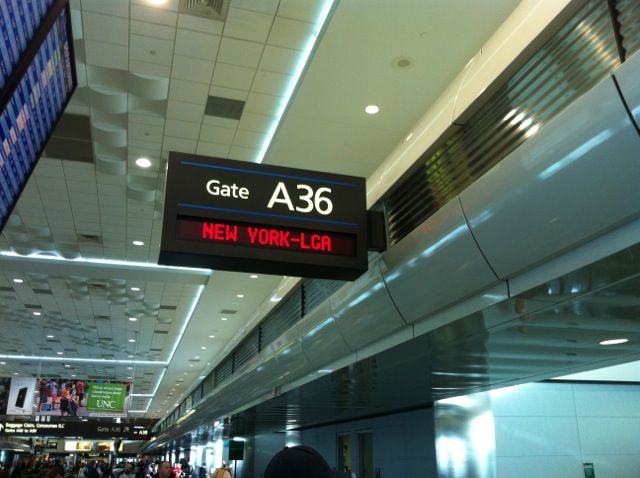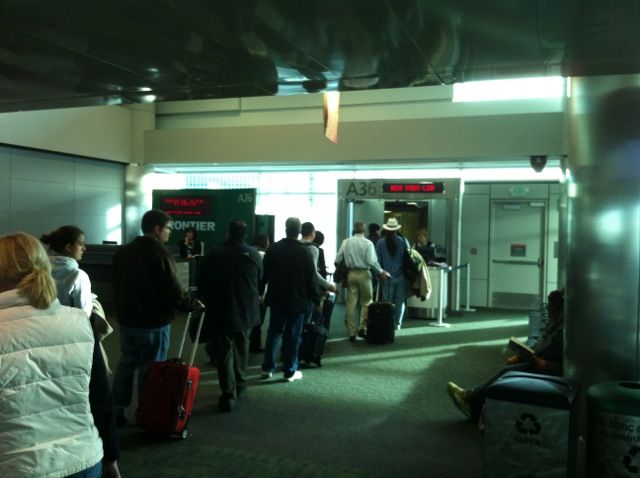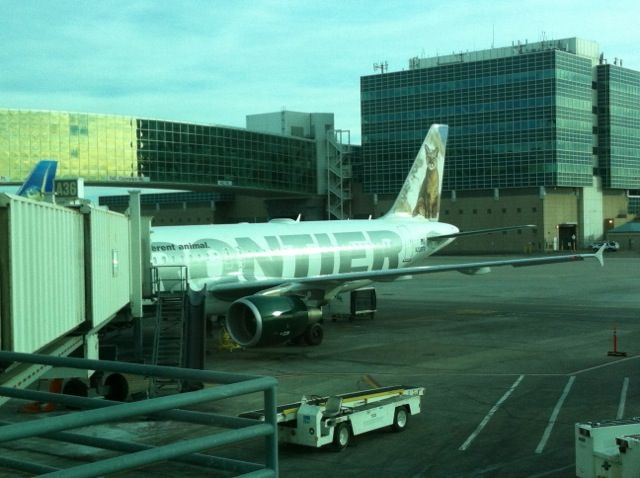 We arrived late but the F/As told everyone not to worry, as Frontier only operated from Concourse A, and all the gates were closed by. I basically had a quick run to the bathroom and boarding had already commenced. I joined Group 3, which meant there was no cabin shot. I really wanted to snap a few pictures because when I stopped flying Frontier, the A320s have yet to arrive. Nonetheless, the new A320s feature the same green colored leather seats and personal entertainment system, but the overhead bins and panels are the updated versions on the newer A320s. For this longer flight, I chose the exit row because I was not sure about the legroom on the non-bulkhead and exit row "stretched" seating, so I tried it on the shorter flight and for the longer segment, I picked the more traditional 12F. Someone had already blocked 12D, so the possibility of having an empty middle seat was higher. It worked out in the end and the only empty middle seats are on the stretched seating area. I guess the flight was not overbooked.




Random cabin picture



My seat exit row 12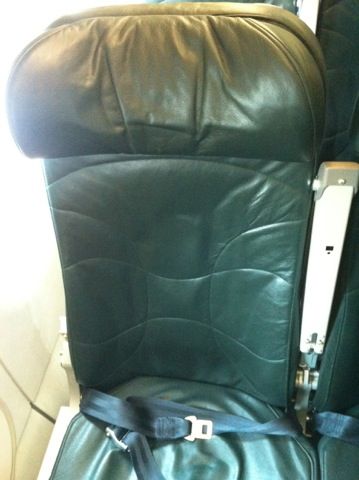 Legroom demonstration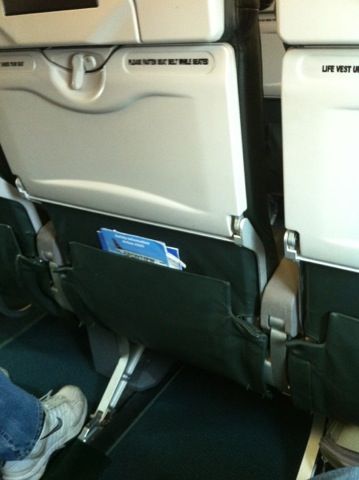 N206FR another A320 next door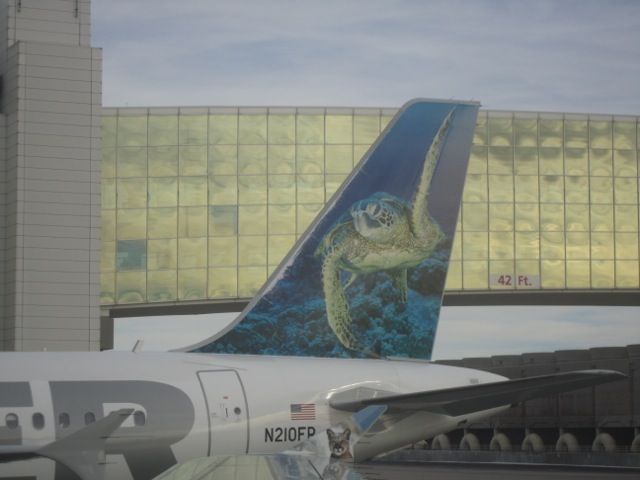 Wing to winglet shot – Definitely "Different Type of Animals"



Door was closed early at 3:04pm, and flying time was three hours and two minutes. We pushed back early at 3:06pm and took off from R/W08 at 3:14pm. We also cruised at 37,000feet and the tail wind was very strong today, and we were traveling close to 600mph throughout the flight. We only slowed down as we began our descent towards the "always busy" New York La Guardia Airport.

Winglet shot after takeoff



Service was similar with F/As activating TV first, and then they rolled out the Buy On Board cart, and the service took a bit longer, as there were many takers on the sandwiches, cheese tray and cheeseburgers. Given the amount of close connections, I was not surprised. I was really hungry and had no time to buy food at Denver. So I chose the turkey sandwich and M&M peanut butter.

Here is the "Fresh Creations by Frontier Airlines – Turkey on Cranberry Sunflower Bread with Cranberry Horseradish Mayonnaise" along with M&Ms Peanut Butter flavor.



IZZE's Blackberry sparkling juice beverage – Premium non-alcoholic beverage – one of the free choices for Classic Plus passengers – Clementine is definitely better and too bad they run out.



For Row 1 to 12, beverage was carried out from the galley but the F/A totally missed our row, until my fellow passengers reminded them. For the aft section, trolley was used. Full cans of beverages were provided too for the first round of beverages, which was nice.

Towards the end of the flight, there was a second beverage service and carts were used on both sections. The service went smoother and the F/As did not miss anyone. However while the final beverage in the aft section began at 5:13pm, the girls up front did not start till 5:40pm, when descent has begun. Thankfully it took a while to land in La Guardia.

As I mentioned earlier, descent began at 7:38pm EST (two hours ahead of Denver), and we landed on R/W4 at 8:16pm, which was not too bad. We did not circle around much this evening and we parked at gate B1 at 8:24pm, twenty-three minutes ahead of schedule, which was impressive.

Festive counter at LGA – I guess Frontier has full time use of Gate B1



As I mentioned earlier, I had a piece of check in bag, while the bags began to come out at 8:43pm, my bag was the last to be unloaded in the belt. Compared to the Southwest Airlines flight, which arrived much later than us but bags came out before us, Frontier was not too great especially we were at Gate B1, literally next to the baggage claim. However, it was average compared to most major airlines.

About the stretched seat option, the legroom at the exit row is not significantly different from the non-exit row, but Frontier will most likely put overbook passengers in the first section. If you are traveling solo and want a possible empty middle seat, my recommendation is still going for exit row especially those already filled with one solo passenger in the window or aisle. The front stretched seating zone will allow you to deplane quicker but given the heavy load that Frontier has, you will most likely have someone sitting in the middle, as Frontier will operationally upgrade passengers to the stretched seating zone especially the front non exit row cabin. I got a mother with a lap child from LAX to DEN coming on board in the last minute. She is definitely not an elite or a "Classic Plus" passenger, as she is not offered complimentary TV. If you want to avoid it, exit row will be a better choice unless you have a close connection. If I have to do it over again, I will still select the front section for the short hop to Denver from the West Coast especially I have less than sixty minutes scheduled in between flights. Just a recommendation but I hope it will help future passengers.

My Conclusion:
Frontier Airlines offers a very pleasant product and is a very well run regional airline. The transit experience at Denver is pleasant and it runs an efficient and smooth operation at its main hub. I have less than thirty minutes in the ground and my bag made it to the plane to LGA with no problem. The Buy On Board program is nice and I like the opportunity to buy something warmed, which is what I look for in a plane. You can buy warmed food in the airport but they most likely will cool down quickly especially on a plane. The beverage services are nice and they definitely work harder than the major airlines. Most F/As from the major will try their best to avoid doing the second service and given our scheduled flying time is two hours and fifty-seven minutes, and I beat most of them will say that it is under three hours and we don't need to do a second beverage service. Direct TV is a nice plus especially inflight Internet is still rather pricey and unstable especially when many passengers are using them simultaneously. Most importantly, I really like their fare bundles and the Classic Plus offers very good values and is not over-priced like most major airlines in terms of being fully refundable. Yes fares will fluctuate but at least I have the option to buy a fully refundable ticket without breaking the bank. I hope you enjoy this trip report and have a wonderful holiday season!

Carfield

[Edited 2012-12-15 10:03:23]
Topic: RE: Frontier LAX-DEN-LGA Classic Plus In Dec 2012
Username: type-rated
Posted 2012-12-15 10:20:46 and read 12129 times.

Nice report and photos.
I have always found the service on Frontier to be great. I have never had the problem of "disappearing" flight attendants with them like I have on the legacy airlines. The Frontier F/A's always seem to be readily available working the aisle checking to see if anyone needs anything.
Topic: RE: Frontier LAX-DEN-LGA Classic Plus In Dec 2012
Username: adamspotter
Posted 2012-12-15 12:09:11 and read 11855 times.

Hi Carfield,

Great report as always, thanks for sharing!
Its great to get an insight on Frontier an airline I have only flown many years ago. Was thinking about booking a flight on them for my next trip to the USA in January but opted not too in the end.
Their service looks quite good, the BOB looks nice and gotta love all those different liveries. The signs showing which "animal" you will be flying on by the gate is a nice touch IMHO!

cheers,

Brendan
Topic: RE: Frontier LAX-DEN-LGA Classic Plus In Dec 2012
Username: NWADTWE16
Posted 2012-12-16 21:46:36 and read 10724 times.

Great trip report! Keep hoping ill get the chance to fly them but i never go West anymore.. Dont see Vegas or L.A. in the near future but im pulling for DTWMCO where i can connect on B6 to the Carribean. Great display of their product, pleasure to read...
Topic: RE: Frontier LAX-DEN-LGA Classic Plus In Dec 2012
Username: abrelosojos
Posted 2012-12-16 22:23:24 and read 10696 times.

I don't think I have ready a Frontier report in a while and it is good to read about the airline. I really do hope they survive as mergers are creating too many behemoths in the U.S. Overall, seems really nice.



Quoting Carfield (Thread starter):
The inbound plane arrived early from Denver, and N943FR featuring Cloe, Deer Frawn, was in charge of this short flight.


= Now, I wonder how they do this ... does each aircraft just have it and bring it with them and display it during boarding? I can't see each airport having all these banners? Someone please educate me.

Saludos,
A.
Topic: RE: Frontier LAX-DEN-LGA Classic Plus In Dec 2012
Username: SR 103
Posted 2012-12-16 23:40:34 and read 10642 times.

Thanks for a great trip report Carfield. I have not flown F9 since 2010 and I have been curious about how things have changed since then.

It is a shame to read about the discontinuation of the cookies, they were always a nice little touch from both airlines. The hot BOB is definitely a step in the right direction and much like you, I always wondered why more airlines did not try this...
Topic: RE: Frontier LAX-DEN-LGA Classic Plus In Dec 2012
Username: AA767LOVER
Posted 2012-12-17 04:33:43 and read 10475 times.

Wow, I love how the cheese just melts on that burger!
Thanks for the great report! F9 looks like a very interesting and comfy product.
I hope that one day they will get around to expanding their DEN to Latin America market a bit more or else find a focus city like LAX to expand from.
Topic: RE: Frontier LAX-DEN-LGA Classic Plus In Dec 2012
Username: jetsetter629
Posted 2012-12-17 13:47:54 and read 10066 times.

Thanks for the F9 report. I just booked a flight for TTN-MSY and I'm looking forward to the service!
Topic: RE: Frontier LAX-DEN-LGA Classic Plus In Dec 2012
Username: bobloblaw
Posted 2012-12-17 13:55:42 and read 10056 times.

Quoting Carfield (Thread starter):
For Row 1 to 12, beverage was carried out from the galley but the F/A totally missed our row, until my fellow passengers reminded them


I flew F9 last week and the same thing happened on 2/4 of my segments.
Topic: RE: Frontier LAX-DEN-LGA Classic Plus In Dec 2012
Username: Carfield
Posted 2012-12-17 18:36:47 and read 9891 times.

Thanks for all your kind comments!

Just a clarification...

The picture with the tail of the plane and the name of the animal is displayed at the entrance of the plane, not the gate.

Carfield
Topic: RE: Frontier LAX-DEN-LGA Classic Plus In Dec 2012
Username: stipica
Posted 2012-12-25 10:37:31 and read 9004 times.

Hi Carfield !
I can not remember when I read Frontier trip report and nice that so knowledgeable reporter evaluate this company for us ... thanks C. and wish you happy holidays ....stipica
Topic: RE: Frontier LAX-DEN-LGA Classic Plus In Dec 2012
Username: UA735WL
Posted 2013-01-03 15:16:18 and read 8283 times.

Great TR Carfield! I flew N943FR ANC-DEN in June of 2010...seat 17A (yes I remember!)
Topic: RE: Frontier LAX-DEN-LGA Classic Plus In Dec 2012
Username: AirframeAS
Posted 2013-01-14 16:46:41 and read 7426 times.


I wouldn't call F9 a regional airline as they fly coast to coast.


Actually they don't. F9 uses LTV1 while B6 uses LTV2, the more expensive system.

And Sheldon the Sea Turtle is not N206FR. Sheldon is on aircraft 210.
---
The messages in this discussion express the views of the author of the message, not necessarily the views of Airliners.net or any entity associated with Airliners.net.

Copyright © Lundgren Aerospace. All rights reserved.
http://www.airliners.net/