Print from Airliners.net discussion forum
http://www.airliners.net/aviation-forums/trip_reports/read.main/232206/
Topic: Some Good Nostalgia: MNL-CEB-ILO-MNL On PR/Old 2P
Username: Akiestar
Posted 2013-01-05 10:46:32 and read 19120 times.

(WARNING: This TR contains 332 images. It will take a while for the pics to load, so please bear with me here.)

Flying can be a very thrilling, rewarding experience for a lot of people. For me, I find satisfaction in getting onboard a plane, sitting down and watching the clouds as we cruise by to whichever destination. However, to meet this end, sometimes we need to be both flexible and crafty in planning our trips well in advance, just so no important dates will be hit.

Flying also becomes a thrilling, rewarding experience when you get to be part of history, bearing witness to the birth or end of an airline's service after having served for so long. They've become part of us, and now, we strive to become part of it as much as we can.

Luckily for me, none have been hit so far, and perhaps it is this (and a bit of recklessness on my part, maybe) that led me to finally pursue a miniature island-hop across the Philippines back in 2009. Luckily for me as well, this is also the time capsule which will serve as an eternal memory as one of the Philippines' largest airlines, Air Philippines, finally begins its long journey home before retiring (albeit temporarily) after nearly fifteen years of service to the people of the Philippines.

The best reports oftentimes are not the most recent reports, nor are they the ones with the fanciest seats and the best service. Sometimes, the best reports can be those borne by pure, unadulterated nostalgia: when looking back at these memories, processing them should somehow make us feel good. And, in the process, we learn to yearn for those things that we have lost, never to have again. For now, allow me to take all of you back to a time when the world was different: to a time when Philippine aviation remained familiar, but was still different to some degree. To do this, allow me to bring back some hints of good nostalgia.

Prologue

Immediately after arriving from Japan back in June 2009 (the report is here on FlyerTalk), I was so impressed by Philippine Airlines that I decided to jump upon the next immediate opportunity to fly with them again. It was a gamble I was willing to risk at the time, since I told myself that I would keep most of my weekends free of any activities so that I have the freedom to do anything as I pleased. It was from this decision which led me to finally consider a little hop through the Philippines. Though it is done, it is a rare occurrence, and most Filipinos do not fly for the sake of mileage runs or airport tours, but for the sake of getting to their destinations safely.

Over the next two weeks and with nothing better to do since I would not be allowed to enter the Ateneo for another week because of the A(H1N1) scare, I began scouring around for possible itineraries which I can use to hop around the Philippines. Within my shortlist were itineraries such as MNL-DVO-ZAM-CEB-MNL, MNL-ILO-CEB-DVO-MNL, MNL-LGP-MNL-PPS-MNL, MNL-ZAM-CEB-DVO-MNL and a bunch of others, but I finally settled on MNL-ILO-CEB-MNL as a way to finally see the new Iloilo International Airport (open since June 2007) with my own eyes. I did quite a lot of canvassing for the routes, and this one apparently was the cheapest, clocking in at around P4199 (the other routes cost at least P5000).

However, I didn't realize that at the time, PAL was having a seat sale, which made the itinerary much more affordable. When I re-checked the PAL website for the cost of the itinerary, I saw that the price had gone down to P2779, and finally convinced over the cost, I booked on June 22, sticking to MNL-ILO-CEB-MNL. The original itinerary looked like this:

* PR 139: MNL-ILO; departing 5:00 am, arriving 6:15 am
* 2P 21: ILO-CEB; departing 7:35 am, arriving 8:15 am
* PR 848: CEB-MNL; departing 9:45 am, arriving 11:05 pm

I did realize later on though that I wouldn't want to be in the airport at 3:00 am to catch the 5:00 am flight to ILO, so I opted the next day to reverse the itinerary, landing in Cebu first. With no cost to me, the final itinerary (or what I thought was the final itinerary) looked like this:

* PR 847: MNL-CEB; departing 7:30 am, arriving 8:55 am
* 2P 20: CEB-ILO; departing 12:10 pm, arriving 12:50 pm
* PR 144: ILO-MNL; departing 2:05 pm, arriving 3:15 pm

On June 25, I had to go to the PAL ticketing office to pay for the ticket and get my itinerary, the closest one being the ticketing office at the Araneta Center in Cubao, Quezon City. I decided to do this during a 2.5-hour break I have between my Filipino and PE classes, and I asked the guard how to get there. However, instead of reaching the PAL ticketing office, he led me to the Air Philippines ticketing office instead. I asked one of the ticketing agents if she can print my itinerary, but she informed me that they cannot retrieve bookings made with mainline PAL because (at the time) their reservations systems are different. Running out of time to get back to the Ateneo to get to my PE class, I decided to go back and perhaps, if I have time, I'll go to the PAL ticketing office on Friday on the way home from school.

I did go back to the Ateneo, and luckily for me, we earned a free cut (meaning the professor wasn't there) from PE, which meant that I had the time to go all the way back to Cubao, even though I wished that it was announced earlier so that I didn't have to spend going all the way back. So much for academic loyalty, I suppose.

When I returned to Cubao, I asked another guard how to get the PAL ticketing office. He told me that their ticketing office is in Ali Mall (yes, the mall named after Muhammad Ali) and that I will need to walk to get there. Making your way to the other side of Araneta Center is no easy task (granted this was done in the late afternoon, so I didn't have much of a problem), but soon enough I make it to the PAL ticketing office, which inside Ali Mall is virtually indistinguishable from the other stores inside the mall (because of a lack of signage) save for the PAL logo etched multiple times onto the window.

For the next hour, I was listening to my iPod and doing Math homework until I was called. The agent had a very professional demeanor despite her youth, though her professionalism didn't compromise her courtesy. Within fifteen minutes, I had paid for the ticket, receiving it in a Mabuhay Class ticket jacket, which is unusual since I'm flying Fiesta Class (which comes in a red ticket jacket). In no time, with ticket in tow, I was finally on my way home.

Yes, for the next two months, this ticket went untouched, so untouched that two trips had preceded it despite this being the first ticket I booked independently.

That is, until now.

Sometime in August, Air Philippines announced through their timetable that they will cease flying to Cagayan de Oro and Puerto Princesa by August 25, which did not seem like a big deal to me since I am not flying there. What took me by surprise was the announcement that came afterward: for reasons unknown to me (but perhaps in a bid to consolidate its hold over the domestic market), Air Philippines was going to cease all operations, flying its last flights on August 31 before shifting all of its flights to PAL Express on September 1, save for one route: their Cebu-Davao route will be taken over by mainline PAL, the first time mainline PAL will be flying to a domestic destination other than Manila from Cebu in over a decade.

Since my flight was on September 5, I had to check the timetable to make sure that my flight was not affected. Contrary to my expectations, it was: what was then a single Air Philippines flight departing at 12:10 pm became two PAL Express flights, one leaving at 9:10 am and the other at 3:20 pm. This was not good, since that means either I will arrive too late at CEB to catch my flight to ILO, or I will arrive too late at ILO to catch my flight back to MNL. It was a risk I wasn't willing to take, especially since I confirmed that I will be attending a friend's debutante ball (though it really isn't a debutante ball in the sense of the word) later that evening of September 5.

I scrambled to call PAL to inform them of my predicament, starting off on Tuesday. For some reason, my telephone kept on shutting itself off for no apparent reason, so I always get cut. At least though after several tries and failed attempts, I got to talk to a PAL ticket agent who for some reason had no idea what she was talking about. She claims that Air Philippines will not stop any operations, and that the PAL Express flights will simply add capacity. She claims furthermore that the timetable is erroneous and that it hasn't been updated yet.

I couldn't buy her story. Word has spread all over that Air Philippines is ceasing operations, so why would a PAL agent tell me otherwise? Nevertheless, the next day, I called the one source that could help: an Air Philippines agent. This particular agent, who cannot access my itinerary (as always), did confirm that Air Philippines will cease flying, and that PAL Express will take over, with those having Air Philippines tickets moving to available PAL Express flights.

The following day, I gave PAL another call, and after five failed attempts to connect (three on hold, two with an agent) within the day, I finally got to speak to a PAL agent around midnight. Luckily for me, my phone lasted for the entire time the call did, otherwise I would throw the phone to the wall. She did inform me that Air Philippines will cease flying, and I mentioned my predicament to her. She informs her supervisor (the first long hold) and gave me two options:

* I take the 4:10 am flight to Cebu (this flight is the flight which flies to Davao afterward) so I can catch the 9:10 am flight to Iloilo
* I take the 3:20 pm flight to Iloilo from Cebu so I can catch the 6:15 pm flight to Manila

I couldn't accept either option, since it either requires me to be at the airport at 2:00 am (and I've had enough of red-eye flights as it is), or I will arrive at the airport at around 7:30, which is too late for me to justify attending my friend's debut (and I've missed a lot of them as it is). I asked for a second, more radical option: since August 31 is National Heroes' Day (actually August 30, but thank Holiday Economics for moving it to a Monday), why not keep the same itinerary, but fly it on August 31? She puts me on hold again so she can discuss it with her supervisor, me fearful that the phone will suddenly shut off.

After about ten minutes, the agent returns with good news: I can be accommodated on August 31, and that since my entire itinerary will be affected by the transition of Air Philippines flights to PAL Express, I was exempted from their P672 per sector rebooking fee. I thanked her and returned to schoolwork before going to sleep.

In hindsight, I did come to realize something: this will be the first (and incidentally the last) time I will be flying Air Philippines. I think I consider myself fortunate that I will be on what is perhaps their final flight to Iloilo from Cebu, though I don't know if I can give fair judgement now on Air Philippines as they are winding down their operations. Perhaps on their last flights perhaps forever, they will go at all lengths to make sure that it sticks.

I. Pre-departure: MNL-CEB-ILO-MNL

I don't like the idea of saying to myself repetitively that I will wake up at 4:00 am, only to get up by 5:00, and leaving the house by 5:30, all because I was up finishing my last TR just so I can clear my mind for this one. The ending isn't pretty, but I'll polish it somehow.

After getting my weekly allowance from Ate Mimi (who at the time I called Manang Mimi, or Old Lady Mimi, since her passport had a typographical error saying she was born in 1949 instead of 1979), I quickly left the house without any sense of breakfast, down the quiet street of my neighborhood to Mayapis Street. I had no money, and I didn't want to spend my entire allowance all in one go, so I had to go to the bank to withdraw.




Down quiet Mayapis Street was the ever-busy Zobel Roxas Street, home to car parts shops and lots of morning chickens used for cockfighting. In Manila, Makati is the cockfighting center, or so it seems.




I cross to the other side of the road, or more appropriately to the other street, Pablo Ocampo Extension, previously (but still commonly) known as Vito Cruz Extension, where the bank was located. After withdrawing P800 to complement the P200 I already have (plus the additional P200 I'm getting from my allowance even though today is a holiday), I go down Vito Cruz and cross back to Zobel Roxas in order to hail a taxi.

Hailing a taxi on the northbound side of the South Luzon Expressway was a definite no-go, I had to cross to the southbound side. As it was in the morning, it wasn't so hard to cross, but the speedy traffic on the normally busy thoroughfare meant that I will need to be careful. Crossing to the other side, I said to myself, "I will never cross an expressway again", though I highly doubt I'll follow up on that.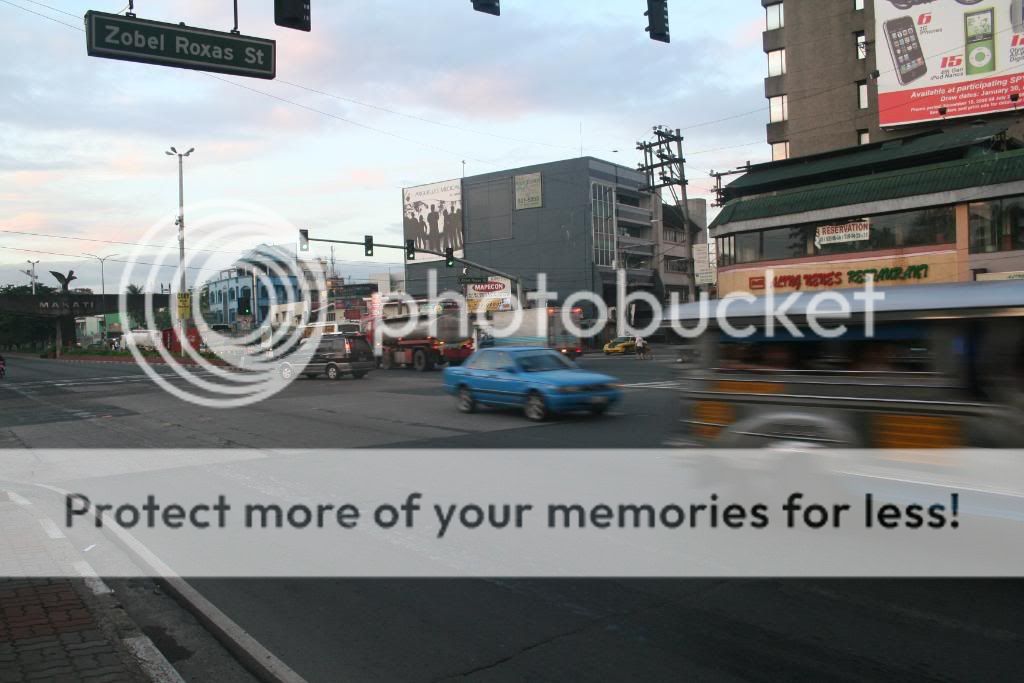 At Zobel Roxas, I hailed a taxi out for its first rounds, and I quickly made my way to Terminal 2 of Ninoy Aquino International Airport.

The road to NAIA, which is the same route I took when I had to go to the Domestic Terminal to fly Zest Airways to Cebu, was definitely traffic-free. However, I was saddened that nothing has changed at Aurora Boulevard down in Pasay, where garbage-lined streets are still the norm.




A swift run through Andrews Avenue and Domestic Road brought me to Airport Road, also known as MIA Road, where the only point of traffic was found. At that time, cars were still moving quickly to those leaving from Terminal 1.




Five minutes and P100 later, I was finally at the departure ramp of Terminal 2. Sorry guys, no receipt-issuing cabs today.




In order to be able to enter any terminal of the Ninoy Aquino International Airport, you must be in possession of a ticket valid for the day of departure (which in this case is today). Since I haven't gotten my updated ticket yet, I had to make my way through the busy South Wing to the Philippine Airlines ticketing office.




The North Wing, on the other hand, was busier.




The ticketing office, located at the center of Terminal 2, was catering to a few passengers when I entered, though the place seemed quiet. The humming of printers printing tickets and other information seem to prove that despite the quiet atmosphere, there was still a lot of work to be done.




Meanwhile, the Airbus A330 model which continues to stand today at the end of the ticketing office seems to pride itself in quietly watching over its prospective passengers.




Although I was issued stub 437, I was allowed to go to the express counters where passengers who have flights leaving less than two hours away can claim their tickets. I asked for my ticket to be issued and the ticketing agent quickly complied, giving me my ticket in no time. However, I was confused: the ticket which was given to me said that my flights to Cebu from Manila and back to Manila from Iloilo were departing on August 31, but my flight to Iloilo from Cebu was still bound to leave on September 5. I had to get that issue fixed.

I returned to the same ticket counter where my ticket was issued, informing the ticketing agent of the discrepancy in my ticket. She did ask why I had my itinerary changed, and I told her it was because of the scheduling brouhaha that would take place effective tomorrow (at the time this TR was initially written), being unable to afford leaving at 4:15 am for Cebu from Manila, or 6:15 pm for Manila from Iloilo. After a lot of typing, she fixed my ticket, and I was on my way. However, the status on my ticket for Cebu-Iloilo still said "CTRL" (control) instead of "OK" as indicated for my other two flights. She said that it's the same as "OK", and that I should be allowed to board.

Relieved from the prospect of being stranded, I folded my ticket and lay it beside the other two tickets that were in my possession, proof that I needed three tickets (and fifteen minutes) just to get my affairs in order.




After exiting the ticket office, I make my way to a line leading to the entrance of domestic departures.




II. Pre-flight: PR 847, MNL-CEB

The very busy check-in hall greets me upon entering after security, where my bag fell and I had to ask the security officer to pick the bag up for me. I informed her there was a camera, but it was too late: the camera fell out of the bag. She said it should have been closed, but I informed her that I closed it before going through security, having opened inside the X-ray machine. At least it came out okay.

Unlike my trip to Tokyo, the FIDS worked this time. The common FIDS, exemplified by the LCD screen, was non-functional in a game of role reversal.




The right side check-in counters were full of passengers connecting to various PAL flights, and so logically I'd presume that would be where I need to line up.




However, that was not the case. The security agent told me that check-in for my flight would be at the left side check-in counters, which was not as busy. What a relief.




The only people in front of me were two male passengers traveling together, and soon after they were called to a check-in counter, leaving me in line. A couple which just got in line tried to get past me, but the security agent there told them that there was a line. The guy behind me said "It doesn't look like a line" in Filipino. I retorted to myself: "Wow, I don't look like a line." Forgiving older women pushing through the line to check in is one thing, but people saying that a solitary person in front is no line is another.

Not long after that incident, I was called to Counter 29.




In a very big sigh of relief, the check-in agents at Terminal 2 today were male and female. Mine happened to be male. After he took my ticket, Mabuhay Miles ID card (though I'm not earning miles on this itinerary) and Pennsylvania state ID (the most convenient ID I had), I asked what aircraft we were using today. Like what the booking engine said, we would be using an A320 today. However, I did inform him that I wanted to be moved to the 9:00 am flight so I can try the AVOD on the 747 again since it didn't work last time. I did ask though if we would be using a new A320 (implying the A320s with Recaro seats), and he said yes, with the additional remark that all PAL A320s are new. "Really now," I thought to myself, since I know that not all PAL A320s are new.

He asked if I wanted a window seat, and I nodded in approval. My boarding pass is then printed, where I make my way to the terminal fee counter. After paying the terminal fee and going through a final bout of security, I was finally at the pre-departure area of Terminal 2 on this very busy National Heroes' Day.




Judging by the list of flights in the FIDS earlier, it can be deduced that all these passengers were bound for the next five flights out of Terminal 2: Davao, Legazpi, General Santos, Dumaguete and Cebu, all the while this LED TV, also installed at Terminal 3, was showcasing how NAIA is indeed the airport that goes the extra smile.




Gate S5, which was where my flight was leaving today, was full of people waiting for the plane to arrive, as incidentally the plane hasn't arrived yet from wherever it was coming from. (I should note that the antiquated CRT monitor that you see here has since been replaced by a new LCD screen around a year ago or so.)




Meanwhile, I decided to do some spotting. First off was B-HLK, a Cathay Pacific A330…




…then the oddball 747, RP-C7475, which will be used later for the 9:00 am flight to Cebu (hopefully for passengers flying on that flight, the AVOD will work)…




…followed by a parked A320.




Since there wasn't much to do at the airport, I decided to sit down at the laptop station in order to continue writing this TR.




Setting up wasn't hasslesome, though I did notice that a whole bunch of children bound for General Santos was walking towards their gate.




An American man was taking pictures of things inside the airport, including the guy in front of me at the laptop counter, who apparently was his friend. He noticed the camera on my neck and he politely said "Hi" before returning to his area near Gate S3.




The laptop I brought this time around is an MSI Wind, my dad's Netbook, as the charger for the Vaio still went unfixed and I would have no charger to use it with. In addition, this laptop places less strain on my shoulders as it is much lighter, all the while giving me the ability to write this TR.




Apparently, the Wi-Fi at NAIA seems to work. However, when I tried connecting to it, it was, as always, an epic fail.




There was always more spotting to do at this very glassy airport terminal. There was RP-C3247, the Cebu Pacific A320 I rode to Manila from Singapore ten days prior.




Boarding was called not too long after taking that picture, and the line quickly got long. Apparently, for narrow-body aircraft, row numbers are not called, and everyone just lines up willy-nilly.




A woman behind me was complaining to her companion that she was waiting for the row number to be called, later believing that only Cebu Pacific boards passengers by row number. I interject, informing her that only widebody aircraft use seat-row boarding than free boarding, agreeing in turn.

While in line, the Northwest Airlines 747 which I always ride going home to the United States (as NW 72) has just taken off.




After my boarding pass was checked, I went down the gate and took a picture of this A320's beautiful nose.




Later on, I suspected that the gate agent was wrong, and I checked whether or not he was right. Apparently, he was wrong: we were going to use RP-C3231, the close cousin of RP-C3230 which definitely did not fit the description of "new, Recaro A320".
Topic: RE: Some Good Nostalgia: MNL-CEB-ILO-MNL On PR/Old 2P
Username: Akiestar
Posted 2013-01-05 11:08:46 and read 19056 times.

III. In-flight: PR 847

Philippine Airlines Flight PR 847
Manila (Ninoy Aquino International; MNL/RPLL)-Cebu City (Mactan-Cebu International; CEB/RPVM)
Airbus A320-200, RP-C3231
Seat 20-F (Economy window, back section)
ETD 0730 (actual 0727) / ETA 0855 (actual 0839)

Before I could even enter the aircraft, the line stood at a standstill as people waited outside to board the aircraft. This is what we get for having free boarding.




Another set of young flight attendants greeted passengers at the door as I searched for my seat the back, looking beyond the comfort of Mabuhay Class and into the festive Fiesta Class cabin with those same seat covers as on the PAL A340s. Like on my flights to Japan, PAL amazed me again with their interesting choice of boarding music: songs from the Soul Train, the R&B and hip-hop station on Flights of Fancy. Probably PAL this time is being hip.

The seat, though still the same, was perhaps a bit more comfortable than RP-C3230. Arguably, age is a factor with respect to closely-related planes. I still didn't have anyone beside me, though, with the closest passenger occupying seat 20-D.




The legroom was tight, though not as much as Zest and Cebu Pacific.




Outside the window were two A320s, one being RP-C3223 (which landed earlier), and behind both of them was RP-C7475.




If I had to choose flight service panels, Cebu Pacific's is definitely the better one. However, this ceiling panel at least has video monitors.




The cabin door was closed and finally, for the first time in a long time, I would actually see the (now-old) PAL in-flight safety video for myself. The screens went down and the then-mischievous safety duo began to appear, with their spiels being subtitled in Chinese (perhaps to cater to the large Chinese community in Cebu, or maybe for the heck of it).




I remained a fervent supporter for an overhaul of the safety video, and did so until they finally changed it in early 2011. On the other hand, at least all the video monitors are working.

"Cell phones and compact disc players must be turned off and may not be used during the flight as these may interfere with the aircraft's systems" is definite hypocrisy, as PAL doesn't enforce it, and I don't think they have been for a while, at least for CD players (like what I mentioned back on the way to Tokyo). At least this time, I won't have a flight attendant telling me to shut off my phone, even when the phone is in flight mode.




After the video played, the screens went black, yet they weren't retracted. I thought I could expect an airshow at the very least, but apparently they didn't use it.




A Zest Xian MA-60, RP-C8894, had just landed and was taxiing to the Domestic Terminal (now curiously called Terminal 4).




Apparently, we had to wait twice in order to get onto the runway. The first wait, when RP-C8894 arrived, took about five minutes, and included the landing of this Cebu Pacific A320.




The second wait took about ten minutes, and that was when two PAL A320s, both of them the new planes with Recaro seats, landed on the runway. When the second one landed, we turned onto the runway, Terminal 2 in full view, and the then-recently repaired Fokker F27 Friendship of the President visible at the apron.




Many planes were visible from Terminals 1 and 2, including both PAL wide and narrowbodies at Terminal 2, and a Singapore Airlines 777, A320s of Hong Kong Express Airlines and Dragonair, and a China Southern Airlines 737 at the southeastern satellite of Terminal 1.




Meanwhile, two heavyweights, JAL and Northwest 747s (JL 746 and NW 80), were parked at the southwestern satellite.




For the first stops of our flight to Cebu, we flew over the Manila-Cavite Expressway (also known as the Coastal Road), Manila Bay full of what seems to be fishing boats, Naval Air Station Sangley Point and the city whose jurisdiction it is under, the dense hook of Cavite City.




Cavite, Laguna and Batangas is apparently full of factories and housing developments, turning itself into an effective southern metropolitan corridor for Metro Manila.




I wonder what the oval track is for.




There's the South Luzon Expressway, cutting straight through the land.




Soon the fasten seatbelt sign is turned off, and I finally got the chance to recline. Though the recline is better than on Cebu Pacific's A320s (and especially on Zest's A320s), the recline of PAL refurbished 747s is still a tough challenge to beat.




In no time the in-flight service began. First off was the distribution of newspapers which have been reduced to a singular choice: the Manila Bulletin.




I was surprised to see Jon and Tessy Pettyjohn, known as the "Mom and Pop of Philippine Pottery", on the Bulletin. I was lucky to be part of that batch of students who participated in a leadership camp and public speaking contest called the Voice of Leadership, sponsored by Volvo, where we met them and learned how to make pottery. I still have the material back home (but sadly, not the pot).




Meanwhile, clouds began to cover my view of Luzon.




At least the clouds clear up, and we were finally able to see views of the islands beyond Luzon. I think this is Lubang Island, north of Mindoro. Beyond the island is an interesting cloud formation in the shape of the letter U.




Like with PR 843 three months ago, the in-flight entertainment was rolling, only without headphones. They were playing a video on Gold Coast and Surfer's Paradise in Australia, despite the video obviously being dated. The only way though someone can listen to the videos though is through a special means of inserting single-pin headphones into the headphone jack, like this. (Later on, I invested in a proper jack converter plug device.)




Later on, they begin to serve "breakfast". At least the portions seem to get larger: today's breakfast was composed of Rebisco Superthin crackers, peanuts and water.




During breakfast, we were flying over even more islands. I think this one's Mindoro.




I took a quick peek to my left, and as the person beside me was reading the Bulletin, the back page was full of news on transportation. Apparently, a private Chinese airline, East Star Airlines, went bankrupt.




Further down was a bit on TAM Airlines receiving the 4,000th Airbus A320.




I take out the computer and continue writing the TR. Later on, we were flying over a chain of islands, through some open seas where there was a boat, and then Bantayan Island, where we flew again over Bantayan Airport.




In no time, we entered mainland Cebu.




In an apparent first for me, PAL began collecting the newspapers handed out earlier. During the flights to Japan, they did not do this.




It seems that Cebu has its own fair share of white-sand beaches.




The screens were playing How's Stuff Made as we began our final approach and the video monitors had to be stowed.




A Cebu Ferries ship was beneath us as we were flying low over the Mactan Strait.




Soon we were flying low over the Mactan Strait, Metro Cebu in the distance, until we finally landed.




The architecture may be dated, but the airport is certainly a beauty.




At the far end of the airport complex is the apron for the Benito Ebuen Air Base, the major base of operations for the Philippine Air Force in the Visayas.




It was around at the time we turned around after the landing announcement was made that the Soul Train went back online as boarding music as the plane taxied. Two then-PAL Express planes, RP-C3016, a Q300 (then-Busuanga), and RP-C3010, a Q400 (then-Bacolod), were parked at some hardstands away from the terminal.




Soon the plane parks and the line builds up again as passengers try to exit. In the meantime, I needed to use the lavatory. I was surprised to see though that Econolight stickers are now yellow instead of white.




At the lavatory, I was surprised to see that the lights used were a dim, warm yellow, not the bright, hot white used on other A320s.




I look different in yellow light, don't I?


At least the toiletries inside this A320 aren't empty, though they only consist of face tissue, paper towels and barf bags.




Exiting the aircraft still meant long lines at the door, with the line still stretching to the back. While I was there, I did notice a discrepancy in the English used on this plane: the left side uses American (and by extension, Philippine) "center", while the right side uses British "centre".




In the morning, this cabin feels very relaxed and comfortable.




The flight attendants greeted me goodbye as I exited the plane, and it was only fair that I get a picture of this A320's fair nose, all the while I was caught unawares that RP-C3247, which I saw in Manila earlier this morning, was also bound for Cebu, and was there parked beside my plane.




IV. Arrival in Cebu

The gate corridor today was full of people trying to go down to baggage claim and the arrivals hall, with a long line just to use the escalator. This means I have to use the stairs.




While the arrivals hall was roomy, passengers began congregating around the baggage carousel which spewed out passengers' luggage as quickly as they got down from the plane. Baggage handling here must really be efficient.




Earlier in the year, it was announced that Cebu will be receiving its fair share of yellow "airport taxis" similar to the ones in Manila, all with the same cost (P70 flagdown, with P4 for every succeeding 300 meters), so I wouldn't be surprised that people are advertising it, and they were lined up at the set of stairs leading back to the departures ramp.




One of them tried to get me to a taxi, but I declined (I simply said I had a connecting flight), going past through white metered (or unmetered) taxis.




If you want to advertise in Cebu, never use a Manila telephone number (the area code for Manila is 2, while the area code for Cebu is 32) when trying to get a customer base. It doesn't work that way.




There she was: the ubiquitous yellow multicab which would bring me to Mactan Marina Mall.




V. "Cebu" (or more appropriately, Lapu-Lapu City)

Posted on this multicab is my first actual lesson in Cebuano: sinsilyo lang sa buntag, or "change please in the morning" (in Filipino, this is the equivalent of barya lang po sa umaga).




After a fairly uneventful ride down the airport access road, I got down at the Mactan Marina Mall, or more specifically, the Islands Souvenirs store. Islands Souvenirs, a long-running chain of souvenir shops with branches across the Philippines (they have branches in Manila too), is undergoing a major brand overhaul, and this pasalubong (souvenir) center is a perfect example.




The store is divided into two main halves: one is for clothes and more "tangible" items like mugs, keychains and bracelets, while the other is for more perishable items like food.




It was in this store where I bought the other pack of dried mangoes (the same brand as the one I bought at Ayala Center Cebu ten days prior) and my friend's dried fish danggit (danggit is dried fish, or erroneously, squid, depending on your pick) before heading out towards the only tourist spot I'll be visiting today: the Mactan Shrine.

However, before I could cross onto the Quezon Highway, I had to scrutinize the signage immediately in front of me, and apparently even Cebu has inconsistent signage.




I walk down a bunch of restaurants and Savemore Market (an SM supermarket) on Airport Road Extension before reaching the Quezon Highway.




On the Quezon Highway side of the Mactan Marina Mall, actual stores lined up the sidewalk, with an electronics store, some clothing stores and a pawnshop (Henry Lhuiller, and I thought Cebuana Lhuiller and M. Lhuiller were enough). The highway, though less crowded, was still bustling, and I eventually board a Punta Engaño jeep which would bring me to the Mactan Shrine.




At least this time, I didn't need to leave my Filipino behind.

Around fifteen minutes later, the jeep drops me off at the entrance of the Mactan Shrine before driving off towards Punta Engaño. The tree-lined entrance leads to a very stately monument, a reminder to Magellan's landing and, consequently, his defeat and murder.


(Plant entrance)




Busts of Lapu-Lapu line the entire park, all staring at the monument.




Meanwhile, behind the monument is a building housing the marker which supposedly marks the exact location Magellan was slain at the hands of Lapu-Lapu.




The monument was apparently erected in 1866, during Queen Isabel II's time. A little factoid: this queen is particularly known for leaving one very tangible legacy: the Philippines' oldest bank, which early in its history was named after her. Today, it is known simply as Bank of the Philippine Islands, or BPI.




This flagpole is too tall to support a flag this small. Someone inform the Army, who donated the flagpole!




While a bunch of people were sitting down and chatting, Lapu-Lapu was staring at the seas where he stood guard against foreign oppressors. It is said that there are three statues of Lapu-Lapu scattered across Metro Cebu, and this one is supposedly the best. In older pictures of the statue though, Lapu-Lapu was painted, though in this one, he is a fine bronze.




I decided to take a few floral pictures on the way back.




There was a taho (snack food made out of sago or tapioca pearls, silken tofu and syrup; a close relative of Chinese tofu pudding) vendor inside the park talking in Cebuano to some of the maintenance personnel of the park. Since I haven't had taho in a while, I guess I should have it here while I have the chance.




Taho, cheap as it is at five pesos, tastes good enough on its own, but even better with condensed milk, which I've never had before. The experience permits me to have a little chat with the park maintenance staff (in Filipino, out of all languages, which is unexpected in Cebu), all of whom were surprised that I was in Cebu all by myself, visiting a place which I was unable to visit the last time I was here. As it is, I also told them that this was the only place that I could visit, since I had to be back at the airport by 10:00 am, and I couldn't afford to go to the city due to lack of time.

After finishing the very small P5 cup I just purchased, I was off towards the pavilion where the marker indicating Magellan's death spot was located. Before that though, I informed one of the maintenance personnel that the flag flying from the flagpole is too small for its size. She told me that the current size is as far as the flagpole can support. A very weird explanation if you ask me.

Later I return to the pavilion where the National Historical Commission marker is placed, where behind it hangs a painting of the Battle of Mactan.




Beside the pavilion is a bunch of souvenir shops which line one side of the park's perimeter. Aside from selling the usual souvenirs, one store was also selling a life-size Lapu-Lapu statue. I wonder how one would bring it home.




On this beautiful Monday, the park blooms in a sea of green, its landscaping actually being much better than a lot of parks in Manila. However, I got a flight to catch, so I leave a donation on my way out of the shrine, return to a desolate stretch of the Quezon Highway and board a green Punta Engaño jeep back to the airport.




The way back again served as two new lessons in Cebuano: when giving payment, say palihog ta, which is the equivalent of bayad po (or please pass) in Filipino. In addition, I learned to practice my own Cebuano, asking to be brought to the airport (the Cebuano word for airport is tugpahanan, and not all Cebuanos know that).

Since jeeps don't go to the airport, I got down at the intersection of Airport Road and the Quezon Highway, saying goodbye to the jeep which brought me back.




At the Mactan Marina Mall, a whole line of yellow multicabs, the same ones which stop at the airport, were waiting outside. One was already full and was leaving, and since I had no idea if it was going to the airport or the market, I stayed put. Luckily, one of the barkers told me that it goes to the airport first, so I boarded the next multicab, and pretty soon we were off back towards the airport.




A good thing about Cebu is that at least cars don't jostle around looking for space. It seems that the road certainly has enough room for everyone, and people seem very content, including my diminutive yellow multicab which parked at its usual place near international departures.




Mactan-Cebu International Airport's current terminal building was apparently inaugurated on May 6, 1992, and all this time I thought the airport was completed in 1994. -_-


Topic: RE: Some Good Nostalgia: MNL-CEB-ILO-MNL On PR/Old 2P
Username: Akiestar
Posted 2013-01-05 11:30:45 and read 19014 times.

VI. Pre-flight: 2P 21, CEB-ILO

After a brief walk down the entry ramp, I enter the domestic departures area with a band (of which all the players were blind) greeting passengers. Playing beautiful rondalla music, I couldn't resist donating to them.




There was a sign leading to the airport's observation deck, but the door was closed. I asked the receptionist at a booth beside the band, and she said that due to security considerations, the observation deck was shuttered. Hopefully someday they reopen the observation deck so people will have the chance to planespot (although honestly, if I was a terrorist, I would never be so conspicuous as to go to an observation deck with an SLR).




It seems that Ateneo fever has spread to the Visayas, the only island group without an autonomous university in the Ateneo system. In fact, the only school in the Visayas under the Ateneo system is Ateneo de Iloilo, and they're not even a college.




The B counters, which are the counters Air Philippines uses, was seemingly devoid of any line. As a result, I was able to fall in line quickly at counter B1. Sorry guys, no check-in agent picture this time, as he complained, but he is male.




While I was being checked in, I talked to the check-in agent about how this would be my first and only Air Philippines flight. He chuckled, saying I was lucky to ride them on their last day in operation, and gave me seat 8-B. Since I despise middle seats, I asked for a window seat, and he gave me seat 9-A. Meanwhile, two Cebu Pacific flight attendants passed by, making their way to the pre-departure area.




My boarding pass was issued not too long after. Surprisingly, Air Philippines uses regular boarding pass stock, and even more so, my name was incomplete. Hopefully other LCCs will use this someday, even if it is more expensive.




The FIDS on that day was packed with flights, with a diverse line-up of flights to Davao, Manila, Zamboanga and Ozamiz, all on either PAL or Cebu Pacific.




The PAL Express counters, where all Air Philippines operations were to shift to afterwards (though I think the B counters were to be taken over by PAL as they introduced service to Davao, something which didn't last too long as they handed the route back to 2P a couple of years later), sees a solitary line of passengers headed for Butuan, all the while the Zest counters stand empty.




After a brief security check (and this time, I could take my shoes off easily), I was finally at the pre-departure area, which at this time was full of people catching a multitude of flights. Though the airport is built for a capacity of four million people (making it roughly the same size as NAIA, though with less gates), the airport still has that roomy, homey feel that makes it a more detached structure from the hustle and bustle of Cebu City.




As always, my flight was set to leave from Gate 4, which for some reason is always a PAL gate. At the time, Gate 4 was catering to PR 854, and RP-C7475 was still sitting, parked at the gate.




The morning Manila flight on the 747 must be popular, since the gate was filled to the brim with passengers. In the meantime, I settled down at Fruit Magic, where I bought a mango shake and began typing away.




Not long afterward, PR 854's passengers had already boarded, and the gate stood nearly empty, leaving passengers waiting for the flight listed after the one above it.




While others decided to wait at the gate, I was able to slip into the gate corridor, bearing witness to the pushback of PR 854.




Not long after PR 854 took off, what would be 2P 21 had arrived from Davao…




…while a Cebu Pacific ATR72 was taxiing onto the runway. I presume this one was going to Bacolod.




Kangaroos don't really appeal to me, so I just went on working.




In due time, boarding was called for our flight, and a fairly disheveled line was formed in front of the check-in agent.




Another Air Philippines employee entered the gate corridor and stood near the door, digital camera in tow. Everyone seems to be nostalgic today, as it is believed that the airline will leave without much of a bang, let alone a celebration for a final flight.

It looks like though it will take a while for me to get used to a 737's nose, since for narrowbodies, the A320 seems to be the norm in this part of the world. All that absorption though was happening under the watchful eye of RP-C3250, a routine Cebu Pacific rotation back to Manila.




Like all other passengers, I make my way down the jet bridge, surprises waiting to unfold.

VII. In-flight: 2P 21

Air Philippines Flight 2P 21
Cebu City (Mactan-Cebu International; CEB/RPVM)-Iloilo City (Iloilo International; ILO/RPVI)
Boeing 737-200, RP-C8011
Seat 9-A (Economy window, back section)
ETD 1210 (actual 1213) / ETA 1255 (actual 1242)

The first thing that greeted me upon entering this virtually-ancient 737 was a stack of newspapers, specifically copies of the Iloilo-based Daily Guardian. It, along with four other papers, comprises the vibrant Iloilo press scene. I grab a copy and walk down what seemed to be a cabin lost in time, as this ex-Delta Air Lines jet was definitely one of those hand-me-down legacy planes from yesteryear (hence why there's a mention of it being an economy seat, despite Air Philippines being an LCC and some of their planes being operated in an all-economy layout).

My seat, which for the first time was in an exit row, was decked out in a retro silver-and-blue seat cover which reminded me of the 1980s. However, for what seemed to be a 20-year old plane, the seat certainly looked decent (and comfortable) enough.




The seat definitely felt comfortable, although the PAL A320s certainly have a better hard product. The first thing though that I notice upon sitting down, and the feature which basically proved that this was not a PAL plane, was the ominous presence of old AirFones without their handsets attached. It's been a while since I've last seen these (back in 2001, on the prestigious NW 1 from Los Angeles to Tokyo which at the time was operated using a 747-200), but it was good to see them again.




I've never had this much legroom before, and it seems that now I can develop a fondness for exit row seating. Unlike Cebu Pacific, PAL, Zest and Air Philippines don't restrict who can sit in exit rows.




Air Philippines' safety instruction card is all images and no text, which makes it feel somewhat intuitive for the uninitiated. However, add that with the exit row briefing card, and I'd really feel bewildered by the textual overload.




On the other hand, the Guardian, being a broadsheet condensed to the size of a tabloid (or rather, a compact), definitely was more visually appealing that some Manila-based papers of the same size. The last time I encountered this paper was back in 2006, at the Sarabia Manor Hotel in Iloilo City proper, stacked against its competitors (Panay News, the Sun.Star Iloilo and the News Today) in the hotel lobby.




Cabin doors being closed a few minutes later, this 29-minute hop to Iloilo begins with a manual safety demonstration which is virtually the same as that run by PAL, all while the tarmac sits empty.




With take-off done in record time, Lapu-Lapu City and the rest of Metro Cebu are finally visible from the sky. Too bad cloud cover was low this day though.




As we slowly reached our cruising altitude for this flight (I think it was 24,000 feet given the distance), large cloud columns began to appear, and low clouds obscure the view of the ground below, like when we were entering Negros.




Meanwhile, inside the plane, this 117-seater 737 was perhaps only between 60 and 70 percent full. The flight, in fact, was very uneventful.




Lots of seats, like the seats beside me, were empty, while middle seats were virtually unoccupied on this flight.




Perhaps out of the three major LCCs, Air Philippines was the most generous when it comes to recline. (Now, they're virtually indistinguishable from one another, although SEAIR has good recline.)




Midway through the flight, I had to go to the bathroom. However, the fasten seatbelt sign was lit, and when I neared the lavatory, the flight attendant told me to sit down. However, he let me go after I informed him that I really needed to go, and I quickly entered the lavatory.

If I were to begin comparing airplane lavatories, I'd say the lights in this 737 lavatory are the dimmest and coolest (ambiance-wise) that I have ever seen. The toilet for one looks like a blast from the past: no vacuums on this one, I suppose.




Meanwhile, the sink, trash receptacle and control panel were likewise very retro.




The placards posted at the door are very U.S.-centric, a common feature for leased aircraft. The retro placards are a far cry from Air Philippines' parent, which has Philippine-centric placards posted in its lavatories.




Because of the up-and-down nature of this flight, the fasten seatbelt sign still remained on when I left the lavatory, and would stay that way until we parked at the airport. I tried to take a back picture of the cabin, but the flight attendant sternly told me to sit down. I hastily reply, not wanting to be rebuked further. Meanwhile, when I returned to my seat, the service panel amused me somewhat.




Cloud cover would envelop much of Negros as we flew over it, and eventually reach the cost and exit towards Guimaras.




Sadly, this plane's age really shows: the window frame is cracked.




Soon we were flying over the green hills of Guimaras, and not too long thereafter, Iloilo City.




Beyond the dense urban jungle of Iloilo City lie several small farms.




There's the airport runway up ahead.




As we head towards the airport, we fly over a dense patch of forest, then a river, then some rice fields, before landing at the new Iloilo International Airport, its (empty, as in no planes parked "empty") terminal showcasing itself in the overcast sky.




Soon enough we parked at the first jet bridge (Gate 3), and as I noticed, my bag shifted out of place.




Since this is my last flight, I wait for the cabin to empty out before taking this wonderful picture of a cabin people will no longer see. At least the old Air Philippines had better color coordination than Cebu Pacific.




Meanwhile, a woman was texting away, luckily seated in one of eight first class seats located up front. I'd love to get one of these seats.




Though there was no cabin service on this flight, the cabin crew seems to love doing their job, and in fact they do it quite well. Air Philippines crews seem to be less uptight than some of their PAL counterparts, probably since they have a less demanding workload. The uniforms are very nice too: a cultural motif adorning the sleeves of a dark blue one-piece dress which seems to evoke more of Filipino culture than the undoubtedly "American" look PAL crews have in terms of their uniforms.




For a thirty-minute flight, the ride was surely enjoyable, and hopefully, Air Philippines will meet us again, somewhere in a distant future. Thanks a lot!




VIII. Arrival in Iloilo

Arriving at the new, glassy jet bridge (although you had to go through a sterile, white one first) means that the first thing greeting you is the airport's control tower. Meanwhile, as the tarmac stands idle, two general aviation planes are parked at their designated handstands (more on the ordering of gates at the airport later).




As this baggage claim sign greets me as I enter the arrival corridor, RP-C8011 is being offloaded (carefully, therefore there will be no broken guitars, for those who still remember that reference). Bye, RP-C8011! I'll miss you!




Walking down the arrival corridor (the airport is designed in such a way that there's no unified gate corridor like at MNL and CEB, and hence no double glass at the pre-departure area), the empty transfer desk (empty because there are no connecting flights at this airport, though it is possible to fly MNL-ILO-DVO on Cebu Pacific on a single ticket) caught my attention, with the airport's modern FIDS (undoubtedly the most modern of all FIDS systems in the Philippines) listing various departures. Amusingly and surprisingly as well, Zest Airways' 7:10 pm departure was not listed. (They're now listed, along with SEAIR. Took them long enough, too.)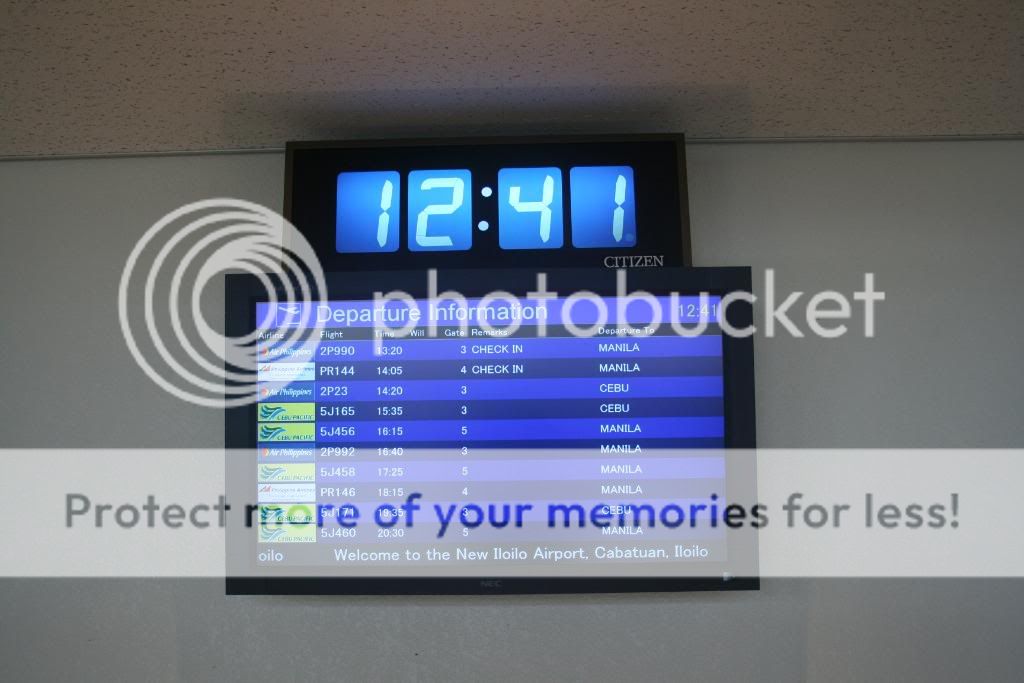 A more attractive baggage claim directional sign (unlike the previous sign, this sign came with the airport) points to an automatic escalator which leads down to a very busy baggage claim area. Unlike in Cebu though, the baggage hasn't come out yet.




IX. Iloilo City (or more appropriately, Cabatuan, or even more appropriately, the airport)

I eventually make my way out of the baggage claim area, and out into the open-air arrivals hall.




A commemorative plaque prominently displays itself rusting away as I continue to explore the immediate airport grounds. An outdoor FIDS display reminded me of a similar structure at NAIA-2, while a few people waiting for those arriving are sitting in a colorful frenzy of chairs. Though the wooden benches came with the airport, the plastic chairs came from the old airport, and I really wish they could be replaced. (Now, they're building something in this area, but I don't know what it is. People say it's another café or something.)




The landscaping here surely is nice.




Beside a very glassy elevator (the only one of its kind among Philippine airports, apparently) lies a row of ticketing offices. It's kind of sad though that Zest has to operate out of a booth: maybe PAL and Air Philippines can share an office so at least Zest has somewhere comfortable to work out of! (It's even worse for SEAIR: they only have an open counter!)




Meanwhile, not too far from the entrance to the departures area, a neat line of baggage carts is formed. At least in their two years of operation, they look clean and virtually new. Kudos to the Ilonggos for that one.




Making an abrupt U-turn, I run into the cargo terminal whose architecture is reminiscent of that of the main passenger terminal, while its larger neighbor looms in the distance.




It started to rain (sadly), so I went to the arrival lounge and got myself a bite to eat. On the way there, there were a lot of women hawking taxis to the city. That's a lot of signs.




The arrival lounge had two choices for food: local coffee shop Coffee Break and a franchise of Waffle Time. The Coffee Break POS amuses me: it's the first time I've ever seen a netbook be used as a cash register.




I ended up having a ham-and-cheese turnover and a ham-and-cheese stuffed waffle. Afterwards, with a long line of cookie jars and desserts paraded inside the see-through chiller, I got myself a peanut brownie. It was definitely delicious, but it doesn't compare to the brownie I had from Zest on MNL-CEB.




Another quick turnaround brings me to the entrance, where another rusting plaque (the one President Arroyo unveiled five years ago) sits in front of the door. Meanwhile, I notice a very minor detail from the windowpane of Cebu Pacific's ticketing office: it seems that the Go Lite fare discount was reduced from P200 to P100.




After a brief ticket inspection, I finally re-entered the terminal building.
Topic: RE: Some Good Nostalgia: MNL-CEB-ILO-MNL On PR/Old 2P
Username: Akiestar
Posted 2013-01-05 12:14:50 and read 18944 times.

IX. Pre-flight: PR 144, ILO-MNL

Security was a breeze at this airport, and at least I'm glad that the X-ray machines are not exclusive (previously at the old airport, the X-ray machine ostensibly was only for PAL passengers). Beyond security meanwhile stood before me what seemed to be not ten, but fourteen check-in counters accommodating four different airlines.




I fall into a very long line of passengers waiting to check in for the flight. While there was a long line at the PAL counter (and a somewhat shorter line for Cebu Pacific's counters), the security checkpoint seemed unusually relaxed and, well, empty.




After around ten minutes, I was finally at Counter 8.




At least here in Iloilo, the check-in agents were of both genders, and for the first time, my check-in agent on a PAL flight was female. I promptly handed her my ticket, with the condition (as always) that I get a window seat. Although she told me that the flight will be packed (and on an A320 out of all planes), she did offer me an exit row seat, which I quickly took. When she issued my boarding pass, I had seat 10-F. Not bad.




This was the first time I've ever seen advertising on a boarding pass.




After checking in, I was seriously thinking of going upstairs. However, I made a quick visit to the souvenir stand, where there was a lady selling Ilonggo delicacies. I bought ube piaya (a flatbread-like pastry) for P40. Beside her was another garden, this time located inside the first floor, and beyond were the elevator and the exit.




My affairs in order, I went upstairs to the third floor to go to the pre-departure area. On the way up, I noticed that Zest doesn't use the FIDS, since apparently the lack of check-in counters forced the check-in area to expand outward. Hopefully they install permanent counters for Zest. (They did, complete with LCD monitors. SEAIR got the same too.)




On the third floor, we are promptly greeted by the departure tax counter, where I fork out P200 and, after a brief security check, enter the pre-departure area.




There's a lot of souvenir stalls on this floor, apparently. Maybe here they can make room for future immigration counters when the airport opens to international flights.




I did try my best to take a shot of two different FIDS screens here.




Yes, apparently Ateneans are now everywhere.




The pre-departure area is clean and very airy. Unlike the drab of Cebu, it certainly doesn't feel crowded at all, and the natural lighting really makes things spacious around here. However, the gates here are airline-allocated: the gate at the far end is the Cebu Pacific gate, Gate 5. (Gate 5 now is used only for domestic flights: Cebu Pacific's flights to Hong Kong and Singapore use Gate 3, which is also the international gate.)




Meanwhile, it seems that my plane has landed at Gate 4, the PAL gate.




Down the hall near Gate 5 are the smoker's lounge (again sponsored by Marlboro) and the Mabuhay Lounge. Taking a peek, it seemed empty, and there was no attendant.




As I said earlier, this airport does not have double glass, which makes for wonderful pictures of the Iloilo countryside.




I went around to the other side of the pre-departure hall, where my first stop was the bathroom. This was, at least in my opinion, one of the cleanest bathrooms I've been in, and particularly so for airports outside Manila.




Too bad though it was already suffering from the effects of vandalism.




The wonderful thing about this side of the pre-departure hall is that it has less people than on the other side. To top it off too, the garden here looks much better.




Beside the pocket garden is "Gate 6", otherwise known as the "bus gate". I did have a discussion with the woman manning the gate as to how the stands are allocated on the apron: she said that there's only four stands for planes (gates 3, 4, 5 and 6), while Gate 7, a hardstand, is accessible outside only. There was also no Gate 1 or Gate 2, though it got me thinking that those were general aviation hardstands. She also said no.




I can safely presume that Gate 6 is the Zest gate (it is not; in fact, Zest and SEAIR use Gate 3), though with Air Philippines out of the picture, I'm inclined to believe that they can use the jet bridge now (they don't).

On the other hand, there's another smoking lounge here, and a VIP lounge seemingly converted into a massage parlor.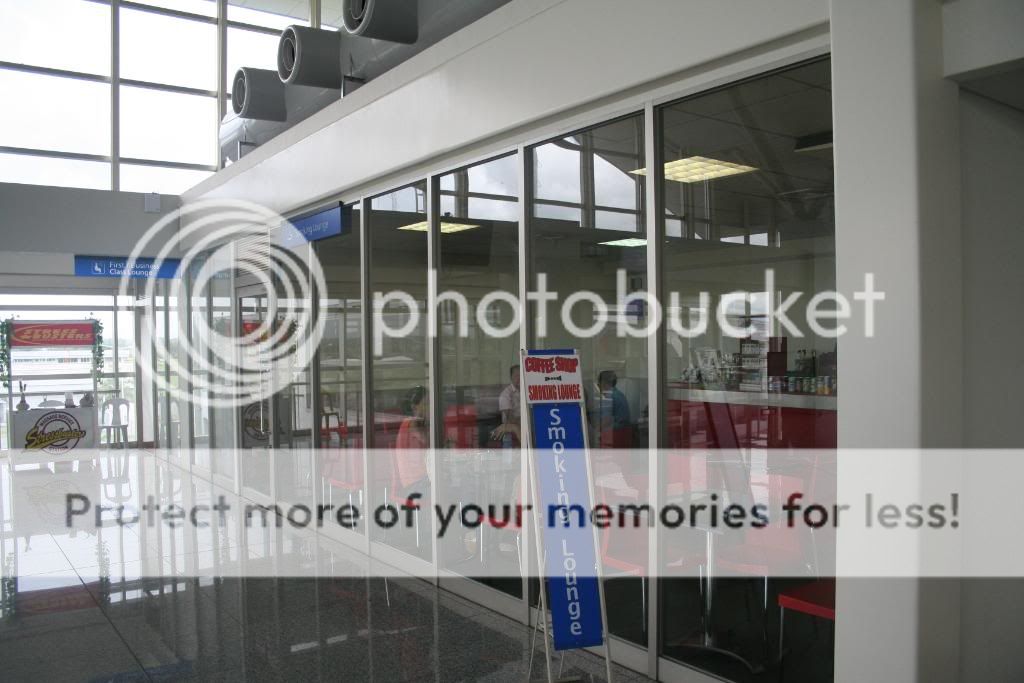 The countryside on the other side of the airport is equally stunning as that on the other side.

(Open air)

I find it sad that we're not using a new A320 today: we're using RP-C3228. Meanwhile, CNN was playing in the airport, and it seems that then-Colombian president Alvaro Uribe caught A(H1N1), all under the beautiful backdrop of Panay's mountains and forests.




You can't board a flight that has already left.


At least these seats are combined in such a way that it's possible for someone who's very tall to sleep.




It seems that there's another airport photographer in the house.




I decide to sit down somewhere near Gate 4 and begin typing again. A major turn-off though at this airport at the time was the lack of Wi-Fi, which would be a plus. As far as I know, someone finally provided the service there: it's well needed.




Around ten minutes into my typing, a boarding call was issued, and everyone started falling in line. The line eventually grew to one so long I had to wait for about five minutes just to board. Soon enough, I was at the gate, the check-in agent getting his share of my boarding pass, and down I went into the plane.




XII. In-flight: PR 144

Philippine Airlines Flight PR 144
Iloilo City (Iloilo International; ILO/RPVI)-Manila (Ninoy Aquino International; MNL/RPLL)
Airbus A320-200, RP-C3228
Seat 10-F (Economy window, front section)
ETD 1405 (actual 1400) / ETA 1515 (actual 1449)

The first thing that I notice upon entering is the IFE service panel, listing a variety of pre-recorded messages to be played on-board. Luckily, none of these were used throughout the flight.




Meanwhile, a flight attendant was preparing juice and water for Mabuhay Class passengers.




Through a deluge of people I finally make it to my exit-row seat. The seat cover is the same as that of its contemporaries RP-C3230 and RP-C3231, but there's no denying that it's different: the blue tray table tells it all.




However, I love the legroom I'd be receiving on this flight.




This flight is virtually full, as evidenced by two guys sitting beside me: both of them seem like businessmen. In addition, another way to tell that this plane was different from its cousin RP-C3231 was through the differing service…




…and IFE panels.




Instructions for door operation are conveniently labeled beside me.




As the tarmac sits virtually empty (at least the Cebu Pacific gate), the air conditioning begins to fog up again, though as always, it's not like Cebu Pacific (which turns on the air-conditioning full-blast). Not long thereafter, the plane pushes back, and the cargo terminal is in full view.




Iloilo International Airport, for an international airport, at the time had no international service, though the talk about international flights was one that went back all the way to the airport's construction days (there is now, as I mentioned earlier, to Hong Kong and Singapore). Interestingly enough, the Philippines' transportation secretary, Leandro Mendoza, said in a speech inaugurating construction a new airport access road that Korean Air was supposedly interested in flying to the city (this is in addition to him saying that Cebu Pacific is likewise interested in starting service to Hong Kong, which came true). Given the sheer number of Koreans in Iloilo, it's not surprising that such an announcement would be made, and it's likewise not surprising that PAL would have the mischievous safety duo subtitled in Korean (instead of the normal Chinese) today.




After a quick turnaround at the end of the runway, we take off, clouds in view and video monitors (not) properly stowed.




This part of Iloilo is apparently known for vast tracts of open farmland, along with the occasional forest here and there. Since the airport is located just outside the Iloilo metropolitan area (which includes the town where the access road is, but not the town where the airport itself is), this is a very relieving sight.




Too bad clouds (and inclement weather in this part of the Philippines) would obscure my view of the rest of Iloilo.

(


Around ten minutes after takeoff the fasten seatbelt sign was switched off, and I quickly developed the urge to go to the bathroom. Thank goodness being an exit row meant being able to leave your seat without causing too much discomfort to the passengers beside you.

Entering the back lavatory, my jaw dropped at the sight of the blue toilet seat. Blue armrests I can accept, blue tray tables I can tolerate, but a blue toilet seat really pushes it. Lavatories can't (and shouldn't) get any tackier than this.




Visibly tired, I tinker with the camera, all while I notice a well-stocked lavatory today.




As you can see from the back of the cabin, this plane was virtually full, with very few empty seats, most of them in the middle. Interesting to see as well that today's Econolight stickers were white instead of yellow.




I return to my seat just as the in-flight entertainment was rolling. First came Just for Laughs Gags, then came the familiar newspaper distribution which saw me getting a copy of the Philippine Daily Inquirer. I really hope they begin distributing headsets on domestic flights: rolling entertainment without audio is just a waste.




Not too long thereafter, the meal service started, consisting of little more than the usual peanuts, Sumo sandwich cookies (Oreo Minis to me) and water. Some islands north of Panay (I think they're south of Mindoro) are out in the distance.




Soon, over a massive cloud, we were flying over Mindoro.




Meanwhile, I was able to gulp down everything in one go. It seems though that the portions were smaller: I now prefer being served Superthin crackers than Mini Oreos simply because the former made me feel more full. On the other hand, as we were exiting Mindoro and what seems to be Lubang Island in the distance, the IFE comes to end as well, showing PAL's wonderful logo in a sea of blue.




I was able to finish the main section of the Inquirer, and up at the back was a full-page advert for the Alphaland Southgate Tower and Mall. For thirty-five years this building stood abandoned, a virtual concrete shell, until the property developer (Alphaland) bought the building and made it into this wonderful twenty-storey office tower and five-storey mall. Best of luck to them, and it seems that the building is successful. (Their major tenant in the office tower is Teleperformance.)




Entering Luzon, I noticed something from the Malaya the person beside me was reading. I asked if I could have the lifestyle section to his newspaper, and he said yes, in exchange for me giving him the Inquirer. Apparently, my Uncle Boysie, a fashion designer who is also a part-time columnist for the paper, wrote a piece on the quadricentennial celebrations in Marinduque which he went to upon invitation from my grandmother, to whom he is close with. It's nice to see everyone (meaning my entire family, plus plus) in the paper.




Past some thick cloud cover and the rolling fields of Batangas, we were flying over Laguna de Bay.




Apparently, this seat's recline isn't as good as that of its cousins.

(Recline)

I wonder what this denuded hill is.




Soon we were entering the conurbation that is Manila. First came Antipolo…




…then the Pasig River…




…then, through some thick fog, Fort Bonifacio and Makati.




The plane was finally low enough for good shots, like those of C-5 (Circumferential Road 5, for those who don't know)…




…two competing skylines…




…lots of work down in the majestic Makati skyline (arguably one of Asia's best)…




…the Sales Interchange which leads to NAIA-3…




…and finally, the South Luzon Expressway.




We finally landed in Manila as another PAL A320 was lined up to take off after us.




Another PAL 747 was taxiing onto position as well. I think this one is RP-C7472.




Meanwhile, another A320, RP-C8612 (darn, new Recaro A320), was right behind it.




As you notice, planes from a back view are interesting to see. Meanwhile, another plane, a Cebu Pacific bird (RP-C3246), just landed.




As we reached our gate, RP-C7475 was just about to push back. I think it's headed to Davao given the time we arrived, but I'm not too sure.




Soon we arrived and the plane was able to empty out. At least English consistency isn't a problem on this plane.




Well, this seat surely announces itself differently from the normally-somber colors PAL chooses. At least both the front and the back will be missed.




After a final goodbye from the crew, I was finally back in Manila after a good 59 minutes. Bye, RP-C3227.

XIII. Arrival in Manila

Apparently, RP-C7475 was beginning to taxi as I was walking up the jetway.




The South Wing was packed with passengers today, and was definitely much fuller than this morning. Meanwhile, as another Recaro A320, RP-C8613, lands, a PAL A319, RP-C8603 (wow, that was a coincidence), was taxiing onto the gate.




The baggage claim area is equally busy handling arriving passengers.




Outside, above what seems to be an unusually lush garden, some maintenance work is being done. They're finally removing all those unsightly paint bubbles, perhaps in preparation for a new paint job. This is really overdue.




As I make my way to the bus stop, I pass by a Philippine Military Academy minibus. I did notice on the other side that a lot of cadets (or officers, but they were wearing military uniforms) were flying out.




At the bus stop, the ways one can connect between Manila's terminals is easily highlighted: jeep, taxi and bus.




I was supposed to take the Gasat Express bus up in the previous picture, but it sped off as I took the picture. Instead, I boarded this Jayross Lucky Seven bus.




On the way out, we passed by the Cargo Terminal…




…and, for the final shot of this trip, 9M-MKS, a Malaysian Airlines A330.




The bus did drop me off in EDSA, and I did a bit of malling before finally going home.

XIV. Epilogue

It's hard to think how much things have changed since this report was written. I guess before I go on and reflect on these flights, I should keep everyone up to speed with what happened.

On September 1, 2009, Air Philippines ceased to be: it was suspended as it was being reorganized, and PAL Express temporarily took over all its routes. Later on, it started operating PAL Express' routes and planes, and in 2010, both brands merged to become Airphil Express: the "new" 2P. However, there's word going around that Airphil Express will revert back to the PAL Express brand in order to strengthen the brand equity of the mother company: something which I understand. Let's see where that goes.

However, looking back at this report, which was all but complete back in 2009 save for the epilogue (which I wrote just today), it amazes me to see how much PAL (and its subsidiary) have gone in order to improve upon itself. Fast forward to 2012 and we have a new investor, a relatively uniform fleet (the two A320s in this report have since been returned to their lessors, and the 737 was retired altogether), a fresh image for Air Philippines in the form of Airphil Express, and other changes which by and large seem positive. That's not to say that the PAL group is on a roll: it has a long way to go before it can go above and beyond where it is today.

It also amazes me to see how Philippine aviation is booming: CEB is getting a new terminal, ILO is expanding, and MNL is improving on things that need to be improved. Oftentimes we fail to see the good of these changes: the negative press surrounding MNL is one of many incidences of our tendency to only look at the negatives. But in these times of great change, where anything can happen at a moment's notice, sometimes all we need is a little faith. And it is from there where we can see great things happen.

As a final note therefore, I hope you enjoyed reading this trip report, and thank you for reading. As always, comments are appreciated, and I really hope to start writing more reports (again) in the future! I must really address my backlog.

In the meantime, please feel free to also enjoy my previous reports, both here and on FlyerTalk.


Long Ways, Leaps Of Faith And MNL-AMS-WAW On KL (by Akiestar Jan 24 2012 in Trip Reports)
Asia's First, Shining Through? MNL-SIN-MNL On PR (by Akiestar Nov 6 2011 in Trip Reports)

----

ERRATUM: The link that I posted for my trip report to Japan doesn't work, so just click here if you want to read it. Thanks.


[Edited 2013-01-05 12:31:42]
Topic: RE: Some Good Nostalgia: MNL-CEB-ILO-MNL On PR/Old 2P
Username: MHG
Posted 2013-01-05 14:25:34 and read 18699 times.

Hi Josh !

I Enjoyed every bit of your report !
Back in may 2007 I was also able to get my first (and simultanously final) Air Philippines flight in my life (CEB-MNL) ...

Well, this flight was intentionally chosen to sample the airline and - naturally - because they still used the B 737-200 (I flight was operated with RP-C8002).
And Air Philippines did not disappoint then - genuine Philippine hospitality.
Contrary to my experiences with PAL so far - not really bad but rather mediocre ...

But since then a lot has changed in Philippine aviation and I hope the reported improvements at PAL will be visible when I go back to the Phils. next time.
I´d not hesitate to give PAL a try on a longhaul if they are back to Europe by then.
(I know it´s not PAL that´s "unsafe" but CAAP is ...)
Since SMC has taken over control PAL seems to be on the fast track to streamline and getting back the recognition it deserves.
Topic: RE: Some Good Nostalgia: MNL-CEB-ILO-MNL On PR/Old 2P
Username: MSS658
Posted 2013-01-07 00:50:16 and read 17976 times.

Hello

Interesting report, thanks for sharing it with us today.
This TR makes me disire to see asia just a bit bigger!
Nice too see you where able to log the 732 as well! Those look like ex-DL aircraft.

Greetings
Marc
Topic: RE: Some Good Nostalgia: MNL-CEB-ILO-MNL On PR/Old 2P
Username: MHG
Posted 2013-01-07 13:02:16 and read 17800 times.


You´re right they´re ex Delta ...
Topic: RE: Some Good Nostalgia: MNL-CEB-ILO-MNL On PR/Old 2P
Username: Lufthansa747
Posted 2013-01-11 18:32:39 and read 17310 times.

Nice read. Glad you had better luck, the old 2P royally screwed me with cancelled flights, 4h delays and totally disinterested crews chewing on their snacks in passenger seats during takeoff.

The ex-DL were rather new, the ex-US were really beat up. I think I flew on 8001/8002/8007/8011.
Topic: RE: Some Good Nostalgia: MNL-CEB-ILO-MNL On PR/Old 2P
Username: Boeinglover24
Posted 2013-01-12 01:28:27 and read 17197 times.

Awesome trip report Josh, really detailed and informative. It's perhaps the first time I actually read every word of a trip report and not just skim through the pictures.
You definitely made me feel homesick, I definitely need to go back sometime. There is not quite a place on Earth like the Philippines. The aviation landscape surely has change since I left more than a decade ago. I used to look forward to the days when relatives come from overseas and I get to run around the airport and look at airplanes only to dream to do what you just did on your TR. I should go back and actually start exploring.
Topic: RE: Some Good Nostalgia: MNL-CEB-ILO-MNL On PR/Old 2P
Username: Akiestar
Posted 2013-01-12 08:21:22 and read 17061 times.

Hi guys. Since we're all die-hard Philippine aviation people here, thanks for reading.


I can't say this now given that so many things have changed, but I found the experience pretty warm (at the time this report was written) for both PR and 2P. I could probably say the same today, but it would be an unfair comparison: 2P today is a strict no-frills LCC, where as the old 2P was a hybrid carrier: LCC service, but with the perks (and if you're really lucky, business class seats paid for with Y fares).



Quoting MSS658 (Reply 5):
Nice too see you where able to log the 732 as well! Those look like ex-DL aircraft.


Like what MHG said, these are ex-DL birds. And unfortunately, they're now sitting in MNL, rotting away.


(Apparently, these planes are supposed to be out of MNL by now, but I don't know if the MIAA pushed through on that.)



Quoting Lufthansa747 (Reply 7):
Glad you had better luck, the old 2P royally screwed me with cancelled flights, 4h delays and totally disinterested crews chewing on their snacks in passenger seats during takeoff.


Luckily, I was not witness to this when I flew CEB-ILO.
Quoting Lufthansa747 (Reply 7):
The ex-DL were rather new, the ex-US were really beat up. I think I flew on 8001/8002/8007/8011.


How beat up, if I may ask? These ex-DL birds were pretty beat by the time I flew them: I can only imagine the condition of the ex-US ones.



Quoting Boeinglover24 (Reply 8):
You definitely made me feel homesick, I definitely need to go back sometime.


Good: I did something right!


Although in retrospect, I will admit: it took quite a while (nine years at that!) before I started flying PR again, so I know how it feels to be homesick. Homesickness can happen too at home under certain circumstances.


Yes, I strongly believe you should.
Topic: RE: Some Good Nostalgia: MNL-CEB-ILO-MNL On PR/Old 2P
Username: MHG
Posted 2013-01-13 10:53:11 and read 16881 times.

Quoting Akiestar (Reply 9):

I can't say this now given that so many things have changed, but I found the experience pretty warm (at the time this report was written) for both PR and 2P. I could probably say the same today, but it would be an unfair comparison: 2P today is a strict no-frills LCC, where as the old 2P was a hybrid carrier: LCC service, but with the perks (and if you're really lucky, business class seats paid for with Y fares).


Well, since I just had a single flight with 2P it was of course a one-time experience only with limited value for comparison.
After 2P was transformed into a LCC I tried to book them once but eventually gave up as they always denied my CC (seems a common problem with foreign CC's)
... and my PR flights (3) were just domestic.
Topic: RE: Some Good Nostalgia: MNL-CEB-ILO-MNL On PR/Old 2P
Username: B7474
Posted 2013-01-13 22:26:39 and read 16779 times.

Man what a great trip report, can't wait till I go to the Philippines this April on Korean Airlines! Loved every bit of it!
Topic: RE: Some Good Nostalgia: MNL-CEB-ILO-MNL On PR/Old 2P
Username: Lufthansa747
Posted 2013-01-17 14:57:08 and read 16512 times.

Quoting Akiestar (Reply 9):
How beat up, if I may ask? These ex-DL birds were pretty beat by the time I flew them: I can only imagine the condition of the ex-US ones.


Well... Broken recline, broken traytables, broken armrests for example. I really wanted to try the seriously old RP-C2xxx ones but they were gone by the time I flew them. The DL ones had 733/4/5 style bins and side walls btw.

They were really bad on their final days - cancelled the only daily OZC-MNL on me and I ended up losing my MNL-KUL-HKT as a result. A 4-hour delay in DVO had me just annoyed but some guys lost their MNL-FRA as a result
---
The messages in this discussion express the views of the author of the message, not necessarily the views of Airliners.net or any entity associated with Airliners.net.

Copyright © Lundgren Aerospace. All rights reserved.
http://www.airliners.net/