Print from Airliners.net discussion forum
http://www.airliners.net/aviation-forums/trip_reports/read.main/232706/
Topic: ANA Inaugural Flight NRT To SJC In Business 1/2013
Username: Carfield
Posted 2013-01-15 08:19:59 and read 19791 times.

ANA San Jose Inaugural Trip Report 2013




Here is my first trip report in 2013, which will be an extremely detailed but exciting one, as I am able to fly the ANA inaugural flight from Tokyo Narita to San Jose. Not sure why but San Jose is always on top of my list for inaugural flights, given that I really have no familial tie to this city. One of my first international inaugural flights was the American Airlines' short-lived service from Taipei to San Jose. Back then, San Jose's international facility was a small temporary shack with the most basic facilities. Today San Jose has the brand new terminal A with modern facilities and two jet-bridge equipped gates for international flights (A15 & A16). This ANA flight is significant not only because of being the first scheduled 787 service to San Jose but also marks the resumption of a link between Asia and San Jose/Silicon Valley, which serves a large Asian population, who prefers an alternative airport to SFO. Hopefully 787 and its improved economics will make this route a viable one, and from the gate, I can tell there are many connecting passengers coming from Taiwan, Vietnam and of course the Mainland China, which should come as no surprise to anyone. I am little surprised that Vietnam Airlines has yet to start the SJC service. Of course attending an international inaugural flight out from Japan has always been a dream, as the Japanese took this inaugural flight very seriously and there are many activities and souvenirs available. It is actually an interesting experience for a cultural sociology student and things are similar, but done in a very Japanese ways – efficient, organized, and polite. I just wish I could speak the language so I know what is going on. However for all aviation enthusiasts, it is a lifetime experience and if there is any future Japanese airlines' inaugural, you should take advantage of it. ANA and JAL both spend much effort and time in promote these inaugural flights, and many enthusiasts will join the occasion, and you can see their enthusiasm close up!

For those who want to see my whole album, here it is, but be warn it is a big album.
Full album link:
http://s1213.photobucket.com/albums/...arfield76/ANASJCInaugural01112013/

Here it goes and Congrats to ANA and Norman Mineta San Jose airport authority for this new flight!

January 11, 2013
NH 1076 NRT-SJC Lv1735 Arr1010 Boeing 787-8 JA813A "TOMO DACHI"

Booking
Japan to USA is not a cheap market especially for business class, so I have to be creative with my routing. I basically priced all the entry points from ANA Asian network (and I also want to use the return for my annual family trip back to Hong Kong). I settled into Vietnam, as it allows me an affordable fare of $3000USD plus an interesting return routing with a long stopover in Hong Kong with a reasonable surcharge. My final routing is SGN (Ho Chi Minh City)-NRT-SJC-NRT-HKG-HAN (Hanoi). The price is a few hundred more expensive due to the long stopover in Hong Kong and the use of Hanoi as my return point. I was given both Dragonair and Vietnam Airlines, and settle for the later because of better timing and time to add another new airline to my list. ANA website is actually quite good – not streamlined like the US airlines, but easy enough for me to navigate even those non-NH segments. The purchase process was smooth and I was able to do seat assignments on all the NH flights with the advanced 3D seat maps, and ANA alerted me to a numerous schedule and aircraft changes too. I rated ANA website as above average.

Check-in:
I actually emailed ANA customer service regarding transit at SGN. I finally decided to fly into SGN from HKG and was a bit concerned that there would be no staff to assist with the transit and I will have to wait a few hours in a rather uninspiring transit halls consist of a few chairs, two counters (VN and SATSCO), and a television. ANA wrote me quickly and told me that I could use online check in and then proceeded straight to the Rose Lounge. Of course, in reality, things worked out differently even with my printed boarding pass. First I was not able to check in all the way to San Jose, but no big deal! I could get it at Narita, which was not as easy as I thought. I arrived SGN at 6pm and headed straight to the transit area. I headed to the checkpoint manned with one staff, and he did not accept my homemade boarding pass, but thankfully he spoke enough English and asked the SATSCO girl to check me in. She was friendly enough despite little English speaking ability. She finally reprinted my boarding pass to Narita in real boarding pass stock, and gave me a lounge invitation to the Rose Lounge. No onward boarding pass was given and I presume that it was due to the long connection time. The security process was quick enough and the fellow was very friendly.

SGN to NRT:
I spent five hours at the Rose Lounge, and it was crowded most of the times, until the evening rush with Cathay Pacific, Singapore Airlines, Thai Airways, Malaysia Airlines, and Emirates' flights left, and then there was a thirty to sixty minutes of quiet time, before the late night rush began with influx of passengers from ANA, JAL, Asiana, and Air China. There was a good selection of Vietnamese instant noodle soups, along with some rice and cold noodle dishes. There were Vietnamese spring rolls with the usual array of sandwiches and fruits. Beverage wise – there is a self-service bars with limited wines, bers, and liqueurs. There are soft drinks (but no diet sodas) and fruit juices, along with tea and coffee. I managed to find a good spot, and it had a decent wifi connection (and interestingly, there is no facebook access here, but tweeter is fine)! The flight itself was fine, and the redeye flight was fairly quick due to strong tailwind. Here is the link to the menu and wine list!

Wine List
Champagne
Champagne Jacquart Brut 2005

White
Rully "Clos de Mollepierres" 2010 Domaine Roux Pere et Fils, Cote Chalonnaise, Burgundy, France
Cederberg Sauvignon Blanc 2011, Cederberg, South Africa

Red
Hahn Central Coast Cabernet Sauvingon 2009
Ares Crianza 2008 Dios Ares

Sake
Kozaemon Junmaiginjo Miyamanishiki

Shochu
Kawagoe
Hanamugi Moriya

Umeshu
Nankobai no Kodawari Umeshu

Light Dishes
We have light dishes available for you to enjoy anytime you like upon request.

Tuna salad croissant sandwich
Tuna salad brimming with finely chopped black olives and tomatoes inside a buttery croissant

2 kinds sushi rolls and smoked tuna and squid sushi roll
Lightly salted tuna and squid sushi rolls – a great choice for any appetite

Hot Japanese udon noodles garnished with dried sea lettuce
The seaside flavor adds a comforting aroma to the soothing flavor of Japanese broth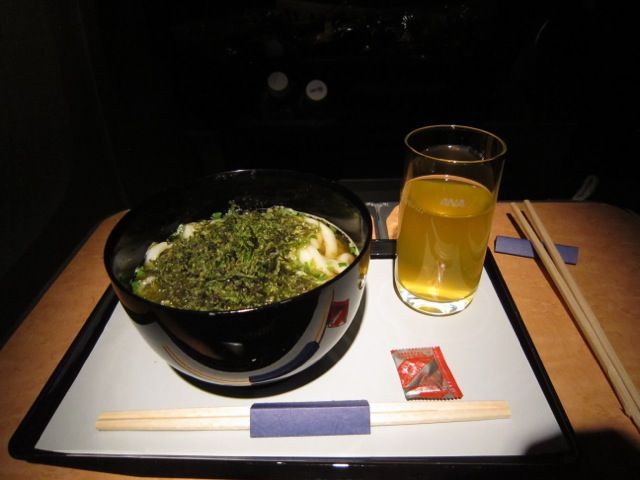 Cup of hot consommé soup
Experience soup that has richness and a refined flavor

Post-nap Comfort
Start your day fresh with a balanced breakfast

Japanese cuisine
Begin the dish with a wide assortment of appetizers followed by delicate, light whitefish grilled to perfection

Kuchidori
Japanese savory omelet
Prawn fishcake sandwiched with tofu
Grilled scallop teriyaki
Simmered chicken rolled with vegetable in soy based sauce

Shusai
Grilled whitefish with soy based sauce

Miso soup

Mizugashi
Fresh seasonal fruit

International cuisine
For early hours dining pleasure, a continental breakfast based on pork ham and Gouda cheese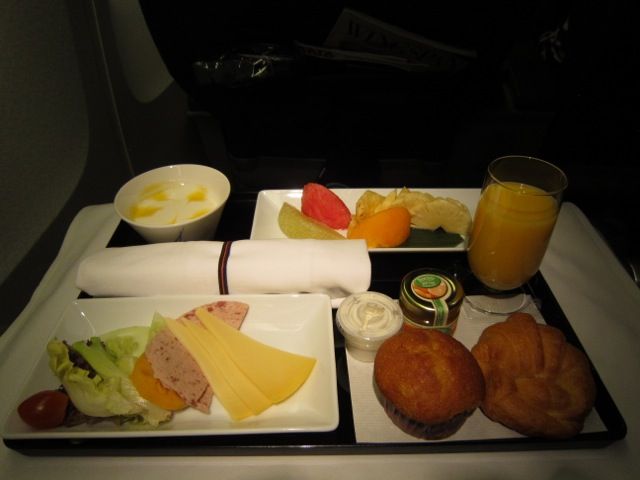 Continental Breakfast
Pork ham and Gouda cheese
Fresh salad with French dressing (Ranch in reality)



Morning roll served with marmalade



Fresh Seasonal Fruit



Yogurt



SGN-NRT
121201-130228

There was no pre-takeoff beverage service on these regional flights, and F/As came around with newspapers, magazines, and asking passengers to fill out the breakfast order sheets. The old generation of Club ANA Asia seat is relatively unimpressive, but good enough on this short flight. It is definitely better than JAL with the five abreast seating. The flight was not full in J, and I got two seats to myself. The entertainment system was awful but I was not interested in anything but the moving map and nose camera.

Food service was also very weak, but at least no one wants to eat. After takeoff, the F/As passed out trays of orange juice, iced green tea and champagne, along with hot towels and bottled waters. Then it came around with snacks including the tuna salad croissant, assorted sushi rolls, mixed nuts and crudités. I had the sushi and also requested the hot bowl of Udon soup with sea lettuce, which was delicious.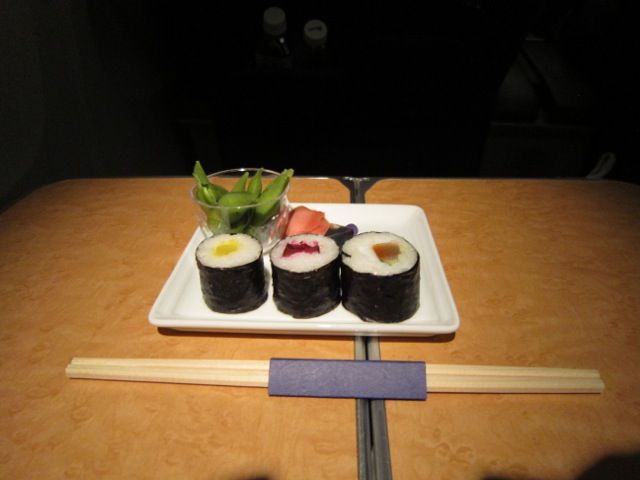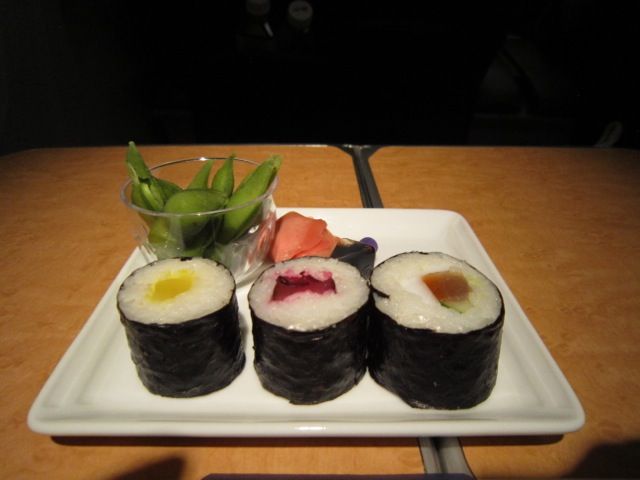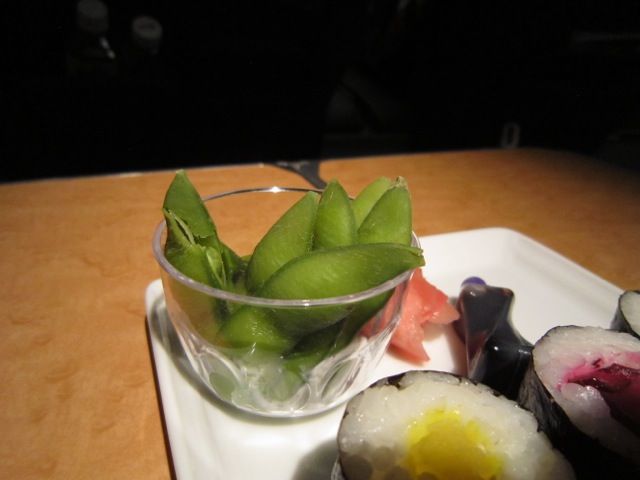 Two hours prior to arrival, breakfast started for those who requested them. I think they could have easily waited for another 30 minutes before beginning the final service. I had the Western option, which was very underwhelming with no hot entrée dish, and the cold cheese and meat platter featured two slices of cheese and two slices of ham. Fresh salad resembled two pieces of Iceberg lettuce with two slices of cucumber, a piece of lotus root, and a few cherry tomatoes. Thankfully I was not hungry at this time, and I guess ANA feels that it can get away for a "light" breakfast. I had the udon a few hours earlier and it was the right decision.

Anyway, we arrived NRT forty-five minutes early and I headed straight to the transit hotel (after discovering the transit desks were closed with no opening times). ANA should have put the hours out or place a self-check-in kiosk.

Empty transit desk in the 50s satellite terminal



I stayed at the transit hotel inside the secured area, which costs 4500 Yen (for a five hours stay). The room was small with a single shower, and bathroom was commonly shared. I nonetheless enjoyed the opportunity to nap for a few hours. I checked out at 12:20pm.
Topic: RE: ANA Inaugural Flight NRT To SJC In Business 1/2013
Username: Carfield
Posted 2013-01-15 08:22:47 and read 19791 times.

Turkish Airlines TK-JJL heading back to Istanbul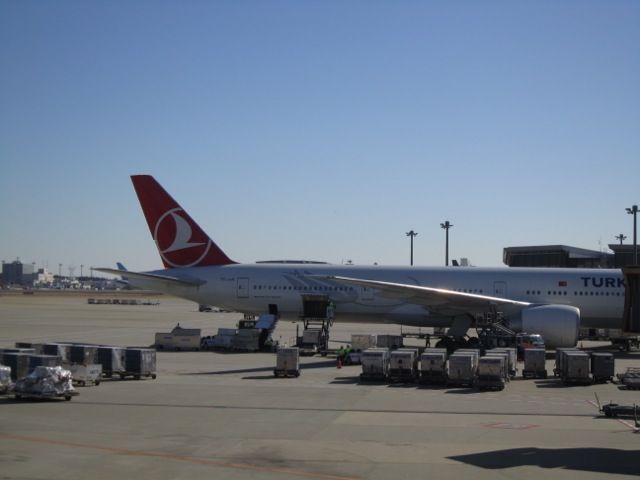 FLIO Board



I immediately checked the FLIO board, and my flight was already listed. Today's gate was 51, which was also used for the inaugural 787 flight to Seattle a few months earlier. Luckily I was able to snap the few shots, when the plane was just being towed into the gate around 12:30pm. I guess they were not taking chances with anything going wrong with this SJC flight. The plane just did the Seattle turnaround the night before.

Here is JA813A just towed to gate 51:



TOMO DACHI logo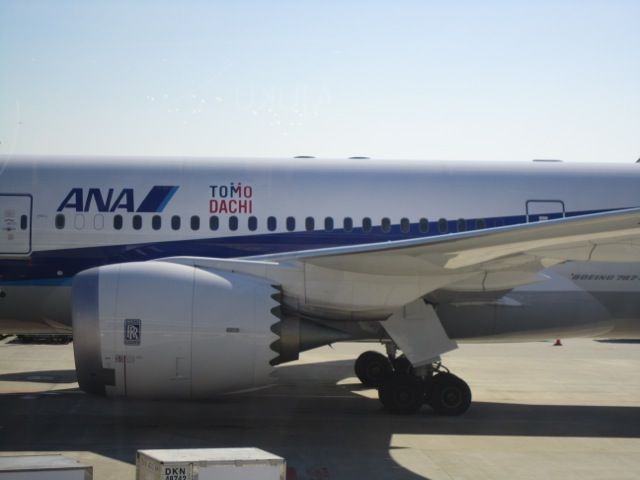 Still empty gate 51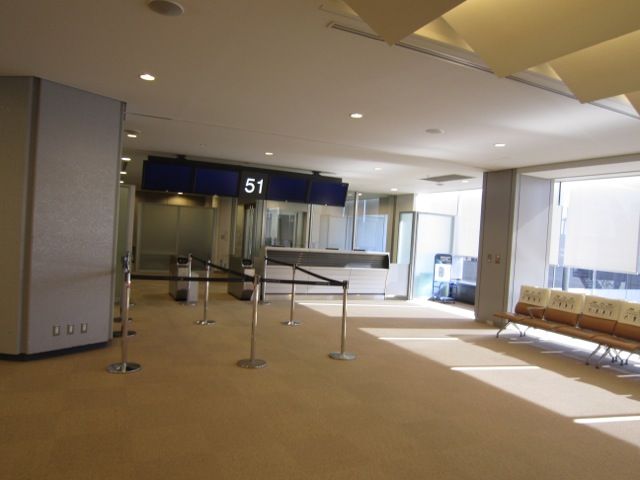 Nose shot



Lounge



With the transit desk still closed at 1pm, I headed straight to the lounge and, of course, Turkish Airlines has yet to send me my Elite/Star Gold frequent flyer card, despite being qualified for more than six weeks. I honestly don't expect anything from TK. Thankfully there is free wifi in Narita and I am able to pull out my detailed ANA electronic ticket receipt, and then the agent had no issues admitting but apologized that the concierge was not return till 3pm. It was obvious a slow time at NRT, as all the European and East Coast flights have left, and the afternoon bank would not start for a few hours. I took the full advantage in exploring the lounge and took all these photos.

Floor Plan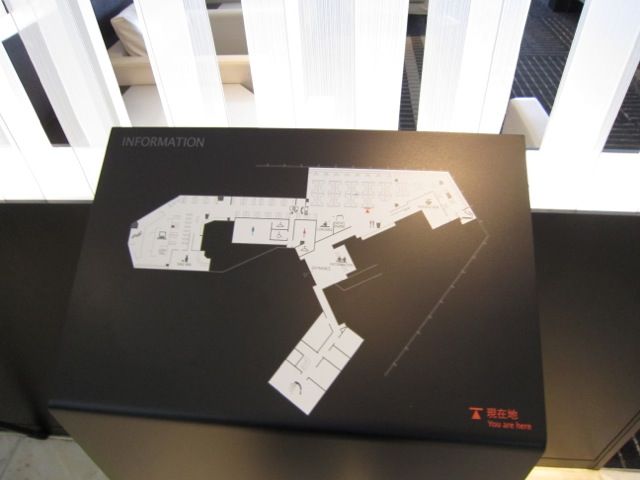 Main seating area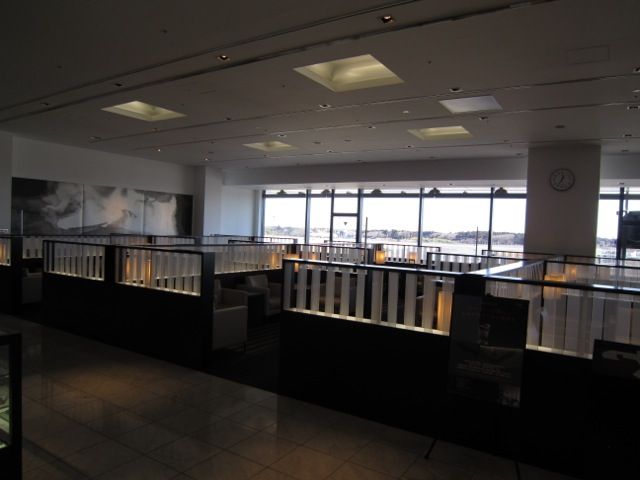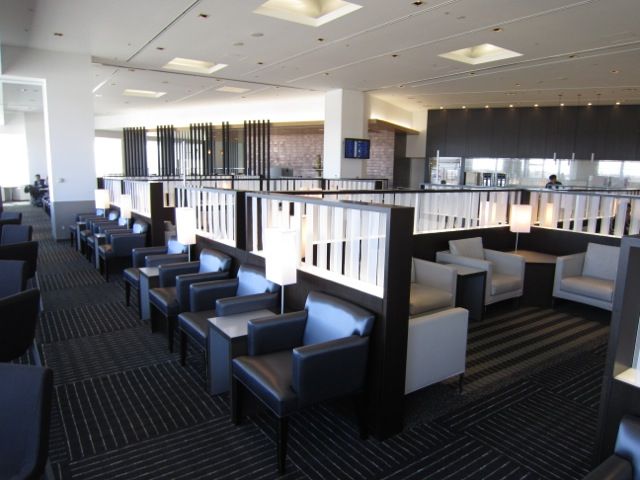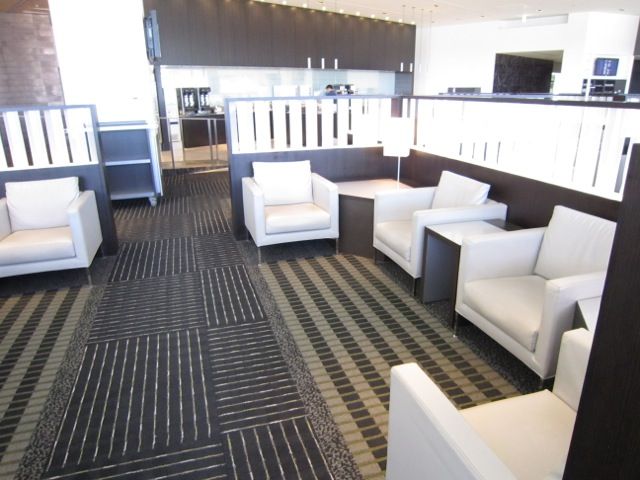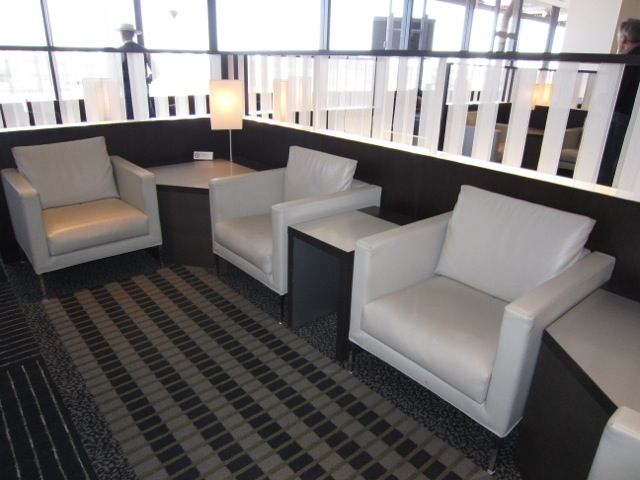 Rows of seats overlooking the apron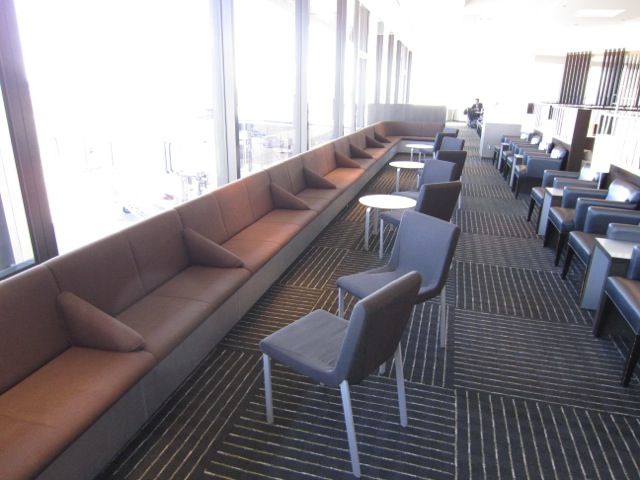 Newspaper station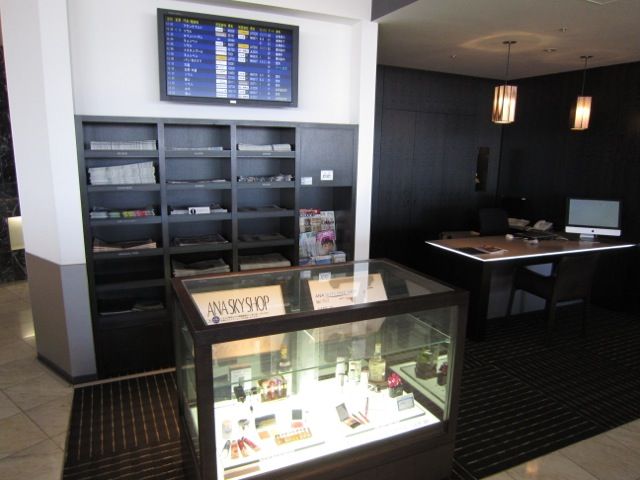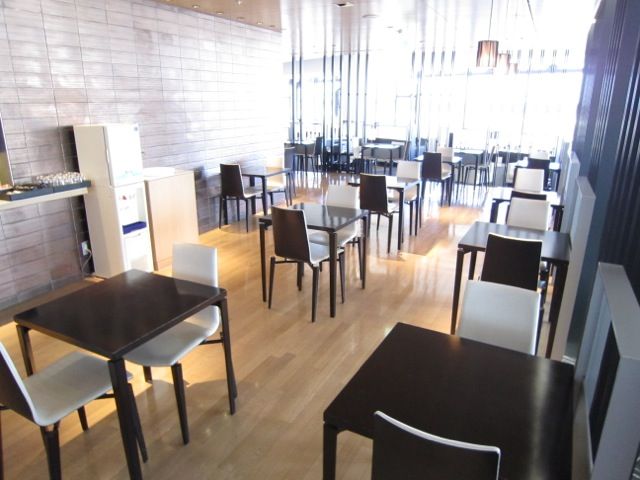 Main food station



Today's hot entrée choice – curry I believe so and fried chicken (my favorite)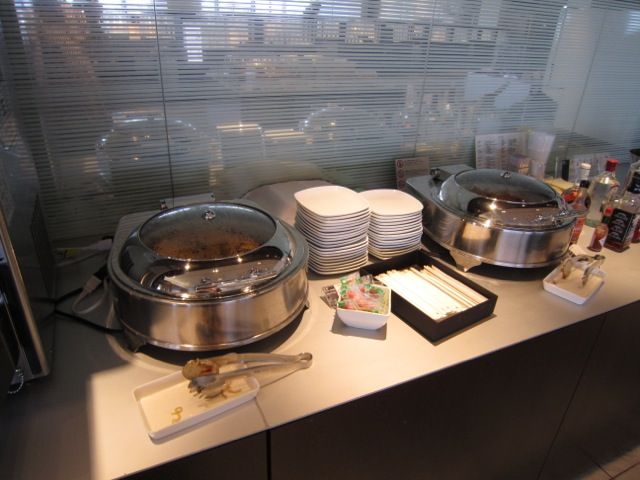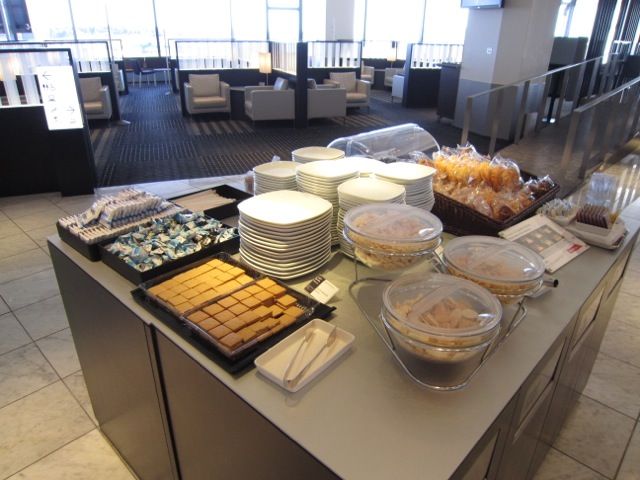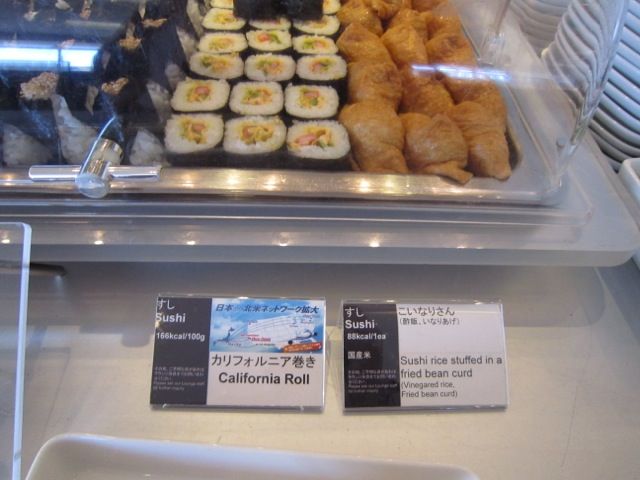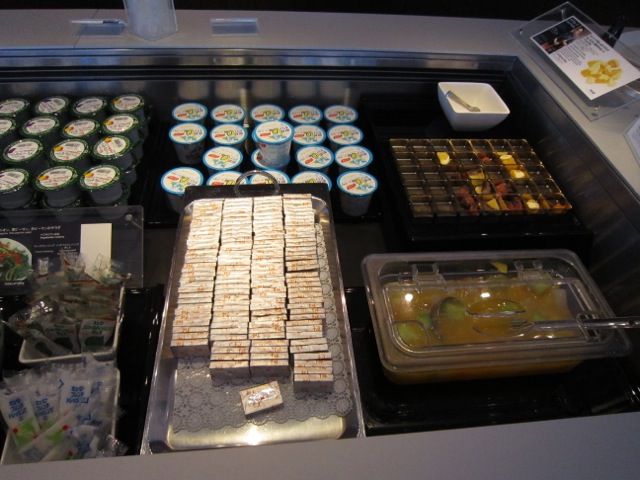 Beverage options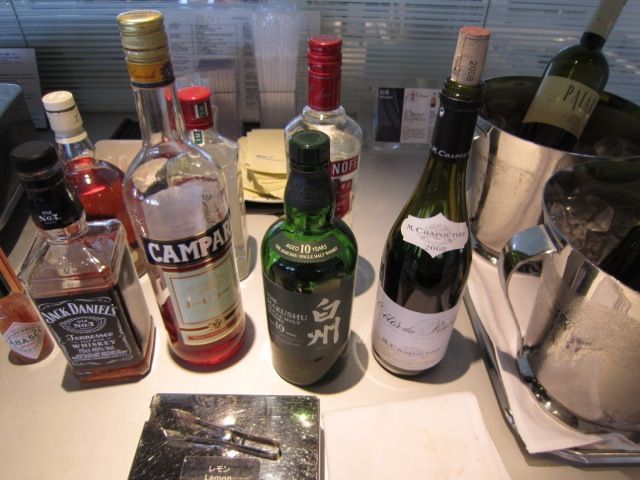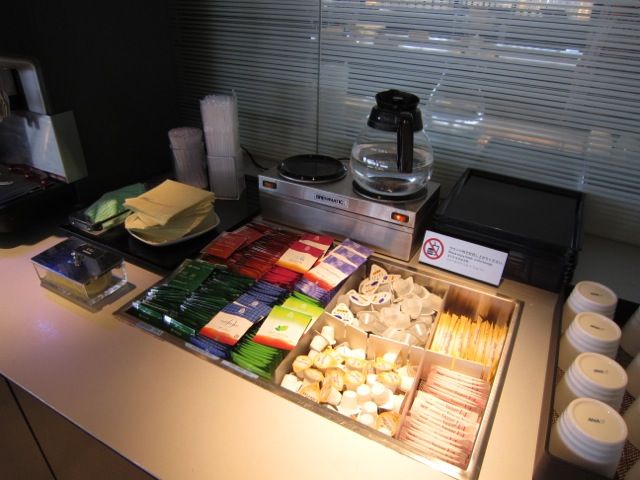 UCC Coffee – Japanese's answer to Nespresso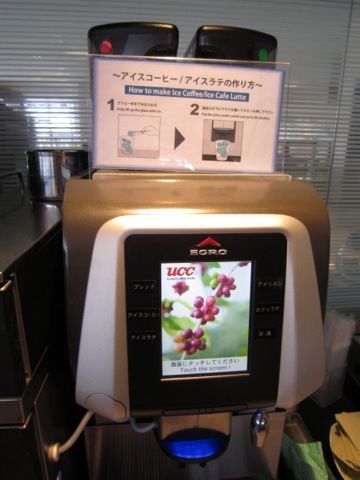 Noodle Bar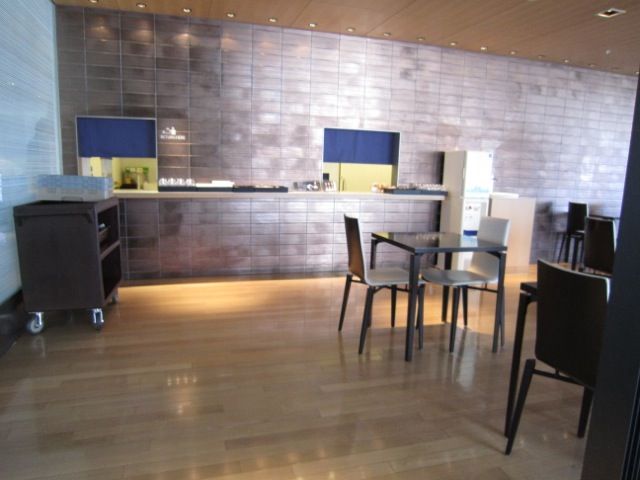 Corridor separating two main seating areas – well between the business stations/sake bar, and the main seating/dinging area



TV Lounge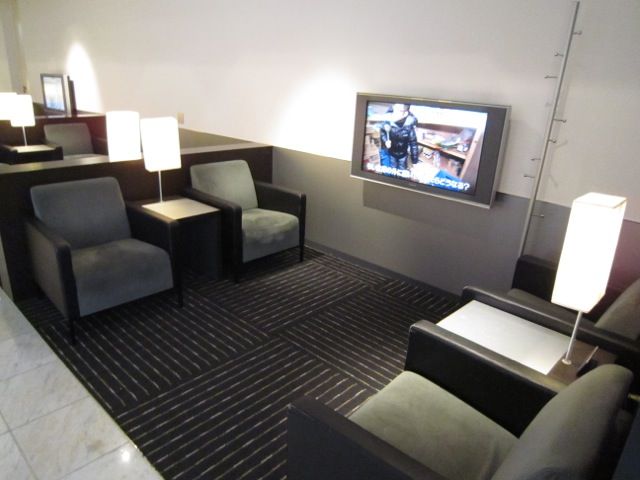 Second Beverage station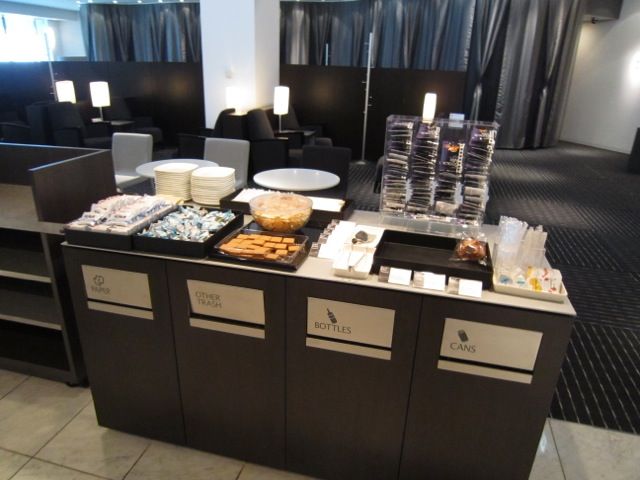 Sake Bar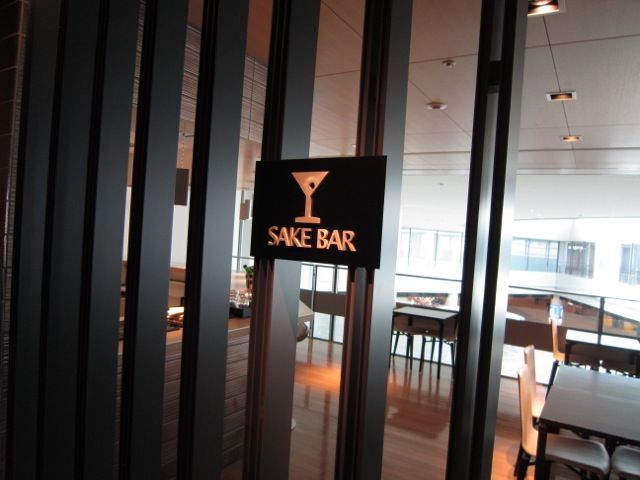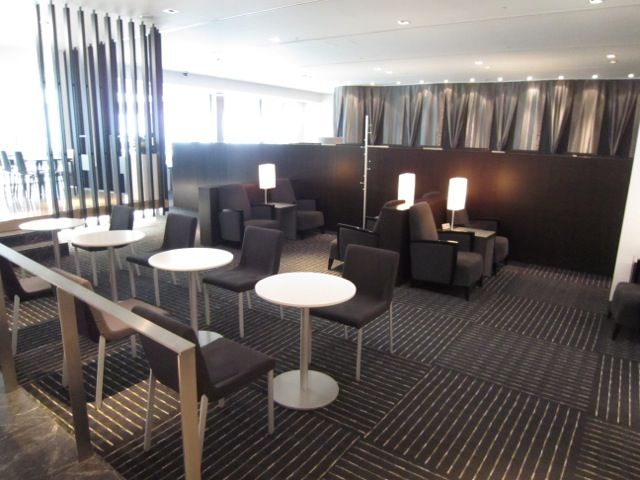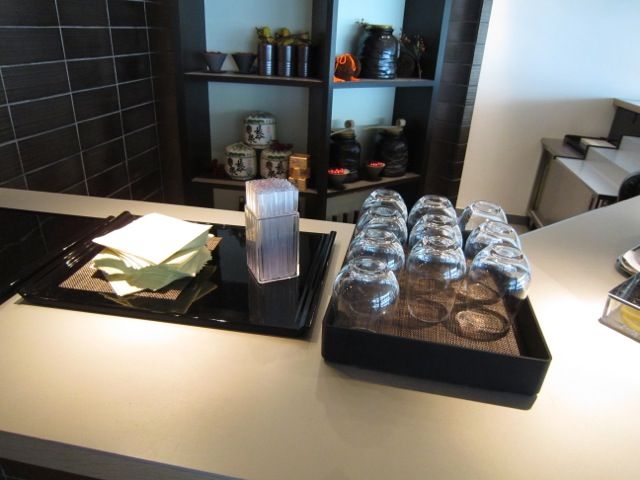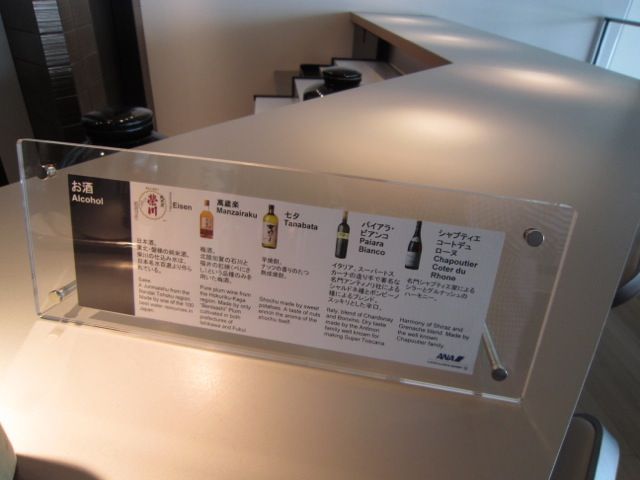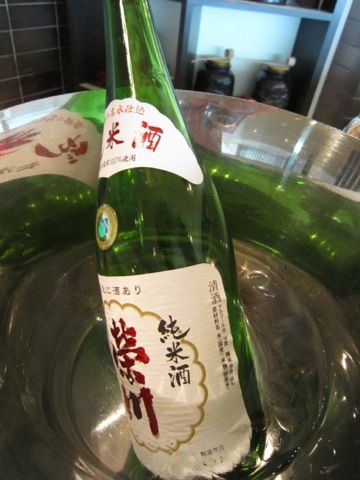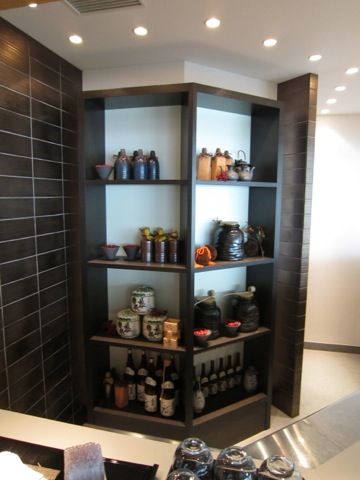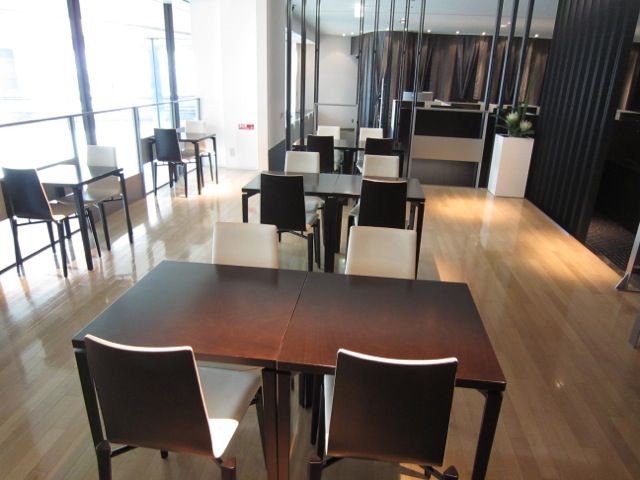 Business Station



Individual business desk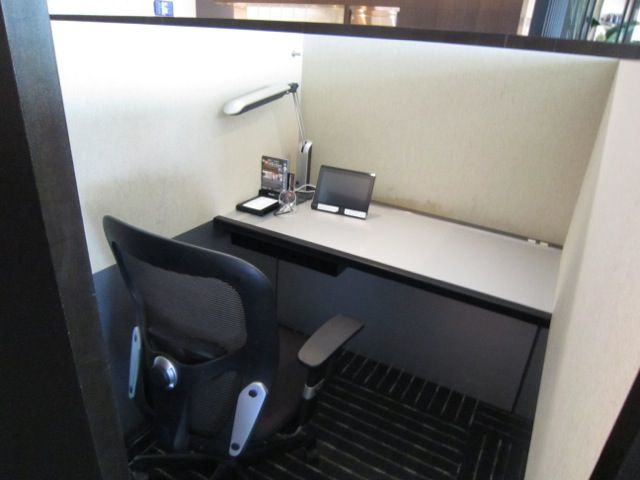 Relaxation Lounge – I don't realize that ANA has a relaxation area, with cubicles of reclining armchair and even two with message chairs towards the back.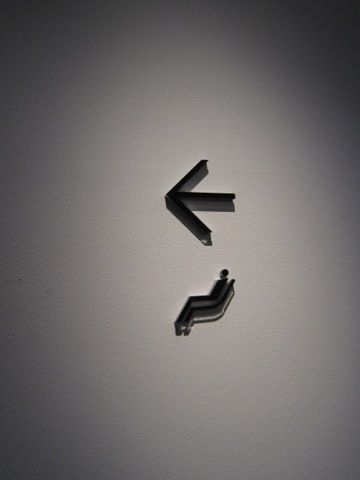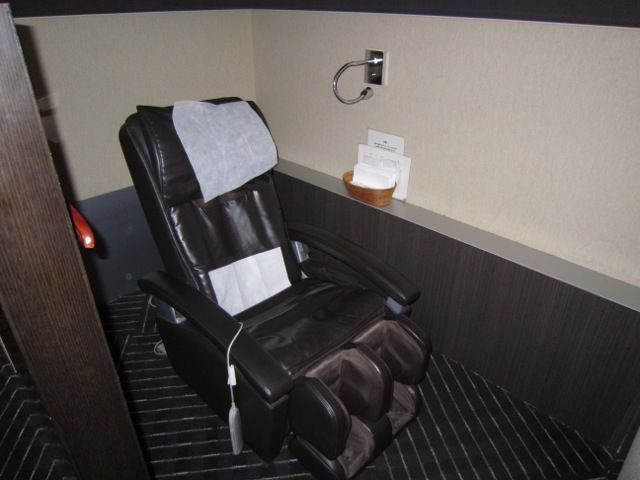 Huge artwork on display



I finally settled in a spot facing the apron – in front of Gate 54 and 55

My lunch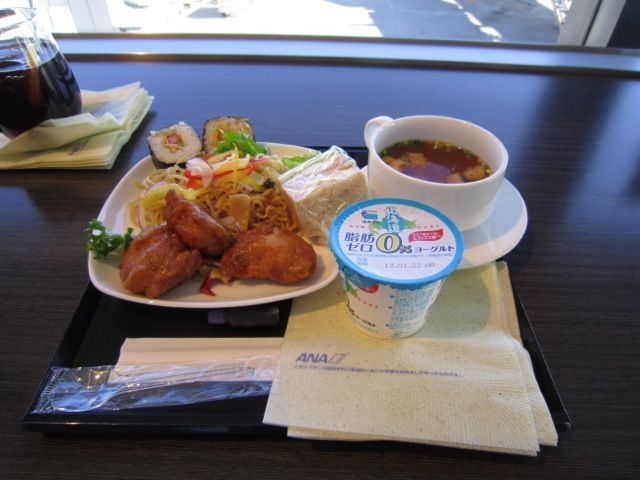 Topic: RE: ANA Inaugural Flight NRT To SJC In Business 1/2013
Username: Carfield
Posted 2013-01-15 08:25:05 and read 19791 times.

Here is a bit of airplane spotting time!

EVA Air's Hello Kitty Plane – B-16311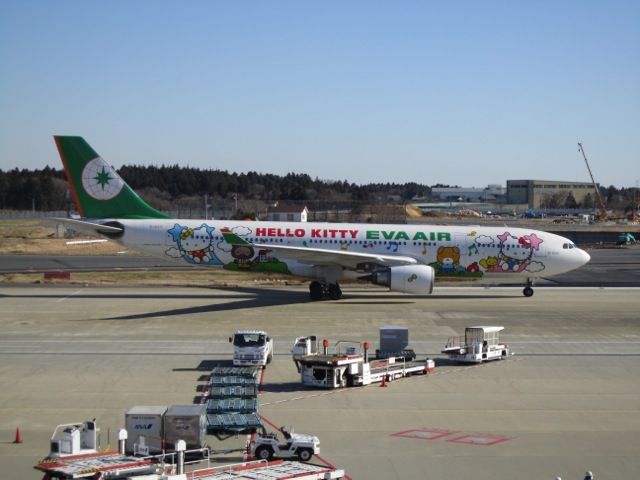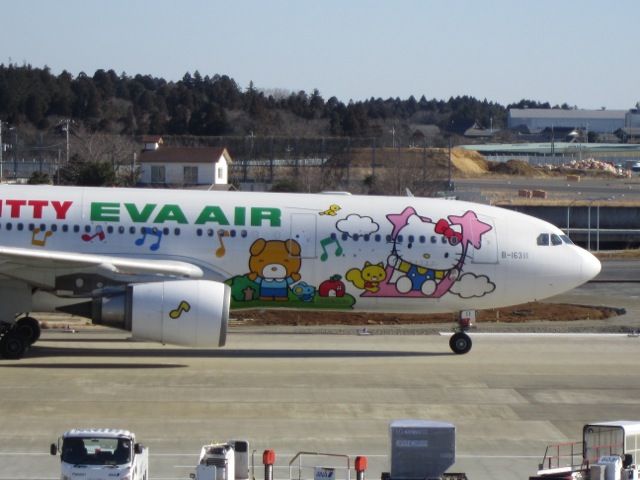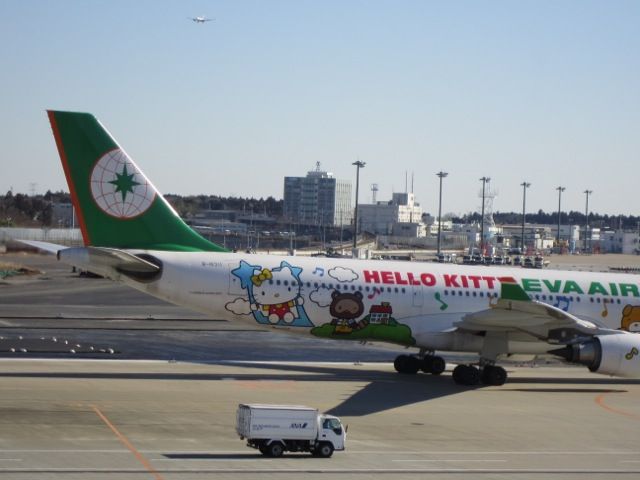 ANA Boeing 777-200 JA710A just arrived from TPE and later towed to rest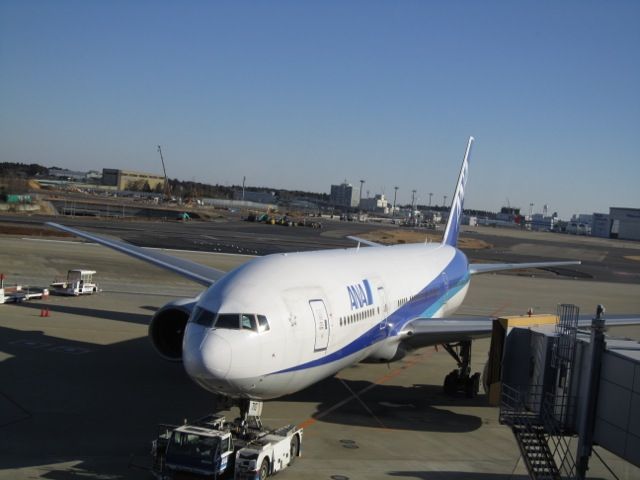 ANA Boeing 767-300ER Winglet JA621A heading to Shanghai Pudong



ANA Boeing 777-300ER JA778A just arrived from Munich as NH 208



ANA Boeing 777-300ER JA 735A from CDG and then heading to SFO next



ANA Boeing 767-300ER JA622A from Delhi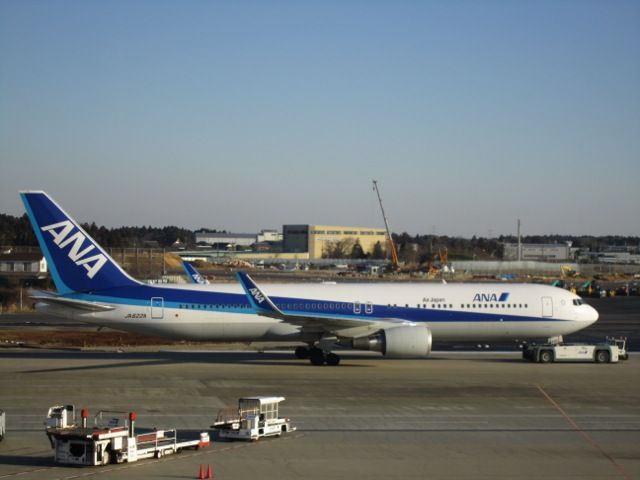 ANA Boeing 787-8 JA814A arriving from Seattle and heading back to Seattle later
You will see it at SJC a lot too… JA813A and JA814A (and I am soon a third one is coming too) will rotate between SEA and SJC for the winter.



Celebration
Time to head back to Gate 51 and some more shot of the plane, JA813A



The gate was busier than earlier, with a stage being setup and staffs getting ready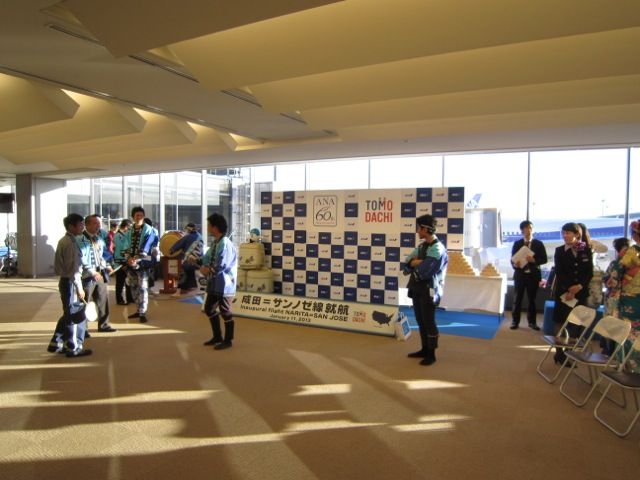 Group picture before the ceremony took place - All the dancers are men, and the women dressed in kimono just helped out during the ceremony.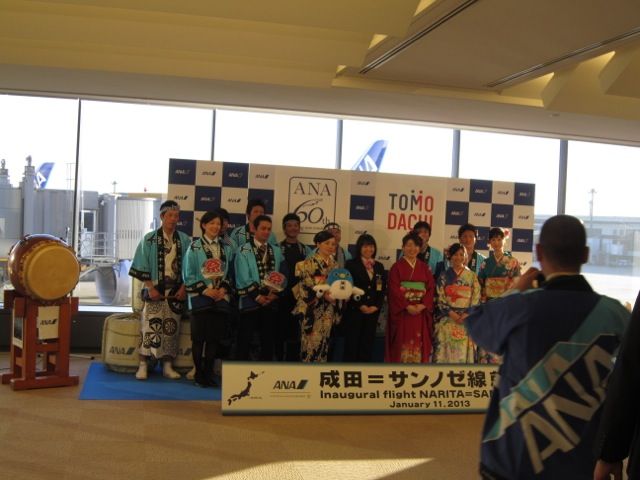 The podium at Gate 51



ANA Drum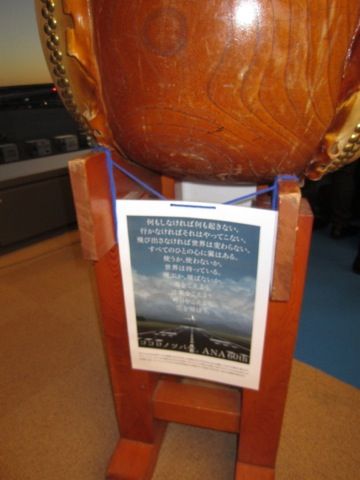 The new SJC advertisement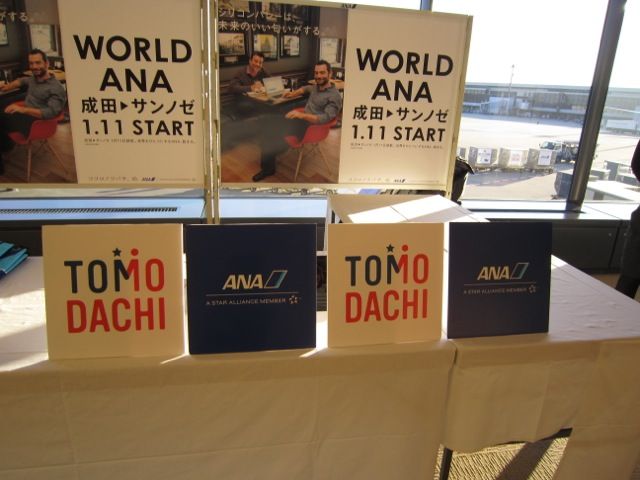 Sake Wood Cups to commemorative the inaugural flight



The Sake Barrel – local sake to commemorate the inaugural flight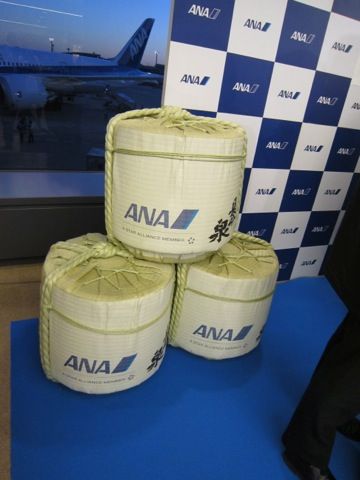 The list of guests attending the ceremony



US Embassy is sending the counselor for Commercial service, Gregory Loose, as the ambassador was actually in San Jose and flew back to Tokyo with the former Secretary of Transportation and House representative, Norman Y Mineta on the return inaugural flight, and they were doing a special promotional tour this week



The ceremony started at 4pm and here was the MC – very formal and spoke only Japanese. With the US service, I would expect at least one English speaking staff, but not surprised.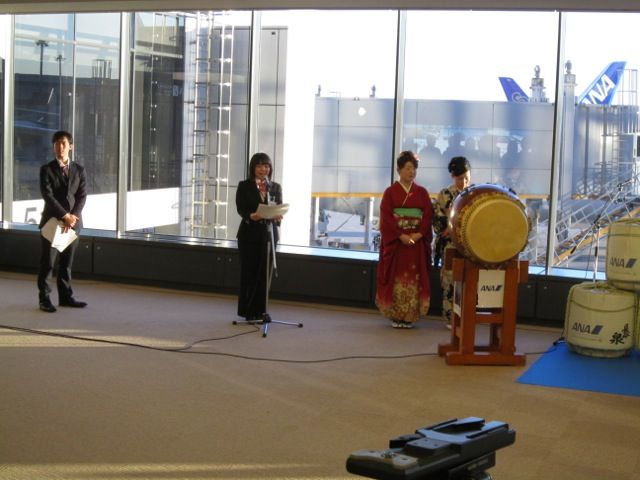 It began with a traditional Japanese dance, with men playing drums, and then flutes, and three men making movement and clapping their hands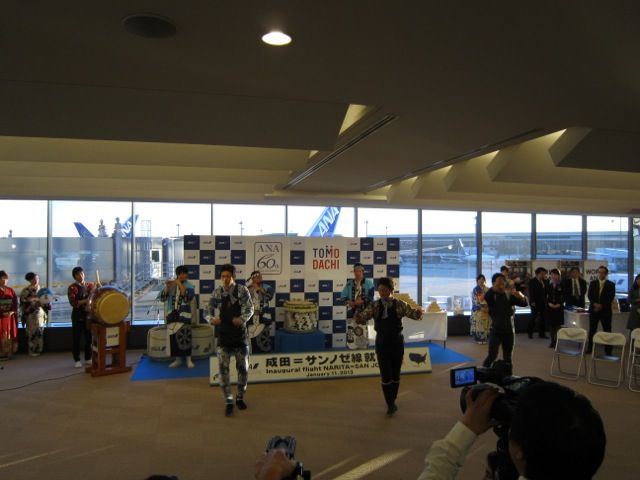 Then they removed their hair bands and did some more dances.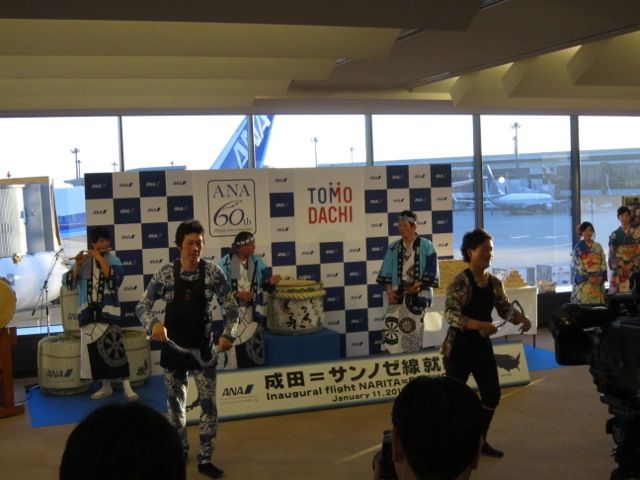 Towards the end of the ceremony, the invited guests showed up and took their seats. They talked among themselves and some business cards were exchanged.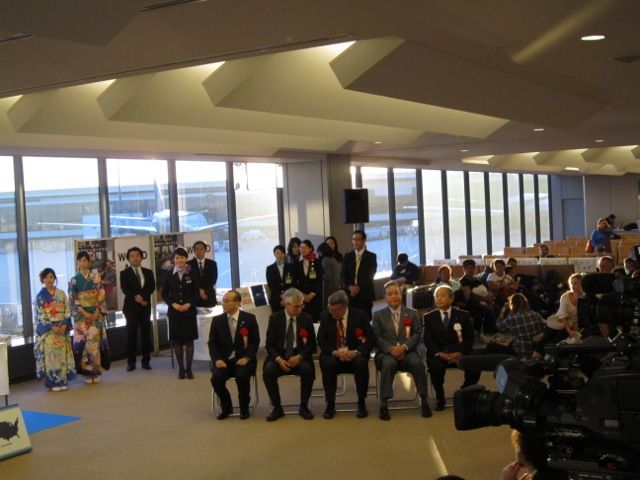 I wish I could tell you who these people were, but basically there were five speeches and I could only understand one by Mr. Loose. It was interesting that two of them did not even use a card and memorized the whole speech by heart. The US counselor basically reiterated the importance of this link to the Silicon Valley and the mission of TOMO DACHI, which will be feature in a number of ANA jets, which serve the US markets. JA814A also had this logo. JA813A and JA814A are both based in Narita and served the SEA and SJC market only. It is basically an initiative after the earthquake in East Japan to celebrate the friendship of the USA and to increase trade after the disaster. It is like a private and public partnership between American and Japanese governments and corporations to help the recovery process.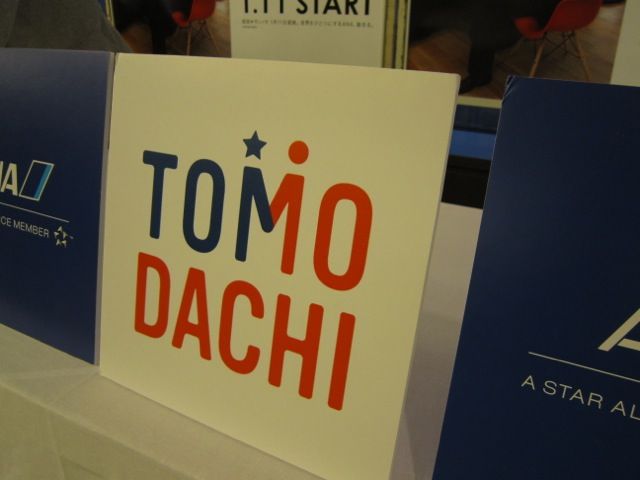 Speeches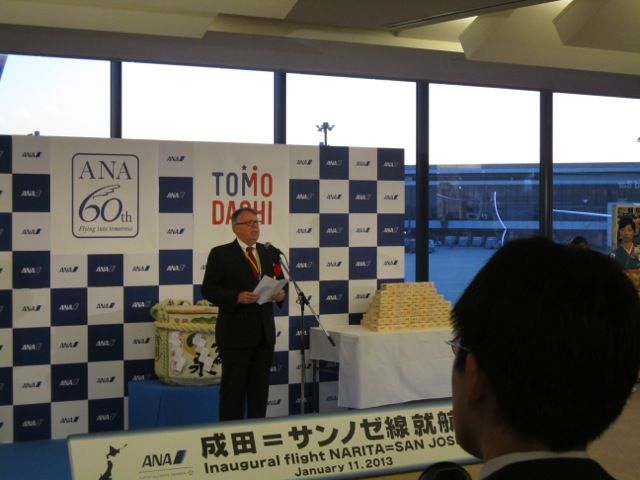 After all these speeches, here was the moment. Instead of ribbon cutting, we had the sake barrel breaking ceremony.

The guests basically all wore a special ANA Japanese style jacket and then given a ceremonial drum to break open a fresh sake barrel.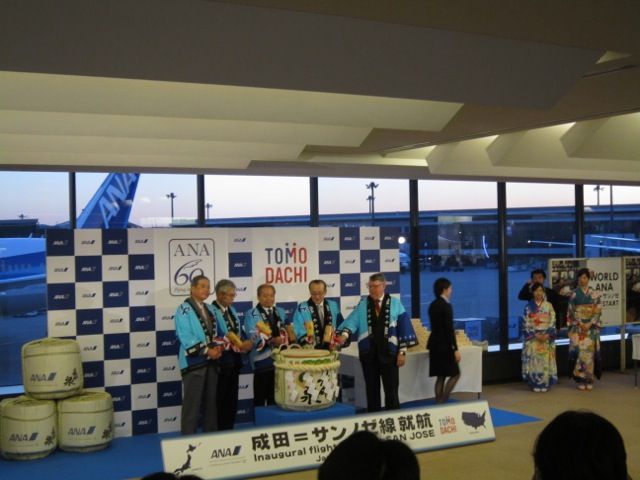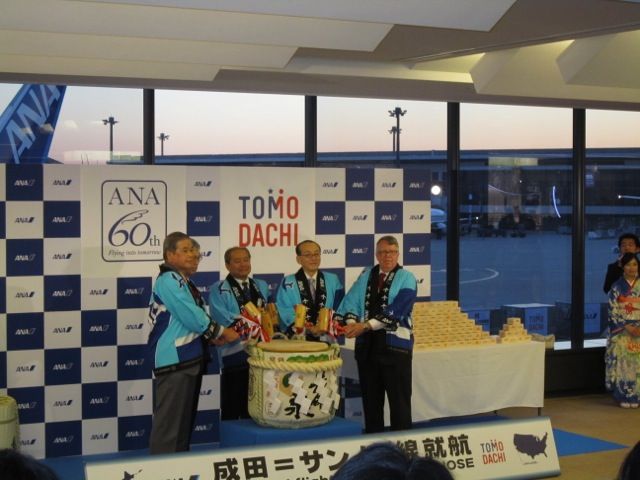 Three… Two… One…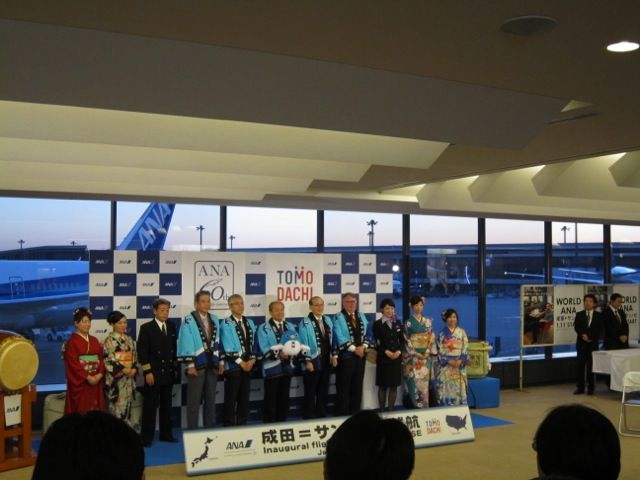 ANA staffs pouring the sake and passing them around



The Special Sake Cup celebrating the inaugural flight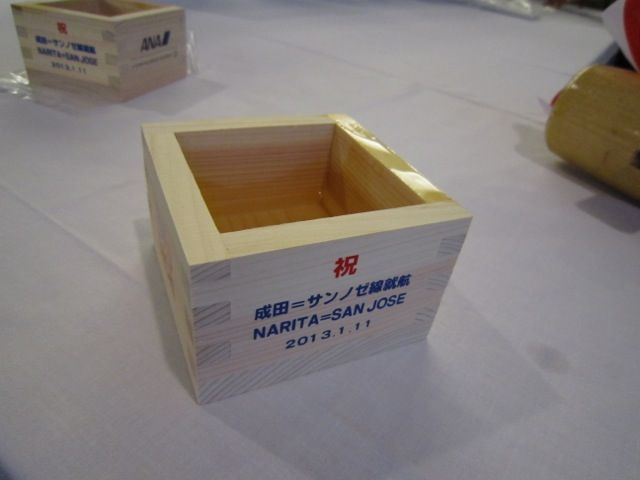 One more shot of JA813A in the late afternoon sunlight



Gate 51 was getting ready for boarding



One more farewell ceremony and similar dances again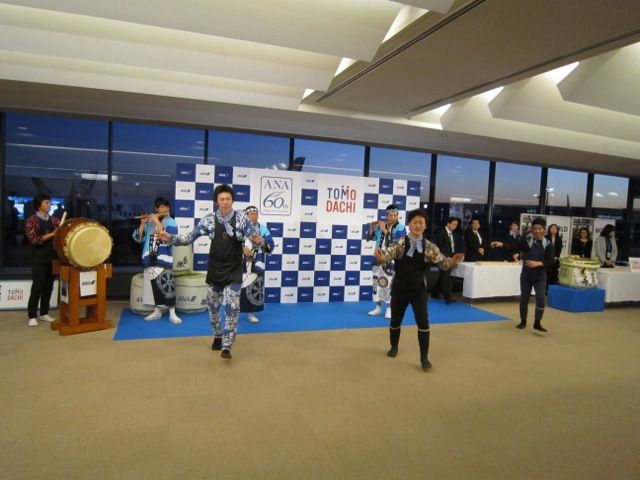 Topic: RE: ANA Inaugural Flight NRT To SJC In Business 1/2013
Username: Carfield
Posted 2013-01-15 08:26:14 and read 19784 times.

Boarding finally was called at 5:12pm. The priority was strictly reinforced with special assistance passengers, followed by ANA diamond elites and special press today. Then business class passengers, and then economy passengers! No chance for jumping queue and this should be the model for all airlines boarding, and that's why boarding was always completed within short period of time.

The cabin is filled with these temporary signs celebrating the new inaugural flights to San Jose!



The cabin was welcoming in the blue mood lighting, which meant bad pictures without flash. It looks nice though. I will try more cabin pictures on my return flight in February, but with the amount of official literature, it is not difficult to find cabin pictures.

First business class cabin



Second business class cabin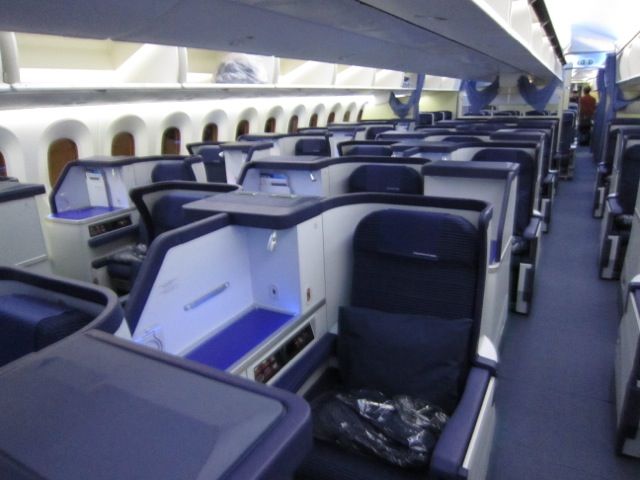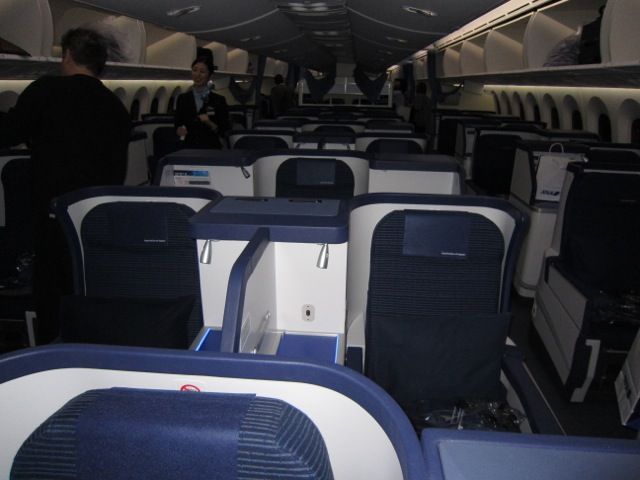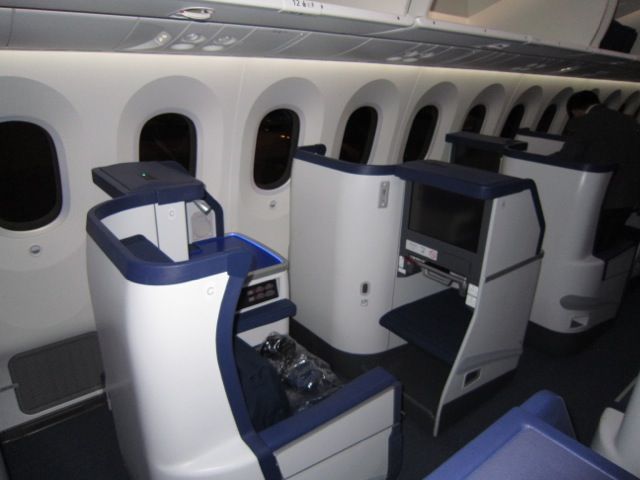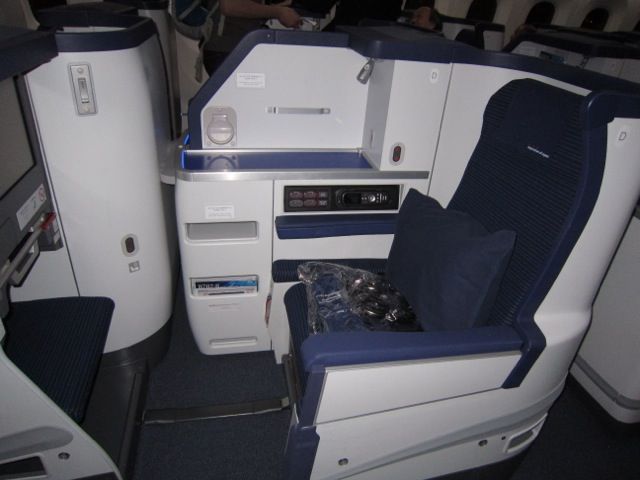 The only picture that came out well, which featured the first mini economy class cabin – the bulkhead row features tremendous amount of legroom



Giant sized windows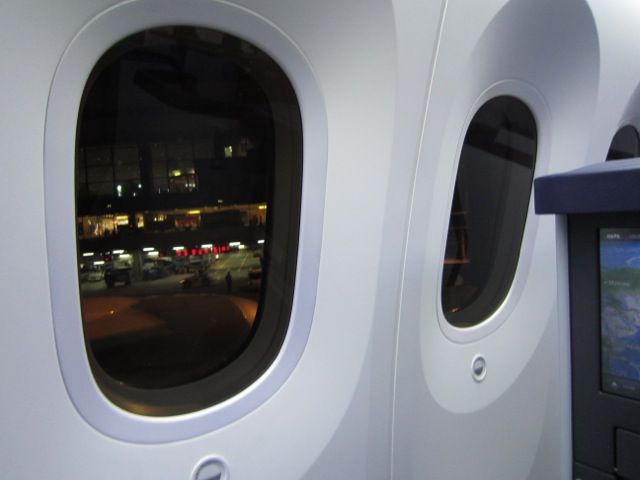 A gift bag was also handed out, which featured a first flight certificate, a TOMO DACHI stationary set, and a special wrapped gift, which was a very nice NRT-SJC toiletry bag.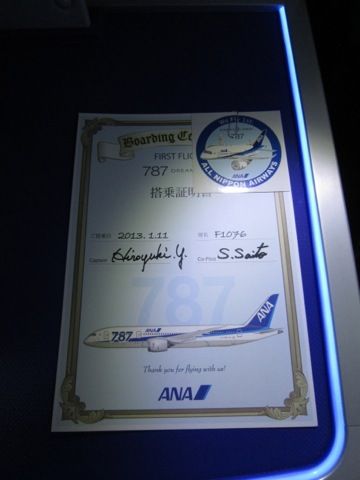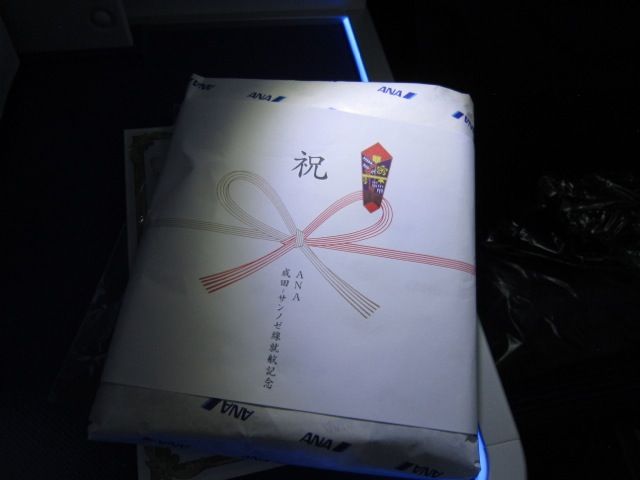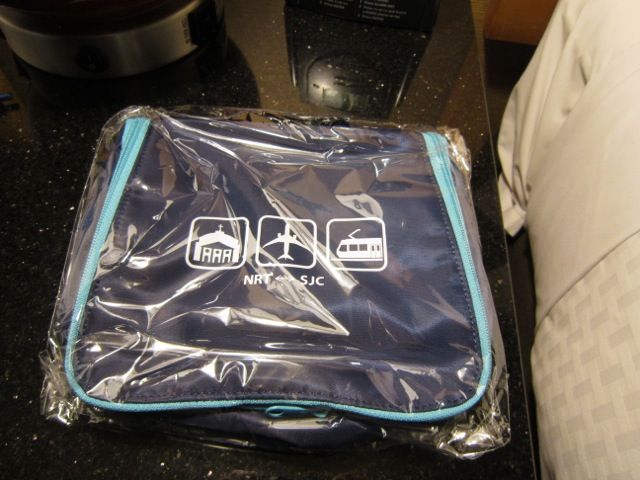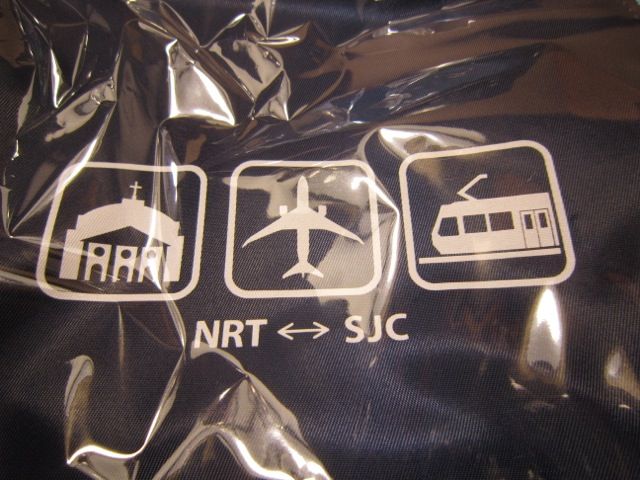 Unlike regional flight, there was pre-takeoff beverage service, which was a choice of iced green tea or champagne served in plastic glasses – better than nothing on JAL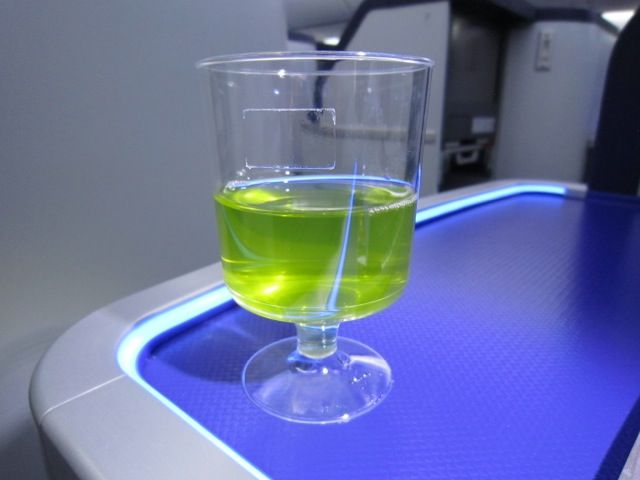 Door was closed at 5:27pm and we pushed back at 5:39pm. We took off from R/W34L at 5:56pm.
The routing was mostly over the Pacific Ocean tonight. There was strong tail wind, which meant a short eight hours and twenty-nine minutes flight. We started at 37,000feet before climbing to 38,000feet, and then 39,000feet after crossing the International Date Line. We finally hit the coast by crossing Greenwood Cove and then down the coast passing SF and then the big turn around to line up with R/W30, the typical used runway at SJC.

Here is the route map throughout the flight: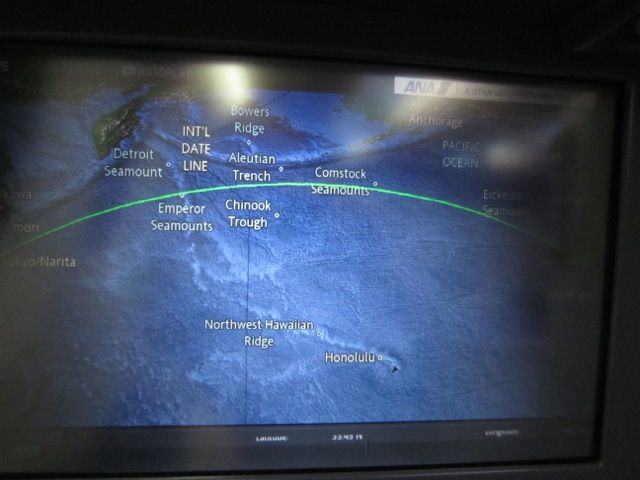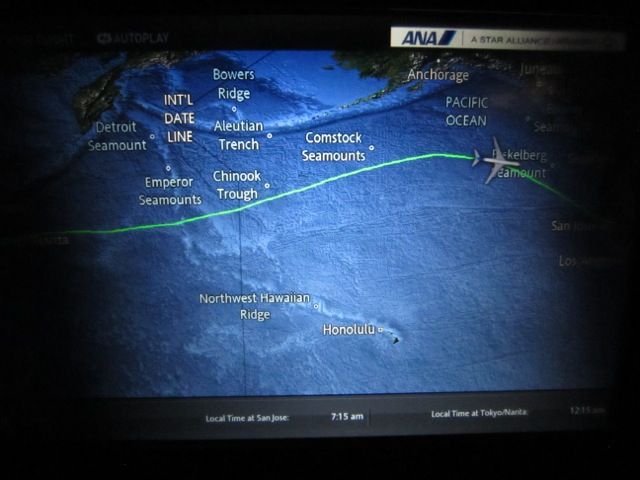 The pilot made a few announcements today, and gave a very detailed flight report, as there were lots of enthusiasts on board today. But the flight route was pretty straightforward but he was proud of the early arrival.

Cabin:
ANA's Boeing 787 comes with a number of domestic, regional and international configurations, and of course Seattle, San Jose, and Frankfurt all feature the new business staggered seats, with individual aisle access and a full flat seats with many usable surface. However I noticed that the giant bar area in front of Door 2 for the original 787 domestic configuration is missing. It is replaced by a smaller bar, which can be seen here! When I flew ANA years ago, they had packaged snacks, small pastries and chips out, but that had been cut. Not sure was it because of the new a la carte menu! Now there were just some random wines and a box of pralines out. Maybe the longer return flights will have more snacks stocked. I will report back and will check out the first business class cabin.

Mini business class bar – noted that there were no more packaged snacks, other than chocolates leftover from dinner!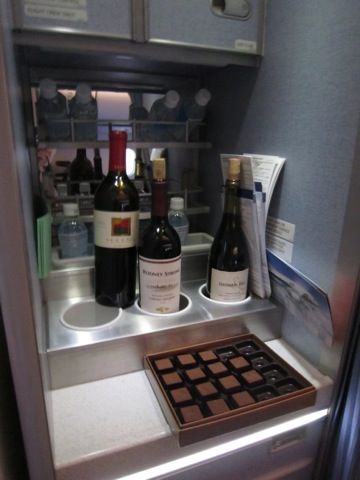 Here were more cabin picture I attempted throughout the flight – some when daylight returned prior to arrival and after arrival!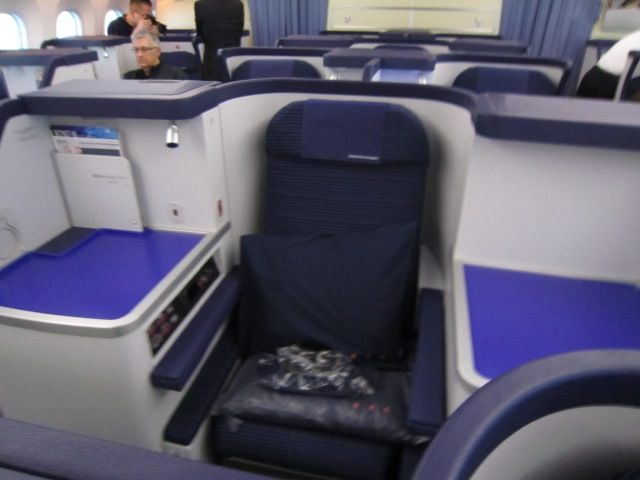 Unfortunately, there are only two lavatories for business class passengers and this is rather unacceptable with long waits during the early rush. Considered we were not full today! Not sure if there was one in the front, but this was definitely bad planning on ANA part! The lavatory was huge and featured window and the Japanese style automatic style. It is pretty cool.

Here are pictures: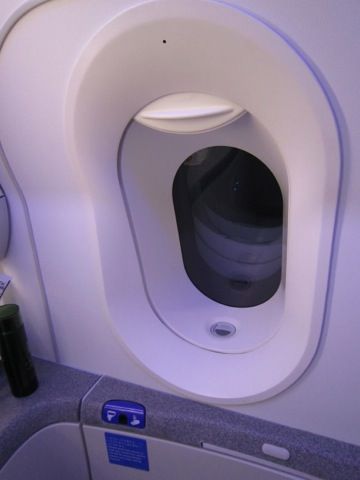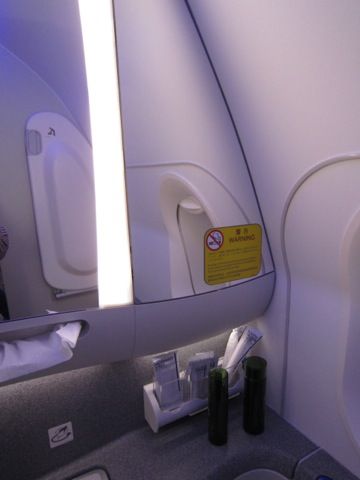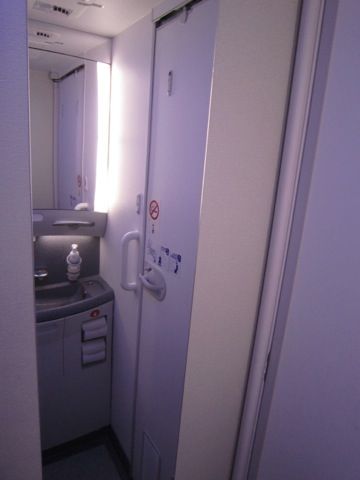 Automatic flush (you basically wave your hand in front of it) and the toilet seat will be silently closed every time you flush the toilet.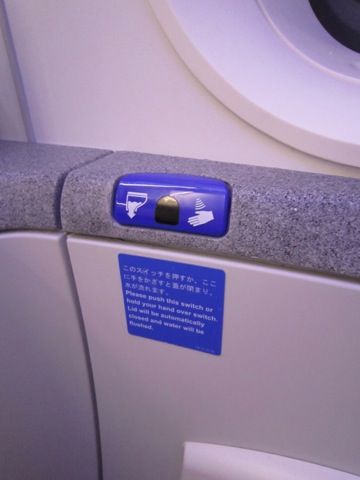 "Extra" cleaning of sensitive areas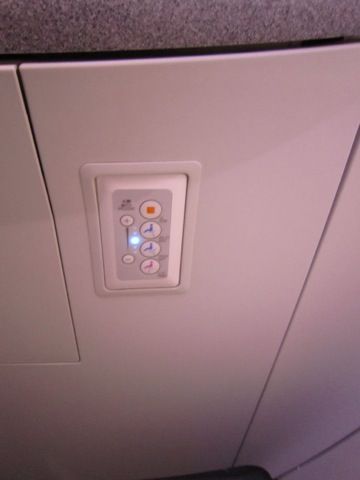 Topic: RE: ANA Inaugural Flight NRT To SJC In Business 1/2013
Username: Carfield
Posted 2013-01-15 08:28:02 and read 19774 times.

Seat:
The business-staggered seat is excellent and there was no issue with tiny cupboard for feet like the Swiss and SN Brussels Airlines new business class design. You get a personal side table on the side, and the new tray table was huge and movable. There are the universal power outlets with USB port (not for charging) and an IPOD/IPhone connection outlet for you to listen to music and watch photos, and videos from your own apple devices (but not IPAD). You need to ask F/A for a connection cod, and I will try it on the return when the flight is longer. The only thing is that there is no longer a legrest during normal relax position, which is a minor thing personally.

Pictures of seats and all the bells and whistles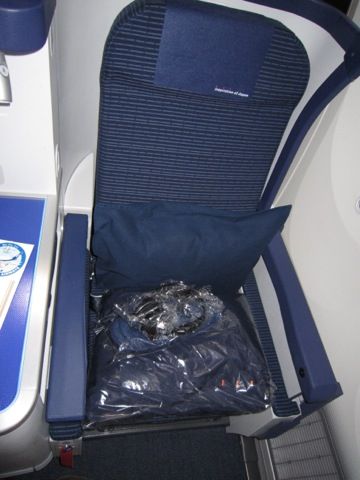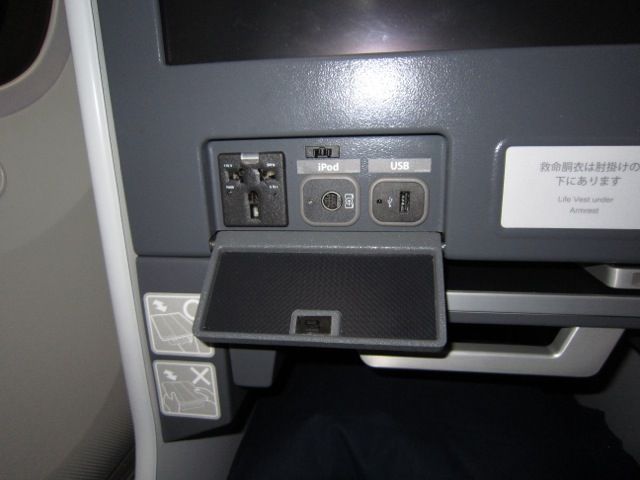 Seat in relax position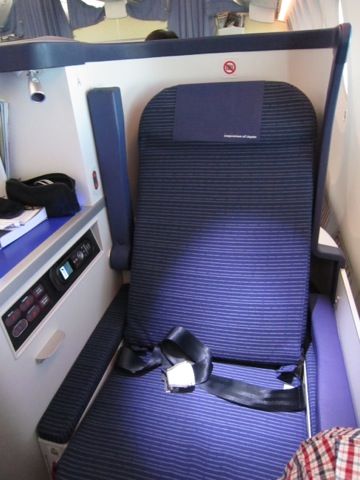 Seat in full flat position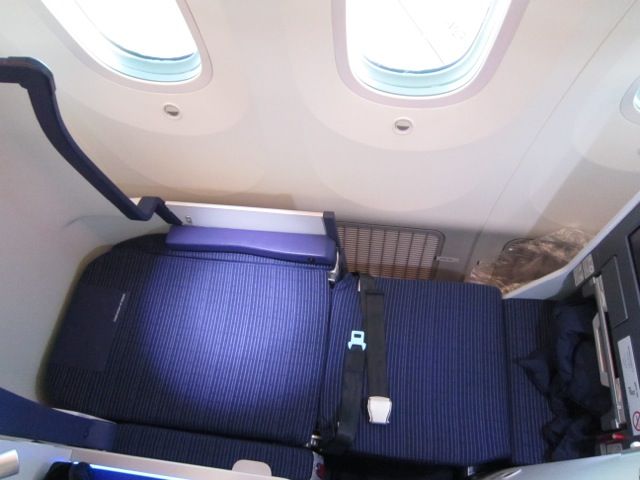 Seat in full flat position with the new bedding – very comfortable duvet blanket (just a tad short for me) and pillow. I love the blue color scheme with the three orange square dots!



Please Do Not Disturb sign



Service:
To be honest, both JAL and ANA have great flight attendants and I really don't have a clear preference. Yes, they are definitely more formal than other top Asian airlines. However they are extremely efficient and pay attention to all the details and your meal and beverage preference. They are not the chitchatting type especially to non-Japanese speakers but will do things to surprise you. The flight attendant working my aisle always has a big smile and is a bit less uptight than the older and more formal F/As. The only thing that continues to annoy me is that after even going through the manifest list and my last name is nothing close to anything remotely Japanese, they still use Japanese to start every conversation, and even if they give me something the second or third time. Only the previous mentioned F/A seem to remember. Nonetheless, the F/As patrolled the cabin frequently and worked very quietly in the galley. (Unlike other airlines, even CX sometimes and yes I am referring to most US airlines F/As especially domestic flights) they work so quietly in the galley and don't bang and slam carts and doors on the pre-breakfast serving time. They don't complain about their lives in the galley and work in a very organized way. However I think ANA has a clear advantage over JAL on the F/As front, and in some way, JAL F/As work harder during my last couple flights and really fight for the reputation of their company. ANA definitely has the better hardware and seats, but service wise, it is a tossup with JAL.

Meal:
Here is the link to ANA wine list and meal!
Wine List
Champagne
Champagne Jacquart Brut 2005

White
Folie a Deux Chardonnay 2009/2010, California, USA
Lugana 2010 Tenuta Maiolo, Lombradia, Italy

Red
Rodney Strong Cabernet Sauvignon 2009, Sonoma, California, USA
Hayman & Hill Santa Lucia Highlands Reserve Pinot Noir 2008, Central Coast, California, USA

Sake
Ishizuchi Junmaiginjo Green Label, Ishizuchi Shuzo, Ehime
Hakkaisan Ginjo, Hakkaisan Jozo, Niigata
Tsukasabotan Fuinshu, Tsukasabotan Shuzo, Kochi (Only available on the Narita-San Francisco route)

Shochu
Kawagoe
Hanamugi Moriya

Umeshu
Nankobai no Kodawari Umeshu

Main Meal
Japanese cuisine
Seasonal ingredients have been selected and elaborately cooked to create soothing tastes

Zensai
Assortment of winter appetizers

Otsukuri
Sliced seabream with kombu kelp flavor
Sliced salmon with kombu kelp flavor
Soy sauce

Kobachi
Deep fried chicken drenched in spicy piquant sauce topped with tartar sauce
Premium chicken deep-fried to perfection, then dipped in spicy stock and topped with Japanese style tartar sauce.
Accompanied by semi-sweet chestnuts boiled in sugary syrup with astringent skins intact along with foxtail millet wheat gluten simmered in Japanese-style broth.

Shusai
Yellowtail and daikon radish simmered in soy-based sweet sauce (310kcal)
Yellowtail, the king of winter fish. For this creation, full-bodied fatty yellowtail is nicely boiled to a supple consistency.
Also enjoy seasonal daikon radish – the perfect side dish that absorbs the yellowtail juice and brings out the flavor of this delectable entrée.

Rice
(For December) Steamed rice topped with whitebait flavored sansho pepper, miso soup and assorted Japanese pickles.
(For January) Steamed rice mixed with various ingredients, miso soup and assorted Japanese pickles.
(For February) Steamed rice topped with simmered whitebait, miso soup and assorted Japanese pickles.

International cuisine

Appetizer
Tokushima awaodori-chicken, scallop and mushroom terrine
Prized, locally grown chicken and scallops with Tokushima Prefecture served with a mushroom scented terrine. Accompanied by common bean salad seasoned with truffle-taste salt and olive oil.

Main Plate
Fillet of Beef steak with "Yamagata Takahata wine" sauce [421 kcal] or Japanese style sauce [455 kcal]
Fillet steak broiled to a soft and mouthwatering texture, paired with domestically grown potatoes that deliver a satisfying flavor worthy of chestnuts. Enjoy this steak with either Japanese-style or Takahata wine sauce, created by simmering fond de veau with demi glace sauce.
Or
Sautéed tilefish with Tokushima yuzu-citron chili paste flavored vinaigrette [280 kcal]
Lively and peppery citron vinaigrette sauce brings out the refined flavor of tilefish. Pancetta and Japanese mustard spinach blend wonderfully in this delightful sauce.

Bread
Served with domestic Hiruzen butter and olive oil
Steamed rice, miso soup, and assorted Japanese pickles also available.

Desserts
Our in-flight dessert was conceived through a special collaboration with Pierre Herme Paris
Cheese, fruit and other desserts are also available

Pierre Herme Paris
Savor a moment of bliss with the innovative dessert creations of Pierre Herme, one of the leading patisserie chefs of the 21st century.

December: Plaisir sucre – Praline puff pastry, satin-smooth milk chocolate cream, ultra-thin milk chocolate squares, caramelized hazelnuts slivers, hazelnut-flavored shortbread

January: Montebello – Pistachio-flavored dacquoise biscuit, pistachio mascarpone custard, fresh strawberry compote, pistachio ice-cream and strawberry sorbet, roasted pistachios

February: YU – Satin-smooth Yuzu and Manjari chocolate cream, mix of raw and stewed apples with Yuzu, flower of salt chocolate shortbread, chocolate sorbet, ultra-thin dark chocolate squares

Light Dishes
We have light dishes available for you to enjoy anytime you like upon request.

Cheese plate (Chaource, Roquefort)
Served with two types of cheese and dried fruit. Enjoy with a glass of wine.

Fresh Seasonal Fruit
Fruit platter perfect for dessert or to simply cleanse our palate

Vanilla Ice cream
Refreshing vanilla ice cream for dessert

Fresh garden salad, beet dressing
Fresh salad mixed with baby leaves

Ramen noodles in miso-based soup with Welsh onions
A pleasantly warming dish with an almost nostalgic taste that what's your appetite with its aromatic miso and flavored Welsh onions

Ratatouille soup
Carefully prepared using ample portions of tomatoes and other vegetables, this dish makes the perfect comfort food

Cheese and bacon hamburger
Hamburger with or without tomato ketchup, mustard or tartar sauce

Post-nap Comfort
Refreshments best taken after an in-flight nap. Choose either Japanese or international

Japanese cuisine
Fatty flounder gently grilled in a special sauce. Enjoy this fine fish with barley rice and grated yams

Kuchidori
Japanese littleneck clam simmered in sweet soy sauce
Chicken with starch grilled in soy based sauce
Japanse savory omelet

Kobachi
Cold tofu with relishes

Shusai
Grilled flounder teriyaki [282 kcal}

Steamed rice mixed with barley topped with grated yam potato, miso soup and assorted Japanese pickles

International cuisine
A special menu guided by the Chef de Cuisine of "Signature" at the Mandarin Oriental, Tokyo

Appetizer
Juniper berry flavored beef consommé with red wine and Kyoto carrot cream

Main Plate
Parmesan scented cereal cake with smoked salmon and braised endive [292 kcal]

Desserts
Mandarin and pomegranate mousse

Jam
Black pepper savored blood orange jam

Bread
Served with domestic Hiruzen butter

NRT-SFO
121201-130228
NRT-SJC
130111-130228


They published all their meals and wine list ahead of time, which is great, so I have an idea on what to order. However, with the listing on line, they recollect menus prior to arrival and presumably reuse the clean ones, which are a bit "un-premium." I understand the environmental protection, but at least do it after all the passengers deplaned. The US government will not tax your printed menus and you don't have to lock them with your liquors.

The food itself is interesting and I find their Japanese meals to be too authentic for my non-Japanese taste. The Western meal is very good though. The main meal is nicely presented and tray is not used. The pace is good, but can be slow on a full flight. Here is the flow:

Hot towels were first pass out at 6:31pm.
Linen was than placed on each tables, followed by the delivery of your pre-ordered beverage and a nice amuse bouche, as pictured and I had a glass of the Folie a Deux Chardonnay!
The amuse bouche features dried pesto and butter canapé, olives, sundried tomato, cheese pastry sticks, & tofu topped with wasabi, gingko nuts, & consommé jelly.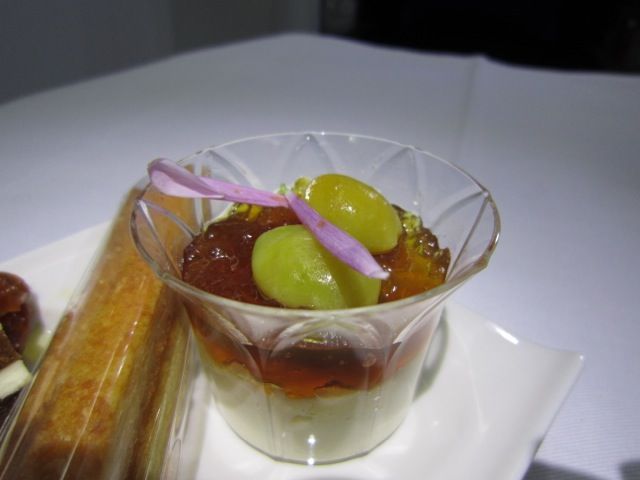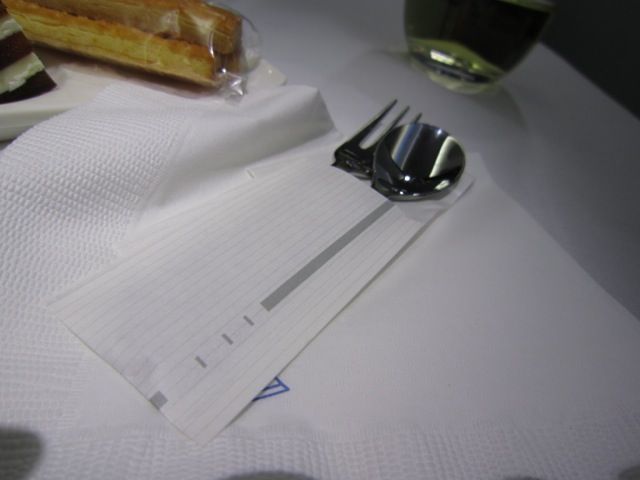 Then appetizers course are served at 7:15pm from a cart with beverage refills, and warm breads for Western meals.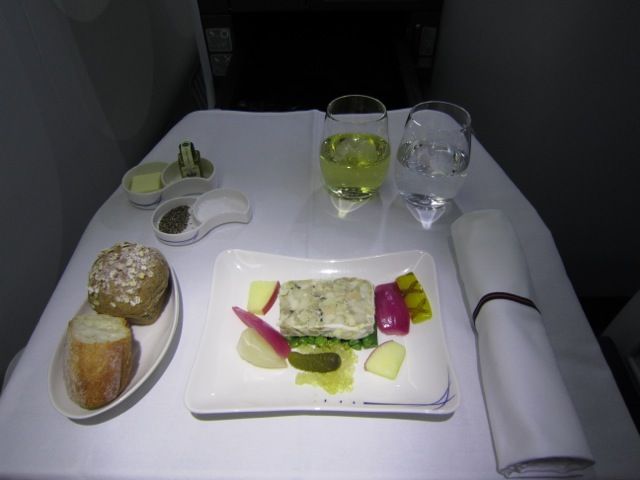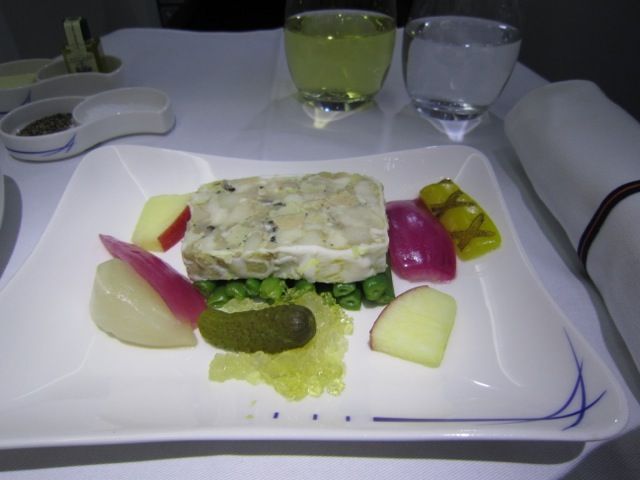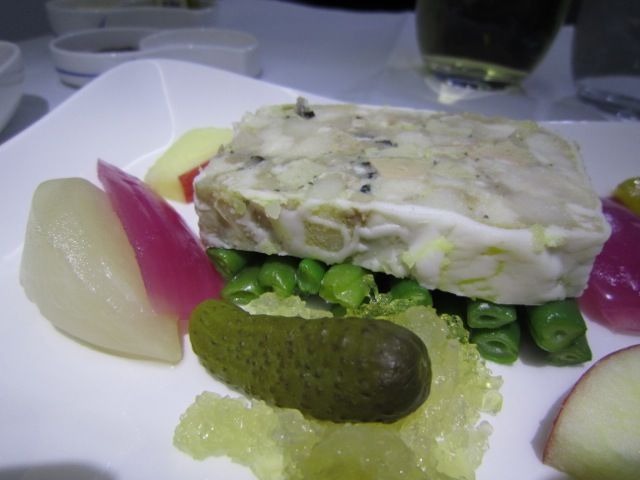 Today's breads are wonderful – French bread and a sesame multigrain loaf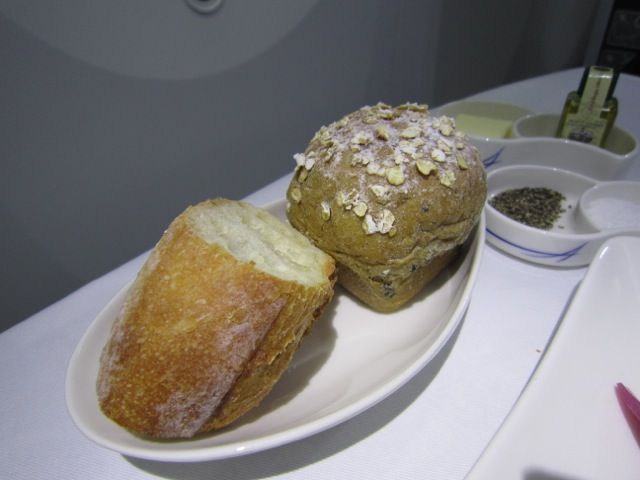 Beverage carts came out again, while entrées are brought out from galley. The steak was cooked perfectly, at least to my preference of slightly over medium.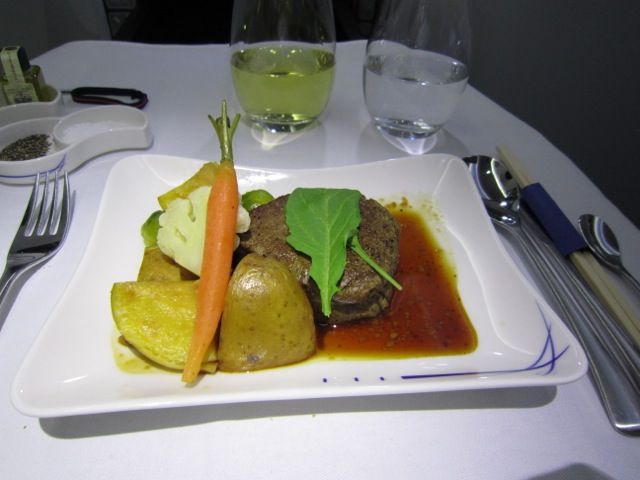 Best potatoes



Then trays are collected, and dessert carts rolled out – choice of cheese, fruit, and dessert and you can have all three.
I chose the fruit plate, and the lovely dessert – Pierre Herme's Montebello dessert is just out of the world!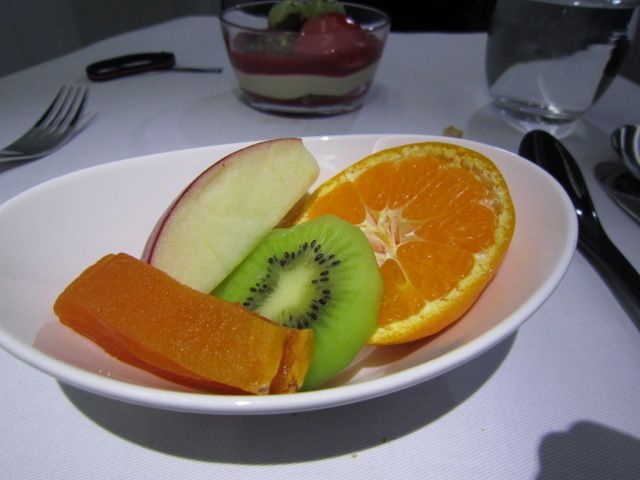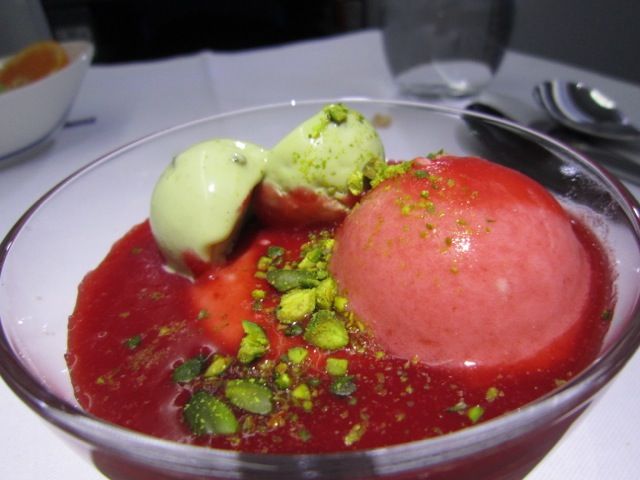 Tea and coffee are than served with a milk chocolate liqueur flavored praline, followed by hot towel, bottled water, and the digestive service (F/A came around with a basket of mini liqueurs!)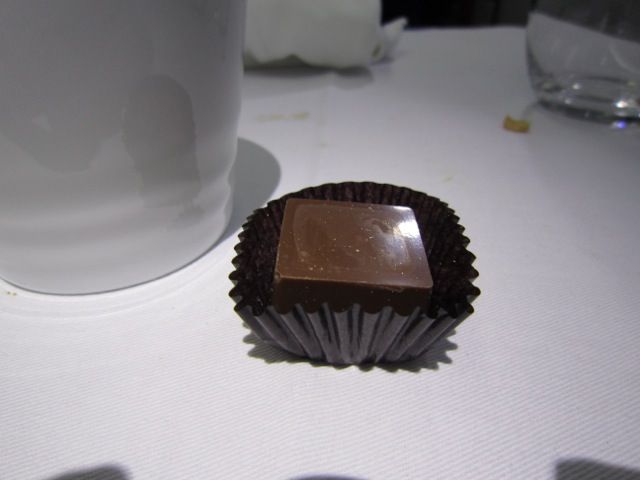 There is a full a la carte menu, which I did not take part today.
Topic: RE: ANA Inaugural Flight NRT To SJC In Business 1/2013
Username: Carfield
Posted 2013-01-15 08:29:47 and read 19774 times.

For breakfast, you can choose from the a la carte menu or the Western and Japanese set!
First, the meal was served way too early – two hours prior to arrival and the breakfast service is too simple! It is not a multiple course meal and everything is served in one tray. But I think it can wait for another 30 minutes, and if ANA does a breakfast pre-order service, it will work better and allow more rest on these short transpacific flights.
Second the Mandarin Oriental Tokyo's designed breakfast is a bit too interesting and I love the beef consommé topped with cream of carrot soup, and the dessert is nice. But the main course of a warm Parmesan cereal cake topped with smoked salmon is a bit too challenging for my taste bud. It is a nice try, but the bloody orange jam is wonderful and just hope they have the French breads left over from dinner. The featured rolls are a multigrain French twist roll and an egg brioche soft roll.

Sunrise as breakfast was served



International breakfast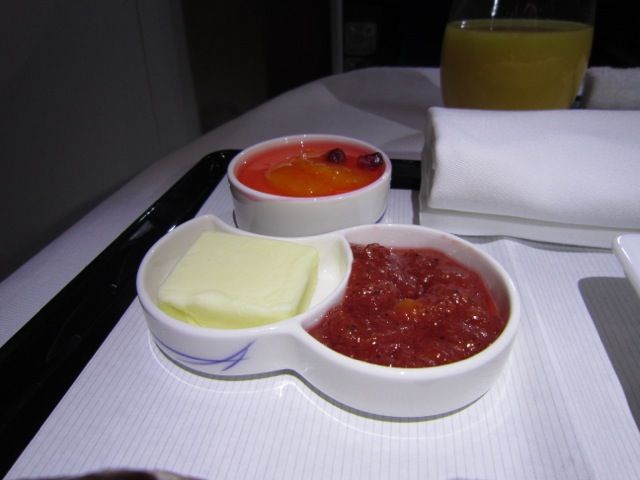 Some wing shots after breakfast when daytime came back! Beautiful day!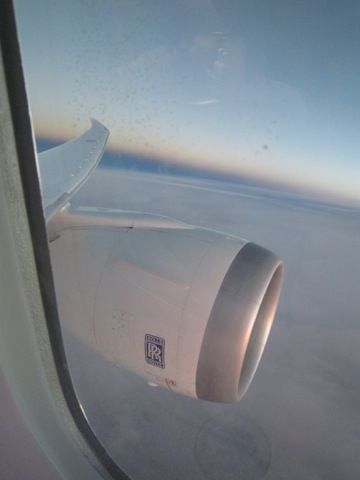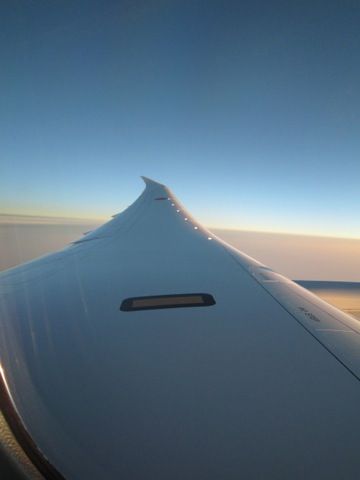 These beautiful Rolls Royce engines



Amenities:
There is no amenity kit on ANA except those redeye regional flights from Southest Asia, which features a small cloth bag with toothbrush sets and eyemasks and earplugs. There is one exception on ANA Businessjet long haul flights to Mumbai, you will get an amenity kit (not sure about Yangon flight though, which is also on ANA Businessjet). On the long haul flights, the F/As passed around the amenity basket after dinner (and JAL has a few more gadgets though), and I noticed that the lotions and moisturizer water sprays are cut.

Anyway, after breakfast, the F/As passed out the special inaugural sticker and small chocolates (available till 1/16 on all NRT to SJC flights). Really nice!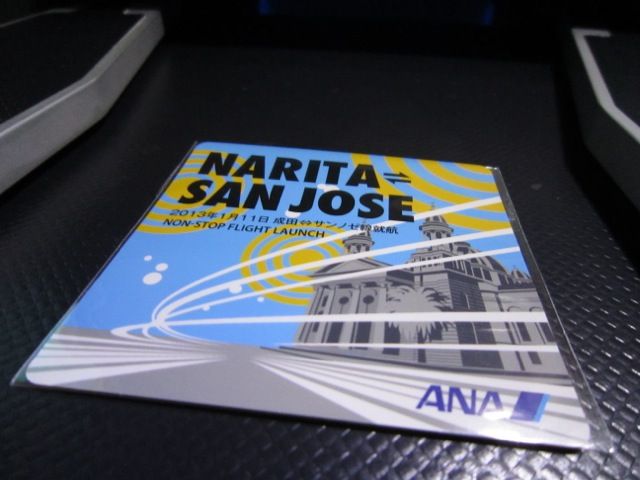 The F/A also came back with an updated first flight certificate – truly made it special.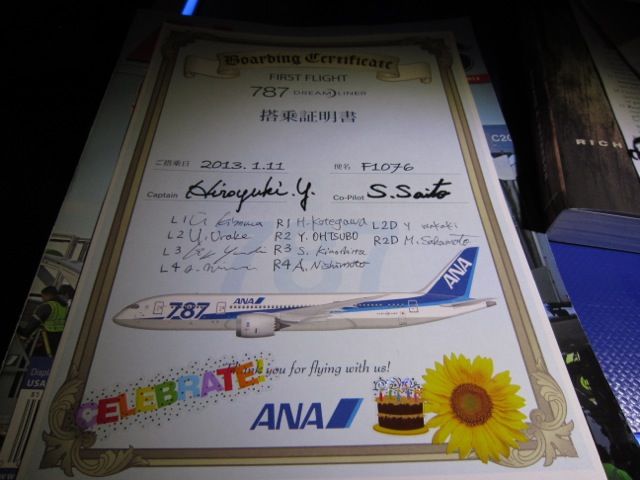 Later another postcard from the F/A – Just have to give them credits, not many F/As will go out of their ways to give me a special postcard, except Singapore Airlines (I still remember the special menu on the last 747 operated SQ 12 flight).



Entering the California Coast



Descent soon began at 8:52am California time, and it is a beautiful day out in the Silicon Valley!
A few shots prior to landing!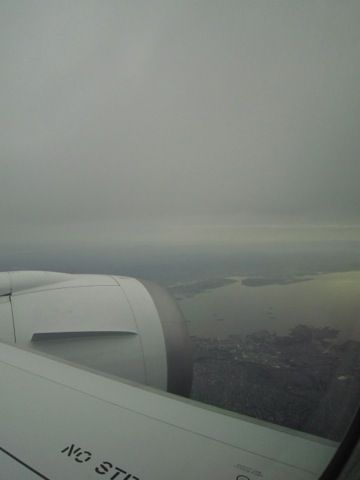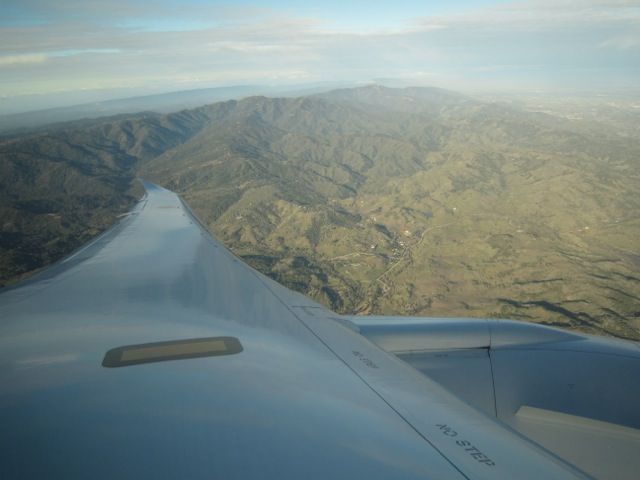 We finally landed on R/W30L at 9:25am, and of course, there was the celebratory water canon shot!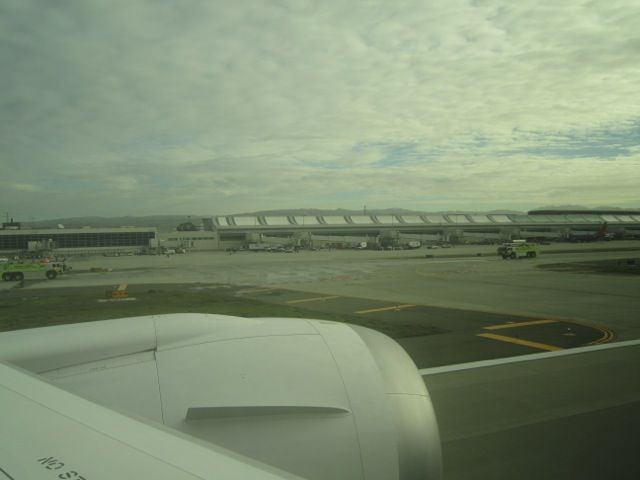 Thanks SJC airport authority and fire department!



Here is the new home for ANA 787 for future SJC services – A15!



Goodbye to 9A (as I will be in the first cabin on the return)!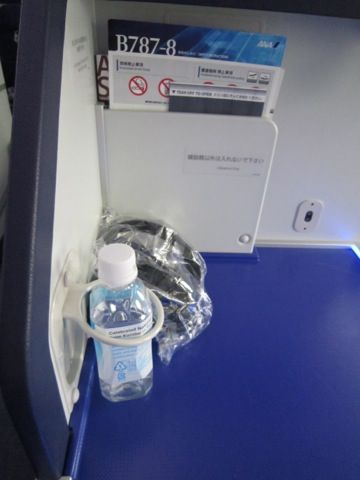 Due to security, there is no welcoming band or anything, but the folks outside the window wave their hands.
Some more shots of JA813A from the inside window – what a beautiful plane!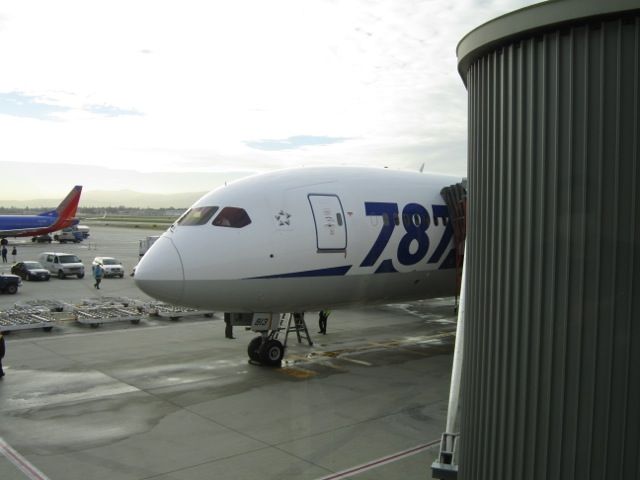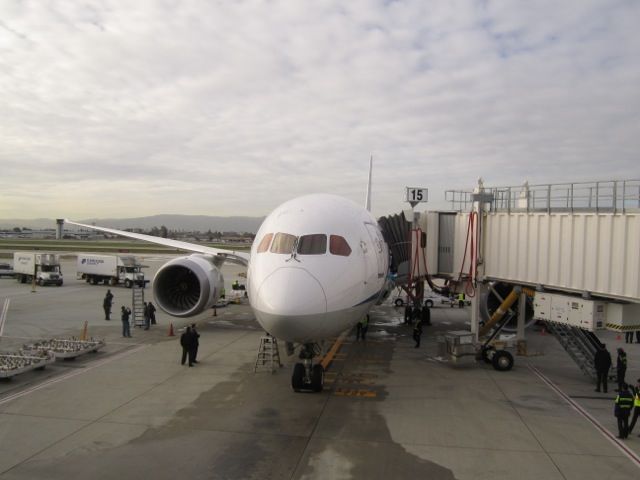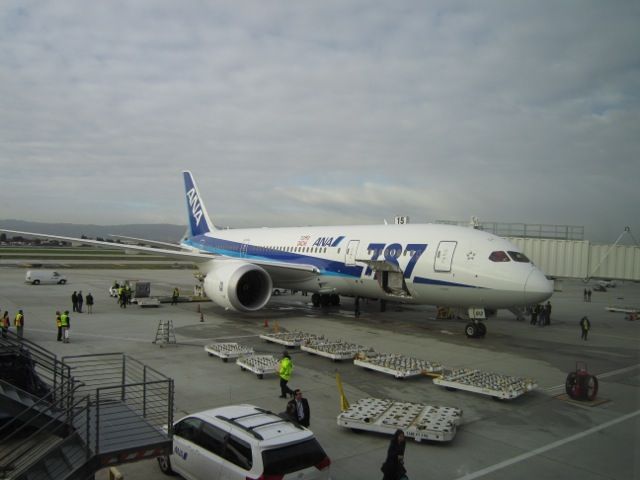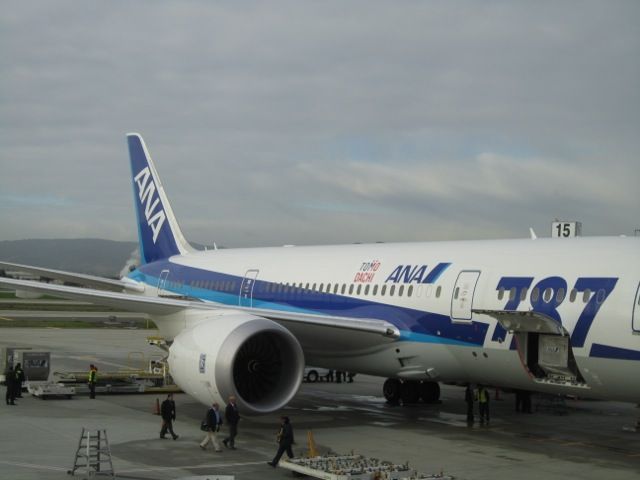 There were concerns about the small immigration facility in SJC, and I am happy to report that there are ten counters here at SJC. The officials were observing the whole process on the first arrival flight and I was sure improvements would be made. For my flight, three counters were opened for visitors and four counters were opened for US Citizen/Permanent Resident! There was no global entry, which SJC should install soon especially if this flight works out. I also think they need to separate the US citizens from Permanent residents. The lines are long because the fingerprint and photo take lots of time to complete. There are more Japanese citizens on this flight, so the visitor line is quite long. Since the Volaris flight arrived later in the morning, I don't anticipate crazy 60 minutes wait like SFO except if the ANA flight was severely delayed. For business class passengers, you should have little if not wait, as you will be the first to hit the line, but since I spent time taking pictures, I did not get to the immigration counter till a line had been formed. But after saying that, bags were already coming out from the claim at 9:50am when I exited the immigration hall, and I always like SJC and their baggage service is so much better! So the immigration experience should really be better for everyone, compared to SFO. For Global entry users, SJC needs to work harder and if San Juan can afford Global entry kiosks, SJC should have no issues.

International Arrival Hall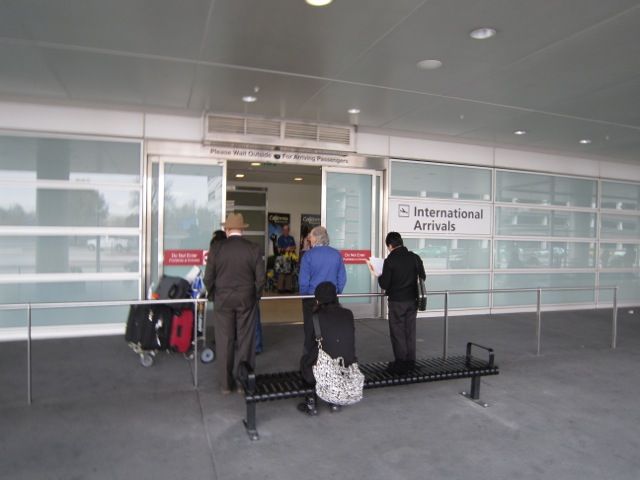 SJC has another gift bag when we exited from the secure custom area. They were very friendly folks.
Basically a SJC reusable shopping bag with California promotional keychain, luggage tag, pen, and brochure/map in Japanese… Nice touch!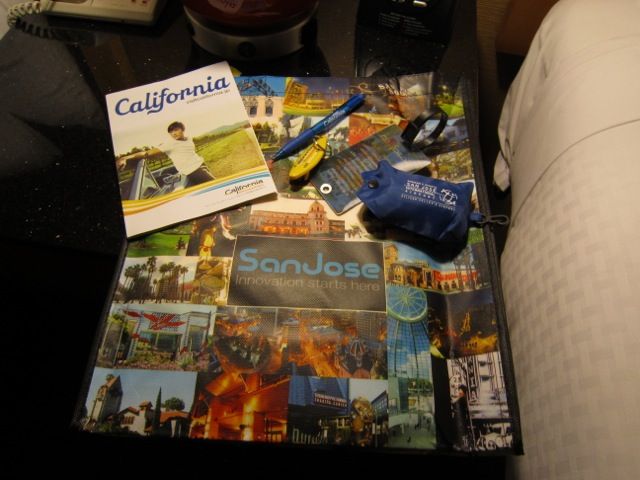 Some of the new ANA signs and promo!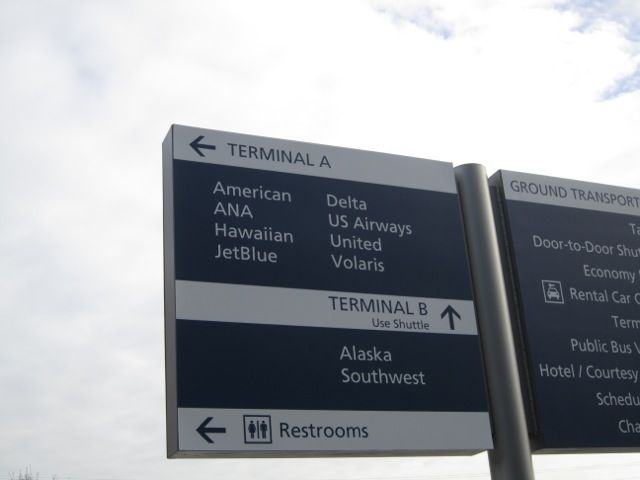 Here is the new ANA check-in counter at SJC – Terminal A between Volaris and United!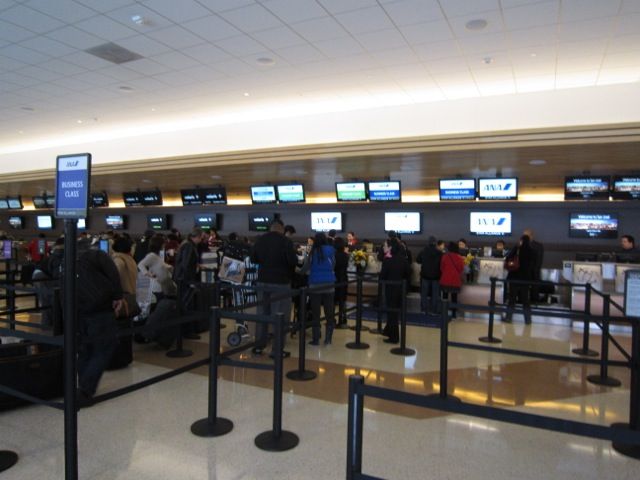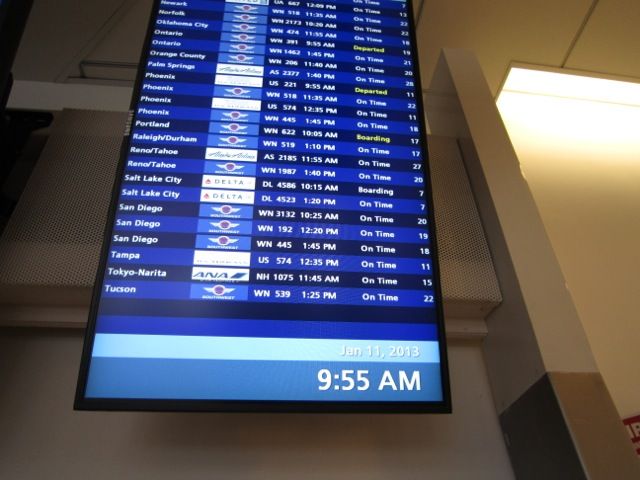 After I checked in for my Delta flight, I rushed to A15 but was too late to get a good spot to take photos. A15 was also narrower. Anyway here were a few shots of the gate and the podium.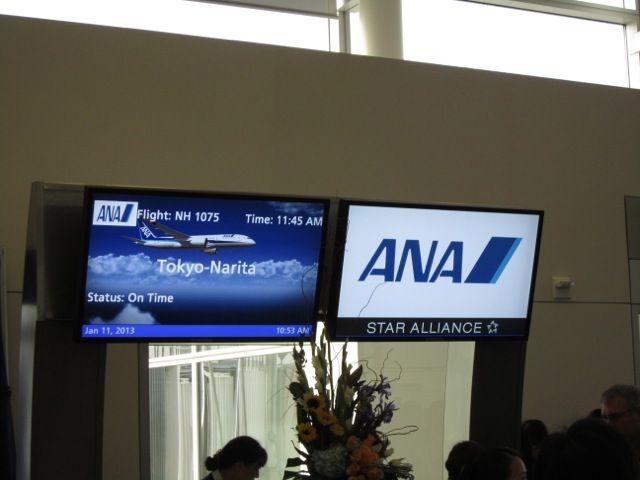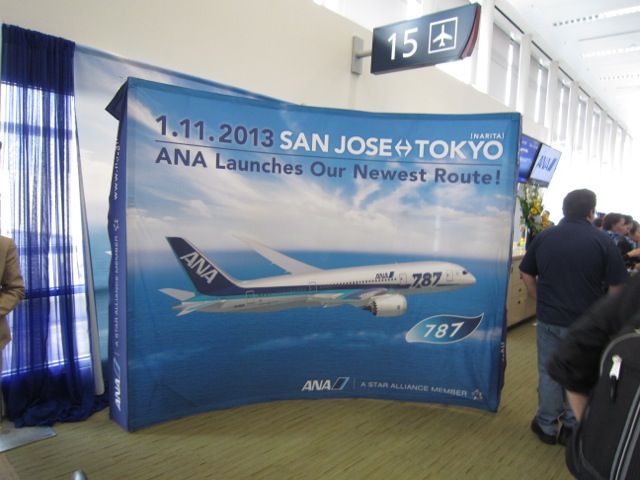 I missed the speech by former Secretary of Transportation Norman Mineta, but caught the speech of US Ambassador to Japan John Roos, who flew the return inaugural flight to Tokyo with Secretary Mineta. The atmosphere was more festive and there were more excitement in the air. Chairman of ANA, Mr. Yoshi Ohashi, was also on the flight, and it was definitely a high profile inaugural flight. There was a ribbon cutting ceremony, followed by a sake ceremony. I managed to get the sake cup for the return inaugural flight too!

Finally JA813A pushed back on time for the return NH 1075 and here is the sendoff from the staff, and the eventual takeoff photo!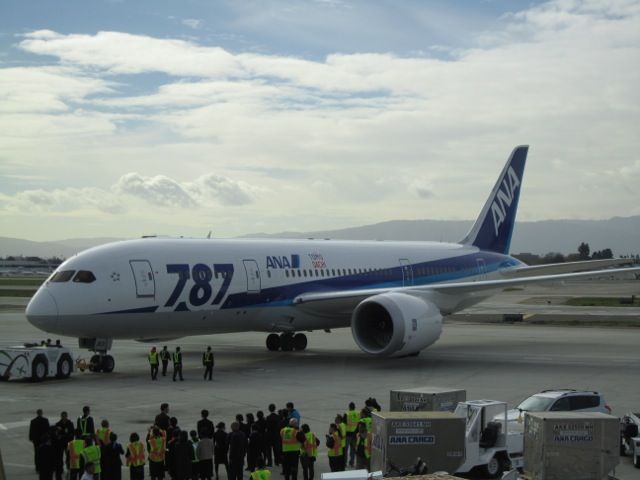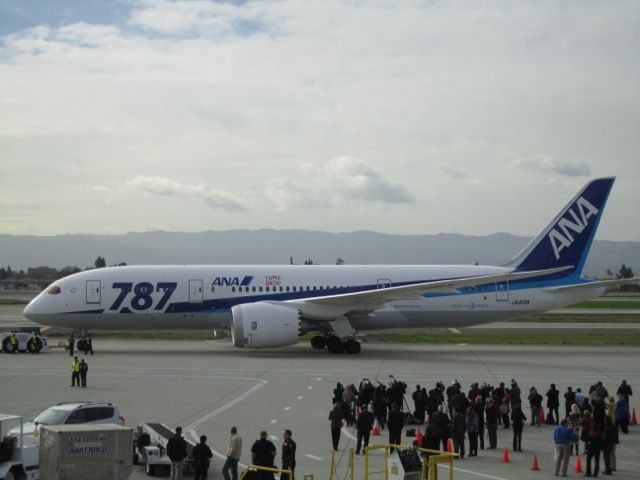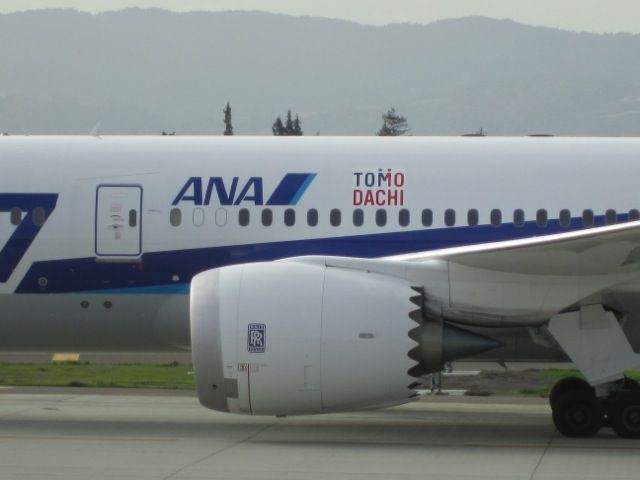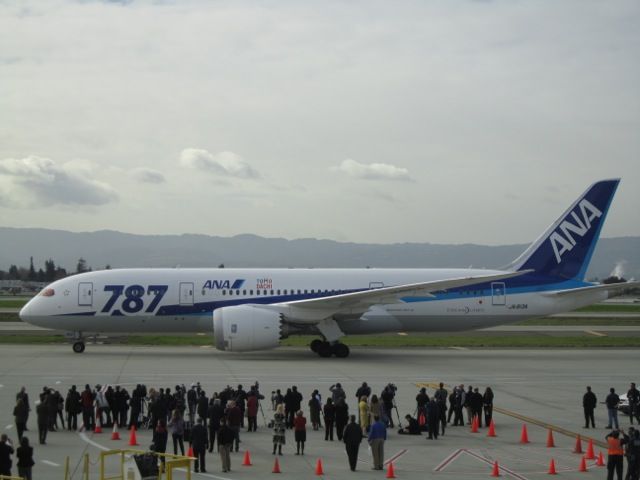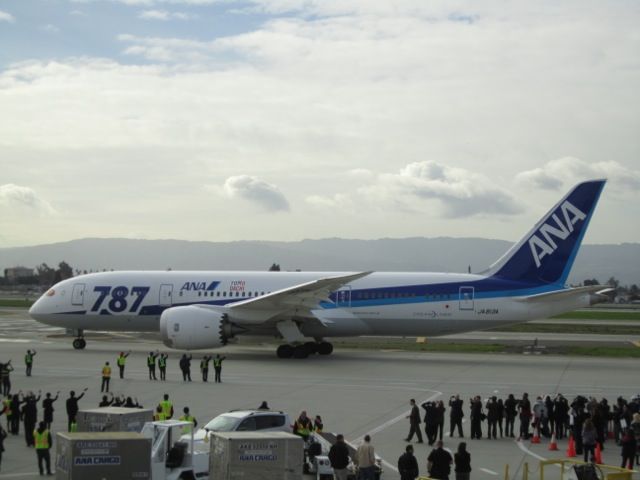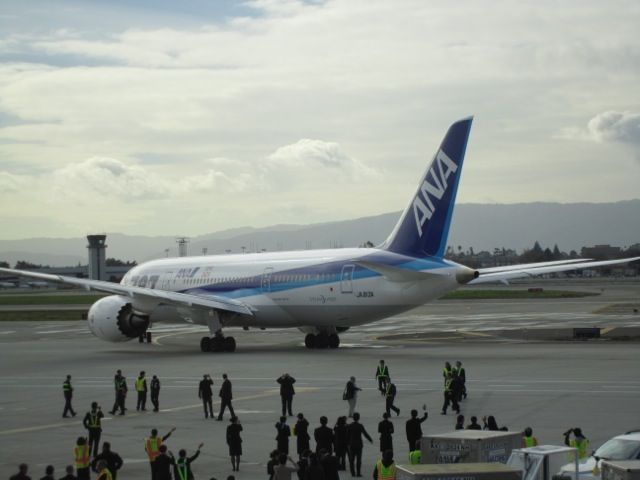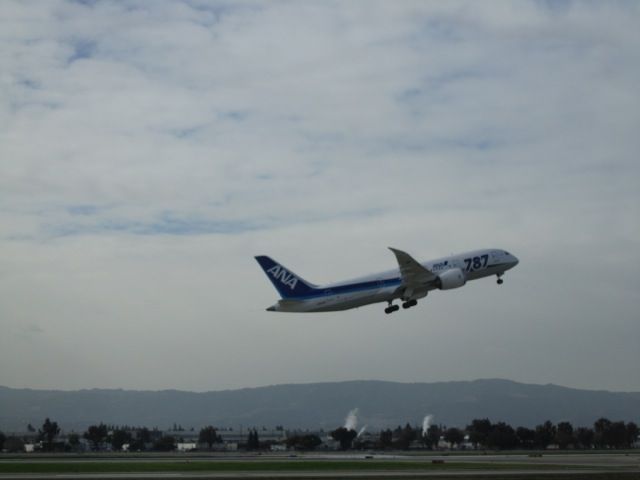 After the plane took off, I headed to the much quieted down brand new airline club here at SJC.
Topic: RE: ANA Inaugural Flight NRT To SJC In Business 1/2013
Username: Carfield
Posted 2013-01-15 08:30:56 and read 19762 times.

"The Club at SJC" is a common used lounge. Day pass is $35 per person. I am sure ANA elites/Star Gold members/ANA Business Class passengers will receive complimentary access if you are flying out on the ANA flight to TokyoIt is quite a nice space to relax before lounge, and is strategically located opposite from Gate 15, and is opened all day long. The lounge is definitely very nicely decorated with ample selection of food and drinks (at least better than most US airline lounges), and the staffs are friendly and helpful. They also feature shower rooms too. The best feature is the abundant of electrical outlets everywhere, and there are at least two to four at these individual armchair stations for you to charge all your gadgets before a long transpacific flight. It is a nice place to relax before flight. For an airport like SJC, this lounge is really more than sufficient and offers a quiet space to relax before flights.

The Club at SJC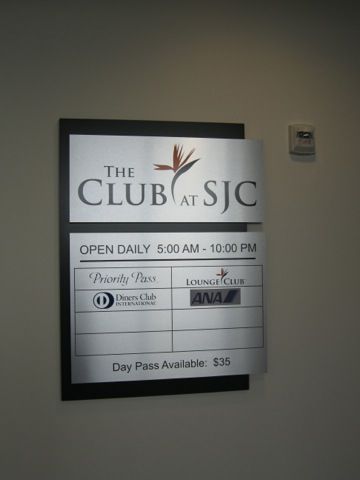 Signature flower arrangement (also featured at the Club at LAS)



Main seating area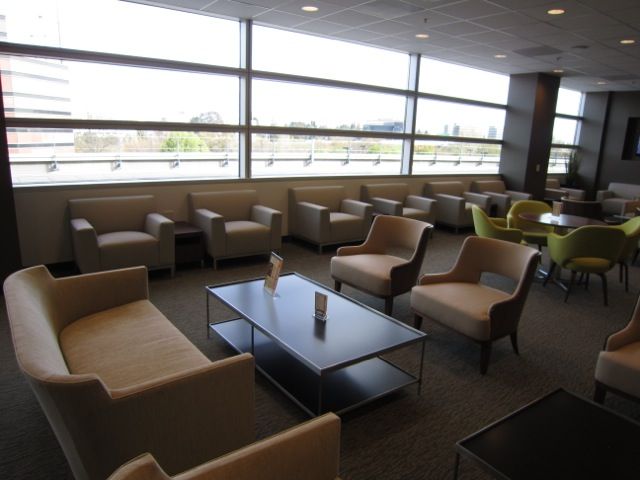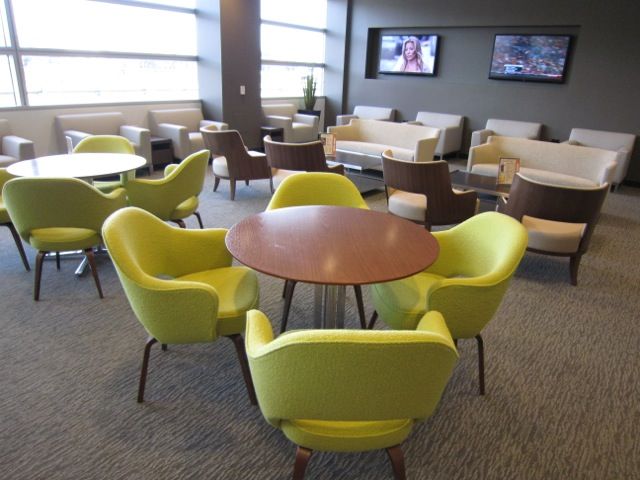 Business Center with printer (Copying and faxing in the front desk)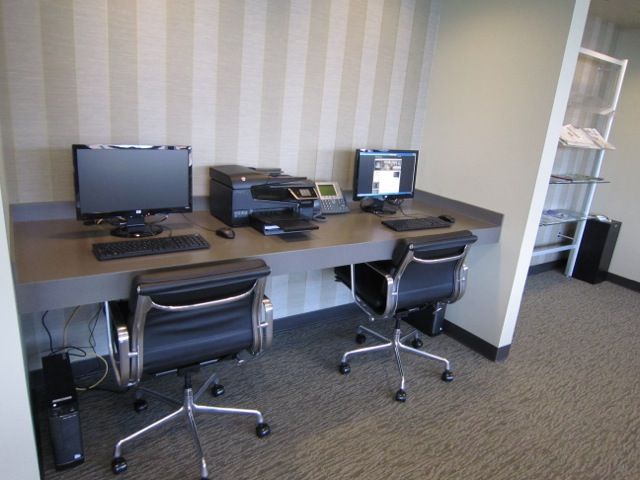 Newspapers and magazine racks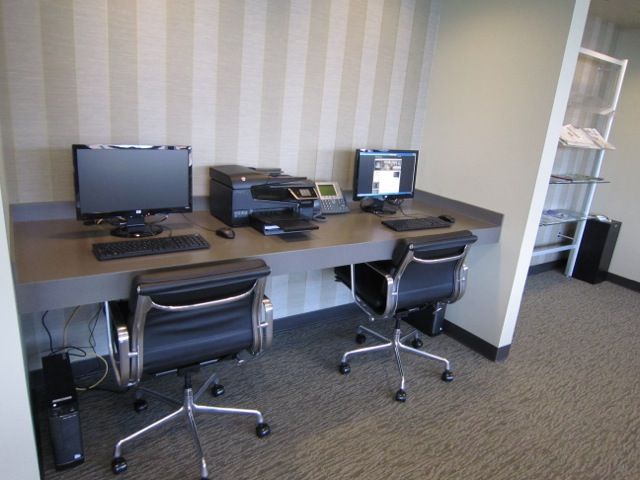 The Bar



Self-service non-alcoholic beverage stations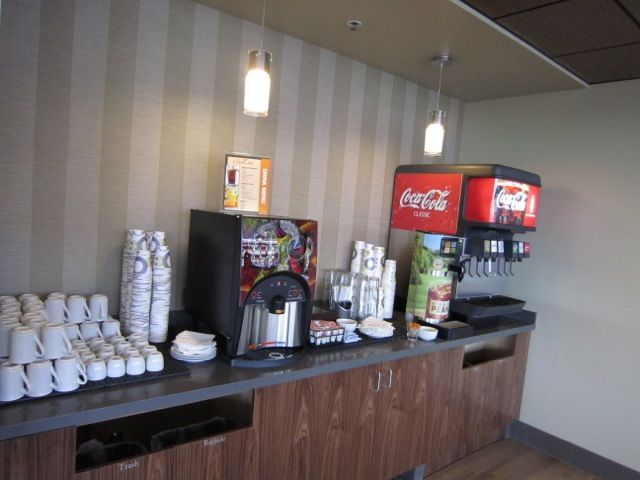 Second seating area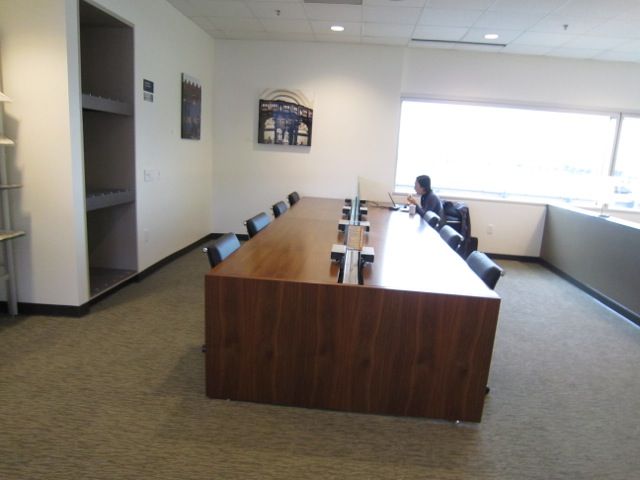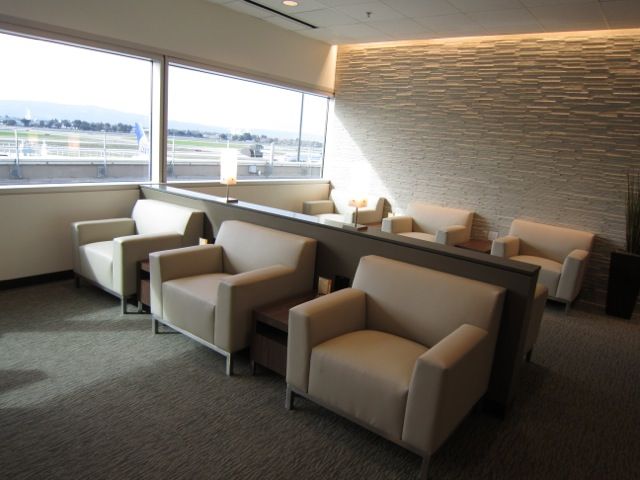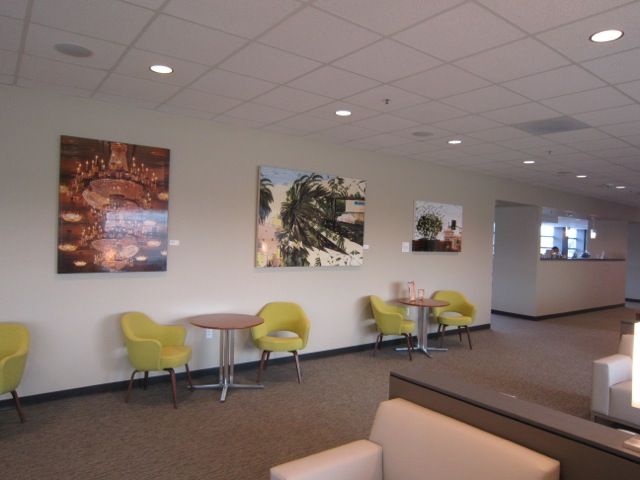 Comfortable armchair



Beverage and snack menu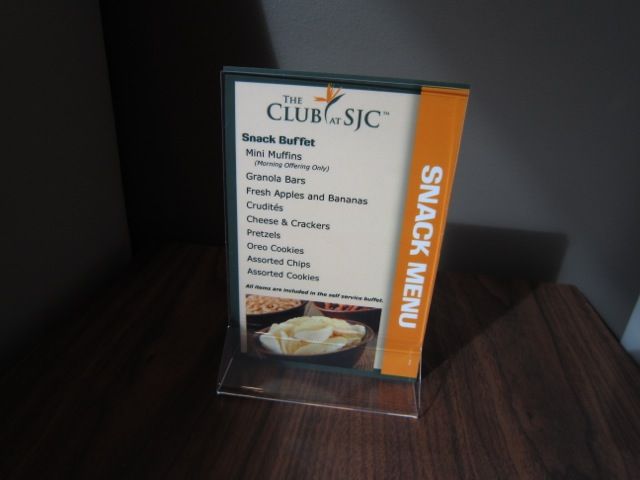 Buffet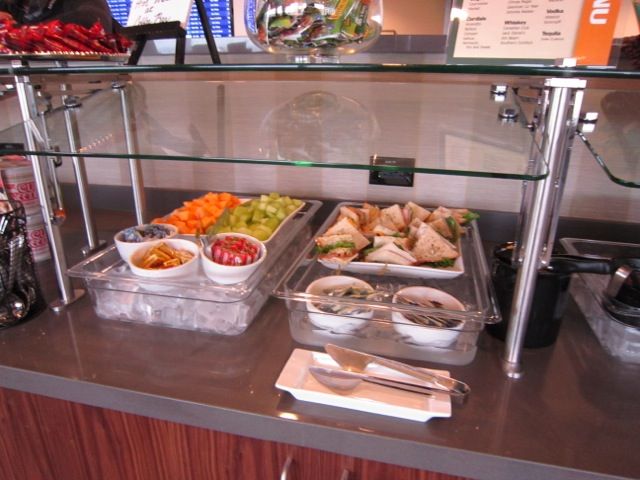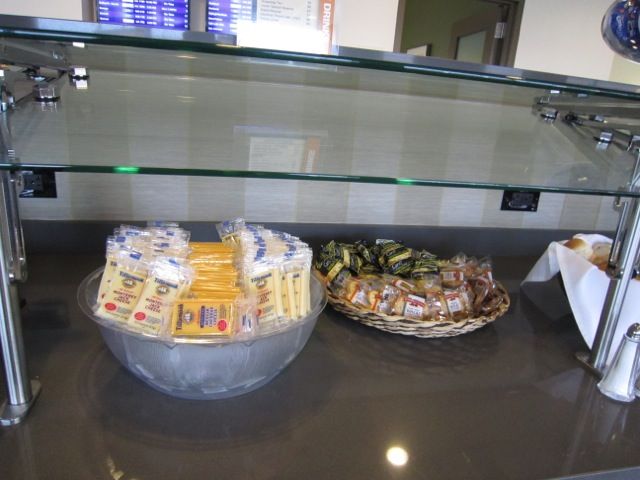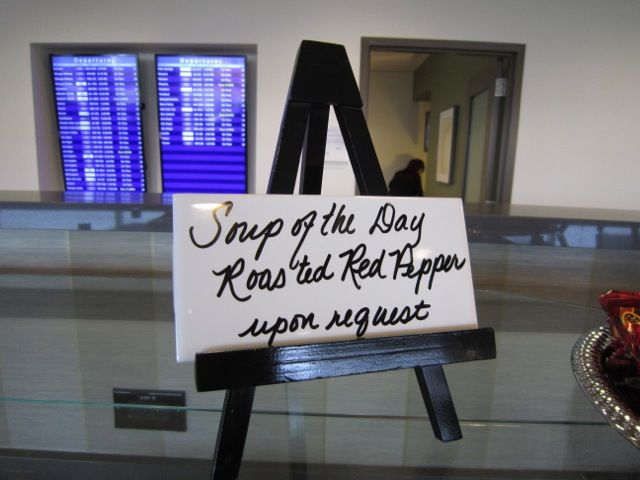 In conclusion, this inaugural flight is an amazing experience and ANA's new business-staggered seat is definitely impressive and sets a very high standard for the new generation of business class seats. I really don't much to add but hope that you enjoy this trip report! I will write a follow up report on the return flight and will try to get more cabin pictures. Congrats to San Jose Norman Mineta Airport and ANA for launching a hopefully successful service that can last for the years and decades to come!

Carfield
Topic: RE: ANA Inaugural Flight NRT To SJC In Business 1/2013
Username: 9V-SPJ
Posted 2013-01-15 21:03:17 and read 18442 times.

As usual, great report! Glad I could see you land!

9V-SPJ
Topic: RE: ANA Inaugural Flight NRT To SJC In Business 1/2013
Username: gabrielchew
Posted 2013-01-16 10:53:23 and read 17470 times.

Nice report...great to see the 787 making these routes viable now.


That is definately the most interesting breakfast meal I've ever seen. Looks tasty too.
Topic: RE: ANA Inaugural Flight NRT To SJC In Business 1/2013
Username: SR117
Posted 2013-01-16 11:11:46 and read 17449 times.

Hey Carfield

Thank you very much for the excellent report, and as usual, I love the food focus !

ANA and JAL sure know how to make an inaugural flight memorable. This ANA flight to SJC seems to be no exception.

Those udon noodles seem like the perfect snack for the late night SGN-NRT flight. And speaking of noodles, the food at the ANA lounge in Narita looks great, I'm craving a bowl of those Kakiage Udon, the Kitsune looks pretty good too.

Very nice food spread for the NRT-SJC flight as well, saw a post about the menu on their FB page where they talked about the chefs that created it and stuff like that. Nice to see that they make an effort to present new things. Although that salmon cake for breakfast seems odd, but interesting at least.

Thanks so much for putting this together, look forward to seeing the rest of your voyage.

Ricardo
Topic: RE: ANA Inaugural Flight NRT To SJC In Business 1/2013
Username: adamspotter
Posted 2013-01-16 14:57:50 and read 17095 times.

Hi Carfield,

What a great way to start 2013 with this report on ANAs inaugural NRT-SJC flight. It will be very interesting to see how ANA will be doing on this route, very curious about that.
Looks like you had a very enjoyable inaugural flight with lots of celebrations and souvenirs/gadgets.
ANAs Business Class looks very nice here. Interesting but delicious looking food and the chair looks very comfortable.
Now that ANA has grounded its 787s I'm curious which equipment they are using on this route now...

cheers,

Brendan
Topic: RE: ANA Inaugural Flight NRT To SJC In Business 1/2013
Username: triple7man
Posted 2013-01-17 06:18:50 and read 16516 times.

AA previously operated 777-200ER's SJC-NRT-SJC as AA 129/128. The service was terminated in 2006. I flew AA 128 NRT-SJC in April 2005. It was an 8:30 hour flight, and compared to the longer flights seemed relatively short. The service was very good in first class, except there was no mid flight soba on the NRT-SJC/LAX flights. I understand there was a time the planes parked at a remote stand. We did park at one of the international gates, and clearing customs and immigration was quick and easy. I think we actually went outside after clearing. I was connecting to another AA flight SJC-DFW, so I did not get to watch AA 129 takeoff.
I was sad the service was terminated. It seemed to be a popular flight, and as you said, it was an alternative to flying into SFO.
Your trip report was very informative and I enjoyed looking at the pictures. Right now as I write this, I know that all 787's have been grounded. I do hope the problems can be resolved and these airplanes can be put back into service. The 787 arrival has been long awaited, and I'd like to see these airplanes make it. I have seen both JA and NH 787's at Haneda and they are beautiful airplanes.
Topic: RE: ANA Inaugural Flight NRT To SJC In Business 1/2013
Username: planiac787
Posted 2013-01-17 11:09:18 and read 16319 times.

Great trip report mate!

I am slowly turning into a ANA fan. With all the reports i keep reading about there lounge and ob board product and stuff.
Looks like they are doing pretty well. Hopefully I ll get to fly them soon.
From latest reports both ANA and JAL have grounded there 787 fleet dues technical problems. Hopefully they will take sky again soon.

Cheers and Well done!

Pradat
Topic: RE: ANA Inaugural Flight NRT To SJC In Business 1/2013
Username: mdavies06
Posted 2013-01-18 23:00:25 and read 15665 times.

Thanks for posting such a great TR on NH. As expected their service on this flight was delivered to a very high standard. Shame about the grounding, just a week after the launch! SJC lost their only Transpac link just after a week. Hope it will fly again soon.
Topic: RE: ANA Inaugural Flight NRT To SJC In Business 1/2013
Username: MSS658
Posted 2013-01-24 06:29:44 and read 14794 times.

Hi

Great report of the inaugural 787! Did not know SJc had the CBP facilities!
Great to see more 787 routes coming online!

Greetings
Marc
Topic: RE: ANA Inaugural Flight NRT To SJC In Business 1/2013
Username: nethkt
Posted 2013-01-29 22:38:59 and read 13993 times.

WOW! Many thanks for sharing this trip report.
I'm so glad to find the trip report on here as I'm SJC frequent visitor.
I hope ANA NRT-SJC stays for many many years.
My friend's house is very nearby the airport and it's so nice driving 5 mins away!
Not to mention faster immigration compared to SFO, however SFO is still better than JFK T4.
I hope to be the pax on this flight soon.
Enjou all the pictures, it's absolutely neatly done.
Brgds,
net-hkt
Topic: RE: ANA Inaugural Flight NRT To SJC In Business 1/2013
Username: WROORD
Posted 2013-02-09 13:33:51 and read 12751 times.

Hi Carfield,

Amazing pictures and lots of them. Thank you for posting. How was that sake in the box? How was the LF on the flight?
Is this flight code-shared with UA? The food looked amazing, I would have hard time sleeping if I ate all of it.
Topic: RE: ANA Inaugural Flight NRT To SJC In Business 1/2013
Username: abrelosojos
Posted 2013-02-17 22:51:18 and read 11788 times.

What a fantastic trip report! I am jealous of your travels, and this was just fantastic. ANA (and the Japanese) do the BEST flight inaugurals out there. I just compare this and remember my JL 787 flight to Boston and think of the one done on the poor inaugural 74H by LH. Best part (besides the amenities) is the natural warmth and eagerness of the Japanese people clearly visible.

Thanks a lot for sharing this awesome report.

Saludos,
Alex
---
The messages in this discussion express the views of the author of the message, not necessarily the views of Airliners.net or any entity associated with Airliners.net.

Copyright © Lundgren Aerospace. All rights reserved.
http://www.airliners.net/