Topic: YXE-YVR-YXE On Air Canada. (lots Of Pics)
Username: Cgagn
Posted 2005-12-18 07:06:08 and read 17143 times.

After over a year, it was time to head to Vancouver for another day of spotting. As with most air travel within Canada, the choices were Air Canada or Westjet. Last July, I took Westjet and enjoyed a lovely flight through YYC and YLW, and a non stop on the return flight. More than likely my last flight on the 732. But that was then and this is now. AC225 from YYC to YVR was scheduled as a 763 on fridays only the last little while in the timetable, so that's the flight we aimed to be on. My first 300 series 767, always exciting!

AC8329- Fri,Dec 2/05
dep YXE- 16:05
arr YYC- 16:15
flying time- 1:10
CRJ200ER C-GKFR fin 188
seat 2F






View Large View Medium


Photo © Mike Kay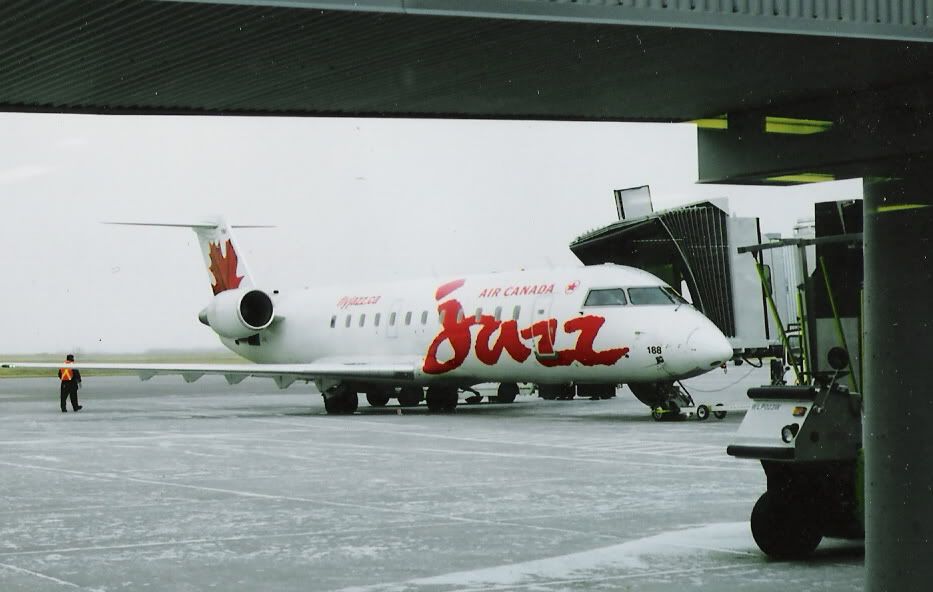 C-GKFR at the gate in Toontown.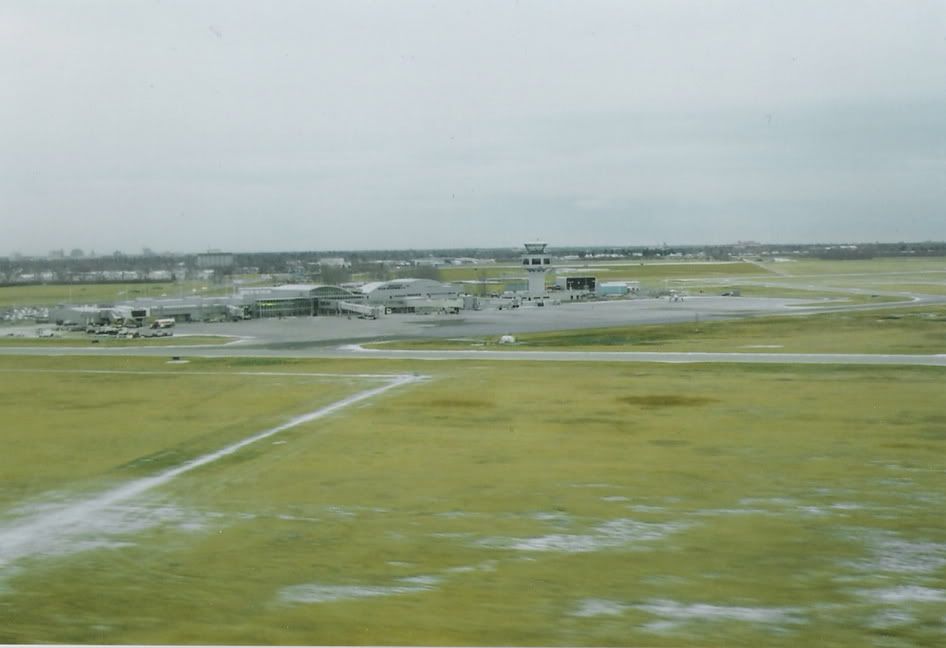 View of the empty terminal at YXE.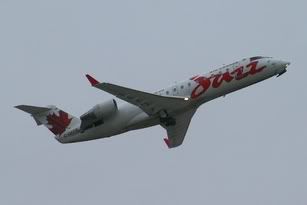 Our takeoff from YXE. I'd like to thank Neils K for taking this pic for me.

A couple of spotting friends and I arrived at the airport a couple of hours early to check in. The terminal here in YXE has been renovated recently and it's quite nice and spacious. The check in counters are in the process of expanding also, so there is a slight look of construction. Boarding passes in hand, we enjoyed a quick Tim Hortons before proceding through security. Escaping the usual x-ray scan of my hot chocolate, I passed through the pickiest security of any airport I've ever been to and proceeded to the gate. Our CRJ arrived on time from YYC just after 1530, and I got some nice footage with my video camera. We chuckled as the Westjet flight to YYC just down the hall was beginning to board by sock colour. Our flight began to board on time, by seat and row number, and being in 2F, I didn't even bother to get up at first. Our CRJ had nice blue leather seats, and was fairly comfortable. The usual low windows were a bit of a pain, but I can think of worse things to put up with on a flight. I could actually hear other passengers complaining about how cramped they thought the CRJ was, but I didn't notice it. We taxied out to 09 and after a brisk take off we were climbing through the clouds. It has been mentioned before about the fact the Jazz make good use of recordings during the flight and I totally agree. The poor flight attendant barely got a word in. We were served small snacks and a drink, which I believe to be acceptable for a flight of an hour. She came around with another round of cookies and pretzels just before decent. The cruise portion of the flight was nice and quiet, and very enjoyable.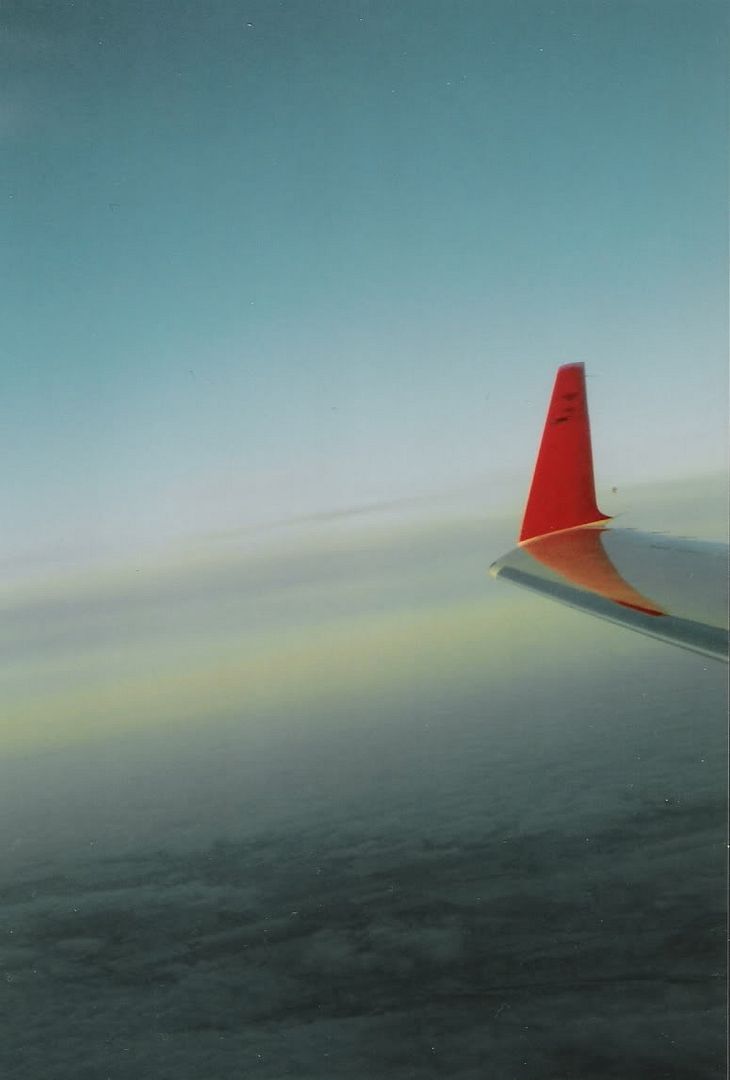 In Flight.

Descent into YYC was pretty smooth and we enjoyed a nice view of east calgary on approach to 28. Landing was smooth and we exited to the right for the long taxi back to the terminal. We had to hold short for a few takeoffs off 34, but I did get some nice footage of the takeoffs. Once at the gate, we waited for the other passengers to disembark so we could get some shots of the cabin. I counted 2 empty seats, so that's a pretty good load. We got some good shots of the cabin, but unfortunetly the pilots had shut down the cockpit and were already leaving the aircraft so we couldn't get a peek in the flight deck. All in all, it was a very enjoyable flight, with good, friendly service, and an on-time arrival. Can't complain about that!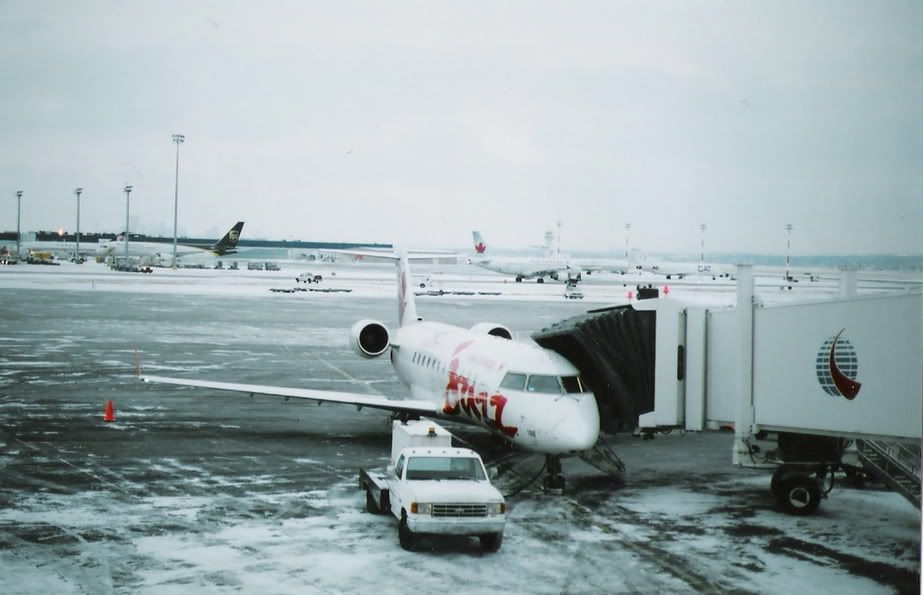 Fin 188 at the gate in YYC.

AC225- FRI,DEC 2/05
dep YYC- 18:15
arr YVR- 18:43
flying time- 1:28
767-375ER C-FTCA fin 638
seat 33A






View Large View Medium


Photo © Brendan Vanderwerf

Our 763 at the gate. A330 to LHR in the next gate down.

After strolling around the terminal in YYC and getting some pics, we made our way to the gate. Right next door, AC850 to LHR was boarding with the same departure time as us. So it was very crowded around the gate areas, as our 763 was full as well. Some little kid threw a huge crying fit right in the middle of the lounge, and I was thinking the same as many of the passengers around...I hope he's not next to me. I admired our 767 at the gate for a bit, then drooled over the A330 at the gate next to us. Finally boarding commenced, and we were amongst the first batch of passengers to board. As announced, earlier AC flights to YVR were over booked and as a result, a lot of these passenger were rebooked on our flight, so were expecting a full house. Boarding went slowly and we watched the departure time come and go. At about 1845, the Captain came on and apologized for the delay, blaming christmas cargo. Just after 1900, we finally started to push back. I noticed the A330 to LHR was still loading cargo also, and they had the same departure time as us. We got a quick de-ice and began our long taxi down to 34 for take off.

Since it was a short flight for the 767, we were treated to a nice powerful takeoff, and had a nice view of calgary as we climbed out. Once we left the city lights behind, it was totally pitch black out the window, so I focused on the IFE. They showed the usual CBC news, which I don't mind watching. In flight service was the same at the previous flight. A selection of beverages and soft drinks were offered. Just as I was settling down to enjoy the flight, the idiot in front decided to recline his seat. I won't comment further since there is a huge debate going on in the fourms right now about seat reclining, but I will say he probably didn't enjoy my knees in the back of his seat. I got a few glares, and returned them with a sarcastic smile. Before we knew it, descent into YVR has begun. We flew to the north of the city, altho the clouds obscured the view. We made the 180 turn and approached for a 08L landing.
Touchdown was smooth, and from what I could tell, we didn't use reversers. We taxied in past a BA 744, that was a sentimental moment as my last long haul flight was on a British Airways 744. We pulled up to gate C39 and again waited for everyone to get off, then got some shots of the cabin. Again, the cockpit was dark and the pilots were gone by the time we go to the front. We arrived about 1920, but with no connection or anything, I wasn't to worried. It's a busy time of year, and 35 minutes late isn't a big deal for me.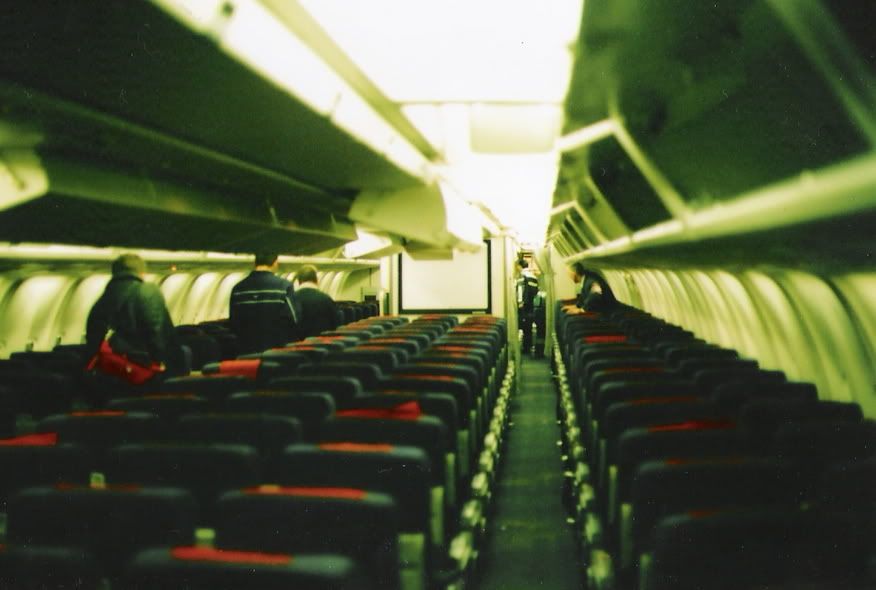 Deplaning in YVR. Ex Canadian Airlines bird.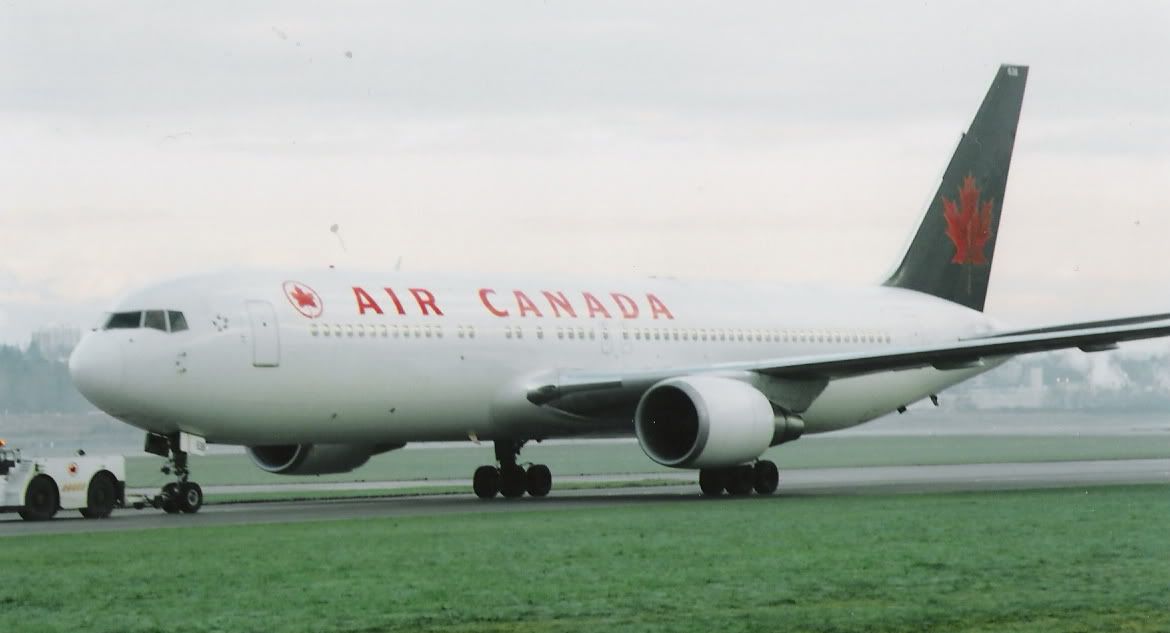 This is our 763 taken the following morning, getting towed from the hangers to the gate.

We arrived at the AVIS lot early saturday and met up with friend and YVR spotter sean, and we were joined but several others through out the day. A most enjoyable day of spotting. Thanx to everyone who showed up!!

Here are some shots from the AVIS lot taken by my buddy glenn.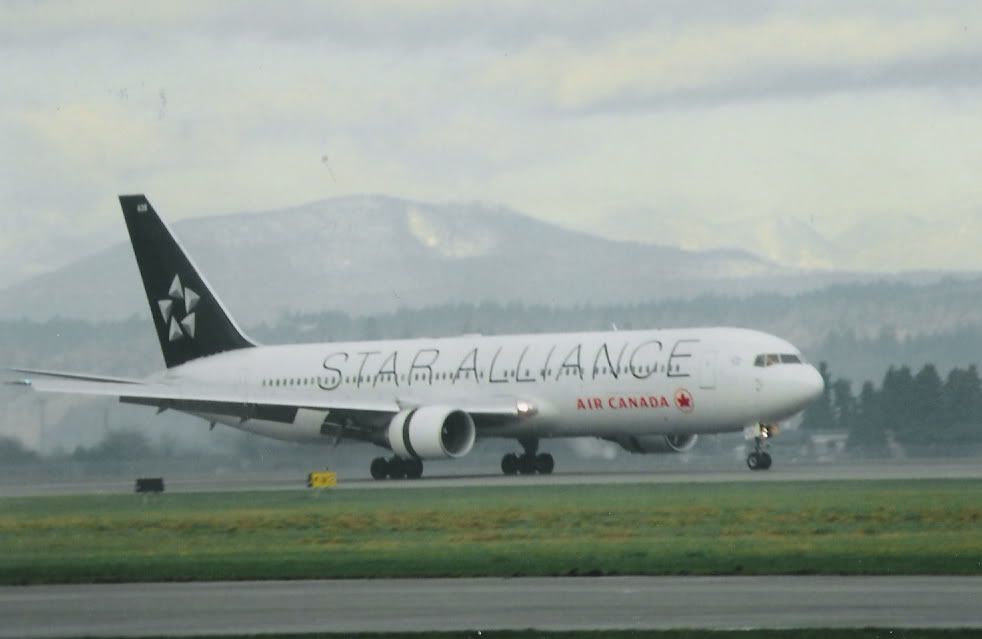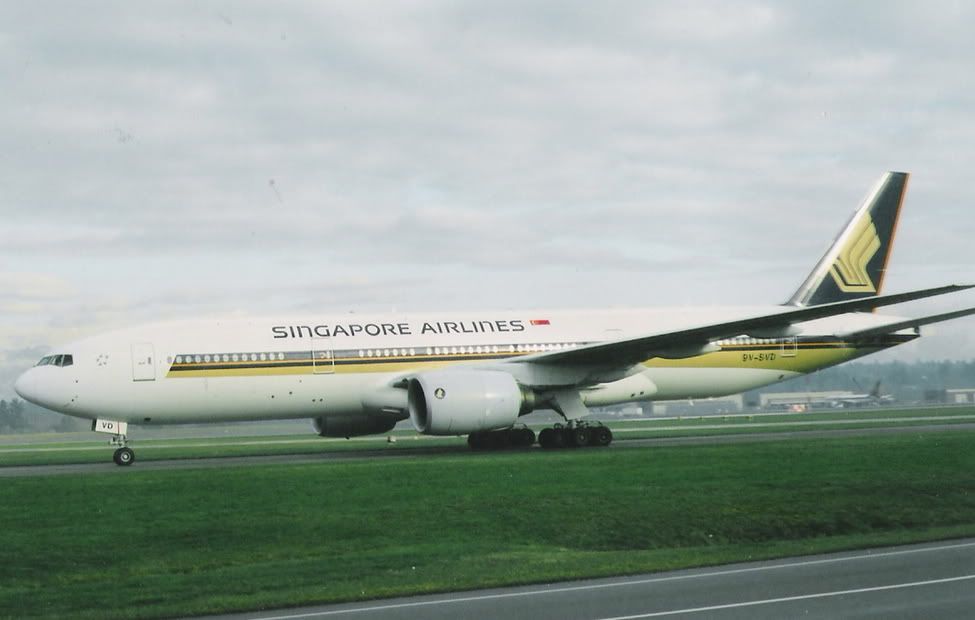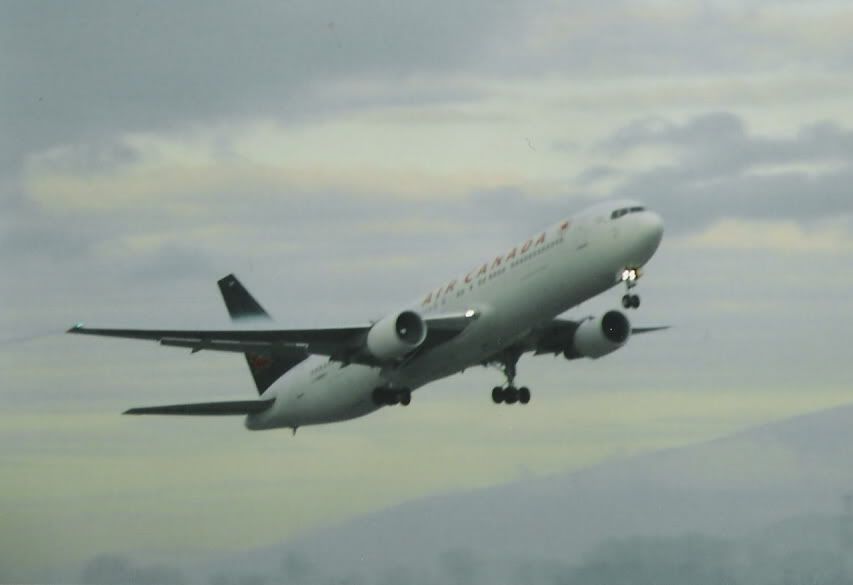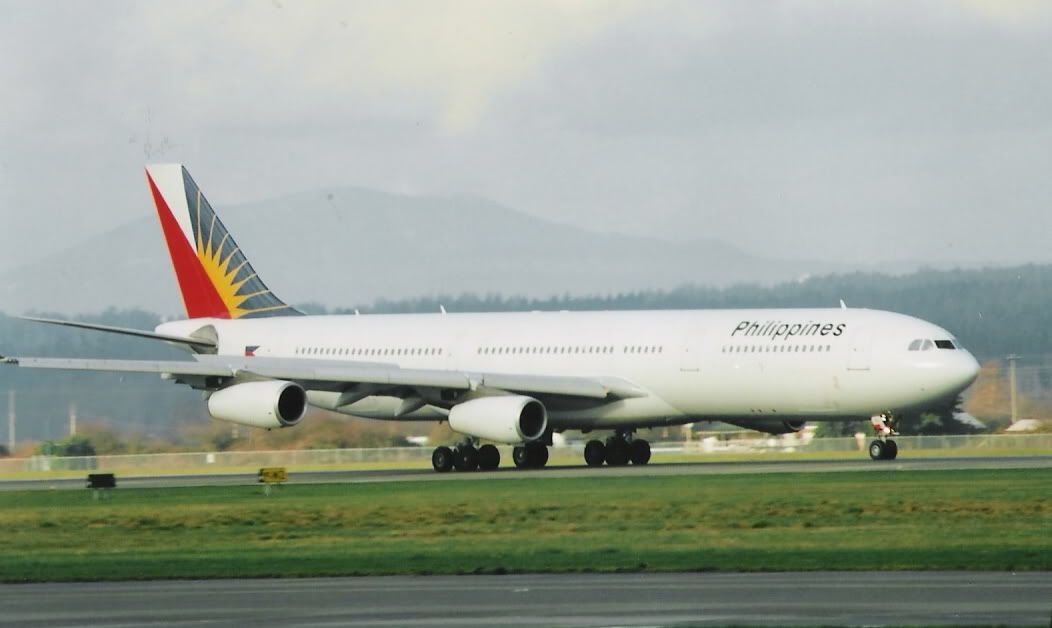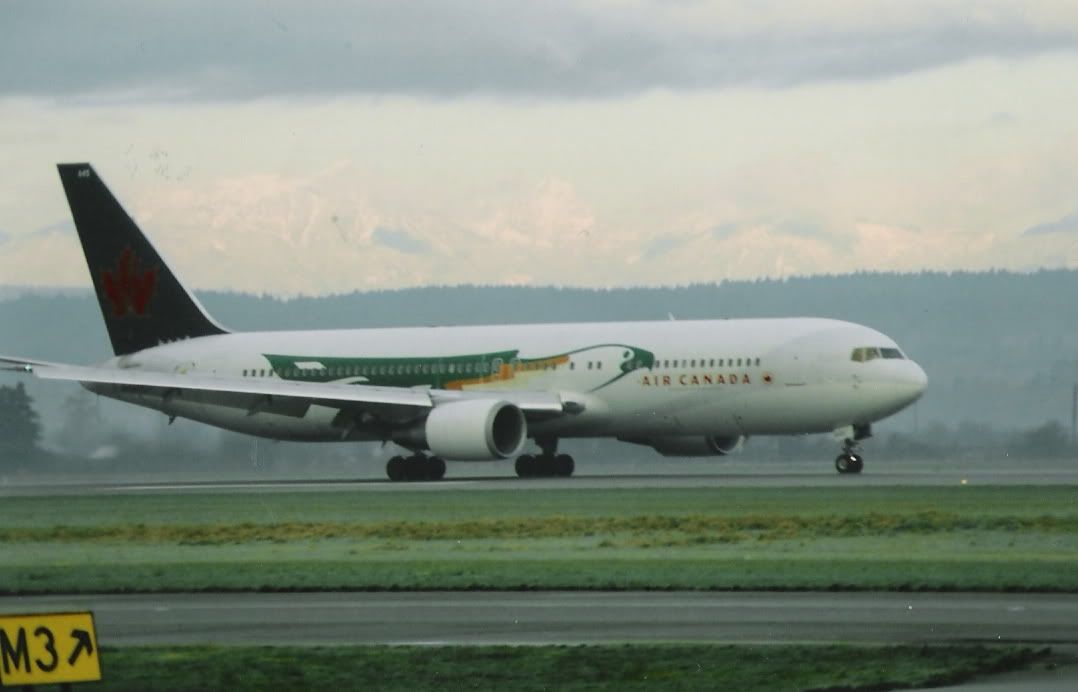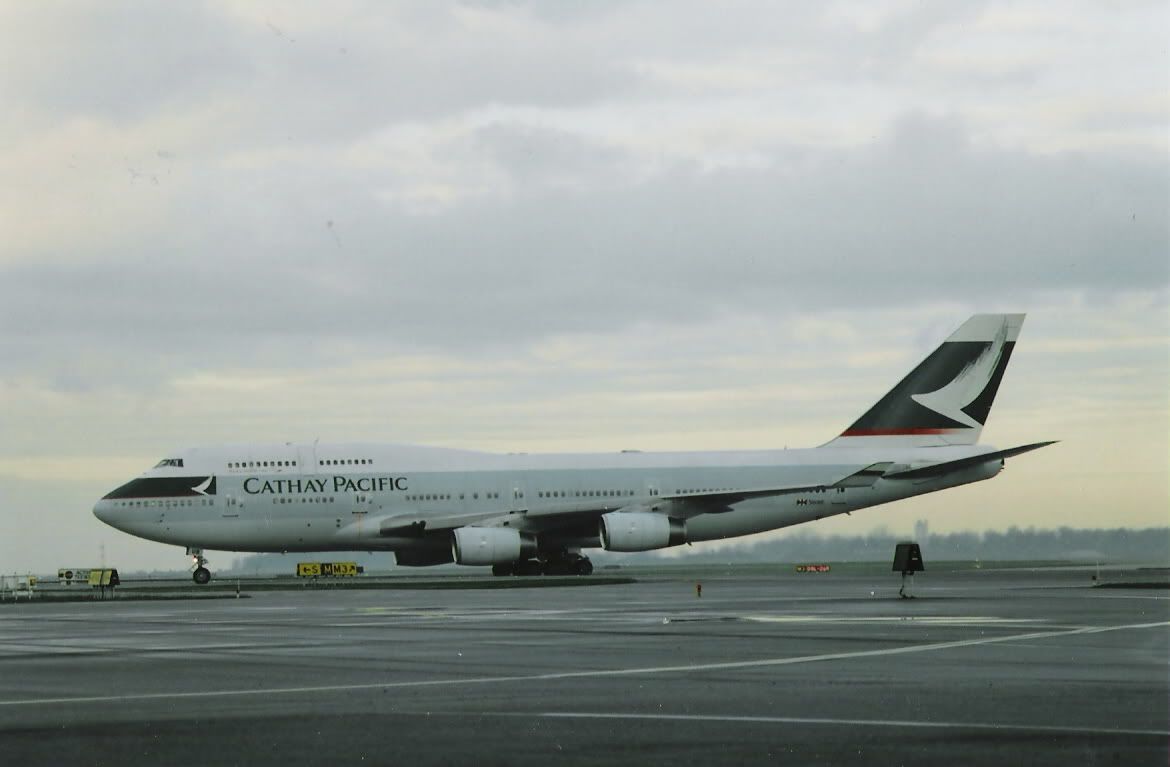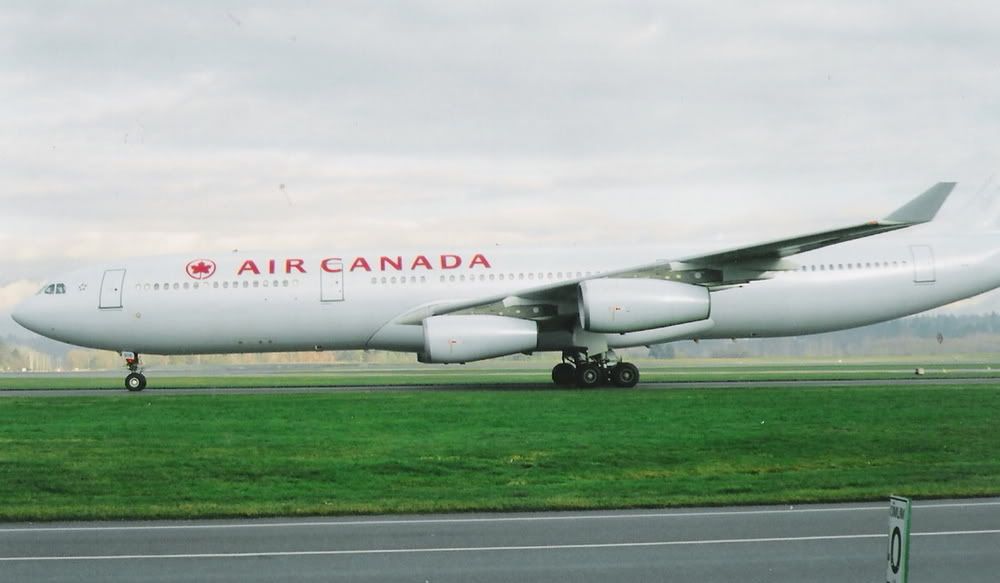 AC238- SUN, DEC 4/05
dep YVR- 12:35
arr YEG- 1500
flying time- 1:25
A319-100 C-GBHY fin 278
seat 25A






View Large View Medium


Photo © Jason DePodesta




A very snowy and wet morning at YVR as the taxi dumped us off at the departures level. Delays were building up but so far our AC238 to Edmonton was on time. We ate at Tim Hortons again, then proceeded through security, and wandered the gates looking for interesting aircraft. We saw Westjets new 736, and an Air North 732 from Whitehorse. Checking the departures board, our flight has now been delayed by 30 minutes to 13:05. Not a big deal, but we did have to start thinking about our connection in YEG, We watched several heavies depart back to asia, climbing into the snowy skies. The de-icing pad was getting a good work out today. Around 13:00 we began to board. I really like the AC 319s, their very clean and modern with plenty of room. The delays continued, this time we had to wait for our new slot at the deicing pad. We started pushing at about 13:30, just about an hour late. We taxied over to the deicing pad, and waited another 10 minutes before our turn. Air Canada's Free Spirit 763 and the KLM 763 were both leaving the pad as we pulled in to the northern most slot. With engines off, I peered out the window as we were deiced. Finally, deiced and engines fired up again, we were off to 08R.

Around 14:10 we were rolling on 08R, now considerably behind schedule, and most likely going to miss our connection in YEG. Once in the cruise, the crew were very friendly, and we were served the usual selection of beverages and snacks. We watched the news and were update on the goings on in the election. We saw the NDP campaign plane at the south hangers at YVR. We began descent into Edmonton and the crew came around and collected the garbage, or service items, as it's sometimes called. We had a nice approach into YEG and touched down on 12. It was the smoothest landing I've ever experienced, barely a bump. I would have thought we were still airborne if I hadn't noticed the spoilers come up. The local time was 16:22, and our connection was supposed to leave at 16:20. We pulled up to the gate right beside the Dash 8 gates at YEG. I could see a Dash 8 starting up, and joked to my friend that it was probably our flight. We hurried off the 319 and checked the departure board and it showed AC 8542 was delayed till 16:30, and the time on the monitor was 16:28. Luckily we were right beside the Dash 8 gates. We rushed over, and the agent saw us coming and asked if we were the three heading to Saskatoon. They had held the flight for us. Thank you Jazz!!

AC8542- Sun, Dec 4/05
dep YEG-16:20
arr YXE-18:42
flying time- 1:22
Dash 8-100 C-FACD fin 808
seat 6F




We rushed down the walkway and out to our Dash 8. As we climbed aboard, every seat was taken except for our 3. How embarrassing holding up an entire flight, and 34 heads looking at you as you take your seat. Oh well, we made it! Without any checked baggage to worry about, the door was shut right away, and we started up. My last Dash 8 flight was in October 03, and I had forgetten how noisy and the vibrations of the Dash 8-100. We taxied out to RWY 02, and did the rolling takeoff. We climbed out and turned east towards Saskatoon. Once again, in flight service consisted of small snacks and drinks. We were offered a second round of snacks and drinks this flight also. The lights were dimmed for the remainder of the flight, so I peered out the window and into the darkness. We began our descent and I could see the landing lights come on, then the flaps lower and the gear. It's always fun to watch that as you can't normally see it. We touched down on 09 in Saskatoon, and taxied to the gate. We arrived at about 1905, so in a day full of delays, we were only late by about 25 minutes. All in all, a very enjoyable trip!

C-GAGN
Topic: RE: YXE-YVR-YXE On Air Canada. (lots Of Pics)
Username: Cgagn
Posted 2005-12-20 19:17:15 and read 16186 times.

Quoting Boeing744 (Reply 4):
How did you find the condition of the interior of this particular 763?


The interior was pretty good. Lots of seat pitch, comfy seats, and very clean. This particular plane looked seemed to be well looked after. Once the new IFE is installed, she'll be a beauty.



Quoting BA319-131 (Reply 5):
You did well to get 4 different planes, either good luck or well planned!!


Very well planned, lol. The 763 was planned, and I've never flown on a Jazz CRJ, so that worked out well. And we had a few options on the way back, A 321 to YYC, then the CRJ again, but we opted for the 319 to YEG then the Dash 8.


Jack Layton and Stephen Harper are both flying in AC319s, fins 287 anad 288 I believe.


Thank you! and thanx to everyone for the kind replies. I better speed up my trip report to LAS on NW.

C-GAGN