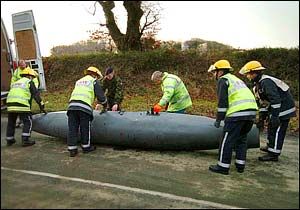 AN ELDERLY cyclist cheated death yesterday when a fuel tank from a Harrier jump jet missed his head by inches. Les Sprason, 66, watched in horror as the empty 12ft metal tank fell within a whisker of his face and bounced between cars on the A3124 at Winkleigh, Devon. It narrowly missed a herd of cows before smashing into a tree. Grandad Les said: "I thought I was dead."
The RAF jet had taken off from RAF Cottesmore near Peterborough, Cambs, on a training flight. A spokesman said the pilot had NOT jettisoned the tank on purpose. He added: "The pilot was surprised it came off." The jet, which was not damaged, made an emergency landing at a base in Yeovilton, Somerset.
An inquiry was ordered.