My other passion/hobby outside of aviation and medicine happens to be transit. I was practically raised riding the bus and metro in Montreal, and I've always gotten a kick out of riding any bus or subway? I'm sure there's a few others like me on here, sowhy don't we share what type of mass transit we enjoy in our hometowns.
Well Since I live in Montreal, Ft. Lauderdale, and the University of Florida at various times of the year here's the 3 for 1 special:
Montreal
Still one of the best transit systems I've ever used. The compact city of about 3.5 million in the greater area is served by somewhere between 1600-1800 buses if I remember correctly and about 759 metro cars serving a 65 station, 4 line underground system.
When I was growing up through the mid 80's the most common bus, in fact the only bus were the GM new look "fishbowls". They're very very rare now as newer busses have been bought, but if i'm real lucky, I'll actually see one still in service each summer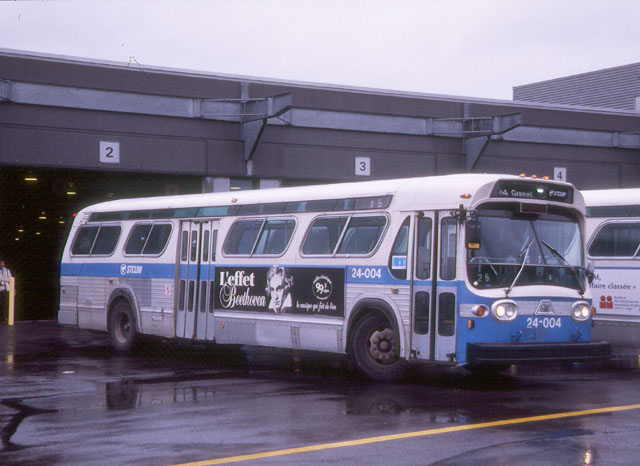 beginning in the mid to late 80's the transit authority starting purchasing the "Classic" bus, which to this day remains my favourite of all the types of buses I've been on. The first ones had the engine in back and red arm barriers that you had to push to open the back doors. Newer ones have a window in the back, automated destination signs, and a foot sensor to operate the back door. shame no one in South Florida operates them, they were (and still are great).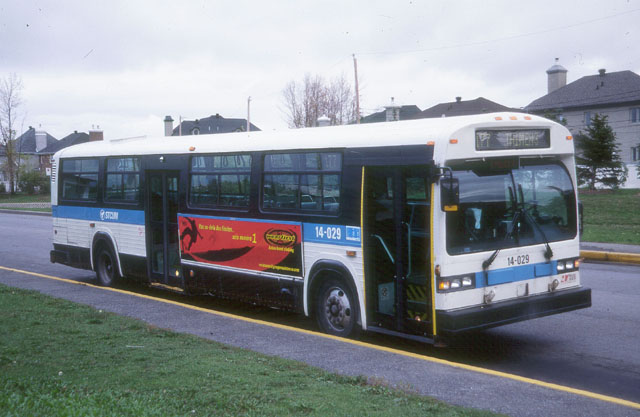 Over the last few year they've been buying new low-floor buses from Novabus. One of the more attractive designs out there, but I still prefer the Classic which continues to make a good portion of the current fleet. I have no clue who made/makes the. They say MCI on the buses but have a NovaBus sticker. Neither manufacturer's website mentions this bus. Some website alludes that GM makes the Classic but I have found no info fro mthem either. If anyone knows who makes or made them please let me know.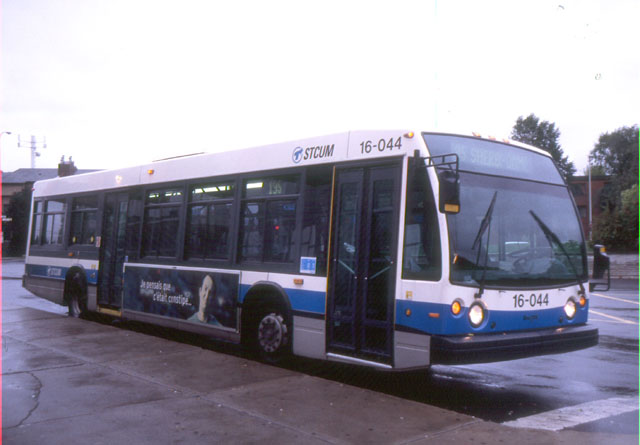 All buses are 40-footers. One weird thing is that the fare boxes are not automated like I've seen elsewhere, just glass and steel boxes that are older than I am.
As for the metro, its a rubber-tyred system with 9 car trains (3 sets of a trailer between two powered motor/control cars), that are 152 metres long and hold about 1,200 passengers. They move at about 45 mph, but seem must faster, I suppose because of the confined spaces down there. My favourite thing about is that the newer MR-73 series of train (below) makes a musical 3-note sound on departure. I've found out that its not any sort of actual music, but a system that releases the voltage to move the train in 3 stages to ensure smooth acceleration. Incident the notes it makes are the same 3 notes that begin the music piece "Fanfare for the Common Man" by Aaron Copland, which was the theme music for Expo '67, which helped spur the Metro's opening in 1966.
The trains are also automated, but carry an operator for safety. Each station was designed by a different person and some are true works of art, winning several design awards.
An operator poses with his baby:
Ft. Lauderdale
Transit maintained by Broward Country Transit or "B Transit". The mascot is a bee, and all the buses have been painted white with a honeycomb yellow stripe along the sides. Please, if G-d has any sense of justice He will smite whomever thought up this retarded design and marketing campaign. BCT operates a broad mix of Flxibles, Gillig Phantoms, Gillig LowFloors, and NewFlyer Lowfloors. The Flxibles are being retired, and out of all of them, I prefer the NewFlyer busses, more pleasing to the aie than the Gilligs and brighter inside too. All 40 ft busses.
There's also a heavy rail system that runs up from Palm Beach, through Broward, and down to Miami.
Not the BCT buses, couldn't find local photos.
NewFlyer:
Gillig LowFloor:
University of Florida/Gainesville
Buses mainted by Regional Transit System (RTS) which runs routes throughout Gainesville and maintains the campus shuttle routes. They're funded mostly by the university from what I hear, and practically owe their existance and 80-odd buses to the money they get from the university to offer the kind of service 40,000-odd students need in this town of about 100,000. The service is actually quite good and rivals Montreal's in terms of convenience. On some routes service runs as frequently as every 9 minutes. On campus, they operate a number of circulator routes using the busses that are unfit for regular city service. They have poor interiors, no paint or schemes that haven't been updated since the days of disco, one is aquamarine all over, another is purple. On Campus we have 40-foot GM manufactured RTS busses, older models, 30-40 foot older Orion buses, and two 40 ft Flxibles in the mentioned aquamarine and purple paint. I e-mailed them a suggestion to replace the interiors and but a school-spirited orange-and blue paint scheme, since they are an eye-sore on campus. Off-campus there are much newer and better maintained RTS-series and Gillig Phantoms, both at 40 ft. They sport a spectacular blue and cream coloured livery and are a pleasure to ride. Ridership anywhere is free for UF students which is good and my only gripe is that the rear doors on the Phantoms seem unusually narrow, I know I've seen some with wider rear doors.
All these buses are not the Gainesville ones, couldn't find local photos:
The Orions, ours have a wheelchair access hatch added next to the rear door
The Flxibles:
RTS:
Gillig Phantom:
Overall I'd say the Phantom and newer GM RTS are my favourite buses from a passenger perspective in the States, but the Classic still rules.
Too bad I can't drive them, I hear that Iowa State University runs their own bus system and students can get jobs as drivers. That's one on campus I'd absolutely love to do.
I'm sure there's some other bus/transit geeks here.