This incident took place in Kansas City, Missouri monday night american time. 18 year old Joe R. Thompson was driving his Jeep when a car suddenly pulled infront of him. He clipped (?) the other car and lost control of his vehicle which rolled 5 times according to eyewitnesses.
The roof of the Jeep was ripped off and Thompson, who wasn't wearing his seatbelt, was thrown from the car. 10 m in the air, heading for certain death, he got his foot tangled into some powerlines, and eventually managed to get a good grip on the three powerlines.
After 20 minutes both the rescue team and the drivers father had arrived on the scene.
Apart from a few scratches and cuts, Thompson suffered no serious injuries.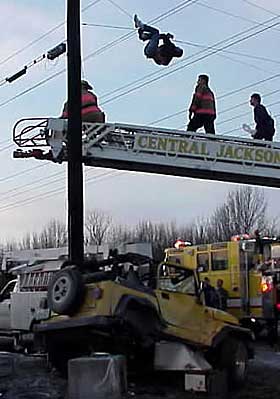 Thom@s