Heck, why not hop on the bandwagon?!?
What are some of the things you admire about Cuba?
Sexy Cubanas!
Classic American cars
Great people and diversity
Good cheap beer and rum
Great music!
Awesome culture
Communism
No capitalism
No starbucks, coke, pepsi, blockbuster video, krispy kreme and other US/UK corperate garbage.
Cubana
An airline that flys Soviet, US and Western European aircraft.
A leader that will
not
back down and kiss his neighbors a$$ just because they are a superpower;
Fidel Castro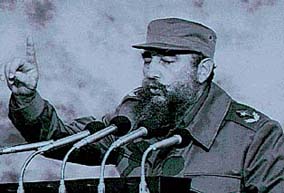 A leftist who realizes that peace rallies and lighting candles will only achieve little results. Some times you have to kick some a$$!
Viva la revolucion!