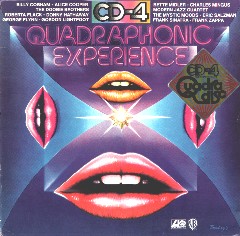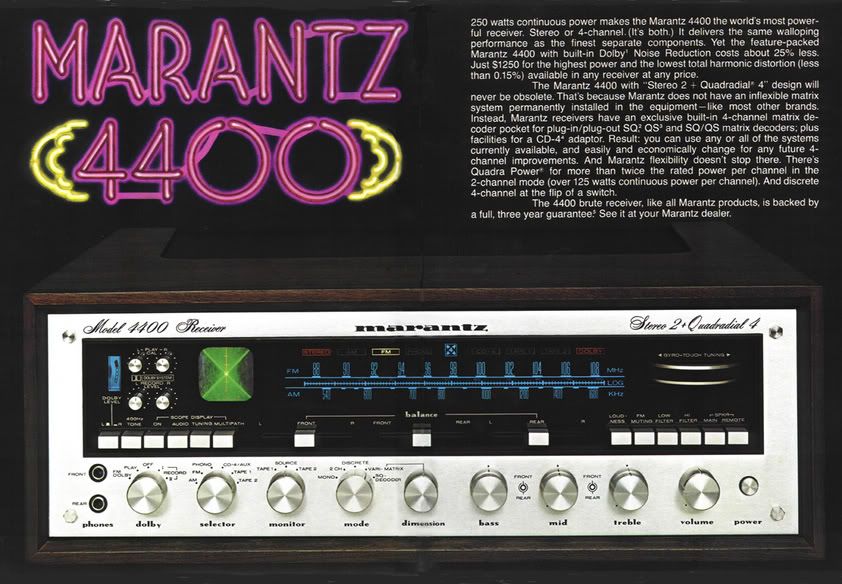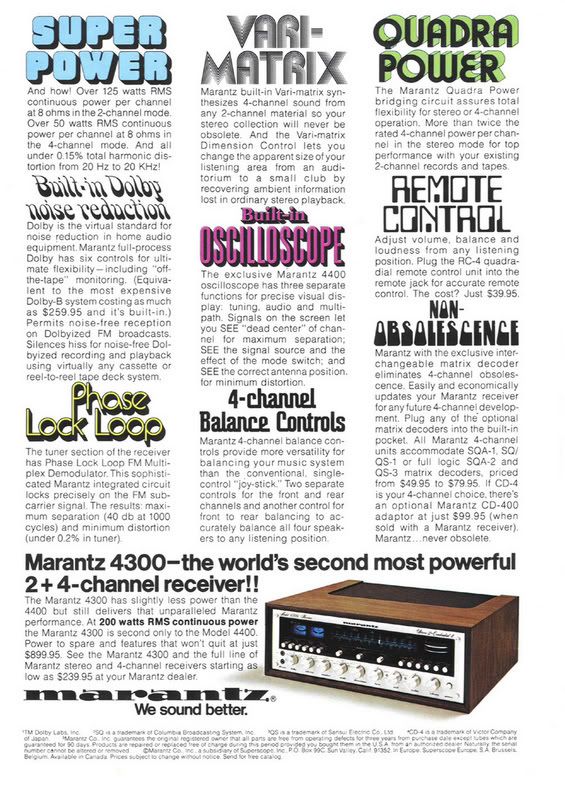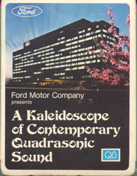 Quadraphonic sound systems were offered with these Ford/Mercury/Lincoln vehicles between 1976-1982.
Has anyone here ever had the pleasure of listening to quadraphonic sound?
This was a sonic breakthrough in the 1970s. Four discrete channels of sound, an expansion on stereophonic sound which came out in 1958.
This was early surround sound and is the same technology used in today's movie theaters and home theater systems.
Unfortunately this was a marketplace failure mainly do to competing patent issues with the three major brands that had there own system of detecting four channel sound.
There were three different types of quad decoding systems for LPs. The first introduced in 1971 was Command/QS, the second was SQ introduced in 1972 and the most sophisticated system was CD-4 introduced in 1973. SQ was developed by Sony and thus CBS/Columbia records used the SQ decoding system. CD-4 was developed by JVC and was used by Warner Brothers/Atlantic records and ABC records used the Command/QS system. A&M records were the only label to use all three at different times.
To add to the confusion you needed a system that decoded all three systems if you wanted to hear all of your favorite artist in quadraphonic sound. There was never a component made with all three build in. Quadraphonic receivers/preamps would have two build in and one would have to be purchased separately as an external add on.
Command/QS and SQ used a conventional elliptical stylus and cartridge but CD-4 required a phono cartridge and shibata tip stylus that could go above 35,000Hz in order to pick up the high pitched carrier frequency which activated the quadraphonic decoding system. The shibata stylus is 'V' shaped, smaller and sits deeper in to the groove.
Despite all of the technical hairsplitting LP decoding system, none really were that discrete.
The best way to enjoy quadraphonic sound was on 8track and reel to reel tape.
There were no decoders to bother with. All four channels were separated on the tape and the playback head was already set up to read four separate tracks.
The quadraphonic 8track tapes were pretty common in there day but the 8track tape has its limitations such as poor high frequency response. The best of both worlds is the quadraphonic reel to reel. That format delivers high-end audiophile sound quality and had four discrete bleedless channels of sound.
(I am sure Matt D would agree)
The problem with quad reel to reel is that it's extremely rare. Only 134 titles exist on quad reel. That's encompassing rock, soul, country, jazz, classical and test tapes. Quadraphonic reel decks were (and still are) very expensive. They started at around $1,000.00 in 1973
Of the 134 quad reels made, they sold for almost $20.00 when new. People complain about spending $20.00 today on a compact disc, image spending $20.00 on a single album in 1973.
Its heyday started in 1971 and went to about 1975 before demand started to wane. However the Ford Motor Company was the only auto manufacture in the world to offer
Quadraphonic 8track players in there vehicles. (I have one in my Lincoln)
People who had GM, Chrysler, AMC or imports had to buy aftermarket decks.
The Ford decks were not available until the 1976 model year (fall 1975). Some record companies had announced they would discontinue quad releases and Ford threatened class action lawsuit because Ford had spend lots of money on these new decks. They cost $358 extra back then.
Ford helped extend the life of quadraphonic sound and some record labels continued to press limited runs of classical and jazz titles throughout the late 1970s. The last official quadraphonic release was a sound effects album by Isao Tomita in 1980. Ford offered quadraphonic 8track decks up until 1982. In fact the 1980-1982 models have a digital tuner and external 'premium sound' system.
I've got a monstrous quadraphonic system at home with all the proper decoding systems, tape decks and cartridges. I am glad I got that stuff cheap in the early-mid 1990s before eBay started. That stuff is as expensive when new.
Some of my favorite quadraphonic tittles:
Sound effects with Boeing 707 and 727 takeoff and landings.
Pink Floyd – Dark Side Of The Moon
The Moody Blues – Days Of Future Passed
The Moody Blues – Every Good Boy Deserves A Favor
The Moody Blues – Seventh Sojourn
Edger Winter Group – They Only Come Out At Night
The Doobie Brothers – The Captain & Me
The Doobie Brothers – Toulouse Street
Earth Wind & Fire – That's The Way Of The World
Earth Wind & Fire – Open Our Eyes
Ohio Players – Honey
Quincy Jones – You've Got It Bad Girl
Burt Bacharach – Reach Out
The Carpenters – A Song For You
The Carpenters – Close To You
Steely Dan – Countdown To Ecstasy
Deep Purple – Machine Head
Black Sabbath – Paranoid
Chick Corea & Return To Forever – Musicmagic
Sergio Mendes – (self title)
Jeff Beck – Blow By Blow
Maynard Ferguson - Conquistador
Enoch Light – Sounds of Burt Bacharach
I think its crime that there were no quadraphonic releases by RUSH, Led Zeppelin, Electric Light Orchestra, STYX or Gino Vannelli.
Here is my large quadraphonic system.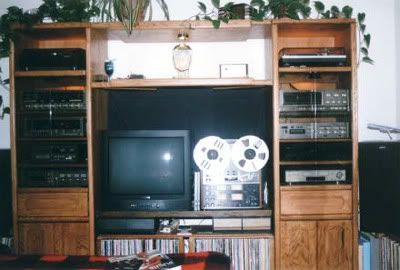 Other Airliners.net members to be treated to my quadraphonic demonstrations
so far are AN-225, Sccutler, Lortab 7.5mg, ILUV767 and RealHigh.