FINLAND!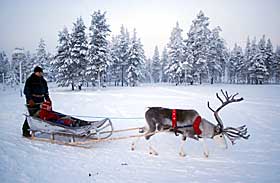 Experts at the Universities in Yale and Columbia, have combined 21 different environmental indications in 146 countries, and from these results made a list over which countries are the cleanest.
Among the things they have looked at are water and air pollution in the different countries.
Finland has been announced the winner of this test, mainly due to the environmental politics the country has, and also because of the low density in the population, say the researchers.
The Top 5 list is:
1. Finland
2. Norway
3. Uruguay
4. Sweden
5. Iceland
At the bottom of the list are countries like Tawian, Turkmenistan, Iraq, and Uzbekistan.
The group of researchers claim they are not looking to make the worlds leaders look bad as a result of this test, but they know it will affect them one way or another.
Britain and Tony Blair will not be happy with their position in 66th place on the list. USA are in 45th place.
The researchers are encouraging Britain and the US to compare their results with countries that are natural to compare with. They claim Britain could learn a lot from countries like Japan and Germany, which are both heavily populated and industrialized countries, but which despite this are high up on the list.
The complete list for anyone interested:
http://www.yale.edu/esi/ESI2005_Main_Report.pdf
Thom@s