Almost everyone is familiar with the Coke Polar Bears used for their advertising campaigns over the years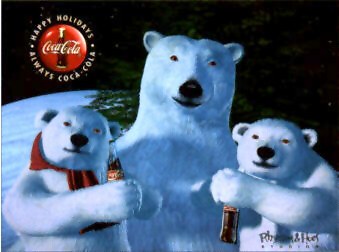 It is now time to introduce you to the Polar Bear campaigns Coke used in Russia (with translations provided).....
Сосо-Коба
Soso-Koba
(Soso was Stalin's nickname as a child, Koba was his nickname before he changed his name to Stalin)
Коба - счастье народное! (Koba - People's Happiness!)
125 летию Сосо посвящается (125 years of devotion to Soso)
*Take off of Stalinist era propaganda posters such as this
http://www.russianlegacy.com/catalog...ction/t-shirts/T-SHIRT042_view.jpg
which proclaim "BELOVED STALIN - PEOPLE'S HAPPINESS"
Скока?-Скока?!
Skoka?-Skoka?!
-- this is a play on the word "Skol'ko" (How much) -- Moscow traffic police are well known for responding to that question
Вота-Льгота
Vota-L'gota
-- a play on the phrase "Vot vam l'gota" (Here is your benefit) -- pensioners in Russia used to get a lot of benefits paid for by the state (free transport, medicines, housing etc). The govt cut this out and instead gave them 1500rub ($50) per month in lieu of all benefits -- hence the tears
Снова-Вова
Snova-Vova
-- Vova Again -- Vova being nickname for Vladimir.
Тока-Кока
Toka-Koka
- play on "Tolko koka" (
Only Cocaine!
)
Не Тока Кока
Ne Toka Koka - play on "Ne tolko koka" (Not only cocaine)
Тока-Не Кока
Toka-Ne Koka
- play on "Tolko ne koka" (Only no cocaine) - reference to Interview with a Vampire when Claudia brings Lestat the 2 drugged boys - vampires are 'afraid' of these drugs
Some funny stuff there.