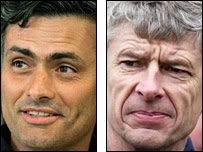 Chelsea boss Jose Mourinho claims he is ready to end his war-of-words with Arsenal counterpart Arsene Wenger.
Mourinho sparked a row between the pair on Monday when he said Wenger was obsessed with Chelsea and labelled him "a voyeur".
But he said on Thursday: "If he's ready to apologise for every quote about Chelsea, I'm ready to do the same.
"Of course it is not a personal thing. I think it's enough. So it is better for us to work and forget this."
The feud has bubbled all week with Wenger threatening legal action after Mourinho's initial comments.
What is it with these 2 guys?