Here's a new car I think even Superfly will have to admit is a beaut - today's technology merged with the classic 70s muscle-car look and feel...and it's a TWO DOOR!
Now if only we can see the '68 Camaro revisited...
http://www.cnn.com/2006/AUTOS/funonw.../01/04/dodge_challenger/index.html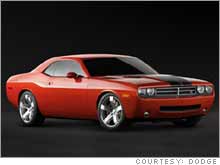 NEW YORK (CNN/Money) - With an appearance that draws heavily from the classic muscle cars of the late 1960s and early '70s, the Dodge Challenger, premiering in concept car form at next week's Detroit Auto Show, should satisfy those who thought the 4-door Dodge Charger just didn't have the right stuff.

This time around, the number of doors stays true to the original spirit. Just two.

"The people who were complaining about the Charger, if they complain about the Challenger there's something wrong with them," said David Zatz who runs the Web site Allpar.com, a site about Chrysler Group products.