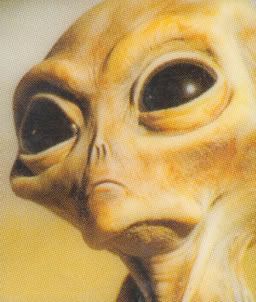 Why do most aliens, reported by abductees, have such large, reflective black eyes?
The eyes seem to take up most of the craniofacial region of the typical grey alien. Correspondingly, the alien skull would most likely have a very large orbit for each eye.
I would highly doubt that the eyes are anything like the camera-like human eyes, since alien eyes do not have pupils (no iris to form a pupil). Alien eyes would most likely have been an adaptation for dimly-lit, gloomy alien environments, not for the bright sunlight of Earth. Most aliens are reported to inhabit either subterranean environments or dimly-lit ship interiors.
How would an alien eye pick up light? Would it be spherical like most eyes, or would it be more like an insectoid eye?
What scares people so much about the alien eye? Does it probably have a telepathic or hypnotic effect on the human mind? Would there be a telepathic organ between the eyes in an alien brain? The alien eye seems to be a totally black reflective orb, like a pool of mercury or oil.
SmithAir747