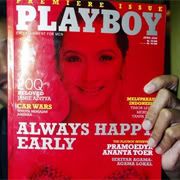 A toned-down edition of Playboy will go on sale in Indonesia on Friday.
The move defies calls from Islamic leaders for the magazine to be banned in the mostly Muslim country. It will not feature nude women and the photos of female models will be no more risqué than those in other magazines already for sale.
But the Indonesia Council of Clerics disagrees wants the magazine banned, regardless of its content.
"We reject Playboy magazine because it is an icon of pornography," said council head Maruf Amin.
"By insisting to publish, they are daring to face the opposition of society."
Playboy already publishes local editions in 17 other countries.
It is planning to launch a version of the magazine without nude photos in India soon.