http://www.jpost.com/servlet/Satelli...ename=JPost%2FJPArticle%2FShowFull
IAF aircraft blew up a key strategic bridge in the northern Gaza Strip shortly before midnight on Tuesday. The army said that the operation was intended to keep Hamas from taking kidnapped soldier Cpl. Gilad Shalit out of the Gaza Strip.
In addition, IDF tanks were amassing around Gaza, and were awaiting orders to begin a ground incursion into the strip. However, the the army denied an Israel Radio report that the armored forces had actually begun a ground incursion into the strip.
Earlier, Defense Minister Amir Peretz said that "the clock is running out, and Israel is poised and ready for a military operation in the Gaza Strip."
I really hope Hamas comes to its senses and turns over the soldier before this escalates. And mark my words, the IDF will be in Gaza if Hamas doesn't return the kidnapped Israeli.
Israeli Defense Minister Amir Peretz meets with troops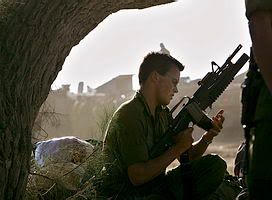 An IDF soldier cleaning his weapon near the Gaza border on Monday.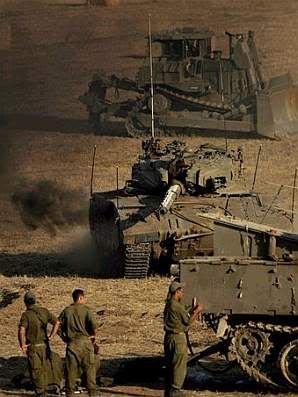 IDF tanks amass around the Gaza Strip, poised for an incursion in response to the kidnapping of IDF soldier Cpl. Gilad Shalit.