I realize there are several threads on this already but I wanted to post a few important updates and hope the discussion will continue here. This post is meant to be a general update on what is happening.
Israel Air Force planes struck a bridge in the southern suburb of Beirut, a Hezbollah stronghold, and the fuel stores of the Jiyyeh power plant south of the city early on Friday, witnesses and security sources said.
Israeli officials have said that south Beirut, a densely populated neighborhood of Shi'ite Muslims where Hezbollah has its political headquarters, could be targeted.
Leaflets dropped in the evening warned people to stay away from Hezbollah offices.
The Israeli Navy continues to blockade the Lebanese coast; as we all know BEY is out of operation for the immediate future. There has been talk of a Marine airlift to rescue the estimated 25,000 Americans stranded in Lebanon.
In other news, the United States blocked a resolution Thursday that would have demanded Israel halt its military offensive in the Gaza Strip, the first United Nations Security Council veto in nearly two years. The U.S. was alone in voting against the resolution. "It placed demands on one side in the Middle East conflict but not the other," Bolton said. "This draft resolution would have exacerbated tensions in the region." President Bush also proclaimed that "Israel has the right to defend herself."
And finally, some statements by Israeli leaders. Israeli Defense Forces Chief-of-staff Dan Halutz has warned that if the soldiers are not returned, the IDF would target infrastructure and "turn back the clock in Lebanon by 20 years."
The former head of Shin Bet (the Israeli FBI) and current Interor Security minister warned that if Hezbollah fires more rockets at Israel and makes life miserable there, that Israel will make life in Lebanon "hell".
**I forgot to add that many American commentators and analysts are deeply concerned that this is really a Syrian-Iranian plot to stir up tensions and get the attention away from the Iranian nuclear issue. It is being framed in the media as Iran-Syria using its Lebanese proxies to strike Israel, an American proxy**
And some photos: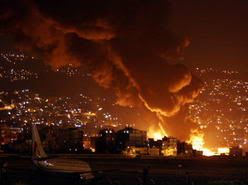 Caption: Fuel tanks burning at the Beirut international airport after it was attacked by IAF aircraft on Thursday
I think it's worth noting that an Israeli Arab soldier was one of those killed in battle in Lebanon. This is a photo of his funeral at a Druze village in Israel.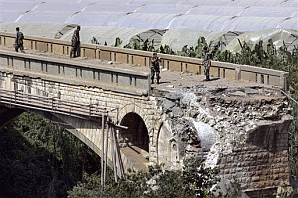 Lebanese army officers inspect the damage on a bridge that was destroyed after IAF warplanes targeted it overnight south of Beirut, Lebanon.
An IDF artillery unit fires into southern Lebanon from northern Israel.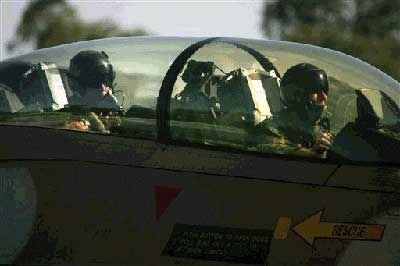 IAF pilots in the cockpit, as they are about to take off for a mission in Lebanon.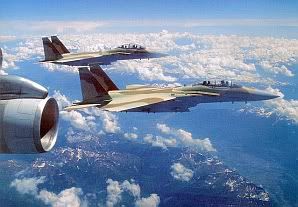 Commander of IAF:IAF F-15Is, F-16s, Apache helicopters, and other surveillance aircraft are participating in Operation Just Reward against Lebanon.
[Edited 2006-07-14 07:12:31]