Hi there, lehpron again. Current temperatures in Prescott, AZ (1:13am) according to the weather channel online is 6 degrees Celsius, and this is the first time that I'm out here voluntarily.
I've moved my entire computer outside.
For those of you following along, TedTace included, I'm been researching ways to cool sections of my computer for the express purpose of overclocking. Since all I want is to get the system cooler, made more sense to do what I'm doing rather than paying bank for a chiller.
First off I'm doing something kind of dangerous provided I took the necessary precautions. I've come to some conclusions for those of you interested. In order to properly overclock any computer processor hardware, the cooling unit must be able to remove excess heat than just stock. In addition, to overclock at all, the core must be cooler than it is. Certain processors have a bit of leeway, it is why some are able to get satisfying results with the stock heat-sink. For me I can only overclock the graphics card.
While in my room there is an AC unit, we don't use it, so my computer's internal temps are always in the upper 30's. What I refer as the first phase of my overclocking experiment involved purchasing and modifying a full size cpu cooler onto my graphics card. It looks pretty big (pardon the resolution) That is a 92mm fan.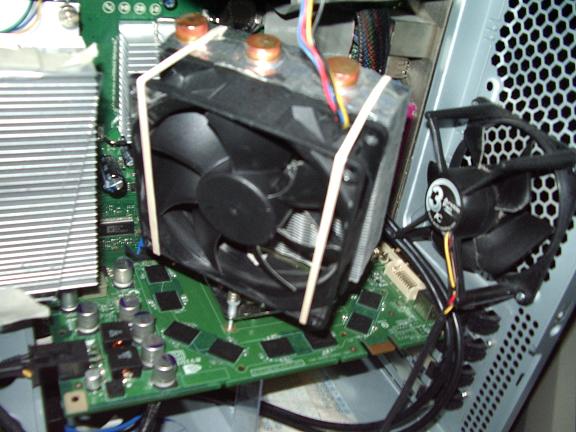 Why did I do that? Well, I have what could be refereed to as the first version of Intel's BTX motherboard and the main power connector is just behind it about 18mm above the graphic card slot -- no aftermarket coolers meant for ATX mobo's could fit, plus they don't have the heat removal capacity I required. I wanted enough head room so I didn't have to worry about the graphics card. The results from phase one was a zero-change in temperatures (load and idle) overclock from stock 560MHz to 680Mhz. All throughout the OC, the gpu was idle at 41C with the case closed and the nature of the cooler never passed 49C while benchmarking or games. Doing that alone raised the 3Dmark06 score from 5051 to 5490.
It's Thanksgiving break now and most of my suite has left home (too expensive for me for 4 days to go home), I've taken over the AC unit.
Last night around 4am I implemented what I call the second phase of my experiment, I put the computer right up to the AC and cranked it full at super cold. The results weren't as great as the first, but nice nonetheless. Stock video memory speeds were 1500MHz effective, with a 12 degree Celsius drop in temps allows for a 1630MHz effective. The AC unit brought down the gpu idle temps to 30 on average; a 691MHz clock speed was achieved. Did another 3Dmark06 benchmark, the new score is now 5530.
I estimated the total amount of Qout from the core is less than 80watts of heat. Bringing the temperatures back up to non-AC room would not go exceed the values I got from the first time I added the cooler. The cooler is capable of removing 150watts of heat at a maximum of 49C; I'm not worried. I've been at room temperatures so high there was a 3 degree difference between load and idle.
Anyway, right now is the third phase. Originally the TEC was supposed to do this, but is just seemed like a unique simulated opportunity to just take the thing outside. While I am running the internet the main processor is currently at 43C (which is 5 degrees below normal for me)
Honestly, I don't expect too much change, if I got a tiny bump from both memory and core, I'd be happy I didn't spend to purchase the TEC as IMO it probably would not have been worth it.
Dude, the gpu core temperature is steady at 26-C (still running at 691MHz, load went to a max of 39-C) !
Theoretically, if I could get the core into the negative region of temperatures, I could concieveable reach the mid 700's and still not breach the 150watt max of the cooler.