Looks like I'm the first one to a computer, so, here we go.
So ANCFlyer is in the midst of a weeklong trek from the high place up above swinging down to the thriving metropolis of Chicago and the thriving metropolis of Cedar Rapids.
((((
that's in Iowa
))))
So, it was only a joy and pleasure to receive an invite from him to rendezvous in Iowa ... one of the last places I ever thought I would be hanging out with ANC Flyer, mind you, well, outside of say New York's Gay Pride Parade... but nonetheless, I was on and it was a "date." We decided to move our meeting and fun to Iowa City since it is the more "interesting" of the triplet of cities along the I-380 intrastate corridor. I found a fun little joint, shared the menu, it sounded good to him and off we were. Well, I find out yesterday that KaiGywer and Adopim88 are driving down to join the fun, and well, then I suggested AsstChiefMark also come down with them and Mark never one to miss an adventure, decides about 3pm yesterday he's coming, too. The more the merrier.
So, I pull into the Coralville Mall early in the afternoon and meet up with (and this is where a picture is
REALLY
missing now) .... at Victoria's Secret.
Yes, Victoria's Secret.
So imagine a store full of women, yes, even on a Wednesday afternoon, the place is hoppin', checkin' out little white slinky things, black panties, bras, the whole nine yards, and two guys meet up in the middle of the store with a good ole handshake and "manly" embrace. So we make it out the store and across the way and I am introduced to ANC's daughter. She's a treat. Standing almost two feet below me, she -commands- your attention from the word go. I'm almost in admiration. A true diva. So, ANC goes outside and catches his "breath" while she and I rummage through the candle store and then we strolled down the path hitting a store here and there and finally made our way to downtown Iowa City and we all wound up down there within about 15 minutes of each other.
We met up here ....
I mean, wait that's not right.
We met up here...
Good wings. Good food. Some good drafts, indeed. Well, at least I thought the food was good, I scarfed down a pound of wings, some of Kai's wings, some tacos, some fried mushrooms, and some fried zucchini ... all in about 15 minutes. No big deal.
So after 3 - 3 1/2 hours, we finish up and decide to hit the streets.
First we stopped by Hillary Clinton's Iowa City caucus campaign headquarters so Pep could get some shirts, flyers, bumper stickers, and autographed photos.
And then we went off down the street like the bad asses we are.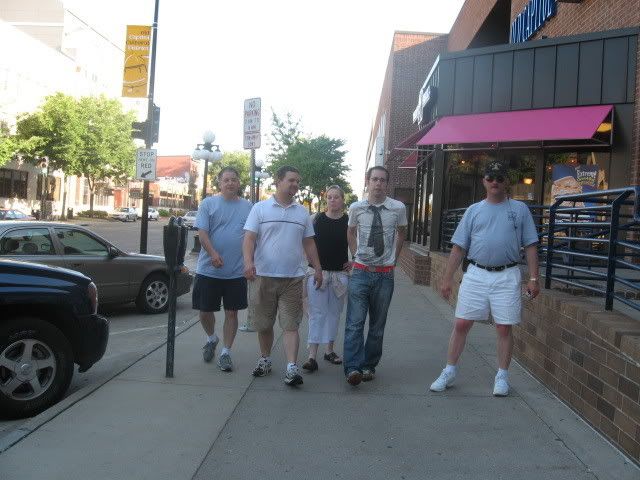 We strolled a couple of blocks north and then to the west some and made our way to the downtown promenade area that is closed off to city streets. Everywhere you look there are liberals, liberals, liberals and more liberals.
And on top of that you have people who are pretty much stuck in 1968 (fashion wise) -- and well, to be honest, they look like they hadn't showered since then, either.
Tons of lesbians and their dogs. And their children. Talk about a
dreadful
combination. BTW, has anybody ever noticed that lesbians with children ... the children are always like four? You never see them with teenage sons, teenage daughters, whatever ... the children are always four and like eternally stuck there. Anyway, just an observation ... but these people were just a little whacked out for my own personal tastes.
But, speaking of children....
Well, let's just say this.
Our friend Kai was up by the fountain minding his own business when one of these little brats puts his feet over the fountain spout so it sprays water all over the damn place. Not that it really matters, but Kai was understandly surprised and muttered "oh fuck!" And was laughing about it.
And then the shit hit the fan.
All these whacked individuals down there, start jumping all over us for "cussing out .... that's right ....
the children.
So, you know me, I'm usually a loose cannon and live for this sort of shit, but really ... all I could do was point and laugh, not at Kai, but at the people who were saying crap to us. The mother unit of this kid comes up here and starts to give us all "a big talkin' to" and just as I'm ready to open my mouth I hear ...
"quiet lady"
It wasn't me. It was our hero, ANCFlyer.
And so this other guy comes over and the next thing I know, again, before I can even get a word out to anybody, ANC is pretty much telling it, not in an anything inappropriate at all, but basically telling the guy, in a few words, to just chill the hell out and to bugger off. Everyone's telling these people that Kai (poor Kai) is foreign and doesn't know a whole lotta words, and I'm trying to whisper to Kai to apologize "with a funny accent." Meanwhile, I'm dying of laughter because all the time while ANCFlyer is just trying to calm this guy down, he's looking down at his cell phone sending text messages back home. And you can see these people looking at ANC's hat ... yes he was wearing the hat, and you could see a bit of fear in his eyes over it. There's just an aura to Pep that screams "don't piss with this, buddy."
LOVES IT.
So, anyway, after our fiasco, we continue down the street.
Pep is -STILL- text messaging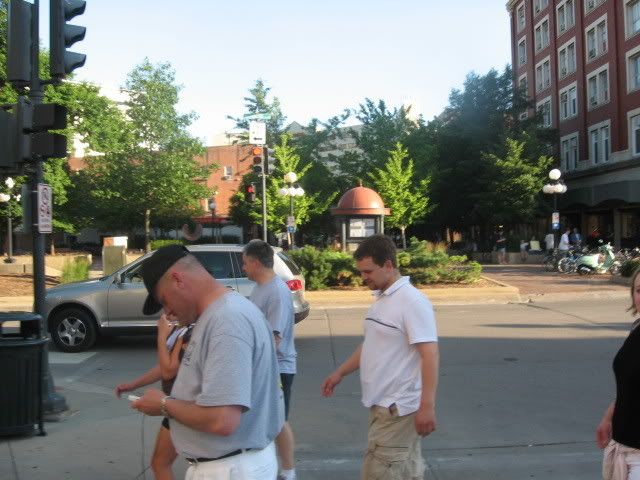 And we stumble across this place.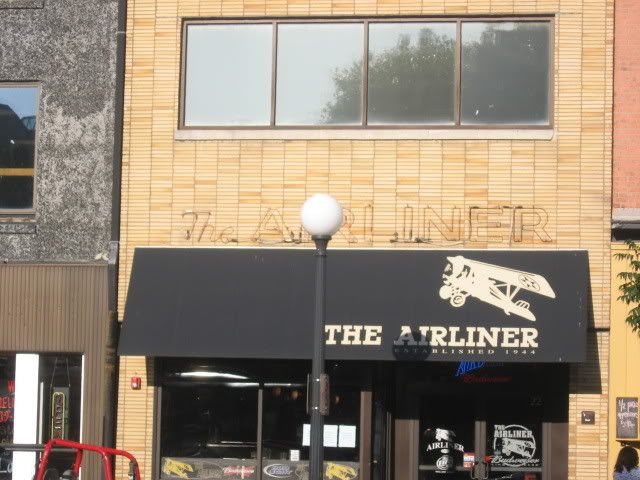 And so we go inside, especially since I can see the lesbians forming a mob a few blocks behind us and setting off down the street with long sticks with burning flames on the end of them --- more intense than any of that Les Miserables crap.
So, we feel it is natural to dolt inside.
So we dolt inside the airliner.
What a flippin' disappointment
There's -NOTHING- airliner-esque about it except some paper airplane that was created out of cardboard by the local hospital children's ward activity group and was colored yellow with crayolas. So we're pretty much sitting there going "this sucks." We wait 3 minutes, the lesbian mob passes (by this time, walking 3 blocks was too much so they flew by on a transit bus ... guns cocked and ready out of the windows, mind you) and so we set out and down the street once again. And I came up with a brilliant idea -- ICE CREAM!
So we stop for an ice cream break and set off down the street once again, this time prancing, skipping and holding hands...
So we make our way back downtown in a loop ...
-AGAIN-
and a Buffalo Wild Wings caught our eye.
So we went in, played some trivia, totally sucked at it, and then decided it's time to bolt for the evening.
But not without a quick stop at the....
which how ironic at this very location was staffed by two gay guys who I've both had run ins with before ... i.e. we were at the same bar in Des Moines, Iowa (on separate nights for both) and there were lots of drinks and let's just say they both have very loose hands ... nothing ever transpired but they both message me online a lot.
So while we were in the store, I stayed very very very close to ANC (!!!), cuz two gay guys who are nutty together in the same place who work together realizing they've made passes at the same time .... eeek!
meanwhile Mark decided to get his fill....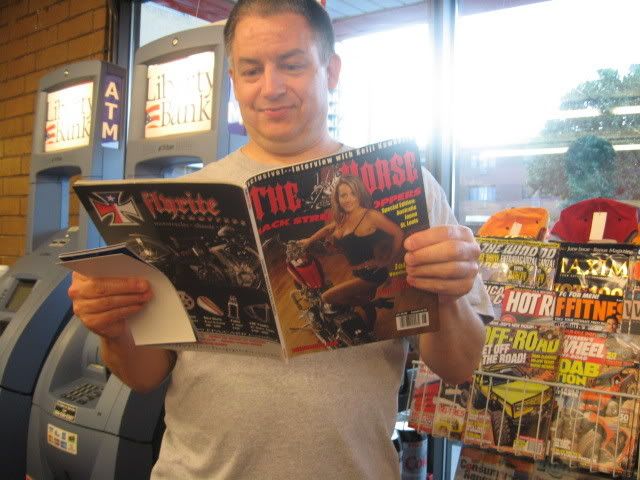 And then for prosperity's sake, we stood at a busy intersection, took this "had to" photo while we were getting the stares of all the locals of "you losers are definitely from out of town"
And then we made it back to the cars where ANCFlyer decided to pull out the bag and give us a sample of what was inside (all while still texting, mind you...)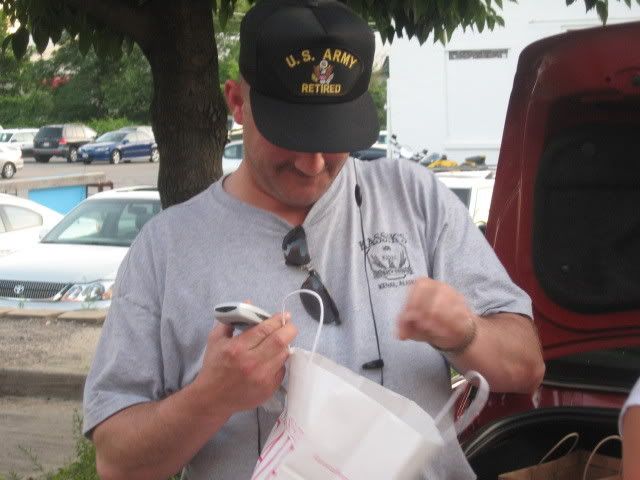 He's got an awfully big grin there, mind you. So you draw your own conclusions.
[Edited 2007-06-21 06:55:22]