I had about a 2 week vacation time, so I thought long and hard about taking the ultimate vacation. Ive taken the train cross country. Ive taken the plane numerous times across country. Why not drive it cross country - you only live once right ?
Well for days Ive mapped out a few iteneraries. The first one I took the most direct route to the east coast.
So I let my friends on the east coast know what I was doing and my e.t.a ( estimated time arrival ). I would make a stop in New Jersey to pick one up, and go into the city to have a boys night out.
Saturday August 12 '06
This would be the day I would make the journey. The plan is to camp out at 2 rest areas ... one along I-40 near the AZ/NM border, and the other on 1-70 in Ohio. My hotel stay would be in Oklahoma City.
12pm-Left Home with a duffle bag filled with clothes, my laptop, CDs, emergency kit, flashlight, blanket, pillow, ice cooler, bottled water, assorted snacks, a case of soda pop,and reading material. Filled up at the gas pump. I decided this would be a time to take my car to the Honda Dealer ... get an oil, filter change, and make sure everything was A-OK. I included the pit stop along my itenerary.
After spending about 2 hours getting my 02 Honda serviced at the dealer, It was time to set sale. Traffic was pretty light on the 605 freeway until we got up into the Whittier / El Monte area. There was a really bad traffic accident, so I had to use surface streets ( Peck Rd / Myrtle Ave ) to the I-210. Once I got to the 210 freeway, It was smooth sailing to the I-15 north. Traffic on the I-15 was good the whole way. I would make a stop at Barstow, Ca to take a stretch break and walk around. Just after 630pm, its time to head back on the road. I would take I-40 east. Theres not really any towns or nothing to see between Barstow and Needles. 900p I arrived at Needles, Ca small town on the CA/AZ border. Here I would fill up on gas and get something to eat.
930pm, drove off into the AZ desert east. I would make a restroom break at Seligman, Az....and then a gas stop in Flagstaff. Got there around 12am. My plan was to call it a night at the rest stop just outside of Flagstaff. Little did I know, this particular one was closed...so the next one was just outside of Houck, AZ on the AZ/NM border, still about 2.5 hours away. 238am - Finally arrived at the rest stop. Took our my pillow, n blanket, climed in back and had a good nights sleep.
Total Distance traveled so far : 637 miles
Day 2 ( Aug 13, 2006 )

Wake up around 846am-Went into the restroom. Washed up in soap n water, changed into some fresh socks, t-shirt, and undees, and eastbound we went. I made another food stop at the McDonalds in Gallup, NM ... conveniently located inside the wal-mart. Also made another stop for gas in Gallup as well. 2 hours later, arrived in Albuquerque. I took a stretch break at a truck stop. Consumed some goodies and load up on ice and whatnot. Fifteen minutes afterwards, Im back on I-40. It starts to rain heavily just outside city limits. Speed limit is 70-75mph in some areas along the interstate, so getting through NM was a breeze. A gas stop was made in Santa Rosa, NM... followed by a meal stop at the KFC in Tucumcari, NM. After spending 30 minutes in Tucumcari, It was back on the interstate. I eventually crossed over into Texas. About every other couple miles, theres State troopers everywhere. Approaching Amarillo, it starts to rain very heavy, with Thunderstorms and tornado watches along the way. Amarillo is where I would make a food and gas stop. Later on, I would continue through the bad weather, but at a slower speed than the posted speed limit 70mph. I made a much needed rest stop at Elk City, Oklahoma at the Flying J truck stop.
just after 830pm, I made it to my hotel in Oklahoma City. It was a Best Western hotel. The staff was just warm, welcoming, and very accomidating. I paid 67 bucks for what I thought was just a regular room. Turns out it was a suite with a fll kitchen, fridge, ironing board, coffee maker, etc. Very good night sleep was had indeed.
Total distance travelled today : 712 miles
Day 3 ( August 14, 2008 )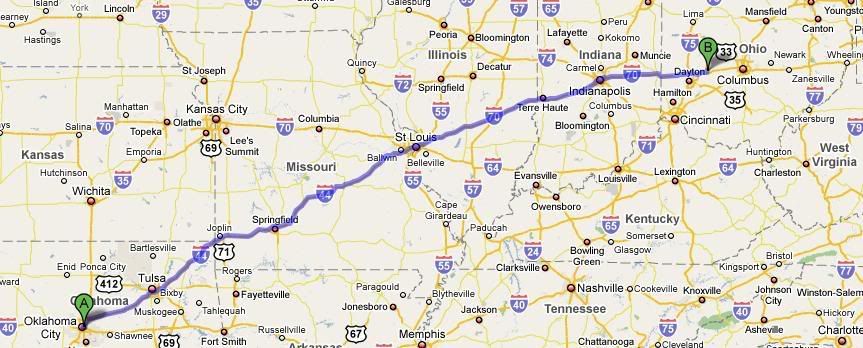 Departed the hotel at about 7am. Went to a gas station, refilled. Also made a food stop, load up on a days worth of ice. My route will take me along I-44 to St Louis, and then I-70 for most of the way.
I-44 is the Oklahoma Turnpike toll highway... except for a few miles before you enter the state of Missouri. I would make only one stop in Tulsa. It starts to rain just outside of Tulsa again... prolly reminise of the rainstorm I caught along the way in Texas.
Crossed over into Missouri state line, I made a gas stop. It would be here where I would give myself the ultimate workout on the trip. Wash the car at a car wash. After spending an hour in Springfield, Mo.. I made my way eastbound on 1-44 towards St Louis ... making stops in Rolla, and Sullivan at the Gas Station there.
St Louis was reach just after 4pm.... rush hour !!!!! I stopped at a ghettoish McDonalds off the highway... and was out in less than 30 minutes. Continued along I-44 into Illinois and took I-70 east for the rest of the way. My next stop would be at a gas station in Casey, Illinois, and a few minutes later, a stop at the local Dairy Queen for some ice cream.
Half hour went by, and I continued on I-70 into the cloudless skies of Indiana, and then calling it a night at a rest stop, just east of Springfield, OH at around 11pm
Distance travelled today : 873 miles
August 15th, 2008

This would be the final day on the Interstate system. I woke up fresh and ready to go after 630am. Pass through Columbus, OH ... made a food and gas stop at the Flying J truck stop in Zanesville OH. Passed through Wheeling, West Virginia ... 20 minutes later, crossed into Pennsylvania... where my 2nd stop would be at a Target in Washington PA. With a few stops along the PA turnpike, 1 gas and 1 restroom/food. I made my way towards Philadelphia...where I would meet up with one of my friends and then head on into NYC to meet other friends.Arrived in the city after 5p.
Distance travelled today : 617 miles
Total driving distance : 2839
I took pics of this journey but have to locate them. Stay tuned for the wet ...westbound TR.