About a year ago, I became interested in unusual US currency - specifically, large denomination notes. I did a bit of reading to learn about them and even purchased a few replicas on ebay.
According to some information I've read, UK currency also has a few "anomolies" such as £1 million (giant) and £100 million (titan) bank notes.
http://www.ianvisits.co.uk/blog/2007/11/21/the-one-million-pound-note/
...there is a larger denomination available - the "one million pound note".these notes are for inter-bank purposes only. ...The key point is that they do however actually exist.
The US had a $100,000 note which was only used internally within the federal reserve system. However, these are no longer used as funds are transfered via electronic transfer. The large notes in the UK are used for the same purpose.
They are mainly used by the Bank of England to "transfer" currency from the English Bank to its bank note issuer counterparts in Scotland and is hence never seen outside the banking system.
This is not meant to criticize but wouldn't it be easier to use electronic means to transfer funds?
I tried to see what these notes look like, however ...
Alas, a letter to the Bank of England for permission to show you an image of one of these interesting notes was politely declined. Oh well.
I can understand The Bank of England's position on this but from a practical point of view, no counterfeiter, who has some intelligence, would reproduce these as they would arouse suspicion (counterfeiters in the US will generally try to produce small denomination notes).
The UK also used to have armed forces vouchers. The last of these were issued in 1972.
http://www.banknotes.com/gb.htm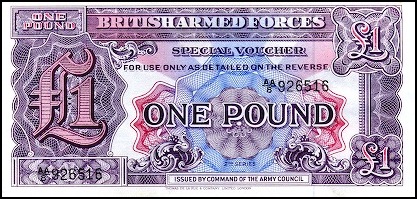 The US issued "North Africa" Silver Certificates and notes with "Hawaii" printed on them during WWII.
There's something else about which I'm curious. Are there any current "anomolies" being circulated in the UK? In the US it is the $2 bill. Two dollar bills aren't used much and are considered to be bad luck by the superstitious.
I'll make one other observation, if I may. From my point of view as an outsider, it seems like it would be much more convenient if all of the banks within the UK issued a common currency rather than each bank (Bank of England, Bank of Scotland, Bank of Wales, ...) issuing its own notes. I understand each "entity" within the UK wanting to maintain a sense of independence but at the same time, it seems that a common currency would be much more practical and easier for all British Subjects (and non citizens/consumers in the UK) to use.
Good Day
Russell