CNN-
"U.S. Defense Secretary Robert Gates said Sunday there is little doubt that the planned launch is designed to bolster that North Korea's military capability.
He also indicated that the U.S. military could be prepared to shoot down a North Korean missile if the rogue regime develops the capability to reach Hawaii or the western continental United States in a future launch.
The North Korean government says it will launch a commercial satellite atop a rocket sometime between April 4 and April 8."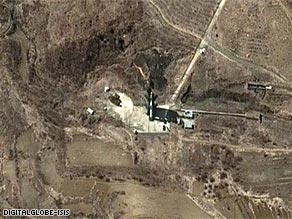 http://www.cnn.com/2009/WORLD/asiapc...3/30/north.korea.rocket/index.html
If they are launching a satellite, it will have to go over Japan.
The US says they plan not to shoot it down unless it enters US airspace, but we have sent two destroyers toward N. Korea, and Japanese Vessels have also sent warships to the Korean Peninsula with missiles to destroy it should it be necessary. Japanese defense systems are on alert as I'm sure S. Korean defense is as well.
If they are capable of launching a satellite into space, the missile to also be used as an ICBM.
Oh...what to do, what to do...
UAL
[Edited 2009-03-30 09:59:25]
[Edited 2009-03-30 10:01:50]