Hey whats goin on guys. This here is a very special edition edition of the Bus Operators Trip report. Due to the cuts of State Transit Funding ( thank you Governor Arnold ) & and a decline in ridership, the transit agency I once worked for had to layoff approximately 90 employees - 73 bus operators, 15 mechanics/service attendants, and 2 administrative positions. The chances of being recalled are slim, even if the ABX8-6 and ABX8-9 bills are passed.
The bills did get the governors approval (
http://www.caltransit.org/node/1299
). It was too late before my TA announced the service cuts.
March 12th, 2010
This is it. My last day driving an Orange County bus. For the last day, I picked up my assignment which is as follows
Assignment : 43104 159pm-942pm
Bus Number : 7403 ( 2001 NewFlyer D60LF )
Heres a picture of me on my last assignment
I came in around 115pm, checked in for the last time. Took pics with coworkers I may never see again. It was beginning to be a little emotional. After being here for 3 years, I realized these guys are like a second family. Most days Im at work for about 8-12 hours a day, and these coworkers are the people youre going to interact with the most...them and your regular passengers.
200pm-My assignment requires me to walk to the relief point, which is about 1/2 mile away. I got a ride from another Bus Operator, who was once my Behind-Wheel-Trainer when I started in 2007. So I got a headstart. Bus arrived at the timepoint about 10 minutes late. I figured it was busy out there. Made in the relief, hopped in my seat...logged into the radio and set up my drivers area in a manner thats most comfortable to me. Set up my mirrors, and we ready to go.
Line 43 is one of the busiest lines in the OCTA Bus System. It travels down Harbor Blvd, passing through Disneyland area, Anaheim, Fullerton, La Habra, Santa Ana, and Costa Mesa.
I got to the end of the line around 12 minutes late. It was also time to go. Well I had to go to the restroom and I left about 10 minutes down. A couple of Bus Enthusiast came out and suprised me enroute ... and got all sorts of neat pictures, videos and whatnot of my last journey. Furthermore, a couple NYC Bus Enthusiasts came out and suprised me as well. My last trip of the night was very emotional for me & I held up the best I can. I pulled the bus in around 955pm - 13 minutes of overtime. Said my final goodbyes.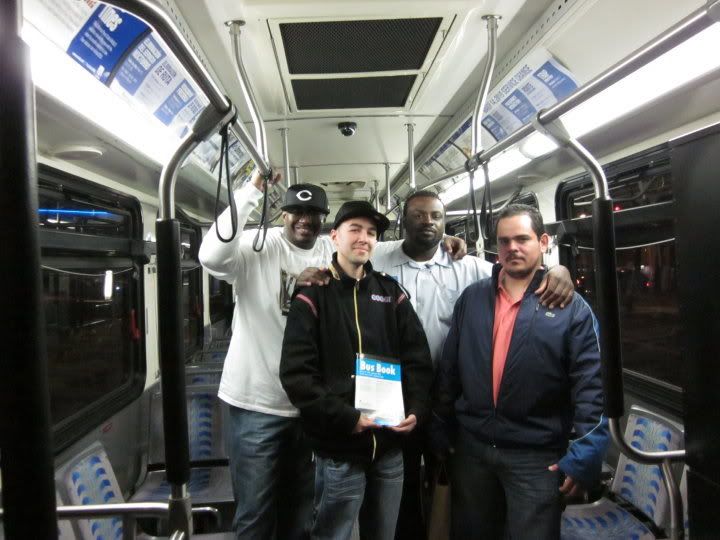 The aftermath :
The day after the layoff, I participated on a very nice busfan trip that included LA, Hollywood, NoHo, Sunset Blvd, Venice Blvd, Santa Monica, and back to L.A. 4 Different types of vintage buses were used for the event ... and it was a blast. Bus Enthusiasts from the LA, OC, NYC, SFO, and LAS area all came down. This was about 3 times more people than anticipated, which made everything worth while.
1) 1973 GMC TDH4523 - Ex Pierce Transit ... my friend Scott owns this bus
2) Ex San Diego Transit GMC TDH5307 ... the first one built ... my friend Jim owns this bus
3) 1972 Flxible NewLook Ex Tri-Met Portland # 361 ... my friend Josh owns this bus
4) 1989 Neoplan AN440A-3 Ex Los Angeles MTA # 1189 ... my friend Danny owns this bus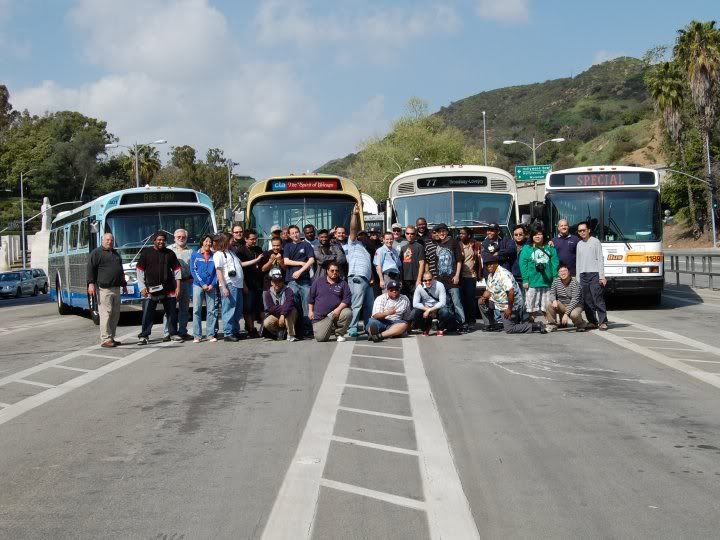 Towards the end, I was given the opprotunity to drive from Santa Monica to Downtown LA. It was a great trip back with plenty of videos and good laughs. Going in and out of bus stops, and catching up to Metro buses. lol.
Up till this very day :
-Looking for work in the bus driving field.
-On my spare time and weekends, I work on my personal toy
Remember that bus I own ( ex-LACMTA # 9034 ) ??? .... well I got something else better. I traded it for a 1980 GMC RTS T8H203 ( Ex-OCTD # 3096 ). This bus just turned 30 years old on March 20th. This was originally a slopeback RTS with a DD 8V71 engine and Allison V730 transmission. During its 28 year career at OCTD/OCTA, this bus was rehabbed 4 different times & has all kinds of upgrades :
-Sliding windows
-larger HVAC unit
-DD 6V92 engine repowered in 1987
-DDEC 6V92TA engine upgrades in the late 90s and in 2005. This bus doesnt smoke whatsoever and its fast.
-With the help of a few friends of mine, whom are also certified mechanics, this bus will have a happy life.
My new pride and joy ... 3096
-Taken a few hours after I got it. Fueled up the 125 gallon fuel tank, and inspected it for defects. Shes clean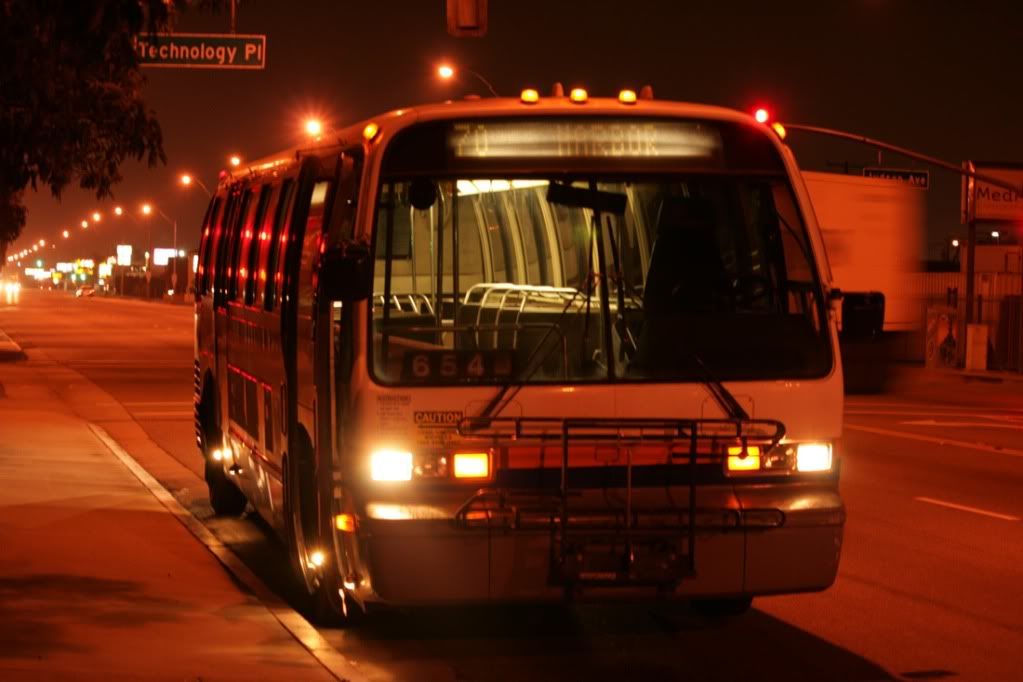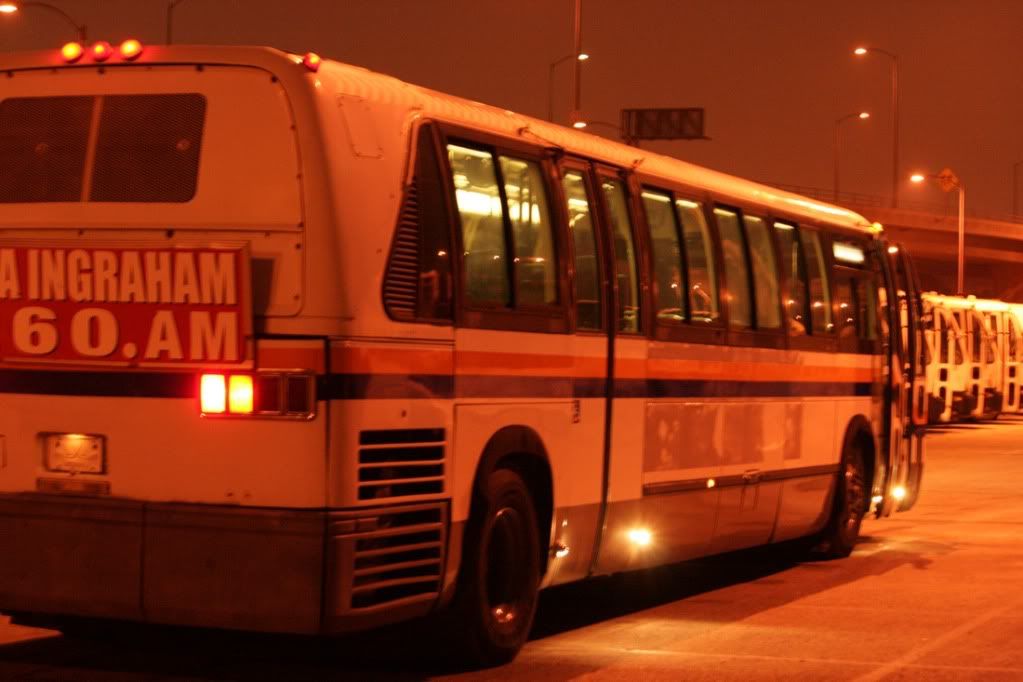 She need some fleet numbers
The interior and exterior was dirty... so she needed washing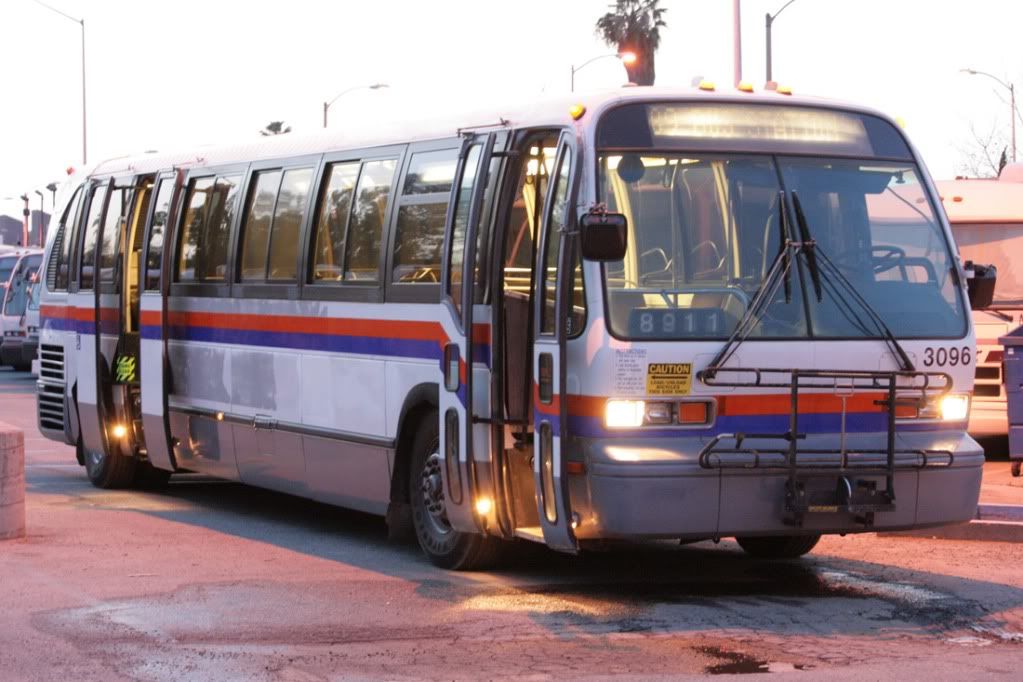 I decided to put the original AC grill back on. Easier said than done. I also had to find a rear route sign to match
The original RTS plaque
After all modifications, she is road ready.
*If anyone is intrested, I have a Busfan Trip planned for LA and Orange County on Saturday May 29th. This trip will involve at least 2 other buses as well. If anyone is intrested in coming, let me know...so far I have 13 comfirmed people attending.
-Glid4500 aka Eddie