This is my second surgical "trip report" of a series, detailing my surgical "adventures" over my lifetime undergoing numerous surgeries to correct my craniofacial deformities stemming from Treacher Collins syndrome.
This, sequentially, follows on from my first surgical trip report,
First In A Series of Surgical Trip Reports!
First In A Series Of Surgical Trip Reports!
(by
SmithAir747
Jun 18 2011 in Non Aviation) , in which I described my first set of surgeries (for cleft palate repair and lower jaw augmentation) in a long hospitalisation at St. Louis Children's Hospital in July-August 1982, at age 7.
Background
Born with Treacher Collins syndrome, I had no zygomatic arches (the cheekbones) and my orbits (the eyesockets) were incomplete and wide open on the lateral side of each. Other deformities included jaw deformities, cleft palate, and no ears (no ear canals, outer ears, or middle ears).
During my first hospitalisation at St. Louis Children's Hospital in July-August 1982, after the surgeons did my tongue-flap palate and lower jaw augmentation surgeries, they did a CAT scan series of my maxillofacial region to see the extent of my skeletal deformities from my syndrome. They found serious bony defects of the eye sockets and cheekbones. As you will see in the drawings below, my skull looked very ALIEN
Compare my drawings of a normal human skull with those of my skull, to see what the doctors found:
Normal Human Skull: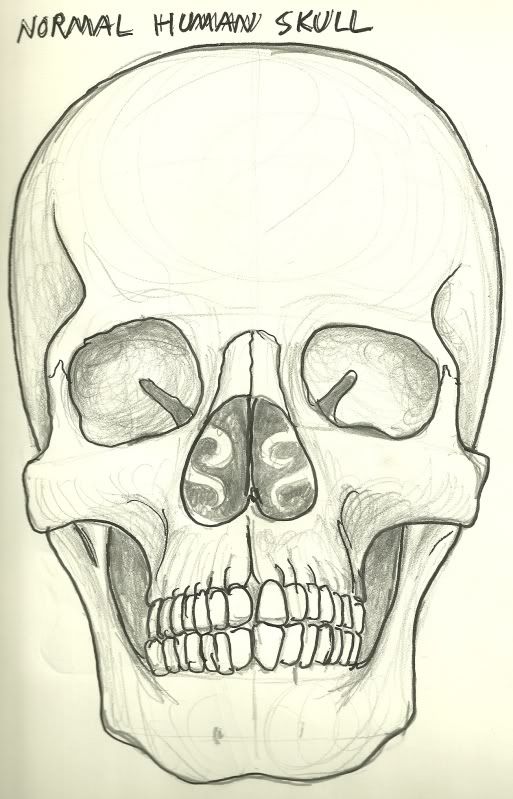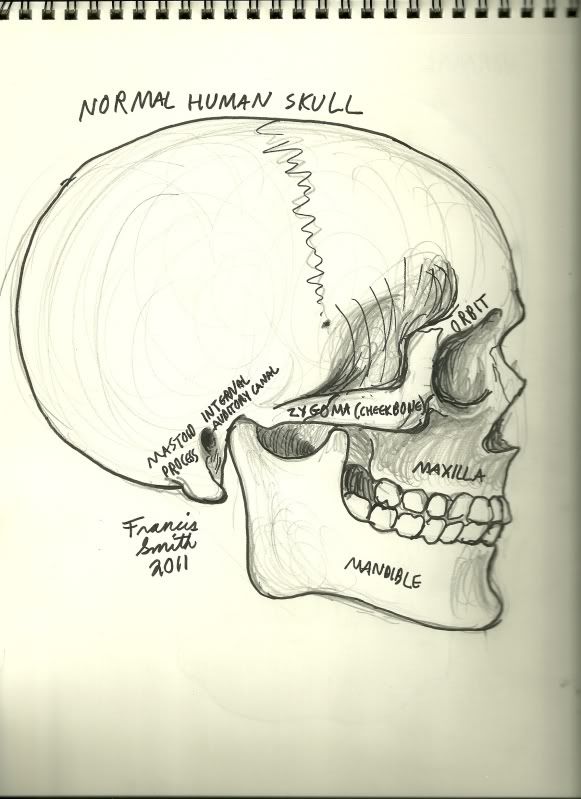 My Skull, with Treacher Collins Syndrome, drawn from my CAT scans in 1982, age 7: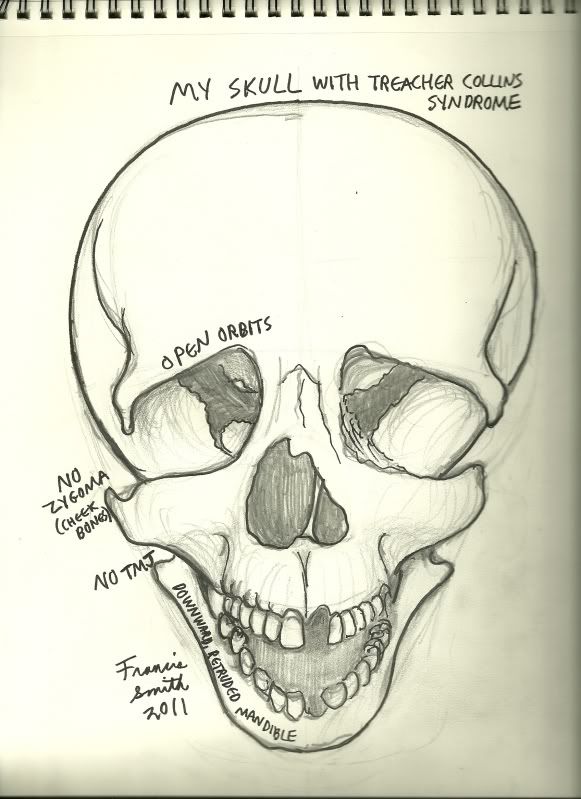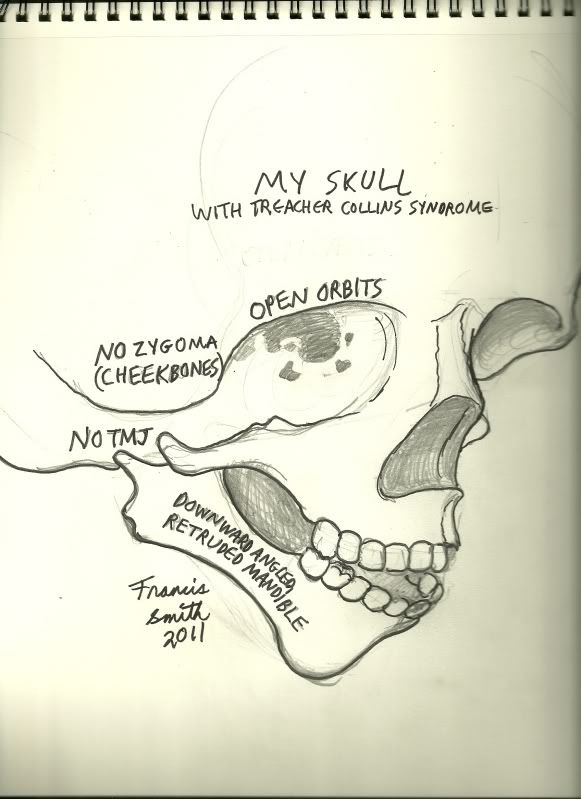 After they saw the bony deformities in my CAT scans, the doctors got to work planning my next surgery, to be done in the spring of 1983 (at age 8).
They planned to use pieces of rib and wires to make new lateral and lower rims for the orbits (eye sockets) and new cheekbones.
So, on May 8, 1983, Dad and I started out on our 2-day drive from Fort Wayne, IN, to St. Louis, MO. Unlike Mom, who had driven me down to St. Louis nonstop previously (in 1982), Dad opted to stay at a motel in central Illinois on the way down. The motel Dad chose was the Best Western Stuckey's Carriage Inn, in Altamont, IL, off I-70 exit 82. This began a long tradition: Whenever Dad took me down to St. Louis for my surgeries from then on (through 1991), we always stayed at the very same Best Western. They got to know us very well--they recognized our green 1978 Chrysler LeBaron Town & Country Station Wagon! One Christmas, they even sent us a Christmas card. I still have this card! Once, I even saved a bar of Best Western soap from the motel.
A green 1978 Chrysler LeBaron Town & Country Station Wagon, identical to our family's: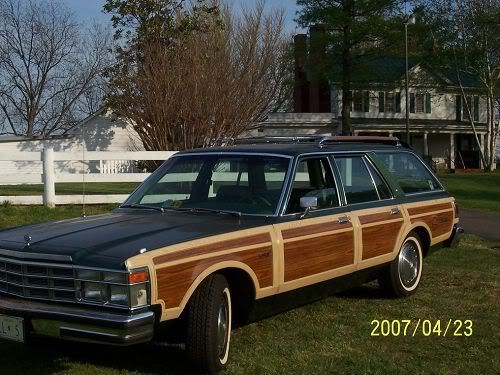 The Best Western Stuckey's Carriage Inn, Altamont, IL, which lives on in my memories: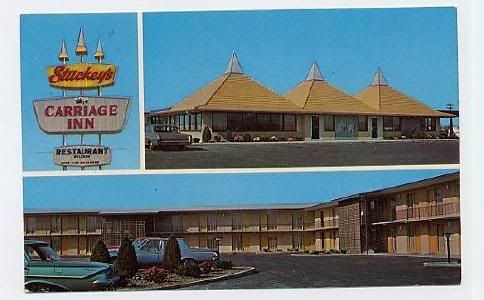 St. Louis Children's Hospital, spring 1983, age 8: Procedure: Fabrication of new orbital rims and cheekbones using rib grafts and wires
On May 9, after overnighting in Illinois, Dad and I arrived at St. Louis Children's Hospital. At that time, SLCH was still in the original, late 19th-early 20th century building, with a 1960s tower pavilion called Spoehrer Tower facing Kingshighway Blvd. This was next to the huge Barnes Hospital/Queeny Tower campus.
Barnes Hospital, Queeny Tower, and St. Louis Children's Hospital: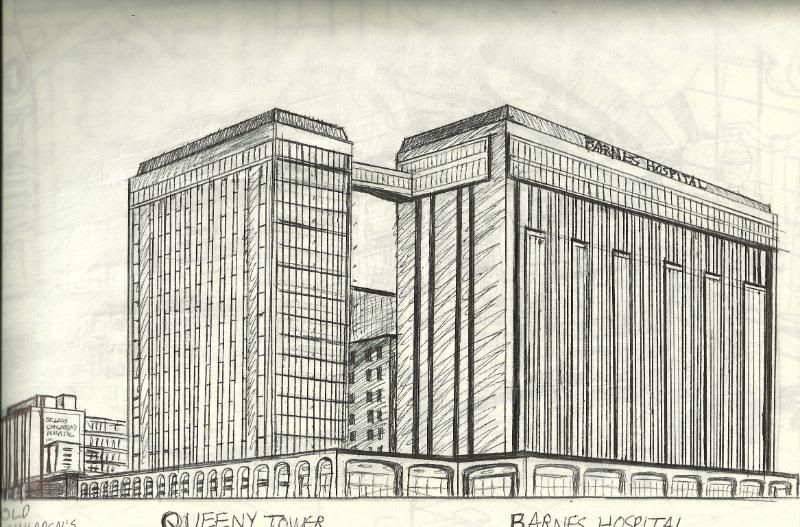 St. Louis Children's Hospital, Spoeher Tower Pavilion: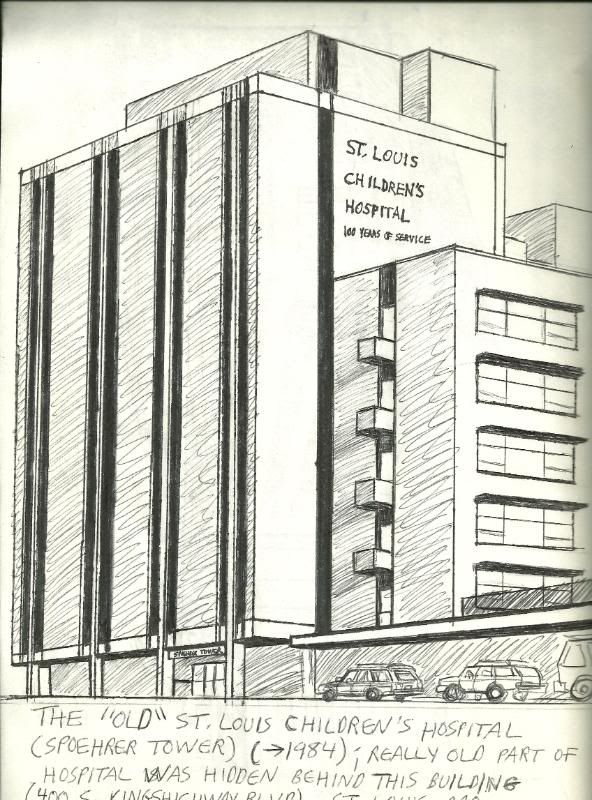 In those days, patients were admitted the day before surgery, and all admissions procedures, including laboratory tests, were completed during this admission process. I was checked into one of the two-bed rooms in the Spoehrer Tower pavilion, overlooking Kingshighway Blvd. and Forest Park. I had my blood drawn (this was the part I most dreaded--the fingerstick with a blue lancet). They said it would be only a pinch, but it hurt like the dickens--I yelped out! I was given a cardboard box, with a denim pattern on it, that was similar to the McDonald's Happy Meal. In it were toiletries and an elf hand puppet. Apparently, the elf was a mascot for Children's. (I remember at that time, when I was young, I also visited Riley Hospital for Children in Indianapolis, and their mascots were Raggedy Ann and Andy. So, even back then, children's hospitals had mascots!)
As a newly admitted patient, the nurses put on a "pre-op party" for me and several others. We saw a slide show of what the operating room looked like. Having had surgery there several times the previous year, I was already intimately familiar with the alien world of the SLCH operating rooms. We were then taken into the operating suite (which was located in the oldest part of the hospital) for a tour of the holding room and recovery room.
That evening, I had dinner (my "last meal" before the next day's surgery). Dad and I were visited by several doctors, including my main surgeon (who was the medical director of SLCH's Cleft Palate and Craniofacial Deformities Institute) and the anaesthesiologist, who went over with us what to expect the next morning. I was to have nothing to eat after midnight, and a NPO (nil per os) sign was posted over my bed.
I was awakened the next morning. I was starving (no breakfast) and scared (from previous experiences). I was given a pre-op shot in my buttock (probabaly atropine IM). Thus began an interminable wait, like waiting for the tumbrel ride to my execution. The gurney (or tumbrel
) finally came. Dad accompanied me on the long trek through labyrinthine, narrow hallways deep into the bowels of the original hospital, where the OR suite was. I spent another eternity waiting in the stark white surgical holding room, full of gurneys separated only by curtains (the only colour in this cold stark room). The long execution watch began again...until finally I was wheeled back through the yawning double doors to the ORs beyond. Before I went back, the nurses asked what "flavour" I wanted for my anaesthesia mask (I found out years later, that anaesthesia masks can be flavoured with a special wax perfume crayon or ordered pre-flavoured, in order to mask the alien taste and smell of the inhalation anaesthetic gases). I chose strawberry, as I did before.
The typical operating room of the old St. Louis Children's Hospital: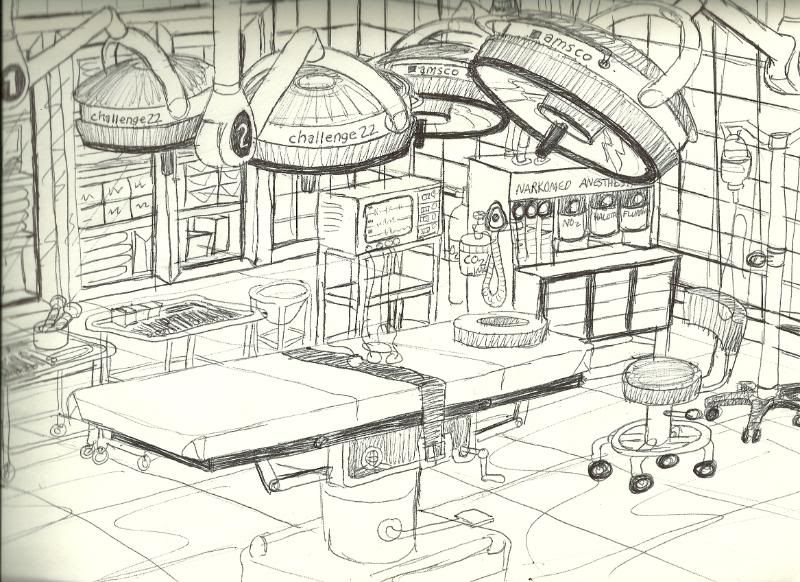 The typical operating room in the original SLCH was tiled in light blue. On the ceiling were two parallel tracks, on which hung four large blue drum-shaped AMSCO Challenge 22 surgical lamps. (Yes, as a very observant child, I took note of medical brand names around me!) I remembered the cold, alien, altar-like stainless steel operating table with a foam doughnut to rest my head upon. As I looked up at the ceiling and the surgical lamps hovering over me like flying saucers, the gowned and masked nurses and anaesthesiologist prepped me. They put "smiley-face" EKG pads on my chest and hooked me up to the EKG machine, which started beeping out a healthy rhythm. As the room was quite cold, they put a blanket over me.
The moment came: The Mask was put over my nose and mouth (pre-flavoured in strawberry). Immediately, I tasted an alien, bitter-sweet gas coming through the mask. There was just nothing to compare the alien taste to. Soon, I started tingling all over--and buzzing all over at the same time (I heard and felt the buzzing/tingling sensation all over my body). Then I began to feel like I was spinning (or the room was spinning around me), as though I was in a top-loading washing machine. The voices and sounds around me became more distorted. My eyesight was also strangely affected--I started seeing the individual tiny holes in the ceiling above more sharply. The last thing I remember was that my mind suddenly went very deathly quiet...before I went spinning down into the dark abyss...
(Whilst I was asleep, the doctors harvested rib grafts and used them, along with wires, to fashion a frame around the lateral and lower borders of the eye sockets and to create a cheekbone on either side. Then they did the first stage of outer ear reconstruction--I had nothing but tiny skin tags for outer ears, and no ear canal openings. They created a lobule out of these tiny skin tags on either side.)
...the next thing I remember was starting to wake up in the post-anaesthesia recovery room--another stark white room similar to the surgical holding area. I had experienced no passage of time. My state was as close to death as I can remember.
The strangest, most horrifying thing was, I could not see at all! My eyes were unable to be opened for several days afterwards for some reason. I heard Dad and several other people around me. I had an IV in one of my arms, I could feel. My terrified imagination went wild--showing me bizarre worlds that were all too real to me. Over the next few days, I had to be fed and walked around like the blind. I even went to the playroom and felt everything around me until I had the toys I wanted to play with--all by feel.
I was finally able to open my eyes several days post-operatively. To my horror, I had lost over 90% of the sight in my right eye! To this day, I wonder if something happed during the grafting of ribs to make my new eye socket rims and cheekbones; did the wires damage the right eyeball?
I received several shots in my buttocks over several days--I don't remember why.
A few days after that, I was finally discharged home. That day, Dad and I were taken to a room full of patients' medical records. What struck me was that my folder had the name "Hugh O'Connor" on it, not "Francis Smith". I wondered why. My imagination tried to explain it to me--perhaps it was a patient-naming custom in the medical field--to assign "code names" to every patient, replacing their "real" names with these medical code names!
It wasn't until years later that I found out why I was still called "Hugh O'Connor" in the hospital. It was still my legal name until my adoption as "Francis Smith" could be finally legalised. (I was not officially, legally adopted until 1989, when I was 14). Where did "Hugh O'Connor" come from? It was the name given to me by my biological parents, from Ireland, when they were here in the USA on graduate school sabbatical (and I happened to be born in the USA). So it was my legal name for many years. My new, adoptive parents (the Smiths) had me baptised "Francis Smith" in their Catholic tradition, after St. Francis of Assisi, after I was placed with them at age 3 in 1978. Not a bad trade!
"Francis Smith" bacame my legal name in 1989 when my adoption finally became legal (the only time I've stood before a judge in a courtroom).
Dad and I left St. Louis that day for home, and made it home in the late evening.
My bad right eye was eventually checked out by the ophthalmologists in the Rotary Building at the Indiana University Medical Center (where Riley Children's Hospital is at). My right eye tested at 20/200, legally blind. I was fitted with eye patches over my good (left) eye for a while (to try to get my right eye back to seeing right), but to no avail. I was also prescribed glasses for over a year. Since I had no ears, these glasses were fitted with elastic bands to hold them on my head. The glasses did not help either. Here's a photo of me at that time with the glasses.
Me, in 1983, with glasses: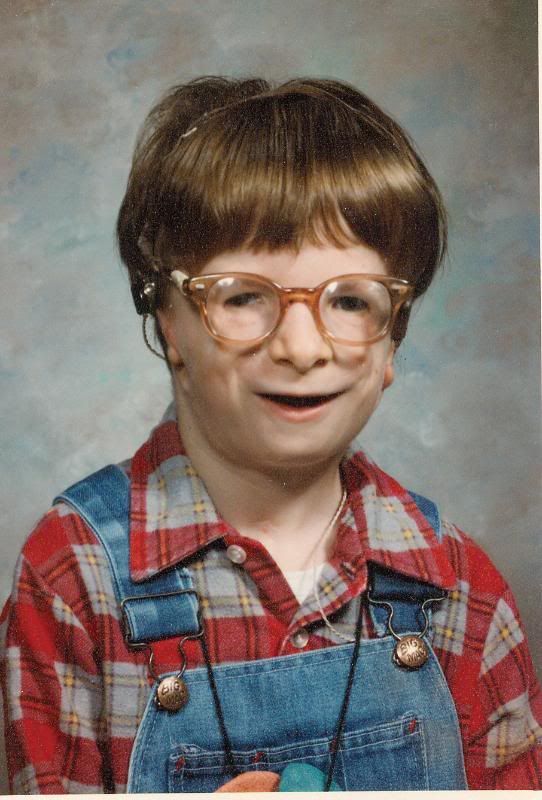 Stay tuned for my next Surgical Trip Report--for my surgical adventures, as I got new outer ears!
Enjoy!
SmithAir747
[Edited 2011-08-06 00:33:07]