In a world first, from today all tobacco products sold in Australia must now come in plain packaging. The packs have graphic pictures, with warnings covering 75% of the a cigarette pack, the rest is a dark green with a uniform font saying the brand and variation and on the side showing the manufacturer and their address. There is no branding on individual cigarettes at all, only a number.
This was rather controversial, with a failed High Court challenge on the argument that Commonwealth is essentially acquiring intellectual property on unjust terms, one of our few constitutional rights.
Personally I do not like them at all, I think it is unreasonable to do it however I can see it being pretty effective, possibly more so than raising the tax on them but this is one of the first things I've ever seen that has made smokers rather angry. I'm presently shopping around for a cigarette case though that I can keep any of my smokes in to avoid having to carry the garish pack. I never consume more than a handful a day anyway so can just refill at home.
My opinion appears to largely echo that of most of the people I know who smoke.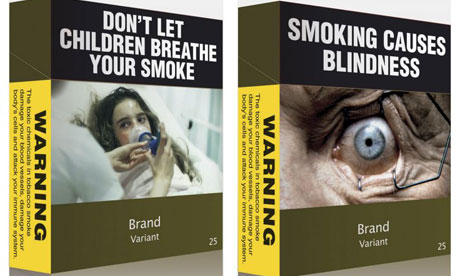 Seems that other countries are looking into it too, wouldn't surprise me if parts of Europe along with Canada and New Zealand implement it.
What say you, smokers and non-smokers.