This actually started on a thread I was posting on, but felt it deserved it's own thread:
It was amazing that they didn't have a stop along the way to each of those cities involving a vertical dive into the ground at 900+ mph.
To say the least, they had the most reamed planes in the industry. Dr. Kevorkian regularly suggested his patients give Tower air a try before utilizing his suicide machine.
If an airline could put mudflaps, curb feelers, a chain steering wheel, gold trim package, and a velvet roof on it's entire fleet, Tower air would've pioneered it.
Perhaps even lower the suspension and throw some neon underneath the plane.
Nonetheless, if you wanted to be scared to near-death levels, Tower Air was a surefire way to do it.
I think the pilots wore those wife-beater T-shirts on occasion, here's a picture of one of their old pilots: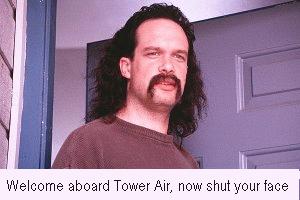 We've all heard stories.. Hell, check out Epinions.com. The stories are positively bone chilling, but hilarious.
My question is: "How would you survive a flight on Tower Air?"
Would you wear an executive parachute?
Would you meditate throughout the flight? Probably before?
Take a tranquilizer?
Beat the crap out of the passenger next to you to show you mean business when you go to sleep? (Like in prison I guess, same rules.)
Request to be strapped to the wing and and cut free when the plane begins to go down?
How would you survive?