Captain Edwin Musick Pan Am's pioneering pilot was killed 66 years ago on this date, January 11, 1938 in the Samoan Clipper.
Who was Musick?
One of America's most beloved early commercial pilots, Ed Musick was born in St. Louis, Missouri in 1894 and moved to California with his family when he was 9 years old. His lifelong obsession with planes and flying began with a trip to the Dominguez air races during his second year of high school. At age 19, before finishing school, he enrolled in a commercial flying course to become an aviation instructor and pilot. During World War I, Musick served as a civilian instructor in the Marine Corps in San Diego, Wichita Falls and Miami. After the war, he worked as a pilot for various airlines until his appointment to the position of chief pilot for Juan Trippe's Pan American Airways Caribbean division.
Musick was licensed to fly any type of plane, and he was given every opportunity to prove this in his position as Pan American's premier pilot. During his work for the airline, Musick set ten world records including making the inaugural flight to the Pacific aboard the China Clipper flying boat. The China Clipper's momentous flight cemented Musick's place as a modern day hero.
Although his Pacific journey from California to Manila on the China Clipper wa perhaps his most famous flight, he was also legendary for breaking the isolation of the remote Pacific island of New Zealand. Flying the Samoan Clipper from San Francisco to New Zealand, Musick received an unprecendented welcome when thirty thousand New Zealander's turned out to greet him. A man of notorously few words, Musick addressed the wildly cheering crowd by saying only "We are glad to be here."
Despite a career as a meticulous and focused pilot, Musick was not indestructible. On January 11, 1938, Musick took off from Pago Pago piloting the Samoan Clipper to begin a survey flight and soon after the flight began, he reported an oil leak in engine number 4. In an attempt to assure a safe landing, he made the fateful decision to dump fuel in order to lighten the plane . The decision proved disastrous when fuel vapors collected in the wing structure causing the plane to explode in mid-air. The US Navy ship Avocet recovered the scattered remains of the clipper that evening.
At the time of his death, Musick was unquestionably the world's most famous pilot. His face graced the cover of Time Magazine and he was awarded the Harmon Trophy for his work. Musick's accident ended his life at the height of his career and he was greatly mourned. His illustrious career has earned him a place of honor in the annals of early commercial aviation.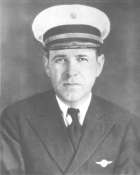 Happy flying Ed, wherever you are.