I received this info from a Boeing internal newswire. I'm not sure if this has been made public yet. Unfortunately I can't provide a link because it's on a internal server.
Boeing hosts Qatar Airways CEO in Seattle
Qatar Airways Chief Executive Officer Akbar Al Baker made his first visit to Seattle Thursday. His day included meetings with the entire Boeing Commercial Airplanes leadership team, led by President and CEO Alan Mulally, as well as in-depth discussions with 787 program representatives. He also received a customer support briefing from Lou Mancini, head of Commercial Aviation Services. Al Baker has made several public statements indicating Qatar Airways' strong interest in the 787 Dreamliner becoming an integral part of the airline's fleet planning. "We are excited by Qatar Airways' business plan, and we are committed to ensuring their full satisfaction with a Boeing solution," Mulally said.
Here's a pic of Mr. Akbar Al Baker on a Boeing motorcycle. Alan is standing in the background. I didn't even know there was a Boeing motorcycle.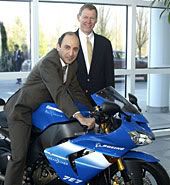 Anyway, do you guys think a 787 order could potentially follow?
[Edited 2005-02-11 16:59:54]