I have found an interesting analysis by leehamnet, that deals with expected figures of the two new re-engined NB's:
http://airinsight.com/2011/10/05/airbus-takes-on-max/
The report is based on the first profound defence from Airbus against Boeing's creative number measuring methodology. The report was presented at the ISTAT conference.
Depending on who tells you something e.g. the numbers for fuel per seat vary between +7% and -8%. See here: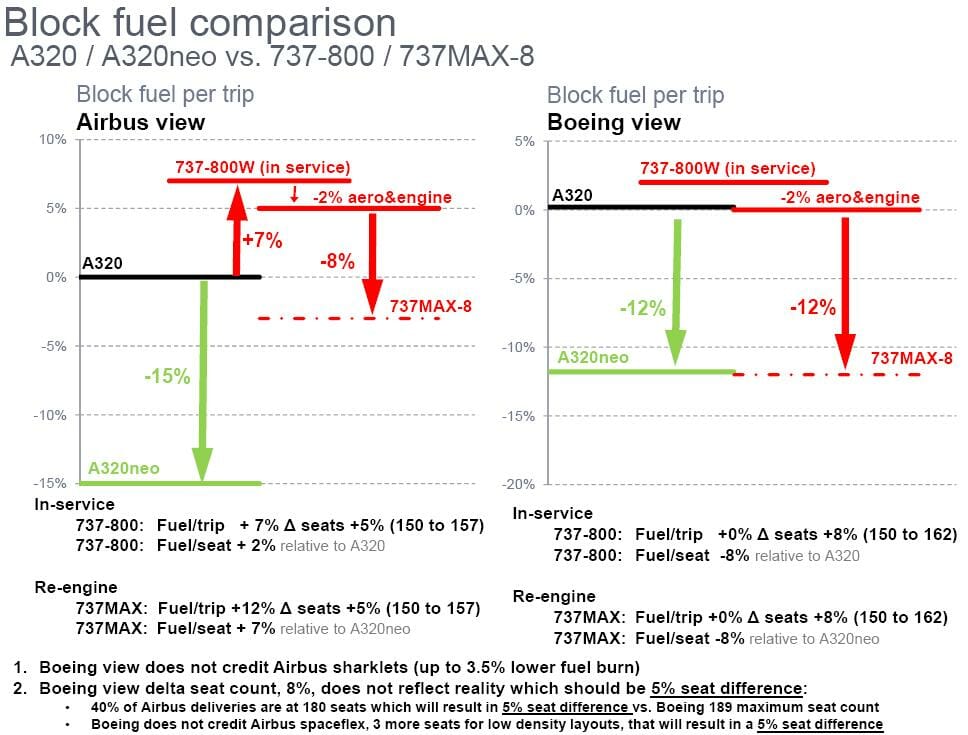 Some quotes to whet your appeitie:
Quote:
The controversy might be summed it with this question: If CFM had to upsize the fan on the LEAP to be competitive with the GTF on the neo, how can it now downsize the fan for the MAX and achieve the same result?
Quote:
Airbus, which has up to now claimed the NEO is "up to" 15% better than today's A320 family, revealed for the first time that this is "conservative," ... the A319neo will be slightly more than 15% better than today's A319 at 500nm and about 17% better at 2,500nm. Airbus concludes that the A319neo will be 7% better than the 737-7 (MAX) on a per-seat and a per trip basis.
According to Airbus, Boeing used the following tricks to reach their conclusions:
- Deny any improvement from PIP's for the A320
- Pick the oldest and weakest A320 engine for the comparison
- Pick the most favorable range for the 737 and the worst for the A320