The world's largest operator of the world's largest passenger jet, Emirates Airlines of Dubai is currently dispatching a fleet of 20 Airbus A380-861 aircraft across its worldwide network. More than 3 years after first taking delivery of the type, the airline received its latest aircraft at the very end of 2011, and plans to add up to 10 more aircraft to its active fleet during 2012. By the end of 2013 then, the EK A388 fleet should count 44 airframes, which by then may very well be deployed to all six continents.
With 20 aircraft in its fleet, Emirates is currently deploying the A380 on the following flights and destinations:
EK001/002 London Heathrow
EK003/004 London Heathrow
EK017/018 Manchester
EK049/050 Munich
EK073/074 Paris
EK097/098 Rome
EK201/202 New York
EK241/242 Toronto
EK302/303 Shanghai
EK306/307 Beijing
EK322/323 Seoul-Incheon
EK346/347 Kuala Lumpur
EK384/385 Bangkok and Hongkong
EK413/414 Sydney and Auckland
EK761/762 Johannesburg
EK803/804 Jeddah
EK805/806 Jeddah
Furthermore, the airline has announced plans to add Tokyo and Melbourne to that list in the course of 2012 as well as double the number of A380 flights between Dubai and London through the following additional flights:
EK029/030 London Heathrow effective January 24
EK005/006 London Heathrow effective March 24
EK318/319 Tokyo effective July 01
EK406/407 Melbourne and Auckland effective October 01
With these announcements, Emirates has accounted for the flight program of a fleet of 24 aircraft, a number which should be reached some time during Q3 2012. As the airline will take delivery of up to a further 6 aircraft between September and December of 2012, additional announcements of new A380 services are likely forthcoming.
A detailed overview of the flight program of the currently announced flights, based on an operational fleet of 24 aircraft is as follows:
With the exception of flights to Toronto, where EK only operates thrice weekly flights, and Shanghai, all A380 flights are daily. The airline is believed to be pursuing government approval for daily flights on the Shanghai route as well. The A380 flight program consists of 320 weekly sectors, 42 of which are tag on sectors on the BKK HKG, SYD AKL and MEL AKL routes. The entire flight program consists as such of 139 weekly roundtrips between the airline's Dubai home base and 19 different outstations, 17 of which are served nonstop. The geographical spread of these flights is as follows:
Europe (EK001-199) - 5 destinations - 56 weekly roundtrips
Americas (EK200-299) - 2 destinations - 10 weekly roundtrips
Asia (EK300-399) - 7 destinations - 38 weekly roundtrips
Oceania (EK400-499) - 3 destinations - 14 weekly roundtrips
Africa (EK700-799) - 1 destination - 7 weekly roundtrips
Middle East (EK800-899) - 1 destination - 14 weekly roundtrips
The operational characteristics of this flight program are as follows:
With an average daily utilization rate of just over 14 hours, Emirates is not really stretching its A380 resources thinly. When one takes into consideration the young age of the fleet and the fleet size of 24 units, this utilization rate is average at best and leaves plenty of room to overcome operational irregularities without jeopardizing system on time performance and operational stability.
The rather average utilization rates are also reflected in the greater than normal average daily ground time at the DXB home base. With over 6 hours of average daily ground time at DXB, Emirates has positioned itself very well to guarantee operational stability for this sub fleet of aircraft. This number ensures plenty of flexibility in aircraft dispatch and unforeseen yet inevitable operational irregularities should not lead to long lasting network-wide knock on effects.
The average ground time at outstations after each cycle stands at 3 hours 25. That may seem longer than necessary, given the fact that EK turns around its A380 in as little as 1 hour 40, but some longer ground times within the schedule (at JFK, YYZ, PEK and PVG for instance) are dictated by the need to offer commercially viable departure times which lead to arrival times that fit within the airline's DXB hub operation.
Some consideration should be given to the fact that not all aircraft in this sub fleet are identically configured. For reasons pertaining to crew rest, a number of aircraft, that are typically dispatched on the longer sectors (JFK, YYZ, SYD, MEL), are configured with a lower seat count in the economy class. While all 24 aircraft can be deployed on the midhaul routes, the longhaul routes are restricted to a limited number of aircraft. This arrangement somewhat restricts the degree of operational freedom, and can probably account for a slight reduction in utilization rate potential.
As indicated in the figure above, the average cycle length for the A380 flying program at EK stands at 7 hours and 25 minutes. That makes the A380 at EK by and large a medium range people hauler rather than a veritable longhaul aircraft. This fact does not indicate that the A380 would be unsuitable as a longhaul aircraft, but it rather has to do with the nature of the Emirates network, which contains a relatively limited number of true longhaul flights and a much larger proportion of midhaul flights. As a matter of fact, the average stage length of the A380 flight program at EK is second only to that of the airline's 10-strong B77L fleet, yet longer than that of such aircraft as the B77W or the A345,both of which were hardly designed as medium haul aircraft.
A comparison of average cycle block times with those of such airlines as SQ and QF and to a lesser extent LH and AF would reveal stark differences in the deployment pattern of the respective A380 fleets. A lot of that has of course to do with the geographical location of EK's home base and the aforementioned relatively small proportion of actual longhaul flights.
As Emirates expands its A380 fleet, it is unlikely that the operational characteristics will vary a lot from the current numbers. Given the importance of Europe in the EK network, it is highly likely that the DXB - Europe sectors will continue to account for up to 40% of the total A380 flying program. This aircraft deployment pattern, combined with the nature of the EK network, which will continue to feature a relatively small percentage of longhaul flights, is unlikely to significantly boost either the average daily utilization rate or the average cycle length.
Emirates has at some time in the past indicated its desire to also operate a number of A380 aircraft in a high density 2-class configuration. These aircraft would then be deployed to such high volume/lower yielding destinations as Manila and Jakarta. It remains to be seen whether the airline will actually move forward with its plans for such a sub fleet or will instead opt for a more uniform cabin layout that allows for maximum operational flexibility. An additional issue with regard to the deployment of high density aircraft is of course that it remains unclear if and when the airports that have been designated for such a service are ready to receive that A380 or whether EK would have to pursue alternative options such as a reinforcement of frequencies operated by 2-class B77W aircraft.
To get a more visual idea of the flow of A380 frames through the Emirates network, the following diagram gives an overview of the 139 weekly roundtrips in the above mentioned flight program for 24 A380 frames that has so far been announced by the airline. This diagram makes abstraction of the two different cabin configurations and it is set up for purely illustrative purposes and does not reflect the actual deployment pattern of each aircraft, but rather gives a general idea of how aircraft flow through the system and what degrees of operational flexibility are at the airline's disposal at its DXB home base.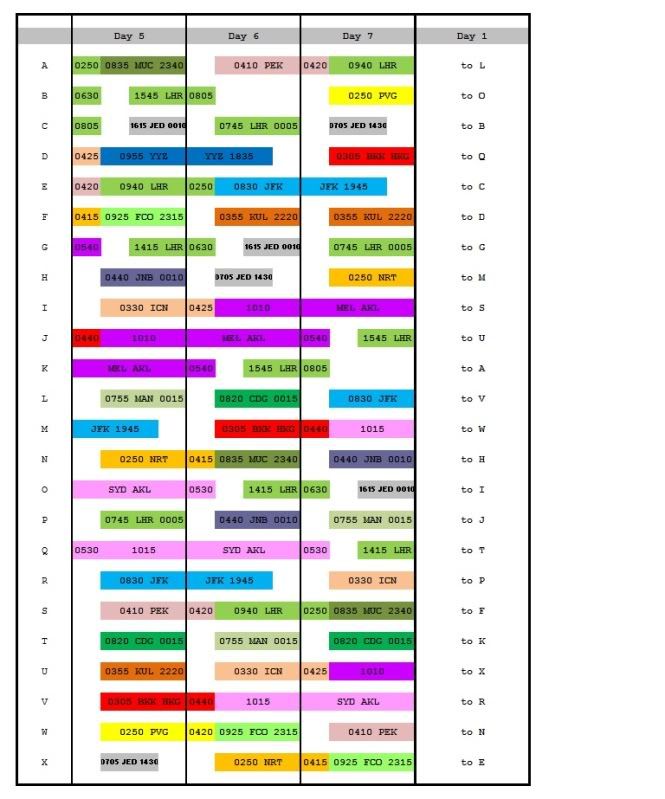 EK's DXB operation currently consists of 4 arrivals and departure banks, according to the following pattern:
11pm - 1am Midnight Arrivals Bank
2am - 4am Overnight Departure Bank
5am - 7am Early Morning Arrivals Bank
7am - 10am Morning Departure Bank
1pm - 2pm Daylight Arrivals Bank
3pm - 4pm Afternoon Departure Bank
7pm - 8pm Secondary Arrivals Bank
9pm - 10pm Secondary Departure Bank
The airline's two main arrivals banks are at midnight and early in the morning. The daylight and early evening arrivals banks are relatively smaller. On the departure side, there is such a heavy focus on the morning departure bank that it can actually be split up into two separate banks that roll into each other, between 7am and 9am and between 9am and 10.30am respectively. The overnight and afternoon departure banks are smaller in size, whereas the late evening departure bank is minor in comparison to the others.
As also indicated in the flow pattern above, the A380 departures and arrivals within this operational set up are as follows:
Midnight Arrivals Bank
KUL, FCO, MUC, LHR, JNB, JED, MAN, CDG, LHR
9 landings
Overnight Departure Bank
PVG, NRT, BKK-HKG, ICN, KUL, PEK, JNB
6.5 departures
Early Morning Arrivals Bank
NRT, PVG, PEK, ICN, HKG-BKK, AKL-SYD, AKL-MEL, LHR, LHR
8.5 landings
Morning Departure Bank
JED, LHR, MAN, CDG, JFK, MUC, FCO, LHR, YYZ, MEL-AKL, SYD-AKL
10.5 departures
Daylight Arrivals Bank
JED
1 landing
Afternoon Departure Bank
LHR, LHR, JED
3 departures
Secondary Arrivals Bank
YYZ, JFK
1.5 arrivals
Secondary Departure Bank
no departures
View Large
View Medium


Photo © Felix Gottwald
It is clear that the A380 operations at Emirates' DXB hub are heavily focused in the 11pm to 10am time frame when 17.5 out of 20 landings and 17 out of 20 departures occur. Indeed the entire EK operation is pretty much focused on that time frame, during which about 65% of EK's arrivals and departures occur. Nevertheless the A380 operation is even more skewed towards that pattern. This has undoubtedly to do with both the higher demand during these windows as well as with the need for the airline to circumvent saturation issues through the deployment of larger equipment.
At no other time in the EK operational setup at DXB are saturation issues coming more in the picture than in the airline's main morning departure wave. Whereas for arrivals, EK has developed 2 main banks of equal size around midnight and again early in the morning between 5 and 7am, the airline's departures are disproportionally centered in the 7 to 10am morning departure bank, which has grown considerably larger than the airline's other departure banks at 3am, 3pm and 10pm in order of magnitude.
It is no surprise then, that Emirates has opted to have more than half its daily departures located in the early morning departure bank, not only to cater for the relatively larger demand within this bank, but also to overcome increasingly acute problems of saturation. As more A380 frames are added to the EK fleet, we are sure to see more than half the new A380 departures leaving from the early morning departure wave. As the available space for new flights within this departure bank will become increasingly limited, additional flights will be restricted to new cities in Europe and the Americas only. All other growth within this bank will be derived from capacity upgauges, from B77W to A380, from A332/A343/A345 to B77W. This in turn will set in motion a redistribution of available capacity, with smaller aircraft being reassigned to secondary departure waves, thereby further developing these banks and ultimately creating a more symmetric operational pattern that will allow the deployment of A380 capacity in secondary banks, redistribute passenger flows and avoid further saturation issues.
Nothing is more tempting than to engage in a round of speculation regarding the future network development and aircraft deployment for an airline as expansive as Emirates. Still, with the above mentioned commercial and operational considerations taken into account, the following is a list of what I believe to be prime candidates for future A380 operations within the EK system:
EK007/008 London Heathrow
EK015/016 London Gatwick
EK045/046 Frankfurt
EK087/088 Zurich
EK133/134 Moscow
EK147/148 Amsterdam
EK215/216 Los Angeles
EK225/226 San Francisco
EK261/262 Sao Paulo
EK334/335 Manila
EK380/381 Hongkong
EK404/405 Singapore and Melbourne
EK418/419 Bangkok, Sydney and Christchurch
EK770/771 Cape Town
EK783/784 Lagos
This limited list of potential A380 flights represents a total daily utilization of just over 310 block hours. At current average utilization rates, it will require an additional 22 aircraft to be operated on top of the currently announced plans for 24 aircraft. With a fleet of 46 aircraft, Emirates would in other words be able to operate the existing flight schedule as well as the above 15 daily roundtrips. As the airline plans to operate a fleet of 44 aircraft by the end of 2013, the earliest all of this could potentially happen is the beginning of 2014.
Even after this limited number of flights have been taken into account, it is clear that plenty of new opportunities await this airline and that it is only a matter of time before additional destinations and network components become ripe for A388 deployment. It gives at least an indication as to how the seemingly excessively large backlog of A380 orders for this airline may be more realistic than some may believe.