I made up this general graph based on pure theory.
I need someone to criticize this
mainly because I have never actually seen an L/D ratio graph for supersonic transports -- this type of graph doesn't exist in
any
of my aerodynamics' texts, but the formulas to make it do.
From this graph below, an (L/D) max exists for the two different speed ranges before and after Mach 1. I think the dip in the middle is due to the sound barrier and the second lift-to-drag max is due to compressed density that increases lift and drag to a point where it drops-off on the left due to wave drag overtaking compressed lift.
If something doesn't exist on the picture below, please tell me A.S.A.P, otherwise I will assume it to be a general approximation of what really happens.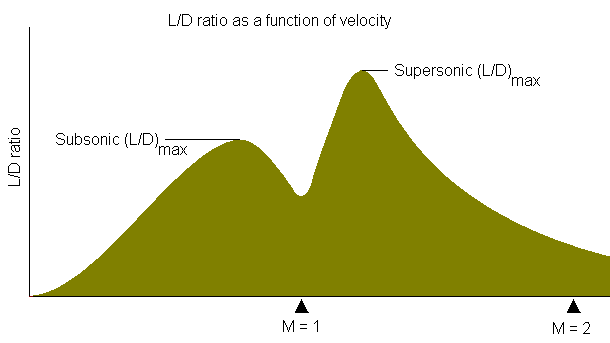 note: if there is a second L/D max, i don't think it is that much higher than the one for subsonic flight. On the otherhand, an SST isn't designed to fly subsonically.