This thread deals with adding new and replacing default textures and models in Ultimate Traffic. Be warned that this may become an obsession and that hours once spent flying will be instead spent hunting for repaints and/or models.
Off we go!
First, make sure you have all of the traffic set to show up in UT. To do this, click the "compile" button on the top left of the main screen. At the bottom right there is a check box that if checked will compile aircraft that have not been painted in an airline livery. Make sure this box is checked. Click continue on the bottom right and follow the instructions.
While you're recompiling I highly recommend that you get the Traffic View Board from Avsim.com (tvb_v2.1.zip). It will be very helpful in identifying the default planes that are not active (not flashing their departure and arrival airports, flight numbers, etc... above them).
Now that you've got your traffic compiled to include the unpainted aircraft and you've got the Traffic View Board installed its time to go hunting! Sooner or later you'll come across something that looks like this.
Each different aircraft has its own default paint job but you'll soon be able to recognize them. So now we get out our traffic view board, we'll need either the arrival or departure airport and the flight number. You can list aircraft by arrival, departure, in flight, or on ground. To find unpainted aircraft you'll want to look at the flight number. Normally you'll see the two letter code followed by the flight number BA 402 for example. The default paints, since they don't know which airline they belong to list -- for their code. Scroll around until you find some. Press the "Follow Aircraft" button on the lower right and you'll go right to them.
Our mystery 767 is listed as --1 from LHR to SEZ.
Our next step is to go back out to the Ultimate Traffic and check out the arrivals for SEZ and see who operates Flight 1. Normally you could just search for the flight number in the PDF but since the flight number is a single digit that would waste lots of time. Click "Time Table" on the main UT interface. Make sure its set to either departure or arrival depending on your case and type the airport ID in the box, in this case SEZ. Select the airport and hit generate.
It looks like our mystery plane is an Air Seychelles 767-300 (arrow added for emphasis)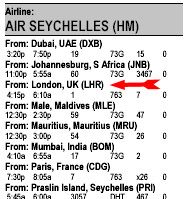 Now we need to find a repaint! I have all of the AI Aardvark models installed on my computer so we'll search for a repaint on Avsim. Sure enough its there. (aav_b763_air_seychelles.zip)
I'm assuming you know how to install aircraft and repaints so I'll not bore you any more than need be with that process. The install of AI aircraft is no different than any other aircraft although with AI you needn't worry about a panel or sound. It is important to note that the AI Aardvark have models for each engine variation. This repaint is for the 763 with Pratts. I have a separate folder for each engine variation on my computer for the sake of simplicity. See below for an illustration.
To assign go to the utilities part of of UT and click on "aircraft" at the top right. Select Air Seychelles as the carrier airline (drop the box down and start typing the name in the box, its easier) Select Boeing 767-300 as the equipment type, notice that it is assigned to a default paint scheme. For all of the AI Aardvark planes the Manufacturer name is Aardvark so select that from the dropdown box. Select Boeing 767-300 in the "Type" box and finally, select Air Seychelles as the variation. Press the "insert" button and then save in the lower right. **Note that if you are replacing an existing texture you''ll need to use the remove button and then insert the replacement texture. If the old one is not removed, both the new and the old will show up together.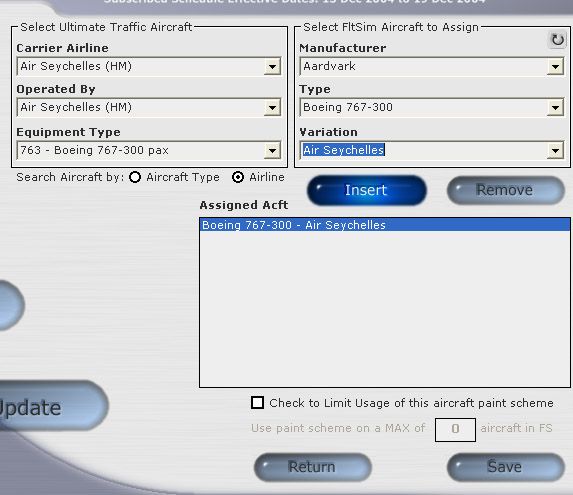 Recompile your traffic file...
Success!!!

If you have any questions or comments feel free to leave them here and I'll get back to you as soon as I can.