The Details
Today sees Eire Air complete a full takeover of Sun Airways!!
This comes as Sun Airways goes through a reconstruction and quite possibly on the border of closure. I have now taken the CEO position at Sun Airways whilst Jamie Taylor, former Sun Airways CEO has joined Eire Air as Vice CEO.
I think this will be a better move for both airlines with plans now underway to fully relaunch Sun Airways by the end of march. this will include a newly designed website and livery with an automated system
As it stands at moment Sun Airways was operating from Glasgow, Bristol and Gatwick...these will be reviewed by the Sun Airways management as well as the current fleet status and any changes will be advised shortly
I cannot stress enough that this is not a merger...both airlines will remain independent of each other and hopefuly we can get Sun Airways back on its feet again. any current Sun Airways staff can be assured their positions are safe and will recieve full support from myself
Finaly just a warm welcome to Jamie Taylor onboard the Eire team hope you enjoy you position with us.
-------------------------------
Ok guys myself and Vice CEO Jamie Taylor have had a lengthy discussion about the relaunch of Sun Airways and i think we have come to quite a good setup for the operations
FLEET
Now after reviewing the current sunairways fleet, we have decided to keep the 737-700 and 737-800 type aircraft and also pull the 757-200's out of storage. all future orders are cancelled for the time being so we can concentrate on our European Operations
Total inventory
757-200 - 8 (2 will be leased to Eire Air in March)
737-800W - 12
737-700W - 6
HUBS
Final hubs to be at Edignburgh (EDI), Manchester (MAN) and Gatwick (LGW)
London gatwick will have the 757's and 6 of the 738's operating from there.
Manchester will have the 6 737NG and 3 of the 738's.
Edinburgh will take the remaining 3 738's.
SERVICE
Sun Airways is destined to be a full service airline and flying to major European cities with an one class premium setup with leather seats and ptv's.
WEBSITE
In production expect a similar design to eire air's current site obviously with new graphics and content..forums will follow shortly
Oh and the logo will change as well and more info will follow regarding Sun Airways brand.
Below is an example of the new Livery: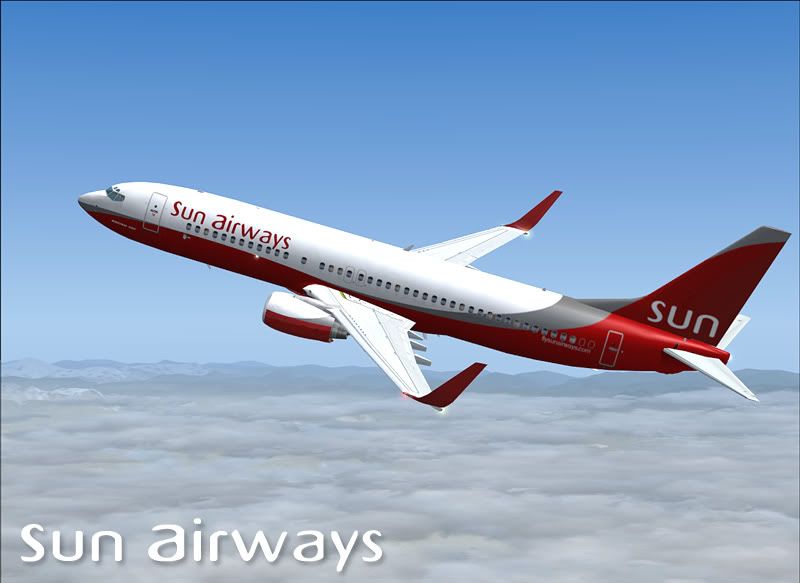 Jamie Taylor
PP Darren Walsh