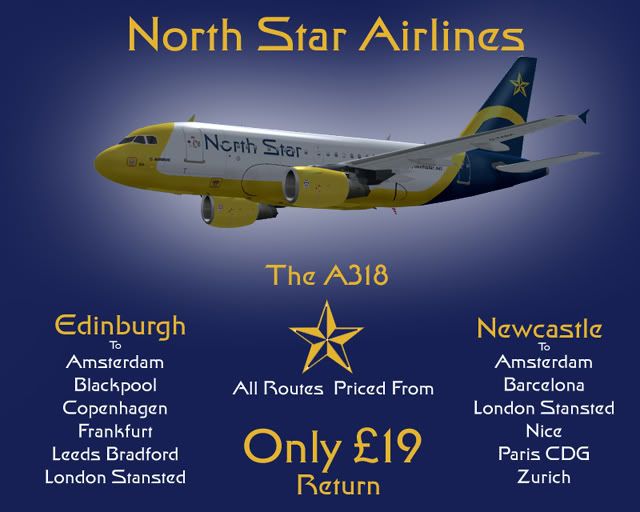 Contents
1)
Login and PiRep Systems Upgrade
2)
"e-Xpress" Letter Launched
3)
North Star Holidays - New Product Announcement
4)
CityConnect Closure
5)
A318 Services - Edinburgh Flights Start
6)
Edinburgh International and Newcastle International Long-Haul Expansion

1) Login and PiRep Systems Upgrade
North Star have had an increase in pilot applications, and we felt that handling all Pilot Contracts and PiReps would shortly become too much to handle. So with teh help of 'e-Pirep' we have incorporated a new Registration and Login System:
URL removed in accordance to Airliners.net rules and regulations
URL removed in accordance to Airliners.net rules and regulations
We feel that even though this is not our own system, we will be able to effectively and easily handle all Applications and PiReps.

2) "e-Xpress" Letter Launched
Passenger Pushing Service Button -
**DING, DING**
Passenger -
Do you by any chance have anything to read?
Flight Attendant -
Why yes sir, our own In-Flight News Magazine.
Passenger -
Why thank you, what a wonderful idea.
e-Xpress by North Star is a new In-Flight news magazine for North Star Airlines and North Star Sun news. We even have a downloadable .PDF version avaialable for the public to view from this website:
URL removed in accordance to Airliners.net rules and regulations
Full of our latest news, the perfect addition to your North Star Travel Plans.

3) North Star Holidays - New Product Announcement
North Star Sun have been working alongside a leading Investment company to register a new Travel Agent under the name 'North Star Holidays'. All holidays, at this time, must be booked via the web but in the future travel shops may be opened.
You can visit North Star Holidays here:
URL removed in accordance to Airliners.net rules and regulations

4) CityConnect Closure
Now onto some rather sad news from North Star Airlines. We regret to inform, after months of troubles, that CityConnect will cease to exist as a trading company as of 1st June 2006. Luckily we are operating the A318's on many of the ex- CityConnect routes, which means passengers already booked on services will be refunded and transferred onto these services.

5) A318 Services - Edinburgh Flights Start
The best news of this evening! As you can see from the Advertisement at the top of this post, the A318 flights are ready to go. As of June 1st 2006 the first Airbus A318 for North Star Airlines, registered as G-TABA, will commence operations from Edinburgh Turnhouse International. This is a great tribute to all of the effort put in over the past 2 months, even with increasing pressure over the past month. We hope that passengers will be satisfied with our new Domestic/European Short-Haul network with Business Class and Economy Class.

6) Edinburgh International and Newcastle International Long-Haul Expansion
Last, but certainly not least. I am not willing to divulge any more information until July, as the proposed services will launch in October.
These services will see us increase our Long-Haul network to over six U.S. Destinations from our Main Hubs in the UK.
More Info Will Be Release A.S.A.P.

Please Ask Us
ANY
Questions. We will be pleased to answer all.
Regards
North Star Team