This past weekend we were blessed, or so we thought, with a special visitor ... the Air Atlanta Olympic Torch Relay 747. We could hardly wait the week before she arrived, but we kept busy trying to find out an arrival time. It was almost impossible. One newspaper reported that the torch relay would begin at 10:30 a.m., another at 11:00 a.m. My friend, Alex the "Mad Russian" Kroychik from DEN, had contacted us the day before and was flying in Friday afternoon hoping to get the flight when it arrived Sat. morning. Alan Ling from Vancouver was also in town for the event. We sent e-mails to the locals and a group was formed to meet Sat. morning at whatever time she would arrive. Alex and I stayed up to 1:00 a.m. checking Flytecomm for the times, but they weren't posted until after I called it a night. Having seen the times for its arrival in ATL and knowing when the relay would start I figured the latest she'd arrive would be 8:00 a.m. I set the alarm clock for 4:15 a.m. and went to bed to get a couple hours sleep.
When the alarm clock forced me out of bed at that unGodly hour I immediately checked Flytecomm and she was listed. The #2 aircraft was due at 7:05 and the #1 a few minutes past 8:00. My next stop was to yell downstairs for Alex to get up and then to the phone to call Mike Primamore and fill him in on the details. Then a quick call to Matt Celmer to tell him to get his butt to Planeview Park by 6 so we could pick him up on the way. Then a quick call to JFK ATIS to see what the conditions were like. They were terrible, but we were hoping they'd improve by the time she arrived. The conditions made little difference since this was something special and we wanted to be there anyhow, just like the last Air France Concorde flight in the rain and the last British Airways Concorde flight at sunrise. By 5:30 we were on the road to JFK.
Where I live, about 10 miles fromt he George Washington Bridge (GWB), the Sun was rising and there was light. Yes, it was hazy, but acceptable. When we crossed the GWB we got our first real inkling of what the weather truly was. Normally we can see the city skyline in the distance, but not this morning. We couldn't even see the buildings on the other side of the river. The 4s were active so we needed to head over to Bayswater Park for the shots, of course it's the spot that's the furthest away, but everything worked liked clockwork. We arrived at Planeview Park, picked Matt up and continued our drive.
We arrived and made the five minute walk out to the viewing area just in the nick of time. There was Alex, Anne, Matt, Mike P. and myself, the early birds, and surprisingly there wasn't a single fisherman there. Strange. We had time for one aircraft to arrive and let us test our exposure to see how bad things really were. I'll let the pictures do the most of the talking for what happened the rest of the day ...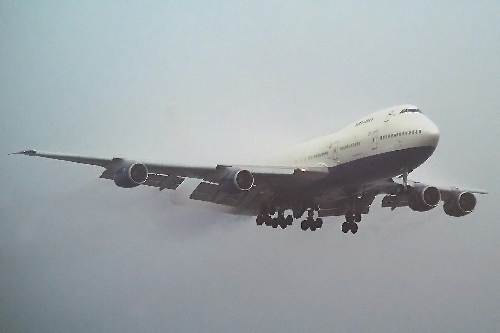 No sooner had we taken the test expossure we heard the #2 flight cleared to land. As you can see by the above she's emerging from a thick fog bank about 200 to 300 feet above. But we weren't too discouraged. We hoped things would improve over the next hour before the #1 aircraft arrived, and they did ...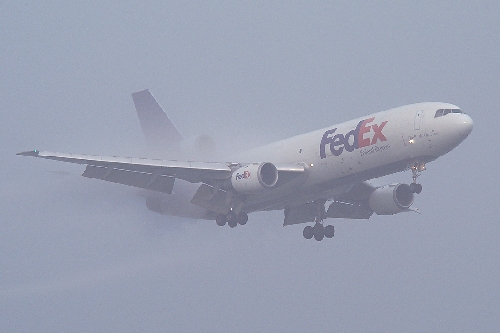 Hell, for a minute there we actually saw the Sun and it got significantly brighter. Just before 8 a.m. we were joined first by Tom Turner and then by Mike McLaughlin and Alan Ling. We had a few laughs and showed them the pics of the #2 aircraft, and for the next half hour we watched in horror as the Sun disappeared and the celing fell. Finally it was time. We heard the tower clear the #1 aircraft for a 4R arrival and we waited. As we had done for the last few aircraft we watched with eagle eyes and saw nothing at all as she passed us. We could only hear the whine of her engines and we followed the sound as it made its way toward the runway. Dissappointed we hadn't seen a thing ...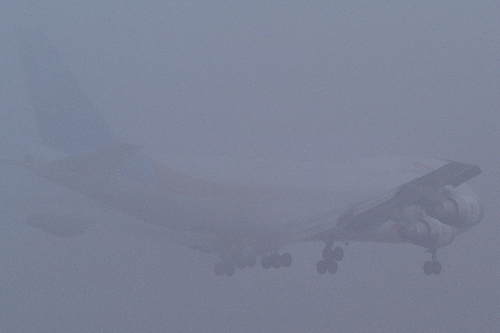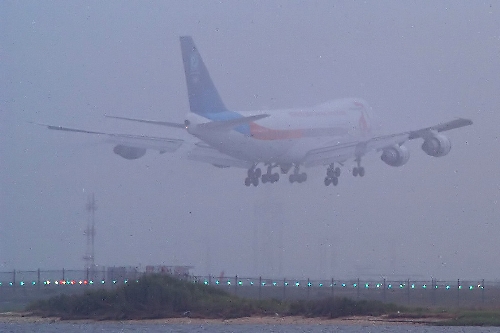 She broke out of the fog at about 100 feet and we managed to snap a few shots for our personal collections.
With the conditions being so bad we decided that breakfast at the local IHOP was in order so we left Bayswater hoping things would improve. We enjoyed a nice breakfast and things did improve over the next 2 hours. We could actually see the planes departing before they went into the overcast above 500 feet. We had hope. Anne, Alex and myself decided to run back to Bayswater to see if things there had improved while the others elected to go and get a ground shot of the #1 aircraft. Arriving at Bayswater we noticed no improvement at all. You still couldn't see the planes right in front of you. That fog was just hugging the water.
Within minutes of our arrival at Bayswater JFK did it's usual ... they changed runways to the 22s so we jumped in the car and headed back over to the mounds for 22L arrival shots. It was early though and the light was bad ...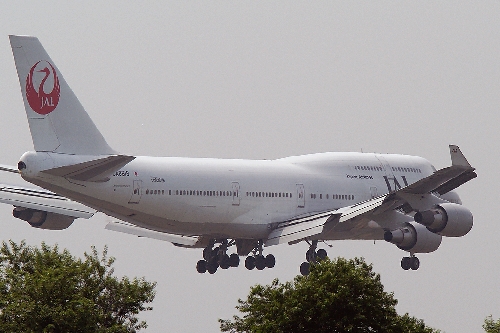 Soon after we got a "where are you" phone call from the rest of the group and they joined us at the mounds. But, arriving and seeing the bad light, Mike M. suggested we follow him to another spot for 22L arrivals. We did and there is no question the light was much better as witnessed by this shot.
Can you believe we went from the earlier conditions to this is just a few hours? This spot is much better for morning/early afternoon shots of 22L arrivals, but I was leary as the PAPD likes to visit you at this spot. And it's impossible to keep a low profile so I use it very rarely. We were expecting a visit at anytime but, fortunately, JFK did it to us again ... they switched runways to the 31s and we were soon feeling the relief of leaving this spot for the more comfortable surroundings of the COSTCO parking lot where we continuted to enjoy the nice weather and sky ...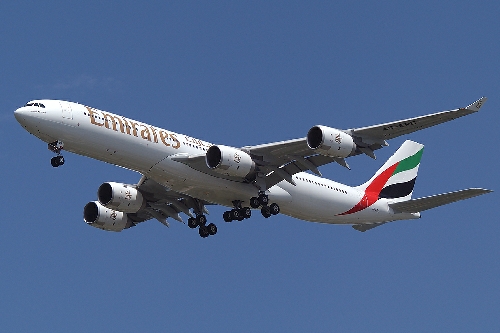 Calling it a day we decided to ride by and get a shot of the #1 aircraft parked, and wouldn't you know it ...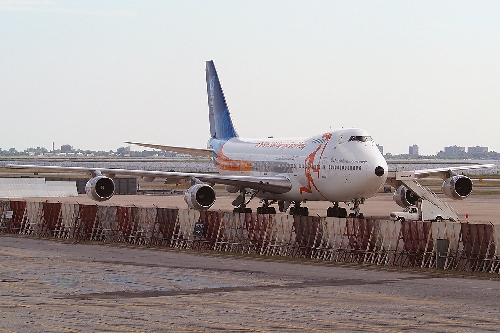 It was parked to close to the fence to get a good clear shot. I guess it just wasn't meant to be for us that day ...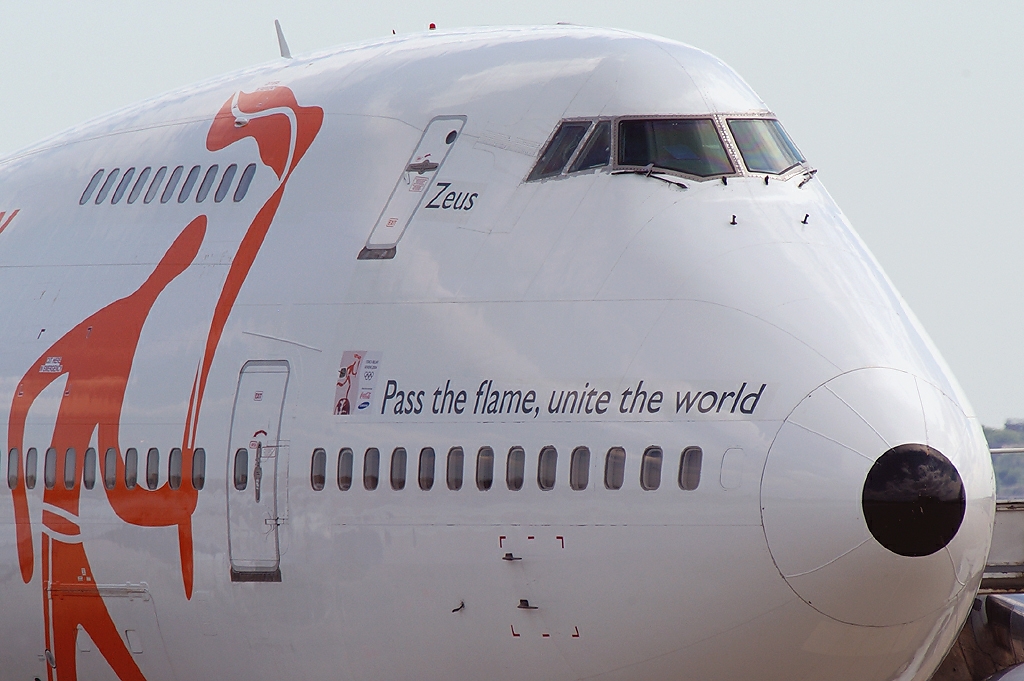 I did manage this shot that I like and thought ... "Pass the flame, unite the world." Wouldn't it be nice if we could
With Alex safely on his UA 762 flight to SFO and Matt dropped off at the US Airways Terminal at LGA Anne and I headed home for a quick dinner and some sleep. We were in bed by 9:30 with the alarm set for 4:15 a.m. again as we were thinking of going and getting the departure of the Torch flights. I awoke and checked Flytecomm to find it confusing. Two #1 flights listed minutes apart with the first leaving at 5:54 a.m. I chased Anne out of bed and within minutes we were headed to JFK checking the ATIS along the way. Conditions had taken an about face and the day was absolutely perfect. And, best yet, they were using the 31s so there was hope that we'd get that nice banking shot. We arrived at Howard Beach just before 6 and waited for the departure. This time we knew what was happening as we could see the two aircraft sitting by the old TWA hangars across the bay. A few minutes after 6 the #2 aircraft began to move and we were excited. Now we just needed that long low climb with a nice bank. The Sun was still not in a great position and I knew it wouldn't hit the aircraft until she was well into the turn, but who really cared as this was the #2 aircraft and not the #1 aircraft ...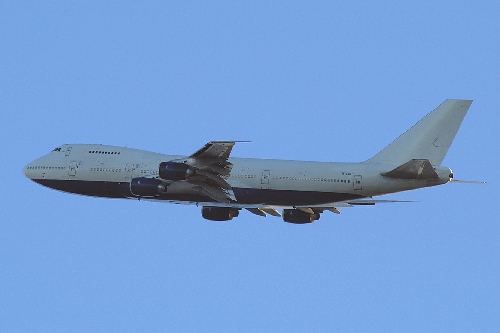 She tookoff beautifully and continued her runway heading for quite sometime before beginning her procedural turn over Howard Beach. Just like we wanted and needed. Unfortunately she didn't give us that bank we like so much and the Sun was still not hitting the aircraft even when she was well into the turn.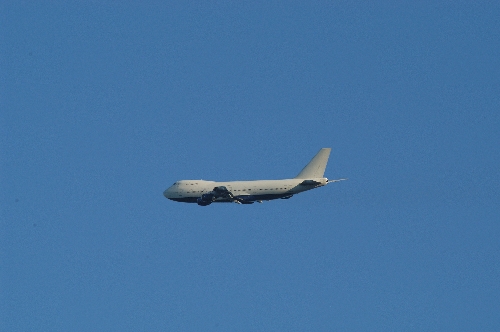 The above shot gives you some idea as to how far she was before the Sun hit her. It's full frame at an equivalent 600mm. Now the wait for the #1 aircraft began. We weren't sure exactly when she would depart but felt it would probably be an hour later. We waited patiently taking some shots as the Sun improved over the next hour ...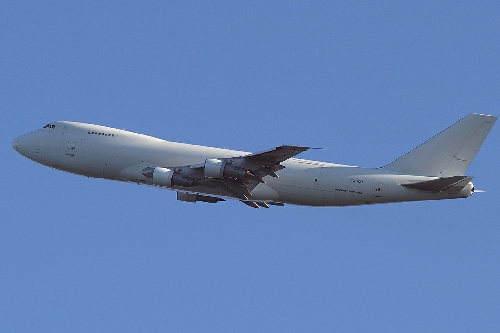 Watching this untitled El Al cargo 74 depart we had hopes for a nice shot of the #1 aircraft. As expected she began to taxi and Anne and I waited patiently for her to reach the end of 31L and depart. Just after she started moving we were joined by Conrad. The only other photographer that we saw. We heard her cleared for takeoff and saw her tail begin to move down the runway and jumped out of the car to get our pics. We knew immediately it was bad news. She was off in a heartbeat and, when they get off that early it means only one thing, she was going to pass right over our heads.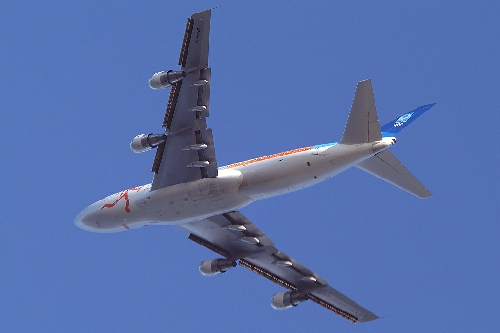 Naturally we were disappointed, but the important thing is that we were there to hear and see it. Not sure if that will ever happen again so we couldn't miss it and it gave us an opportunity to spend some time with some good friends. So, all things considered ... we enjoyed our outings.
Given the beautiufl day Anne and I decided to stay and shoot a few arrivals on 31R before heading home and crashing from the two early mornings. We ended the day with this shot ...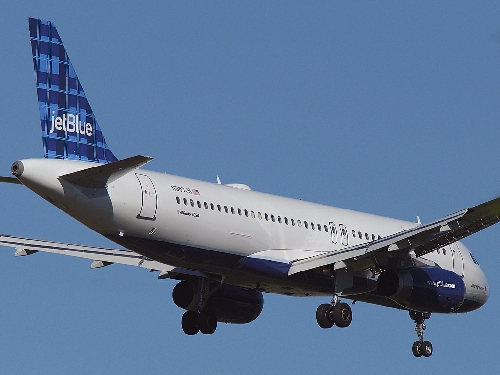 Art