Hello,
I'm doubting to send one of my recent shots from EBOS/OST: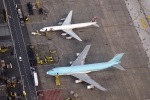 What should you do in my case? Send it to the queue, rework some details, or don't spoil the time of the screeners?
In case of sending it, what criteria to fill in? 'Cargo' for sure, 'Airport Overview' also (?) and 'Hybird c/s' since I filled in the ex Korean's registration.
Any other remarks are welcome off-course
Thank you for the help so far