Hello
!
As some of you already know by now I do alot of spotting and photo taking at Port Elizabeth (FAPE/PLZ) airport. Anyone else been spotting at this airport before? It isn't such a good airport for taking photos as they are a limited amount of places accessible, or either you get told you can't spot there or the area is close to the location (township) which makes it unsafe and is very hard to access. Here's some of the places I have tryed out:
Yellow X : Would be an excellent place as it is at a higher level than the runway and is also very close to the runway, only problem is that it's very rare you see aircraft landing on this runway (17/35).
Red X : Good place to spot landing aircraft, is close to the runway and you get to see the aircraft touch down, only problem is you need an off road motorbike to get there and it is quite close to the location (township).
Green X : You get close to the aircraft taxing past here, only problem is when the gates closed you have to try take pictures through the fence.
Blue X : Good place to catch aircraft taxing past and would be a good place to take shots of landing aircraft with a good lens. Also the Imperial Air Cargo 727F park right next to the fence here, the only problem is sometimes I get told I can't go here even though it doesn't say I can't and it is an open stretch of grass.
Black X (top) : With a better lens (zoom) this would be my favourite place shooting aircraft on final on runway 26. Only problem is it's right next to the road and everyone can see you when they drive past.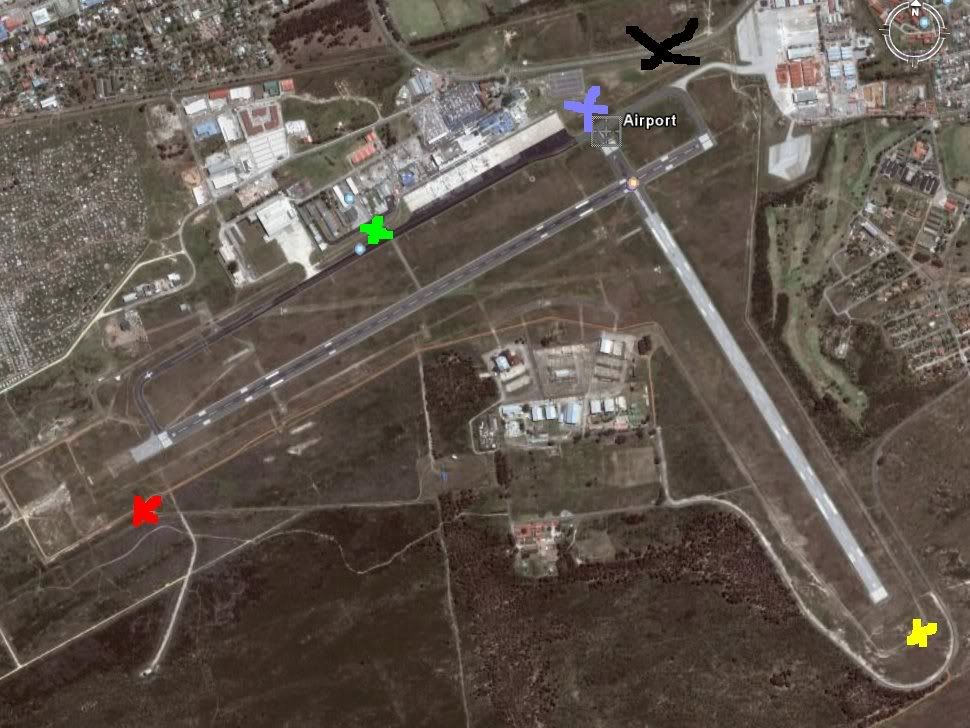 So there you go, my main spotting places at PLZ. Anyone know of any others that I might not have been to, or is there anyone that flys into PLZ (Pilot) or works there ?
CaptainDanieL