Cal Jet by Elite Airways: Work in Progress – Las Vegas to Carlsbad
Photo link:
http://s1213.photobucket.com/user/Carfi ... ctober2017
Thanks to twitter and I found out that a new airline, Cal Jet has been operating flights between Carlsbad, CA, and Las Vegas since September 28, 2017. If I knew about this new airline earlier, I would have attended the inaugural flights. Knowing the volatility of the airline business, as well as countless failure of new airlines especially California Pacific Airlines, which propose to fly in and out of Carlsbad using a fleet of E170s, I decide to take a fight on it ASAP. I had to be in Vancouver on Tuesday October 10, so I just started my trip a day earlier by flying to Las Vegas to catch the roundtrip on Cal Jet to Carlsbad, and then back the next day, and then I just flew to Vancouver from Las Vegas. From its website,
www.caljetelite.com
, Cal Jet uses Elite Airways' CRJ-700 and offers both first and economy class. Given the last-minute nature of the ticket, I decided to fly first class on the outbound to Carlsbad and then flying economy class on its way back. But things did not turn out the way I envisioned and planned. Lesson learned: flying from an out station does not always give the best impression to a new airline. Cal Jet has lots of work to do with its ground agent at Las Vegas, Worldport, and it will also be nice if Cal Jet actually reply to email inquiry. However, its strength comes with a friendly and excellent operation from Carlsbad, a nice small airport, and a much more efficient social media/twitter team. Inflight service is fairly impressive given their average flight length is forty-five minutes but if you are going to offer a first class and charging $299 one way, a real first-class cabin, instead of a European style, will be nice. I hope you will enjoy the first review.
Booking:
Cal Jet basically uses the same system as Elite Airways, which is no surprise. While the website is fairly detailed (but some information is inaccurate), I need more specific information about the airports that Cal Jet flies to – which terminal you are using, opening hours, more specific gate and baggage carousel information. I was able to book my mixed class tickets with little issues, but regretted this decision. I was unable to reserve seats on the outbound flight but was able to select a seat for the return. That should send be a warning sign that the reservation system is not handling mixed class ticket well. Elite Airways is actually a mono class operation using a mix of CRJ-200s and CRJ-700s. Despite these initial issues, Cal jet actually allowed you to send email inquiries about individual bookings, so I sent out some inquiries. Unfortunately, no one ever answered my questions before the flight. Given the short notice, I just thought that I would just get a seat assignment at the airport, but I was naïve. Lesson learned and advice here – please call Cal Jet if the website can't accomplish any tasks, especially if you fly out from Las Vegas, in which Cal Jet does not have its own staffs. The email functions did not work on its reservation system so don't bother sending them inquiries. Reach out to them on twitter, if you have an urgent question. Someone will reply back if you post questions during their working hours. You should also call them too. Given its current small operation, it might be helpful to talk to them directly.
October 9, 2017
7Q 106 LAS-CLD Lv1445 Arr1545 Canadair CRJ-700 N78EA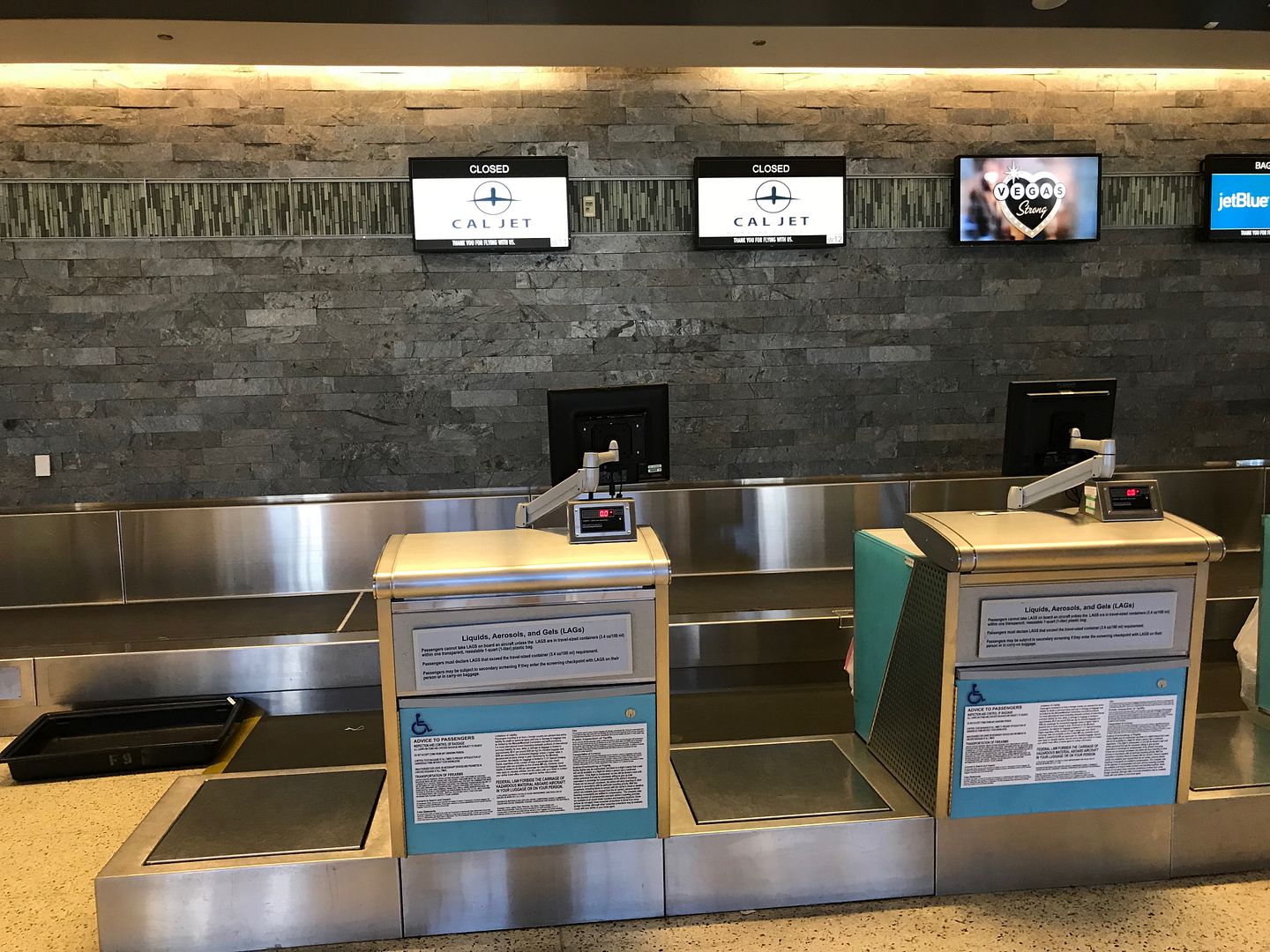 Check-in:
Cal Jet obviously uses a third party, WFS, in Las Vegas, and they have a station manager with three agents that serve as check-in and gate agents. Their check in desks are located in Terminal three, next to JetBlue. There are two desks and there is no priority check-in for first class. However, given its small operation, I don't think they need a first-class lane, although it sorts of takes away an advantage. There are ways that they can set up a priority desk without the need to hire a third person. You can just set up a priority lane and the agent will only check first class passengers when they arrive. I arrived at the desk a bit too early the first time so I just took a coffee break in Starbucks. When I came back around 12;45pm, there was already a queue. At least the load looked okay given it was their second week of operation. There was a bit of wait, as the agents were still not familiar with the check in system.
When it was my turn, the agent had issues with my mixed class ticket. They did not see any seat assignment on my reservation, so tbey did not know what to do. So, the agent just assigned me 5A and I asked her, "is this first class?" because it did not sound right. I thought it was pretty straightforward. The main agent just asked me, "Did you have a seat number?" I just told her I could not get a seat assignment on the website. The agent just told me that the seat was the first row behind first class, but we circled back to the point that I bought a first-class ticket and should get a first-class seat. Since there were still people behind me, I decided to let it go and argue with them in the gate.
Boarding Pass:
Since I did not get first class seat assignment, I got my priority security screening in Vegas. Since I don't see Cal Jet listed in the priority lane, it is pretty safe to say that there is no priority security access for first class passengers. They don't have TSA PRE, too, despite they asked for the PASSID when I booked the ticket. Security was busy but not too crazy.
Gate:
Similar to a few airlines using terminal three for check-in and baggage, Cal Jet actually uses a gate in Concourse D of terminal Two. D59, which is a gate with no jetbridge, is the official gate for Cal Jet for now.
I tried to argue my case again in the boarding gate, since the flight was obviously delayed (but no one bothered to tell the passengers.) Of course, it went to another dead end, since the agents were the same ones in check-in. They just refused to listen and look at my e-ticket receipt, or maybe they could not read an e-ticket receipt or are not trained to read them. Then I contacted the twitter team, which responded me within 30 minutes. They really tried their best but despite sending out multiple messages to the station, the manager never replied to the headquarter at Carlsbad. Cal Jet was aware of the issue. They checked my reservation and clarified that I was in first class. However, they could not reach any agent in Las Vegas, despite they were just hanging out in the gate chatting among themselves. I am honestly not impressed and still wonder how can the headquarter unable to reach the station manager here in Las Vegas. They could at least call or text him. In the end, the twitter team told me just to take a first-class seat when I boarded and showed them the message that he sent me. However, I was not comfortable with such arrangement, but they told me that they would upgrade me to first class on my return tomorrow regardless of what happened in the end. Since Carlsbad is their home base, they can arrange those things easier.
Of course, as an aviation geek, I was tracking the inbound flight. It was easy when the whole airline only owned one single CRJ-700. N78EA arrived back in Carlsbad at noon, but was still in Carlsbad. Nobody in the gate was saying anything even though our departure time of 2:45pm was impossible. There was no plane there. I saw gate agent pacing back and forth between the gate and the podium, as if they were not aware of the delay, which the reason was never given.
The FLIO did not show any delay too and the gate podium actually showed the flight completed.
Finally, the plane took off at 2:44pm from Carlsbad, and here is the screenshot.
However, the misinformation continued, as they agent announced that we would be boarding in fifteen minutes at 3pm. Talk about being not ready! Thankfully, the passengers were all pretty relaxed but many of them did not look forward to the evening traffic.
N78EA finally showed up at 3:45pm.
Boarding began at 4:01pm and I tried to wait till last to board. Since I did not have first class seat assignment, I wanted to wait till the end to see if I was able to get a seat. BTW, there was no first class boarding and unlike their home base, it was open boarding after the wheel chair passengers boarded. There was basically no boarding organization here.
The only great aspect of boarding in open air is the photo opportunity!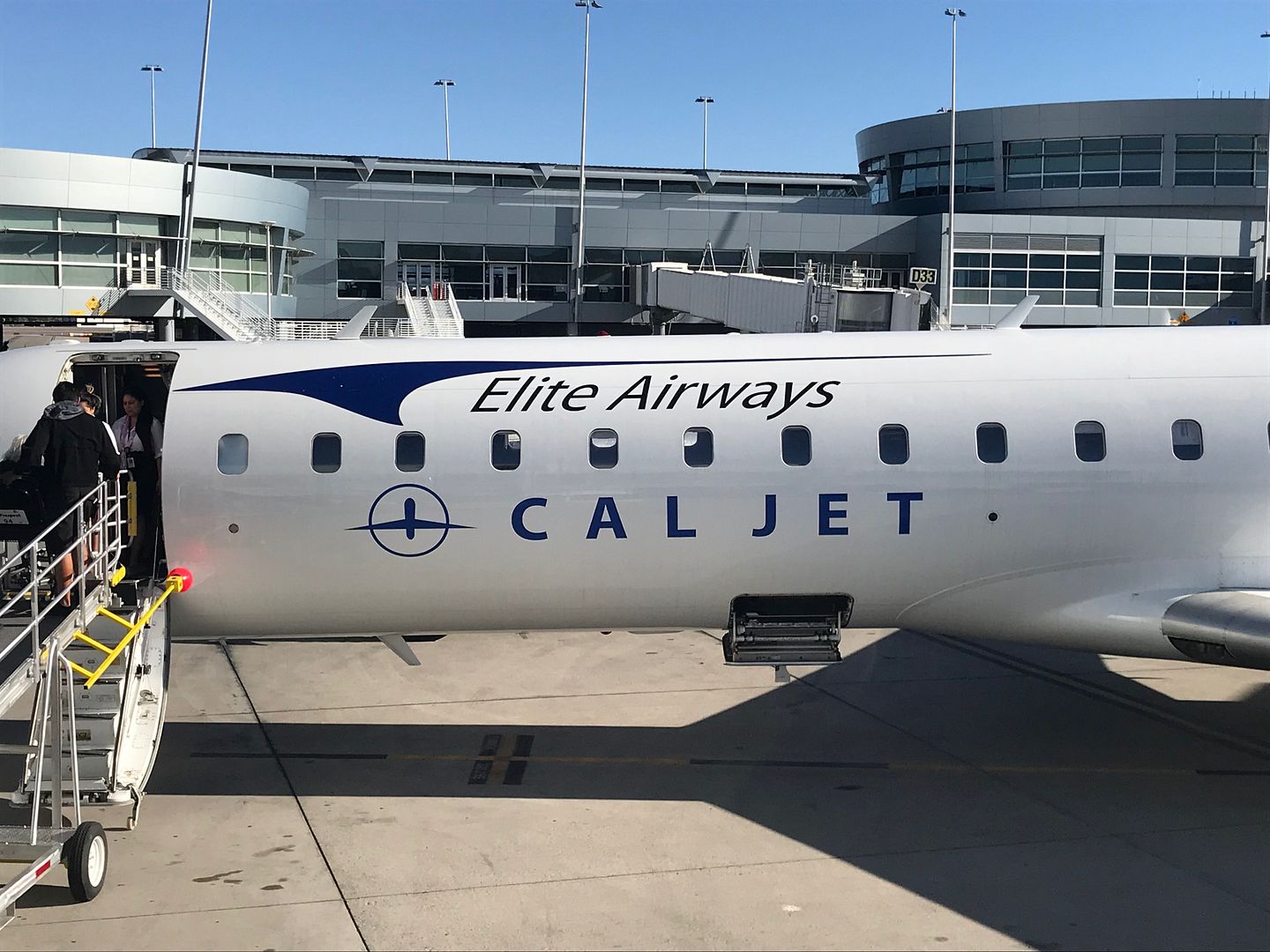 Beautiful plane but it will be nice if there is actually a tail livery!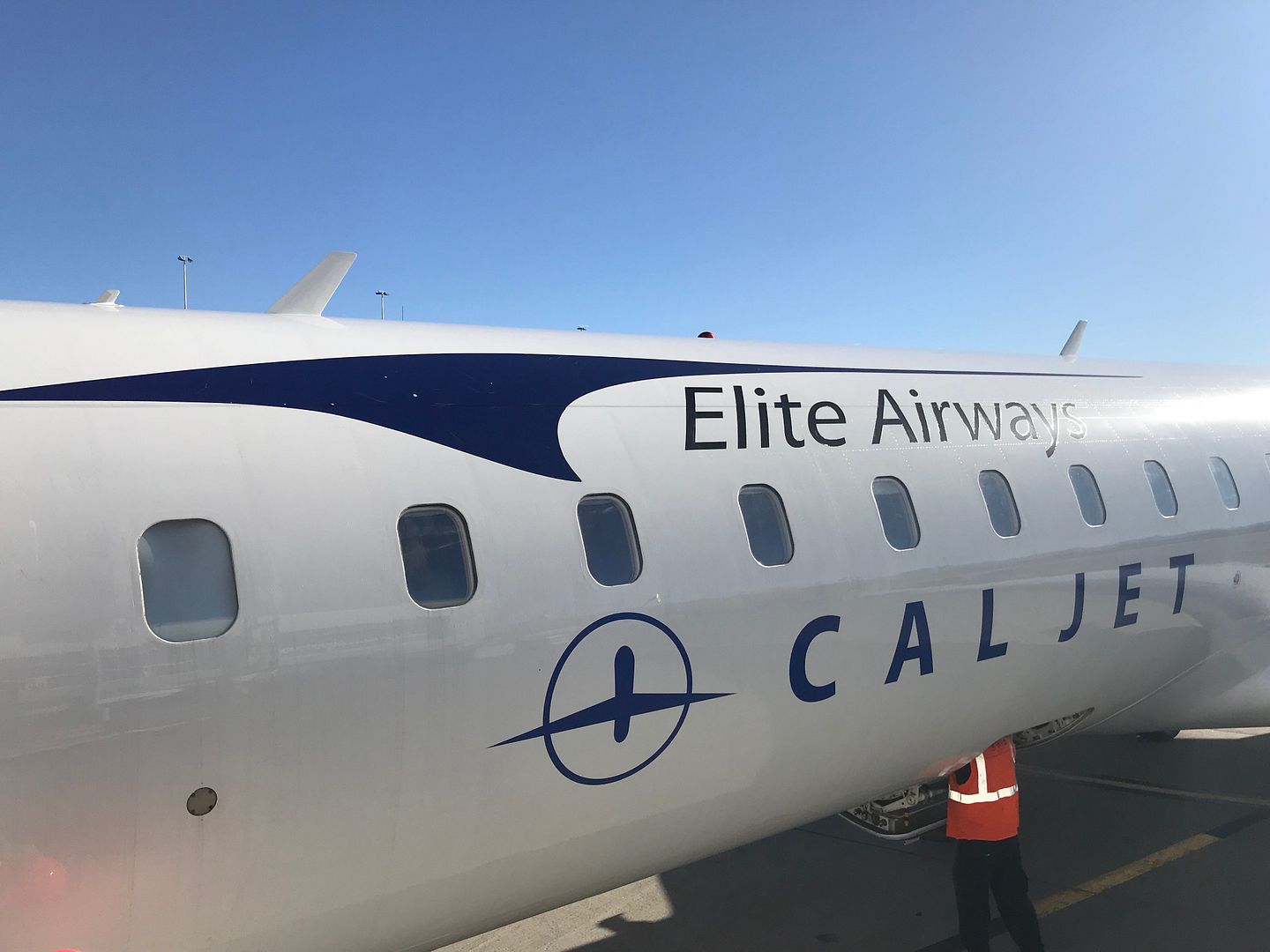 Two F/As, Maddy and Morty, welcomed passengers in the entrance, and both of them were friendly.
My first surprise: there was no "real" first class cabin and while there were fourteen seats, they were arranged in a four-abreast seating with the same seat pitch. There was no neighbor seat block.
Surprise – "first class" seats
But, at least there were a [flexible] curtain divider, that was a relic from the plane's previous owner, a major European airline. Second shock was that first class was full, so I decided to stay at row 5, which is the bulkhead row, plus I had an empty seat next to me. Since it was a Monday afternoon return (Columbus Day), the flight was fairly busy – maybe 60% full.
Seat 5A/B – you can notice the curtain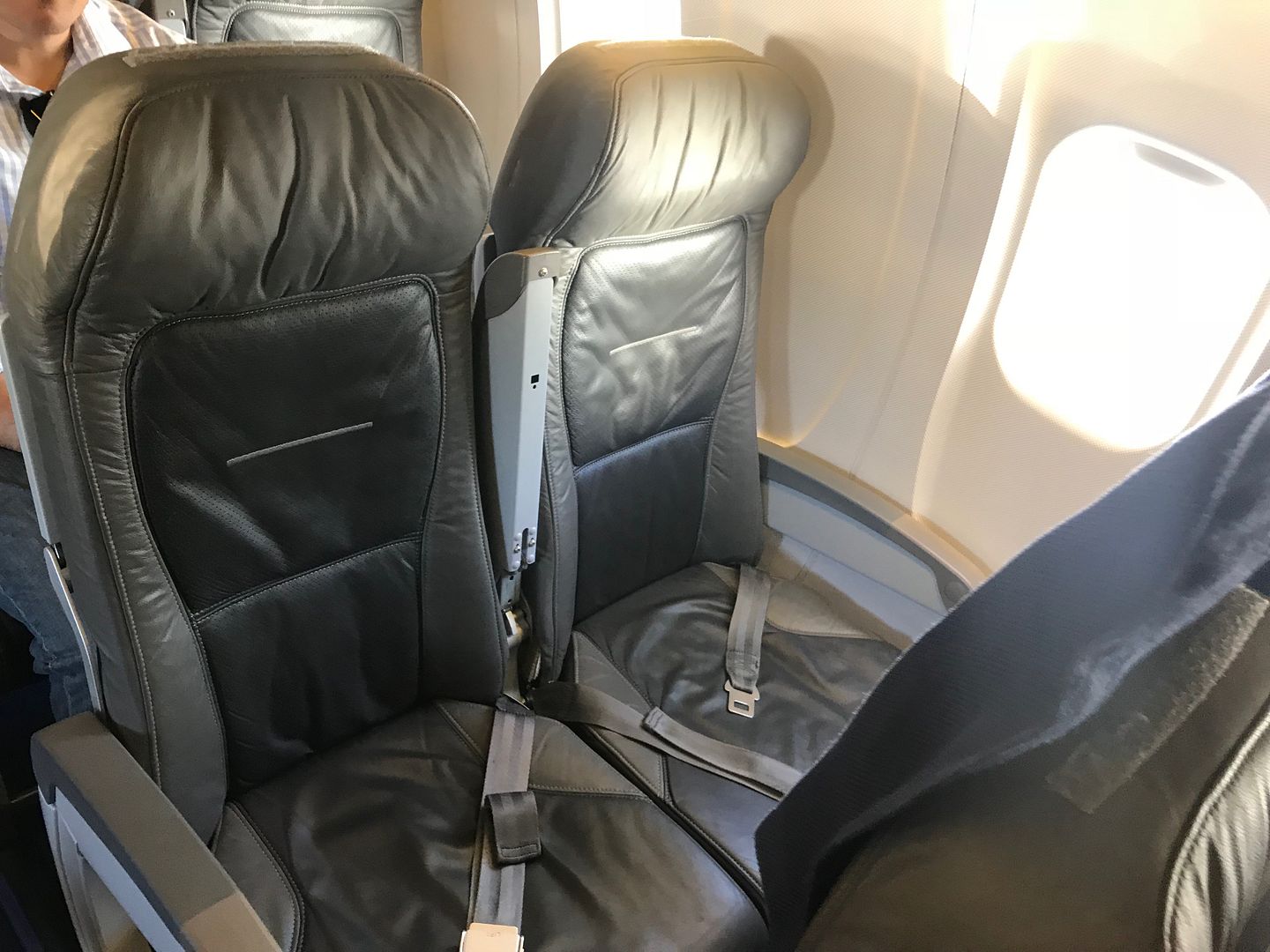 Better shot of curtain
Seat
As I said earlier, it was a typical one class cabin with a flexible curtain dividing first and business class. Seat pitch is typical of a CRJ-200, which look like 31-32".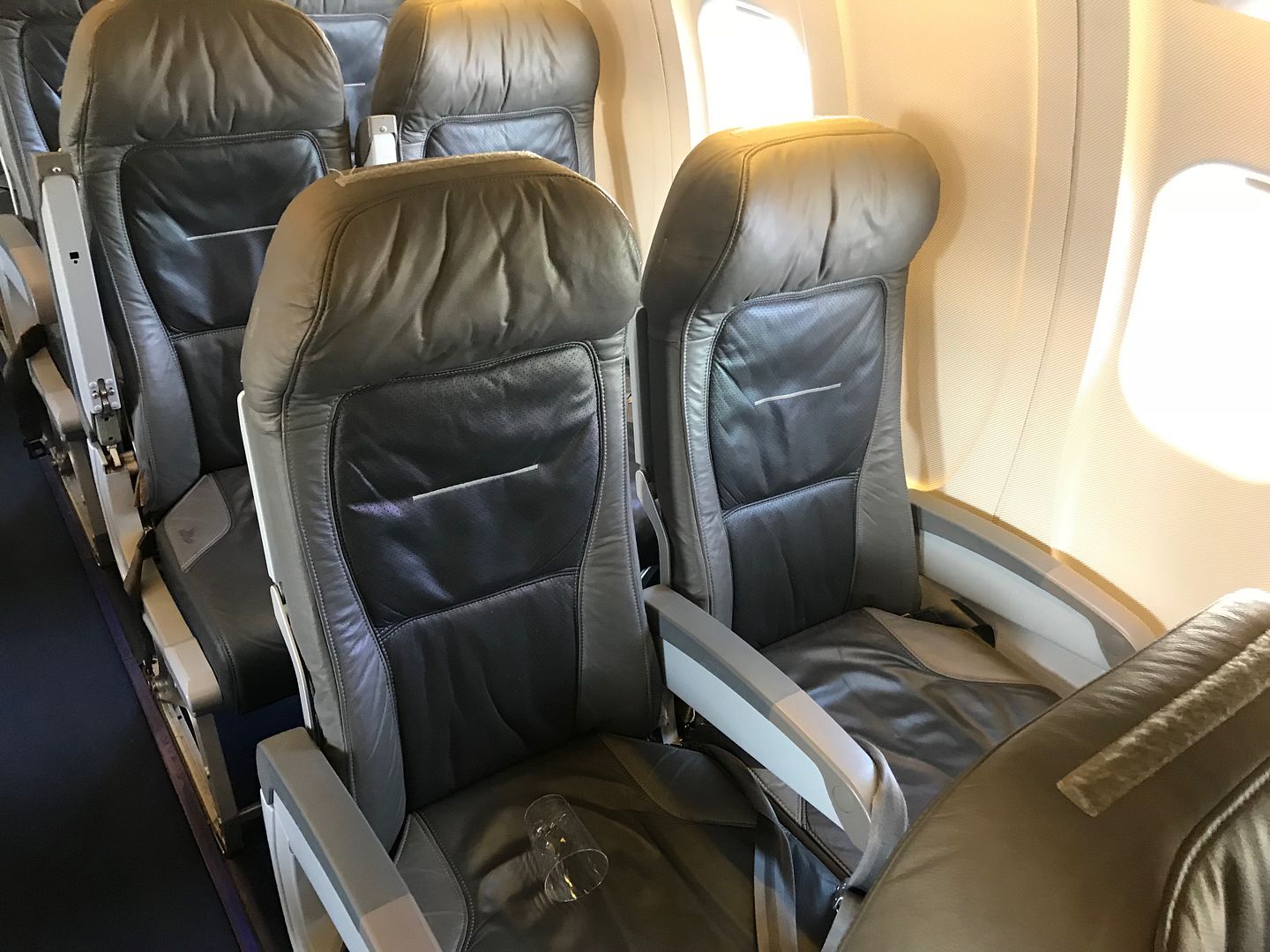 Legroom Shot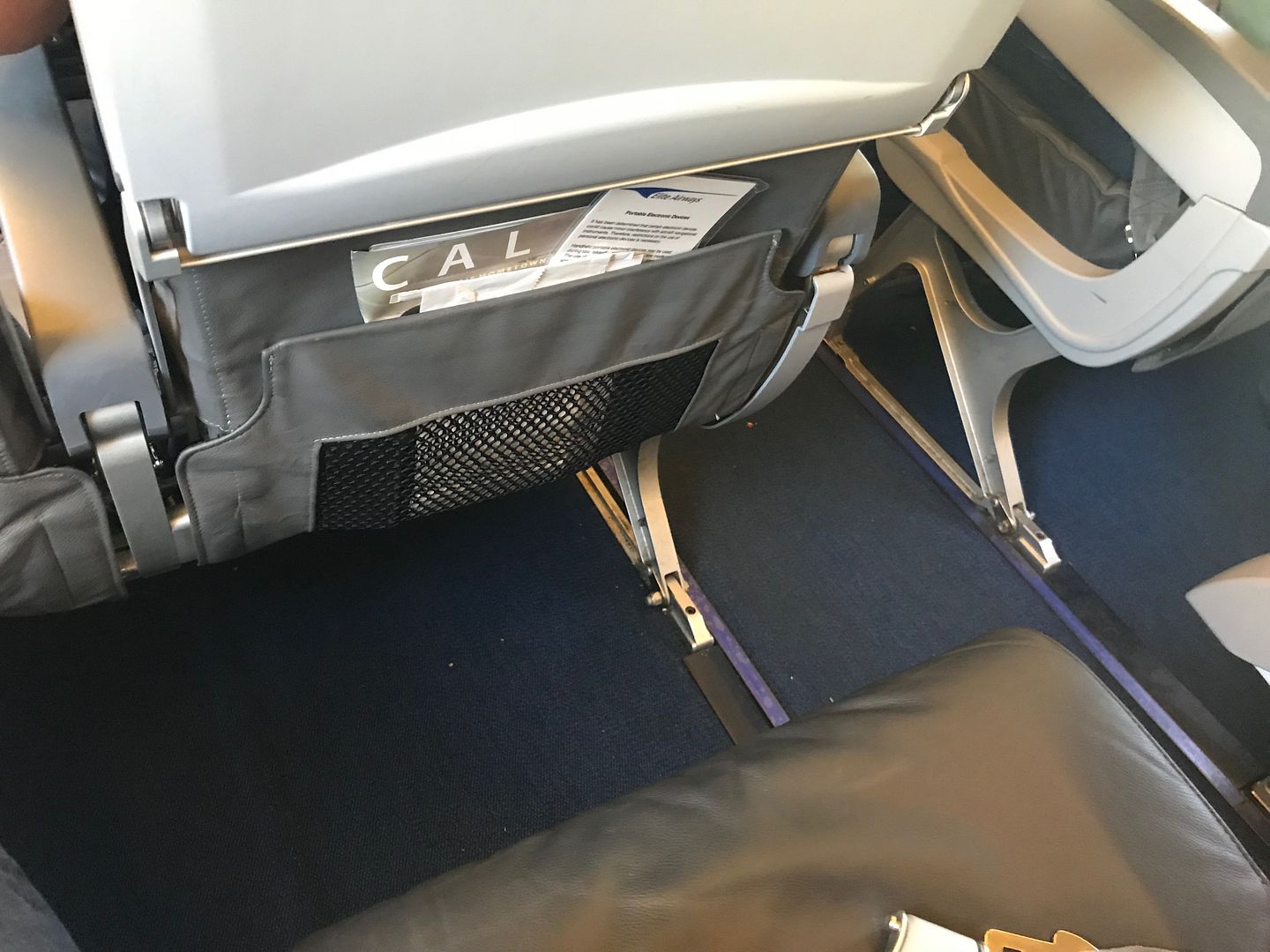 These German signs in the seats remind us that Lufthansa City Line was its previous owner. I guess Elite Airways kept the seats too.
Door was closed at 4:17pm. The pilot apologized for the delay and our flight was only forty minutes long.
We pushed back at 4:18pm and taxied to runway at 4:24pm.
We took off from R/W8L at 4:28pm.
Goodbye Las Vegas Airport
"Entertainment":
There was a Cal Jet magazine, surprisingly. It looks like that it is bi-monthly magazine with a focus mostly on Carlsbad's businesses.
Words from Cal Jet's President and CMO George W. Wozniak
Here is the information about the service:
Coach – complimentary non-alcoholic beverage, paid bar, and snack basket
First Class – Additional choices of alcoholic beverages and an additional cheese plate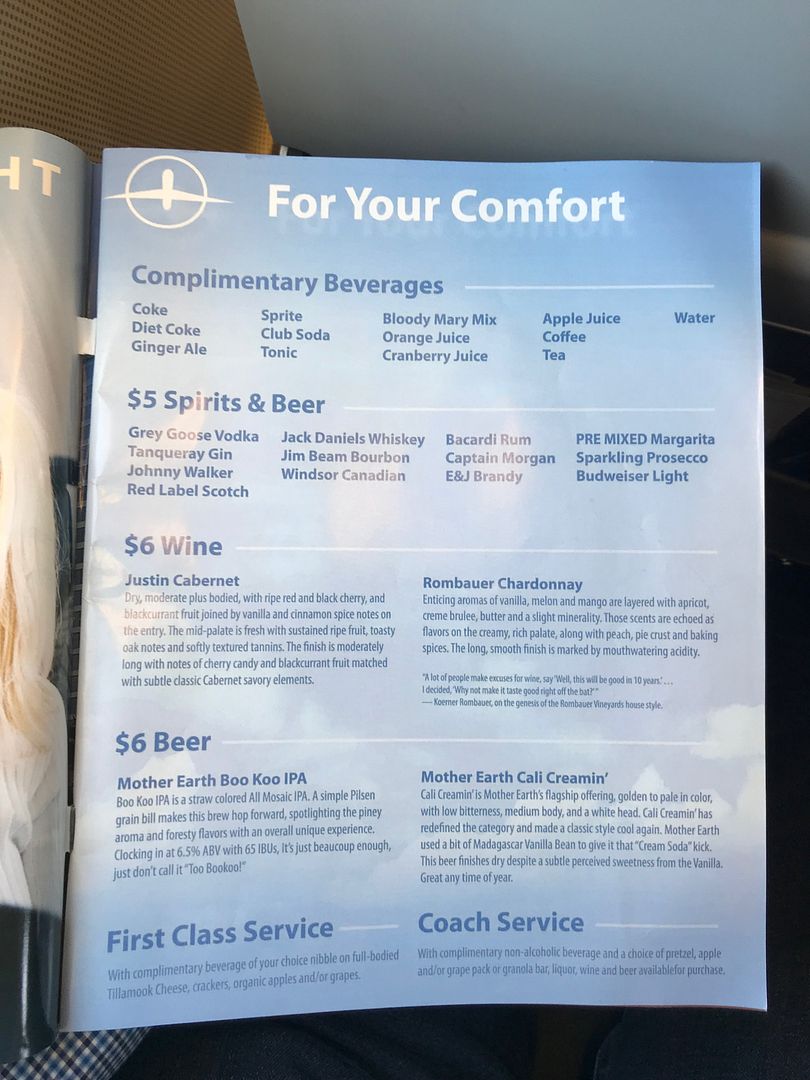 Service, as I hinted earlier, was well-intentioned but just disorganized. I will describe the first-class experience later, but for economy class, you get a typical beverage service, and it is nice to see a snack basket being offered too.
The snack basket includes Lay's potato chips, granola bars, Welch's fruit snack [gummy] and Snyder's honey wheat braided twists pretzels.
The honey wheat braided pretzel twists are good.
The F/A first came by with the snack basket and then a beverage service was offered. I guess they were trying for the individual track, so the F/A would ask for your choice of beverage. Then she ran back to the galley and served you the drink. It was very inefficient but with the small load, it was okay. However, they ended up missing me because they did it from aft to front. The F/A was also having a fun time chatting with the passengers behind me. I really think it is great that the F/A spends time with passengers, but when it sorts of distract you from the actual service, I have mixed feelings about it. When I wanted to ask, we were already ten minutes prior to landing. As of this point, this minor event was really nothing. As of this point, I just wanted the flight to end.
However, I felt that Elite Airways really need to organize the service a bit better. If you want more individualized service, you can adopt the JetBlue and Southwest's style, which is to take order for everyone first, and then served the drinks. In this manner, you won't miss anyone. Or simply stick with a trolley service. Given the light load, I think the JetBlue and Southwest style of service was more fitting. At least you did not need to run back and forth between galley and seats.
Descent began at 4:50pm and it was a beautiful afternoon.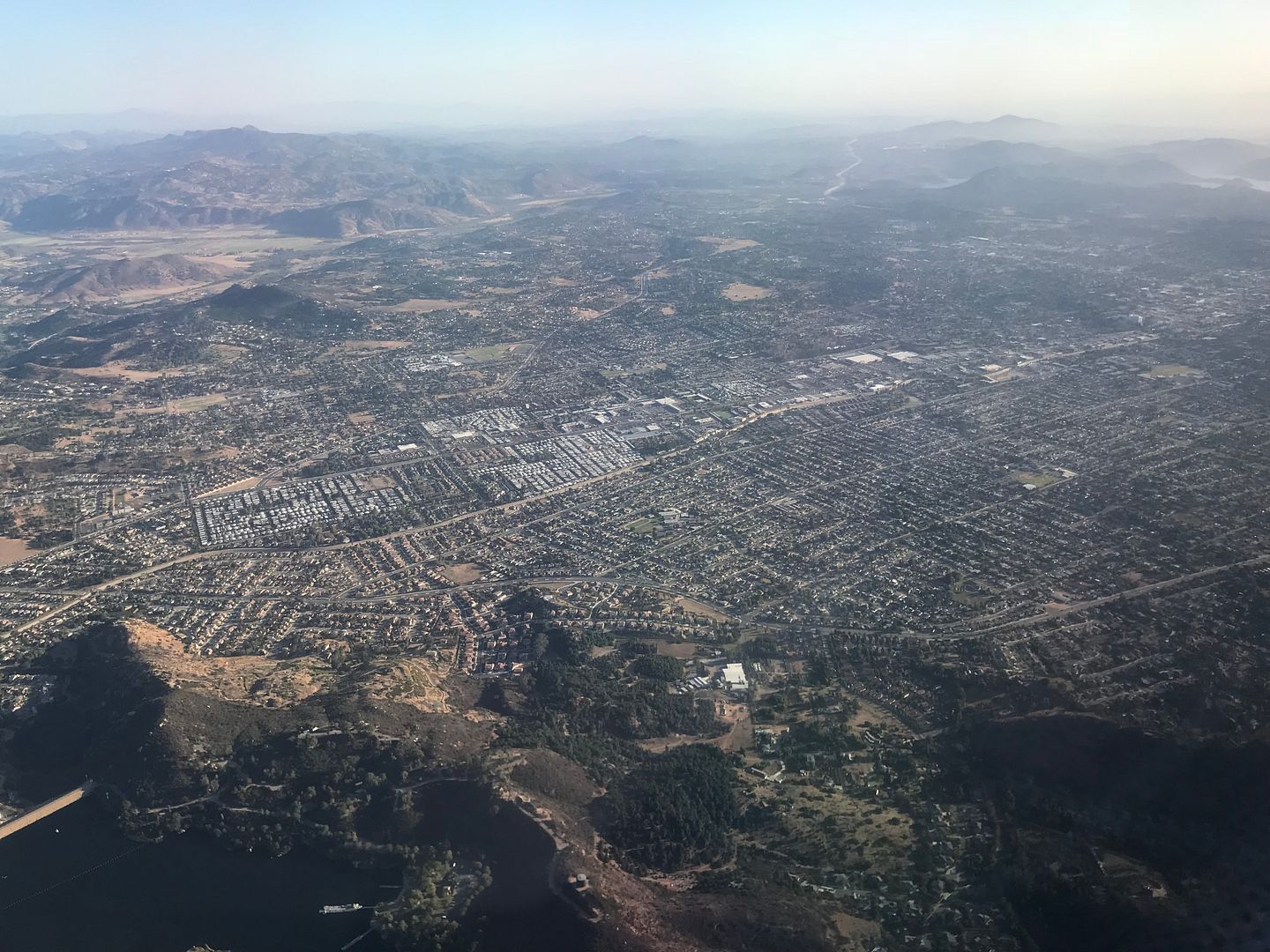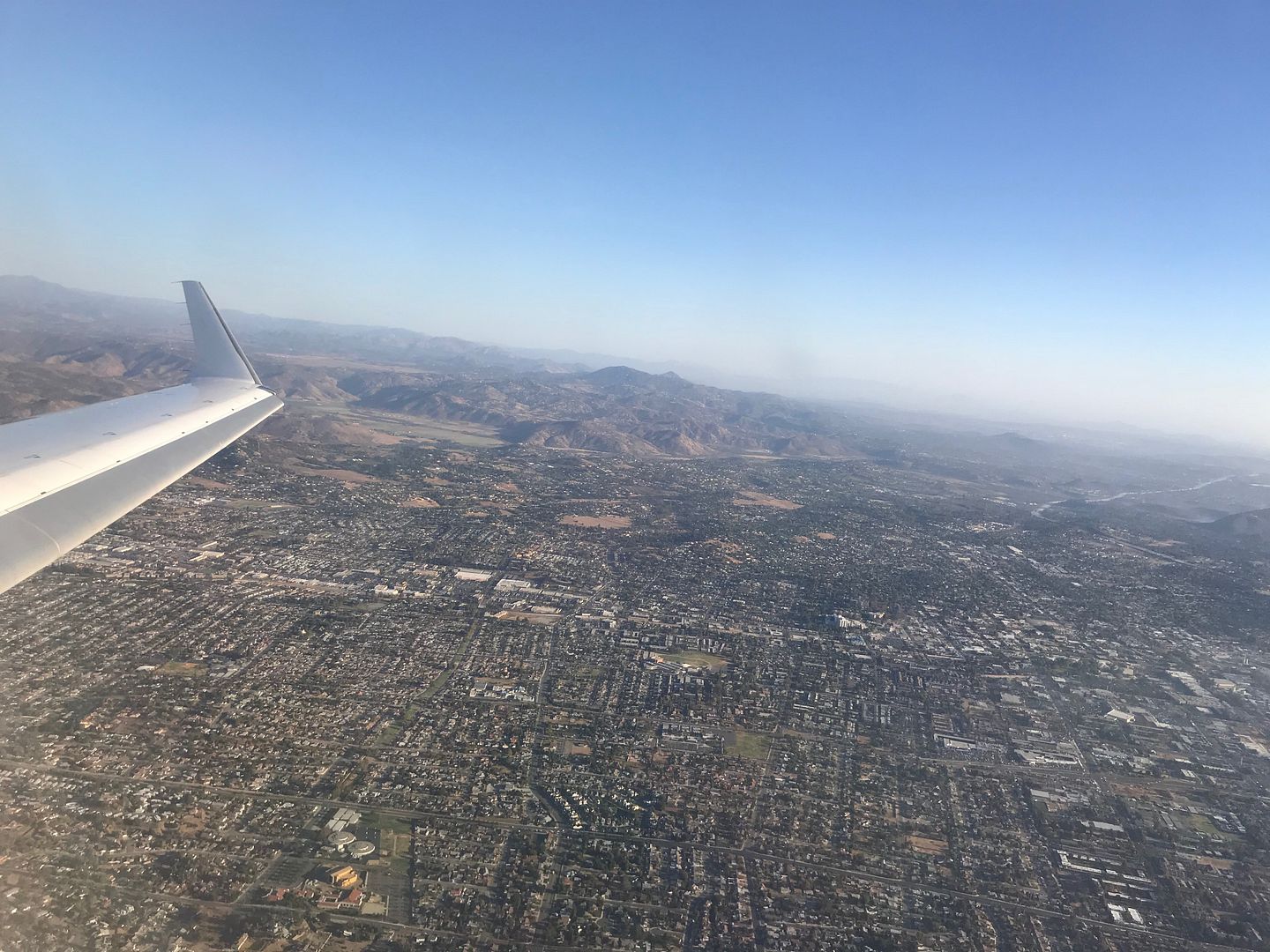 We finally landed on R/W24 at 5:08pm and we parked at the only spot at 5:11pm.
Since I have a piece of check in baggage, I waited till last to take pictures of the cabin. Of course, it did not quite work out, as there was a lady, who was also taking her time. But there were better shots on the return section.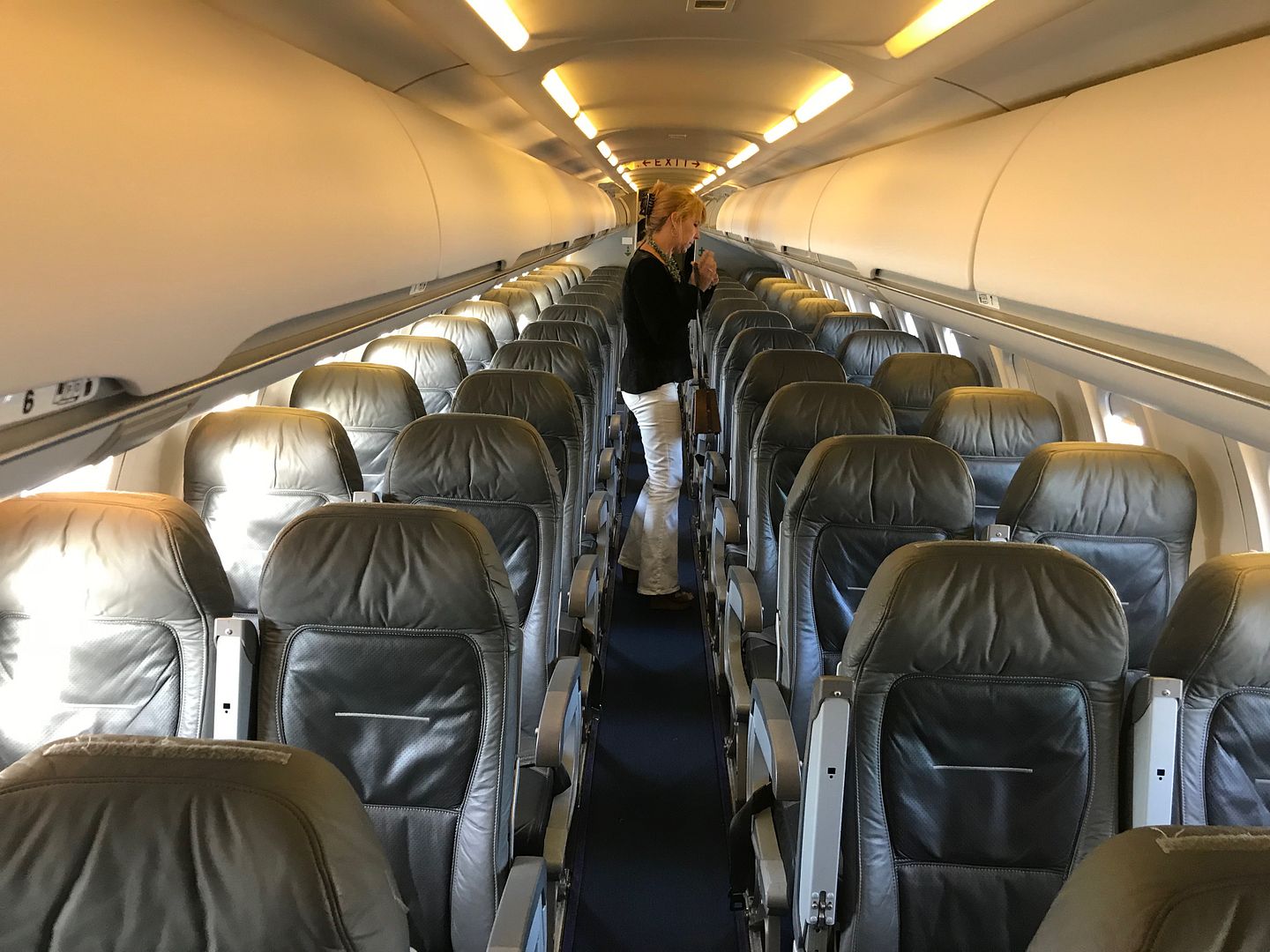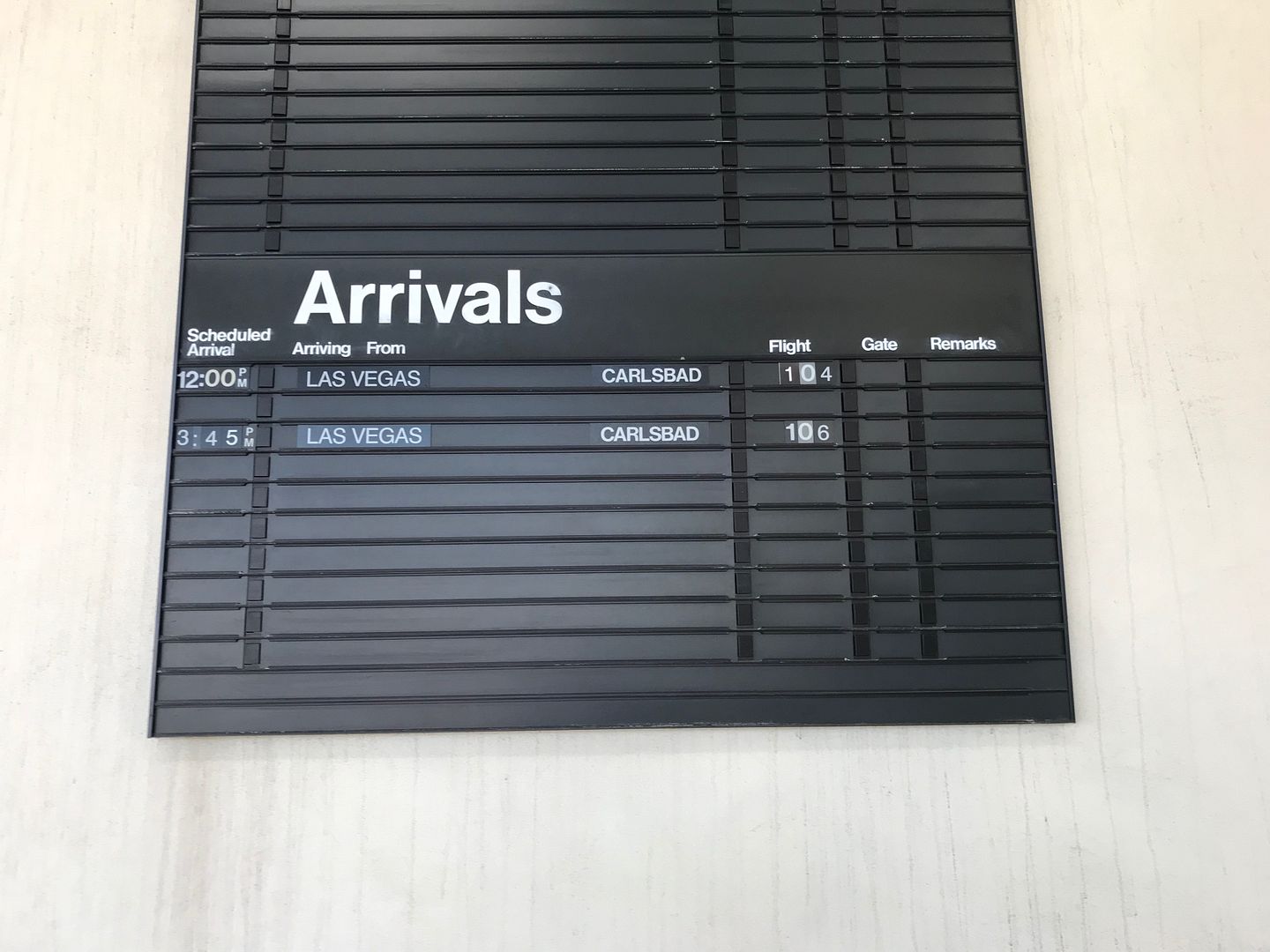 Arrival area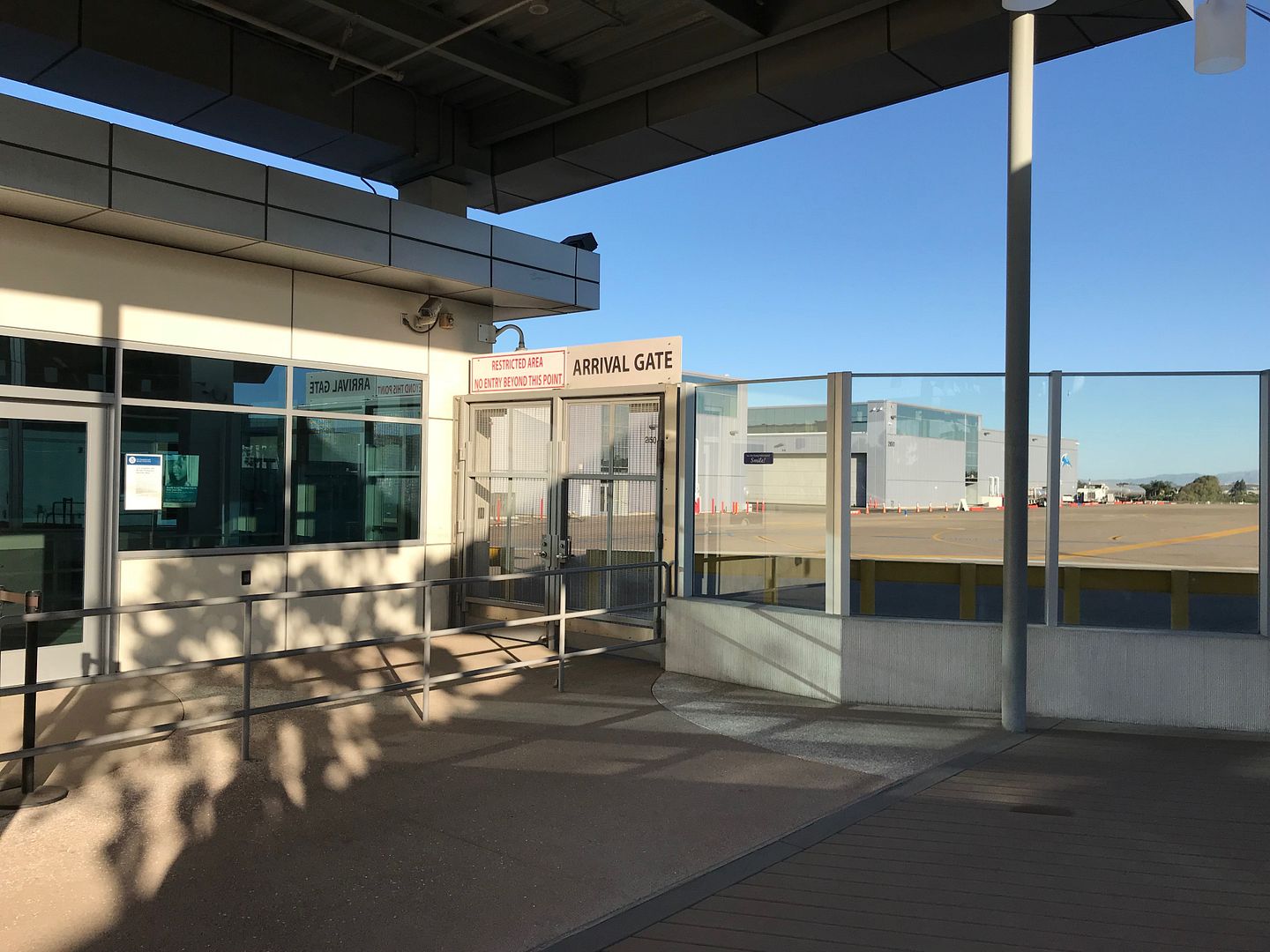 Baggage claim
Retro style – not really a carousel
Bags were delivered in eight minutes.
So, over the evening, Cal Jet reached out to me overnight by first apologizing for the situation in Vegas and they did not know why the agents did not reply to the headquarter. Then they confirmed that they agreed to upgrade my return to first class. They also offered me a $99 voucher, which was a nice gesture. I felt that they genuinely felt bad but since it was only their second week in service, and they still had much to learn.